Starbucks Classic Syrup Recipe Copycat (Updated 2023)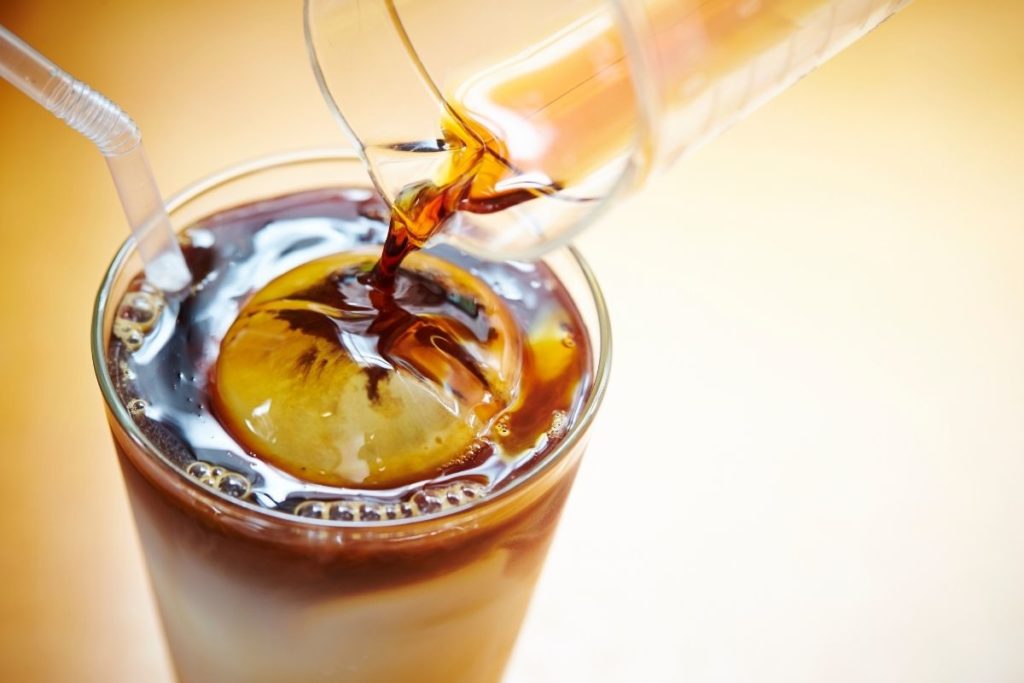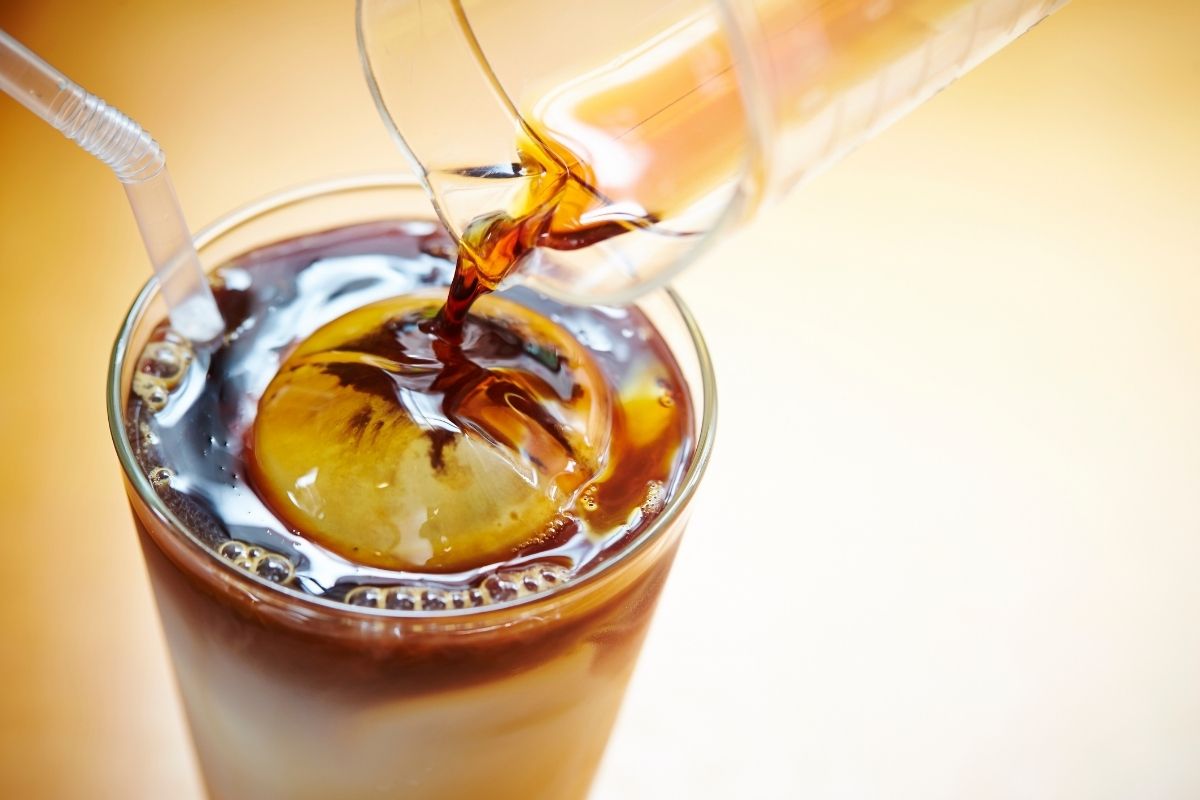 Starbucks is known for its unique drinks and syrups that add a special touch to its coffee. One of their most popular syrups is the Starbucks classic syrup.
In this article, we share what this syrup is made of and how you can make it from home using our copycat version of the Starbucks Classic Syrup.
What is Starbucks Classic Syrup?
Starbucks Classic Syrup is a liquid sweetener that is used in a wide variety of coffee drinks. It is, in essence, liquid sugar and is put in all their iced coffees and teas as well as hot drinks to sweeten them without additional flavor.
Classic syrup is made with white, granulated sugar and it's clear, without any color. Classic syrup is a 1:1 ratio of water and sugar, meaning that for every cup of water, there is a cup of sugar.
Starbucks uses classic syrup in many of its popular drinks, including iced coffee, iced shaken espresso, strawberry creme frappuccino, and matcha creme frappuccino by default.
One of the benefits of classic syrup is that it dissolves easily in cold drinks, making it perfect for iced beverages. Additionally, it has a neutral flavor, so it won't overpower the taste of coffee or tea.
Overall, Starbucks Classic Syrup is a key ingredient in many of their popular drinks, providing a simple way to sweeten any beverage without adding any additional flavors.
Starbucks Classic Syrup is available for purchase at Starbucks stores and online retailers such as Amazon.
At Starbucks stores, the syrup is sold for about $12, which comes out to around $14 with tax. Most Starbucks stores will give a complimentary pump if they have enough in stock.
If you prefer to shop online, you can find syrup on Amazon and other online retailers. However, it is important to note that some of these sellers may not be authorized by Starbucks to sell their products.
Overall, whether you choose to buy Starbucks Classic Syrup in-store or online, it is important to do your research and purchase from reputable sellers to ensure the quality and authenticity of the product.
Conclusion
Starbucks Classic Syrup is a simple syrup made from sugar and water that is used in many of their signature drinks. It provides a sweet and consistent flavor without the residue that sugar leaves in your cup of coffee.
While some coffee enthusiasts may prefer to make their own simple syrup at home, Starbucks Classic Syrup is a convenient option for those who want to recreate their favorite Starbucks drinks in the comfort of their own homes.
It is important to note that Starbucks Classic Syrup is not the same as their Liquid Cane Sugar, which has a slightly different flavor profile and is made with molasses.
Overall, Starbucks Classic Syrup is a key ingredient in many of their popular drinks, and its sweet and consistent flavor is what keeps customers coming back for more.
Print
Starbucks Classic Syrup Recipe (Copycat)
This copycat Starbucks Classic Syrup Recipe is best to prepare at home for multiple reasons. It is a quick & hassle-free sweetener at a minimal cost.
Additionally, it doesn't contain any preservatives. You can use it to sweeten your tea, coffee, lemonade, & cocktails.
To prepare the syrup, you need just two readily available ingredients- water & sugar. The recipe given below follows the hot technique where the sugar is dissolved in water over some heat.
Contradictorily, you can also prepare the syrup in room temperature water. Learn how to make Starbucks Classic Syrup by following these steps:
Author:
Prep Time:

1 minute

Cook Time:

2 minutes

Total Time:

3 minutes

Yield:

1.75 cup

1

x
Category:

Sweetener

Method:

Boiling

Cuisine:

Beverage
1 cup

filtered water

1½ cups

granulated sugar
Instructions
First, transfer the filtered water and sugar into a heavy-bottomed pan and place it on the stove over a medium-low flame.
Now, stir continuously for 2-3 minutes till the sugar dissolves. Do not stop stirring or else the sugar will stick to the bottom and burn.
Lastly, pour the syrup into a bowl to cool.
Once cooled, pour the syrup into an airtight jar and keep it in the refrigerator to last for several weeks.
Notes
The cooking process can result in the syrup having a thinner or thicker consistency. For the thin syrup, there is no need to boil the liquid, while for thicker syrup you need to boil it slightly. In both cases consistent stirring is essential.
The 1:1.5 water & sugar ratio results in 28 tablespoons of syrup. You can store it in a squeeze bottle for convenience.
Using filtered water gives this Starbucks Classic Syrup Recipe a cleaner taste.
Nutrition
Serving Size:

1 Tablespoon

Calories:

41

Sugar:

10.69 g

Sodium:

0 mg

Fat:

0 mg

Saturated Fat:

0 mg

Unsaturated Fat:

o mg

Trans Fat:

o mg

Carbohydrates:

10.71 g

Fiber:

0 g

Protein:

0 g

Cholesterol:

0 mg
Keywords: Starbucks Classic Syrup Recipe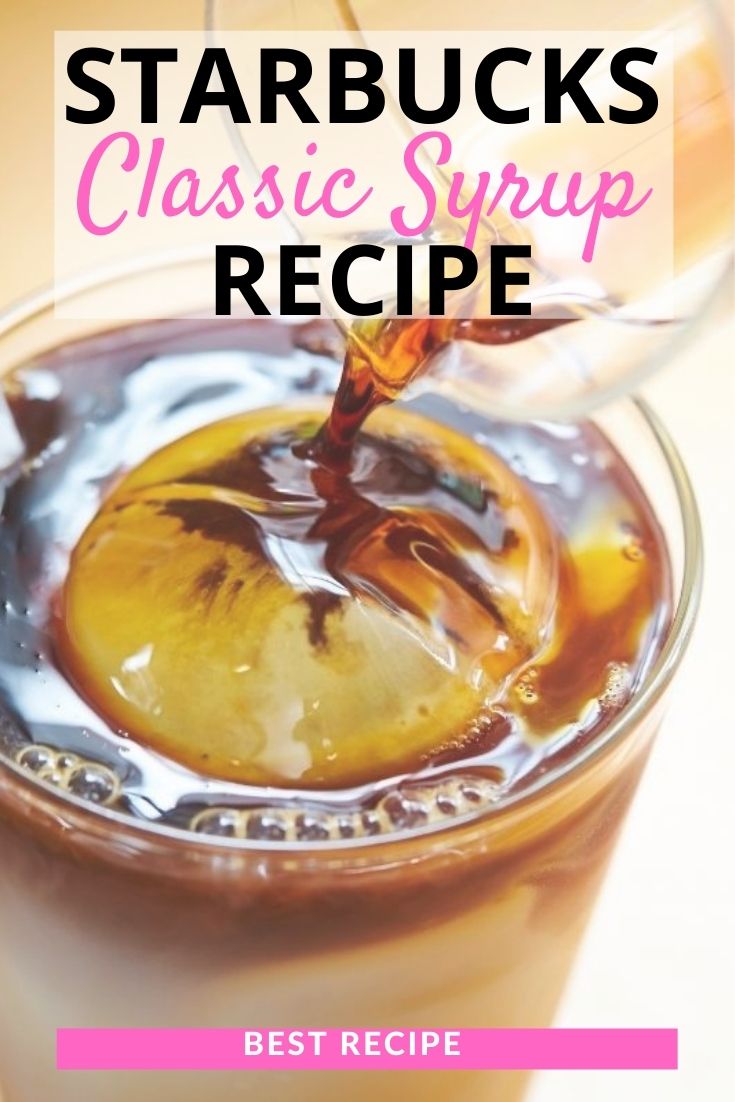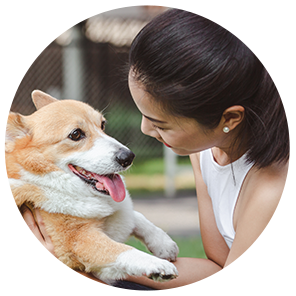 Hi, I'm Linda thanks for stopping by! We're so happy you're here. If you're a foodie and love to cook from home - you're in the right place..
LEARN MORE
Join the mailing list and receive our free newsletter!
Recipe Marker provides you with the best information about home cooking tips, recipes, ingredient substitutes and more. Check out our blog to see the latest articles.