Top 5 Best Canned Chili for Hotdogs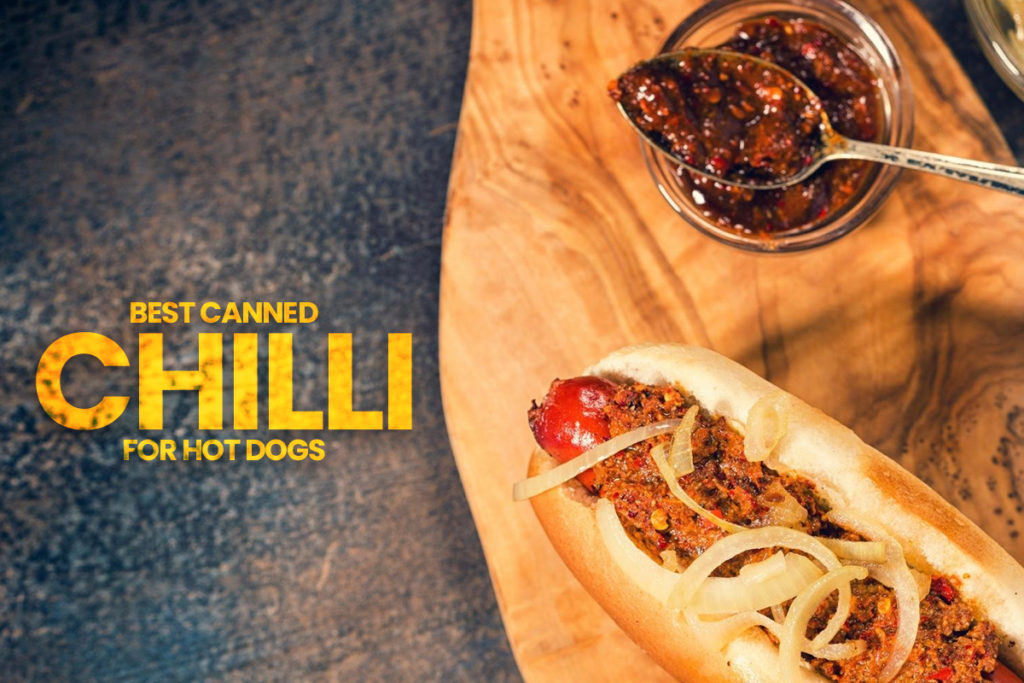 Are you looking for the best-canned chili for hot dogs? Stick around as we share a list of the most popular options.
Americans consume about 200 billion hot dogs each year. That's a lot of hot dogs! And a lot of toppings! Chili is one of the most popular toppings for hot dogs.
Chili dogs are an easy weeknight meal or perfect for game days! But chili can sometimes be too laborious to make when you're short on time.
There are so many options in the grocery store that it's hard to know which brand is the best. In this article, we'll break down some of our favorite brands of chili to make chili dogs.
Best Canned Chili for Hotdogs
1. Wolf Brand (No Beans) Chili
Wolf Brand began making chili in 1895, it quickly became a community favorite.
Many people in the community requested their renowned chili to be sold, so they began canning the chili and selling it in local markets.
For generations, this chili has been a fan favorite due to its distinct and hearty flavors. It goes nicely on top of a hot dog, over rice, and even burritos!
Wolf Brand chili has a moderate amount of heat compared to other brands of Texas chili.
No need to worry about it melting your tastebuds. If you're hunting for a new favorite, give this brand a go!
2. Chef-Mate HotDogs Chili
Chef-mate chili has a bold authentic flavor that's been a fan favorite for well over 50 years. It's an ideal condiment for chili dogs, grilled cheese sandwiches, and nachos.
The ingredients are first pressure-cooked, ensuring that the flavors marry. This gives chef-mates chili that flavor that is quite comparable to homemade chili sauce.
However, due to the generous size of the can, you may have some leftovers.
3. Nalley Hotdog Chili Sauce
Nalley's chili has been recognized for its award-winning taste and flavor for several years. In fact, it's the best-selling chili in the northwestern region.
Their chili con carne has a special blend of spices and savory ground beef that entices customers to buy over and over.
Nalley's even has vegetarian options! They use vegetable protein and malted barley flour as meat substitutes.
This product is low in fat and high in fiber. Their chili texture is superior to other brands.
The beans and ground beef make for a really hearty chili. You won't be hungry after you add the chili on top of your hot dog.
4. Skyline Chili
If you grew up in Cincinnati, Skyline's canned chili will surely bring back fond memories. Each can of spicy chili sauce will satisfy your cravings day or night.
This chili is low in trans fats and has plenty of ground beef to keep you fuller for longer.
Skyline's chili has a spiciness that will blow your mind, but it's not hot as Texas chili. The texture is outstanding, with just the right amount of richness and savoriness.
For those who like their chili to be a little thicker, try reducing it. Or top your chili with plenty of shredded cheddar cheese, and finely chopped onions to make a classic chili dog.
If you're looking for a new chili, Skyline's Chili is absolutely worth a try.
5. Castleberry's Hotdog Chili Sauce
Castleberry has been serving communities for over 90 years. Their canned chili quickly became a popular choice for hot dogs. Their commitment to bold authentic flavors has kept them a fan favorite for almost a century.
If you like your canned chili with bits of finely ground meat, and kidney beans, melded into a savory well-rounded sauce, Castleberry's is the chili for you.
Takeaway
Choosing the best-canned chili for hotdogs may be preferential, whether you're a fan of beans or you'd rather save your tummy from the unnecessary gas.
There's a brand for you to suit your needs. We hope that the list of the top five brands will help you decide what to try next.
Print
5 Best Canned Chili for Hotdogs
Check out this list of the best Canned Chili for Hotdog brands to try!
Instructions
Pick your favorite brand
Click on the link to visit Pinterest
Buy items from your local store or online
Enjoy and share on social media!
Keywords: Best Canned Chili for Hotdogs
Hi, thanks for stopping by! We're so happy you're here. If you're a foodie and love to cook or bake - you're in the right place.
LEARN MORE
Join the mailing list and receive our free newsletter!
Recipe Marker provides you with the best information about home cooking tips, recipes, ingredient substitutes and more. Check out our blog to see the latest articles.