5 Best Canned Enchilada Sauces to try in 2023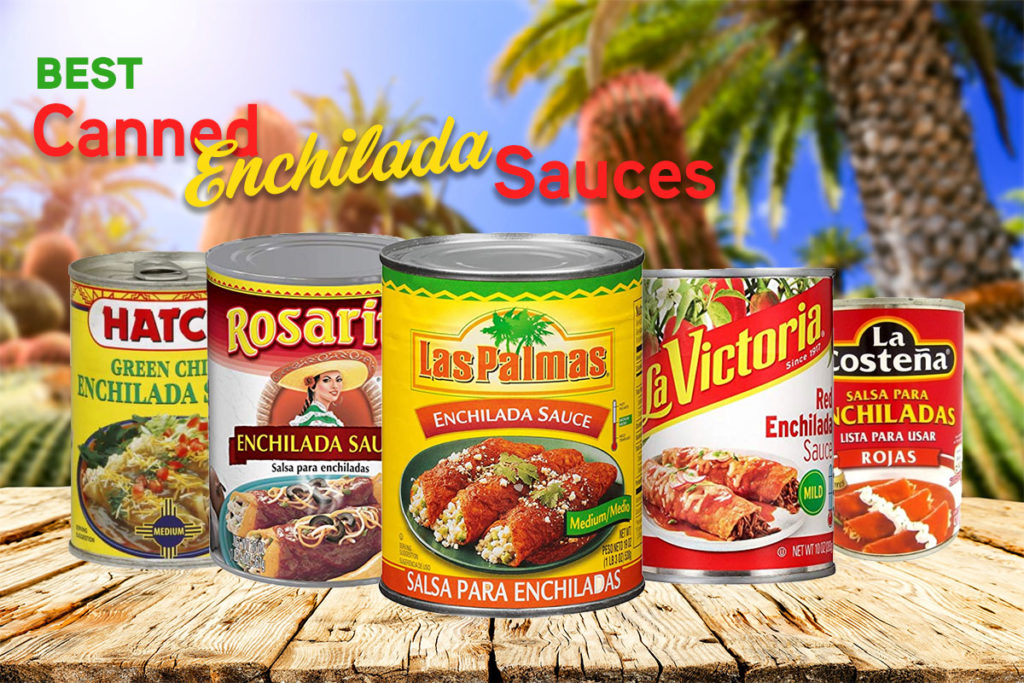 Enchilada dishes are a staple in many households. They are full of flavor and may be prepared in a plethora of ways! If you make a large pan of enchiladas, you'll more than likely be able to take them for lunch the next day.
When you're pressed for time, canned enchilada sauce is a perfect solution. Find out what's the best canned enchilada sauce available.
If you decide you make your own, this list can help you narrow down the best-canned enchilada sauce available in the grocery store.
Best Canned Enchilada Sauce
1. Hatch Green Chile Enchilada Sauce
You don't want to pass on this green chile enchilada sauce from Hatch. Hatch originally started in New Mexico, and they were determined to bring the southwest to plates all over America.
Their green sauce doesn't disappoint. This green chile sauce is bursting with flavor and is easy on the spice for those who prefer a milder flavor. This brand easily makes it to the top of our list.
Hatch even includes a recipe on the side of every can. Making planning for your meal easy. We also admire their commitment to giving back to the communities of New Mexico by supporting and donating to local food banks.
2. Las Palmas Enchilada Sauce
Las Palmas has been around for more than 70 years. They're praised for their authenticity, superior quality ingredients, and flavor. The tastes are accurate representations of a cultural favorite.
Whether you decide to use shredded pork or beef, Las Palmas' sauce complements the savoriness of the meat. Add cilantro and queso fresco on top to give the dish some freshness.
Las Palmas can be found in grocery stores across the nation. Their enchilada sauce comes in at number two on our list. Their multidimensional sauce entices us to buy again and again.
3. Rosarita Enchilada Sauce
Rosarita is a household name across America. From refried beans to enchilada Sauce Rosarita has been a popular brand since the 1940s. It has a taste that is authentic taste and very budget-friendly.
Rosarita's enchilada sauce has a full-bodied flavor that's versatile in the kitchen. Don't have a taste for enchiladas for dinner? Try making a spicy tomato soup or a Mexican-inspired casserole. The sauce is sugar-free and keto-friendly for those who adhere to the ketogenic diet.
4. La Victoria Enchilada Sauce
La Victoria hands down have one of the most flavorful enchilada sauces on the market. Whether you're in the mood for red or green sauce, you can't go wrong with La Victoria.
Those looking for a spicy sauce will enjoy this red sauce. With more than a century under its belt, La Victoria introduced the first jarred salsa to the United States.
Many brands only have a spicy red enchilada sauce, La Victoria gives their customers the option to choose their level of spiciness. Do you want a dinner that everyone can enjoy?
Try the mild red enchilada sauce or even the green sauce. The green sauce goes well with chicken!
5. La Costena Enchilada Sauce
This La Costena enchilada sauce is another classic. They've been in business for nearly a century, and have been satisfying tummies ever since! Their enchilada sauce certainly beats some of the old bottled enchilada sauce on the grocery store shelves.
This sauce is also easy to prepare, especially for those who are just starting out in the kitchen. The enchilada sauce from La Costena doesn't require any additional seasonings. The mild spiciness of this sauce makes it a great addition to any dish.
Conclusion
Enchiladas are one of the most satisfying dishes in Mexican cuisine. Produced with fresh ingredients like chilis, tomatoes, and a variety of spices, meat give enchiladas their distinctive flavors. We hope that this list of our favorite canned enchilada sauces will help you decide what to try next time you shop.
Print
5 Best Canned Enchilada Sauces
Check out this list of the best Canned Enchilada Sauces to try!
Instructions
Pick your favorite brand
Click on the link to visit Pinterest
Buy items from your local store or online
Enjoy and share on social media!
Keywords: Best Canned Enchilada Sauces
Hi, I'm Linda thanks for stopping by! We're so happy you're here. If you're a foodie and love to cook from home - you're in the right place..
LEARN MORE
Join the mailing list and receive our free newsletter!
Recipe Marker provides you with the best information about home cooking tips, recipes, ingredient substitutes and more. Check out our blog to see the latest articles.