7 Best Realgood Frozen Food Flavors Ranked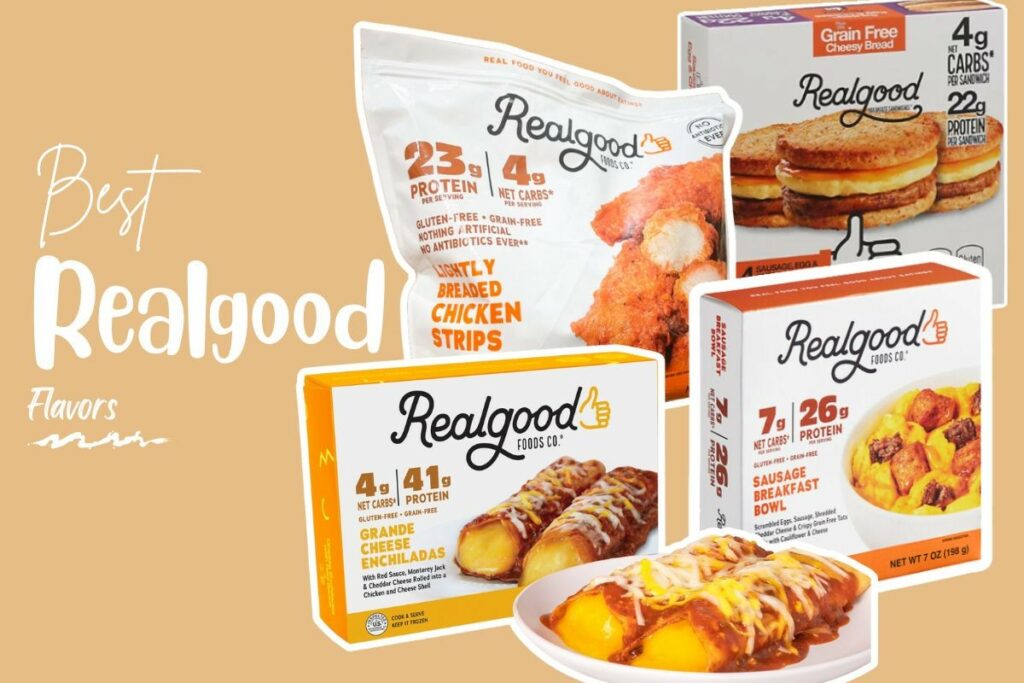 Are you trying to decide what Realgood frozen food flavor to try next? We share a list of the most popular Realgood flavors in this article.
Frozen foods are a superb choice if you need a quick meal. They are easy to prepare and delicious. That is if you get the right products. Realgood has a great selection of frozen food that can satisfy your needs.
What is Realgood?
Realgood is a brand that is modernizing frozen food by making your favorite foods more nutritious and improving human health.
Since 2016, Realgood has become one of the fastest-growing brands in frozen food, offering breakfast, entree, snacks, and pizza options in over 16,000 stores nationwide. Realgood foods are made with less carbs, no added sugar, more protein, and real food ingredients.
The brand offers high protein, lower carb options that make you feel good about eating.
Realgood has partnered with food banks across the US to make nutritious foods more accessible to those in need, with a goal to donate 1 million meals.
Realgood is one of the only brands in frozen food today to offer foods that are high in protein, lower in carbs, and using real food ingredients.
With over 458,000 followers on Instagram, Realgood is one of the largest social media followings of any brand within the frozen food industry today.
Check out the best Realgood flavors below.
Best Realgood Flavors Ranked
1. Meat Lovers Egg & Cheese Breakfast Bites
If you are looking for a protein-packed morning meal, you should take a look at Realgood Meat Lovers Egg & Cheese Breakfast Bites.
These tasty pieces come in the form of crispy shells packed with breakfast favorites namely cheese, bacon, egg, and sausages.
This frozen meal can energize you throughout the day without overloading you with carbohydrates and instead focuses on providing protein.
In fact, it only has 3 grams of carbs and 10 grams of protein per serving. Plus, you can spice it up with hot sauce or any sugar-free dips.
2. Sausage Egg & Cheese Breakfast Bowl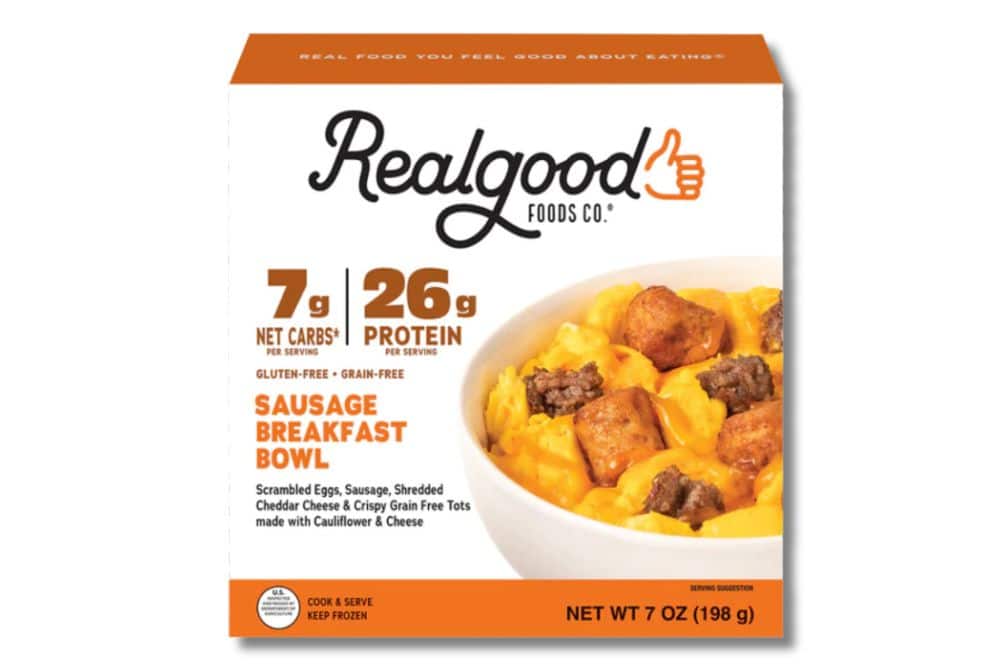 For those who like the feel of a spoon and bowl during breakfast, the best choice is Realgood Sausage Egg & Cheese Breakfast Bowl.
It gives you a big protein-filled serving of eggs, sausages, and cheese without any trace of grain. With this meal, you can a whopping 26 grams of protein, perfect for an energy-filled day.
If you have gluten sensitivity, you will be glad to know that this meal does not have any hint of this allergen. The best part is that preparing a serving of this is super quick.
You can place it in the microwave or cook using an air fryer, and you are good to go.
3. Breakfast Sandwich Sausage, Egg & Cheese
If you are a sandwich person, you should get your hands on Realgood Breakfast Sandwich Sausage, Egg & Cheese. This offers the heft of your typical sandwich without all the carbs.
This frozen meal is made only with real sausages, eggs, and cheese, as well as the brand's signature Cauliflower Cheesy Bun.
Your microwave oven is your friend with Realgood sandwiches. You can simply throw it while frozen in the microwave for 50 seconds, flip it, microwave it for 45 seconds, and you are done.
It is much faster if you move it to the fridge for a few hours because the cooking time goes down to 30 seconds per side.
4. Lightly Breaded Chicken Breast Strips
Those who prefer a meaty meal will be glad to know that Realgood offers frozen food like Lightly Breaded Chicken Breast Strips.
These are perfectly seasoned to provide a savory yet not overwhelming taste. It is keto-friendly as it contains only four grams of carbs and 23 grams of protein.
Cooking this is also easy as you can do it in one step. You just need to place it on a baking sheet and put it in a preheated oven for 21 minutes max until it reaches an internal temperature of 165 degrees.
You can also place it in an air fryer for nine minutes max until cooked.
5. Crispy Chicken Shell Seasoned Beef Tacos
If you love tacos but you want to have it in quickly with minimal preparation, then you should check out Realgood Crispy Chicken Shell Seasoned Beef Tacos. It only has two grams of carbs and a whole lot of protein.
Instead of using real taco shells, it uses thin crispy chicken shells to create a crunchy alternative covering real beef and cheese.
This is perfect for those cutting down on carbs or undergoing a keto diet. Just take note that this is best cooked from frozen for best results.
6. Grande Cheese Enchiladas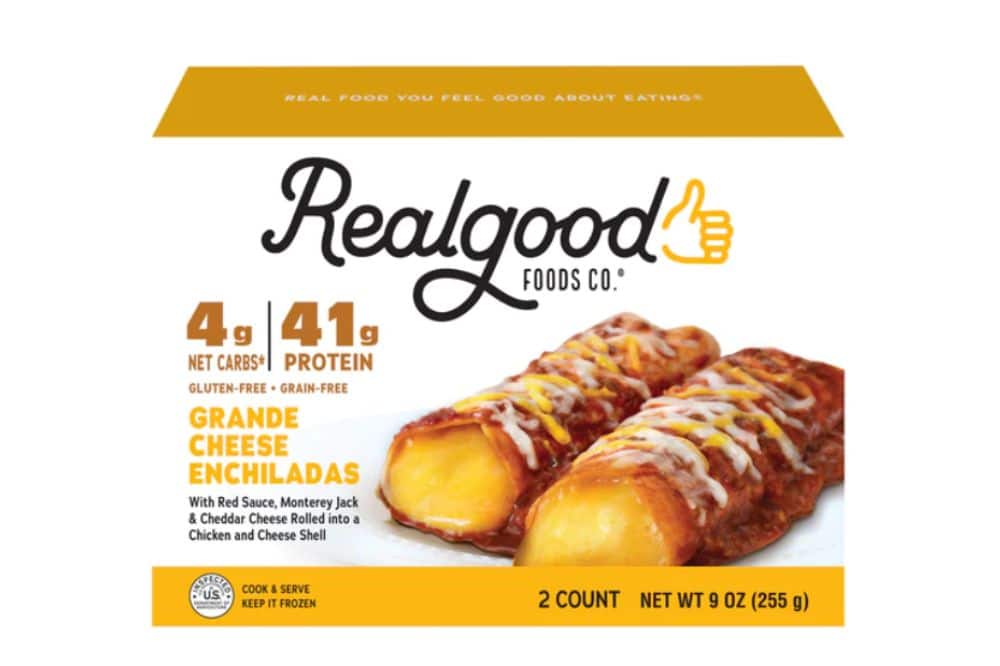 Realgood Grande Cheese Enchiladas are your tasty and versatile option if you are looking for a super filling and protein-rich meal that you can cook from frozen. It contains real cheese wrapped in chicken for that crispy and creamy punch.
This one has 41 grams of protein, making it a great companion for individuals looking for a delicious meal before and after working out.
It is easy to prepare as you can cook it for 32 minutes max in the oven or 12 minutes max in the air fryer. The best part is you can garnish it with any condiments or veggies of your choice.
7. General Tso's Chicken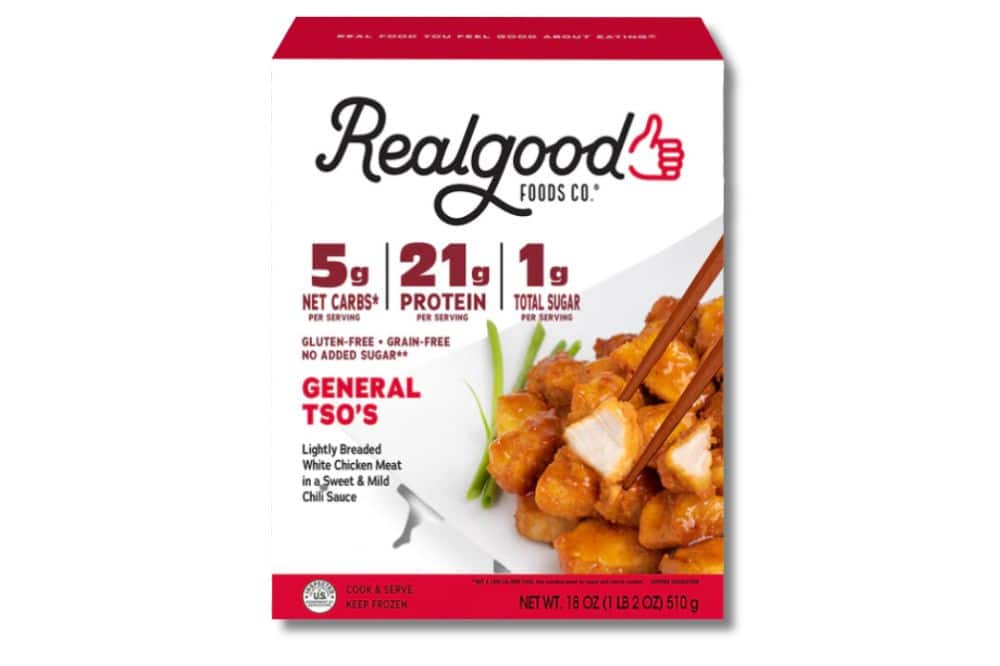 Those who crave Chinese food will be glad to know that they can get that flavor from Realgood General Tso's Chicken. This one offers the juiciness of chicken covered in the sweetness of this signature sauce.
To keep it low-carb, Realgood used erythritol and monk fruit sweeteners to minimize the use of sugar. The result is an easy-to-cook, keto-friendly, yet delicious meal.
The Bottom Line
Eating healthy is made easier by frozen food that not only offers low carbs and high protein but also nutritious and delectable meals. Make sure to check out the best Realgood flavors for a satisfying experience.
Print
7 Best Realgood Flavors
Check out this list of the best Realgood flavors to try!
Instructions
Pick your favorite flavor
Click on the link to visit Pinterest
Buy items from your local store or online
Enjoy and share on social media!
Keywords: Best Realgood Flavors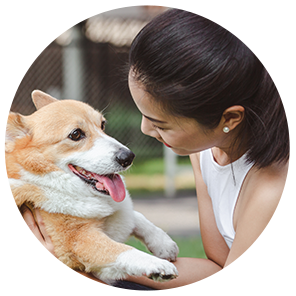 Hi, I'm Linda thanks for stopping by! We're so happy you're here. If you're a foodie and love to cook from home - you're in the right place..
LEARN MORE
Join the mailing list and receive our free newsletter!
Recipe Marker provides you with the best information about home cooking tips, recipes, ingredient substitutes and more. Check out our blog to see the latest articles.