Top 13 Best Sour Candy You Should Try!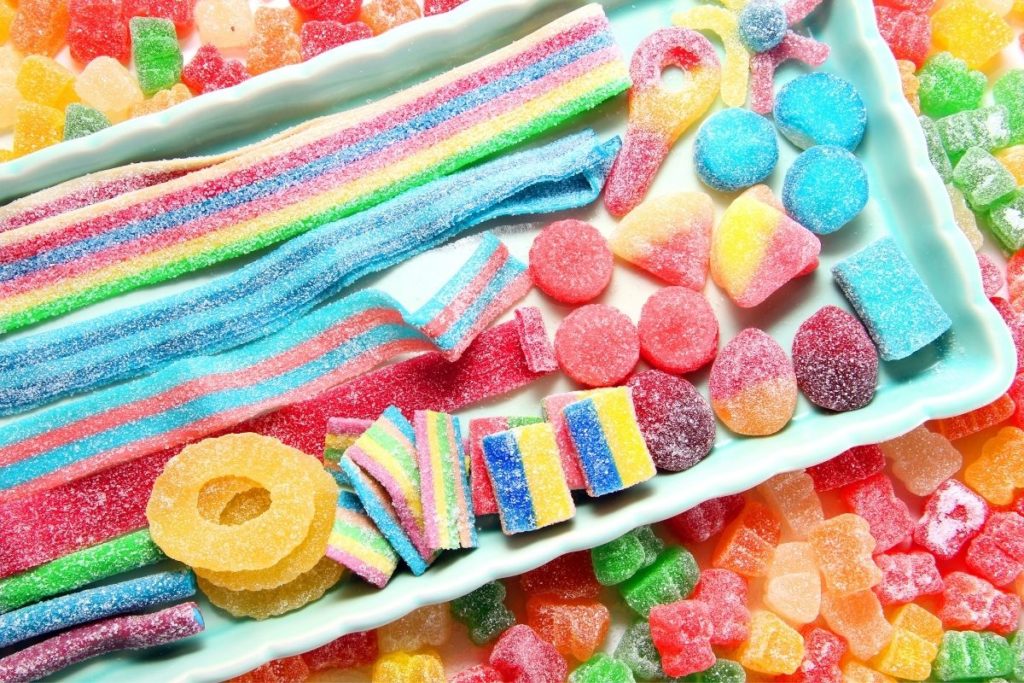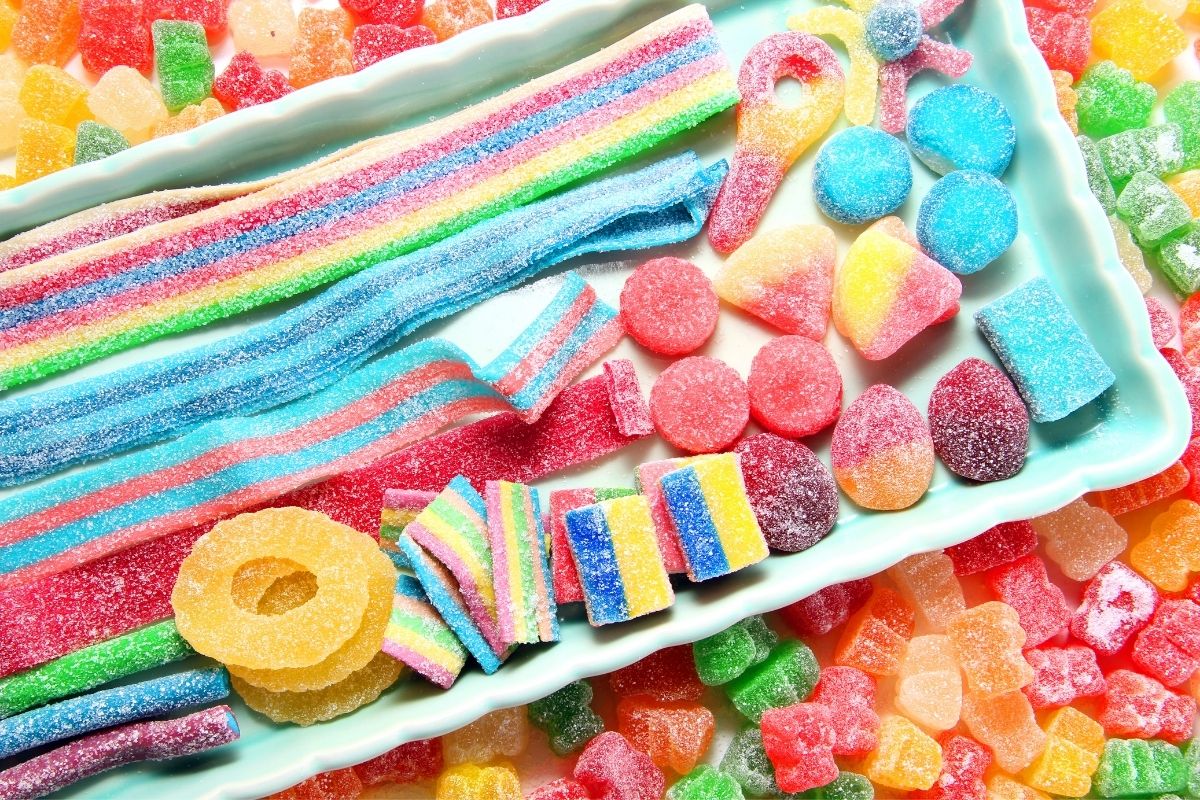 To help you pick the best sour candy, we have created a list of our favorite sour candies on the market today. Continue reading to find out more.
Sour candies come in a variety of forms, shapes, and sizes. There are hard candies, gummies, gum, and so on available. You should also check the sourness level that suits your preference.
13 Best Sour Candy
1. Sour Skittles
Skittles are so fun to eat with their rainbow candies! The sour flavors include the all-time favorites with a sour kick. Enjoy sour lemon, sour strawberry, sour grape, sour orange, and sour green apple.
These candies are bite-sized and feature an ideal combination of sourness and sweetness in a crunchy coating with a chewy, soft inside.
2. Haribo Sour Gold-Bears
Calling all Haribo lovers. If you like the original Haribo gummy bears, try the sour version. Haribo Sour Gold-Bears are the same chewy, fruity bears you know, but with a sour-sugar coating to bring your palate the life. They are likely to be your go-to treat.
3. Airheads Xtremes Belts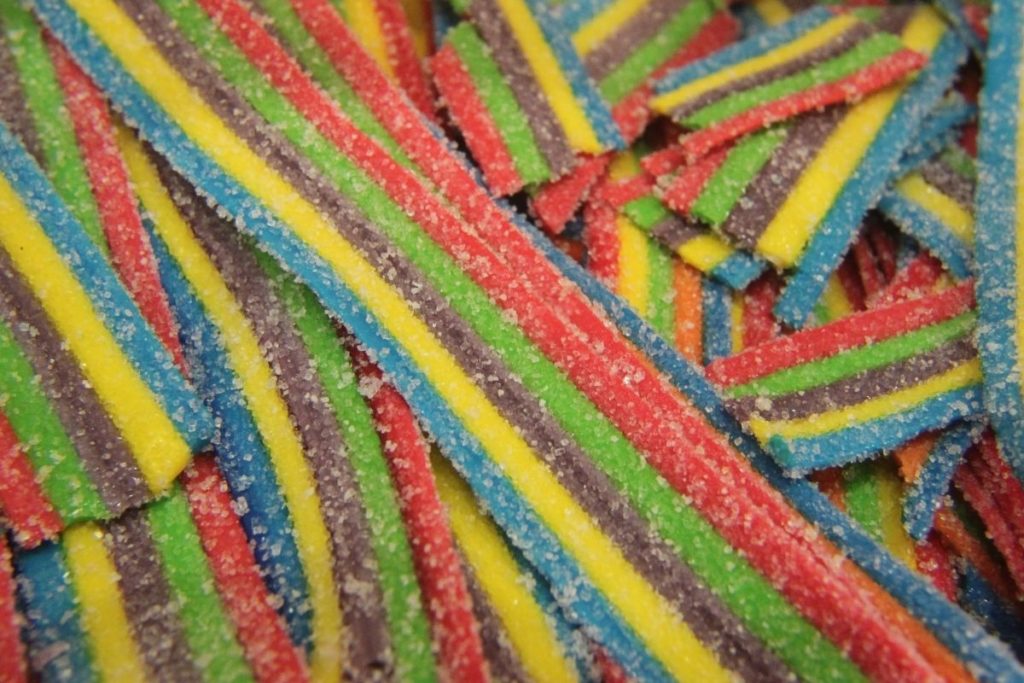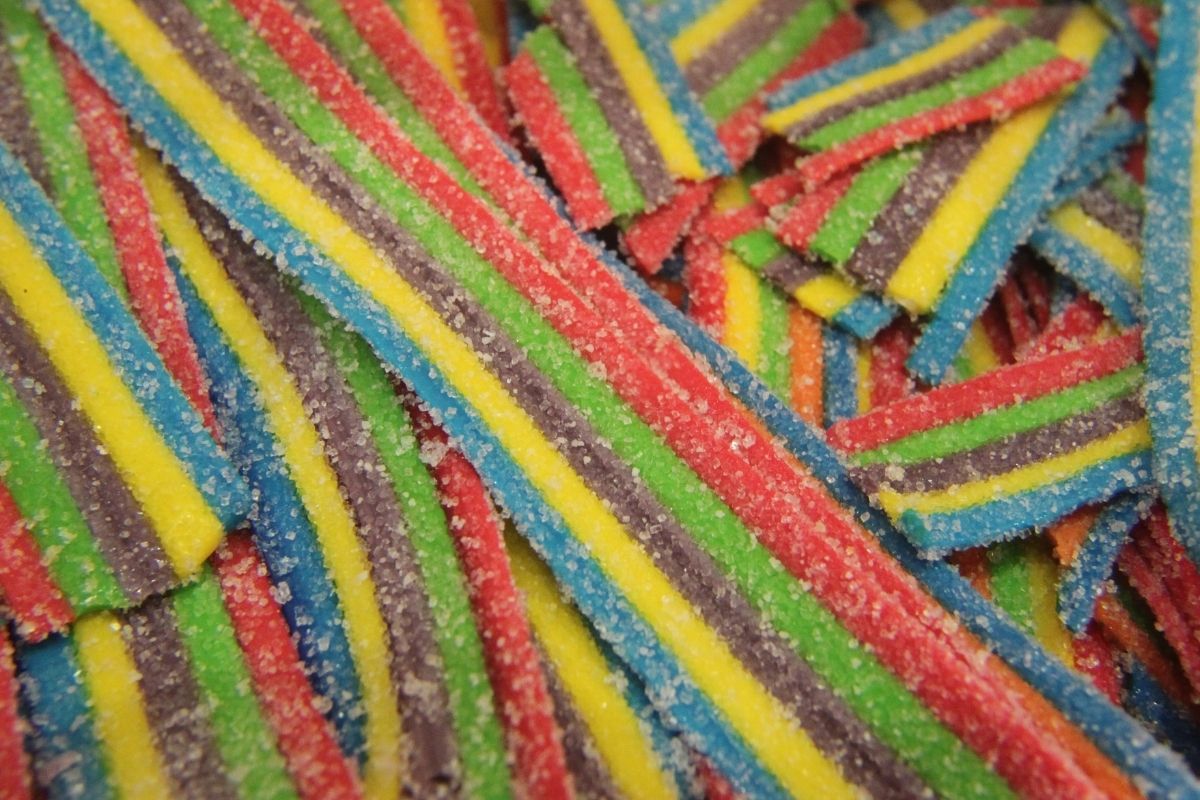 Enjoy colorful sour belts that are chewy and yummy balanced with sourness and tangy sweetness. They will make you want to eat more than just one. This option will appeal to people of all ages. Plus, these candies are allergen-free.
If you want a sour flavor but also want to savor the sweetness of the candy, Airheads Xtremes are for you.
4. Jolly Rancher Sour Surge
Each Jolly Rancher hard candy has a sour kick to it while offering a range of fruit tastes. To make them extra delectable, the inside of the candy includes sour powder, so you can experience the sour and sweet surface, and an additional sherbet sourness when you reach the core.
5. Sour Patch Kids Extreme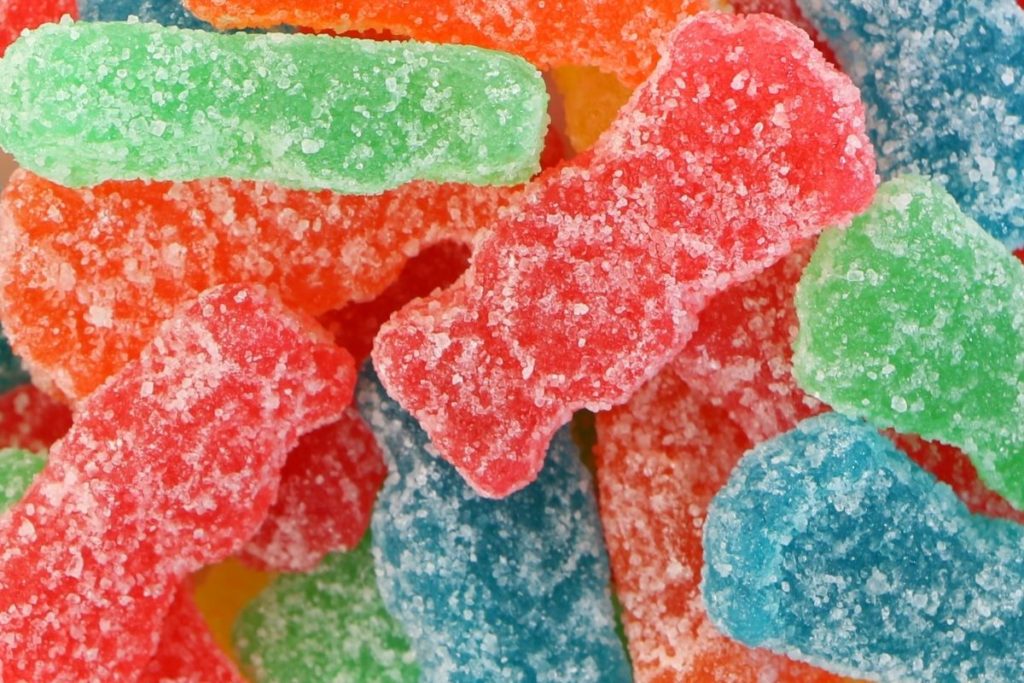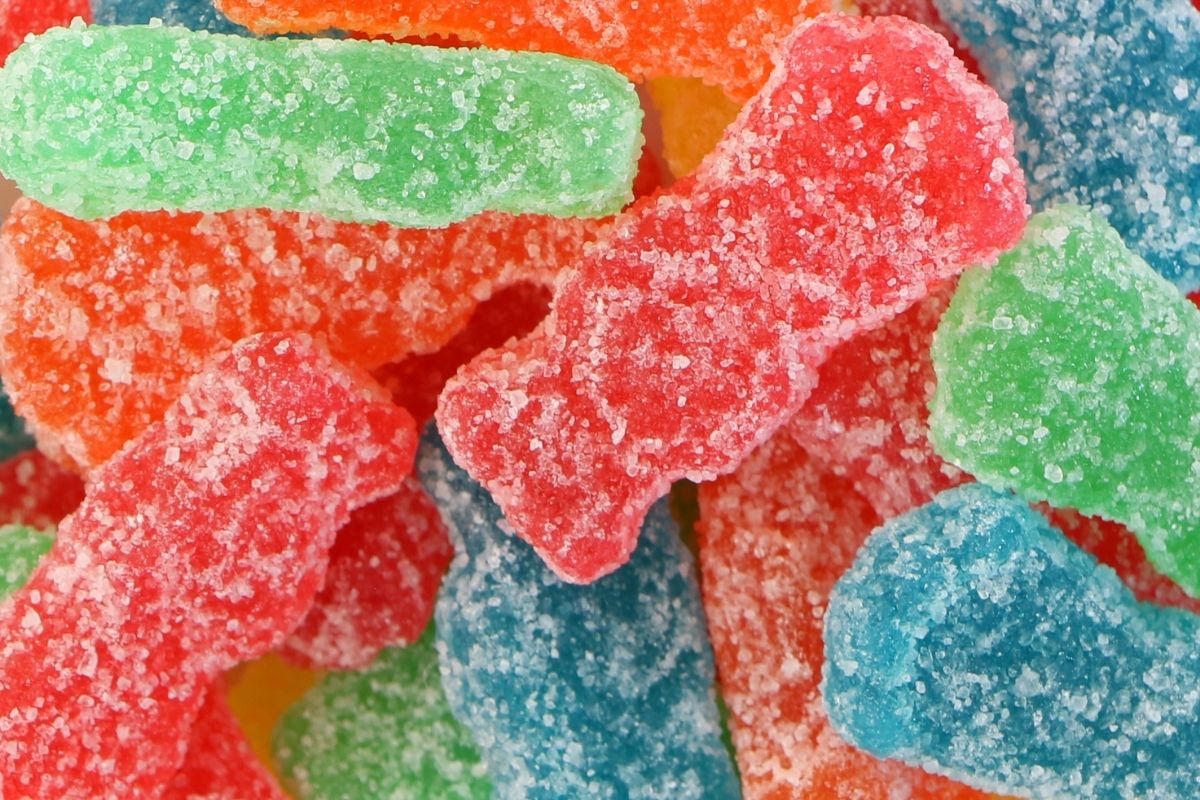 Check out Sour Patch Kids Extreme, which is soft and chewy candies. When you eat the candy, they will welcome you with a strong sour flavor that eventually softens to a delightfully sweet taste.
You will appreciate five different fruity flavors in the pack once the extremely sour taste disappears. The Extreme pack is the sourest, and it is perfect for a special treat.
6. Nerds Big Chewy Sour Candy
Another popular brand on our list is Nerds. Each big chewy sour candy is bursting with delicious flavors such as lemon, strawberry, orange, and grape, among others.
You will love the whole candy as the exterior has a crunchy and sweat coating, while the center is chewy, soft, and fruity.
7. Taveners Sour Lemon Drops
This traditional British candy is produced with natural ingredients and colors. Plus, they are vegetarian-friendly. Don't miss out on the very sour and acidic Taveners Sour Lemon Drops that will make you pucker.
8. SweeTARTS Extreme Chewy Sours
SweeTARTS chewy candies have a sour taste on the outside and carry a tangy-sweet flavor inside. Each pack has both tartness and tanginess, with each bite delivering a sour spin on sweet sensations.
9. Cry Baby Extra Sour Tube
These teardrop-shaped candies are suitable for those looking for a challenging experience. The level of sourness matches the candy's name because the taste will most likely make your eyes tear.
You can enjoy the flavor of the Cry Baby Extra Sour candy longer, as the gumball lasts in your mouth for a lengthy period.
10. Trolli Sour Gummies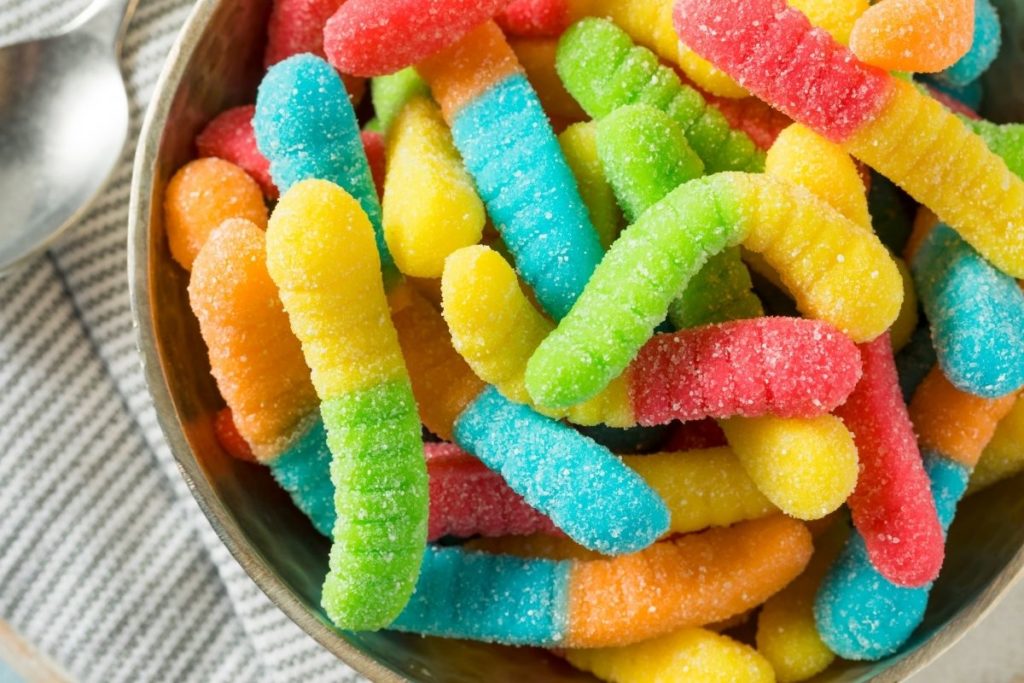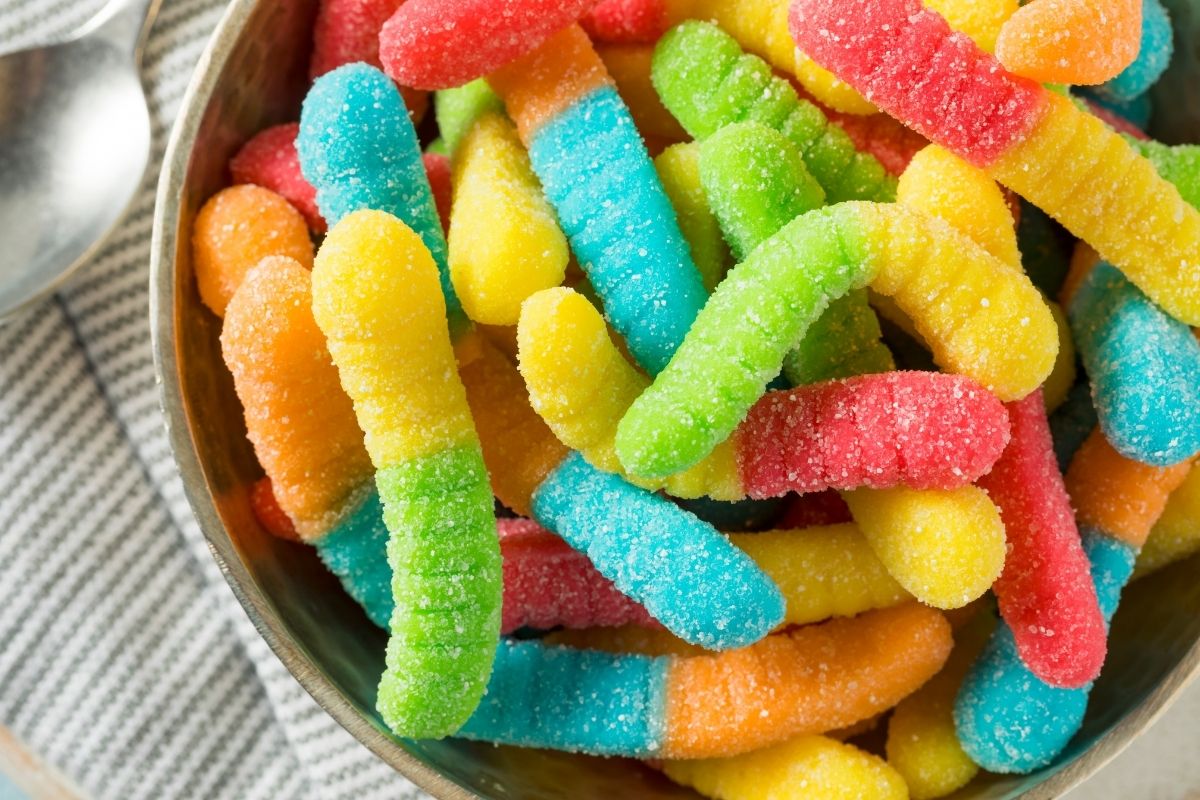 How about trying Trolli Sour Gummies? This option is one of the popular picks in the sour candy category. Sour Brite Crawlers are available in multiple flavors, including Watermelon, Fruit Punch, Very Berry, Sour Crunchy Crawlers, Sour Brite Eggs, and Peachie O's rings.
11. Toxic Waste
Ranked as the sourest candy out of all other candies, Toxic Waste is a must-try pick if you are up to the challenge of this extreme sour treat. Lemon, apple, watermelon, black cherry, and blue raspberry are the five ultra-sour flavors found in each yellow drum.
12. Juicy Drop Gum
Do you want a unique gum experience? Juicy Drop Gum is a great option. It was created to allow you to have complete control over your taste preference in every mouthful.
The sour gel is used to enhance the flavor of the gum and allows you to customize your experience by choosing how sour or sweet you want the candy to be.
13. Starburst Minis Sours
Savor some iconic Starburst candy. They are an excellent blend of fruity and sour, as well as chewy and soft. Get flavors including strawberry, watermelon, cherry, and blue raspberry, with a hint of sourness.
Final Thoughts
That concludes our list of the best sour candy on the market. Don't forget to stock up on the sour candies to gratify your most daring palate. Why not test your endurance with the sourest candies available? Whichever you pick, you will surely have a great treat!
Print
13 Best Sour Candy
Check out this list of the best Sour Candy to try!
Instructions
Pick your favorite flavor
Click on the link to visit Pinterest
Buy items from your local store or online
Enjoy and share on social media!
Keywords: Best Sour Candy
Hi, thanks for stopping by! We're so happy you're here. If you're a foodie and love to cook or bake - you're in the right place.
LEARN MORE
Join the mailing list and receive our free newsletter!
Recipe Marker provides you with the best information about home cooking tips, recipes, ingredient substitutes and more. Check out our blog to see the latest articles.