5 Different Types of Chips to Try in (2023)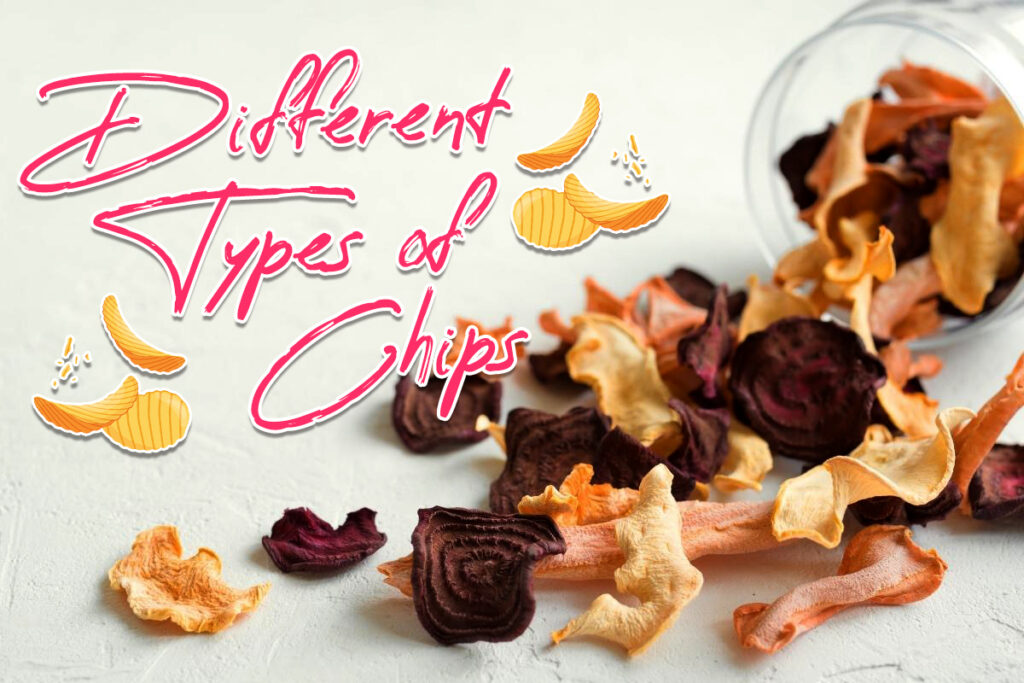 Did you know that there are different types of chips? Stick around as we share the different types of chips
Chips are among the best snacks that we usually get when we're going to watch a movie or even just spending our free time.
Indeed, our favorite snack comes in different types, and you'll probably be surprised when you get to know them.
Different Types of Chips
1. Potato Chip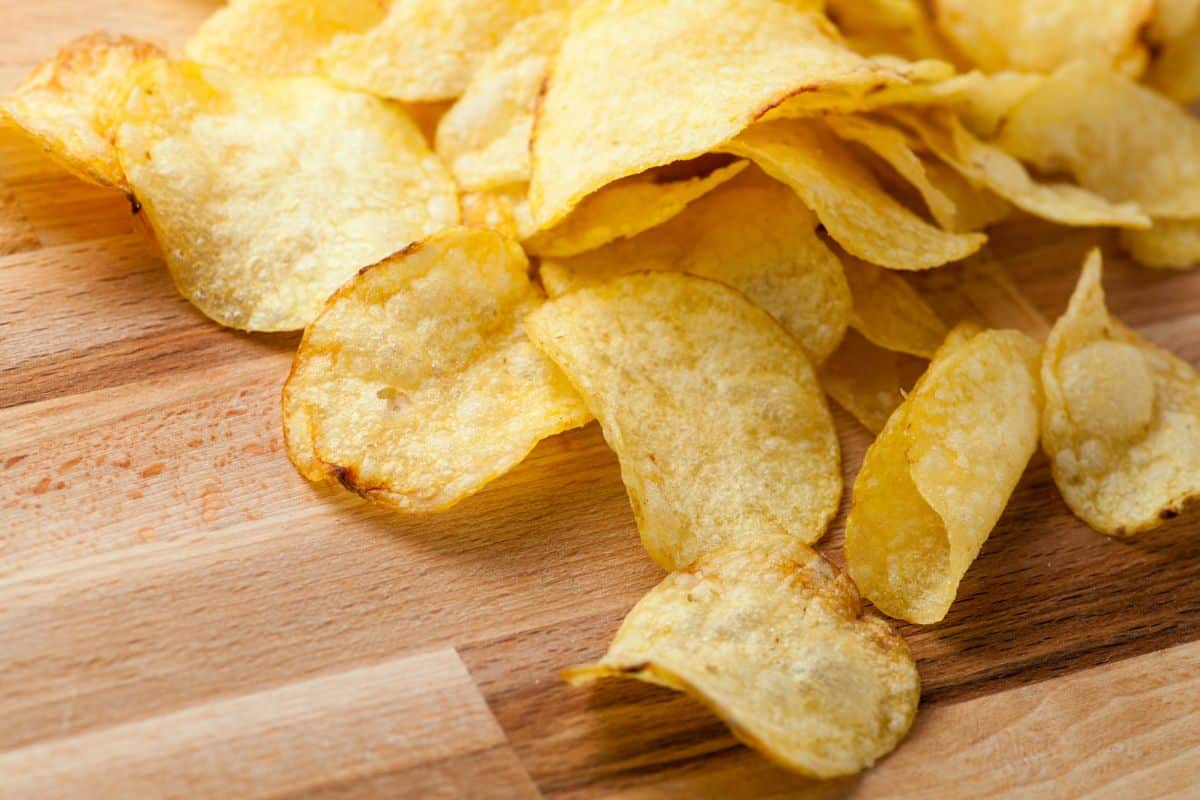 To make potato chips, the potatoes are sliced very thinly and then fried or baked until they are crisp. You may eat them hot or cold, but fresh is best.
The humble potato chip has gone global in popularity, with many countries producing their own distinctive versions using local ingredients and flavors.
It's not uncommon to find a truly staggering variety of potato chip flavors and varieties in local supermarkets.
It's not unusual to see these potato chips on menus as a snack, side, or even appetizer.
Chips are often created in a number of different forms, with the most basic being fried and salted, but they may be further customized by adding things like herbs, spices, cheeses, and other natural or artificial tastes and additives.
In Western countries, potato chips are a staple of the snack food and convenience food industries.
2. Plantain Chips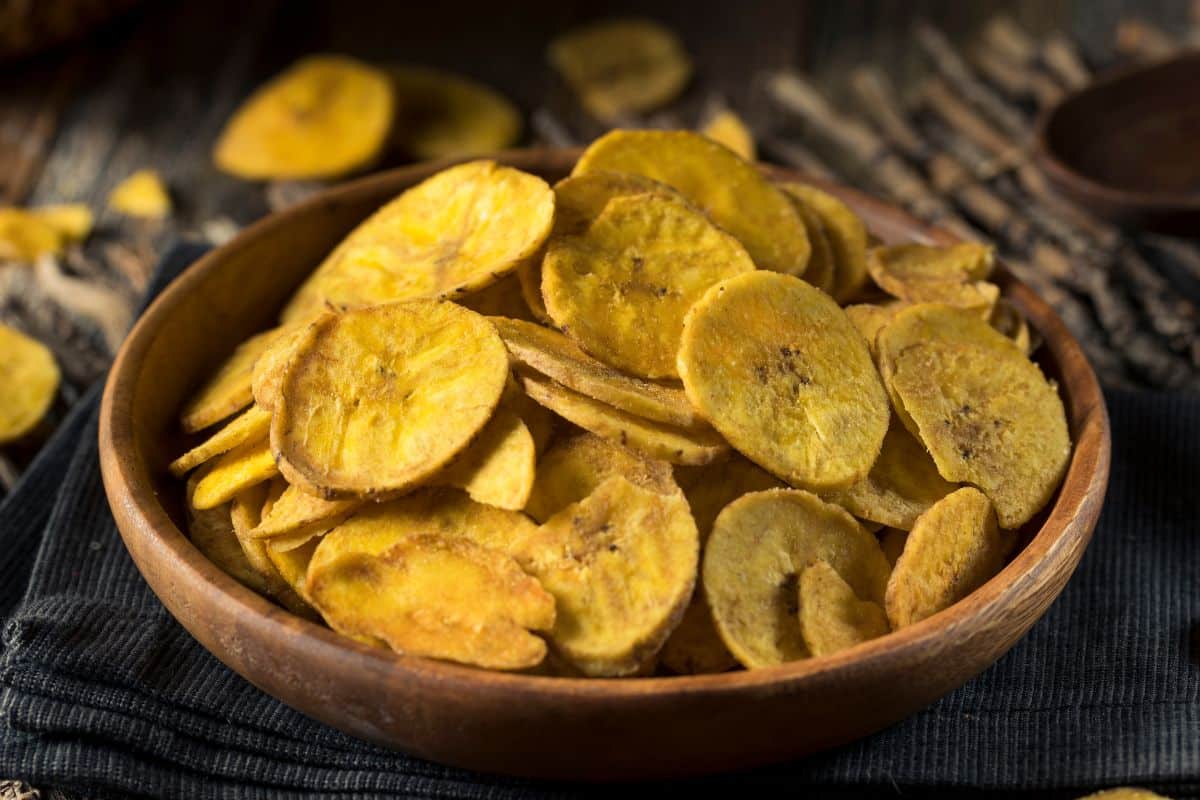 Plantains, which resemble bananas but are much higher in starch and hence easier to chop, are a staple in many Latin American, African, and Caribbean dishes.
Plantains should be purchased while still green; once they have turned yellow, they are past their prime.
One of the finest methods to get your daily dose of Vitamin C, plantain chips are also fantastic for your cardiovascular system.
Firmer and less sweet than bananas, they work wonderfully when fried and sprinkled with spicy seasoning.
3. Sweet Potato Chips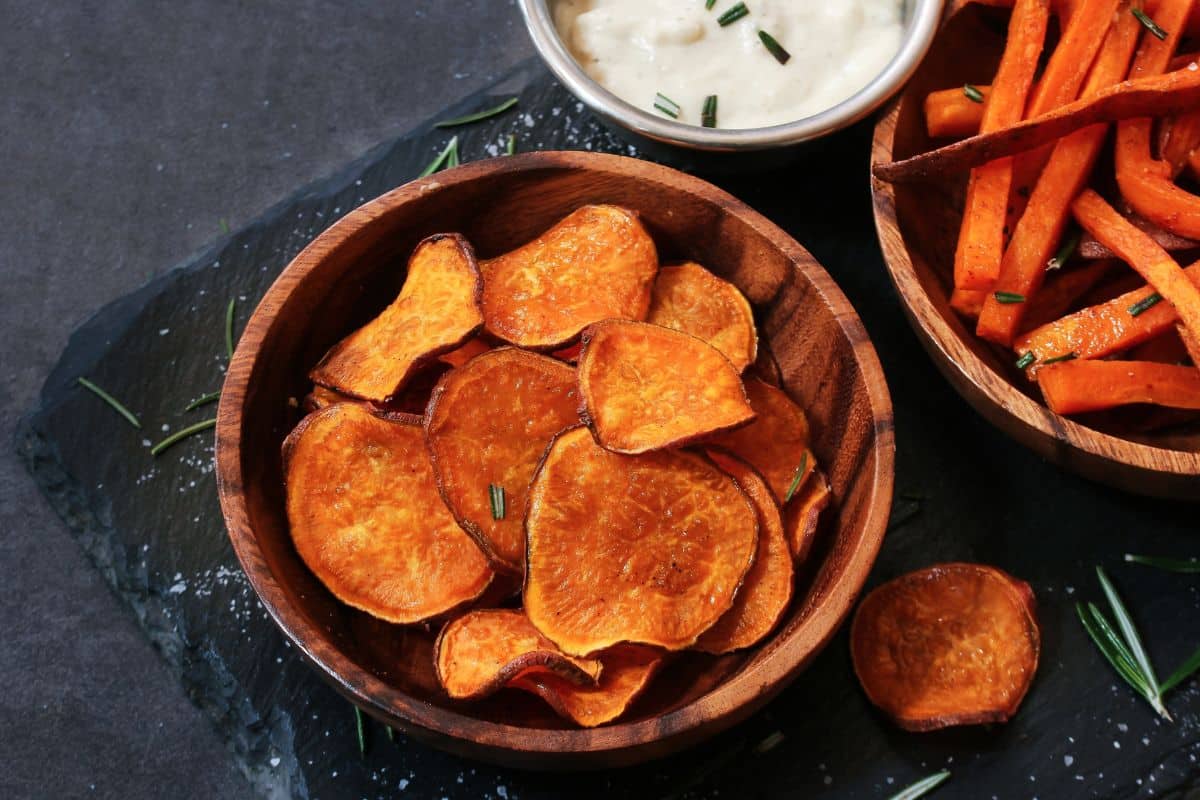 Sweet Potato Chips are fantastic to nibble on at the workplace, on your commute, and practically any place.
Sweet potatoes are one of the greatest foods you can bring to the workplace as a snack since they are loaded with beneficial nutrients including fiber, vitamins B and C, and antioxidants.
Typically made from Beauregard or Red Garnet sweet potatoes, these chips are sliced thin or extruded into thin oval shapes, then seasoned, baked, or fried to serve as a snack or topping for other dishes.
This chip, like others produced from vegetables like beets or carrots, is meant to be a healthier alternative to the more common varieties of corn or potato chips, albeit its nutritional value depends on the specific preparation method used.
4. Beet Chips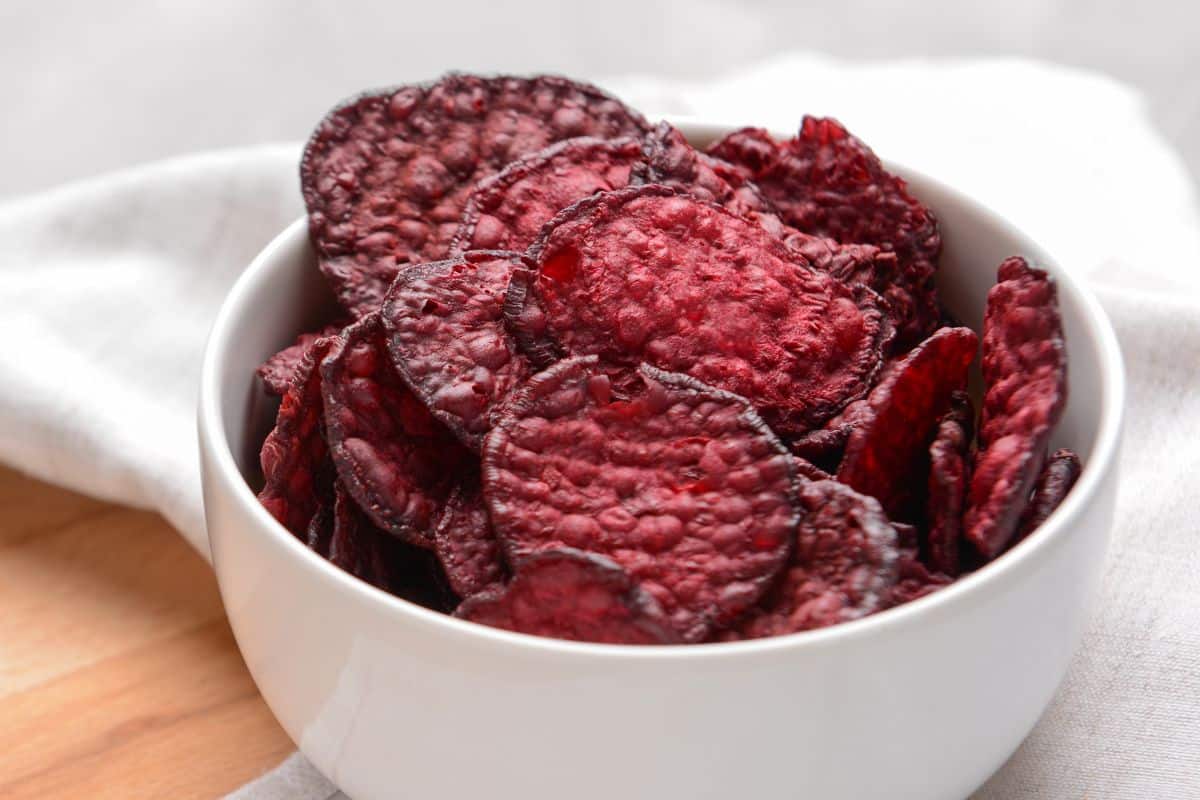 Magenta-colored beetroot or beet chips are baked for around 25 to 30 minutes instead of being deep-fried.
Beet chips are delightful to munch on because of their vibrant color, and they have a mild, earthy flavor that is enhanced by baking.
Even while they taste great on their own, adding some fresh rosemary makes them the ideal snack for the workplace or movie night.
5. Cassava Chips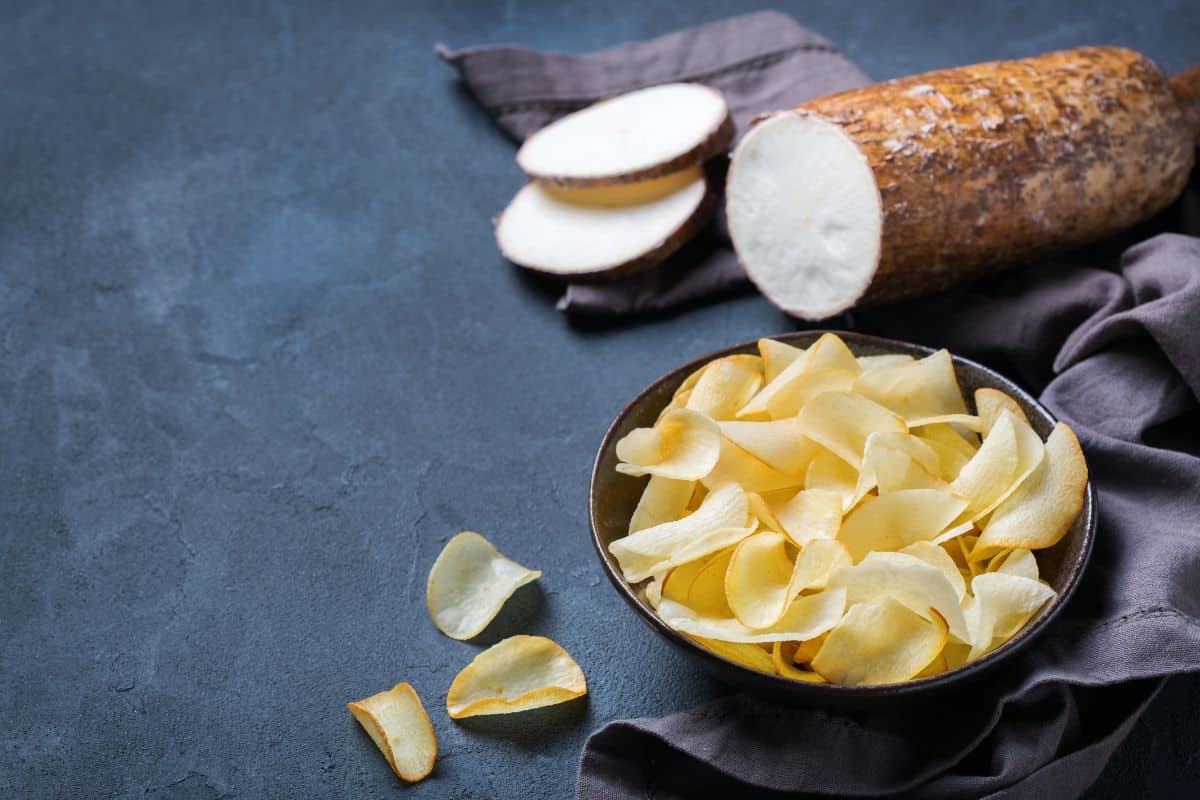 Cassava, a tuberous starchy root common in the subtropics, may be used to make a snack that is similar to potato chips but not potatoes.
Because of their waxy, fibrous composition, they fry up to a lovely golden brown and crunchy.
As a crisp accompaniment to Kokoda, a Fijian ceviche-style meal, they make a great snack.
Cassava chips are available at most grocery stores, but you may also make your own at home.
Keep in mind that an airtight container will keep homemade cassava chips crispier than a plastic bag with a zip closure would.
They're at their finest just after they're created, but you can keep them in the fridge for up to two weeks.
How to Choose Healthy Chips for You?
It's crucial to consider a chip's ingredients and nutritional content while looking for healthier choices.
Regardless if you just want to enjoy a movie night, it's still best to consume chips that are healthy but delicious.
Typically, the fewer the ingredients, the better. However, flavored varieties of nutritious chips may have more ingredients than unflavored varieties.
On the back of a bag of chips, you could find a list of ingredients like salt, spices, and nutritional yeast that are used to provide taste.
Avoid chips that have been colored or flavored artificially and that have extra sugar added to them.
High fructose corn syrup and cane sugar are only two examples of added sugars that can be found on food labels.
The quantity of calories and macronutrients in the product is another aspect to think about.
Chips with 150 calories or less per 1-ounce serving are a good option for those watching their calorie intake.
To round out your snack's nutritional profile, try pairing your chips with something like hummus or black bean dip, both of which are high in protein and fiber but generally lack in their own right.
Also, if you have dietary limitations, it's crucial to pick chips that are appropriate for your diet.
Conclusion
Chips are among the best kinds of snacks you can get at any time. Hopefully, the information provided above has helped you understand the different types of chips available in supermarkets today.
Print
5 Different Types of Chips
Check out the different types of Chips that have been shared on Pinterest.
Author:
Prep Time:

5 minutes

Cook Time:

10 minutes

Total Time:

15 minutes

Yield:

1 serving

Category:

Substitutes

Method:

Frying

Cuisine:

Substitutes
Instructions
Click on each link above to view the pin.
Learn more about the ingredient.
Purchase the ingredient.
Add substitute to your recipe =)
Nutrition
Serving Size:

1 serving

Calories:

150

Sugar:

4 g

Sodium:

2205 mg

Fat:

3.5 g

Saturated Fat:

1 g

Unsaturated Fat:

0 g

Trans Fat:

0 g

Carbohydrates:

13 g

Fiber:

5 g

Protein:

3 g

Cholesterol:

0 mg
Keywords: Different Types of Chips
Hi, I'm Linda thanks for stopping by! We're so happy you're here. If you're a foodie and love to cook from home - you're in the right place..
LEARN MORE
Join the mailing list and receive our free newsletter!
Recipe Marker provides you with the best information about home cooking tips, recipes, ingredient substitutes and more. Check out our blog to see the latest articles.