How to Cook Frozen Mozzarella Sticks in an Air Fryer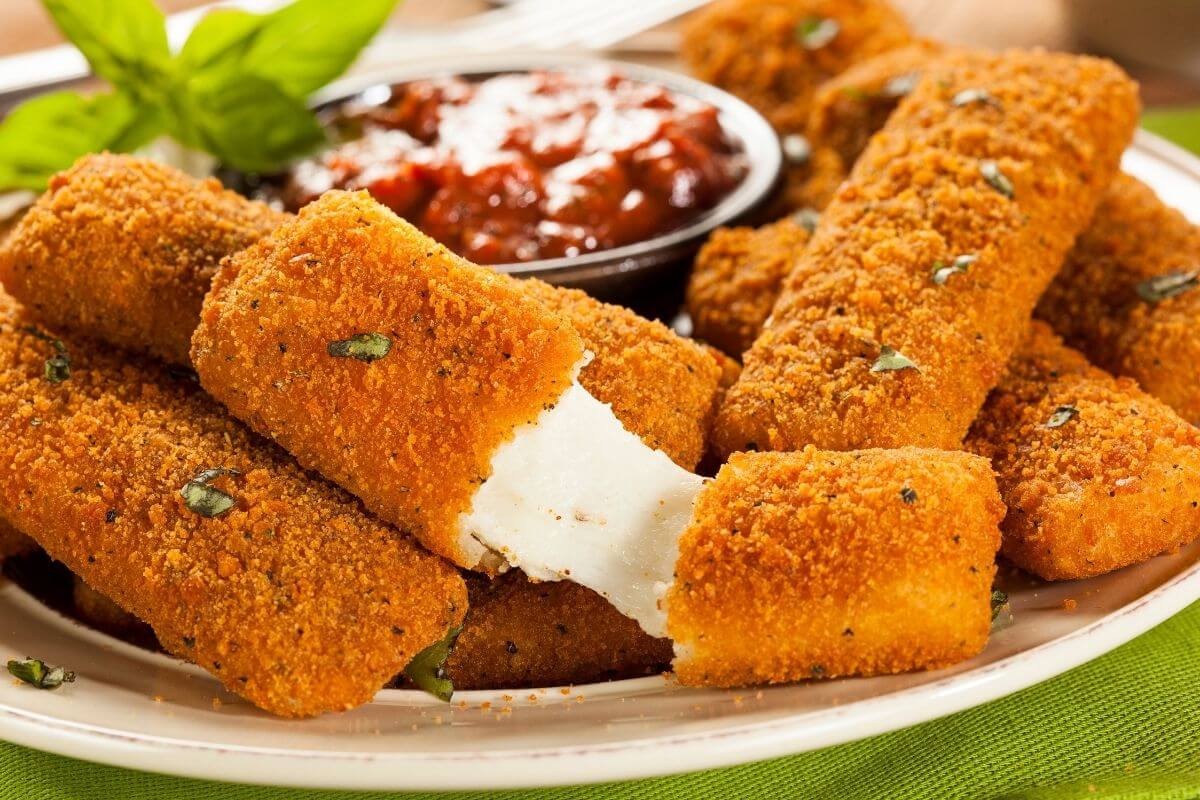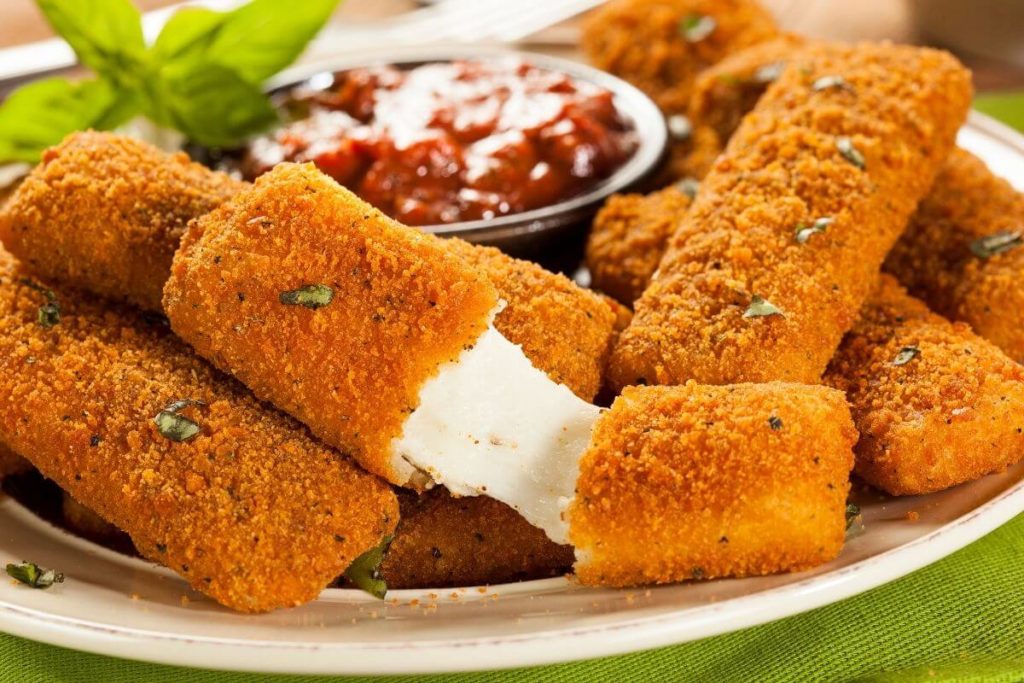 In this article, we will let you know how to properly cook frozen mozzarella sticks in the air fryer and get them crunchy and crispy on the outside and gooey on the inside.
Take a look.
No matter where you go, you'll be hard-pressed to find a person who does not like mozzarella sticks.
From parties to snacks, these stand as a staple at nearly every event. Besides being a crowd favorite, cooking and preparing them is also relatively easy.
Thanks to air fryers, hot mozzarella sticks can make it to your table quickly.
What's more, they are less greasy compared to their traditional deep-fried counterparts, eliminating soggy crumbs and a host of health issues.
How the Air Fryer Works
As we said, tradition has dictated deep frying these cheese sticks.
However, with the advent of technology, you definitely should try using an air fryer.
An air fryer works very much like a convection oven.
In fact, it heats foods evenly and cooks food faster than a traditional oven.
It requires preheating to prep it to its proper heating temperature, allowing you to whip up this dish in just a few minutes.
One of the reasons you should check out this gadget is it drastically cuts down on the use of oil.
Mozzarella cheese already has high amounts of fat and carbs, especially with the coating, making it an indulgent appetizer or snack in itself.
Cutting down on frying or cooking oil will at least help make it a bit healthier, allowing you to eat without (much) guilt.
In addition, the air fryer will cook your snack more evenly with a lower risk of burning.
In a deep fryer, you'd have to keep closer watch to prevent burning.
With an air fryer, you eliminate this need, allowing you to attend to other tasks while cooking.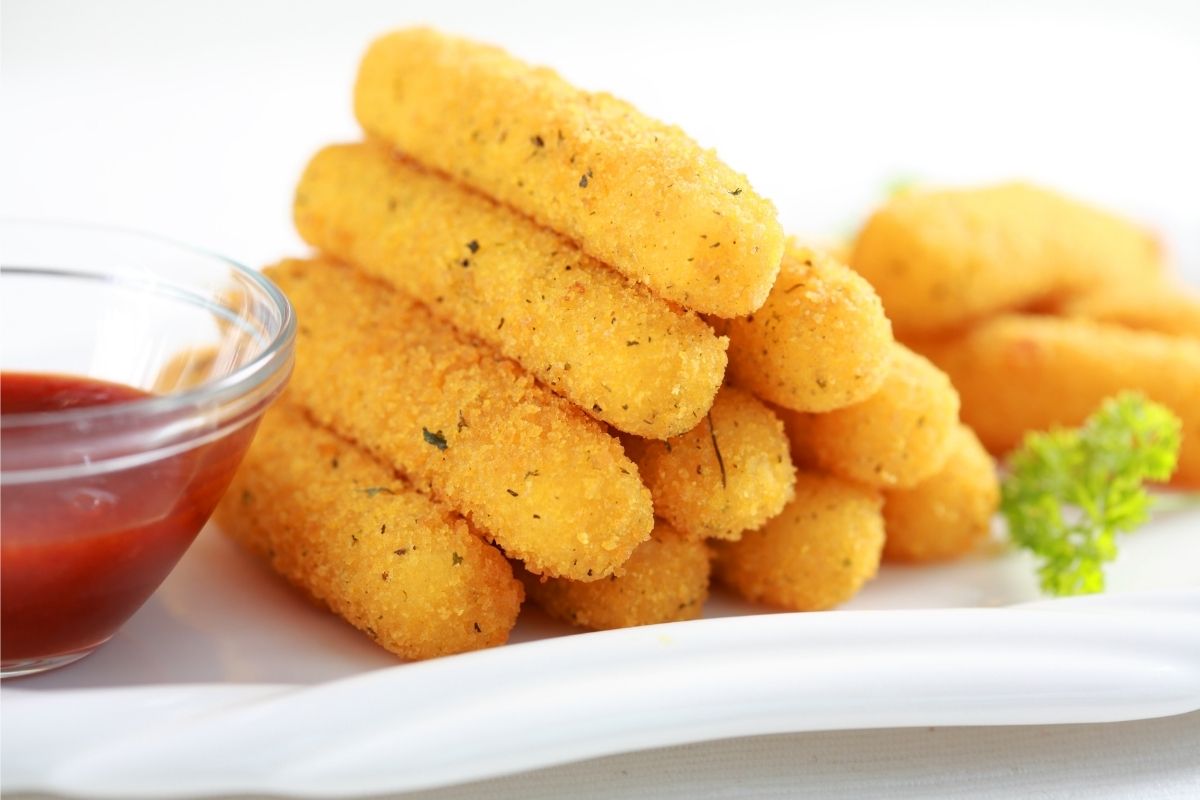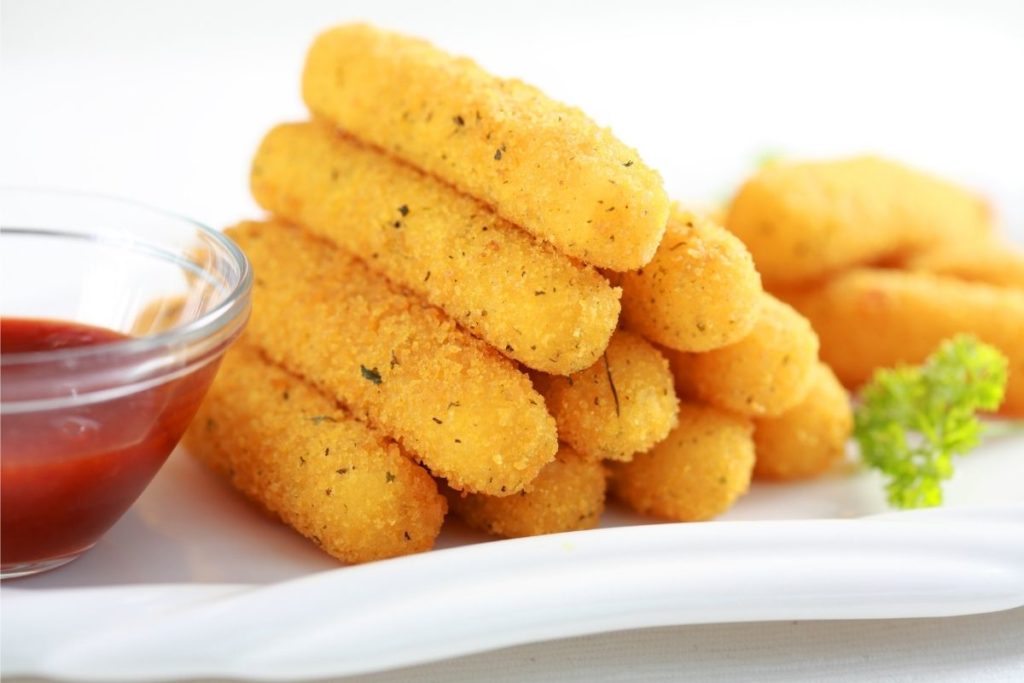 How to Cook Frozen Mozzarella Sticks in an Air Fryer
The air fryer works its magic by starting from the outside in.
This means that it cooks the exterior of your food first, so you have to prep your frozen mozzarella sticks properly in order to avoid them exploding or breaking apart.
When cooking them, make sure your frozen mozzarella sticks are solid and not thawed. This will ensure the coating does not get soggy.
To start, preheat your air fryer to around 380 degrees Fahrenheit.
Afterward, place your frozen mozzarella sticks straight into the basket; make sure they don't overlap to get that lovely golden brown hue.
Cook for around five minutes and flip the mozzarella sticks. Alternatively, you may also simply shake the basket.
Cook for another one to two minutes until they become golden brown and the cheese nearly starts to ooze out.
To avoid crumbs getting into your air fryer, you may also want to line your air fryer basket with some foil. Doing so will also prevent cheese from dripping into the fryer.
However, foil may also prevent air from properly circulating, so you'll have to weigh the benefits. If you want, you can use a light spray of oil to prevent the cheese sticks from sticking to the basket itself.
Bear in mind that cooking time can depend on the size of your mozzarella sticks.
Larger sticks can take a longer time to cook.
Mozzarella Sticks – What Are They?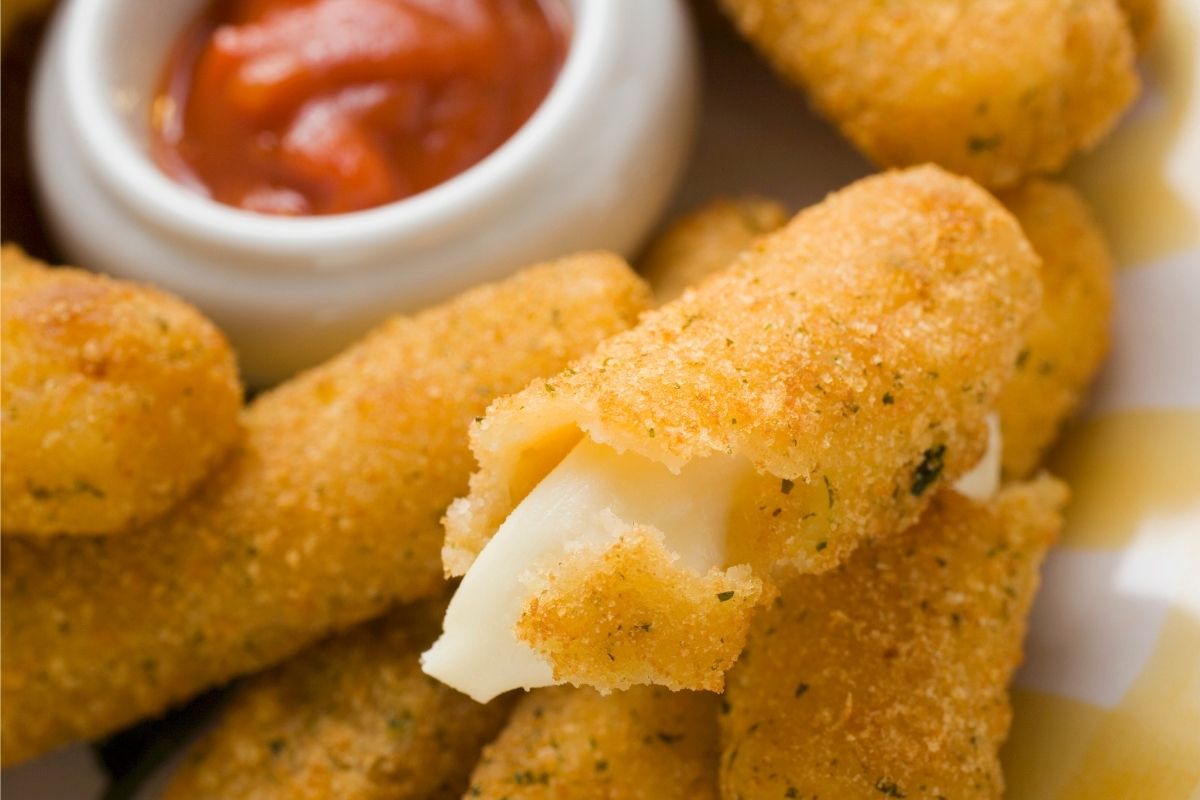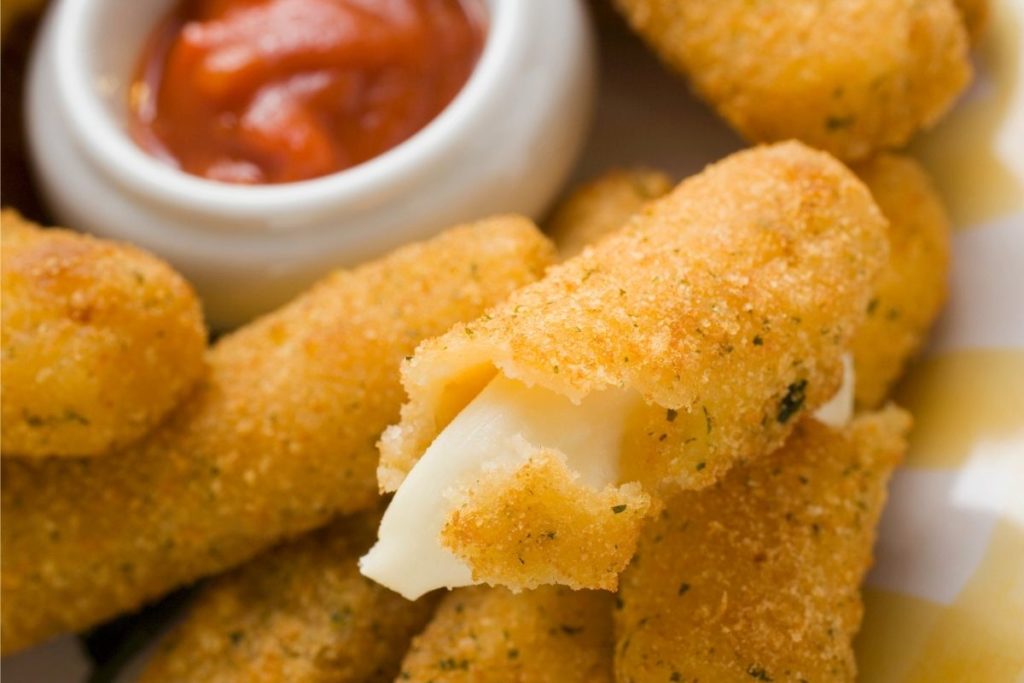 Mozzarella sticks are pieces of mozzarella cheese that are deep-fried.
They often come coated with batter or breadcrumbs which later contribute to their crunchy exterior.
In essence, they are just cheese sticks.
To cut through their rich taste, this snack or appetizer usually comes with marinara sauce on the side.
However, many also enjoy dipping them into barbecue sauce or even ranch dressing.
While often linked to Italy thanks to the use of the Italian cheese mozzarella, many say this dish does not actually come from Italy per se.
In fact, many claim mozzarella sticks are uniquely American. Studies trace the rise of this creation to around the late 60s or the early 70s, during a boom in all things fried.
This coinciding, of course, with the invention of deep frying technology.
The Bottom Line
Learning how to cook frozen mozzarella sticks in an air fryer is easy.
With this in your arsenal, you can finally cook this comfort food any time of day.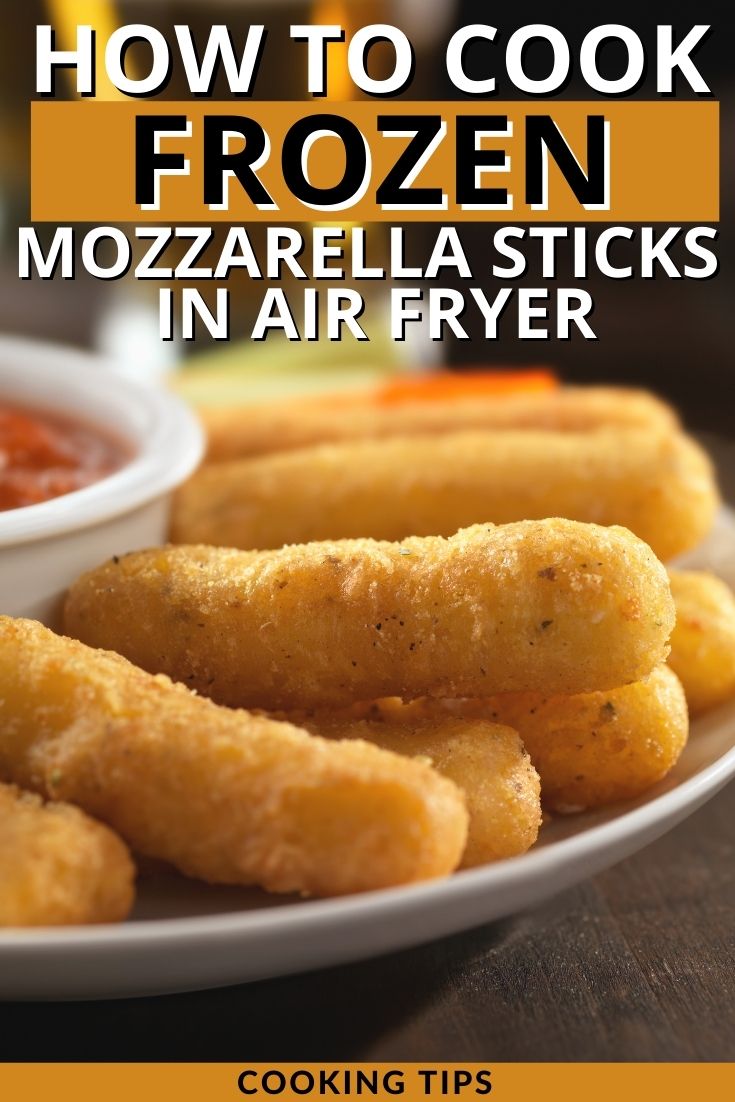 Hi, welcome to my site! I'm so happy you're here. I'm Linh, as you can tell I'm a fan of cooking and baking.
LEARN MORE
Join the mailing list and receive our free newsletter!
Recipe Marker provides you with the best information about home cooking tips, recipes, ingredient substitutes and more. Check out our blog to see the latest articles.