Top 5 Best Chamoy Sauces to Buy!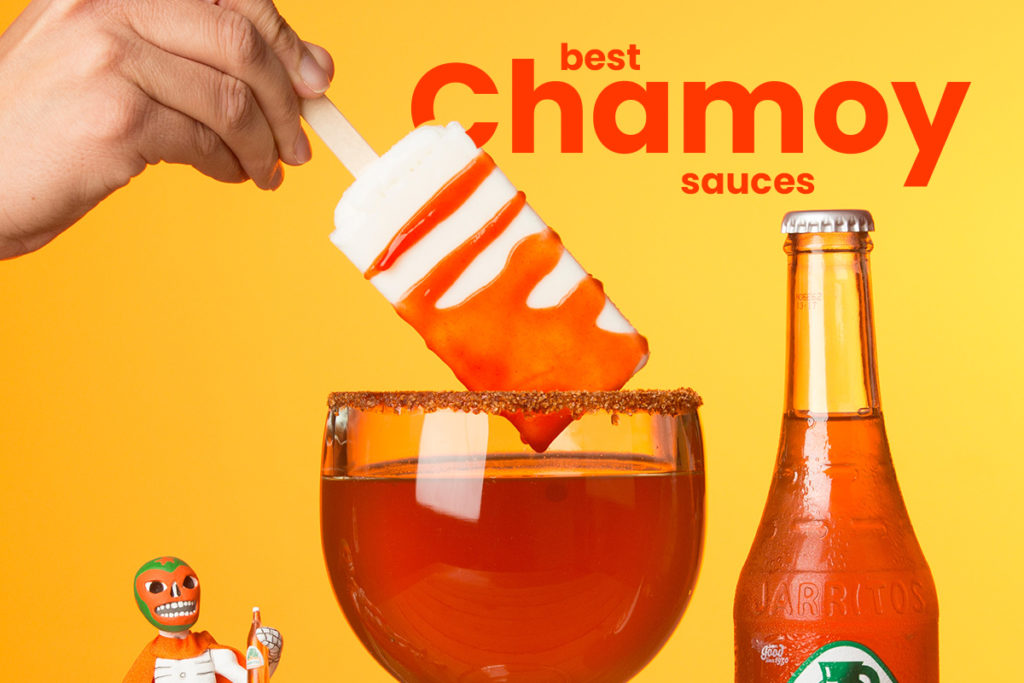 Are you looking for a good chamoy sauce? There are so many chamoy brands to choose from on the market, how do you decide which one is the best?
Stick around as we share the most popular chamoy sauce brands in this article.
What is Chamoy?
Chamoy is a multidimensional sauce that's typically used in various Mexican street foods. This dynamic condiment hits all areas of the palate.
The sauce is mostly made of pickled fruit, limes, and salt. This creates a beautiful contrast between the fresh fruit, which brings out the sweetness of pineapples, mangoes, and even watermelon.
You can also find it in paletas (Mexican popsicles) or even on chips!
Let's talk about the most popular chamoy sauces available today.
Best Chamoy Sauces
1. Tajin's Chamoy Sauce
Tajin hit the market in Mexico in 1985. Their success in Mexico encouraged the company to expand into the US market in 1993.
Their use of high-quality natural ingredients for almost forty years has earned the trust of the public.
Tajin's chamoy reveals the natural flavors of your fruits, vegetables, and snacks. But chamoy shouldn't be limited to fruits and snacks.
Trying making a refreshing mocktail using Tajin. Perfect for summer nights!
2. Amor Chamoy Sauce
Amor's chamoy sauce is a classic! This brand is synonymous with Mangonadas.
A mangonada is a fruit-forward dessert that incorporates chamoy, mangos, tamarind, and Tajin. This flavor combination is sure to satisfy your sweet tooth with a little added heat.
The chamoy in the mangonada adds that much-needed sour contrast, vamping up the sweetness of the mango.
3. Suprema Chamoy Rim Paste Dip
With a unique combination of chili peppers, mango, and chamoy, this dip is a must-try.
Coupled with fresh watermelon, cucumber, oranges, and even apples! It has just the right balance of spice and citrus to complement any dish. This dip is versatile.
We use it for more than just fruit!
Tired of that boring salted rim on your margaritas and other alcoholic beverages? Try swapping salt for Suprema's spicy dip. This is a must-have for micheladas and margaritas.
4. El Chilerito Chamoy
Chilerito Chamoy sauce is arguably the best Chamoy on the market. Its authentic and irresistible flavor entices consumers to buy again and again.
Just because you're on a diet doesn't mean that you can't enjoy your food. Chilerito's Chamoy has zero calories.
Perfect to add over other low calorie snacks like popcorn and fruit.
5. Moralitos Chamoy
Moralito's sugar-free chamoy has that perfect sweet and sour flavor profile. Even though it's sugar-free, it still adheres to the original Chamoy Moralito's sauce recipe.
Which retains its sweet, acidic, and spicy characteristics. All the flavor without added sugar.
Takeaway
Chamoy is ideal for those who enjoy spicy and tangy flavors. As a garnish, chamoy adds a sweet-sour flavor to foods like fruit and drinks.
The chamoy sauce may also be made by combining the chamoy and ketchup or spicy sauce. Carnitas, a spicy pork dish, is frequently served with this fruity sauce in Mexico.
We hope that the list provided above can help you decide what chamoy brand to try next.
5 Best Chamoy Sauce Brands
Check out this list of the best Chamoy Sauces brands to try!
Instructions
Pick your favorite brand
Click on the link to visit Pinterest
Buy items from your local store or online
Enjoy and share on social media!
Keywords: Best Chamoy Sauces
Hi, thanks for stopping by! We're so happy you're here. If you're a foodie and love to cook or bake - you're in the right place.
LEARN MORE
Join the mailing list and receive our free newsletter!
Recipe Marker provides you with the best information about home cooking tips, recipes, ingredient substitutes and more. Check out our blog to see the latest articles.