Top 4 Best Frozen Quiche Brands to Buy! (Ranked in 2023)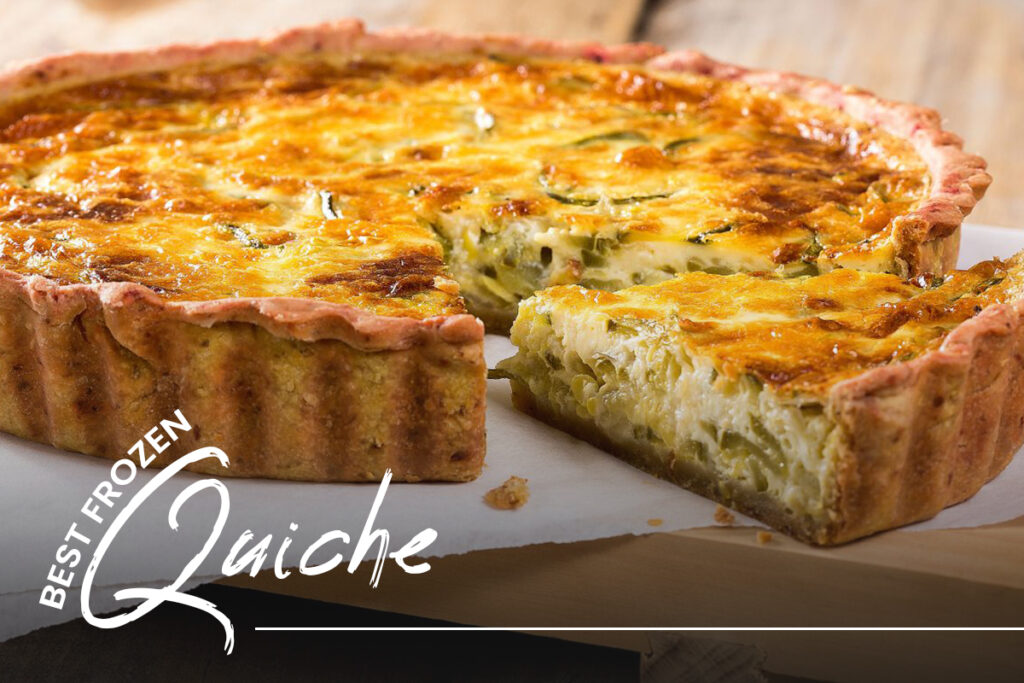 Are you looking for the best-frozen quiche brands to buy? Stick around as we share a list of the most popular options available to you.
While your to-do list may be long on any given day, cooking is perhaps one of the more time-consuming tasks of the day. When you think about all the time and effort that goes into preparing a dinner from start to finish, it's simple to see why many people are turning to pre-cooked frozen foods.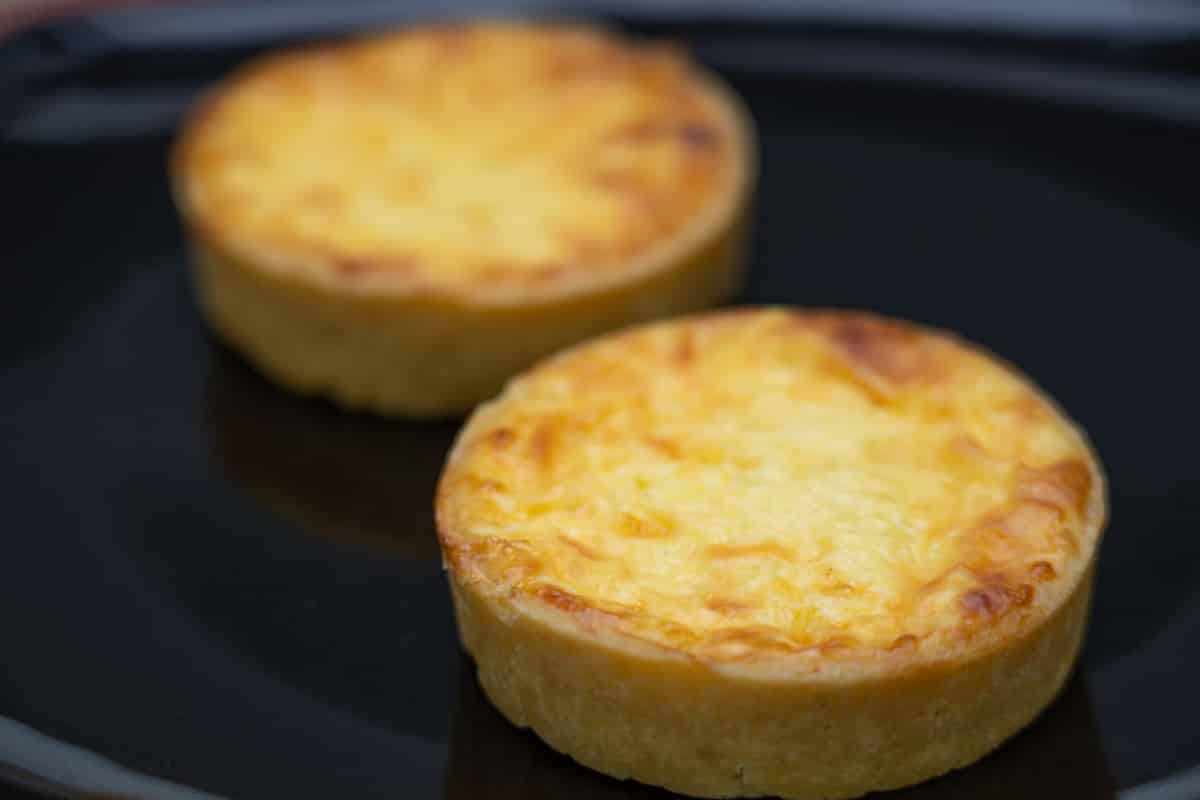 In this article, we'll talk about quiche, pronounced as "keesh." This tongue-twister dish is present in different cuisines worldwide.
With that, let's find out the best-frozen quiche on the market today.
What are the Best Frozen Quiche Brands?
1. Country Chef Spinach and Tomato Quiche
Country Chef's Spinach and Tomato Quiche is created using fresh ingredients. A single serving of 10 ounces is ideal for a snack.
When making the quiche, keep in mind that it may include eggs, milk, wheat, and other preservatives.
Spinach, tomato, and white cheddar cheese are also mixed into the Spinach and Tomato Quiche. Adding tomato and spinach to the custard gives it a tangy flavor.
Wheat flour is used to make the crust, which has a flaky texture but is thick enough to hold the quiche's filling.
The combination of fresh tomato and spinach with white cheddar was a big hit.
This custard's egg and cream base were well complemented by the flavors of white cheddar, spinach, and tomato.
2. Nancy Lorraine's Quiche
Nancy Lorraine's Quiche may be frozen for a handy meal. It contains a flaky crust containing bacon, Swiss cheese, and onion.
For breakfast, lunch, or supper, it's a great option, and it reheats nicely so you can enjoy it whenever you want.
This quick and simple dish may be served as an appetizer or main course. It has a fantastic blend of Swiss Cheese, Bacon, and Onion Chive tastes.
In addition to everything else going on around here, you can receive all the tastes of classic breakfast foods like Swiss cheese with bacon and onion in each mouthful – without any cooking necessary.
Plus, the delicate and flaky crust was an excellent accompaniment.
3. Whole Foods Market Mini Quiche Trio
Pasteurized milk, mushrooms, eggs, Swiss cheese salt, onions, Parmesan cheese, cornstarch, sunflower oil, soy sauce, yeast extract, and potato flour are some of the ingredients in the Whole Foods Market mini quiche trio.
They're all natural and good for you.
In only three to four minutes, this small quiche from Whole Foods Market is ready to be served.
It has been independently verified as vegetarian by the Vegetarian Society of America. Dairy, soy, wheat, and eggs are among the ingredients that cause allergic reactions in some people.
There are 15 tiny quiches in a single pack. Calories from this dish come to 260 cal. You won't find any trans fats or cholesterol in it.
Additionally, vitamin D, calcium, iron, and potassium are some of the nutrients included in the mini quiche trio.
4. Quiche Mini with Onions Member's Mark Mini Spinach and Swiss
Quiche Mini with Onions Member's Mark Mini Spinach and Swiss come in a three-pack combi.
It's simple to get the oven up to temperature, all you have to do is to just turn the oven to 400 degrees Fahrenheit.
It is best to bake your quince by removing it from the plastic tray and spreading it out evenly on a baking sheet.
This mini-quiche is available in two delicious flavors–Florentine and Swiss with Bacon. There are two wonderful types of Florentine and Swiss Cheese with Bacon.
This product has no artificial flavors or preservatives. It also does not include any GMOs. There are no trans fats in this product, which has a calorie count of 290.
What Is a Quiche?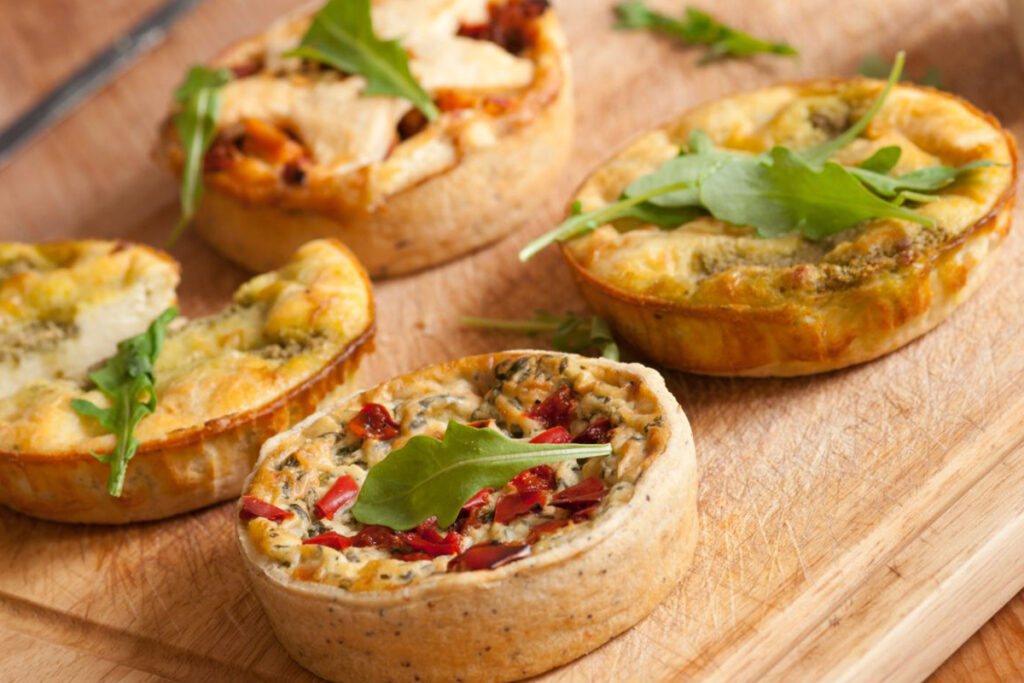 One of the most versatile and filling dishes in the kitchen, quiche comes in a wide variety of flavor profiles.
With just a handful of your favorite ingredients, you can whip one up at home in no time. Whatever your dietary preferences, you may customize your quiche to suit your taste and health needs.
Just a little history, English and Italian cuisines have been using eggs and cream in their pastries since at least the 14th century and the 13th century, respectively.
Some of the earliest known references to egg and cream-filled pastries date back to the 14th century and can be found in such works as The Forme of Cury and the Italian Libro de arte coquinaria.
However, a quiche often features a pastry shell and an egg- and milk- or cream-based interior. Depending on the type of dish you make, it can either be served as a hot, warm, or cold dish.
Even though the meal is excellent, it is difficult to prepare because of the need to make the crust from scratch.
Make the custard foundation filling by beating eggs and milk until they reach the desired consistency, then add the remaining ingredients and stir well to combine.
Summary
A quiche is a good option for an appetizer, but it's not so easy to prepare one from scratch.
With that, we hope that the list of best-frozen quiche brands provided above has helped you serve delicious quiche without the time-consuming preparation.
Print
4 Best Frozen Quiche Brands
Check out this list of the best Frozen Quiche flavors to try!
Author:
Prep Time:

1 minute

Cook Time:

24 minutes

Total Time:

25 minutes

Yield:

1 serving

Category:

Frozen

Method:

Baking

Cuisine:

Meal
Instructions
Pick your favorite flavor
Click on the link to visit Pinterest
Buy items from your local store or online
Enjoy and share on social media!
Nutrition
Serving Size:

1 Servings

Calories:

450

Sugar:

4 g

Sodium:

720 mg

Fat:

27 g

Saturated Fat:

13 g

Trans Fat:

0.5 g

Carbohydrates:

33 g

Fiber:

2 g

Protein:

19 g

Cholesterol:

160 mg
Keywords: Best Frozen Quiche Brands
Hi, I'm Linda thanks for stopping by! We're so happy you're here. If you're a foodie and love to cook from home - you're in the right place..
LEARN MORE
Join the mailing list and receive our free newsletter!
Recipe Marker provides you with the best information about home cooking tips, recipes, ingredient substitutes and more. Check out our blog to see the latest articles.