7 Best Hawaiian Sun Flavors (updated 2023)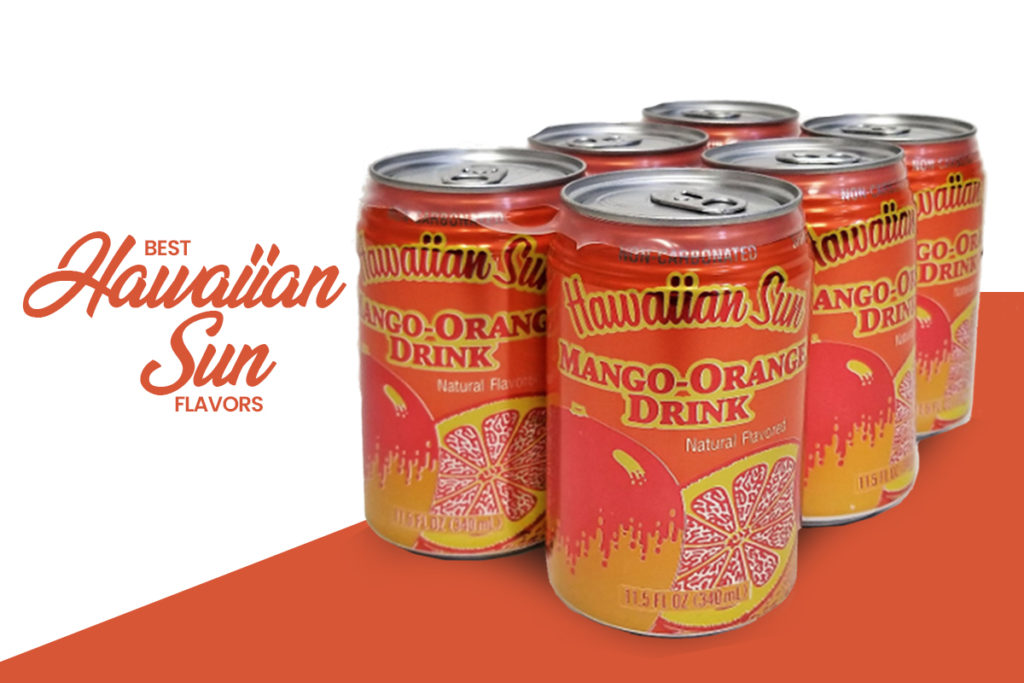 Hawaiian Sun is a pioneering juice company in Hawaii. Kama'aina (Hawaiian residents) want their guava, lilikoi-lychee, mango, and pass-o-guava juices while away from the islands, and so do the rest of the world!
The Kurihara Brothers started Hawaiian Sun Products Inc. in 1952 as a fresh fruit company with a farm in the Wailua/Kualoa region.
It was in the latter half of the decade that they started canning juice in Honolulu. A short time later, they became the first American firm to use aluminum cans for hot packing juice instead of steel, similar to how Primo Beer was the first American brewery to use aluminum cans for beer.
As of now, Hawaiian Sun has a broad range of flavors to choose from. So, let's find out the best Hawaiian Sun flavors on the market.
Best Hawaiian Sun Flavors
1. Lilikoi Lychee
Passion fruit and lychee flavors make up Lilikoi Lychee. Papaya and lilikoi from South America are brought in as a concentrate because of the company's limited supply and high demand.
This drink is a big hit because of its combination of lychee and lilikoi tastes. When you're taking a break from work or play, satisfy your thirst for style with this lovely and subtle beverage.
It'll be a hit with the youngsters, too.
2. Guava Nectar
Sweet, juicy, and tangy, the Guava Nectar flavor comes from ripe, fresh pink guavas grown in rich volcanic soil. Guava is a household name in Hawaii, and it's a familiar one to foreigners as well.
The Guava fruit, which originated in Mexico, has spread throughout the United States and the Caribbean. Subtropical Asia and Hawaii eventually embraced and grew it extensively.
Many nations currently provide guava nectar. It has long been a family favorite because of its high fiber and vitamin C content.
Other Hawaiian Sun products that use guava include jams and jellies, pancake mixes, concentrates, and sweets.
All year round, you can indulge in the tastes of the tropics.
3. Strawberry Guava
Tropical fruit aromas of strawberry and guava combine to keep the summer mood going all year long. Guava is one of the USA's favorite flavors and has continuously risen in popularity.
And the addition of strawberries makes this a sweet tropical treat you will love.
4. Luau Punch
You'll feel like you've stepped into a tropical paradise with this fruity beverage made of pineapple, passion fruit, guava, and orange juice.
In short, the flavors combine to create a sweet punch with a unique tangy undertone.
5. Mango Orange
Mango and orange flavors combine to create a delightfully sweet drink enjoyed by people all around the world. For many years, this has been a staple flavor in Hawaiian Sun's lineup.
Plus, mango trees grow in abundance all across the Hawaiian islands, making this flavor the perfect homage to the islands.
Takeaway
Hawaiian Sun produces a variety of tropical fruit juices. We hope that the list of flavors above will help you find the best Hawaiian Sun drink to try next.
Print
5 Best Hawaiian Sun Flavors
Check out this list of the best Hawaiian Sun flavors to try!
Instructions
Pick your favorite flavor
Click on the link to visit Pinterest
Buy items from your local store or online
Enjoy and share on social media!
Keywords: Best Hawaiian Sun Flavors
Hi, I'm Linda thanks for stopping by! We're so happy you're here. If you're a foodie and love to cook from home - you're in the right place..
LEARN MORE
Join the mailing list and receive our free newsletter!
Recipe Marker provides you with the best information about home cooking tips, recipes, ingredient substitutes and more. Check out our blog to see the latest articles.