5 Best Mogu Mogu Drink Flavors Ranked (2023)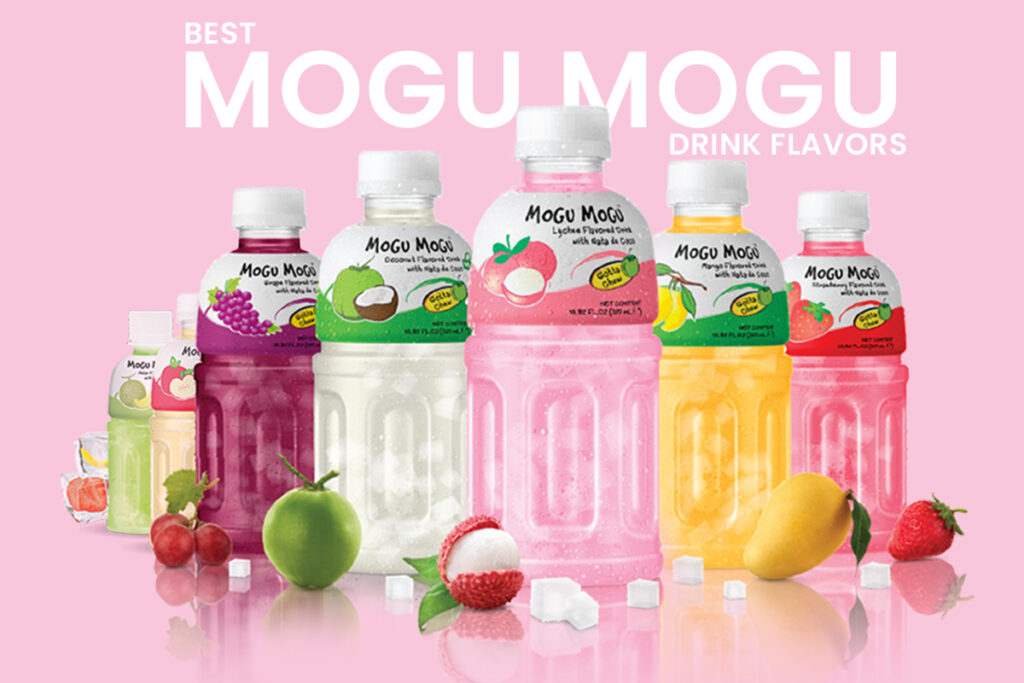 Are you trying to decide what Mogu Mogu drink to try next? We share a list of the most popular Mogu Mogu flavors below.
After a long day at work or at school, one of the most refreshing ways to relieve yourself from stress is having a dessert and a refreshing drink.
One brilliant idea from the company Mogu Mogu has led the business to become a sensation in Asia, the Middle East, and Europe.
What's it? Having a 2-in-1 product that offers the satisfaction of a dessert and beverage.
Let's find out more about this company.
What Is Mogu Mogu?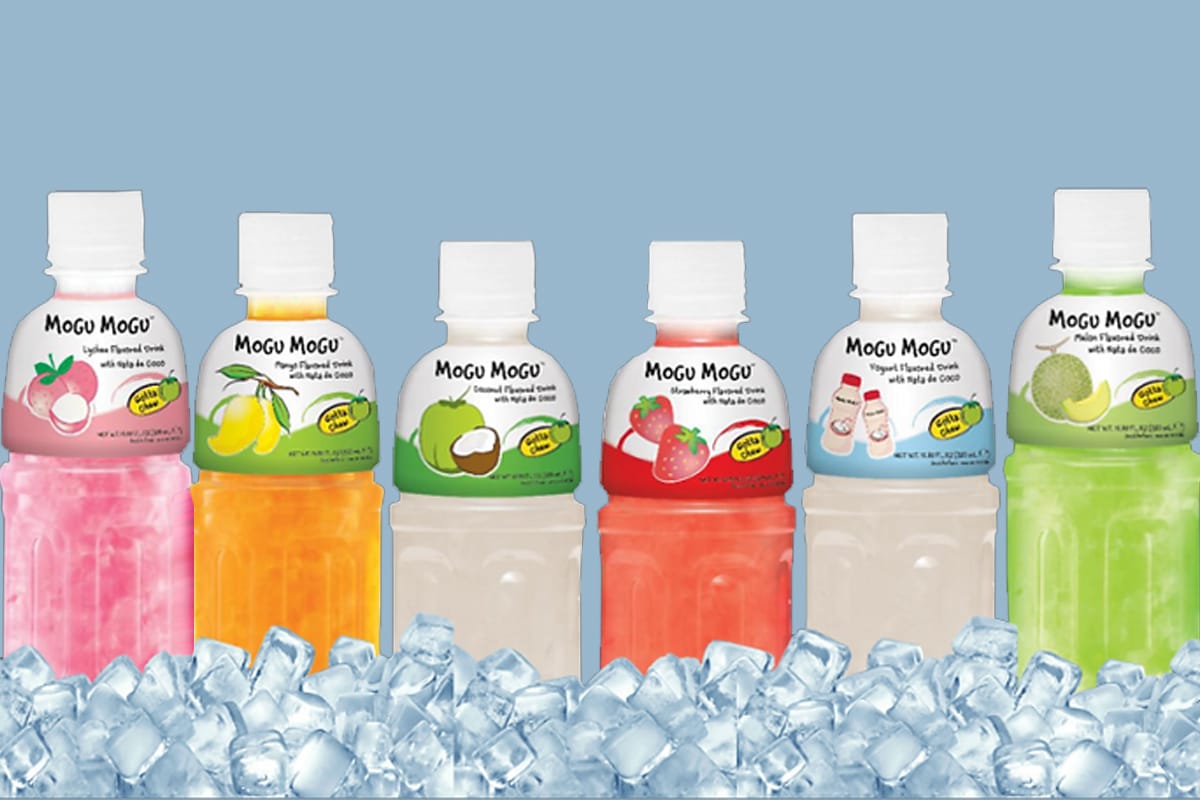 Mogu Mogu is a drink that is high in dietary fiber, low in cholesterol has no fat and is a strong source of vitamin C.
The delicious, low-calorie chewable nata de coco serves as a snack to go with the delectable drink and is excellent for digestion.
Sappe, an eco-friendly, family-owned business in Thailand that produces Mogu Mogu, aims to support healthy lifestyles by providing consumers with cutting-edge, premium beverages made in state-of-the-art facilities.
Now let's learn about the best Mogu Mogu Drink Flavors.
Best Mogu Mogu Flavors
1. Lychee
Given that Mogu Mogu has a lychee lemonade flavor, the lychee flavor may come off as a little overly sweet.
This, however, is one of the most popular Mogu Mogu flavors in the majority of Southeast Asian nations.
You may get 170 calories, 41 grams of carbohydrates, 2 grams of protein, 36 grams of sugar, and 30 milligrams of sodium in a 320 ml bottle of Mogu Mogu Lychee flavor.
2. Watermelon
Mogu Since many beverage manufacturers fail to accomplish so, it is highly commended that Mogu watermelon flavor provides a flavor that is comparable to that of the actual watermelon fruit.
It is challenging to replicate the flavor of this watery fruit without making it bland or overly concentrated.
The mild, somewhat sweet watermelon flavor is detectable right away, and the finish is watery and reviving. identical to the real thing.
3. Melon
The Mogu Mogu Melon flavor is somewhat sweet and has the same flavor as most Japanese candies.
In a 320ml bottle of Mogu Mogu Watermelon, you can expect 160 calories, 96mg sodium, 40g of carbs, and 39g of sugar.
4. Strawberry
For a cool beverage on a hot summer day, try the Mogu Mogu Strawberry with Nata de Coco. Antioxidant-rich strawberries are used in this beverage, which keeps every nutrient intact.
Your body and mind will be instantly revitalized by the chewy nata de coco pieces combined with delicious strawberry juice.
In a 320ml bottle of Mogu Mogu Strawberry, you can expect 160 calories, 95mg sodium, 40g of carbs, and 35g of sugar.
5. Mango
Mogu Mogu Mango flavor tastes like a sweet mango lemonade that has a refreshing aftertaste.
In a 320ml bottle of Mogu Mogu Mango, you can expect 160 calories, 45mg sodium, 37g of carbs, and 29g of sugar.
About Mogu Mogu Company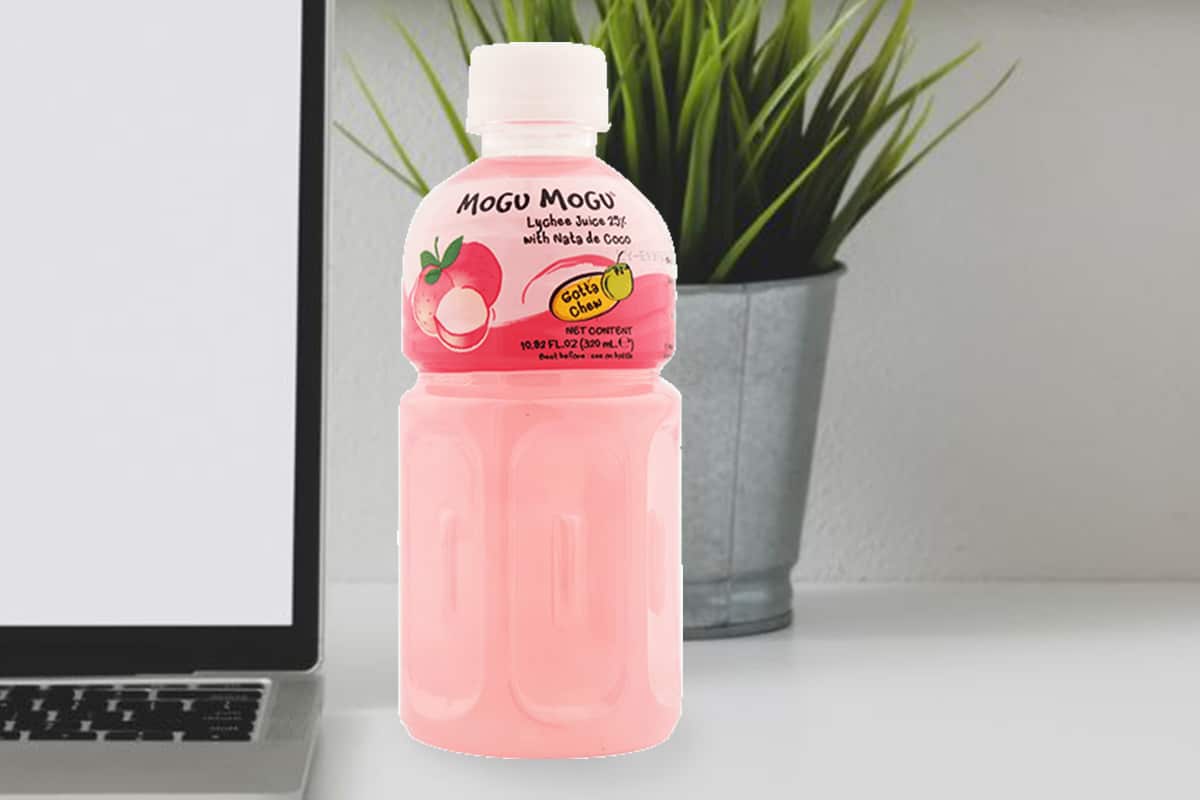 In 2001, the company made its first debut in the beverage market by releasing "Mogu Mogu," a beverage made with coconut jelly.
Under the direction of Mr. Adisak Ruckariyaphong (Kong), a second-generation CEO of the family firm, it was the first beverage product produced by the corporation.
The company introduced the first drink with coconut jelly in the world during its debut, but it was just the beginning of something big.
Since its introduction to the beverage market, the Mogu Mogu brand has pleased both domestic and foreign customers.
The beverage itself is delicious and gives consumers a cool, enjoyable feeling when they drink it.
Almost immediately, "Mogu Mogu" became everyone's favorite chewy drink, causing quite a commotion in the business.
Mogu Mogu is now offered in more than 60 nations worldwide after receiving excellent reviews on a global scale.
Is Mogu Mogu Good for You?
Mogu Mogu is known for having a sweet taste and nata de coco.
Scientifically speaking, nata de coco provides a lot of health benefits since it is rich in fiber, and has no cholesterol. It also helps in digestion.
Takeaway
Mogu Mogu offers a wide variety of flavors, such as strawberry, melon, mango, and lychee. It is also known for its unique nata de coco in a bottle, which serves as an on-the-go snack for many people.
We hope that the details of the best Mogu Mogu drink flavors provided here have helped you decide what flavor to try next.
Print
5 Best Mogu Mogu Flavors
Check out this list of the best Mogu Mogu flavors to try!
Author:
Prep Time:

1 minute

Cook Time:

1 minute

Total Time:

2 minutes

Yield:

1 Serving

Category:

Drink

Method:

Refrigerated

Cuisine:

Drinks
Instructions
Pick your favorite flavor
Click on the link to visit Pinterest
Buy items from your local store or online
Enjoy and share on social media!
Nutrition
Serving Size:

1 Serving

Calories:

160

Sugar:

35 grams

Sodium:

95 mg

Fat:

0 grams

Saturated Fat:

0 grams

Unsaturated Fat:

0 grams

Trans Fat:

0 grams

Carbohydrates:

40 grams

Fiber:

1 gram

Protein:

0 grams

Cholesterol:

0 grams
Keywords: Best Mogu Mogu Flavors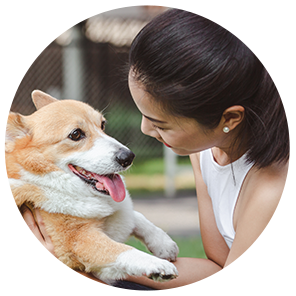 Hi, I'm Linda thanks for stopping by! We're so happy you're here. If you're a foodie and love to cook from home - you're in the right place..
LEARN MORE
Join the mailing list and receive our free newsletter!
Recipe Marker provides you with the best information about home cooking tips, recipes, ingredient substitutes and more. Check out our blog to see the latest articles.