5 Best Shakeology Flavors Ranked (2023)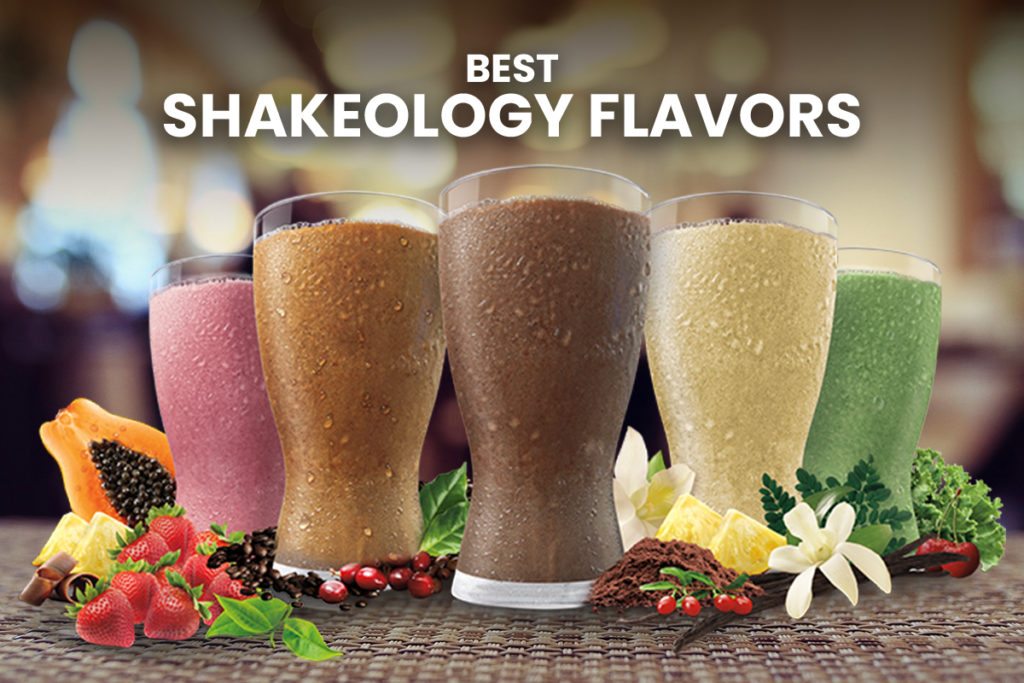 Are you wondering what are the best Shakeology flavors to try? Check out the most popular flavors below.
With over 70 healthy superfood ingredients, Shakeology is perhaps the most nutrient-dense high-protein smoothie available today.
Best Shakeology Flavors Ranked
1. Chocolate Plant-Based Vegan
As far as we're concerned, chocolate is a universally beloved flavor. Fortunately, Beachbody has two great chocolate varieties to choose from.
In comparison to the Whey option, this vegan one is not as creamy. Unlike other vegan smoothies on the market, however, this one isn't grainy.
In fact, there isn't grain in any of the Shakeology vegan flavor options. However, it's not as heavy as the Whey version. As a chocoholic who prefers a more subtle flavor, the vegan variant is for you.
2. Café Latte
Shakeology's newest flavor, Cafe Latte, became available in the United States on January 11, 2016. On November 2, 2016, it was released in Canada. Cafe Latte's Plant-Based option is now accessible for those who aren't a fan of whey-based protein.
It has a little coffee flavor. When making a cup for those who favor black or robust blends, you may wish to add a little of your own coffee to the shake.
In addition, Café Latte includes 75% less caffeine than an 8-ounce cup of coffee, making it the most caffeine-friendly Shakeology flavor yet.
This means you won't experience a sudden surge in energy, followed by a lull. This Shakeology flavor provides an all-natural energy boost.
3. Tropical Strawberry Plant-Based Vegan
Vegan Tropical Strawberry had a somewhat gritty flavor when it initially came out. In the last several years, Beachbody has learned a great deal about how to make its shakes smoother, so this is no longer a problem. Like the others, this flavor has a silky texture.
It's best if you throw some ice in there too. For those who prefer a more subtle flavor, Tropical Strawberry is an excellent choice.
Additionally, if you're looking for a mild flavor, this is an excellent choice; in terms of sweetness, it isn't overpowering.
4. Vanilla
For years, Vanilla Shakeology was the most requested flavor.
The FDA has loopholes that enable artificial components to be used in "pure" supplements, therefore Beachbody had a difficult time establishing a really natural vanilla flavor.
This flavor offers a mild vanilla flavor that may be readily tinkered with.
5. Greenberry
The richest Shakeology flavor is definitely greenberry. Natural herbs like wheatgrass and dandelion root dominate the flavor. Smooth and delicious, this Shake is much better when you add your own fruit to the mix.
If you don't like the flavor of green berries, there are several recipes you can experiment with.
6. Cookies and Cream Vegan
Cookies & Cream is the first flavor of Shakeology to be certified gluten-free. But, by the end of 2021, all Shakeology flavors will be gluten-free. If gluten is an issue for you, make sure to look for the gluten-free label.
The cookie and cream flavors have a fairly mild taste. Don't expect it to taste like cookies at all, even though it's called Cookies & Cream.
Although it's a pleasant flavor and is not excessively sweet, most people will expect it to taste more like cookies and cream.
Compared to vanilla and chocolate, Cookies & Cream's flavor is mild and reminiscent of vanilla, but with a hint of cocoa.
It's hard to go wrong with a classic like Cookies & Cream. Compared to Chocolate Whey Shakeology, it does not thicken as much.
Similar to Vanilla Shakeology with a dash of chocolate, it's not too sweet.
Final Thoughts
Shakeology is an amazing beverage. Many people have lost weight and regained their health as a result of using it.
We really hope that the collection of tastes presented above aids in your quest to discover a flavor you truly adore.
Print
5 Best Shakeology Flavors
Check out this list of the best Shakeology flavors to try!
Instructions
Pick your favorite flavor
Click on the link to visit Pinterest
Buy items from your local store or online
Enjoy and share on social media!
Keywords: Best Shakeology Flavors
Hi, I'm Linda thanks for stopping by! We're so happy you're here. If you're a foodie and love to cook from home - you're in the right place..
LEARN MORE
Join the mailing list and receive our free newsletter!
Recipe Marker provides you with the best information about home cooking tips, recipes, ingredient substitutes and more. Check out our blog to see the latest articles.