9 Best White Eggplant Recipes to Try in 2023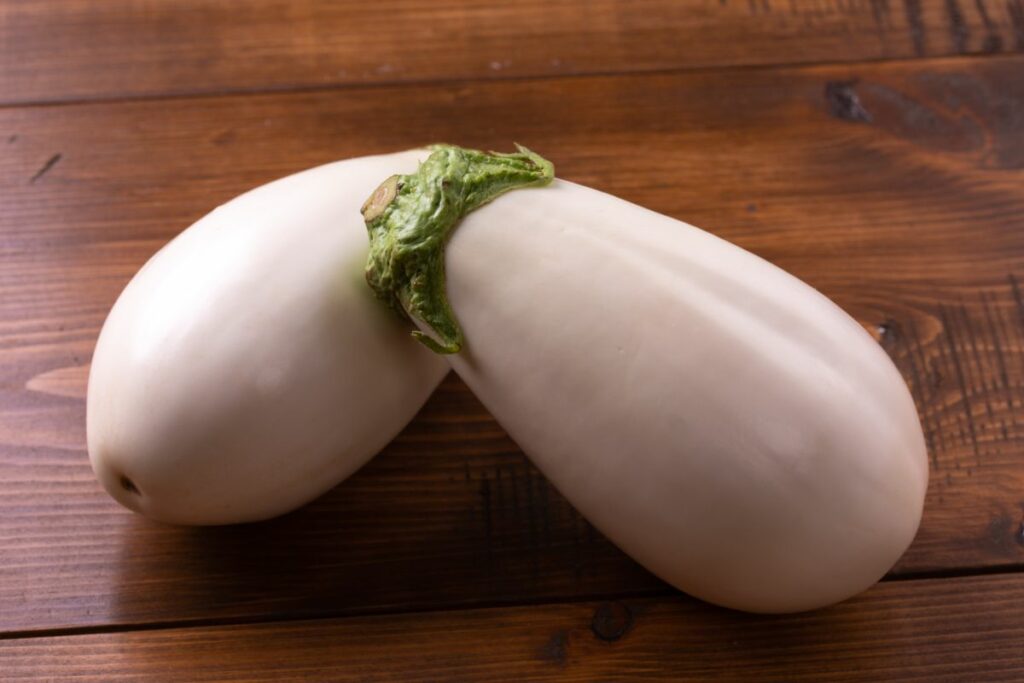 There is a good reason why eggplants are so prevalent in world cuisine.
The culinary options for eggplants are essentially limitless because they are soft, mellow, and sweet.
You can use them as spreads or include them in salads, curries, and other dishes.
However, did you know that eggplants come in colors other than purple and green? Also available are white eggplants.
White eggplants are typically either a complete hit or a flop, depending on your preferences.
People who have grown up loving fruits—yes, eggplants are classified as a fruit—either find it delicious or hate it.
However, these best white eggplant recipes from around the globe might help you fall in love with the white eggplant.
Best White Eggplant Recipes 
1. Stuffed Eggplant Parmesan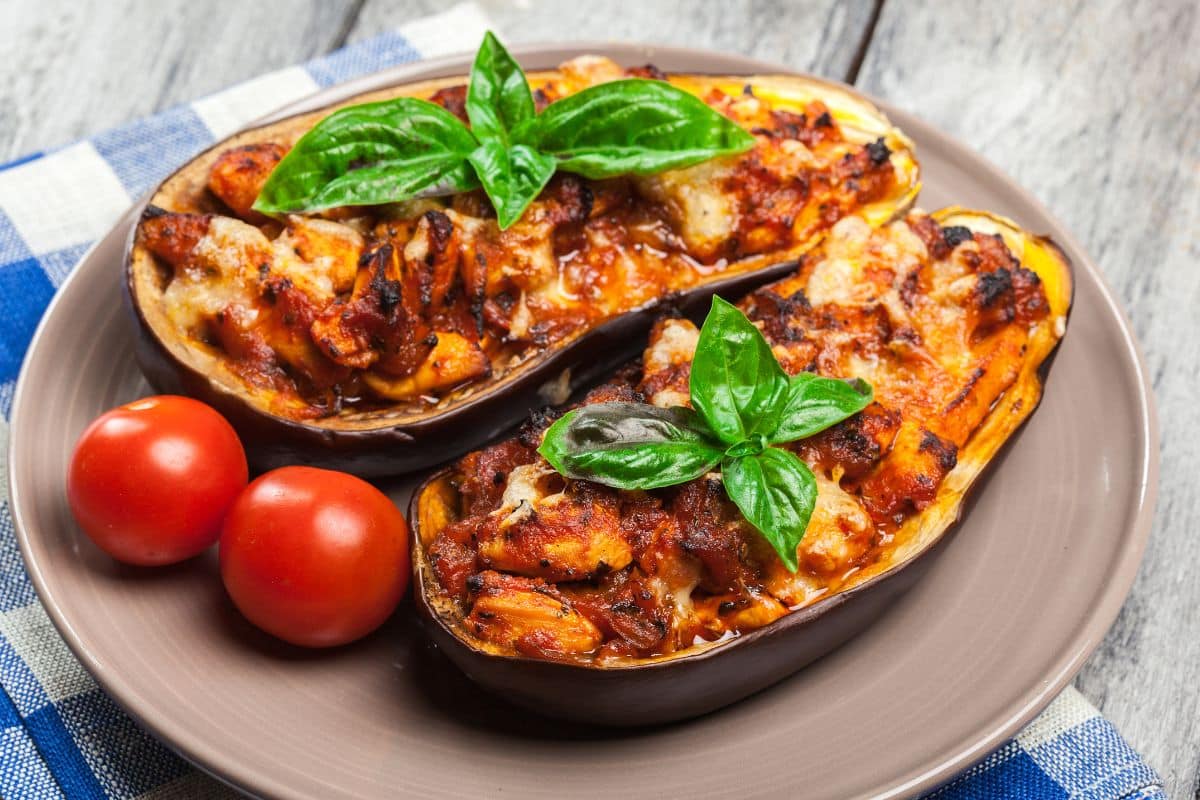 Famed author and chef Gina Homolka shares an easy and delicious way to enjoy white eggplants. 
The eggplants are hallowed out and turned into "boats" that she stuffs with chicken sausage, tomato sauce, and cheese.
After that, they are baked for 30 minutes in a 400°F  or 204°C oven until golden brown. You can add some additional grated pecorino romano cheese and fresh basil as a garnish.
Have this as a main or serve as a side dish!
2. White Eggplant Stuffed with Parmesan
This simple recipe is perfect if you enjoy eggplant, parmesan, and sausage. They are the appropriate size to fill with the stuffing.
White eggplants (grown in Japan) are ideal for making this filled eggplant parmesan.
To make eggplant boats, the flesh is scraped out, and the boats are then filled with cooked sausage, garlic, tomatoes, eggplant flesh, and onions.
Shredded cheese is then added, and the dish is finished by baking. This hassle-free, straightforward recipe for white eggplant requires neither sticky breadcrumbs nor frying.
For a richer experience, you can serve this dish with grilled carrots.
3. Baked White Eggplant Fries and Greek Tzatziki Sauce
You have to try out this recipe for Baked White Eggplant Fries with Greek Tzatziki Sauce if you're looking for something crunchy but healthy.
The chopped white eggplant pieces are covered in a breadcrumb and spice mixture before being cooked until they are crisp and attractively brown.
It's a perfect substitute for the typical deep-fried French fries, which are wonderful sides to complete a meal.
Serve with your favorite dips, such as Tiger sauce or Greek tzatziki sauce!
4. Stir-Fried Thai White Eggplant
It makes a filling side dish when combined with various proteins, steaming rice, and this easy Thai White Eggplant Stir-Fry dish.
Coconut powder, ginger, coriander, and green chili are combined to make a spicy flavor, which is then added to the Thai white eggplants and onions for a tasty stir-fry.
The dish is a delicious meal of greens and whites with cilantro added at the very end.
This recipe combines well with a black pepper Angus steak for a weeknight Asian supper!
5. Fried White Eggplant with Honey
Popular Andalusian tapas like fried white eggplant tastes great when the honey's sweetness contrasts with the eggplant's salty bite.
Another addition to the recipe is done by including rosemary. Rosemary unifies the entire dish and adds depth to the flavor.
Because of how straightforward the recipe is and how complex the flavors are, this white eggplant dish makes a fantastic appetizer and is sure to get lots of positive feedback.
It's also great for a mid-afternoon snack.
6. Ratatouille and White Eggplant
White eggplants can be added to ratatouille to add a creamy flavor and enhance the flavors of the other components.
The white eggplants are prepared separately from the red pepper, cherry tomatoes, red onion, and zucchini in this straightforward recipe for White Eggplant Ratatouille.
Since white eggplants have thicker skin than the more common purple kind, cooking time is longer.
The dressing is a straightforward concoction of oil, basil, oregano, and garlic that gives the ratatouille a lovely, fresh flavor.
You'll adore this dish because it's healthful and delicious.
7. Eggplant With Vietnamese Spicy Sauce
With this white eggplant dish, you can add some Vietnamese flavor to your next meal and make a tasty, spicy sauce that pairs exceptionally well with the fruit.
The fragrant sauce, which is both sweet and spicy and is made of oyster sauce, olive oil, green onion, lemongrass, red chili, garlic, sugar, and ginger, is thoroughly coated over white eggplants. 
Pro Tip: For a superb supper, serve your white eggplants with some steamed basmati rice.
8. Roasted White Eggplant Alfredo Sauce 
Enjoy this delectable roasted white eggplant Alfredo sauce with a plate of mouthwatering fettuccine pasta.
The flavorful sauce, which is made with spinach, various herbs, apple cider vinegar, garlic, soy milk, fennel, and onion, goes incredibly well with the pasta.
White eggplant is ideal for making Alfredo sauce since it has a deeper flavor than purple eggplant and helps to make the sauce creamier.
Once you try it, you won't stop loving it and to say that this white eggplant recipe is vegan-friendly is the cherry on top!
9. White Eggplants in Spices and Sesame Crust
This white eggplant recipe, which comes from Mediterranean cuisine and is one of our favorites, is made with a sesame and spice crust.
This may be a quick, delightful mid-afternoon snack and is also quite easy to make.
The white eggplants should only be peeled, dipped in egg and cream, transferred, then coated in flour and salt before being fried till golden brown.
For optimal flavor, you can serve it with a yogurt dip or a sauce of your choice.
We are pretty sure that you'll adore this recipe for crunchy white eggplant!
Final Words
You should definitely try these best white eggplant recipes if you enjoy eating white eggplant.
They resemble the vegetable you are familiar with fairly closely, but they have a lot sweeter flavor, which is perfect for those who don't like the slightly bitter edge of their purple cousins.
You'll adore these easy dinners, which range from delicious stir-fries to eggplant parmesan.
Print
9 Best White Eggplant Recipes
Check out these great White Eggplant Recipes that have been shared on Pinterest.
Author:
Prep Time:

5 minutes

Cook Time:

10 minutes

Total Time:

15 minutes

Yield:

1 serving

Category:

Recipe

Method:

Cooking

Cuisine:

Recipe
Instructions
Click on each link above to view the pin and recipe.
Obtain all the necessary ingredients to make the recipe.
Follow the steps to create your dish.
Enjoy your delicious meal =)
Nutrition
Serving Size:

1 serving

Calories:

25

Sugar:

0 g

Sodium:

110 mg

Fat:

2 g

Saturated Fat:

0.2 g

Unsaturated Fat:

0 g

Trans Fat:

0 g

Carbohydrates:

2 g

Fiber:

1 g

Protein:

0.4 g

Cholesterol:

0 mg
Keywords: Best White Eggplant Recipes
Hi, I'm Linda thanks for stopping by! We're so happy you're here. If you're a foodie and love to cook from home - you're in the right place..
LEARN MORE
Join the mailing list and receive our free newsletter!
Recipe Marker provides you with the best information about home cooking tips, recipes, ingredient substitutes and more. Check out our blog to see the latest articles.