T-Fal vs Farberware: What's the Difference? (Updated 2023)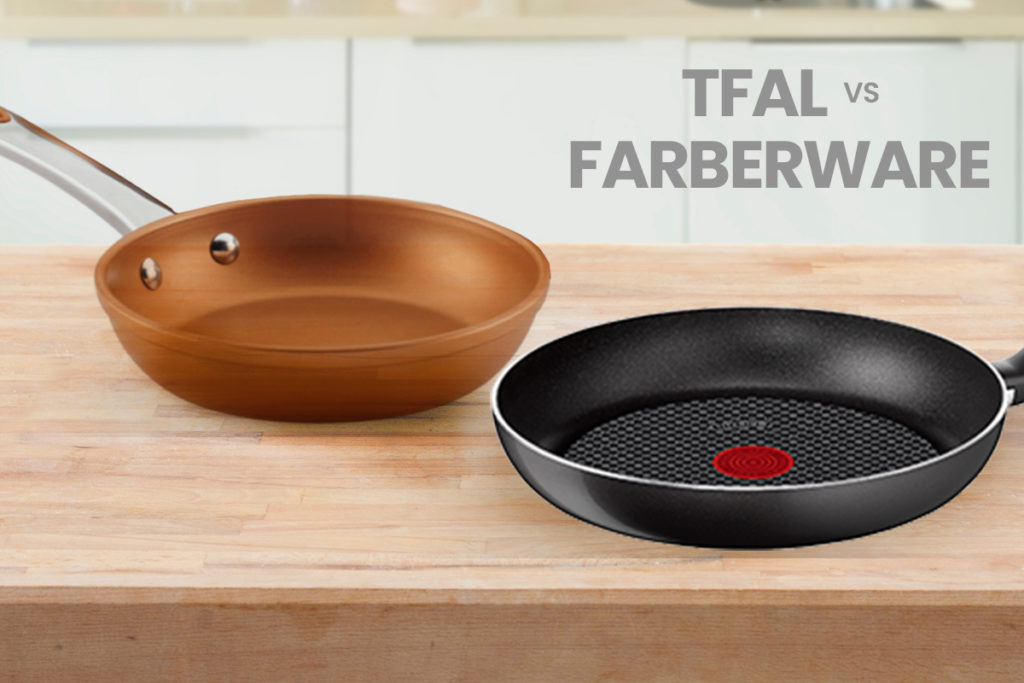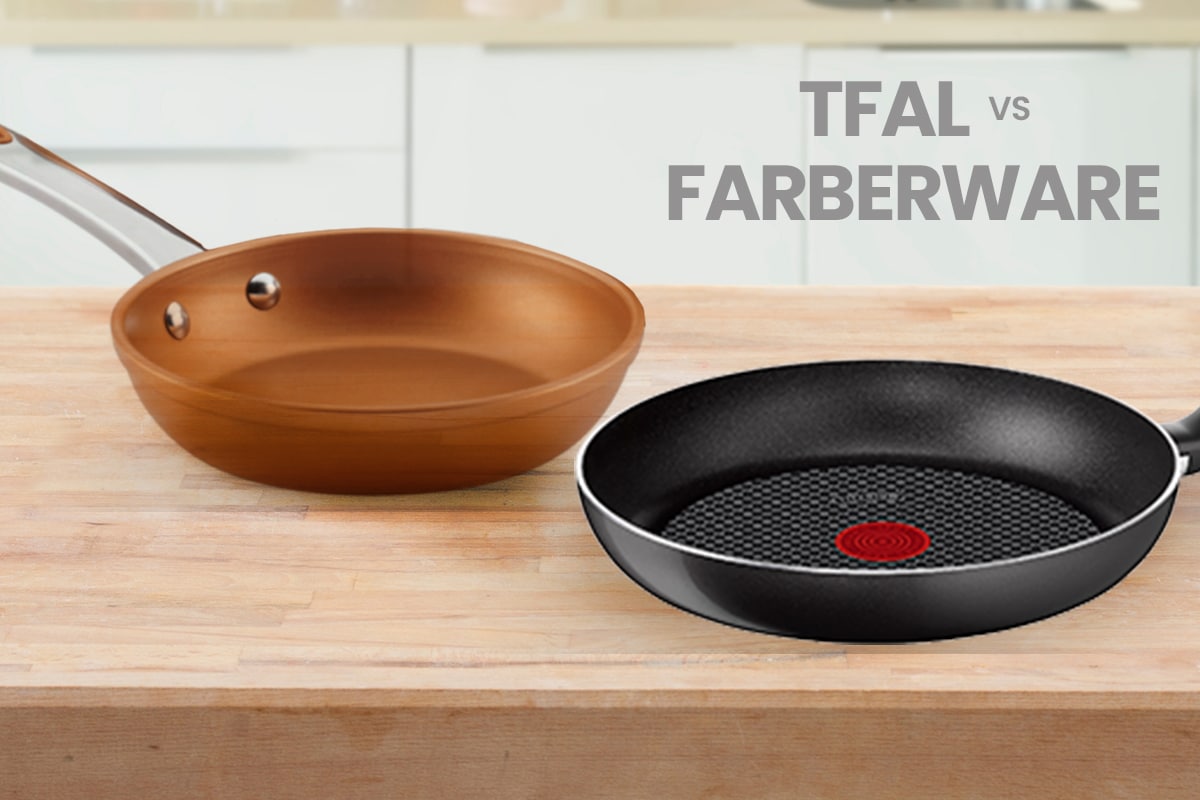 Today's cookware brand showdown: T-Fal vs Farberware. Read on to learn more.
Nonstick cookware holds a solid grip on the top of the cookware market and for good reason.
Apart from requiring less oil and paving the way for healthier dishes and meals, it also makes for easy cleanup.
Some of the best-known brands on the market include T-Fal and Farberware.
Both offer exceptional nonstick cookware that errs on the more affordable side, making them ideal for beginners and those looking to build up their cookware.
However, both T-Fal and Farberware have similar offerings.
This can make it downright confusing to pick which will cater to your needs best.
Characteristics of T-Fal Cookware
T-Fal is an American off-shoot of the French company Tefal.
This brand is recognized for its nonstick cookware and kitchen appliances.
While it may specialize in nonstick sets, it also dabbles in other types of cookware: ceramic nonstick, multi-ply stainless steel cookware, and PTFE non-stick cooking materials.
One of the more unique qualities of T-Fal cookware is its heat mastery feature, particularly its patented heat indicator called Thermo-spot.
This heat indicator alerts you when the pot or pan in question has reached the ideal temperature to start cooking.
As mentioned, T-Fal cookware does come in a variety of coatings.
The most popular option, the non-stick version, is resistant to scratches.
The coating also makes cleaning easy. Meanwhile, the ceramic coating makes for a healthy choice as it doesn't contain or release chemicals.
All T-Fal cookware can withstand up to 350 degrees Fahrenheit, making it both oven- and dishwasher-safe.
And the stainless steel series can withstand even higher temperatures because of its material.
The lids of the pots and pans also have the same qualities.
Properties of Farberware Cookware
Farberware goes back to the 1900s when it was founded in New York.
Since then, the company has continued making cookware, making it a household name around the globe.
As of writing, it has celebrated its 120th anniversary in the business.
Before dabbling in nonstick cookware, the brand first gave birth to aluminum-clad stainless steel cookware.
Farberware has become synonymous with the thick layer of aluminum they place on the base of their cookware.
This ensures even heating with fewer hot spots on the bottom.
Farberware later branched out and perfectly combined the best of both worlds – including the durability and even-heating features of aluminum and the convenience and ease that nonstick coating brings.
Apart from the aforementioned products, the company also has ceramic nonstick cookware as well as copper-based cookware.
Some of the nonstick collections by Farberware are made with DiamondMax material combined with PTFE for strength.
However, not all of the series are oven-safe, only stainless steel.
The sets are also compatible with different stovetops such as induction and electric.
T-Fal vs Farberware – What's the Difference Between the Two?
As you might have observed, both T-Fal and Farberware offer an extensive variety of cookware collections designed to cater to all types of cooks and their needs.
T-Fal comes with its specialized Thermo-spot heat indicator and Techno Release surface.
On the other hand, Farberware does away with the frills and is perfectly straight with its cooking approach and philosophy.
T-Fal also offers fully-clad, stainless steel pans fitted with riveted steel handles.
Meanwhile, Farberware works with an impact-bonded aluminum base with screwed-on handles.
Both use varying types of nonstick coating on their cookware offerings.
The nonstick coating typically used by T-Fal is ProGlide, a type of PTFE.
The same goes for Farberware which leverages Teflon, also a type of PTFE, as the main base for the nonstick coating on most of their collections.
While both brands use standard PTFE to coat their pots and pans, they also have upgraded coatings for their more premium offerings.
The Bottom Line
Picking the right cookware for your needs can be daunting, especially when you don't know where to start.
With this handy guide between T-Fal vs Farberware, you can now choose which best fits your needs and cooking skills.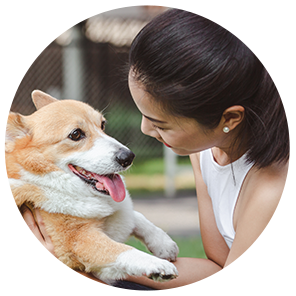 Hi, I'm Linda thanks for stopping by! We're so happy you're here. If you're a foodie and love to cook from home - you're in the right place..
LEARN MORE
Join the mailing list and receive our free newsletter!
Recipe Marker provides you with the best information about home cooking tips, recipes, ingredient substitutes and more. Check out our blog to see the latest articles.