What To Serve with Egg Salad Sandwiches: 6 Best Side Dishes (2023)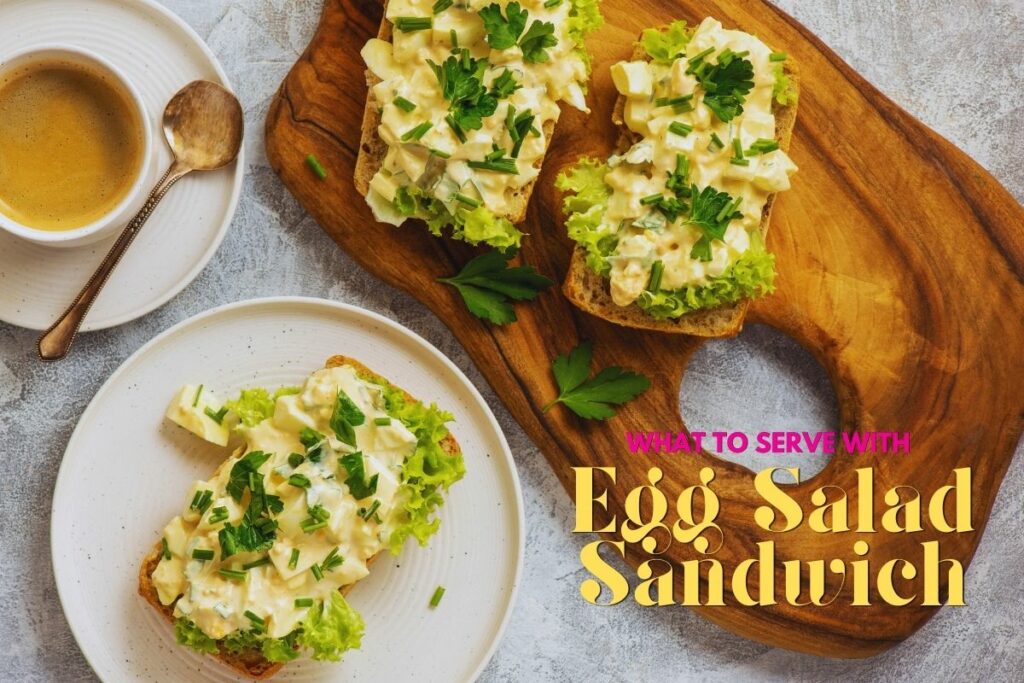 Are you trying to decide what to serve with Egg salad sandwiches? Stick around as we share a list of the most popular side dishes that go well with Egg salad sandwiches.
Egg salad sandwiches are easy to prepare, tasty, and filling, making them a great choice for your meal and snacks.
While it can be pretty satisfying, you can definitely add a side dish to make the meal more satiating. Here's what to serve with egg salad sandwiches.
What to Serve with Egg Salad Sandwiches
1. Coleslaw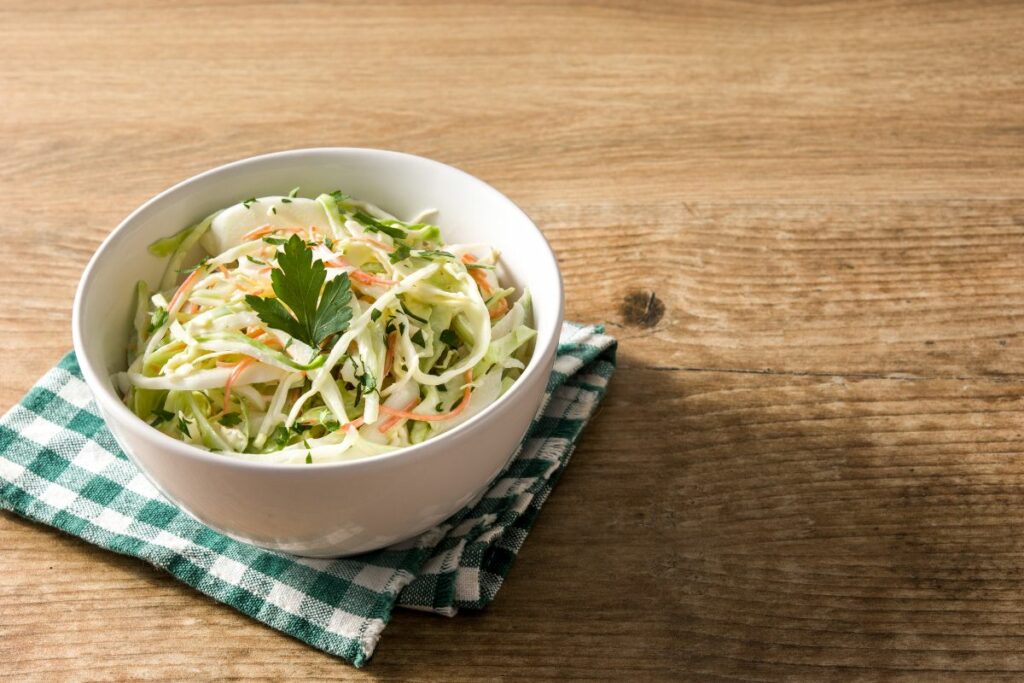 The main ingredients for your egg salad sandwich are mashed boiled eggs mixed with mayonnaise, a bit of mustard, and seasonings.
If you are looking for something that will complement this dish, then coleslaw is a great choice.
A creamy and tangy slaw goes well with an egg salad sandwich because they have the same flavor profile.
Plus, it adds some vegetables to an otherwise protein- and carbohydrate-rich dish.
If you want something basic but still have everything you love about coleslaw, then you can go with mayonnaise, vinegar, cider vinegar, sugar, and some celery seed. Then, shred some cabbage and carrots, mix them all, and you are good to go.
2. Fruit Salad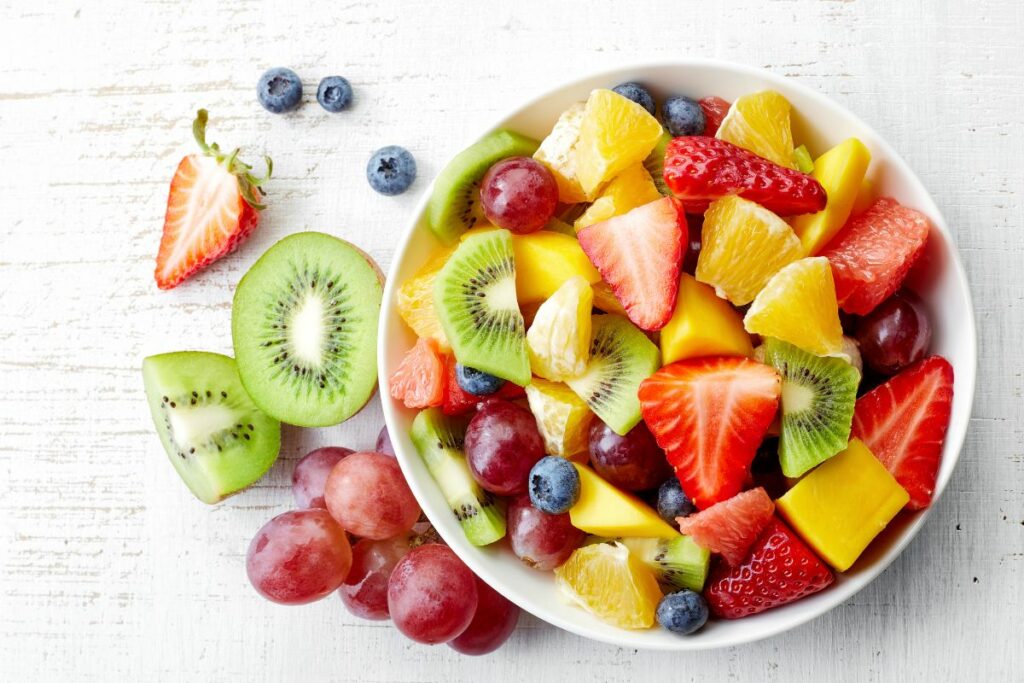 This kind of sandwich is great for different kinds of sides. It has the salt and peppery goodness of the seasonings, combined with a hint of sweetness and creaminess from the mayonnaise.
If you want something refreshing to add to the meal, you should consider making a fruit salad.
You can add different sweet, garden-variety fruits to complete your meal. You can also use fruits in cans if that is what you have access to.
Some of your options include apples, pineapples, peaches, and other fruits to your liking.
To make the base, you just need to mix sugar, balsamic vinegar, and lemon juice. Place the fruits in this mixture and you are done.
3. Green Salad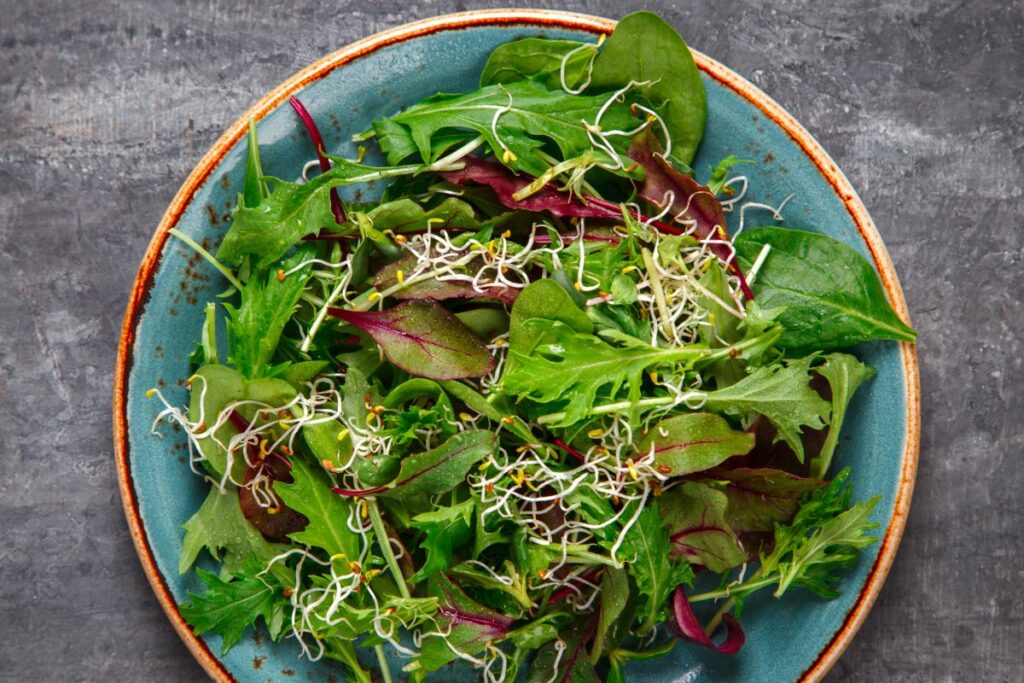 If you are looking for something as fresh, but without the sweetness of the fruit, you should go for a green salad.
It also has a lot of variety with different options for dressings that would pair well with your egg salad sandwich.
This is pretty easy to make, as well. Just pick the vegetables you prefer such as lettuce, cucumbers, celery, and kale.
You can also throw in some carrots and cherry tomatoes in there for added color and flavor.
For the dressing, you can make a basic vinaigrette or go with a creamy one such as Caesar's salad or any other options available to you.
4. Cocktail Sausages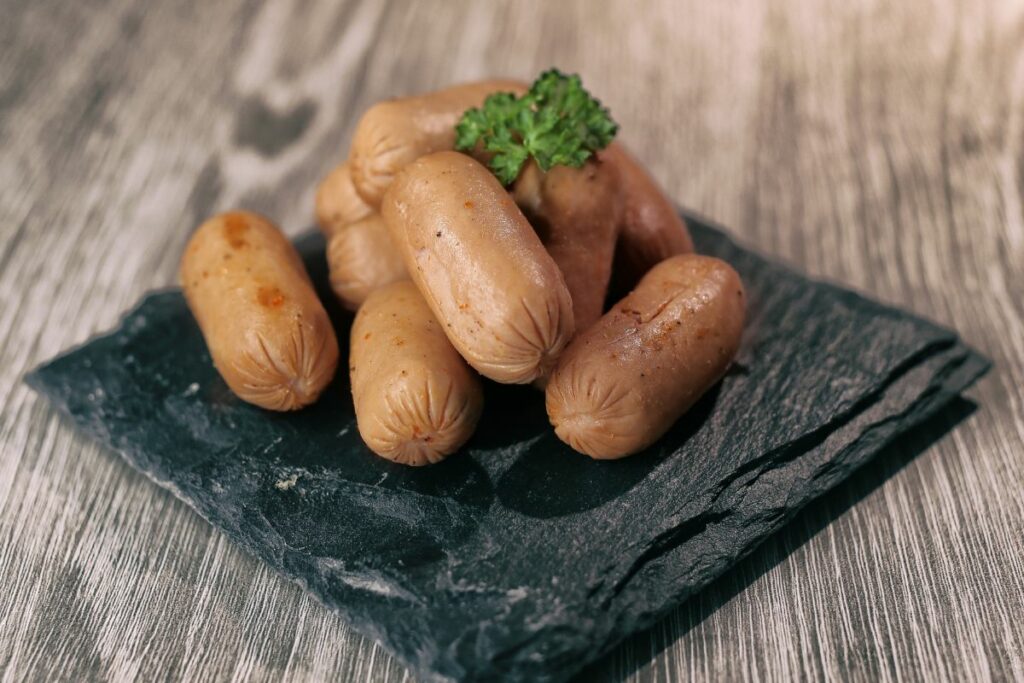 Your sandwich has a creamy and slightly tangy flavor with some chunkiness to it thanks to the mashed eggs.
You might want something that offers a tastier side dish to balance it all out.
Cocktail sausages are a great choice if you want to add deliciously salty siding to pair with the sandwich.
You can even cut them into small pieces and add them to the egg salad itself.
These are extremely easy to prepare because you can simply fry them in a pan or grill them on a stick.
For a more dynamic flavor, you can make a honey mustard dressing or just drizzle some ketchup.
5. Cheese Sticks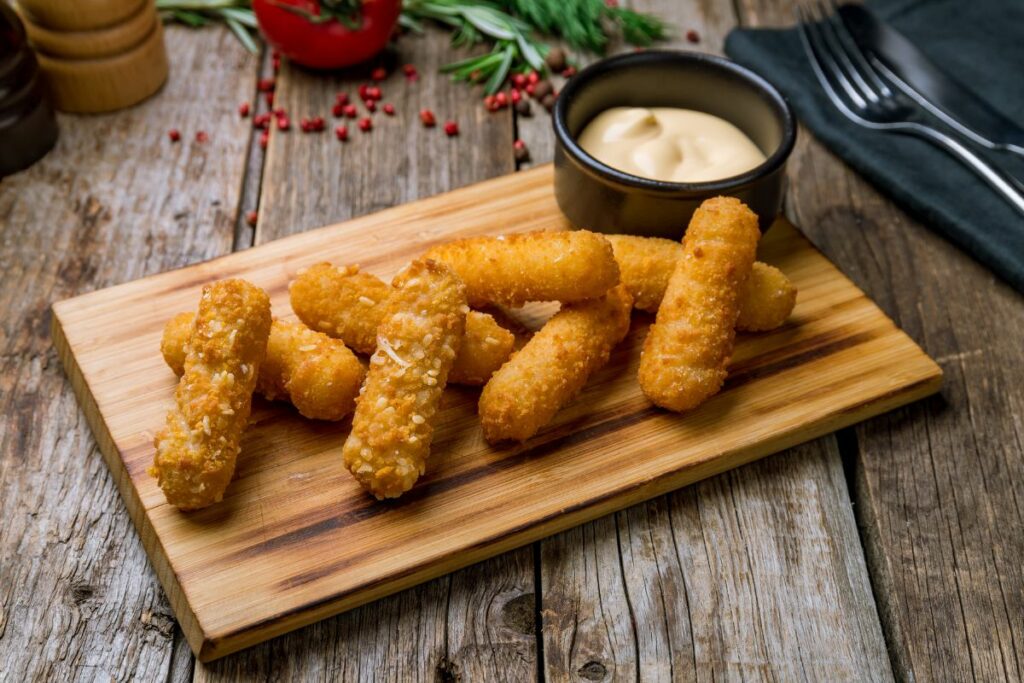 Now, if you just cannot get enough dairy, you can make some cheese sticks to give a fried dynamic to your meal.
The key is picking the right cheese to fry and the best dip for it.
One of the best choices is low-moisture mozzarella cheese because it has more flavor and does not immediately when exposed to heat.
Cut the cheese into sticks, and bread, and fry them until golden brown. Then, prepare some marinara sauce for more flavor.
The thing about these appetizers is you can prepare a lot of them, then stick some into your freezer, so you can easily fry some cheese sticks without hassle.
6. Potato Chips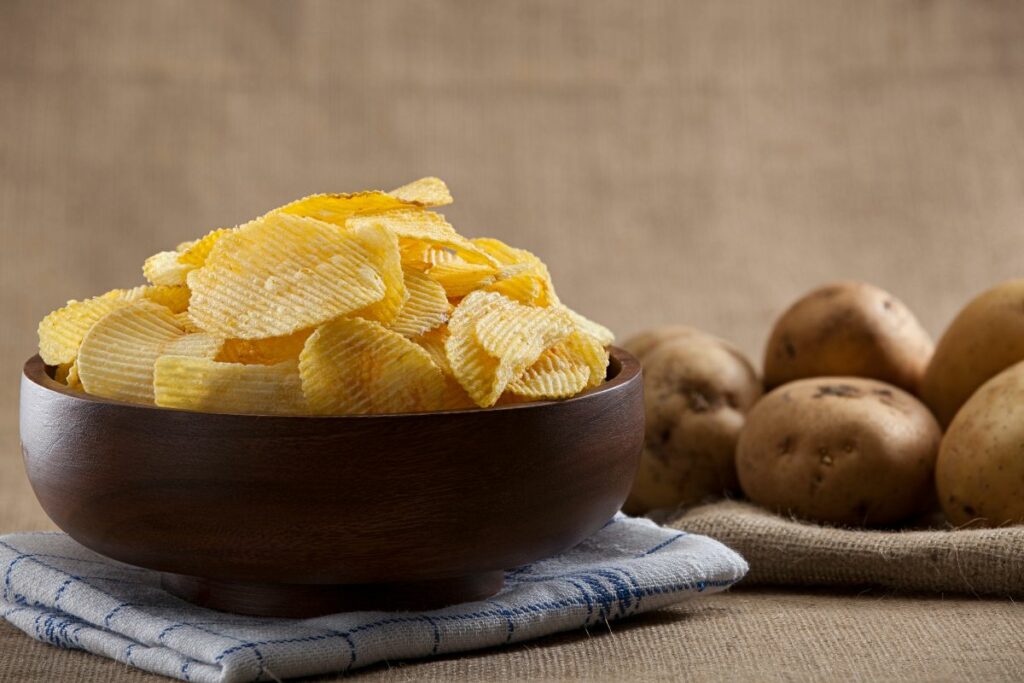 When made with fluffy bread, your egg salad sandwich will be soft and filling. You want to add something that can provide a different texture to the meal.
Potato chips are your best bet because they offer a crunch and added saltiness to the set.
The most attractive thing about this option is that you can make some yourself or you can get them straight out of the bag.
Just buy a bag of potato chips that you like and serve it with your sandwich.
If you are the more meticulous type, then you can make some potato chips. You just need to cut a potato to your desired level of thinness and fry them all in oil.
You can even use an air fryer for a healthier snack. Then, season them with your preferred seasonings.
Conclusion
Your egg salad sandwich can be much more satisfying with the help of the right side dish.
Now that you know which sidings can go well with your dish, you can experiment with each one until to find the best option for you and your family.
Print
6 Best Sides for Egg Salad Sandwiches
Check out these great Side Dish Recipes for Egg Salad Sandwiches that have been shared on Pinterest.
Author:
Prep Time:

5 minutes

Cook Time:

10 minutes

Total Time:

15 minutes

Yield:

1 serving

Category:

Sides

Method:

Cooking

Cuisine:

Side Dish
Instructions
Click on each link above to view the pin and recipe.
Obtain all the necessary ingredients to make the recipe.
Follow the steps to create your side dish.
Enjoy your delicious meal =)
Nutrition
Serving Size:

1 serving

Calories:

150

Sugar:

3 g

Sodium:

1930 mg

Fat:

16 g

Saturated Fat:

4.5 g

Unsaturated Fat:

0 g

Trans Fat:

0 g

Carbohydrates:

3 g

Fiber:

0 g

Protein:

8 g

Cholesterol:

25 mg
Keywords: Best Sides for Egg Salad Sandwiches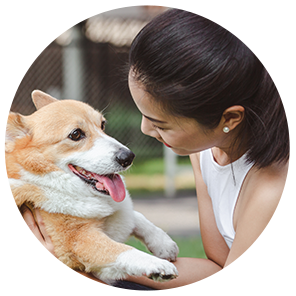 Hi, I'm Linda thanks for stopping by! We're so happy you're here. If you're a foodie and love to cook from home - you're in the right place..
LEARN MORE
Join the mailing list and receive our free newsletter!
Recipe Marker provides you with the best information about home cooking tips, recipes, ingredient substitutes and more. Check out our blog to see the latest articles.