6 Best Bahama Bucks Flavors (Ranked in 2023)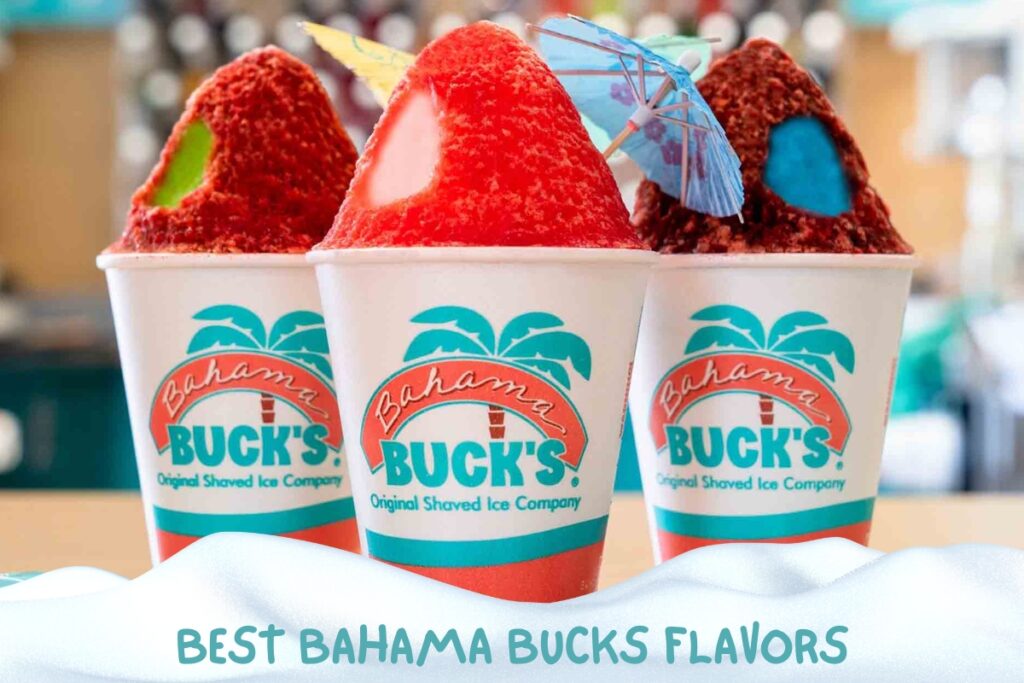 There's nothing like having shaved ice during the hottest days of the year. This is precisely the specialty of Bahama Bucks. Known for their shaved ice business and their array of snow cone flavors, their offerings are anything but ordinary.
Check out the best Bahama Buck flavors here.
Best Bahama Bucks Flavors
1. Mango & Cherry with Chili Salt & Chamoy
This flavor definitely seems to take inspiration from Mexico with all the flavor profiles going on. From sweet, spicy, salty, sweet, and even sour, it just hits all of the right notes all at the same time.
A staple summer street food, the combination of mangoes, Tajin, and chamoy is a party in your mouth.
The mango's sweetness and richness make for the perfect base and foundation. Paired with the tartness of the cherry and the unique fermented sauce of chamoy, the latter of which is made from a combination of pickled fruit, lime juice, and dried chilies, this brings the heat as well as a sweet and salty taste that works well with mangoes.
The sprinkling of chili salt just finishes and binds everything together. It adds some spiciness to the whole thing, reminiscent of the traditional Tajin that is served with mangoes.
Together, this will make your mouth water in the best way possible. Even the CEO of the company likes this combo.
2. Coca-Cola with Vanilla Ice Cream Bahama Rama Mama (BRM)
If you are a fan of Coke floats, this Bahama Buck's flavor is just like the real thing, except it's much lighter and fluffier thanks to the type of shaved ice that Bahama Buck's uses.
You have the option to choose between the classic Coca-Cola flavor or the Cherry Coke flavor for this combination.
The Coca-Cola flavor has hints of caramel notes that have pronounced flavors of vanilla, citrus, and even some cinnamon. There are other spices added to the mix, such as nutmeg.
The Cherry Coke, on the other hand, tastes like maraschino cherries. There's a taste of almonds peeking through, leaving a fruity aftertaste.
The vanilla ice cream, placed on the bottom this time, is the cherry on top (pun intended). The shaved ice marries the ice cream in this combo, a perfect treat for all dessert lovers out there.
3. Christmas Tree
Bahama Buck releases limited-edition flavors every year and if you're lucky enough to come across this, we believe that the Christmas Tree flavor from the company is worth trying out.
Presented just like a Christmas tree with all the designs and trimmings, this is nothing short of spectacular.
This flavor is equally majestic in taste. The vibrant green hue features a berry flavor shaved ice with just a hint of mango. This is decorated with a Sour Patch drizzle all around as well as Jolly Rancher sprinkles.
As with other Bahama Buck's flavors, you can expect a play on sweet and sour with the Christmas tree offering.
4. Warheads with Sour Patch Sauce and Sour Sand
Sour lovers will love this sour-forward flavor. Everything here boasts of tanginess and brightness, with everything working together to bring your mouth to pucker and even your eyes to close out of watering.
There's a hint of sweetness that comes through, balancing the sourness that's pretty evident in the flavor.
Not for the faint of heart, this will bring you back to your childhood with all the sour candies you have eaten in the past.
5. Gilligan's Grape
Another famous combination from the Bahama Buck's menu is its Gilligan's Grape flavor and for good reason.
It brings together the classic grape and blue raspberry flavors that shave ice and snow cones are known for in just one serving.
The grape flavor has a deep lovely purple color that's made with grape syrup, giving a candy-like feel with its sweet and sour taste.
The blue raspberry flavor, on the other hand, has a combination of three other flavors to make this come together: pineapple, cherry, and banana.
6. Vanilla
Vanilla offers a subtle flavor and aroma that can be delightful with the right sweetness. Bahama Buck's vanilla snow cone flavor is your best choice if you want something with the right combination of unique vanilla qualities and sweetness.
The best part is that you use this flavor to improve the taste of other syrups by mixing the two together. Just make sure that they have compatible flavor profiles and you are good to go.
Some of the best combos include cherry, banana, cola, root beer, and raspberry, just to name a few.
The Bottom Line
With over 100 flavors to choose from, it can be challenging to get the right one for you. With these best Bahama Bucks flavors, you can explore and step outside your comfort zone with these combinations.
Hi, I'm Linda thanks for stopping by! We're so happy you're here. If you're a foodie and love to cook from home - you're in the right place..
LEARN MORE
Join the mailing list and receive our free newsletter!
Recipe Marker provides you with the best information about home cooking tips, recipes, ingredient substitutes and more. Check out our blog to see the latest articles.