8 Best Snow Cone Flavors (Ranked in 2023)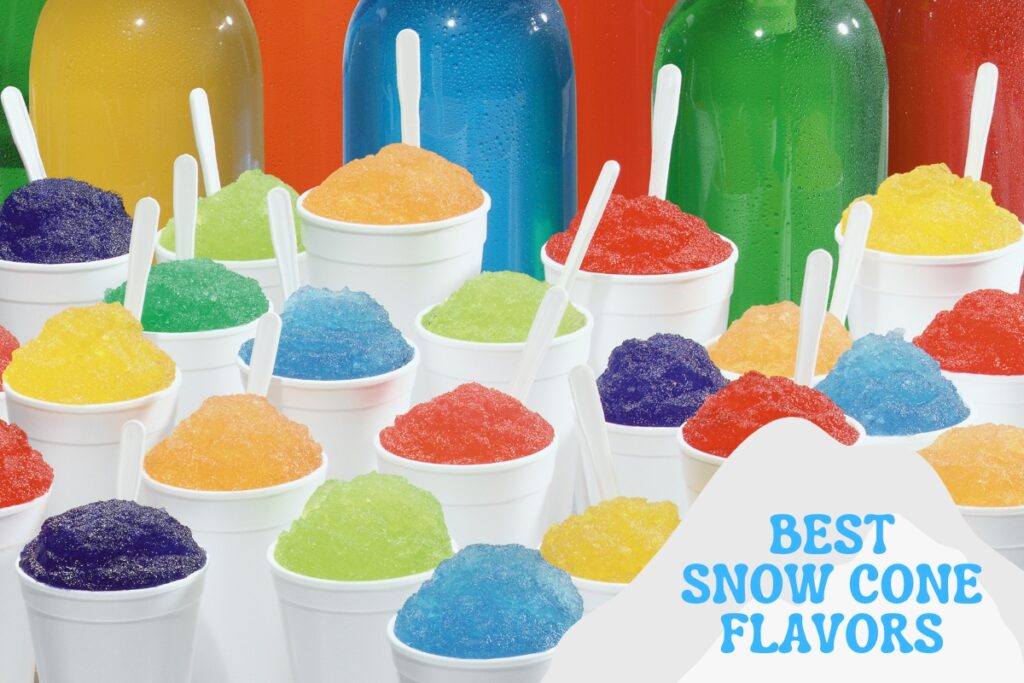 Are you curious about what are the best snow cone flavors to try? We share a list of the most popular snow cone flavors below.
There's nothing like tucking into a giant snow cone during the warmer months of the year. This is perhaps one of the best memories of childhood and it's easy to see why this treat is loved by many.
With various flavors to choose from, it can be quite difficult to know just what to choose, so get to know the best snow cone flavors right here.
Best Snow Cone Flavors
1. Cherry!
One of the best snow cone flavors that will never go out of style is cherry. This is a classic flavor that's definitely bursting with strong and sweet flavors of red cherries.
Some tanginess in it balances out the sweetness, so you will have a grand time going through your shaved ice easily.
Speaking of the color red, the cherry flavor comes in this bright hue and you can bet this adds visual interest to the shaved ice, making it even more inviting than usual.
2. Grape
The bright purple color is certainly a delightful flavor you'll want to have over and over. This is a crowd-pleaser, especially with the tangy flavor of the fruit and the pleasant purple color, thanks to the grape syrup.
Imagine biting into a grape, bursting with flavors, juice, and crunch. Combined with the cold and watery quality of shaved ice, this treat mimics the experience of eating the real thing.
This one is a crowd-favorite during hot weather and in summer vacations because of how yummy it is.
3. Blue Raspberry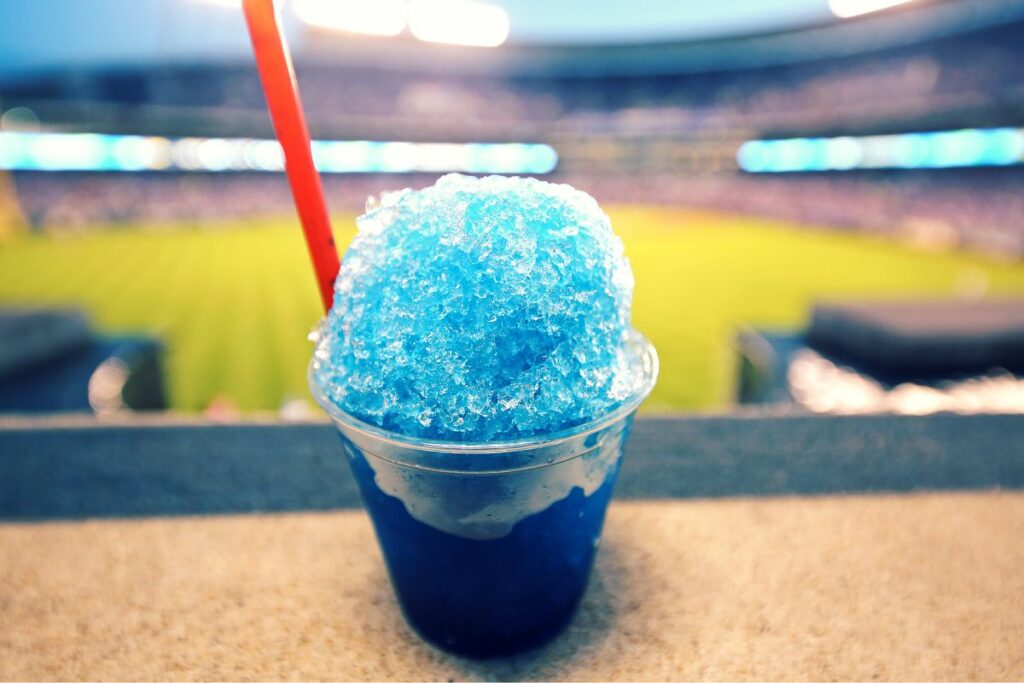 Another flavor that comes to mind when you think of the best snow cone flavors is no other than blue raspberry.
The color alone is reminiscent of summer and just how people long to be on the beach more than anywhere else, especially during the hottest summer days.
The blue raspberry flavor is quite tart and sweet. Although there isn't exactly a real blue raspberry fruit, we think that this snow cone flavor comes close.
However, its secret to achieving this particular flavor is that it combines three other flavors, namely banana, cherry, and pineapple.
4. Tiger's Blood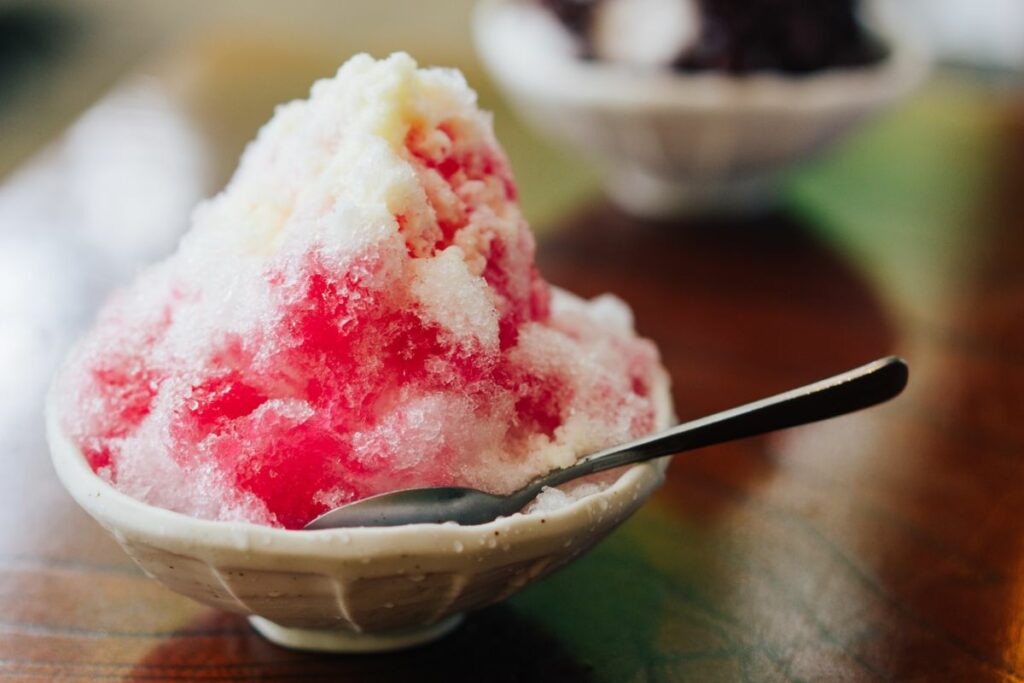 Tiger's blood snow cones are a great tropical treat for individuals who love a combination of juiciness, tanginess, and refreshing qualities.
While this sounds like something coming from an animal, you can rest assured that this one is fruity and definitely delicious.
This flavor is a combination of different essences, particularly watermelon, strawberry, and coconut.
It is a popular choice, especially for those looking for just the right combination of sweetness and tanginess.
5. Strawberry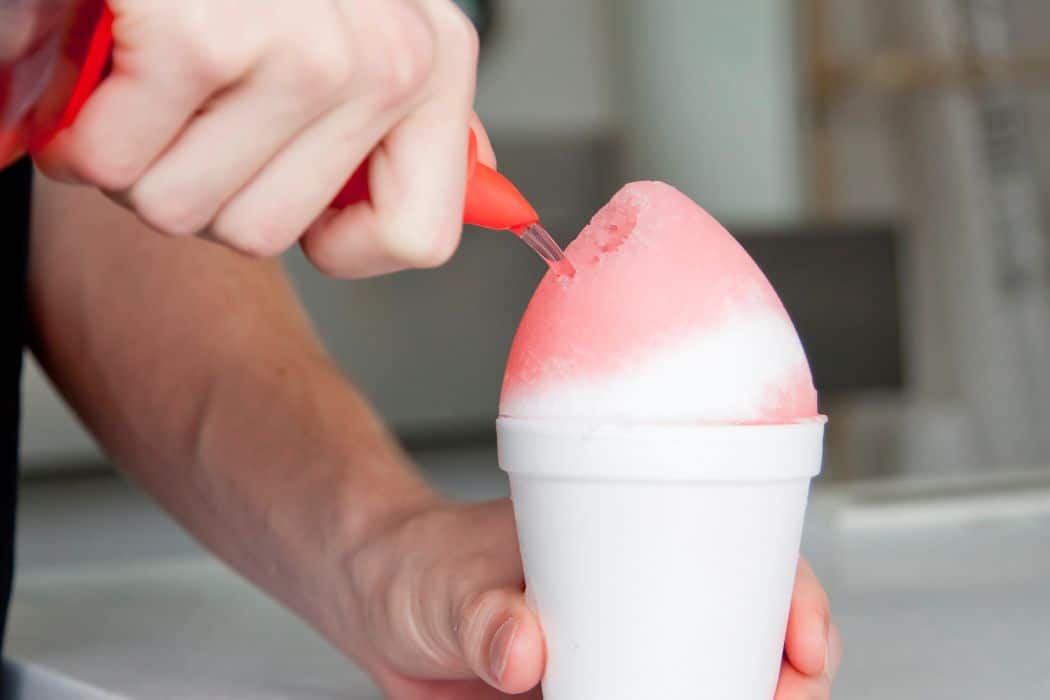 Of course, nothing beats the classic strawberry snow cone. This one is one of the most sought-after snow cone flavors out there because it is popular with children and adults alike.
It has a bright red color that kids take interest in and a quality that many simply couldn't resist.
This flavor offers a good balance of sweetness and acidity, making it one of the best choices if you are looking for a refreshing and juicy treat.
6. Cola
Now, this one may not be fruit-based, but it is sure to deliver a rejuvenating experience. Almost every person has enjoyed what soda drinks can offer. Imagine taking this to a whole new level by taking it as snow cone flavor.
You can enjoy an icy, crunchy, and enjoyable version of your favorite soda.
If you hate the fizz, then you will enjoy this snow cone syrup. It is not overwhelmingly sweet and has that notable cola taste.
7. Rootbeer
If cola is not the fizzy drink of your choice, then you might consider getting a rootbeer snow cone.
This choice is your best bet if you prefer something less sweet combined with a unique quality with hints of spices like vanilla, cinnamon, and nutmeg, just to name a few.
A rootbeer snow cone can be just what you need to quench your thirst and give yourself a break from the heat.
Rootbeer lovers will appreciate this treat because it gives a new dynamic to the popular drink.
8. Watermelon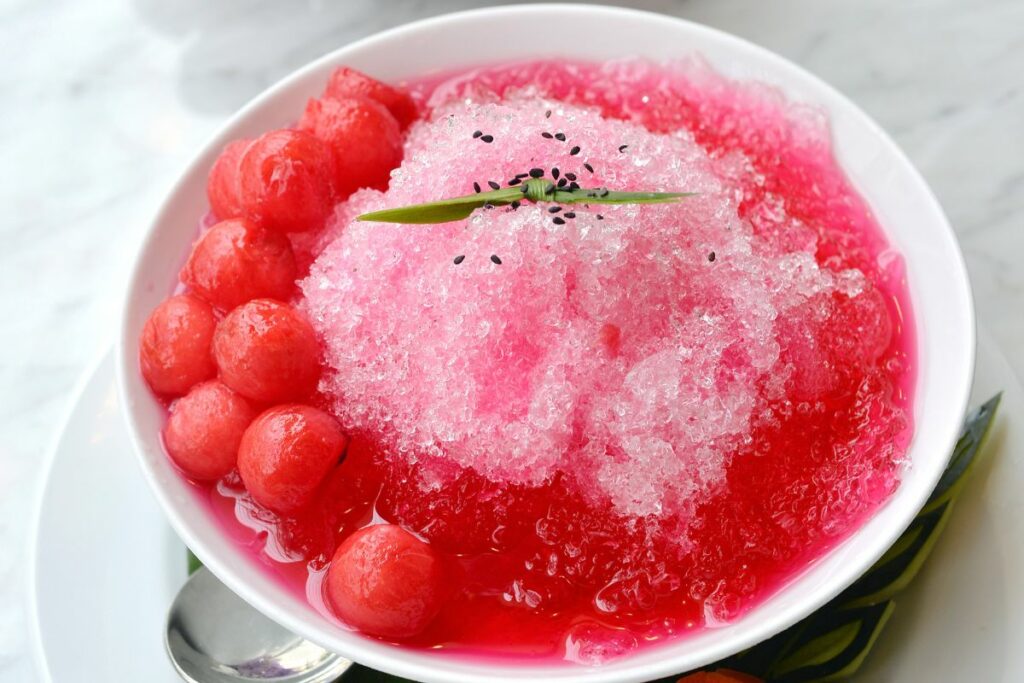 Nothing screams refreshment than a tropical fruit named after the ultimate drink: watermelon.
Eating this fruit offers a rejuvenating experience, because of how juicy and sweet it is. In syrup form and poured over shaved ice, you can get one of the best snow cones out there.
The best part about it is that it is only mildly sweet. Combined with the cold and watery quality of shaved ice, you can experience the juiciness of watermelon with a crunchy and melty twist.
Plus, it has an appealing red color that just looks yummy.
Final Thoughts
Snow cones are a great summer treat, especially if you lounging beside the pool or beach. With these best snow cone flavors, you can get the most revitalizing treat that can cool you down and energize you throughout the day.
Print
8 Best Snow Cone Flavors
Check out this list of the best Snow Cone flavors to try!
Author:
Prep Time:

5 minutes

Cook Time:

10 minutes

Total Time:

15 minutes

Yield:

1 serving
Instructions
Pick your favorite flavor
Click on the link to visit Pinterest
Buy items from your local store or online
Enjoy and share on social media!
Nutrition
Serving Size:

1 serving

Calories:

110

Sugar:

26 g

Sodium:

0 g

Fat:

0 g

Saturated Fat:

0 g

Unsaturated Fat:

0 g

Trans Fat:

0 g

Carbohydrates:

28g

Fiber:

0 g

Protein:

0 g

Cholesterol:

0 g
Keywords: Best Snow Cone Flavors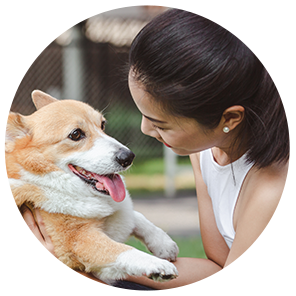 Hi, I'm Linda thanks for stopping by! We're so happy you're here. If you're a foodie and love to cook from home - you're in the right place..
LEARN MORE
Join the mailing list and receive our free newsletter!
Recipe Marker provides you with the best information about home cooking tips, recipes, ingredient substitutes and more. Check out our blog to see the latest articles.