Top 6 Best Sides for Kabobs to try in 2023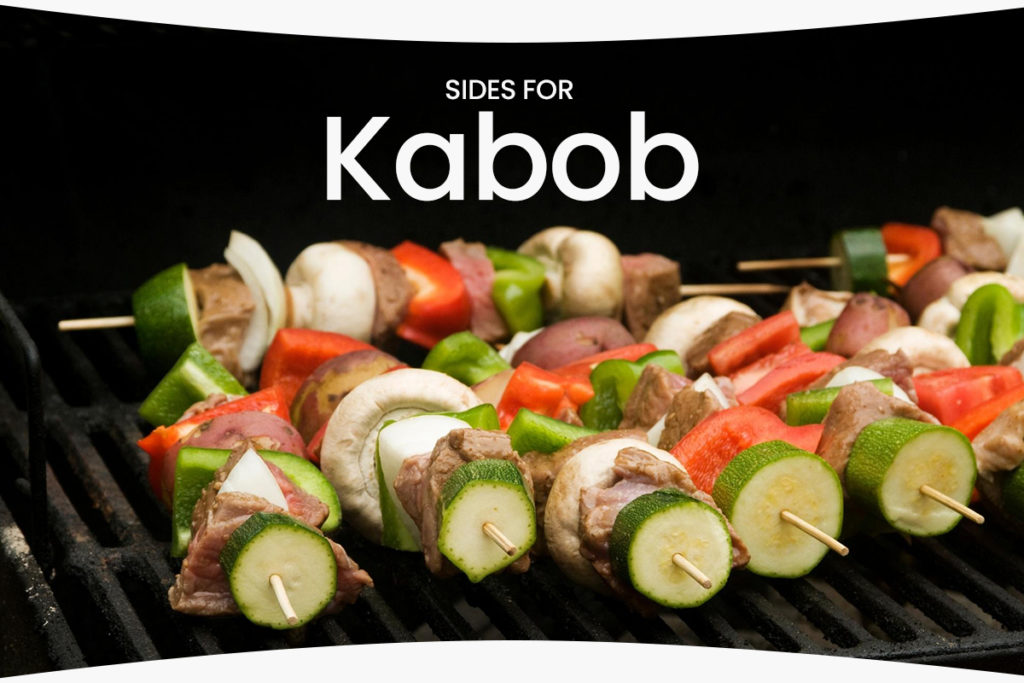 Are you trying to decide what side to serve with kabobs? Stick around as we share a list of the best sides for kabobs in this article.
Summer is just around the corner, and there is no greater joy than having fun under the sun. Summer activities like grilling and hanging out with friends and loved ones all day long.
Kabobs are one of the most popular grilled dishes and for good reason. But just in case you're not sure what kabobs are we will share a quick description of what it is below.
What Are Kabobs?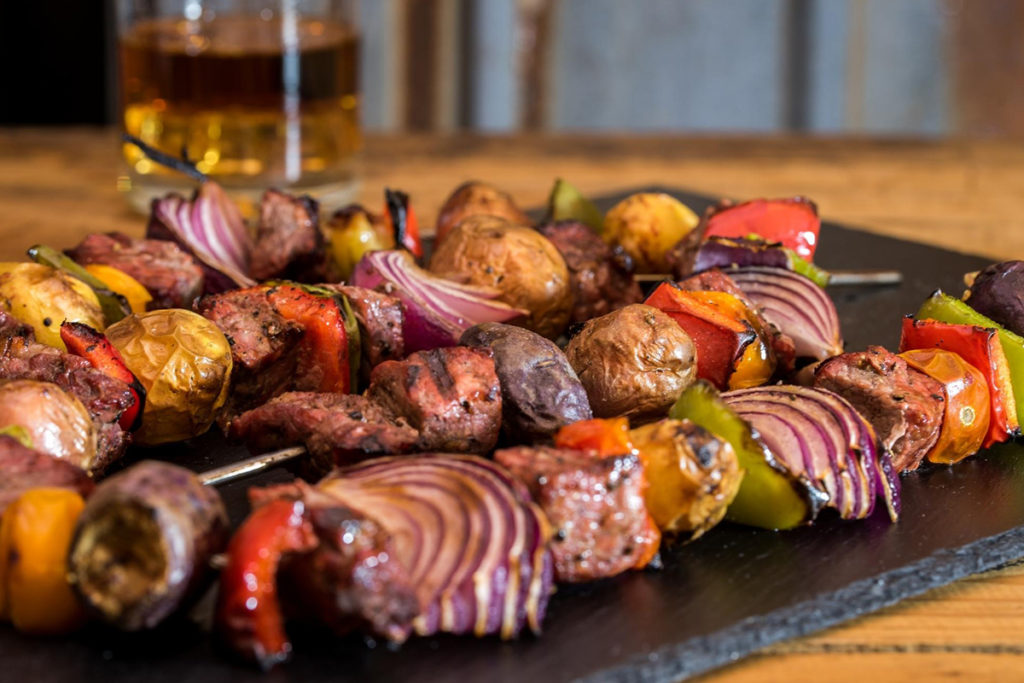 Not everyone is familiar with kabobs. Otherwise known as kebabs. Kabobs have Middle Eastern and Mediterranean origins.
These typically refer to various types of meat that have been skewered on a stick and grilled to perfection.
Beef, lamb, chicken, and fish are all perfect for kabobs, vegetables can also be used for kabobs.
Since kabobs are usually grilled, they tend to have a smokey taste. They are also juicy and savory while maintaining their light and fresh taste.
Kabobs are not only light and healthy, but it is also relatively quick and easy to make. Add onions and bell peppers or even fruit to the kabob for a unique flavor profile.
While kabobs certainly can be eaten on their own, they should always be served with side dishes.
Side dishes will not only complement its flavor but will make for a more balanced and filling meal.
Take a look at some of our suggestions for the best side dish to pair with kabobs.
Best Sides for Kabobs
1. Tzatziki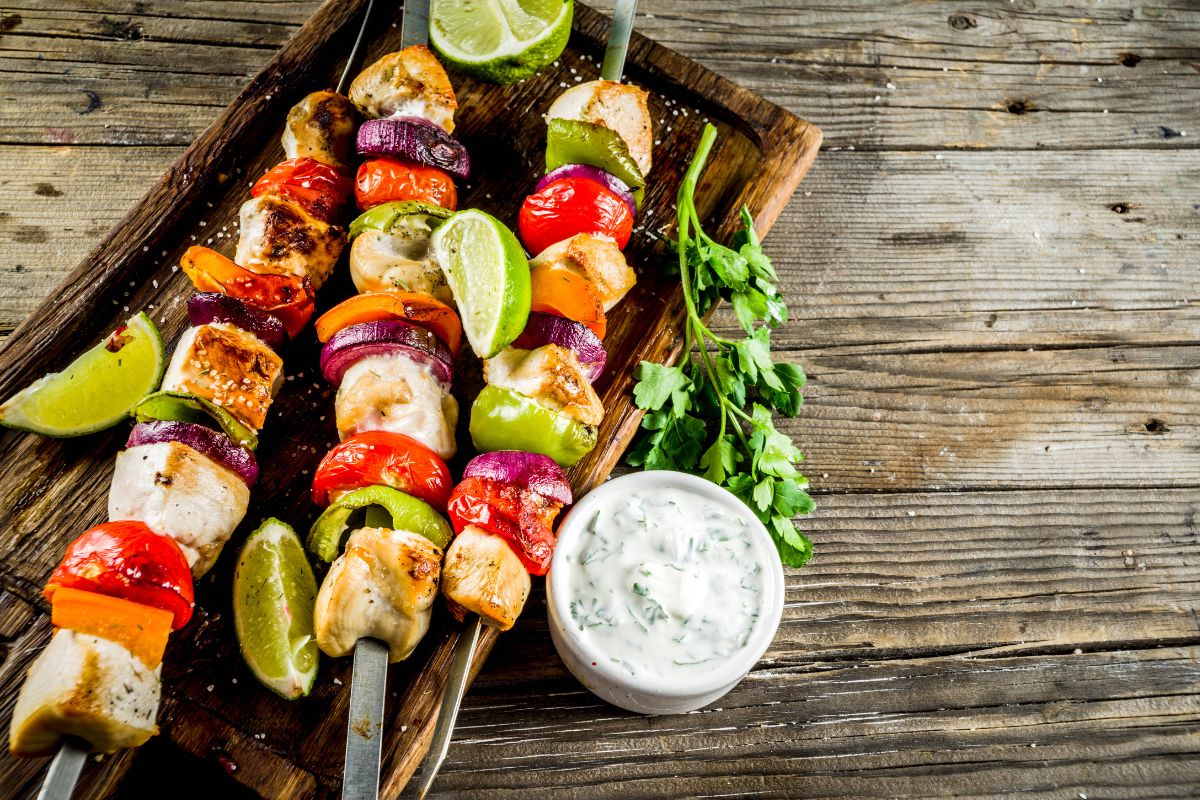 Tzatziki, otherwise referred to as a Greek cucumber yogurt sauce, is a type of dip that also has Middle Eastern and Mediterranean origins.
It is composed mainly of yogurt, cucumbers, olive oil, fresh herbs such as mint or dill, garlic, salt, and lemon juice.
This dip is bursting with freshness and makes for a good dip for the meaty kabob, which understandably can be quite heavy on the palate.
With the freshness of the cucumber and the tanginess of the yogurt, this tzatziki will help cleanse your palate and round out flavors with the kabobs.
2. Hummus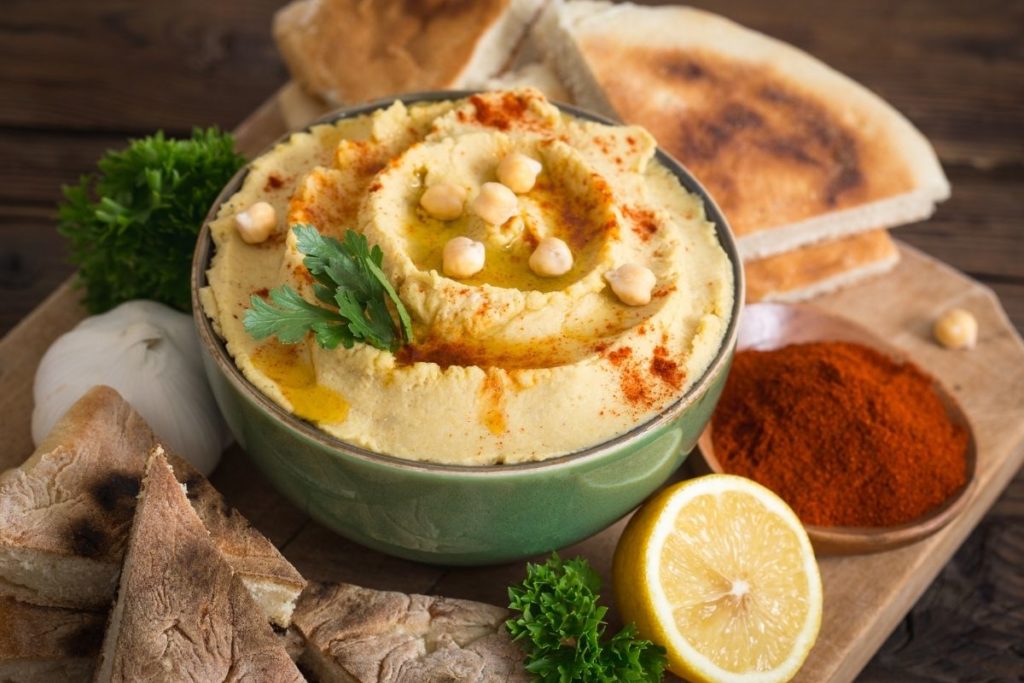 In high-end restaurants, you will often find hummus paired with kabobs.
Hummus is a chickpea dip that's made by combining chickpeas, tahini, or sesame paste, garlic, salt, and a bit of lemon juice. Hummus is traditionally paired with pita bread.
Try combining pita bread, hummus, and the kebob for a taste of the Mediterranean.
Hummus has a creamy texture that takes on a nutty, earthy taste. It has layers of umami and garlic that work with the fresh flavors of kabobs.
3. Shirazi Salad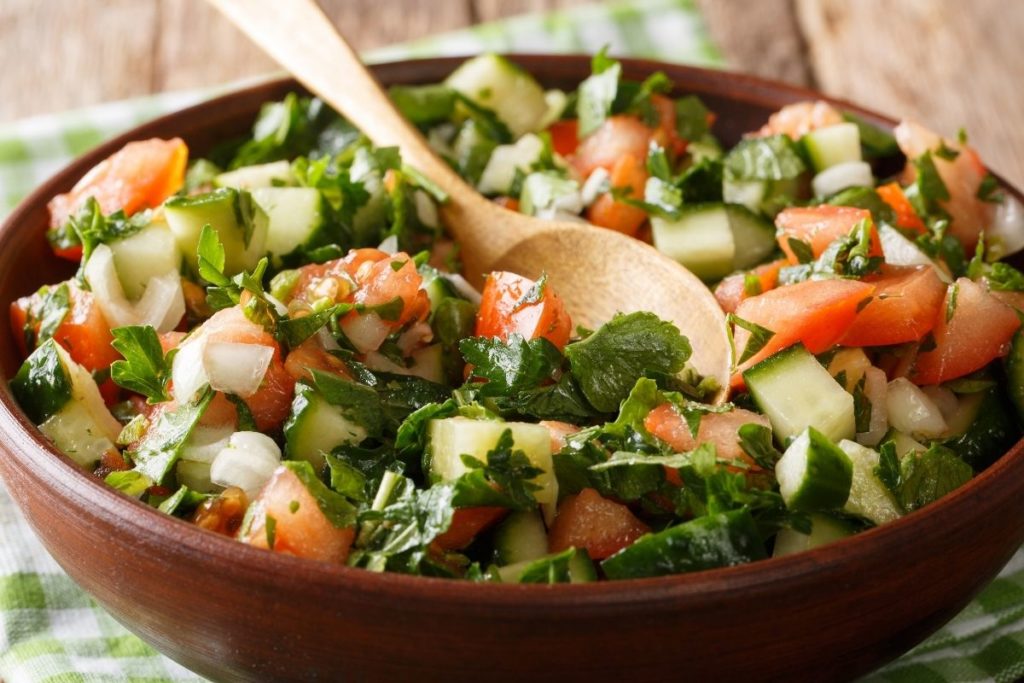 Shirazi salad, also known as Iranian cucumber tomato salad, it's a light and refreshing side to any meal.
The name originates from a city in southern Iran. This modern salad dates back to when tomatoes were first introduced to the country in the early 19th century.
This salad also has red onions, mint, and parsley for that pop of brightness, then it's topped with a tangy vinaigrette dressing.
This salad is refreshing relief when paired with grilled meats and dishes. It balances out the overall flavor of the dish and will work well with just about any type of kabob.
4. Tabbouleh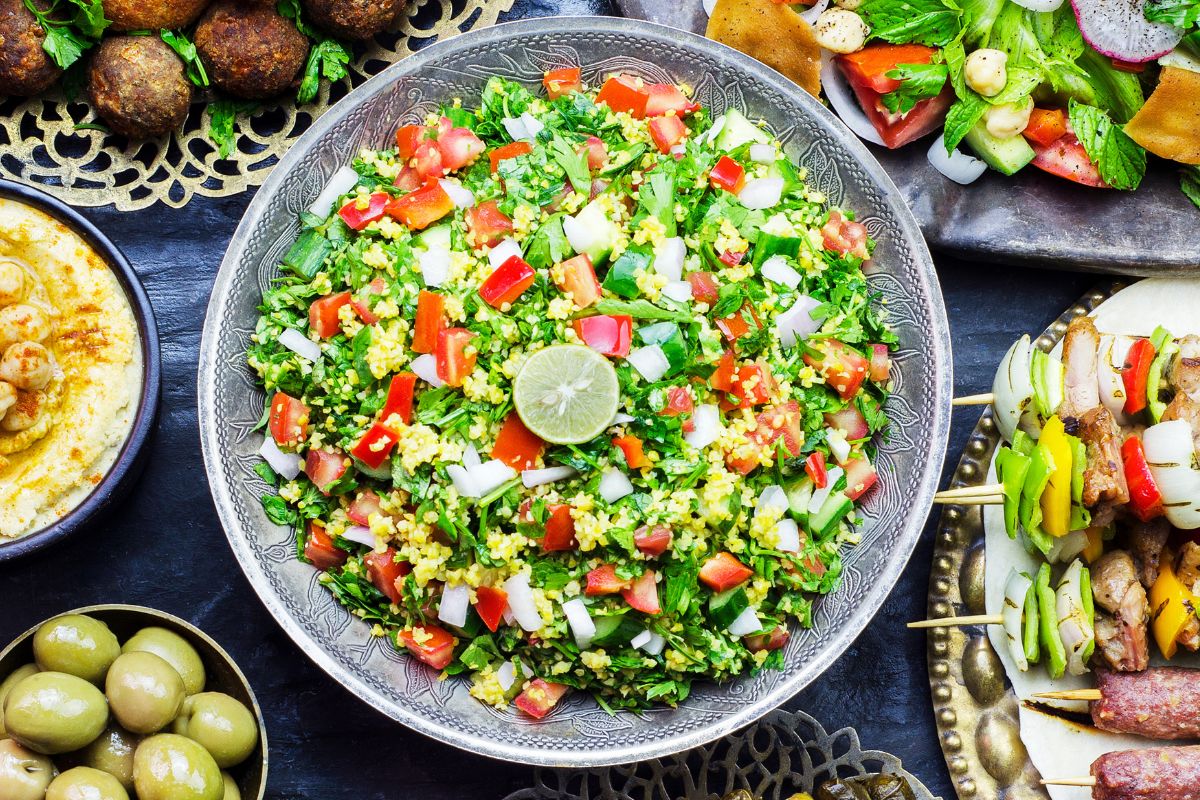 Tabbouleh is another simple Mediterranean salad you will love as a side to your kabobs. This is a bulgur wheat salad traditionally made with mint and parsley.
However, this can also be made with spinach, hearts of romaine lettuce, and other similar substitutes.
Tabbouleh is tossed with lemon or lime juice and olive oil. The clean flavors complement kabobs, while the lemon or lime juice adds a bit of brightness and acidity for refreshment.
Meanwhile, the use of bulgur wheat lends a bit of heartiness to the dish, making it a great side. Not to mention, bulgur is high in fiber and other key nutrients.
5. Couscous with Roasted Red Peppers, Feta, and Mint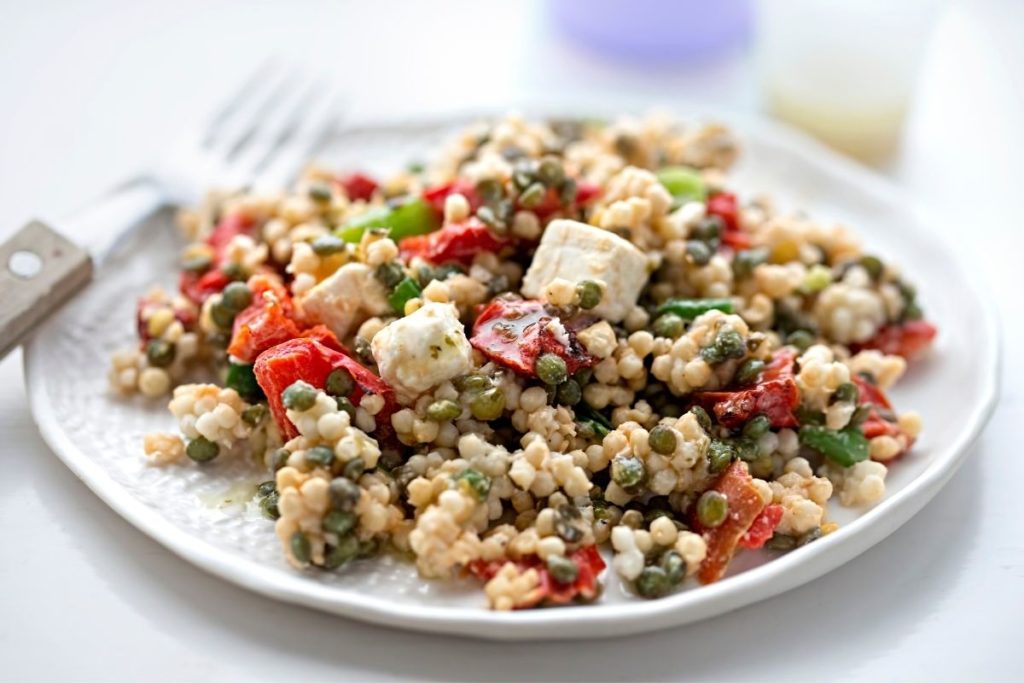 Another lighter fare that will taste pair nicely with your grilled kabobs is this couscous salad.
Made with feta cheese, roasted peppers, and mint, this dish will bring on bright Mediterranean flavors that go well with grilled dishes.
This couscous recipe has a medley of flavors that is sure to provide relief from the heavy flavor of the kabobs.
The nuttiness of the couscous serves as the perfect foundation for the sweetness and smokiness of the roasted red peppers to peek through.
This also makes for an ideal base for the saltiness of the feta. Meanwhile, the mint adds a pop of freshness and ties the whole dish together.
6. Rice Pilaf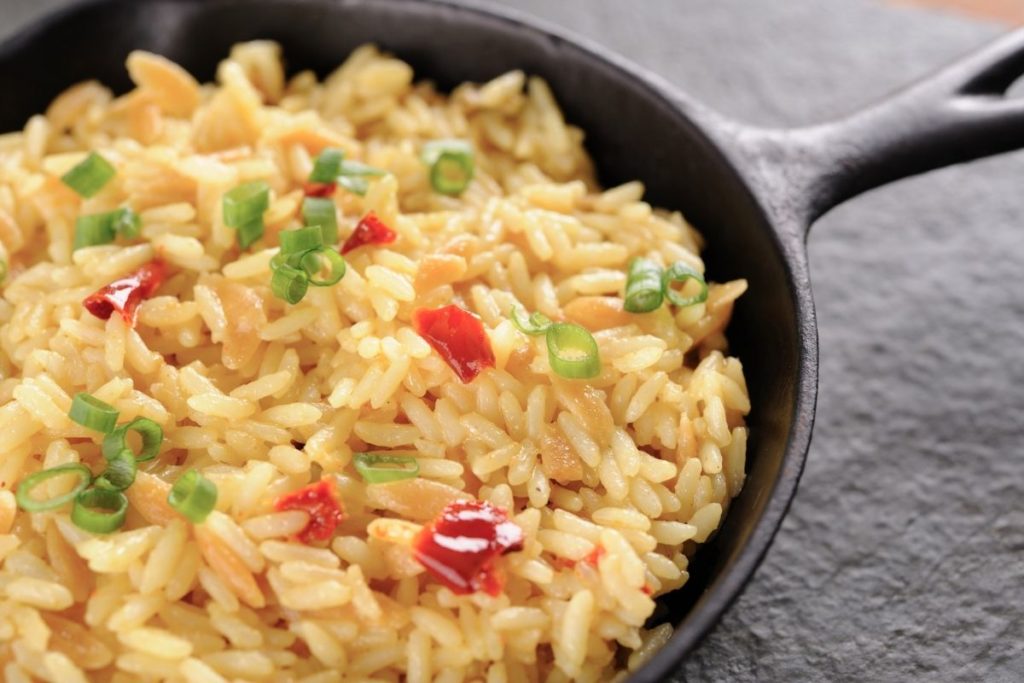 Make your kabobs into a meal by pairing this with rice pilaf. In particular, a lemon rice pilaf can do no wrong. Its aroma alone makes it enticing and appetizing.
This pilaf is made with onions, scallions, herbs, pistachios, and vegetable or chicken broth, to name a few.
This dish is guaranteed to give you a high payoff with very little time in the kitchen.
You can even work with a play on flavors by adding in some mushrooms, raisins, nuts, and saffron.
These ingredients can add the umami and nutty flavors that you're looking for.
The Bottom Line
Whether you have chicken, beef, fish, lamb, or vegetable kabobs, this list of sides for kabobs will definitely complement these flavors even more.
By making any of these sides, you're sure to elevate kabobs and your barbeque dinner into something unforgettable.
Hope you enjoyed our list of the most popular sides to serve with kabobs.
Print
6 Best Sides for Kabobs
Check out these great Side Dish Recipes for Kabobs that have been shared on Pinterest.
Instructions
Click on each link above to view the pin and recipe.
Obtain all the necessary ingredients to make the recipe.
Follow the steps to create your side dish.
Enjoy your delicious meal =)
Keywords: Best Sides for Kabobs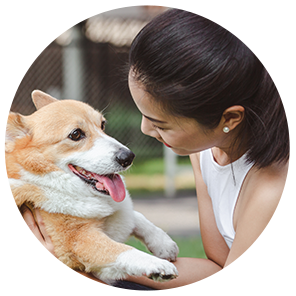 Hi, I'm Linda thanks for stopping by! We're so happy you're here. If you're a foodie and love to cook from home - you're in the right place..
LEARN MORE
Join the mailing list and receive our free newsletter!
Recipe Marker provides you with the best information about home cooking tips, recipes, ingredient substitutes and more. Check out our blog to see the latest articles.