5 Best Sober Carpenter Flavors Ranked in 2023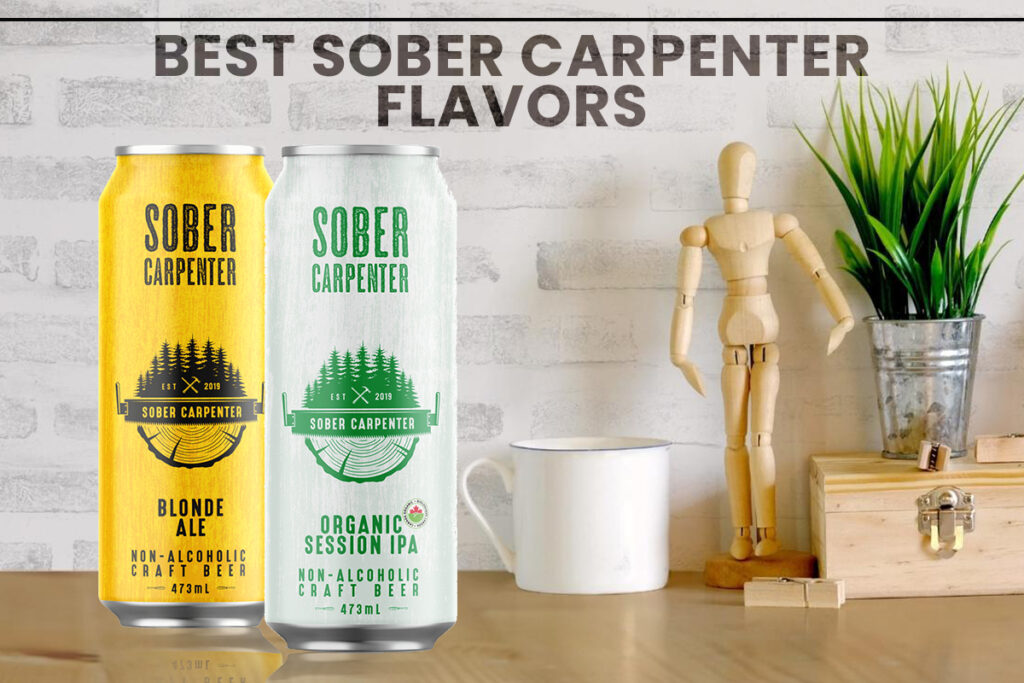 Are you trying to decide what Sober Carpenter to drink next? Stick around as we share a list of the most popular Sober Carpenter flavors below.
Montreal's Sober Carpenter is a microbrewery that makes artisan alcohol-free beers that don't sacrifice flavor or punch.
Let's find out more about this brand and the best Sober Carpenter flavors on the market.
Best Sober Carpenter Flavors
1. IPA
The typical, West-Coast-style IPA by Sober Carpenter features a bold hoppiness complemented by tropical fruit and citrus undertones.
Pale and Cara malts lend a little sweetness, while Citra, Simcoe, and Cascade hops add tangy citrus and woody undertones, all in the style of classic West Coast IPAs.
This beer has a crisp, invigorating finish thanks to its 42 IBU, making it a tad more bitter than a session IPA.
This IPA has a dry texture with a medium amount of carbonation, and it has a floral and fruity aroma.
It's great with spicy cuisine and salty fried items. Additionally, this IPA has a medal to its name: the silver medal from the 2021 USA Beer Ratings.
2. Irish Red
The Red Ale is sweet, well-balanced, and simple to drink since it is brewed in the traditional Irish form using Windsor yeast, which imparts fruity aromas and a fresh yeasty taste.
Hops from both the earthy and woodsy Fuggle variety and the floral, herbaceous East Kent Golding kind contribute to the beer's distinctively European flavor and fragrance.
It is the malt flavor that stands out as the main attraction in an Irish red.
This beer is rich in toasted, nutty, caramel, chocolate, and coffee aromas thanks to the roasted barley and Crystal, Dark, and Pale malts that give it its characteristic sweetness.
However, at 24 IBU, the Irish Red is not Sober Carpenter's sweetest beer, which means that the malt flavor is preserved to a comfortable moderate level while still being present.
Crystal malt gives the Irish Red its distinctive deep red, coppery color, and helped it win a gold medal in the 2021 USA Beer Ratings.
It's a great complement to common supper fares like roasted or grilled chicken, roasted vegetables, and cheddar cheese.
3. White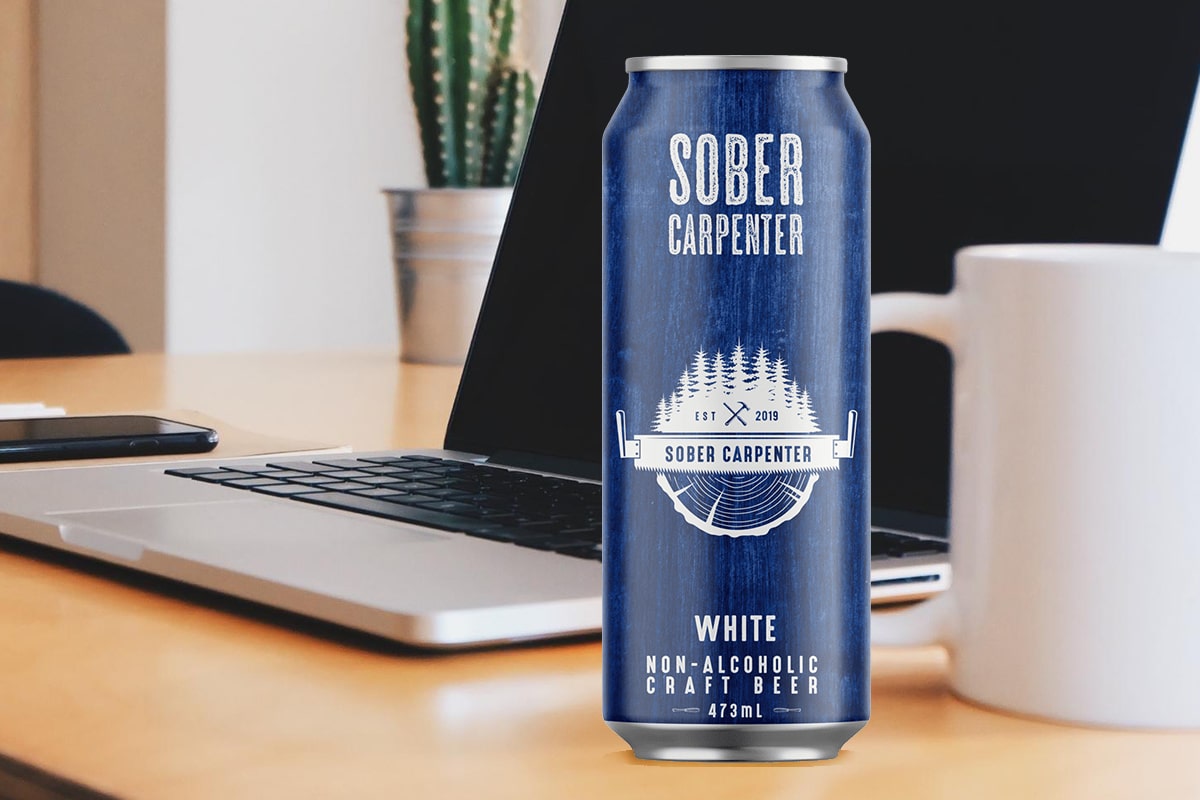 This Belgian-style White from Sober Carpenter is full of haze and flavor, but not too heavy on the stomach.
Hops from the Hallertau Mittlefrüh variety provide the traditional noble hop scent and flavor, which combines earthy, fruity, and gently spicy characteristics.
The beer's mellow, toasty sweetness and fantastic froth retention come from the use of cara malt, roasted Canadian wheat, and oat flakes.
Beer enthusiasts are likely to enjoy Sober Carpenter's White, despite the fact that it contains just 8 IBUs due to the use of orange peel and spice.
4. Ale Blonde
Sober Carpenter's Ale Blonde has a subtle flavor and scent, making it an ideal drink for relaxing with friends.
Because of the use of Cara and 2-Row malts, this beer is refreshingly clear, mild, and smooth, with a hint of sweetness, the blonde ale has just 20 IBU, making it far less bitter than any of Sober Carpenter's IPAs.
This beer gets its earthy, grassy, floral, and fruity flavors and gentle spiciness from the noble hops used, including those of the Hallertau tradition and the Saaz variety.
The Ale Blonde, with its light flavor and refreshing character, pairs wonderfully with dishes that are sweet, hot, or spicy.
There are just 60 calories and 13 grams of carbohydrates in a "tall boy" of Sober Carpenter's Ale Blonde.
5. Organic Session IPA
Sober Carpenter's Organic Session IPA, which received a Judge Selection at the 2021 Alberta Beverage Awards, is brewed using Galaxy Hops, which are noted for their bright, tropical taste, as well as Pale, which is common to British pale ales, Crystal, and Cara malts, which make it even sweeter, increase body and preserve froth.
With 30 IBU, this brew has a moderately bitter aftertaste and a strong hop fragrance. Amazingly, one "tall boy" can of Sober Carpenter Organic Session IPA has just 80 calories and 16g of carbohydrates.
What is Sober Carpenter?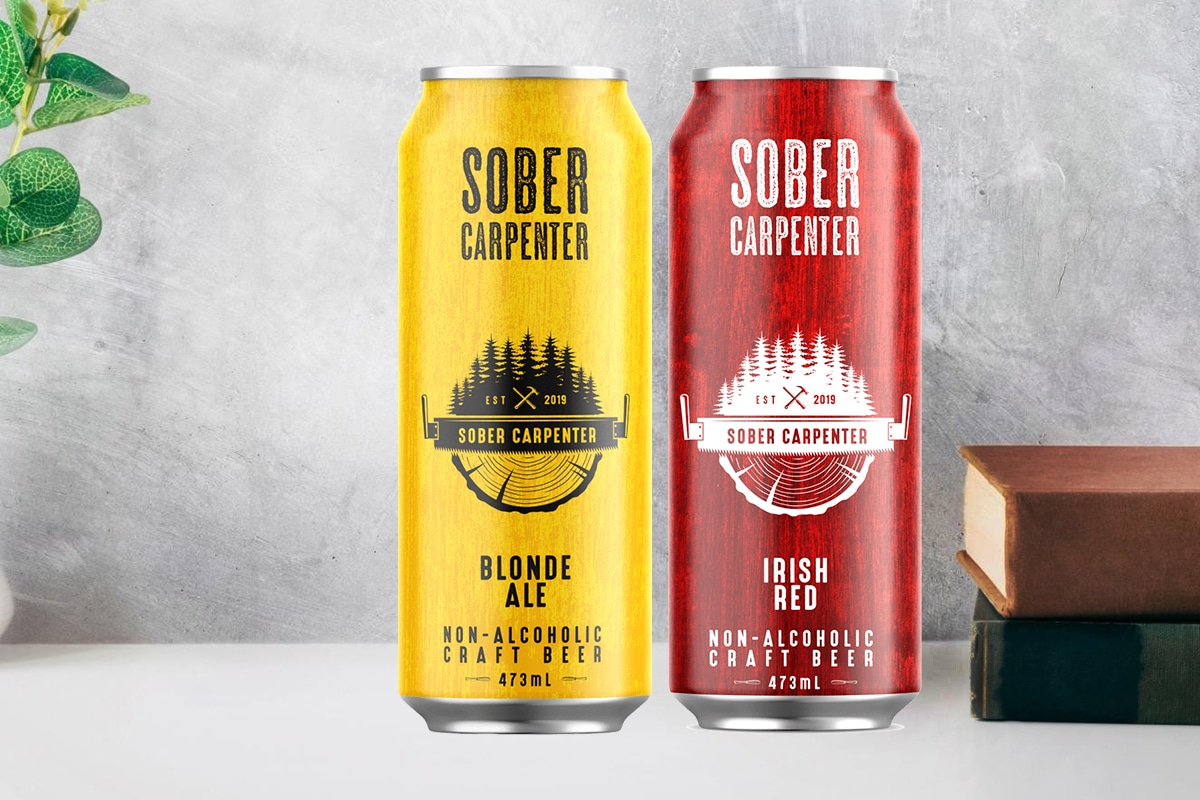 In 2019, brothers Gagnon set up a shop in Montréal, Quebec, and they called their company Sober Carpenter. Both brothers had a love of beer, and for many years they had brewed their own in their parents' cellar.
Both brothers eventually settled down to raise their own families, ushering in a period of transition into adulthood. They still enjoyed beer and wanted to keep their social lives vibrant, but they were thinking about cutting back.
The brothers, who have spent years sampling a broad variety of craft brews and honing their own formulas, have concluded that the present market for non-alcoholic beer falls short of their expectations, particularly with regard to criteria for taste and texture.
When the Gagnon family realized there wasn't a good non-alcoholic beer option on the market, they set out to change that by establishing Sober Carpenter, a family-run, artisan microbrewery that specializes in producing it.
When you drink a Sober Carpenter beer, you won't believe it's alcohol-free because of how great it tastes and how smooth it drinks.
They're made to encourage clients to lead busy social lives and maintain a healthy lifestyle without relying on alcoholic beverages.
A growing number of people are interested in learning about and implementing the Gagnons' suggestions for healthy lifestyle choices and workout routines.
The microbrewery's 2019 inception was ironically fortuitous timing since they expect this health boom to be a direct effect of the epidemic.
The increase in the number of people who are selective about the beverages they consume is something that has been seen, according to CEO Nicolas Gagnon's comments to the National Post.
Sober Carpenter is cognizant of the fact that beer drinkers have gotten more discerning over the years and may now care about such factors as the malt or hop variety used in production.
There are five mainstay beers available from Sober Carpenter, and they cover a wide range of genres. For each of these North American beers, we've included details like the beer's flavor profile, nutritional statistics, and more down below.
Those with gluten intolerance should avoid drinking Sober Carpenter beers since they are brewed with wheat.
Although not technically vegan certified, the manufacturer behind Sober Carpenter guarantees that their beers include no animal products.
Conclusion
Sober Carpenter's artisan North American beers are of the highest quality and have won several awards.
Due to its status as a family-run business, this microbrewery can put all of its resources into producing its limited but formidable beer range.
We hope that the information provided in this article has helped you decide what Sober Carpenter flavor to try next.
Print
5 Best Sober Carpenter Flavors
Check out this list of the best Sober Carpenter flavors to try!
Author:
Prep Time:

1 minute

Cook Time:

1 minute

Total Time:

2 minutes

Yield:

1 Serving

Category:

Drinks

Method:

Refrigerated

Cuisine:

Drinks
Instructions
Pick your favorite flavor
Click on the link to visit Pinterest
Buy items from your local store or online
Enjoy and share on social media!
Keywords: Best Sober Carpenter Flavors
Hi, I'm Linda thanks for stopping by! We're so happy you're here. If you're a foodie and love to cook from home - you're in the right place..
LEARN MORE
Join the mailing list and receive our free newsletter!
Recipe Marker provides you with the best information about home cooking tips, recipes, ingredient substitutes and more. Check out our blog to see the latest articles.