What to Serve with Bruschetta: 6 Best Sides (Updated 2023)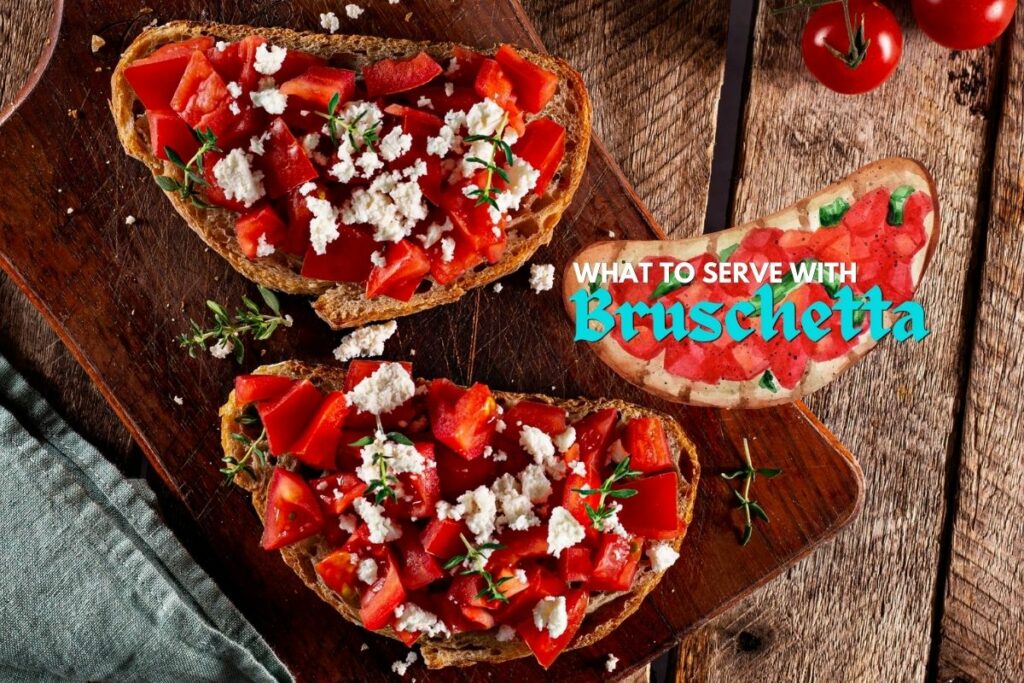 Are you trying to decide what to serve with Bruschetta? Stick around as we share a list of the most popular side dishes that go well with Bruschetta.
Bruschetta is an Italian appetizer that's loved by many. With garlic-rubbed toast and a refreshing topping of tomatoes, basil, and garlic, this makes the perfect starter for just about any meal.
Light and flavorful, you should definitely read on to know what to serve with bruschetta.
What to Serve with Bruschetta
1. Charcuterie Board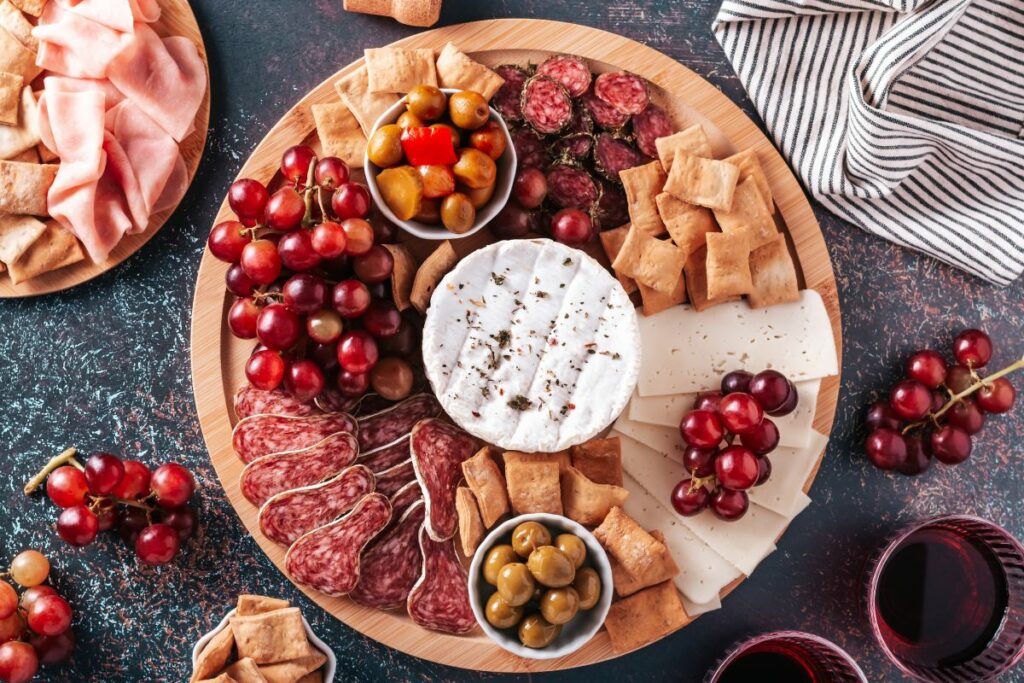 Go all out with a bang by serving some mean charcuterie board that all of your guests can enjoy.
With some of the finest cold cuts and different types of cheese, there's sure to be something for everyone.
Think of this as an antipasto platter that's an homage to all things Italian.
From cured meats such as prosciutto and salami to hard and soft cheeses like Parmigiano Reggiano and gouda, you can have everyone graze and take their picks.
While meats and cheeses are already good enough, you can elevate this further by adding roast and pickled vegetables to cut through the richness.
Olives are also good additions as this is a quintessential part of any Italian meal.
2. Pasta Salad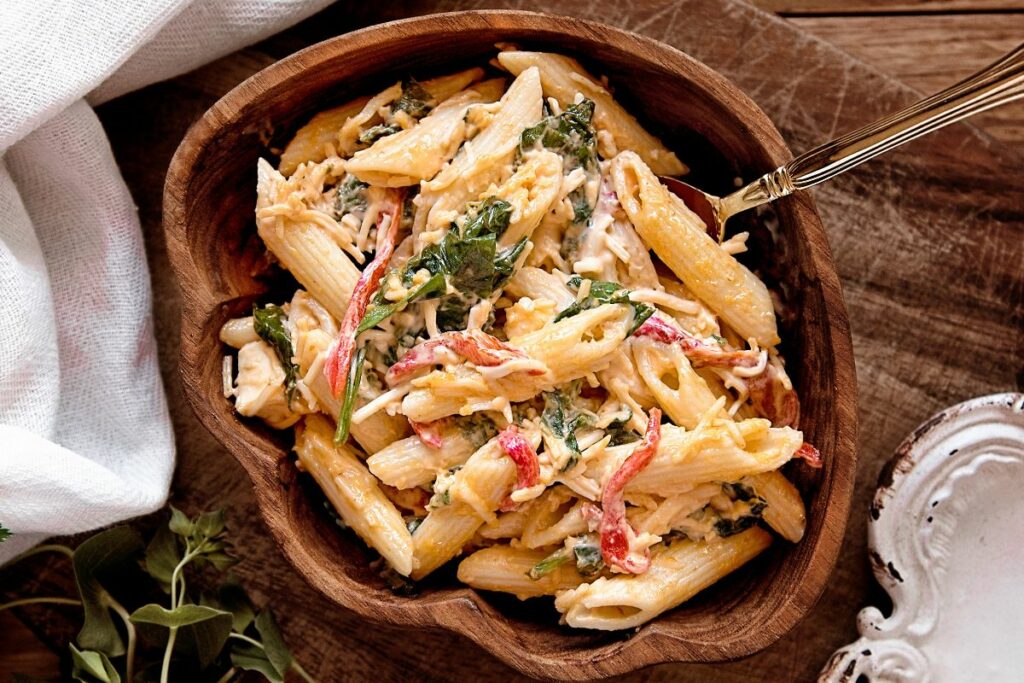 Complement your bruschetta with an equally light yet filling side such as pasta salad. This has everything you could ever want and more.
Made with a combination of tomatoes, cucumbers, red onions, olives, and herbs such as basil and parsley, this is refreshing in every sense of the word.
The various flavors and textures at play will make this your new favorite. With the addition of cheese and salami or other types of cured meats, this will give an umami taste that's full of depth.
Best eaten cold, this will definitely be a staple not just in the hot summer months, but all throughout the year.
The key here is not to overcook your pasta so that it remains al dente and it gives just the right bite.
With a dressing that's equally tangy and bright, it will round out all the flavors and keep it balanced.
Finish this with a sprinkling or grating of cheese on top to add some nuttiness and you're good to go.
3. Italian Salad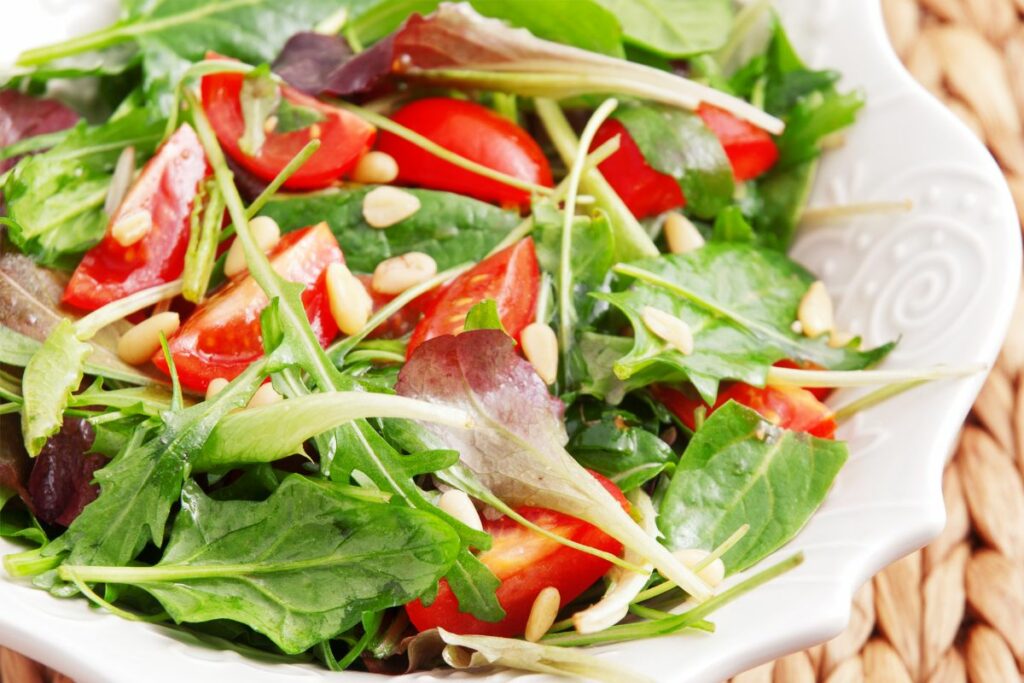 If you want to keep your side strictly healthy and light at the same time, you won't go wrong with a traditional green Italian salad.
With lettuce, tomatoes, red onions, black olives, and some croutons, this gives you the freshest side that's so delicious and that goes well with just about everything, including your bruschetta.
What makes this a simple yet proper Italian salad is its dressing.
Made with red wine vinegar and extra virgin olive oil, as well as herbs and seasonings such as dried oregano, dried basil, and salt, you can expect the bright and acidic notes to put a punch against the earthiness of the vegetables.
For those that want extra heat, pepperoncini are a must. These are subtle and have a somewhat tangy taste that makes your Italian salad more balanced.
This comes together in just a matter of minutes and you can even make your dressing in a jar and shake it away.
4. Fried Zucchini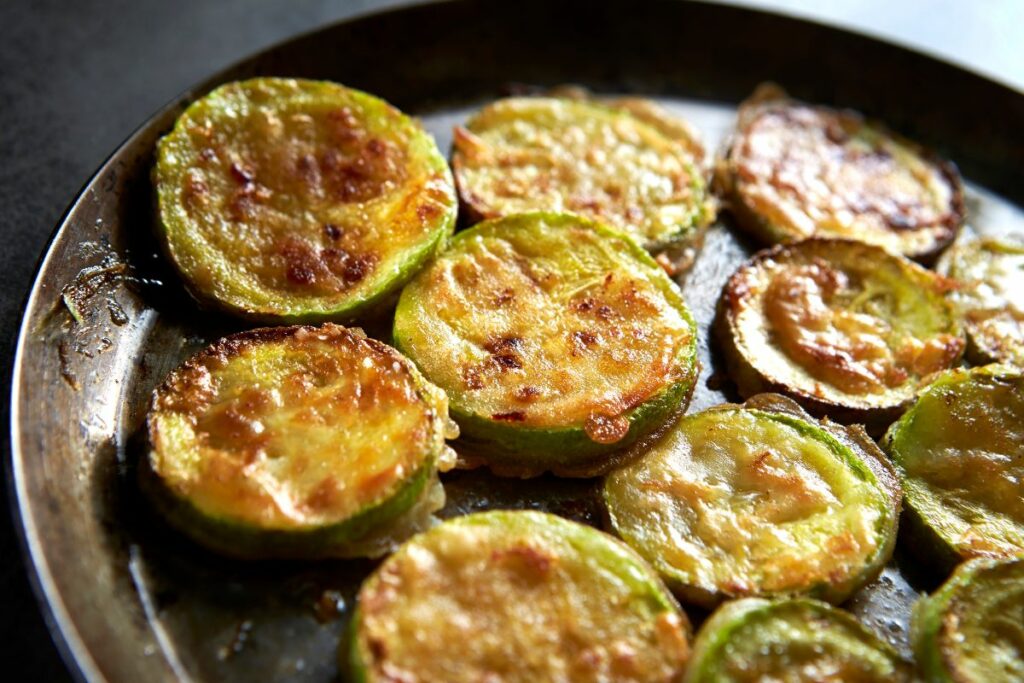 A slightly more indulgent yet still light side dish that goes well with the tanginess and brightness of bruschetta is none other than fried zucchini.
Fried to a crisp, what shines the most from this dish is the delicate batter enveloping the zucchini and just the right amount of crunch to give individuals an interesting mouthfeel.
Although this is one of the lighter fares that does not have cheese or meat, it cannot be denied that fried zucchini still packs some meatiness to it thanks to its sturdy build.
Easy enough to make, you'll find that you won't get enough of this appetizer anytime soon.
5. Stuffed Tomatoes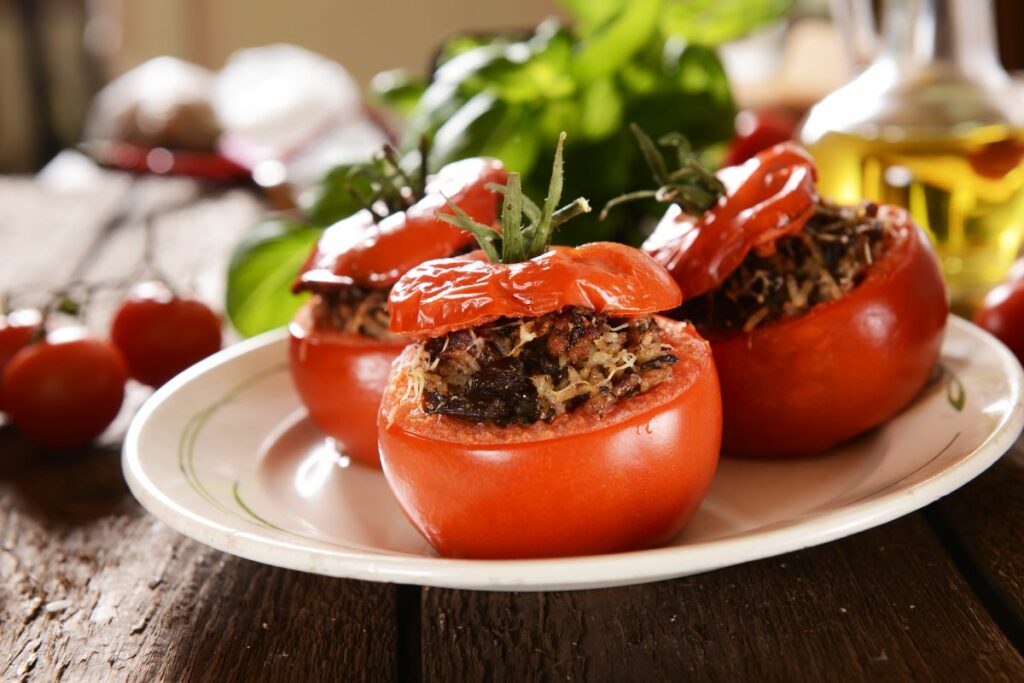 Make a play on tomatoes by serving another tomato-forward dish: stuffed tomatoes. You can make a variety of combinations, from adding basil, tomatoes, cheese, chili flakes, ground beef or meat, and even rice if you want to have something more filling and substantial.
Be sure to serve this warm so that you can offer a contrast to the cool bruschetta.
With its herby flavors and meaty taste, this is guaranteed to be a winner for everyone.
6. Green Beans with Blue Cheese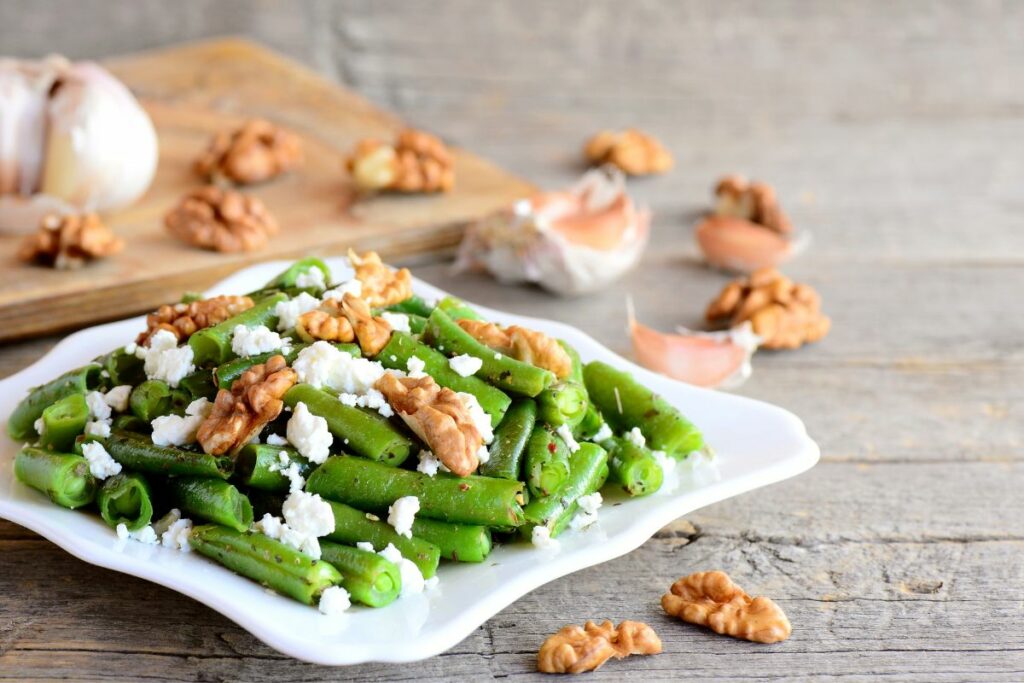 Don't be so quick to write this combination off. While you may be iffy with adding blue cheese to green beans, you might want to know that this combination makes for an insane side dish.
Apart from being simple enough to make, with you being asked to sprinkle crumbled blue cheese on boiled and seasoned green beans, the flavors are truly one of a kind.
The cheese is funky and pungent, yes, but it also brings a layer of nuttiness and sharpness, with some sweetness peeking through, giving you a medley of flavors.
The Bottom Line
Bruschetta is an appetizer you'll want to have again and again so know what to serve with bruschetta.
As a traditional Italian offering, you won't go wrong with any of these side dishes since these are all on a theme, giving you a coherent range of options to choose from.
Print
6 Best Sides for Bruschetta
Check out these great Side Dish Recipes for Bruschetta that have been shared on Pinterest.
Author:
Prep Time:

5 minutes

Cook Time:

10 minutes

Total Time:

15 minutes

Yield:

1 serving

Category:

Sides

Method:

Cooking

Cuisine:

Side Dish
Instructions
Click on each link above to view the pin and recipe.
Obtain all the necessary ingredients to make the recipe.
Follow the steps to create your side dish.
Enjoy your delicious meal =)
Nutrition
Serving Size:

1 serving

Calories:

70

Sugar:

0 g

Sodium:

2220 mg

Fat:

3 g

Saturated Fat:

0 g

Unsaturated Fat:

0 g

Trans Fat:

4 g

Carbohydrates:

6 g

Fiber:

2 g

Protein:

4 g

Cholesterol:

10 mg
Keywords: Best Sides for Bruschetta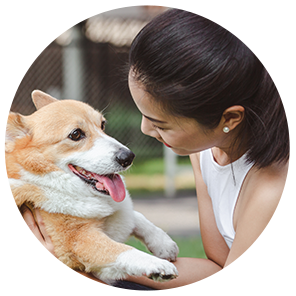 Hi, I'm Linda thanks for stopping by! We're so happy you're here. If you're a foodie and love to cook from home - you're in the right place..
LEARN MORE
Join the mailing list and receive our free newsletter!
Recipe Marker provides you with the best information about home cooking tips, recipes, ingredient substitutes and more. Check out our blog to see the latest articles.