Top 5 Best Pork Belly Substitutes for Cooking (Updated 2023)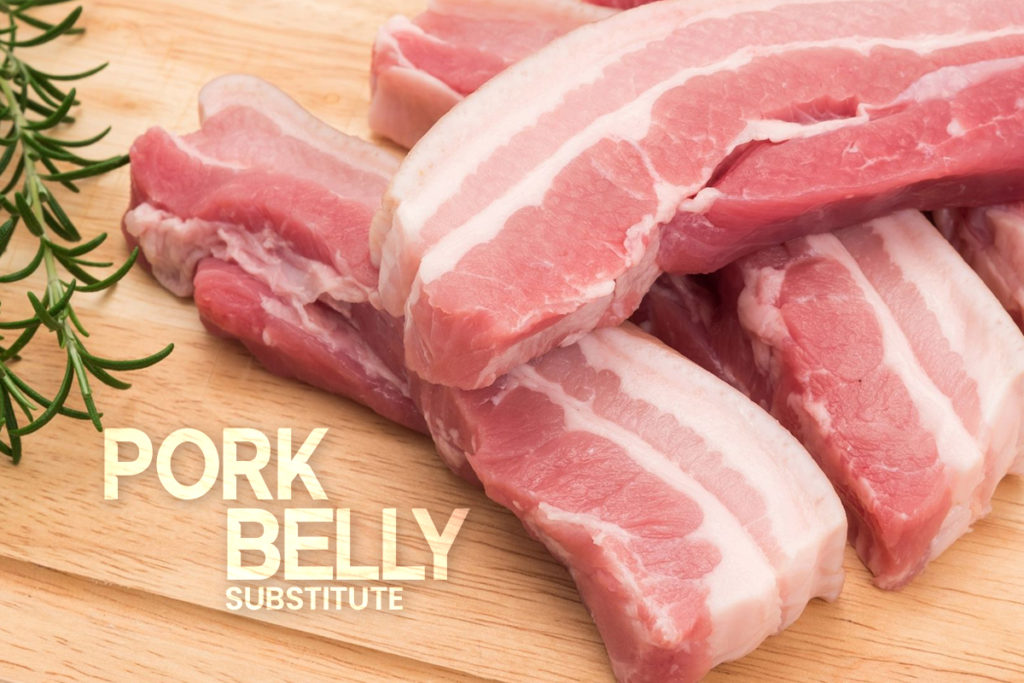 Are you looking for some great substitutes for pork belly? Stick around as we share a list of the best pork belly substitutes you can use for your cooking recipe.
Millions of people all over the world love pork belly. In fact, pork is the most consumed meat around the world. There are hundreds of variations and preparations of pork.
Despite the popularity of pork belly, there are people who are either unfamiliar with the ingredient or don't have access to it. So, what comes close to pork belly?
Let's dive into what cuts of meat are the best pork belly substitutes.
Best Pork Belly Substitutes
1. Pork Bacon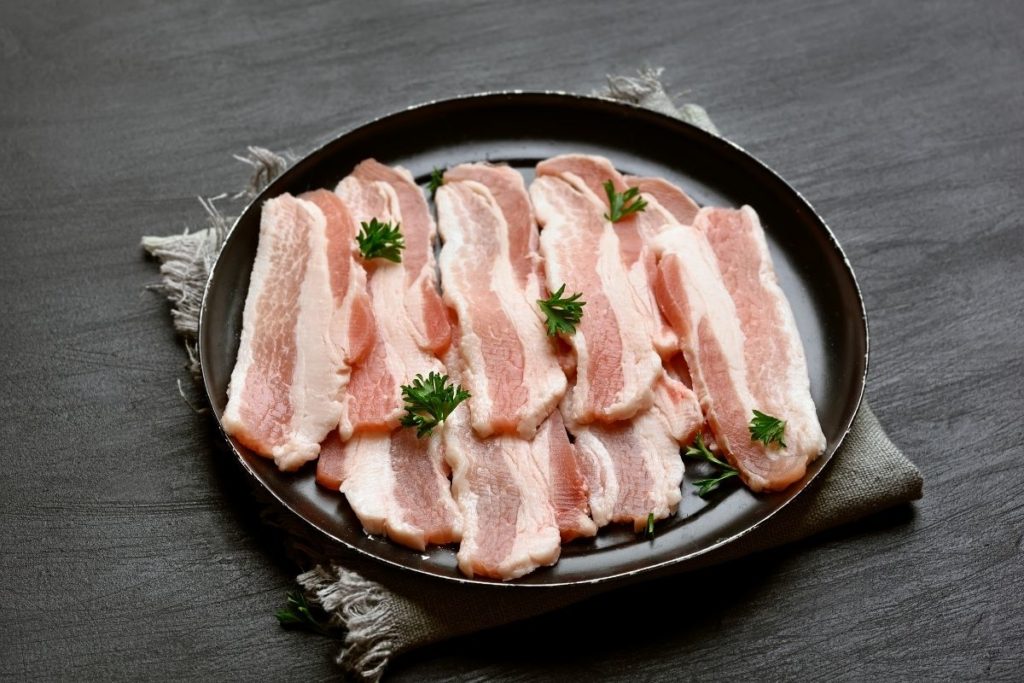 Many people confuse pork bacon with pork belly. It's important to note that while pork bacon is often smoked and cured, pork belly is the entire slab of pork belly uncured and unsmoked.
Pork bacon is one of the best substitutes for pork belly. The rich unctuous bacon mirrors some of the same elements as pork belly.
Opting for the thick-cut bacon over regular cut can replace pork belly in any given recipe.
2. Turkey Bacon

Turkey bacon is also great if you're looking for lighter options. While turkey bacon has more protein than pork belly, turkey bacon is higher in salt content.
When substituting turkey bacon in recipes be mindful of how much bacon is added.
Although, the taste is relatively different from the original pork belly. Turkey bacon still delivers that salty, umami flavor that you're looking for.
3. Goose Meat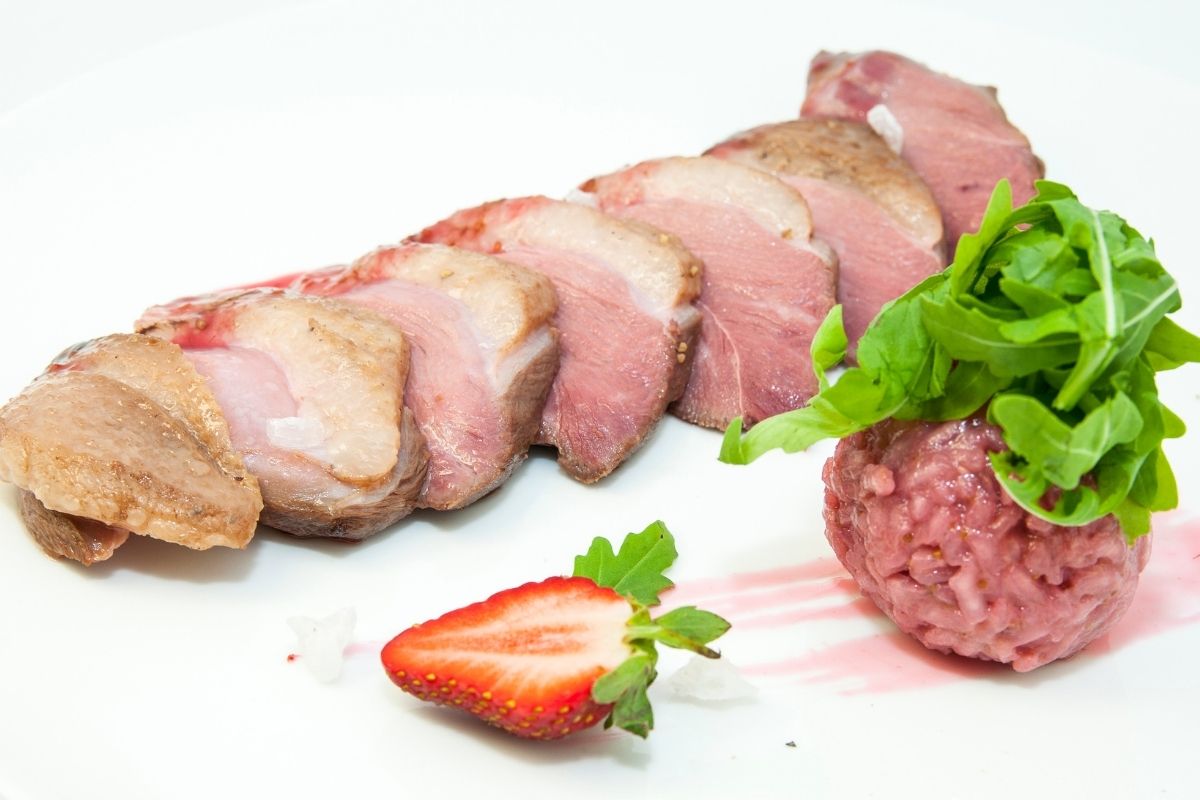 Goose meat has a rich dark color. Its dark color comes from the high iron present in the goose's diet. Goose meat is most often purchased from a butcher to guarantee the best quality and freshness.
If you purchase goose meat from a butcher rather than a grocery store, you may inquire about the age of the goose and where the local farm is located. Remember, the younger the goose is, the better it will taste.
There are also different methods that you can use to prepare it. Marinading it in a mixture of oil and seasonings can impart flavor to the meat.
Goose meat is fatty and rich like pork belly, making it an ideal alternative.
4. Beef Bacon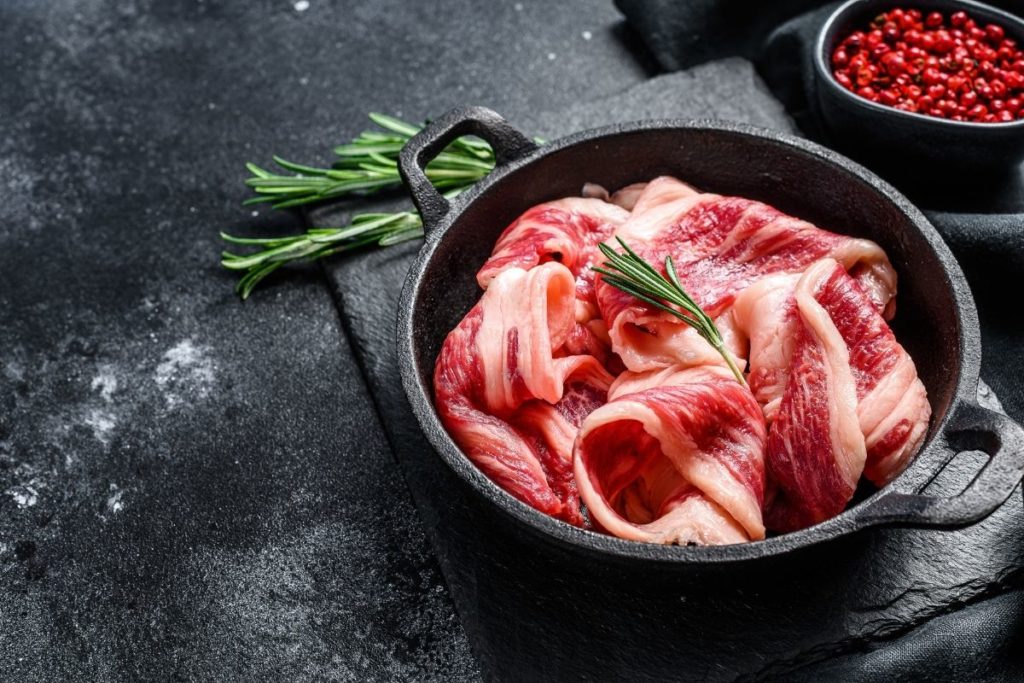 Beef bacon is one of the best alternatives for pork belly. It's widely used in a wide variety of meals because it closely mimics pork belly in appearance and texture.
By adding an array of spices and seasonings to the beef bacon it can emulate those same desirable flavors that pork belly has.
Beef bacon can be prepared the same way as pork belly. Whether you sauté it in a pan or throw it on the grill beef bacon can replace pork belly in many recipes.
Marinading the beef bacon with soy sauce or sesame oil to make an Asian-inspired dish, Or using a dry rub of seasonings and spice on the bacon to add a bbq flavor.
Look for grass-fed beef bacon in your local grocery store for a more flavorful taste.
5. Pork Fatback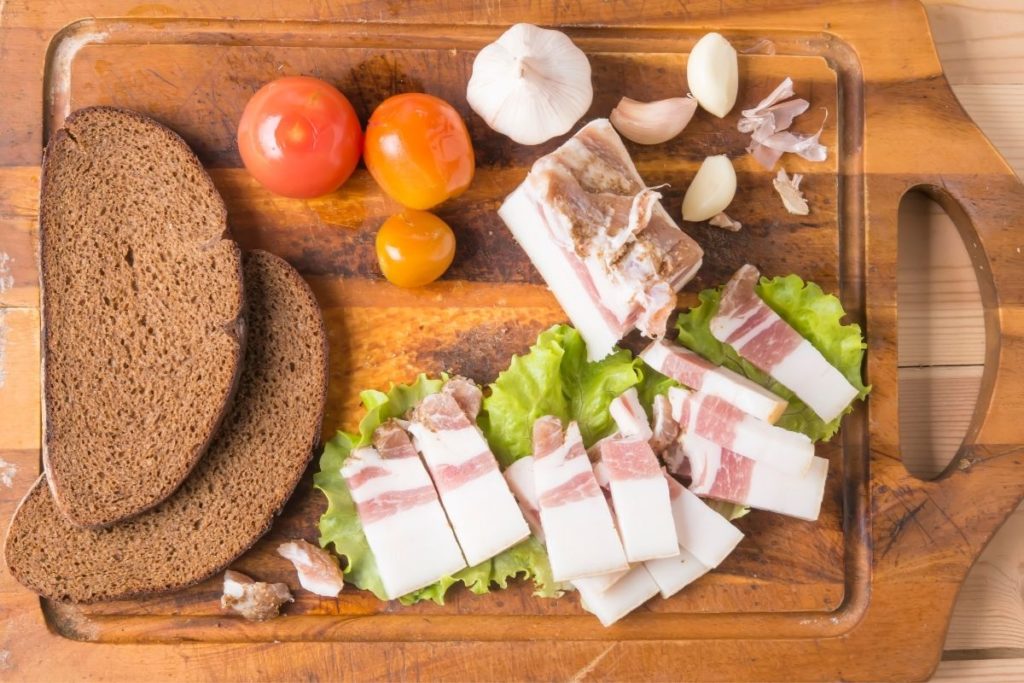 Pork fatback is a fairly comparable cut of meat. Pork fatback is the hardened fat on an older, more mature pig. If prepared correctly, it may be quite flavorful.
Even the ingredients used to prepare pork belly may be used to cook this part of the pig.
It's crucial to keep in mind that salting fatback will make it much more delectable. People who enjoy the fatty layers in pork belly will appreciate pork fatback.
Pork fatback can be grilled or sautéed with vegetables. A spicy sauce or a dash of chili might enhance the flavor of fatback.
Spices tend to enhance the flavor of most dishes because of their compatibility with the fat layer.
Summary
You may serve pork belly with a number of delicious side dishes. However, if there's not enough pork belly in your fridge or can't find it in your local grocery store, there are many options that can emulate pork belly's flavor.
Whether it's pork fatback or pork bacon there are many flavorful options available to use as a substitute.
Print
5 Best Pork Belly Substitutes
Check out these great substitutes for Pork Belly that have been shared on Pinterest.
Instructions
Click on each link above to view the pin.
Learn more about the ingredient.
Purchase the ingredient.
Add a substitute to your recipe =)
Keywords: Best Pork Belly Substitutes
Hi, I'm Linda thanks for stopping by! We're so happy you're here. If you're a foodie and love to cook from home - you're in the right place..
LEARN MORE
Join the mailing list and receive our free newsletter!
Recipe Marker provides you with the best information about home cooking tips, recipes, ingredient substitutes and more. Check out our blog to see the latest articles.