Top 5 Best Substitutes for Water Chestnuts! (updated 2023)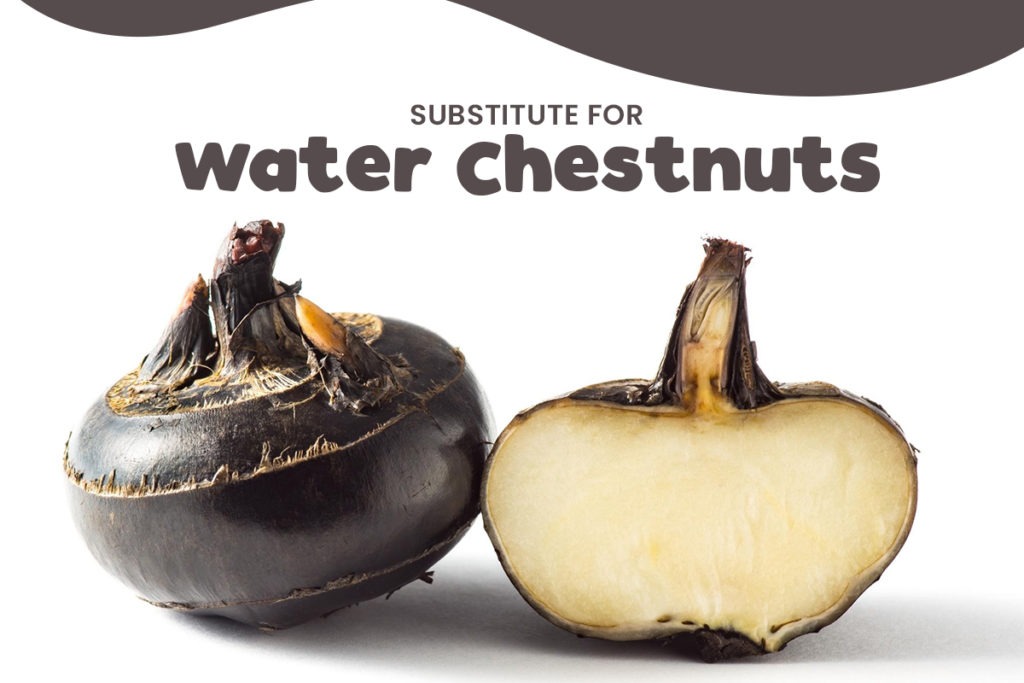 Are you looking for some great substitutes for water chestnuts? Stick around as we share some alternatives for water chestnuts in this article.
Water chestnuts are some of the most versatile ingredients in your kitchen. Whether boiled, stir-fried or even made into a dessert, people value water chestnuts for their mildly nutty taste.
Therefore, water chestnuts are prominent in Chinese and Asian cooking, even appearing in Japan and Korea.
With its high demand and popularity, it's no surprise that you may be hard-pressed to find water chestnuts in your nearby grocery stores. They can be an even rarer find in American supermarkets.
Fortunately, there are various ways you can work around your desire for this ingredient. We rounded up some of the best and closest substitutes for water chestnuts.
Check these out to find what you can use in your recipe.
What are Water Chestnuts?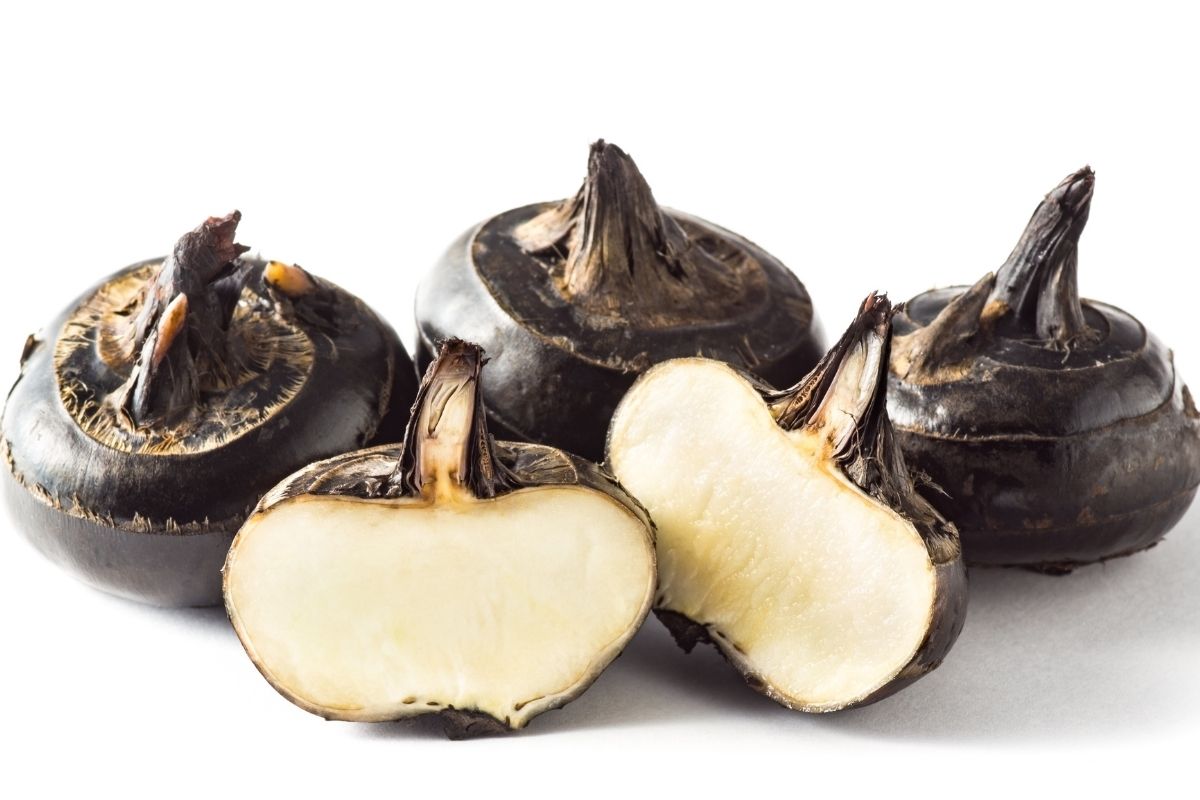 Despite its name, water chestnuts aren't nuts or even chestnuts. On the contrary, they are aquatic tubers grown in freshwater marshes.
They are native to Southeast Asia and other parts of the world such as Australia, Africa, and the Pacific Islands.
Since they look like chestnuts, they got the name water chestnuts. They have a brown skin color that reveals a white fleshy texture underneath.
Eaten fresh and on their own, water chestnuts tend to have a crisp texture that gives way to a sweet flavor, while having a mild nutty taste.
They are also quite juicy, and the texture is reminiscent of a pear. While many people eat them fresh, people mostly use them in cooking salads, stir-fries, and even dumpling fillings.
Best Water Chestnut Substitutes
1. White Turnips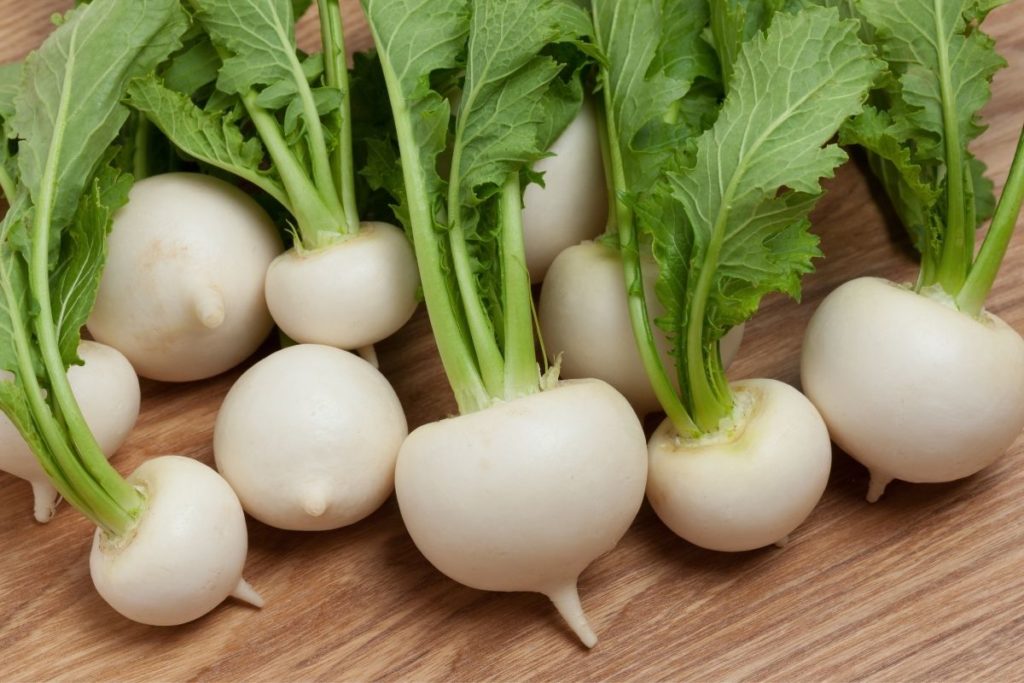 One of the best substitutes for water chestnuts is turnips, preferably the white variety. Not only is this available all year, but the flavors of turnips are also spot-on.
As a type of root vegetable, white turnips are milder in flavor and do not have the peppery taste of other turnip varieties.
While this may have a mustard-like taste, particularly larger ones, this tends to go away once cooked.
To substitute water chestnuts with white turnips, we advise cutting them up into little slices or smaller cubes and cooking them in oil with salt and water until it becomes soft.
2. Jicama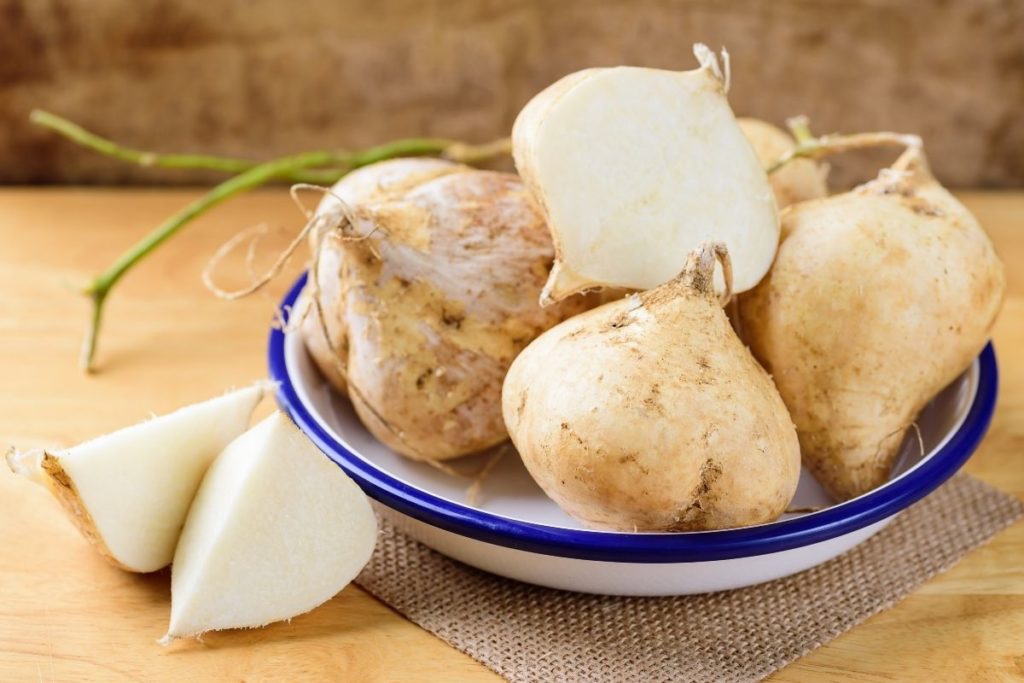 Another substitute for water chestnuts is jicama. As a type of root vegetable, we dare say that jicama has one of the closest flavor profiles to water chestnuts.
While the skin of the jicama vegetable is golden-brown rather than a darker color, the insides are similar to the water chestnut.
Jicama bears a starchy white interior that takes on a sweet and nutty flavor profile while also being very juicy.
To use these in place of water chestnuts, you can slice or dice them, but be careful in overcooking them to retain the crisp and crunchy texture.
You can use the same amount of jicama in your recipe.
3. Canned Water Chestnuts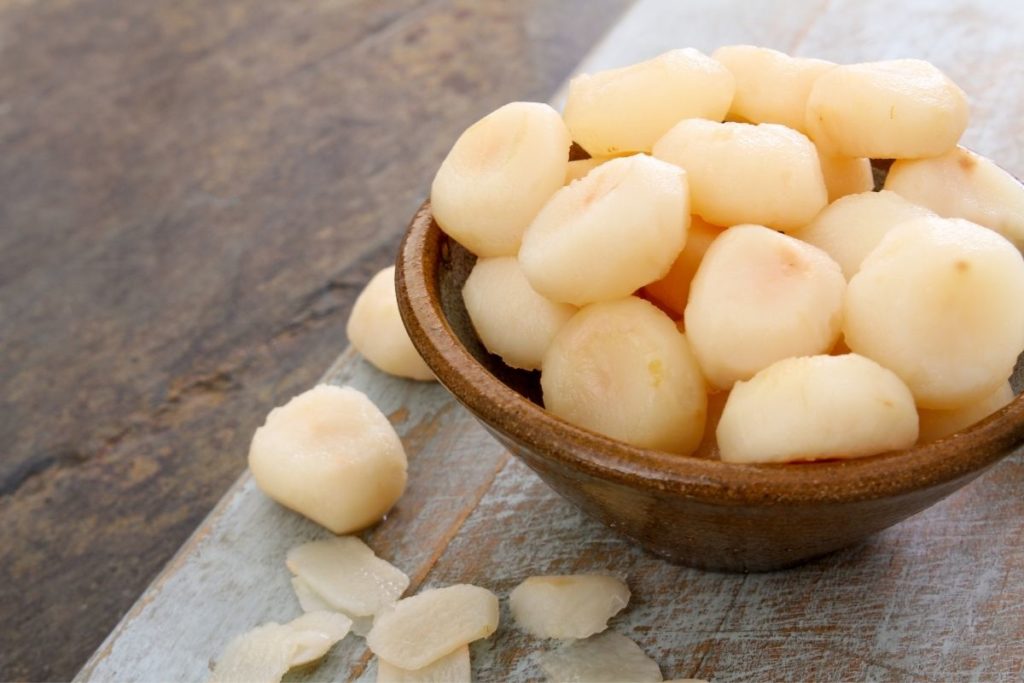 They say that fresh is always the best, but when it comes to water chestnuts that aren't easily available, going the canned route is the way to go.
What's great about using canned water chestnuts is that you don't even have to go the extra mile to peel and clean them.
Another aspect of using the canned version is that the water chestnuts have a preserved texture.
However, sometimes the flavor may even be milder, particularly its nutty taste.
4. Jerusalem Artichokes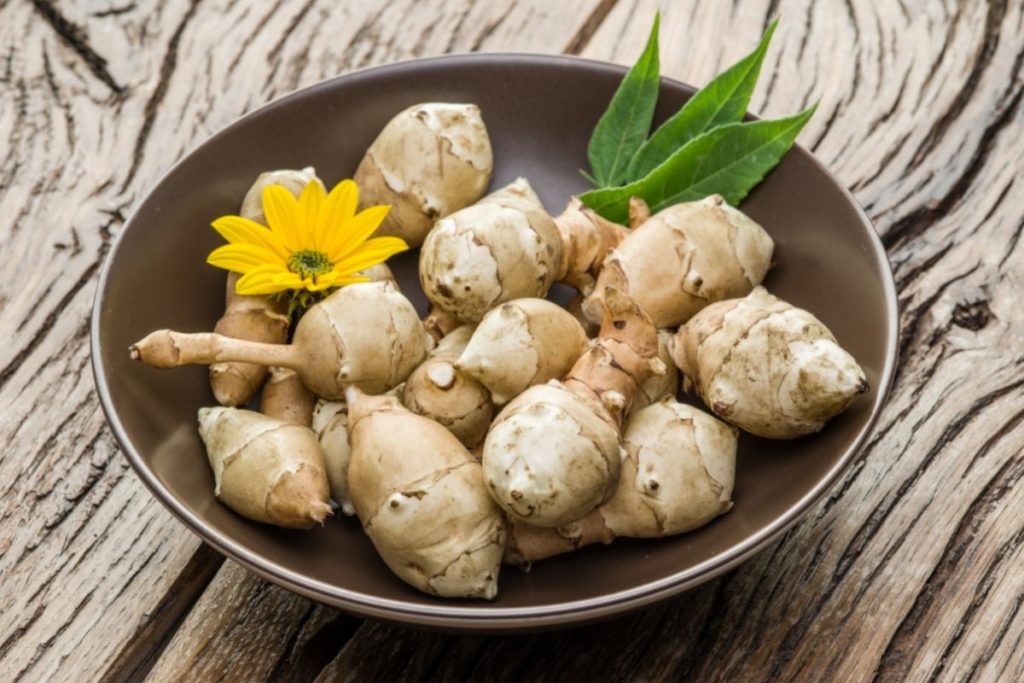 Jerusalem artichokes are also tubers, and they tend to look a bit like ginger. Their taste couldn't be closer to water chestnuts, especially when eaten fresh.
The Jerusalem artichokes take on a nutty flavor with hints of sweetness peeking through, but they also have an earthy taste.
Equal amounts of Jerusalem artichokes can substitute for water chestnuts. Just a reminder, this tuber tastes similar to an artichoke once cooked, hence the name.
5. Bamboo Shoots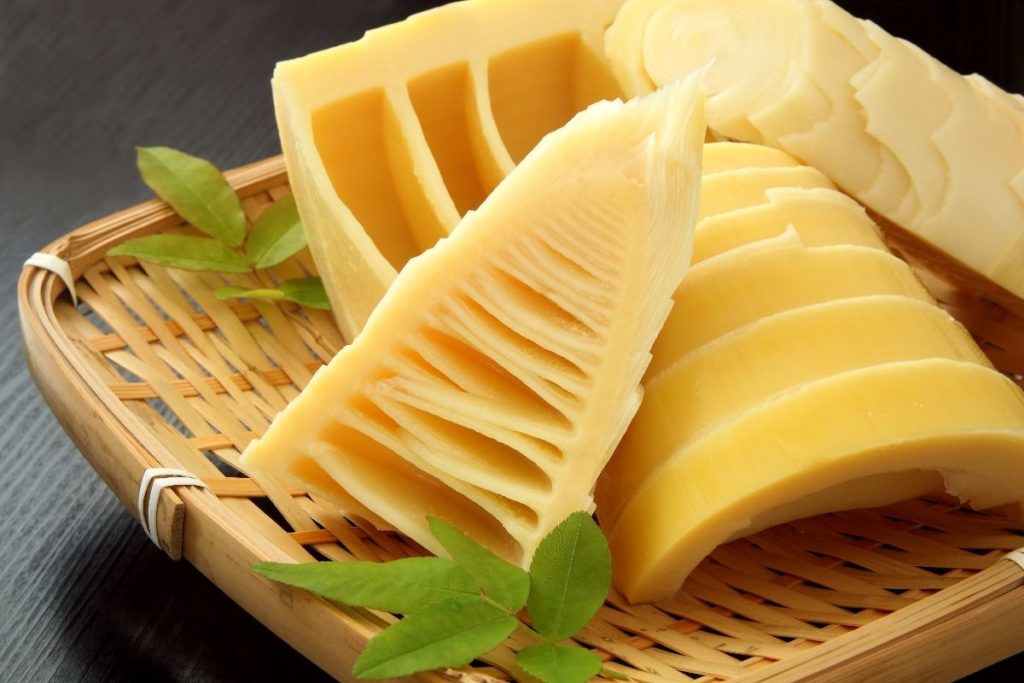 Bamboo shoots resemble one another in crunch and crispiness to water chestnuts, but their flavors are different. Bamboo shoots have an earthy and somewhat bitter taste while also being more fibrous in texture.
However, when cooked, these properly absorb the flavors and seasonings that you want. Just be sure to cook them thoroughly to avoid cyanide poisoning from developing.
Steer clear from using canned bamboo shoots. While these are more accessible and convenient, the canned variety is somewhat limp and soft and, therefore, is a sad ingredient.
The Bottom Line
Now that you know more about water chestnuts and their respective substitutes, you can choose what works best for your recipe.
Whether you're doing an appetizer or including it in your main dish, these water chestnut substitutes work every time.
Print
5 Best Substitutes for Water Chestnuts
Check out these great substitutes for Water Chestnuts that have been shared on Pinterest.
Instructions
Click on each link above to view the pin.
Learn more about the ingredient.
Purchase the ingredient.
Add a substitute to your recipe =)
Keywords: Best Substitutes for Water Chestnuts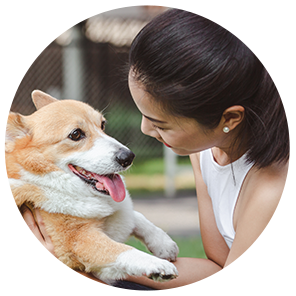 Hi, I'm Linda thanks for stopping by! We're so happy you're here. If you're a foodie and love to cook from home - you're in the right place..
LEARN MORE
Join the mailing list and receive our free newsletter!
Recipe Marker provides you with the best information about home cooking tips, recipes, ingredient substitutes and more. Check out our blog to see the latest articles.