What to Serve with Twice Baked Potatoes: 6 Best Side Dishes to try in 2023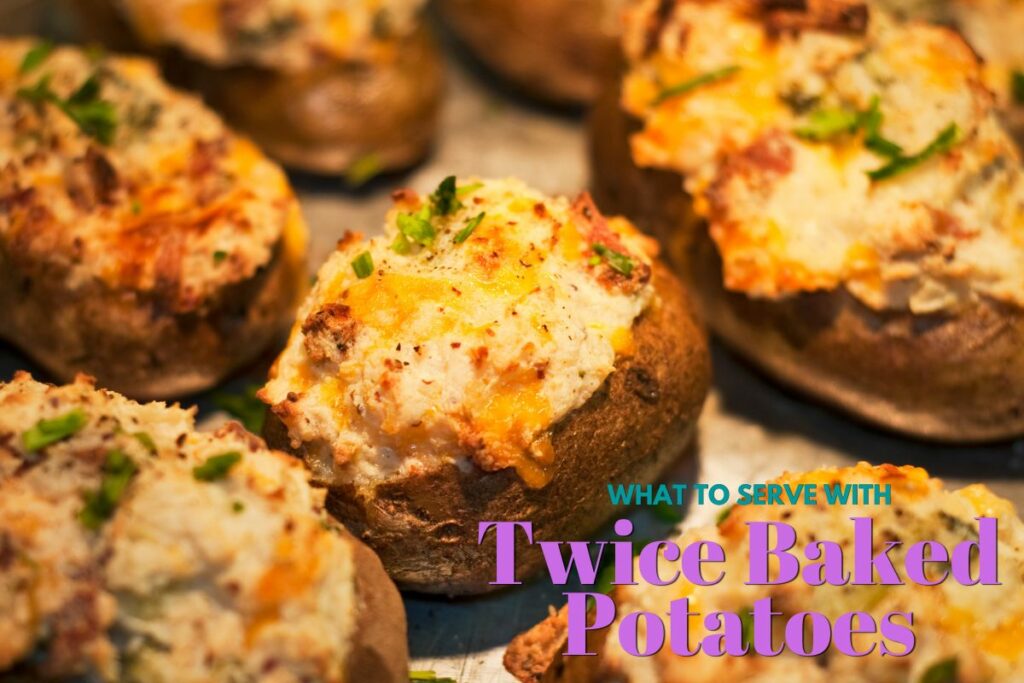 Are you trying to decide what to serve with twice baked potatoes? Stick around as we share a list of the most popular side dishes that go well with twice baked potatoes.
Twice baked potatoes are some of the most comforting foods you could ever come across.
Topped with cheese, bacon, chives, and a generous dollop of sour cream, this dish is equal parts yummy and indulgent all at the same time.
Get to know what to serve with twice baked potatoes by reading this article.
What to Serve with Twice Baked Potatoes
1. Steak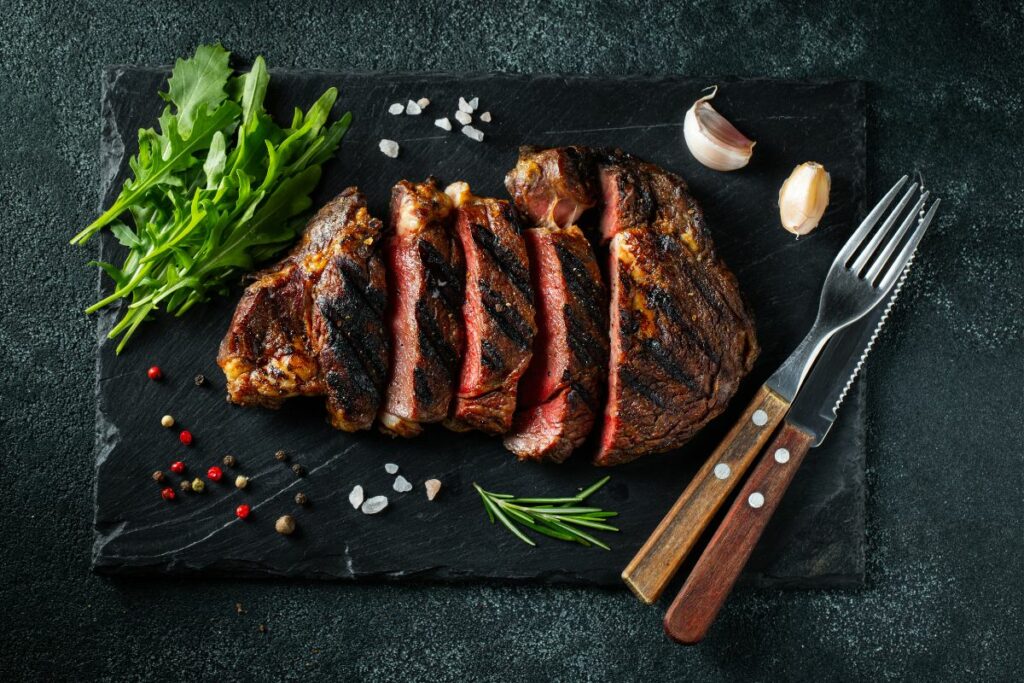 Twice baked potatoes are usually served on special occasions, so why not amp up the ante by serving steak as well? This goes well together since these are both festive and celebratory foods and these are equally comforting to eat.
Make sure your steak is perfectly cooked by allowing it to get a nice sear on both sides.
This browning allows it to further develop a crust, which is where most of the flavor comes from.
The beefy flavor profile is also enhanced and all you need is just salt and pepper to season it.
Finish the steak by basting it in butter just until it reaches a medium or medium rare outcome.
The twice-baked potatoes will make for a great canvas for the slab of meat, catching the steak's drippings and further enhancing the umami taste of the potatoes.
2. Roast Chicken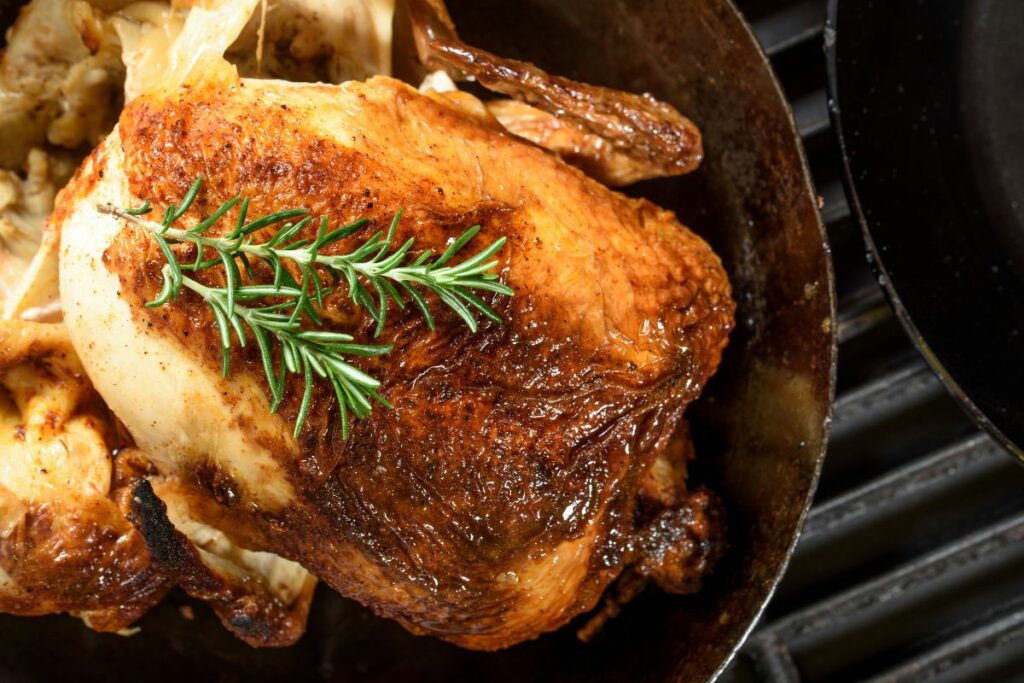 Pair roast chicken with twice-baked potatoes for a classic Sunday meal with friends and family.
The chicken is bursting with flavor with its spices, especially if you take the time to marinate it and let it sit for a bit.
Roast chicken takes on a wonderfully charred exterior and this gives it a smoky flavor.
Although you can do a traditional roast chicken spice, you can also try other roast chicken recipes such as the Peri-Peri roast chicken.
Made with a blend of African bird's eye chilis, Peri-Peri spices are not only full of heat, but also make for a play on sourness, sweetness, and saltiness all in one go.
Twice baked potatoes can reduce the heat that Peri-Peri roast chicken brings, especially with a dollop of sour cream, bringing a more balanced flavor profile to your plate.
3. Chicken Cordon Bleu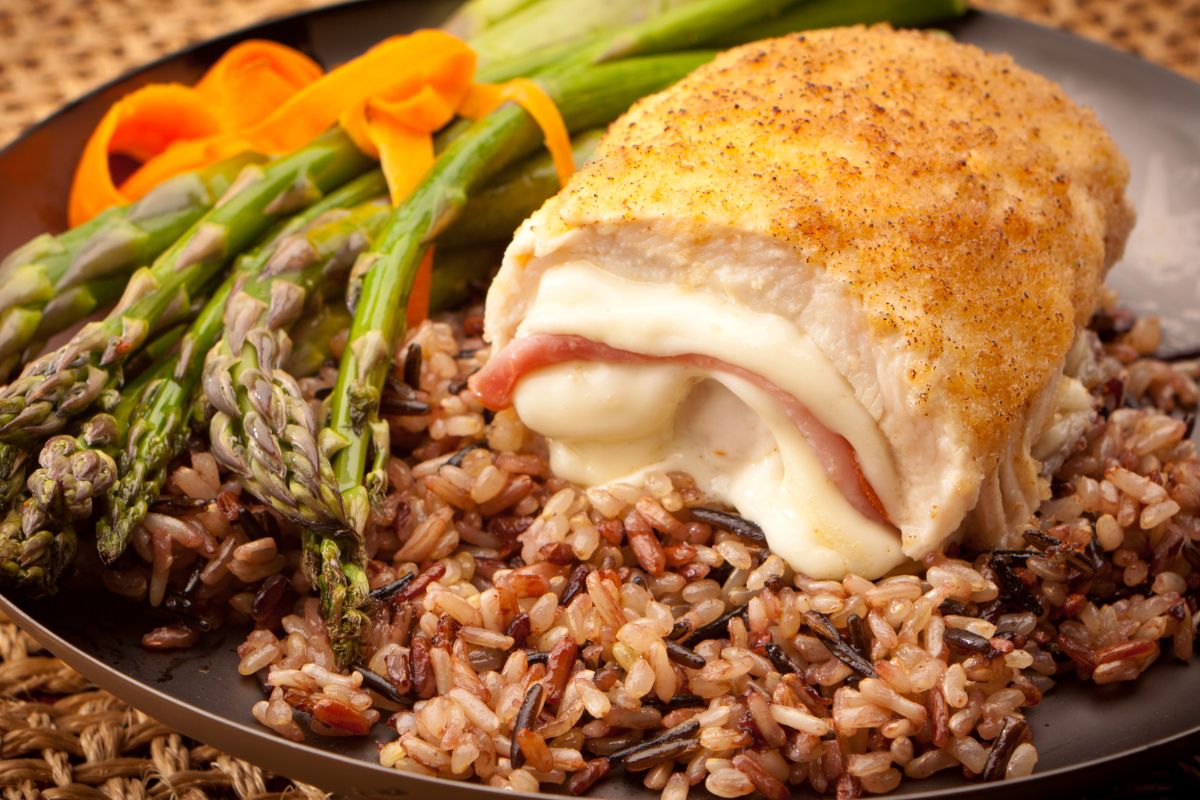 Everybody loves good fried chicken and we believe that chicken cordon bleu is an elevated version of traditional fried chicken. This is a gourmet meal that spells comfort food.
After all, it consists of chicken breasts that are wrapped around ham or prosciutto and cheese, before being breaded and fried to perfection.
Given the elements that comprise chicken cordon bleu, the flavors that come out of this pair well with twice baked potatoes.
The cordon bleu is meaty and cheesy and the potatoes' fluffy texture makes for a pairing you should not miss.
4. Meatloaf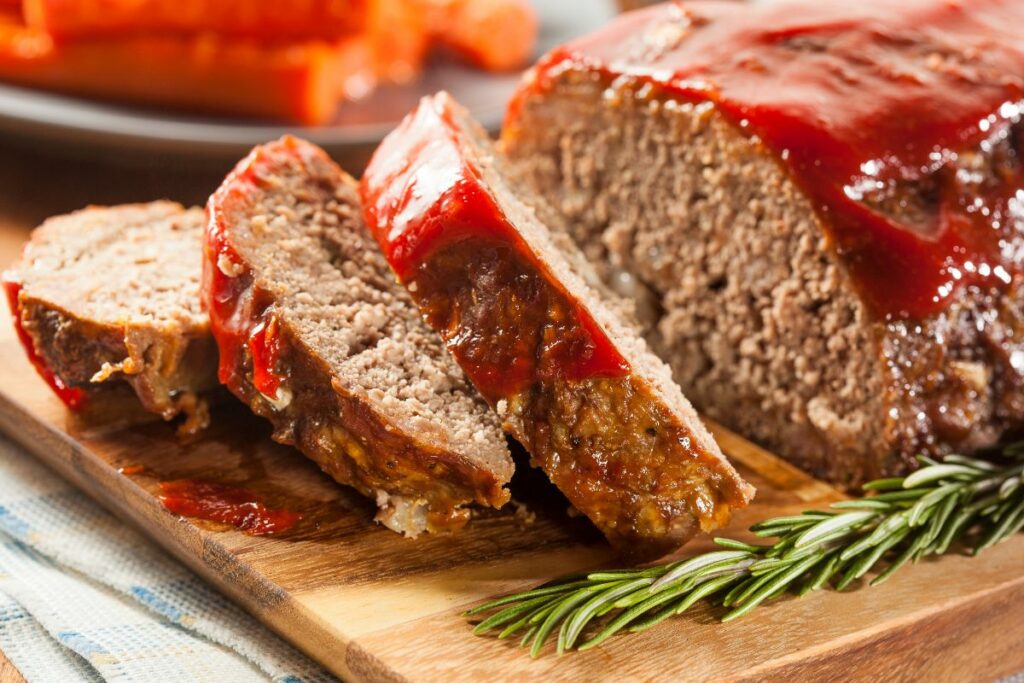 Since we're talking about comfort food, one dish that you shouldn't miss serving with twice baked potatoes is no other than the old-fashioned meatloaf.
This is a nostalgic dish that brings you right back to memory lane and the childhood dinners of the past.
The meatloaf has a prominent beefy taste that's reminiscent of a burger patty. It's packed with so much flavor thanks to the spices and flavorings in it.
The addition of bread crumbs or any other type of starch binds this dish well and adds a layer of texture, making for a play on contrasts.
5. Side Salad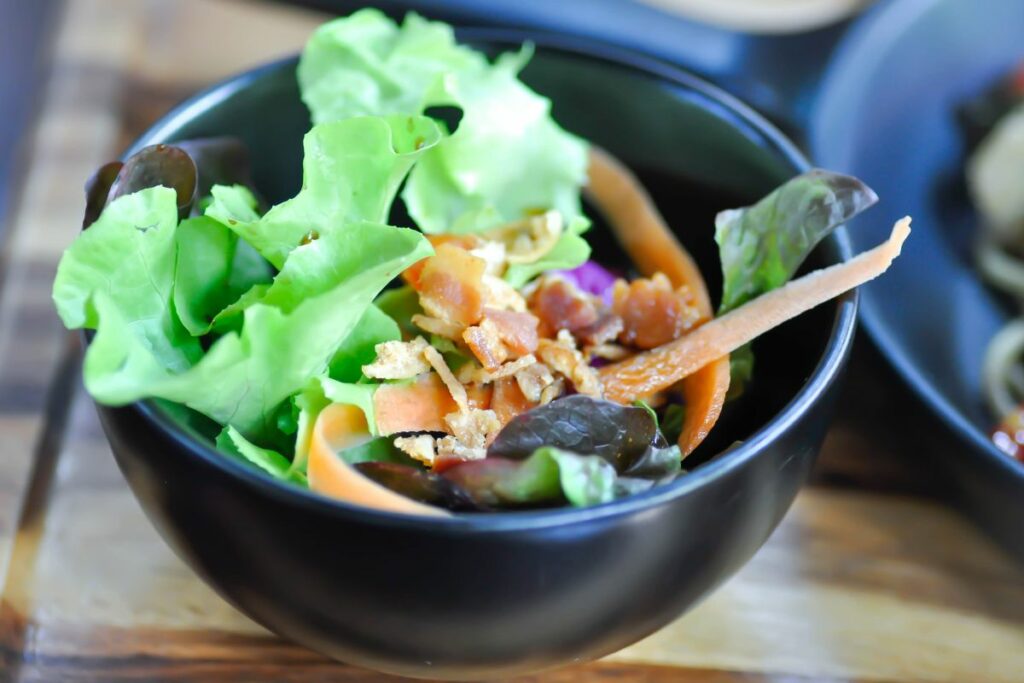 Although twice baked potatoes are downright delicious, they aren't the healthiest choice.
These are indulgent and loaded with everything comforting – from bacon to sour cream.
To balance this out, having a side of greens can help cut through the richness of the dish. A simple side salad composed of greens will add more nutrition to your plate.
The earthiness and bitterness of the greens will get rid of the excess richness of the dish. If you want to take this further, you can add some toppings such as tomatoes, cucumbers, or even some figs and nuts.
The tomatoes will bring tanginess and brightness to the dish, while the cucumbers will give a refreshing taste to the salad.
The figs, on the other hand, will give sweetness to the salad, while the nuts will bring some nuttiness and crunch, making you have a fantastic time eating this with the different textures within.
Finish this with a vinaigrette and its acidity will nicely round out the dish.
6. Wilted Greens with Pine Nuts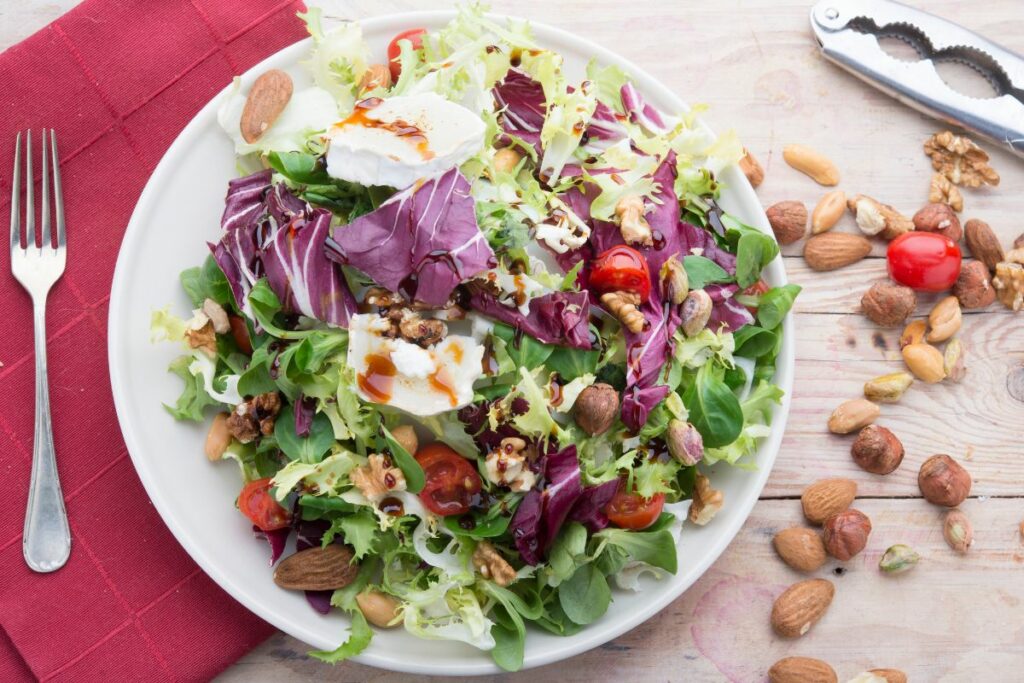 Take your freshest greens to the next level by elevating them with the addition of pine nuts. This is a classic Sicilian dish that shines even with the simplest flavors.
Cooked with garlic and olive oil just until the greens have wilted, hence the name, this brings out the earthy flavors of the leafy greens.
You can use kale or collard greens, as well as spinach or mustard greens.
Balance out some of the earthiness of the leafy greens by adding some raisins.
While the raisins may be quite unusual, these will bring out some sweetness to the dish.
The toasted pine nuts, on the other hand, will add nuttiness and crunch.
The Bottom Line
Twice-baked potatoes are a perennial crowd favorite and for good reason. With these excellent dishes as your guide, you can make twice baked potatoes so good.
Print
6 Best Sides for Twice Baked Potatoes
Check out these great Side Dish Recipes for Twice Baked Potatoes that have been shared on Pinterest.
Author:
Prep Time:

5 minutes

Cook Time:

10 minutes

Total Time:

15 minutes

Yield:

1 serving

Category:

Sides

Method:

Cooking

Cuisine:

Side Dish
Instructions
Click on each link above to view the pin and recipe.
Obtain all the necessary ingredients to make the recipe.
Follow the steps to create your side dish.
Enjoy your delicious meal =)
Nutrition
Serving Size:

1 serving

Calories:

150

Sugar:

0 g

Sodium:

1980 mg

Fat:

8 g

Saturated Fat:

2.5 g

Unsaturated Fat:

1.5 g

Trans Fat:

0 g

Carbohydrates:

0 g

Fiber:

0 g

Protein:

20 g

Cholesterol:

80 mg
Keywords: Best Sides for Twice Baked Potatoes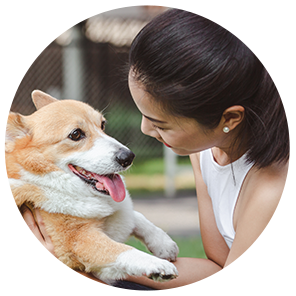 Hi, I'm Linda thanks for stopping by! We're so happy you're here. If you're a foodie and love to cook from home - you're in the right place..
LEARN MORE
Join the mailing list and receive our free newsletter!
Recipe Marker provides you with the best information about home cooking tips, recipes, ingredient substitutes and more. Check out our blog to see the latest articles.