9 Best Brazilian Side Dishes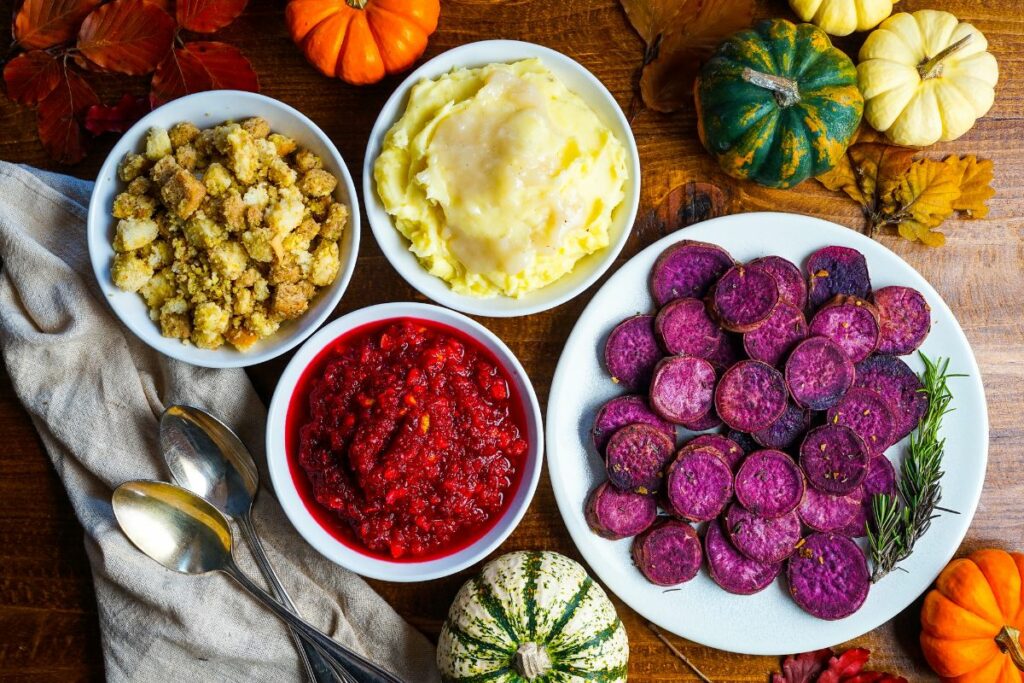 Are you wondering what goes well with Brazilian side dishes? Stick around as we share a list of the most popular Brazilian side dishes in this article.
Finding a good Brazilian side dish to go with other dishes in your meals enhances the fun and craziness of your meals.
The taste of your entire dinner can be increased with the right main dish and side dish selection.
Here are some of the most popular, tasty, appealing, but simplest Brazilian side dishes to prepare and serve in your meals.
Best Brazilian Side Dishes
1. Moqueca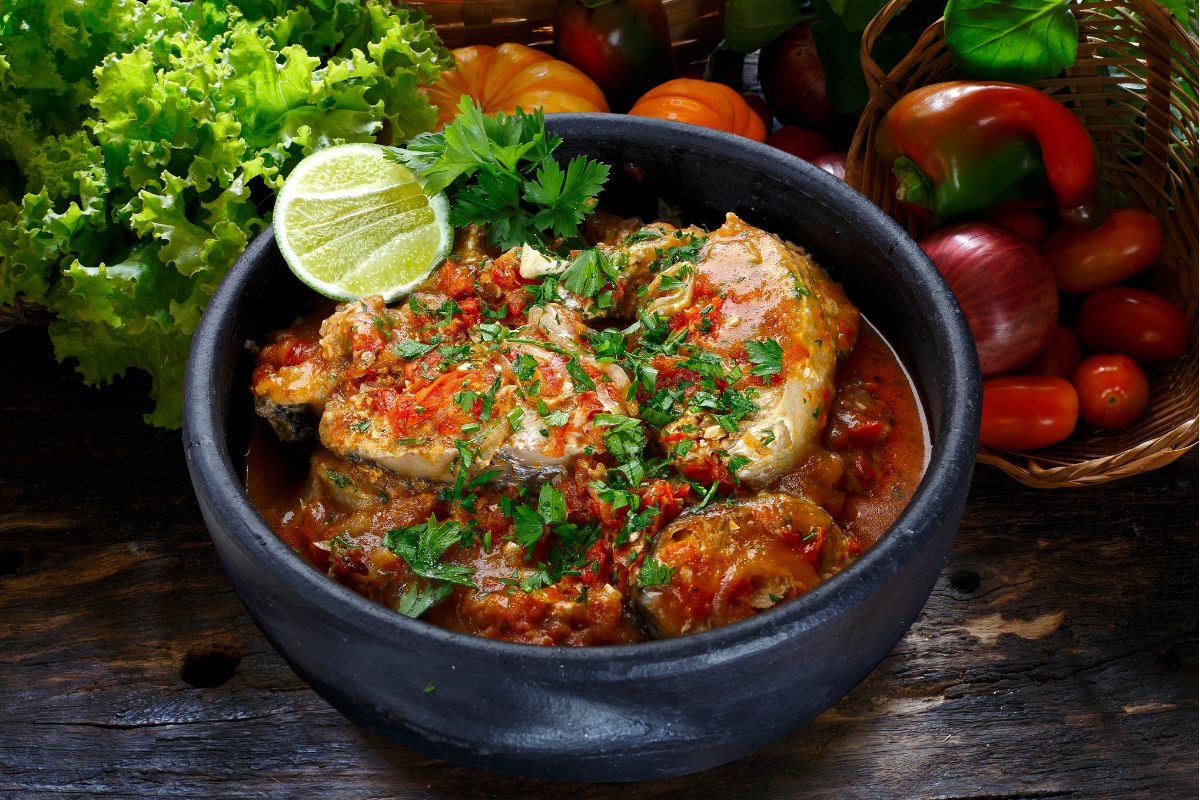 It's one of those delectable dishes that every Brazilian by blood will love. A stew of saltwater fish is called moqueca.
This delectable dish may be made with any tropical fish, from Mahi-Mahi to black sea bass.
Slices of plantain and coconut milk are combined with the fish to create a sweet and delicious sauce.
Moqueca can be a fantastic Brazilian side dish if preferred while being frequently consumed as a renowned Brazilian main dish.
2. Salpicão de Frango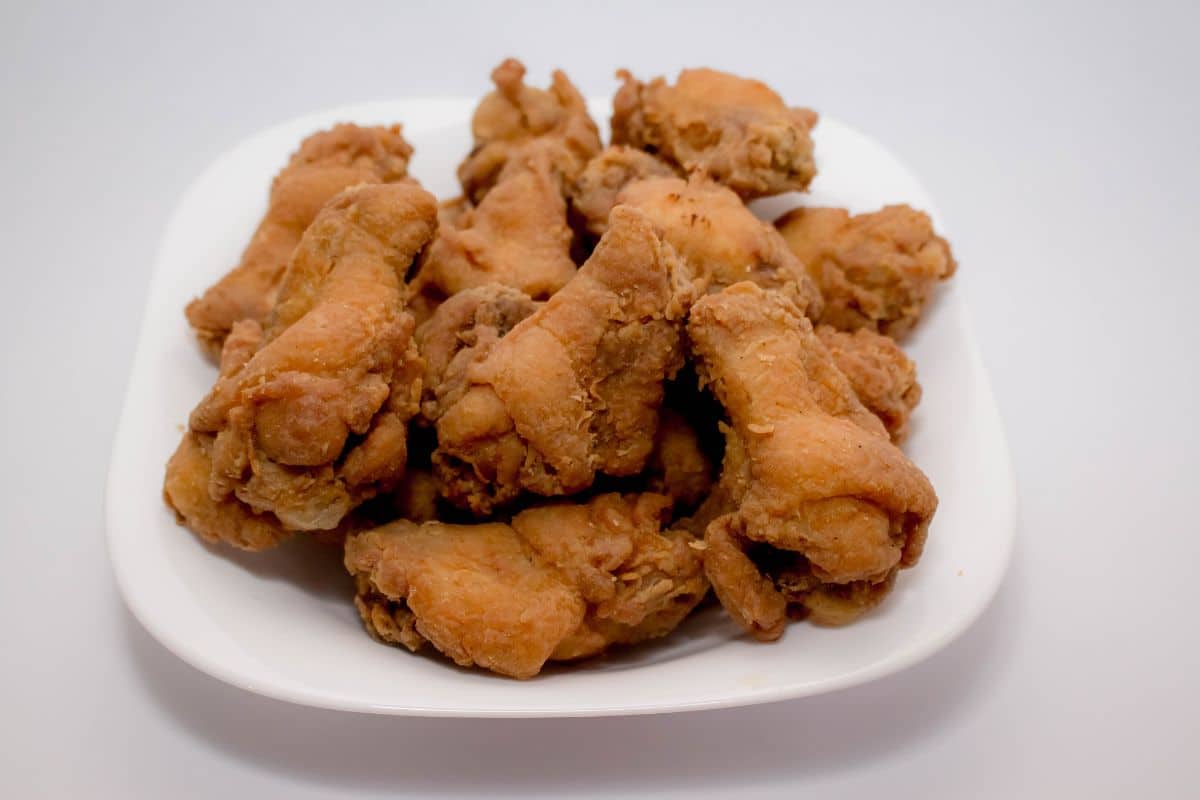 If you're seeking the ideal side dish for picnics, BBQs, and family gatherings, Brazilian chicken salad, also known as Salpico de Frango, is the way to go.
It is made from shredded chicken and has a sweet flavor from carrots, raisins, and green onions.
To make a basic Salpico de Frango, simply chop these ingredients and combine them with the chicken that has been shredded.
You must add the dressing if you want the salad to taste the way it usually does. Use mayo and hot oil to prepare it and combine it fully.
The sweet mayo sauce wonderfully complements the chicken salad's sweet components.
Sweetcorn is not required but should be used if you want to prepare chicken salad the traditional way.
3. Mandioca Frita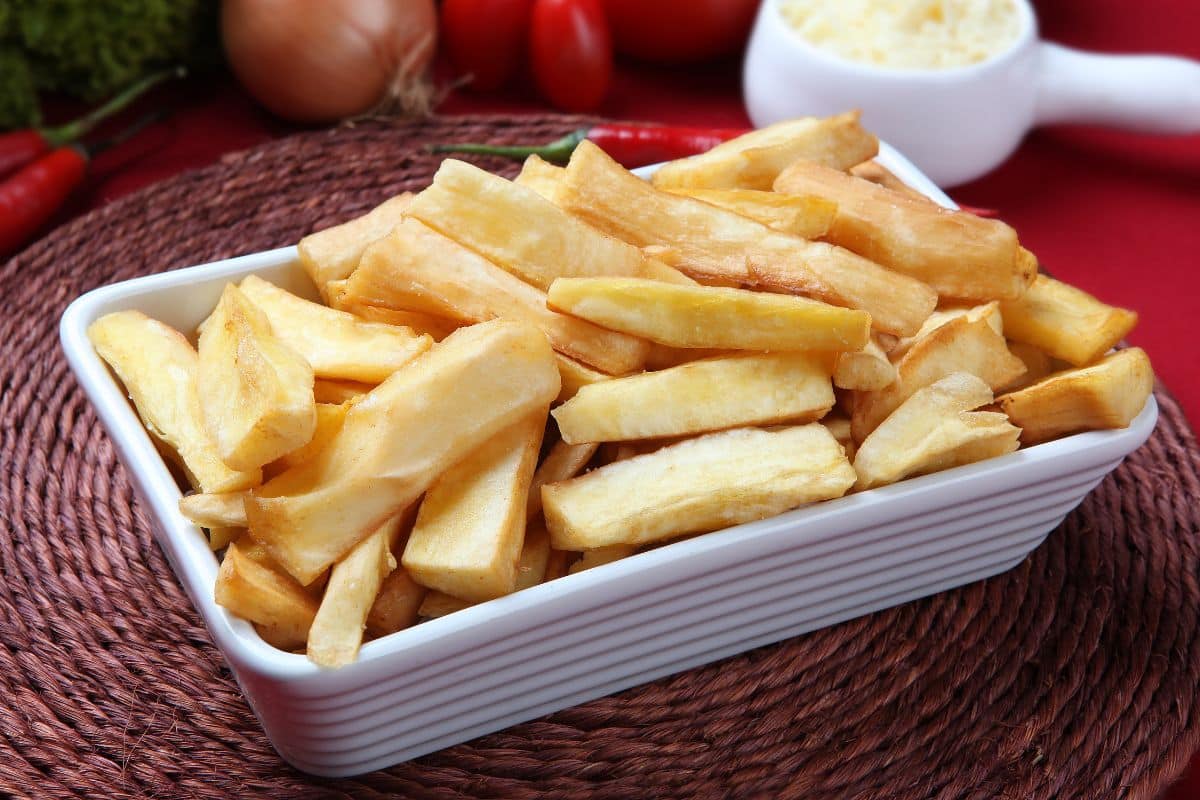 In Latin America, manioc is often referred to as yuca or cassava. Mandioca resembles potatoes in appearance and flavor.
In addition, they are prepared similarly to potatoes by being boiled, roasted, or in this instance, diced and fried! A mainstay of Brazilian cuisine is yucca fries.
If you haven't yuca fries, you can't claim to understand Brazilian culture because this is a must-have if you are cooking Brazilian dishes.
4. Bacalhau à Gomes de Sá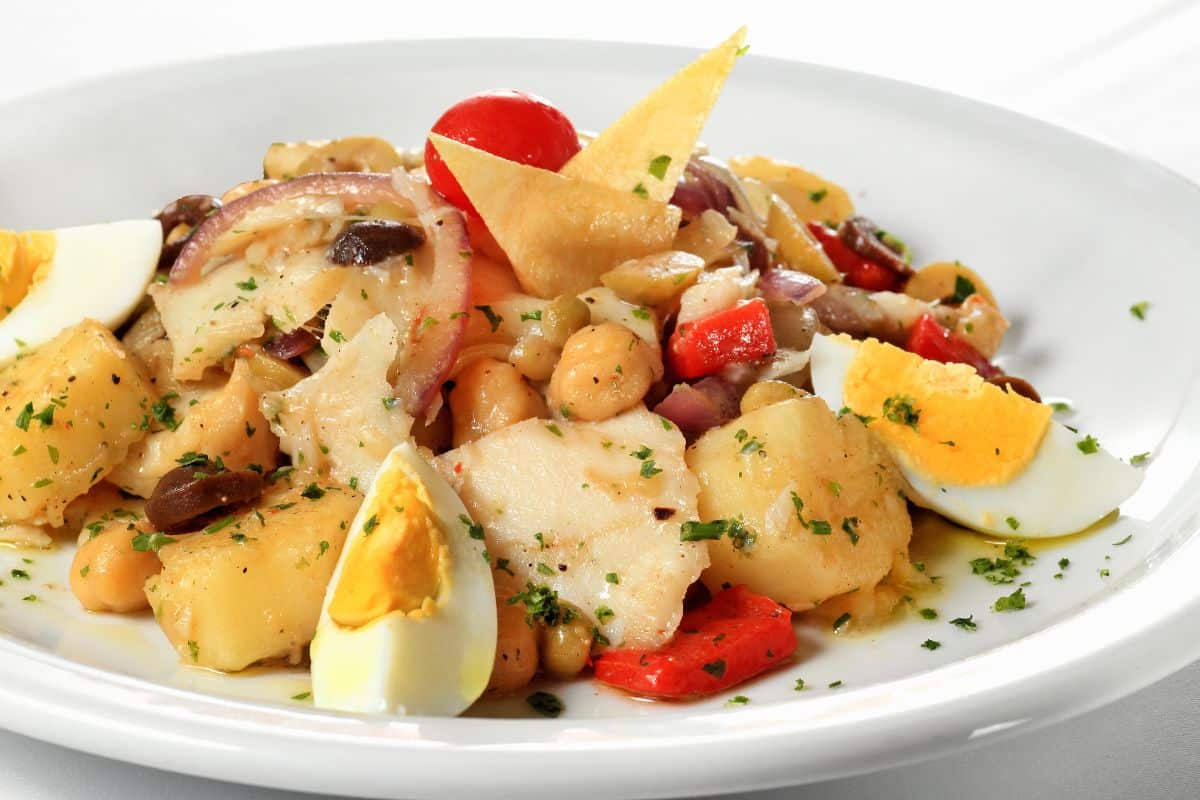 The popular side dish known as "bacalhau à Gomes de Sá" isn't just a Brazilian specialty; it's also a favorite across the Caribbean and South America.
Although it is a salted cod salad, it isn't as salty as you may imagine and has a flavorful balance that complements most Brazilian foods.
It is one of the healthiest Brazilian side dishes, and it is also nutrient-rich.
To make this dish, you will need onions, fresh lemons, green chilies, tomatoes, cilantro, green peppers, and cooked cod.
For a complete dish, include boiled eggs and avocado or olive oil.
5. Maionese de Batata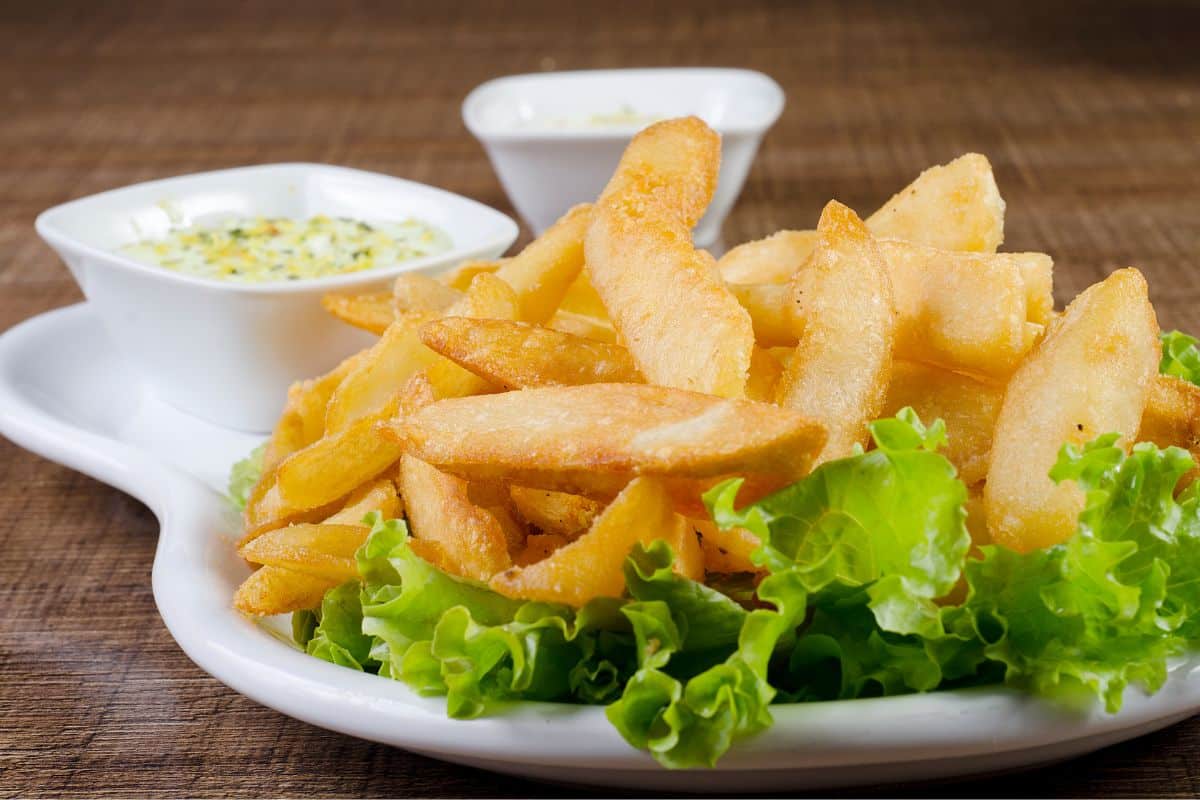 Another side dish that goes with every BBQ or family event is maionese de batata, also known as Brazilian potato salad. It is filling, flavorful, and simple to prepare.
Various varieties of this potato salad, each with a few extra components.
To make a simple and basic version of this salad, combine carrots, mayo, salt, pepper, and boiled potatoes.
You can include raisins and peas to make the salad sweeter. Some additional ingredients could be olives, green onions, and parsley.
The side dish Maionese de Batata is ideal for a typical Brazilian BBQ!
6. Farofa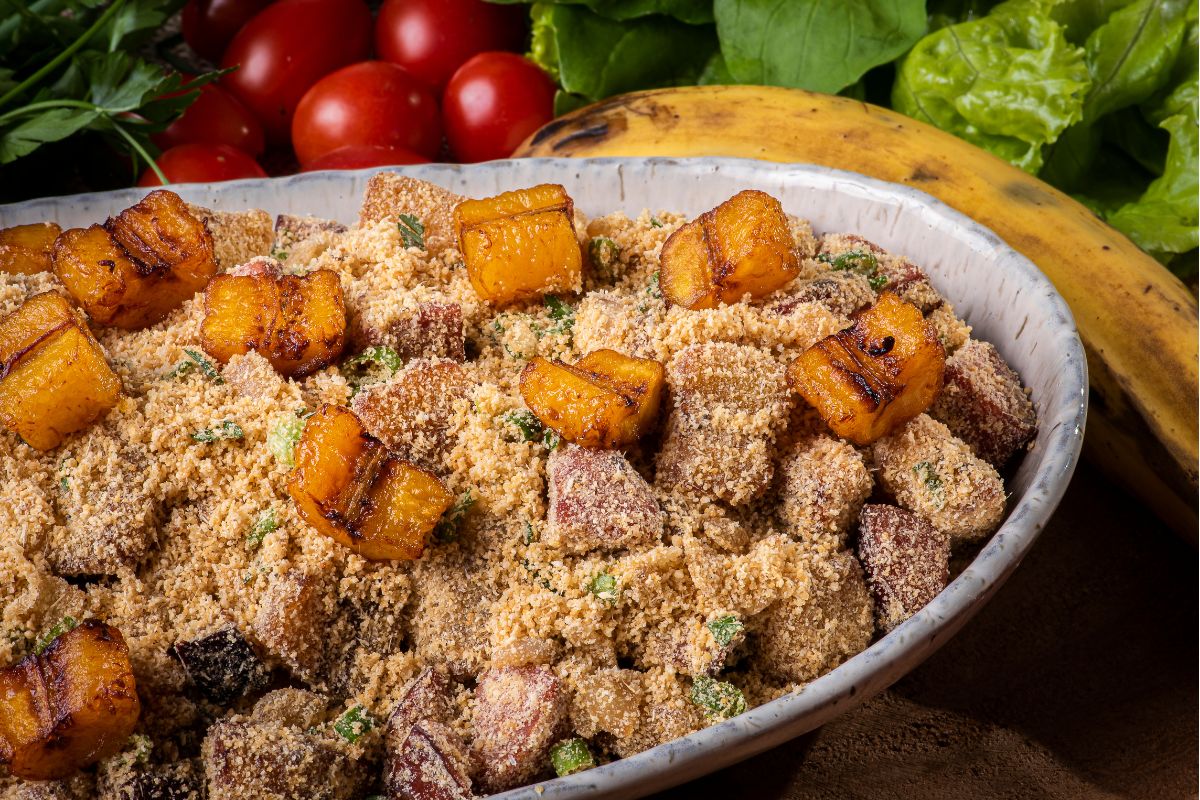 A toasted manioc flour dish called Farofa is usually served with meat meals and at BBQs.
South America consumes this cuisine, which is originally from Brazil, and each country has its unique variation.
Making Farofa is simple, and it goes well with most meat recipes.
To make a simple and basic version of this Farofa, you will need butter, salt, and manioc flour.
After the flour has been lightly browned, add the olives, fresh herbs, nuts, and bacon.
It depends on how you want your food to taste if you add onions and bananas.
Serve Farofa as a garnish or a side dish with classic meat meals from Brazil. Moreover, you can serve it with Brazilian bean soup and stews.
7. Banana Empanadas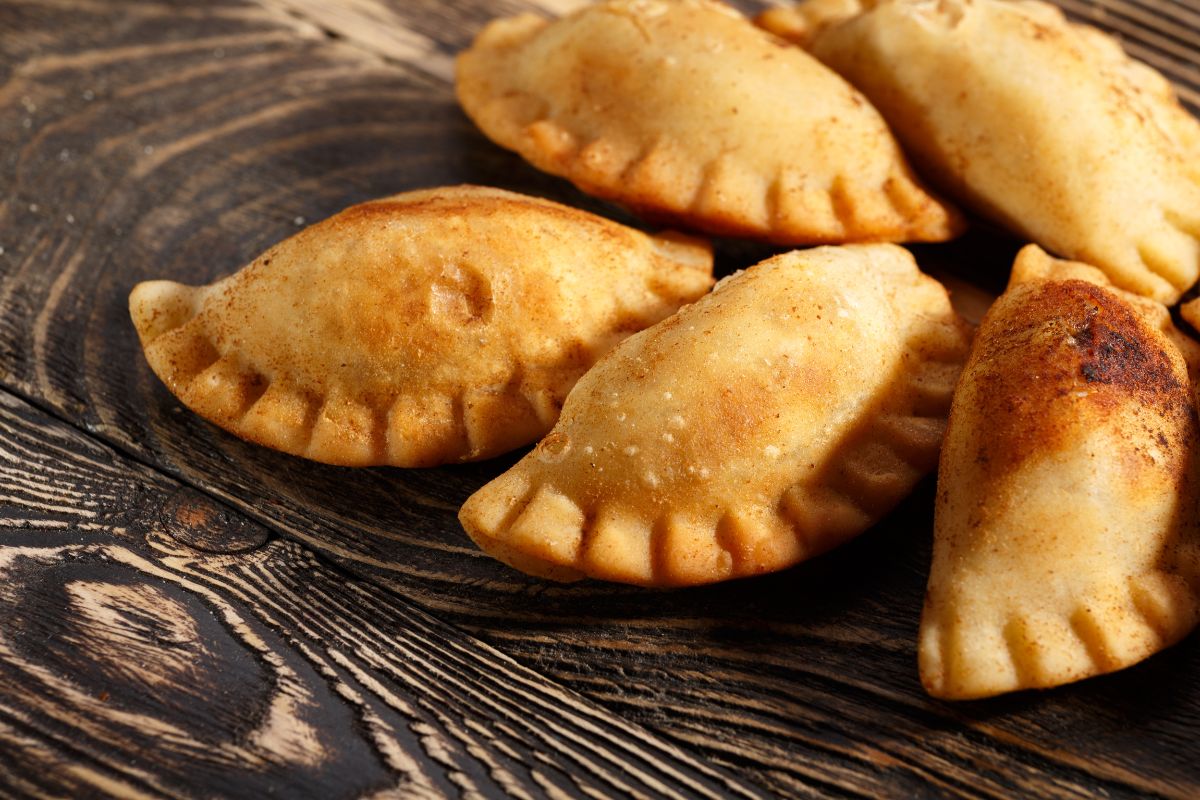 Bananas are a key ingredient in Brazilian cuisine, which is abundant in energy. Brazilian deep-fried bananas are known as banana empanadas.
They are renowned worldwide as the ideal sweet side dish for any occasion.
They are full of energy to help you through the day and can be eaten for breakfast, lunch, or supper.
The recipe for deep-fried bananas is simple and quick to make, which is the best part.
To make this dish, you would need eggs, oil, flour, and bananas.
Put a layer of dough over the chopped bananas and deep-fried them until they have a crunchy crust.
These bananas can be served as a dessert or with BBQs and other meat meals.
8. Salsa Vinaigrette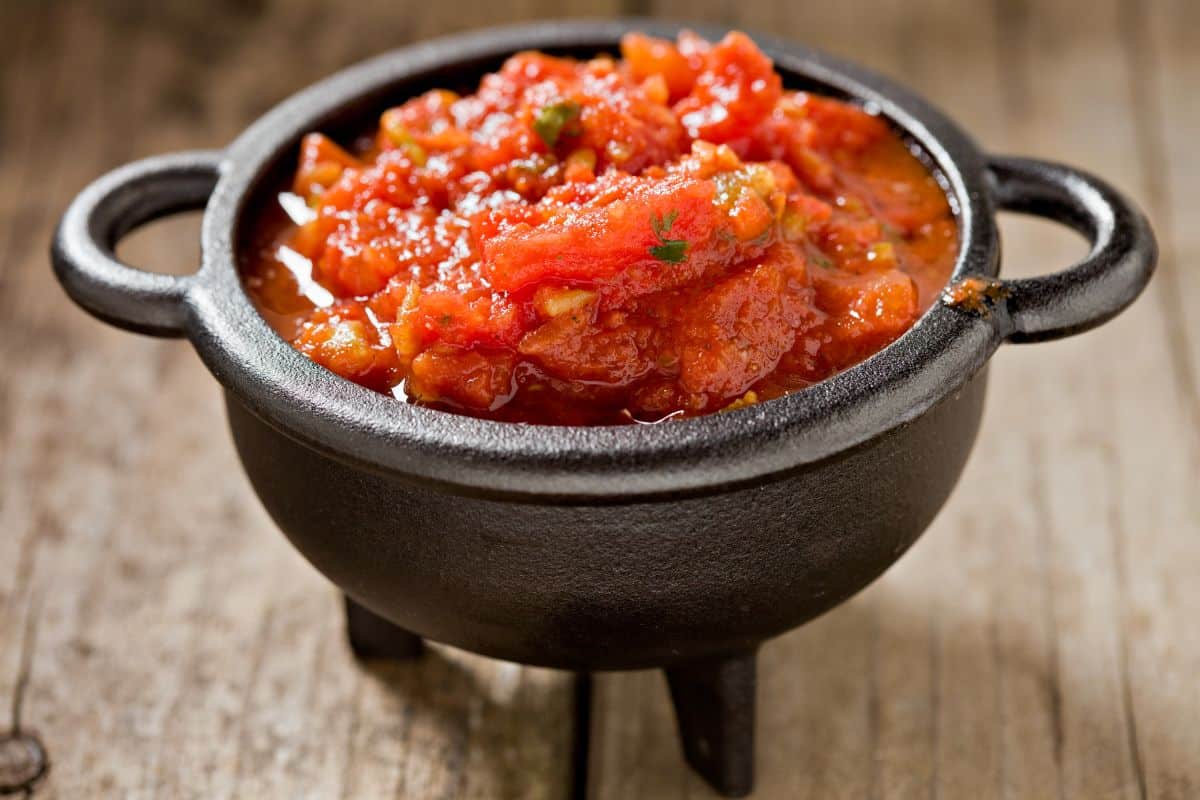 Nothing beats fresh Brazilian salsa to go with authentic Brazilian food. This salsa is a must for bean stews, burgers, and other foods.
To prepare this salsa, you'll need green bell peppers, fresh tomatoes, cilantro, and onions.
Then add these ingredients to a bowl after finely chopping them.
Your Brazilian salsa is finished when you've added white vinegar, salt, and pepper to taste.
Other herbs can be added, including parsley, coriander, or green onions, but cilantro tastes better.
This Brazilian salsa is ideal whether you're searching for a tasty side dish or a simple, nutritious snack.
9. Pão de Queijo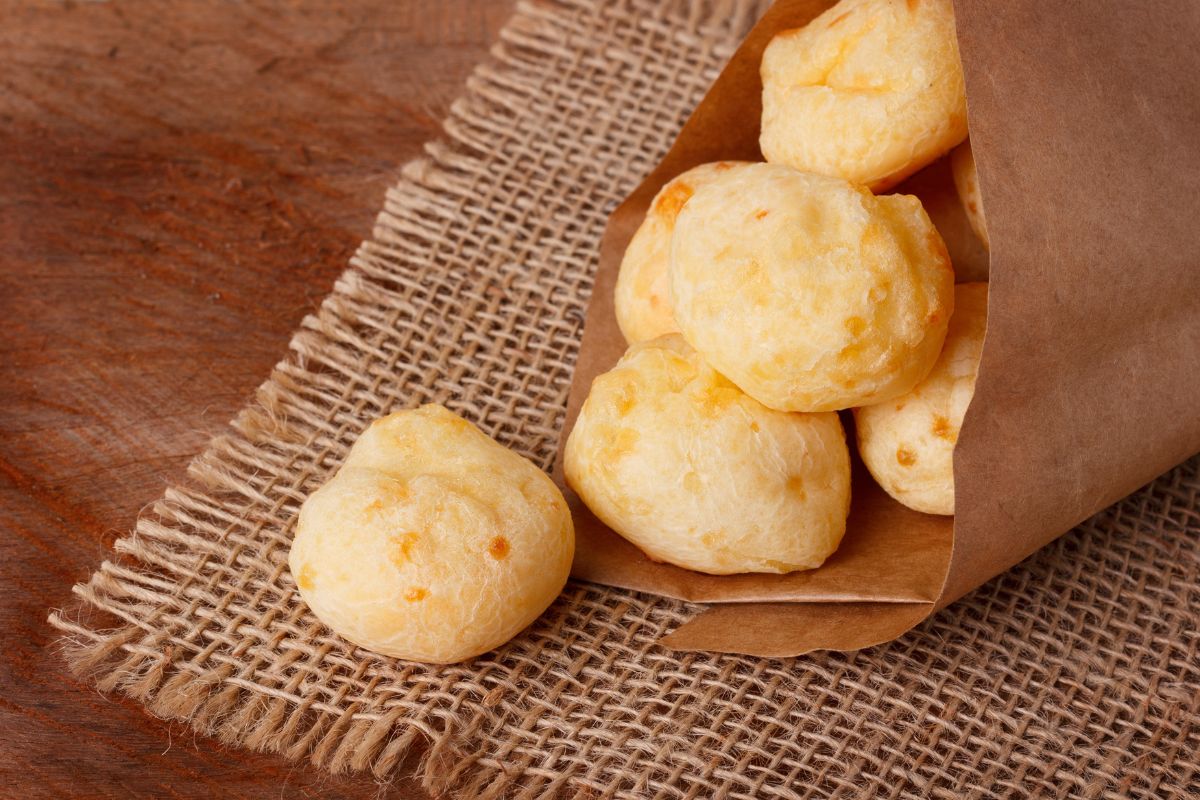 If you've ever visited Brazil, you probably noticed how well-liked their cheese bread, or Po de Queijo, is.
It is usually eaten at breakfast and makes the ideal side dish for a beginning.
Po de Queijo pairs well with Brazilian food and has a soft, chewy texture. To make this dish, you will need oil, tapioca flour, milk, cheese, and eggs.
Any type of cheese can be used to make this bread, but cheddar has a richer flavor and a more consistent texture.
You can serve this as an appetizer or with fruit for breakfast.
They can also be prepared as a delectable snack to be enjoyed with cream or jam.
Final Words
It is hard to list all Brazilian side dishes here, but I have attempted to suggest the best Brazilian side dishes for you to eat along with other savory foods at meals.
Print
9 Best Brazilian Side Dishes
Check out these great Brazilian Side Dishes that have been shared on Pinterest.
Author:
Prep Time:

5 minutes

Cook Time:

10 minutes

Total Time:

15 minutes

Yield:

1 serving

Category:

Sides

Method:

Cooking

Cuisine:

Side Dish
Instructions
Click on each link above to view the pin and recipe.
Obtain all the necessary ingredients to make the recipe.
Follow the steps to create your side dish.
Enjoy your delicious meal =)
Nutrition
Serving Size:

1 serving

Calories:

652

Sugar:

4.9 g

Sodium:

1524 mg

Fat:

45 g

Saturated Fat:

21 g

Unsaturated Fat:

0 g

Trans Fat:

0 g

Carbohydrates:

13 g

Fiber:

2 g

Protein:

51 g

Cholesterol:

85 mg
Keywords: Best Brazilian Side Dishes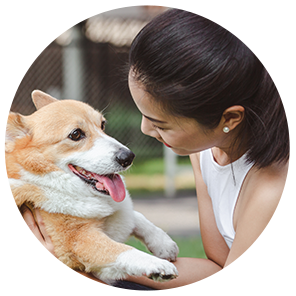 Hi, I'm Linda thanks for stopping by! We're so happy you're here. If you're a foodie and love to cook from home - you're in the right place..
LEARN MORE
Join the mailing list and receive our free newsletter!
Recipe Marker provides you with the best information about home cooking tips, recipes, ingredient substitutes and more. Check out our blog to see the latest articles.