6 Best Frozen Corn Dogs Brands! (Updated 2023)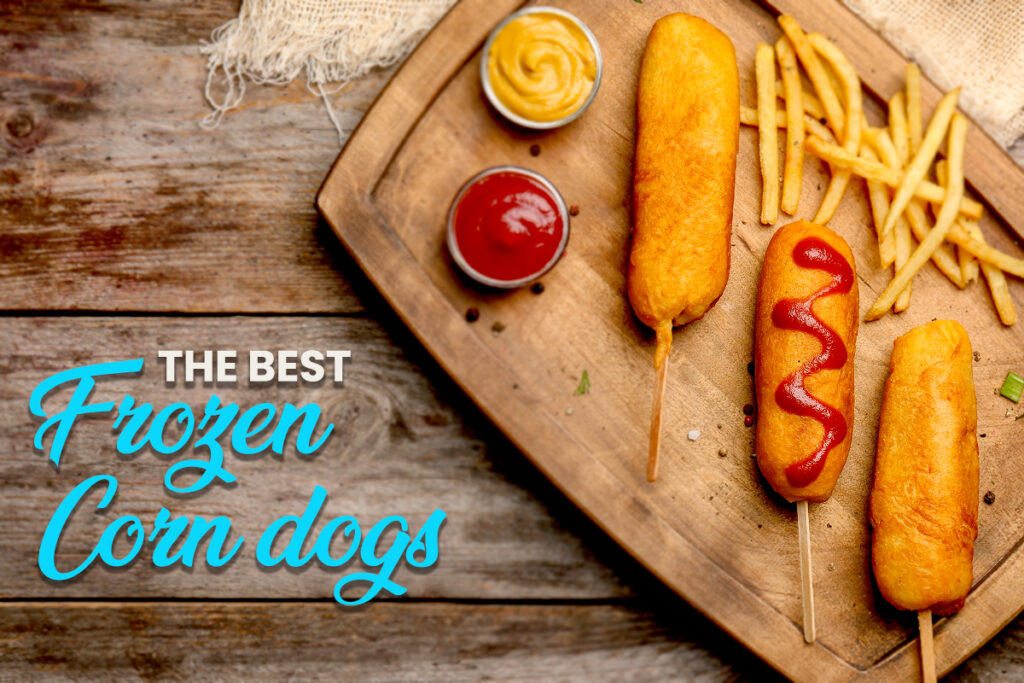 Are you wondering what are delicious frozen corn dogs available at the market? Stick around as we share a list of the most popular frozen corn dog brands below.
Are you craving a fair food like corn dogs but don't have enough time to prepare or create one from scratch? That's fine! There are now frozen corn dogs that you can easily find in the nearby market.
Let's find out the brands that offer the best-frozen corn dogs below.
Best Frozen Corn Dogs
1. Applegate Gluten-Free Corn Dogs
Applegate's gluten-free corn dogs from the freezer section are a fantastic choice. They don't contain any preservatives or antibiotics and are produced using just natural ingredients.
To top it all off, they are affordable enough to be a viable alternative even if you are on a tight budget. It has the same great flavor as a traditional corn dog, but without the fat and sodium.
The cornmeal covering is wonderful and is the ideal consistency for hot weather when you want to eat something solid but don't have the appetite for a lot.
When baked in the oven, Applegate Natural Gluten-Free Corn Dogs taste delicious due to their crisp and light feel, like they were just bought at the fair.
2. State Fair Corn Dogs
State Fair is widely recognized as a manufacturer of high-quality frozen corn dogs. Traditional and jalapeño versions are available, and all are equally tasty and satisfying.
In addition, the cost of these corn dogs is rather reasonable.
The fact that they use only natural materials is a selling point for many consumers. In addition to being juicy and tender, the breading is wonderfully crunchy. Even the dogs themselves are succulent and delicious.
The corn dog at the state fair has an excellent coating that is both tasty and not overly oily.
The flavor and aroma of the state fair corn dogs are extremely appealing, and you will surely love them.
3. Foster Farms Corn Dogs
Foster Farms corn dogs are unparalleled in quality because they have the ideal batter-to-dog ratio, and the honey used in their batter maximizes the corn dogs' natural sweetness and crunch.
It's like taking a step into the future and tasting how amazing things could be if only everyone cared as much as Foster Farms does.
They prioritize the crunch and quick hit of batter, plus the fact that the chicken used in these dogs is fully steroid and hormone-free.
As for preparation, they've anticipated your needs and accommodated deep-frying, baking, and microwaving options for your hot dogs.
Aside from being delicious, this dog serves three purposes and can be found in almost every supermarket.
4. MorningStar Farms Veggie Corn Dogs
MorningStar is a vegetarian/vegan food manufacturer that successfully convinced many Americans that they can live happily without eating meat via the use of a little culinary magic.
Their cornmeal batter to protein ratio is about as close to ideal as we've ever had it, and there is crunch and snap to boot.
It's a modern take on the traditional corn dog from a company committed to eliminating all animal products from its offerings by the year 2021.
And much like the meat-based version, you may cook these dogs as you prefer, since MorningStar has thought of every possible scenario.
5. Bar-S Corn Dogs
Bar-S is a product line of Sigma Alimentos, a Mexican multinational food corporation. Both traditional and beef corn dogs are available from Bar-S. Honey battered and stuffed with chicken and pork, they are a favorite. Honey battered beef corn dogs are also available.
Both are pre-cooked and flash frozen before being packaged. This firm also produces Donut dogs that many customers adore.
The batter of one kind contains the flavorings of a cake donut, while the batter of the other variation has the flavors of applesauce and cinnamon.
Both of these tasty donuts are actually filled with a hot dog instead of the usual corn dog.
6. Johnsonville Corn Dog
In Johnsonville, Wisconsin in 1945, Ralph and Alice Stayer founded Johnsonville Corn Dogs. Their initial hotdogs were based on an old Austrian family recipe from the 1800s. Unsurprisingly, everyone loved it!
Beddar Cheddar Premium Corn Dogs are produced using only the highest quality pork by the firm. You won't feel duped because the sausages used in this product are significantly bigger than those used in regular corn dogs.
You may reheat a Johnsonville corn dog in the microwave, the oven, or the fryer. Microwave cooking is the quickest option because it only takes around 55 seconds.
Conclusion
Corn dogs are not just fair food. It's comfort food that you can eat anywhere and anytime you want. Hopefully, the list of the best-frozen corn dogs provided above has helped you choose what brand to try next.
Print
6 Best Frozen Corn Dogs
Check out these great frozen Corn Dogs to try that have been shared on Pinterest.
Author:
Prep Time:

1 minute

Cook Time:

2 minutes

Total Time:

3 minutes

Yield:

1 serving

Category:

Snacks

Method:

Microwave

Cuisine:

Snacks
Instructions
Click on each link above to view the pin.
Purchase the corn dogs from your favorite store.
Follow the steps to heat your frozen corn dogs.
Enjoy your delicious meal =)
Nutrition
Serving Size:

1 serving

Calories:

230

Sugar:

6 g

Sodium:

590 mg

Fat:

15 g

Saturated Fat:

4 g

Unsaturated Fat:

0 g

Trans Fat:

0 g

Carbohydrates:

19 g

Fiber:

0 g

Protein:

6 g

Cholesterol:

20 mg
Keywords: Best Frozen Corn Dogs
Hi, I'm Linda thanks for stopping by! We're so happy you're here. If you're a foodie and love to cook from home - you're in the right place..
LEARN MORE
Join the mailing list and receive our free newsletter!
Recipe Marker provides you with the best information about home cooking tips, recipes, ingredient substitutes and more. Check out our blog to see the latest articles.