4 Best Frozen Egg Roll Brands (Ranked in 2023)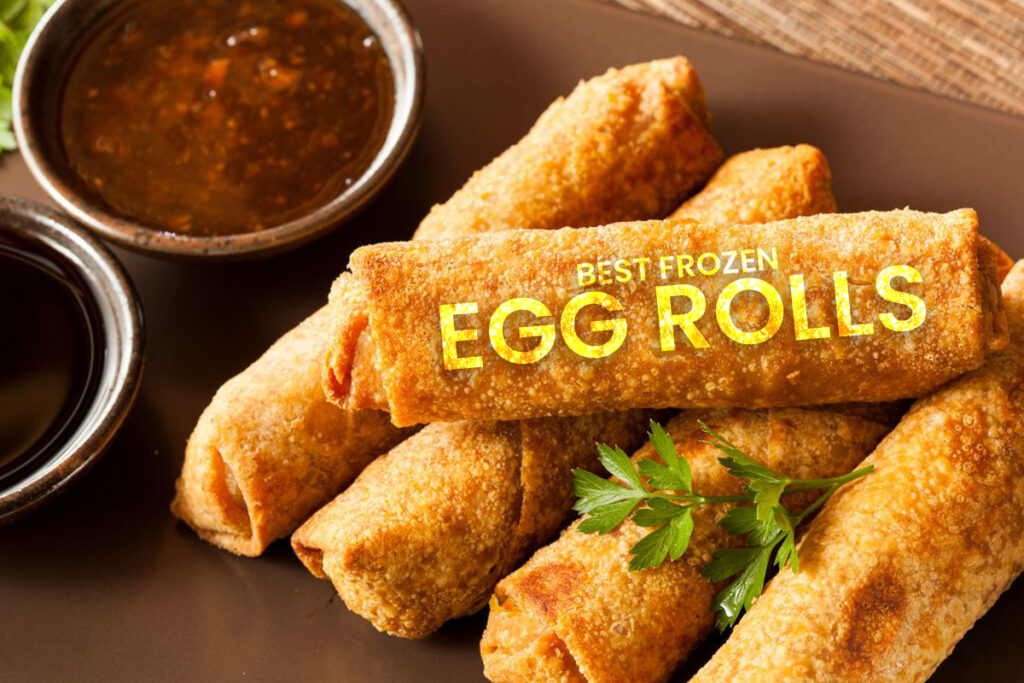 Are you looking for the best-frozen egg rolls available to buy? Stick around as we share a list of the most popular frozen egg roll brands below.
Cooking is among the most tiring house chores that many people do on a daily basis–whether it'd be breakfast, lunch, dinner, and even a snack!
With all the time-consuming preparations of ingredients to serving the meal at the dining table, you can really picture why many adults are now turning to ready-to-cook and easy-to-prepare frozen products.
Today, we'll be talking about the best-frozen egg rolls–a frozen product that's popular in many Asian, and now even in Western, countries.
Have you already tried this dish? If not yet, you are truly missing out. Let's dig deeper into this American-Chinese fried appetizer. Read on for more details.
Best Frozen Egg Roll Brands
1. Van's Kitchen Egg Rolls with Veggies
Van's kitchen egg rolls are made with a standard assortment of components that include: shredded cabbage, rice flour, water, carrots and onions, scallions, sesame oil, and sugar stick.
They also include salt, egg, and other seasonings, which contain no added preservatives.
Egg rolls from the Van's Kitchen are also non-GMO and gluten-free. This is a great way to eat egg rolls in smaller portions or as appetizers.
It should be noted that people who are allergic to eggs and soy should exercise caution while eating Van's Kitchen egg rolls since they may contain eggs and soy, which are common allergens.
These egg rolls are essentially ready to cook and have only been touched a few times. It has a total calorie count of 150 and a serving size of 5.
2. P.F. Chang's Home Menu Frozen Chicken Egg Rolls
The frozen egg rolls from P.F. Chang's are every bit as excellent as you'd expect. Each one is stuffed with chicken, cabbage, carrots, and onions, and they come in a bundle of four.
It's a great appetizer for your next get-together, thanks to its crunchy coating.
Moreover, they're quite simple to prepare; all it takes is 15 minutes in the oven. The variety of flavors and the crispiness of the wrapper were major selling points for these egg rolls.
For a starter or main course, these are ideal options.
Egg rolls made from frozen chicken and vegetables are a terrific alternative since they are both nutritious and flavorful.
The deep-fried stuffing, which includes chicken, is very delicious and will satisfy your senses in every way – from scent to taste.
If you're looking for an indulgent guilty pleasure that isn't too heavy on either side, this is the dish for you.
3. 365 by Whole Foods Market, Vegetable Egg Roll
Frozen veggie egg rolls from 365 by Whole Foods Market are a convenient and healthful alternative to fresh egg rolls.
Sauce enhances the flavor of these vegetarian egg rolls significantly. They have a great scent because of the vegetables in them.
Calcium-rich and MSG-free, they're also an excellent source of the mineral.
In addition, many people appreciated how crispy these delicious treats were after chilling them on the top rack for five minutes before baking them for an additional three minutes.
365 by Whole Foods Market's frozen veggie egg rolls are a great option if you're seeking egg rolls that are both delicious and on the more healthy side.
4. The Mom's Place Gluten-Free Egg Roll
Xanthan gum, potato starch, rice flour, sorghum flour, and non-GMO corn starch are all included in the Mom's Place Gluten-Free Egg Roll.
They're all organic and good for everyone. These egg rolls may be paired with chicken tenders or rice and a sauce for a great meal.
The Mom's Place Gluten-Free Egg Roll is also a good option for an appetizer or snack. This is also a non-GMO, gluten-free product.
In fact, you won't find any preservatives in it at all! Additionally, it has a calorie count of 70 kcal and no trans fats.
On the other hand, there are 16 grams of carbs and 2 grams of fiber and sugar in each serving. There are also a lot of veggies used in these rolls that are produced and harvested in-house.
To enjoy The Mom's Place Gluten-Free Egg Rolls, you only need to be deep fried for five minutes, and they're ready to serve.
What is an Egg Roll?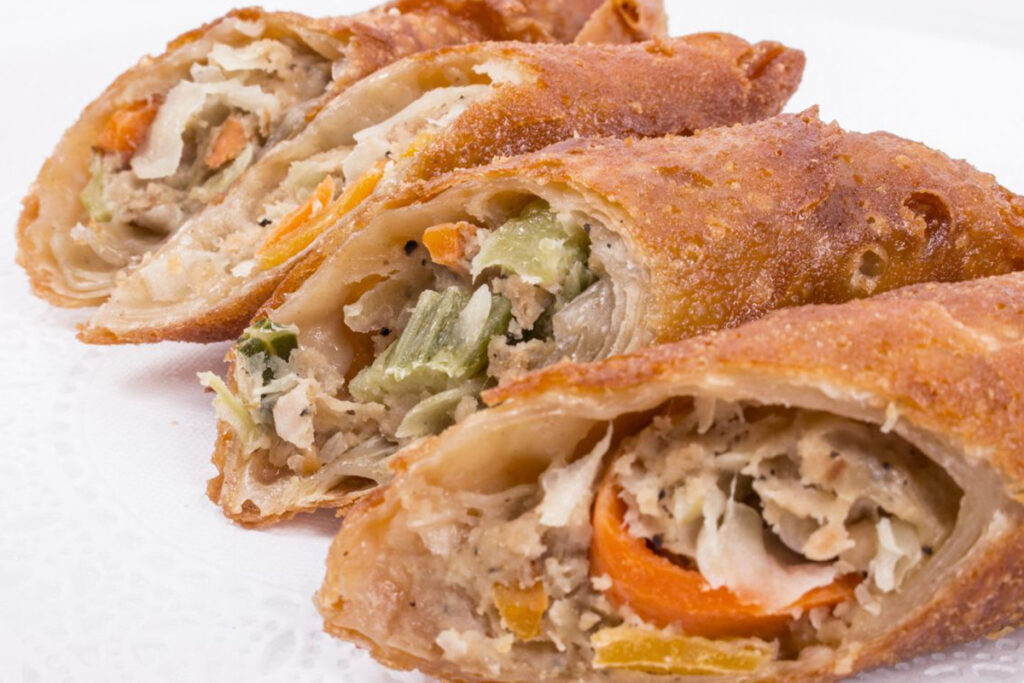 Egg rolls are deep-fried appetizers popular in American-Chinese restaurants. In Chinese cuisine is a deep-fried, cylinder-shaped pastry filled with shredded cabbage, minced pork, and other tasty ingredients.
Hot mustard, soy sauce, or duck sauce are common condiments that come in a cellophane packet and are typically dipped into the dish while it is still warm.
Egg rolls, fried rice, and fortune cookies are all staples of Chinese-American food, and they're commonly included in combo platters as a freebie.
However, egg rolls are commonly mistaken for spring rolls. These two dishes are similar in several aspects, but egg rolls have thicker, deep-fried wrappers, whereas spring rolls have thin, transparent flour wrappers.
Additionally, in America, spring rolls are usually packed with carrots and bamboo, whereas egg rolls contain pork and bean shoots.
A Key Takeaway
Egg rolls are among the best sides that you can include in any of your meals.
We hope that the list of best-frozen egg rolls provided above has helped you decide what to grab next.
If you have other frozen egg roll brands in mind that you want to learn more about, just let us know!
Print
4 Best Frozen Egg Rolls
Check out this list of the best Frozen Egg Rolls flavors to try!
Instructions
Pick your favorite flavor
Click on the link to visit Pinterest
Buy items from your local store or online
Enjoy and share on social media!
Keywords: Best Frozen Egg Rolls
Hi, I'm Linda thanks for stopping by! We're so happy you're here. If you're a foodie and love to cook from home - you're in the right place..
LEARN MORE
Join the mailing list and receive our free newsletter!
Recipe Marker provides you with the best information about home cooking tips, recipes, ingredient substitutes and more. Check out our blog to see the latest articles.