11 Best Japanese Candy to Try (Updated 2023)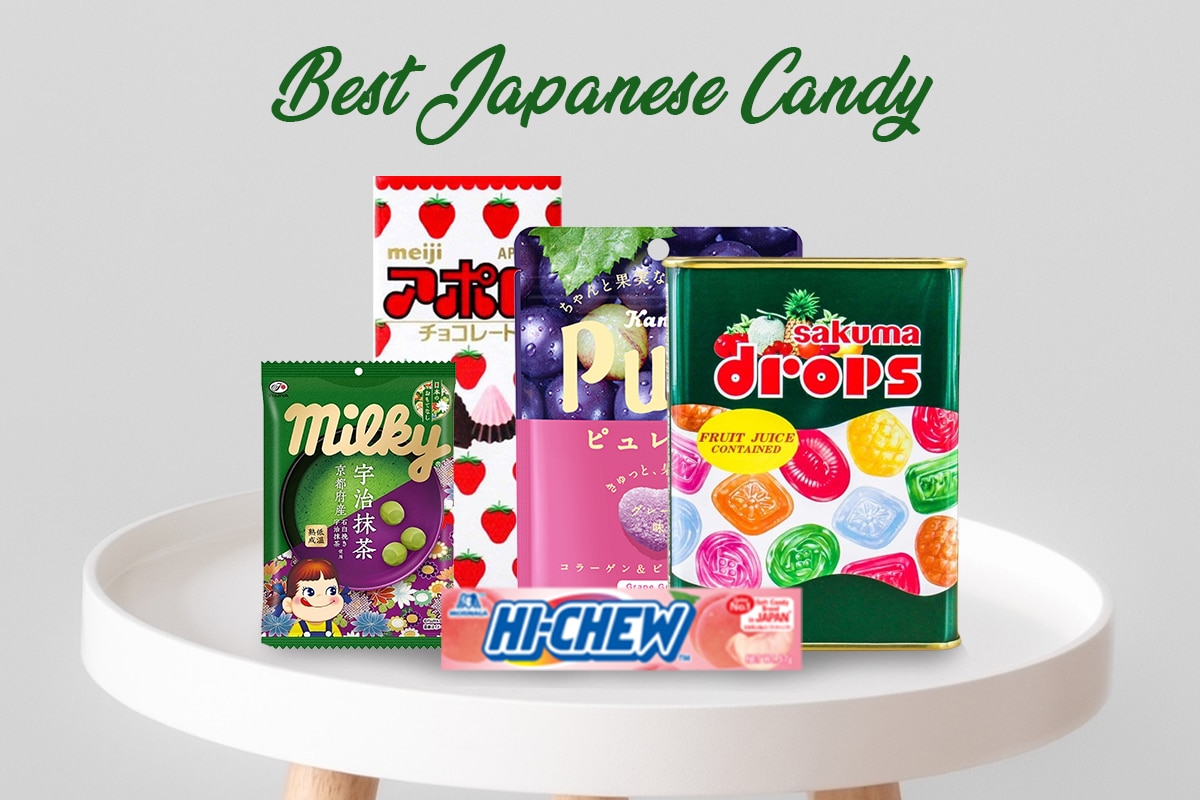 This article has compiled a list of the best Japanese candy that you can buy. Japanese treats are famous around the world for their delectability, creative packaging, and inventive styles.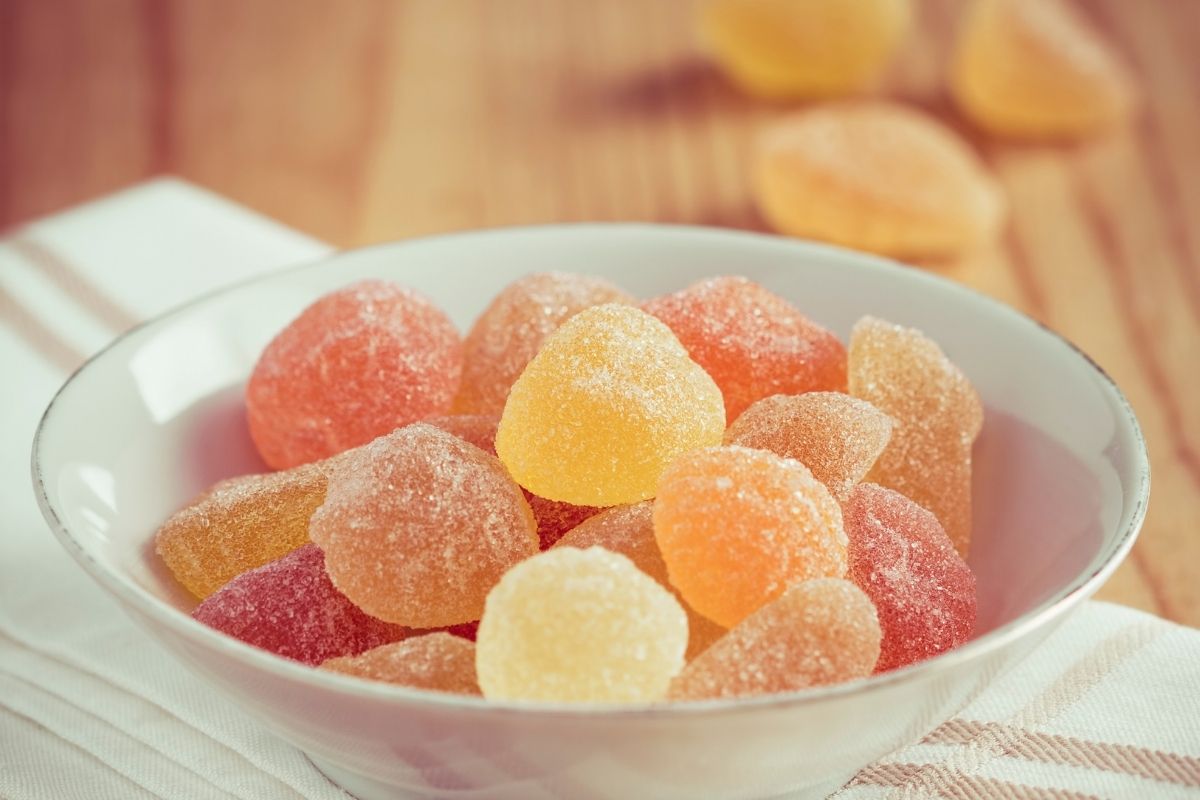 Read on and discover a selection of popular Japanese candies, including gummies, hard candies, chocolates, and chewing gums.
Best Japanese Candy
1. Sakuma Drops
A true classic produced since 1908, Sakuma Drops are hard candies available in lemon, strawberry, grape, apple, pineapple, and orange flavors. In fact, they contain real fruit juice.
Every drop is coated with sugar to keep the pieces from sticking to each other. The candies come in a tin can which keeps them from melting in Japan's hot weather.
If you've watched Studio Ghibli's film, Grave of Fireflies, you must have seen Sakuma Drops which play a key part in the story.
You can buy this Japanese candy on Amazon or other online stores.
2. Kanro Pure Gummy
Experience real fruit flavor while chewing on these sweet and sour powdered gummies. These heart-shaped candies are famous and they come in multiple flavors, including lemon, kiwi, and orange tea.
Moreover, Pure Gummy candies are rich in vitamin C and collagen. You can buy them at many convenience stores and even online shops in Japan.
3. Fujiya Milky
Milk lovers, this one is for you. Fujiya's Milky is a tasty candy made from natural and rich milk, free from any artificial flavoring and coloring.
You will delight in the high-quality fresh milk from the Hokkaido region. This is readily available on Amazon for purchase.
4. Morinaga Hi-Chew

Check out Hi-Chew candy, one of the most loved on the market from Morinaga Seika, a renowned confectionery brand.
This fruit-flavored chewing candy is available in over 170 distinct flavors. The best-sellers are apple, grape, strawberry, and Coca-Cola. This candy is simple to consume and leaves you wanting more.
5. Meiji Apollo
Get this iconic candy in the shape of the Apollo space capsule that has a wonderful blend of milk chocolate with strawberry chocolate on top.
Meiji Apollo comes in an adorable, compact box, and it is readily accessible at convenience stores and online Asian goods retailers. This candy is suitable for all ages, and it is particularly great for people who like sweets.
6. Meiji Almonds
These chocolate-covered almonds are so exceptional. You will enjoy wonderful, whole roasted almonds, with a subtle caramel flavor, that is coated in an equally smooth layer of luscious milk chocolate that is not overly sweet or bitter.
Since 1962, Meiji Almond has been a favorite in Japan. It is likely to become your top pick of chocolate as well.
7. Morinaga Candy Ramune Soda
Craving a soda candy? Then, Ramune candy is an ideal pick. It features the sweet flavor of a traditional Japanese soda while also highlighting the flavor's freshness.
It comes in a container that looks like a Ramune bottle. For over 40 years, customers have adored this treat. In addition, many have claimed this product helps in concentration.
According to the package, the candy contains 90% glucose, making it a perfect treat for individuals who need to keep their minds alert while working or studying.
8. Morinaga Chocoball
Chocoball is another must-try from Morinaga. It is a round-shaped chocolate candy that began with a classic peanut filling and has now developed to have more fillings such as strawberry, caramel, and Ramune soda, among others!
These bite-sized treats are quite famous among foreign visitors to Japan, and both adults and children love them.
Kyoro-chan, the candy's mascot, is a tiny red-headed bird with a yellow beak that makes the package appear cute.
9. Konpeito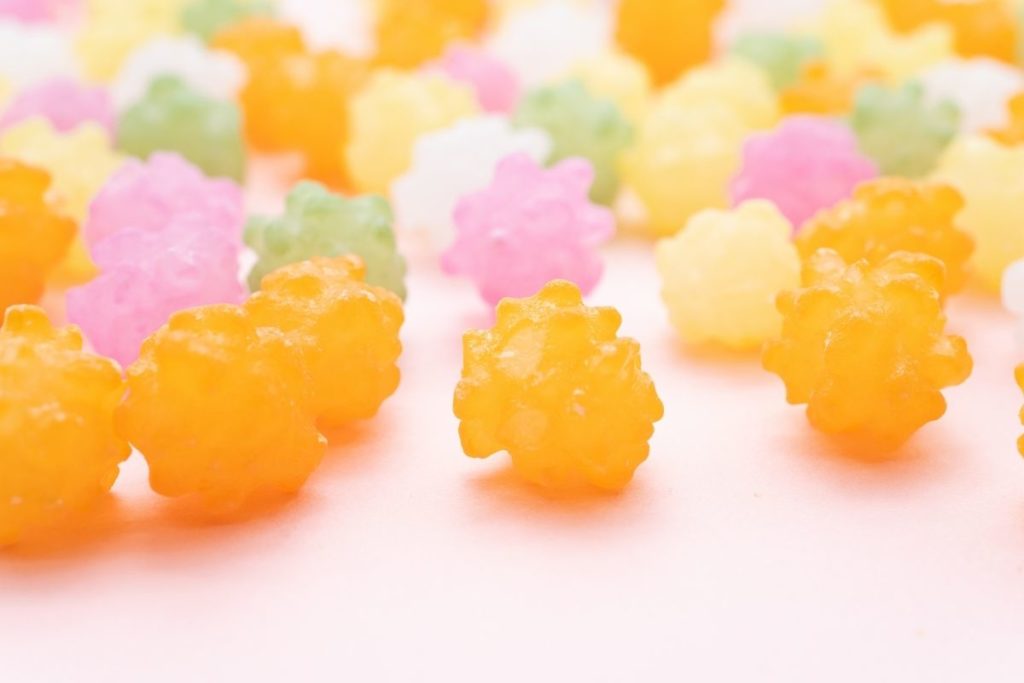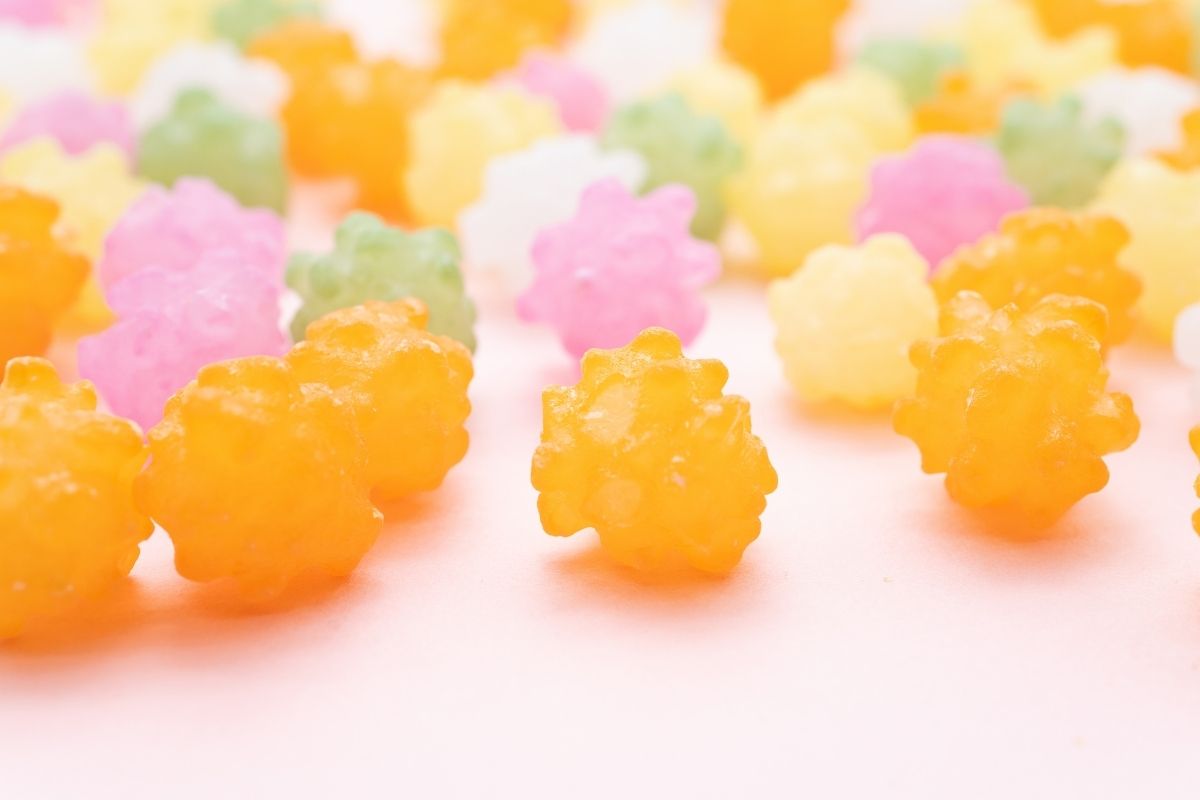 Don't miss out on the fun of Konpeito's hard candies. These are mini, colorful, sugar rock candies shaped like confetti stars with different flavors in a package.
They even appear in Studio Ghibli's film, Spirited Away.
10. Bourbon Fettucine Gummi
Chew a Bourbon's Fettucine Gummi, and it will reward you with a blast of delicious flavor and a soothing texture.
These sweet gummy strips that look like thick flat pasta have a little sprinkle of tartness and are a guaranteed hit. Cider, lemon, grape, and cola fettuccine are just a few of the flavors offered.
11. Lotte Oral Care Gum
Lotte offers Oral Care Gum, a chewing gum meant for dental health. Its sweetness comes from xylitol, a natural sugar substitute with zero fructose and fewer calories. Unlike sugar, xylitol does not break down teeth.
The gums come in pocket-sized resealable packaging so you can carry them easily in your bag or pocket everywhere you go.
Wrapping Up
Japan offers a wide range of lovely treats and the options above rank among the best Japanese candy enjoyed by many worldwide. You should give them a try since they will surely satisfy your cravings.
All the candies are affordable and readily accessible at convenience stores and online on Amazon.
Print
11 Best Japanese Candy
Check out this list of the best Japanese candy to try!
Instructions
Pick your favorite candy
Click on the link to visit Pinterest
Buy items from your local store or online
Enjoy and share on social media!
Keywords: Best Japanese Candy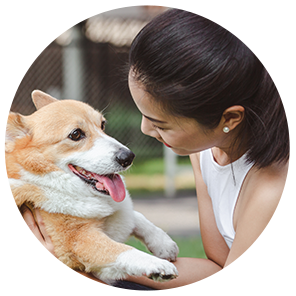 Hi, I'm Linda thanks for stopping by! We're so happy you're here. If you're a foodie and love to cook from home - you're in the right place..
LEARN MORE
Join the mailing list and receive our free newsletter!
Recipe Marker provides you with the best information about home cooking tips, recipes, ingredient substitutes and more. Check out our blog to see the latest articles.