9 Best Low Carb Sides for Burgers (Updated 2023)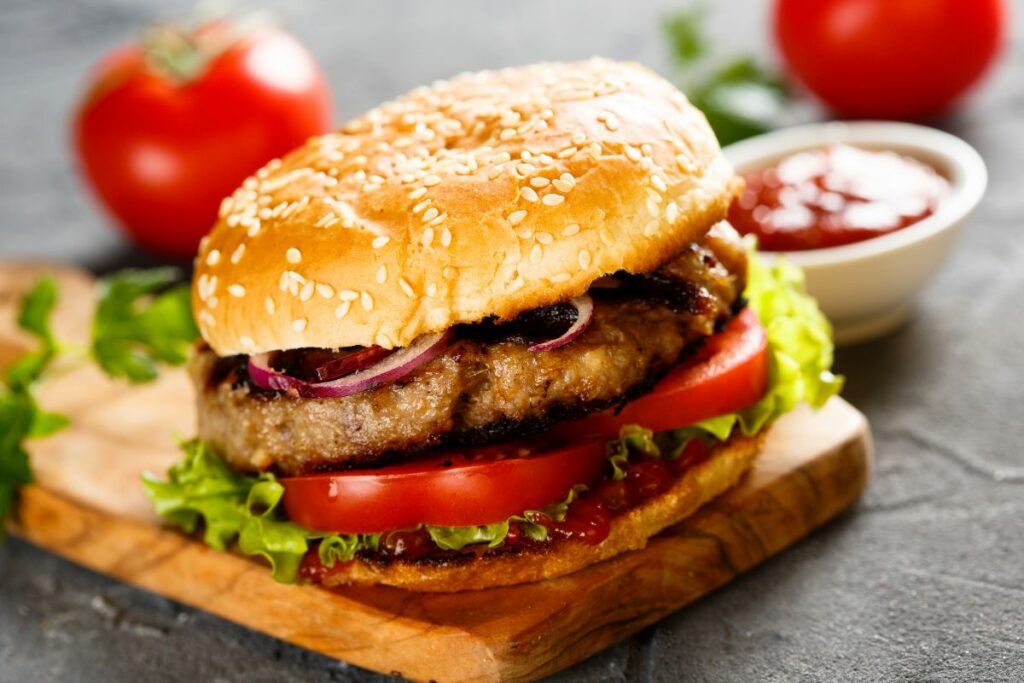 Are you trying to decide what low-carb side dishes to serve with burgers? Stick around as we share a list of the most popular low-carb sides for burgers in this article.
Nothing is more amazing than a large, juicy burger with a side of fries. But how about we bring a change to the side dish?
You shouldn't limit yourself to just fries when it comes to burgers because there are a ton of choices out there, some of which are lighter, more energizing, and tastier than your traditional fries.
These best sides for burgers, from pasta salads to roasted vegetables, are presented here if you're looking for more suggestions on what to serve with the burgers.
These low-carb sides will not only satisfy your craving, but they'll also save you time, wow your guests, and make entertaining even simpler.
Let's get right to it and explore the low-carb side dishes for burgers.
Best Low Carb Side Dishes for Burgers
1. Zucchini Pasta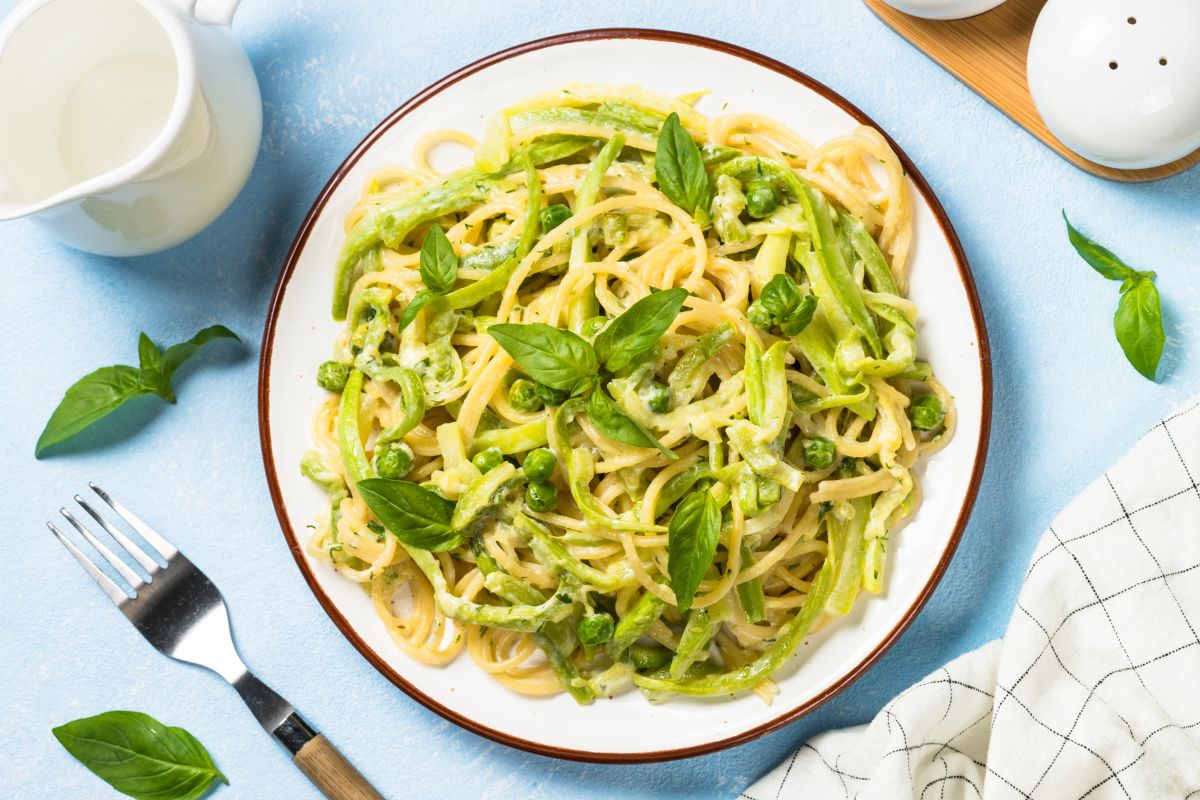 We usually associate pasta with a high-carb dish, but it doesn't have to be. With this side dish, you can enjoy pasta without worrying about the carb content in the dish.
This zucchini recipe is the perfect low-carb vegetable pasta. To start with this dish, you need to slice it into extremely fine ribbons and then move to the frying part.
You can choose your own pasta sauce before serving it to your guest. If you want a pro tip for creating spaghetti "ribbons" that are evenly spaced; you should use the veggie peeler.
With this peeler, you'll be able to make zucchini pasta that is precisely shaped like vermicelli.
2. Roasted Asparagus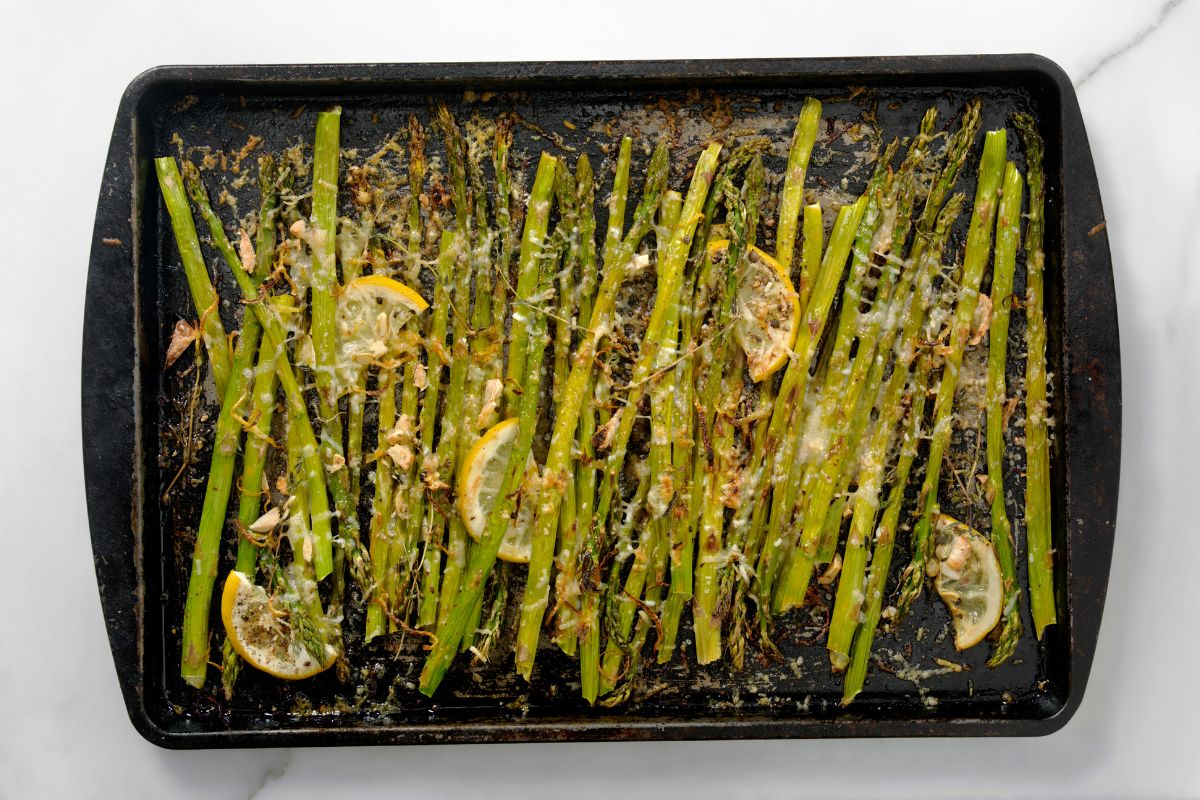 There are various methods for preparing asparagus. Let us, nevertheless, tell you this. If you are always boiling this healthy and low-carb vegetable, then you are missing something because the best method is to roast the asparagus.
You'll notice that the asparagus' flavor deepens, and some of its "bite" are still present.
Who would want to eat soft, mushy asparagus? You can throw this dish in the oven and walk away from it.
3. Green Bean Bundles
Your body needs healthy carbs to get you going, and this is what green bean brings to the table. They are an excellent addition to the side dishes list because they keep the number of carbs to an absolute minimum.
They pair well with almost anything and taste delicious no matter how you prepare them. If you have never seen a green bean bundle, you are in for a treat.
You have a stack of green beans that are just the right amount of crunchy, delicately wrapped in a rasher of bacon.
You could add a little bit of melted butter if you'd like. There's no doubt that your supper will be elevated to a new level with the help of these green bean bundles.
4. Skillet Cooked Cabbage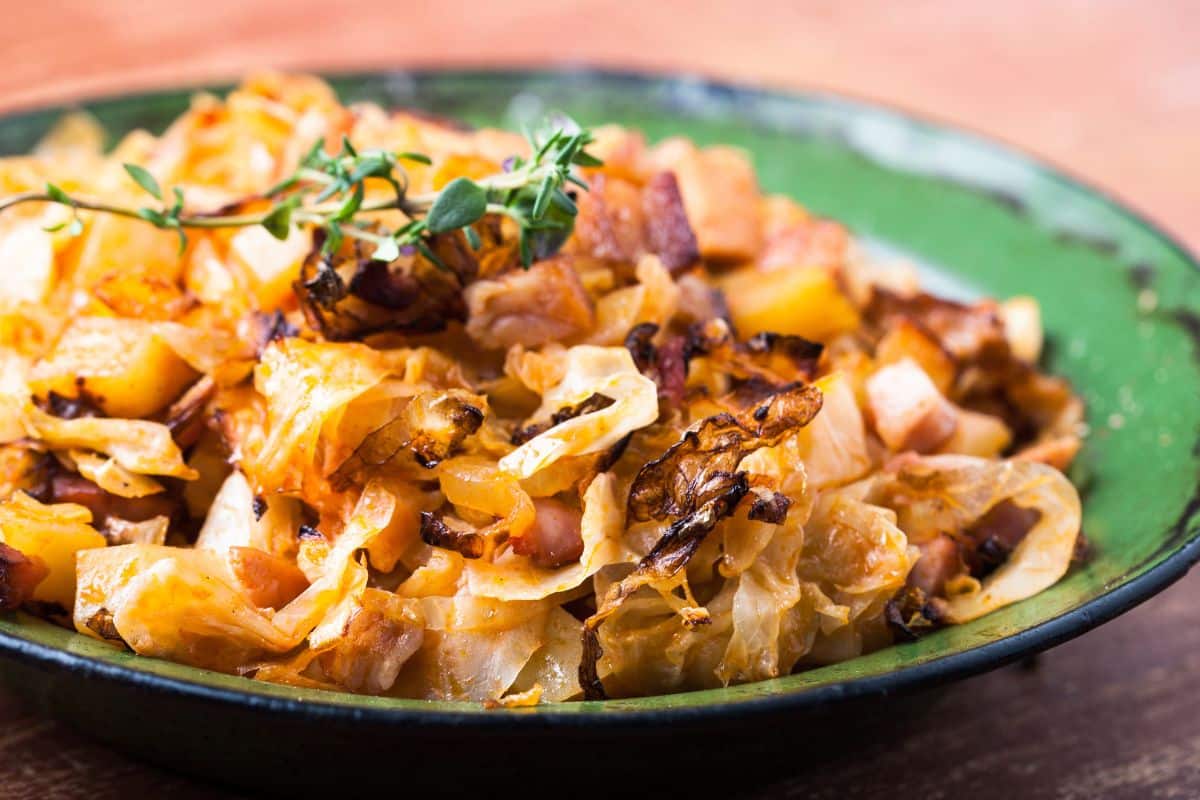 We're pretty sure you'll never go back to the boring boiled cabbage after trying this side dish because this truly takes the cabbage to an incredible next-level dish.
To start with the dish, you need to shred the cabbage very finely, and then on medium heat, add a spoonful of butter and seasoning of salt and pepper.
Although the cabbage initially appears to be rather rigid, it softens and disintegrates as it cooks.
5. Peas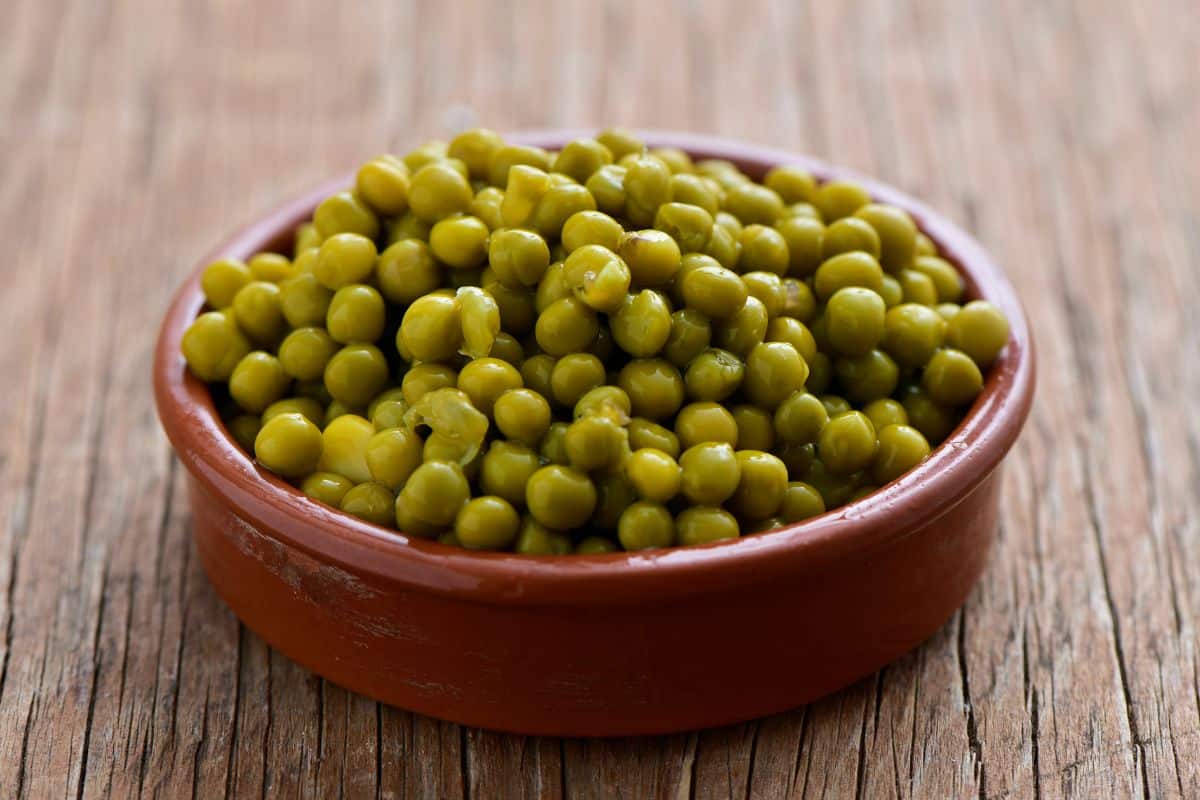 You can eat a ton of peas guilt-free if you look up how many calories they contain. Peas might become a little dull if you don't give them some love, which is the one drawback.
Here's how you can make this dish a bit more attractive to your guests. To start with this dish, boil the peas and drain them properly.
Once they are all coated and glassy, add a tablespoon of butter and a teaspoon or two of pre-made mint sauce, and voila, you'll have your amazing minty peas in no time.
6. Roasted Brussels Sprout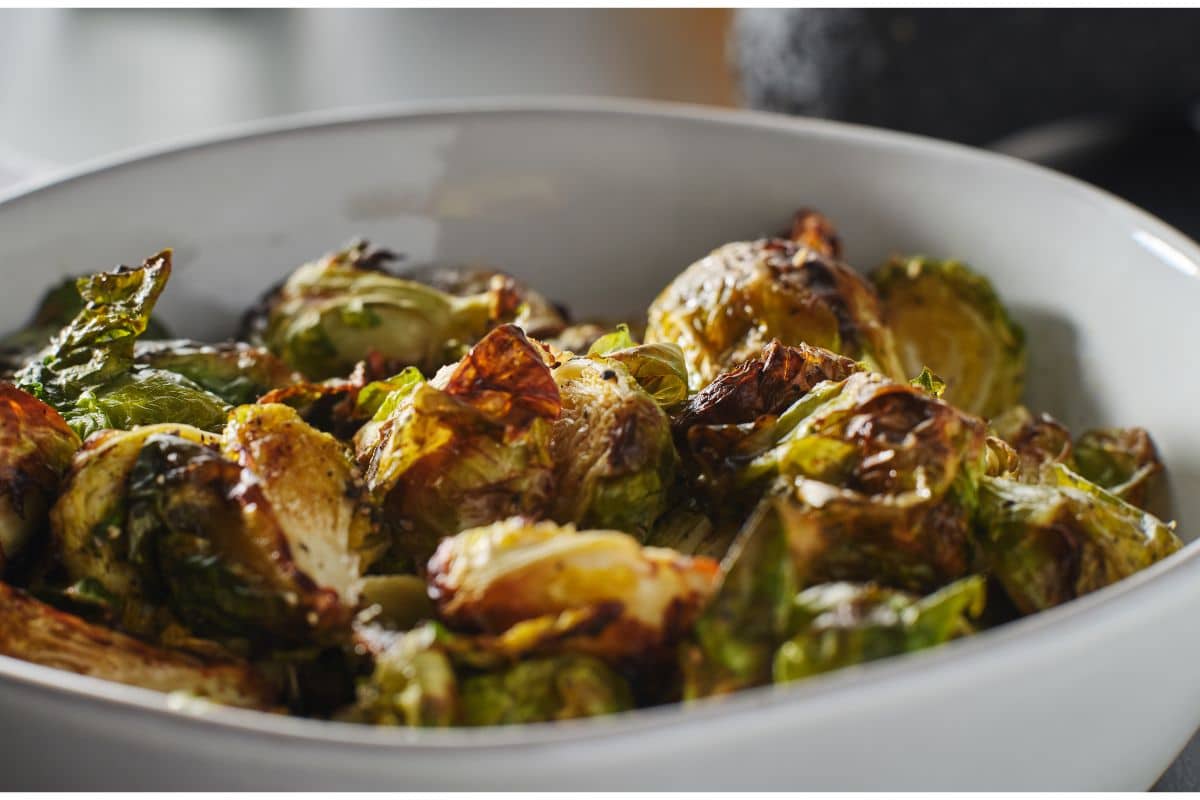 Another super-fast recipe that is low in carbs and elevates greens from a bland and mushy dish to a whole new level is the roasted Brussels sprout.
When you roast them, the flavor of brussels sprouts is altered, and a certain sweetness emerges. If you are in a hurry, then you can cut them into thin discs to speed up the process.
Next, you can toss in some crushed garlic, olive oil, and pine nuts, and then finally bake until the outer leaves are all golden.
7. Cauliflower Rice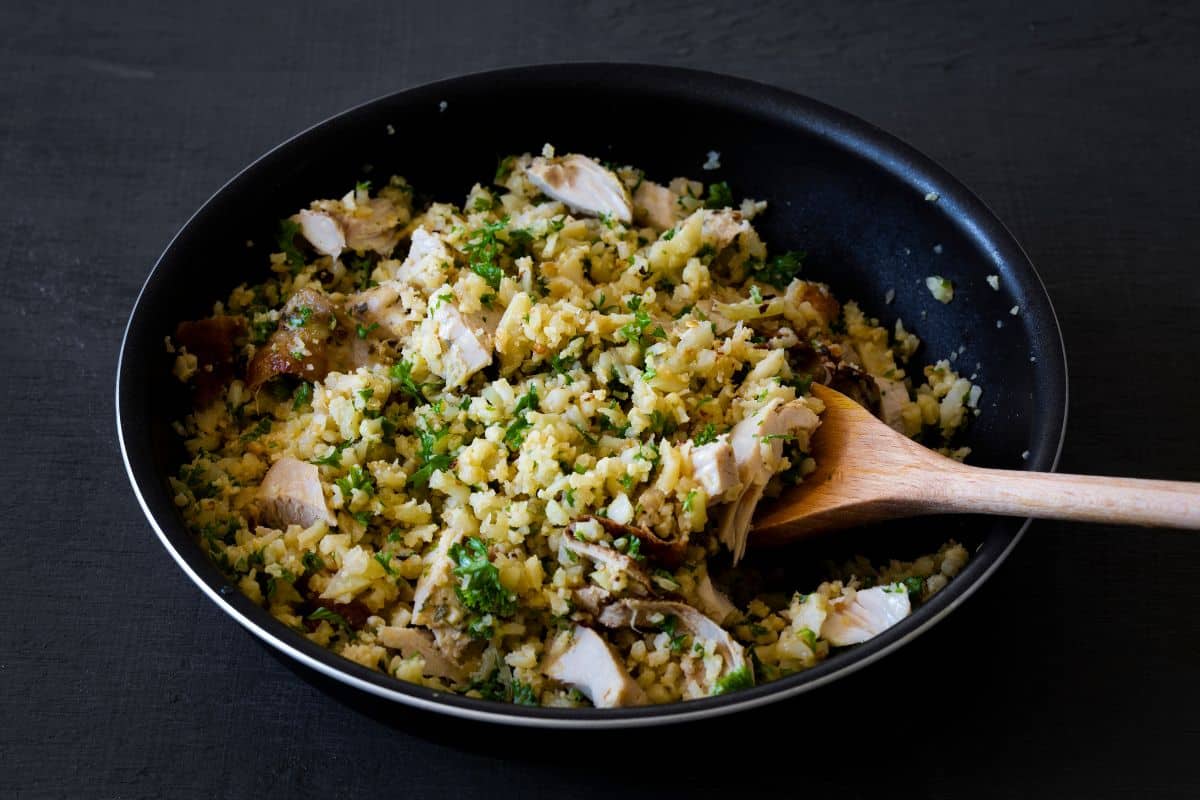 Rice has a very moderate flavor, and the bonus part of cooking rice is that it is very simple to cook them. The only thing we don't like about it is how unhealthy it can sometimes be.
You're in luck if you're seeking a healthier substitute for rice. While cauliflower rice tastes exactly as good as white rice, it has only 5% as many carbs.
You simply blend a head of cauliflower and then move on to the next step to cook the cauliflower rice.
Try not to leave rice on the heat for too long; otherwise, it'll become soft and soggy.
8. Garlic Mushrooms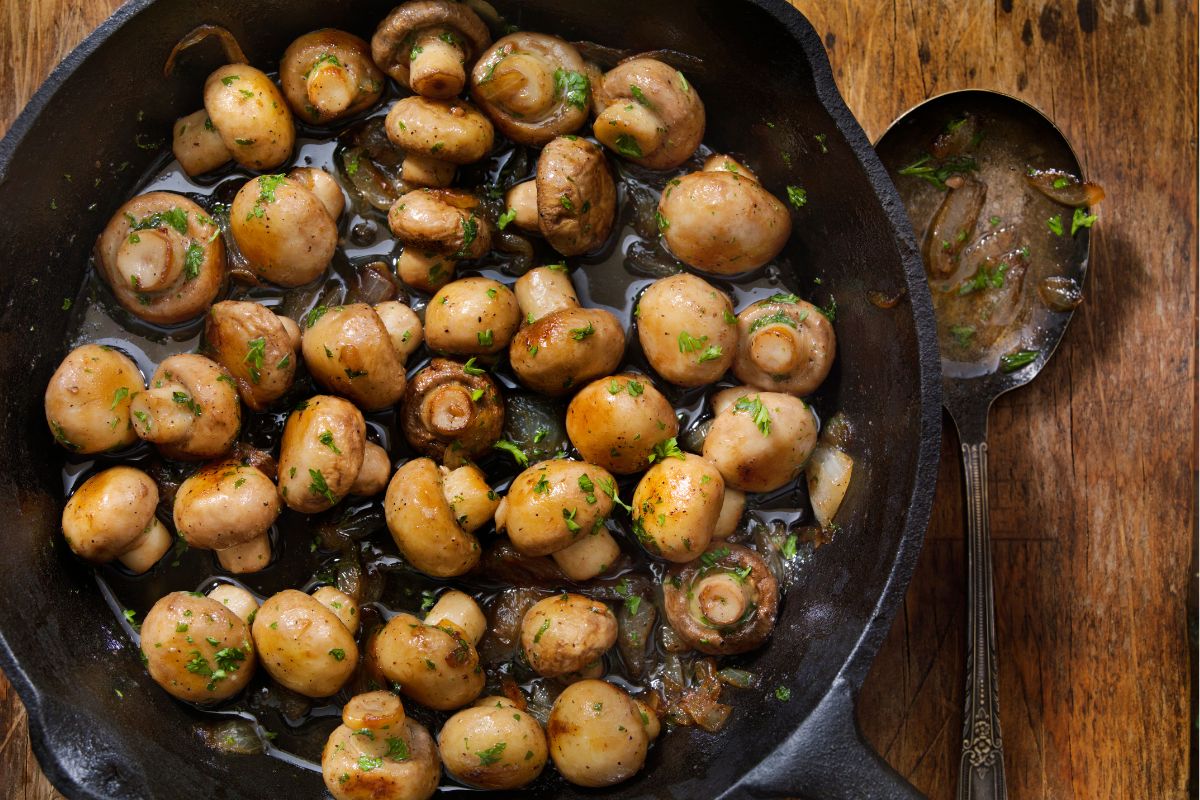 It's really tempting to serve these delicious garlicky mushrooms alongside a big piece of crusty bread.
They are still a delightful dish to serve with various dishes if you can manage to resist. This dish is very simple to make.
All you need is some mushrooms, butter, spices of your liking, and a pan to make this exquisite dish. It won't affect the calorie content of the dish that much if you add a bit of cream to create something truly sumptuous.
9. Roasted Cherry Tomatoes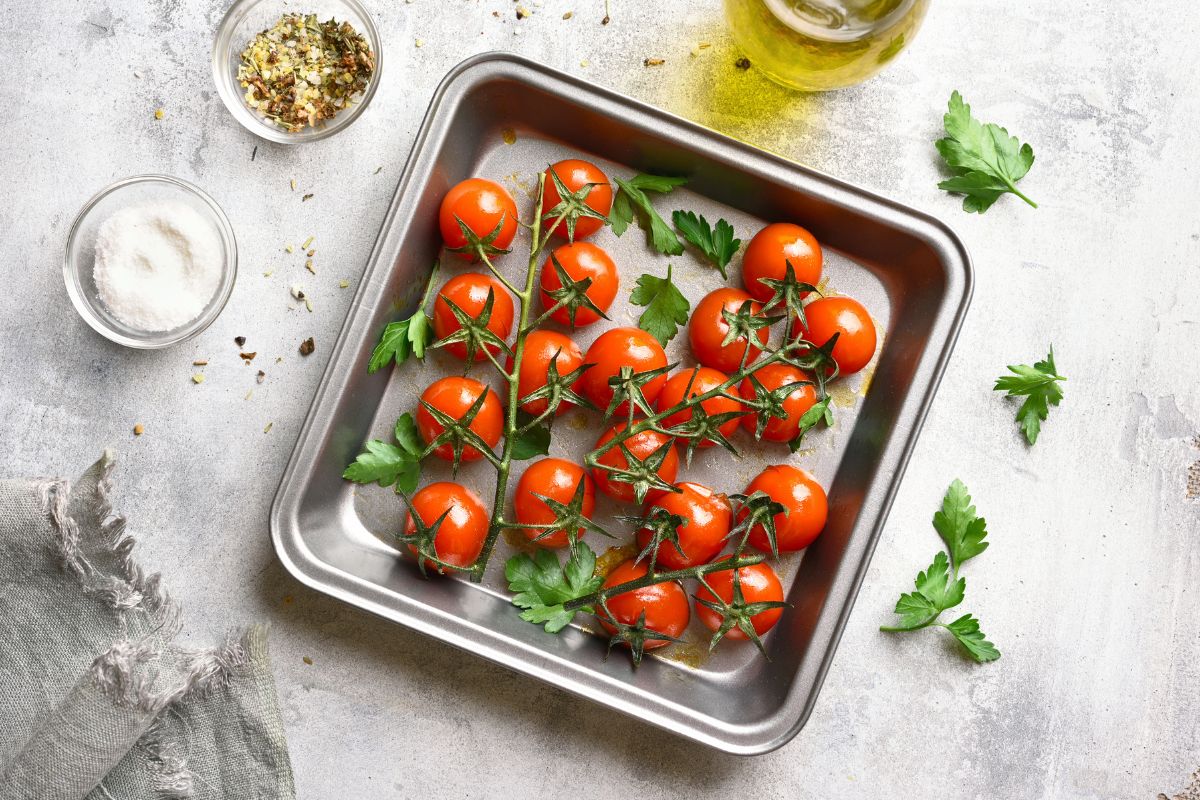 Let's talk about tomatoes while we are exploring low-carb side dishes for burgers. Some of us are not aware of the sweetness and taste that could be released from a tomato when you slowly roast it in the oven.
So, to make the roasted cherry tomatoes, you need to add olive oil and a bit of seasoning of salt and pepper to your fresh tomatoes.
They should be baked on a baking sheet until the skins start to bubble and ooze. They pair incredibly nicely with flavorful burgers since they are sweet.
Final Words
When making low-carb sides, there are several factors to consider. You can dramatically lower your carb intake by sticking to root veggies that aren't white.
Your first option should very much be anything red or green. Adding ingredients like garlic or herbs may prevent your sides from being bland and make spectacular side dishes that everyone will enjoy.
Hopefully, these best low-carb side dishes will help you enjoy your burger without worrying about the carbs intake.
Print
9 Best Low Carb Sides for Burgers
Check out these great low-carb side dish recipes for Burgers that have been shared on Pinterest.
Author:
Prep Time:

5 minutes

Cook Time:

10 minutes

Total Time:

15 minutes

Yield:

1 serving

Category:

Sides

Method:

Cooking

Cuisine:

Side Dish
Instructions
Click on each link above to view the pin and recipe.
Obtain all the necessary ingredients to make the recipe.
Follow the steps to create your side dish.
Enjoy your delicious meal =)
Nutrition
Serving Size:

1 serving

Calories:

80

Sugar:

1 g

Sodium:

210 mg

Fat:

8 g

Saturated Fat:

1 g

Unsaturated Fat:

0 g

Trans Fat:

0 g

Carbohydrates:

1 g

Fiber:

0 g

Protein:

0 g

Cholesterol:

0 mg
Keywords: Best Low Carb Sides for Burgers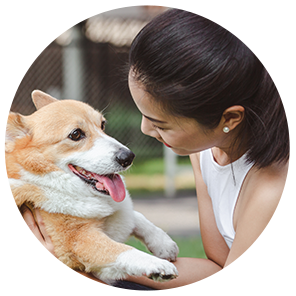 Hi, I'm Linda thanks for stopping by! We're so happy you're here. If you're a foodie and love to cook from home - you're in the right place..
LEARN MORE
Join the mailing list and receive our free newsletter!
Recipe Marker provides you with the best information about home cooking tips, recipes, ingredient substitutes and more. Check out our blog to see the latest articles.