9 Best Side Dishes for Crawfish Boil to try in 2023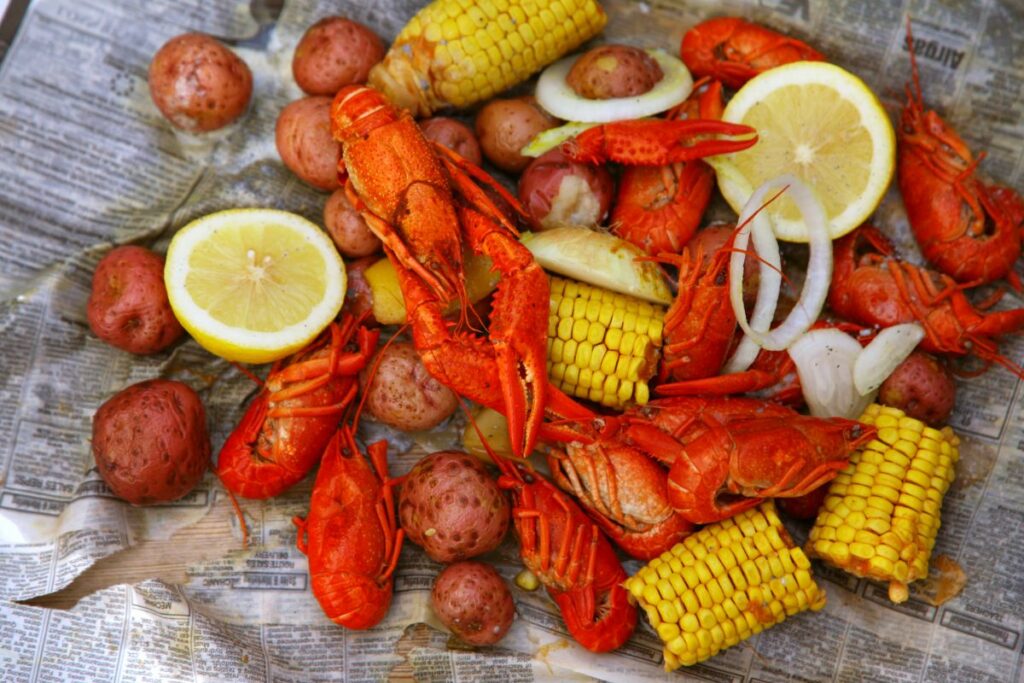 Are you trying to decide what to serve with a crawfish boil? Stick around as we share a list of the most popular crawfish boil side dishes in this article.
Every seafood enthusiast has attempted the crawfish boil at least once, especially during beach parties.
It's the ideal meal to spread joy while sharing food from a pot and making others smile.
Given the variety of meat and vegetables, it contains, this dish is already a masterpiece. But when served with some complementary side dishes, it tastes even better.
What should be served with a crawfish boil, then?
Let's explore some of the best dishes to serve with a crawfish boil.
Best Side Dishes for Crawfish Boil
1. Cucumber Salad with Avocado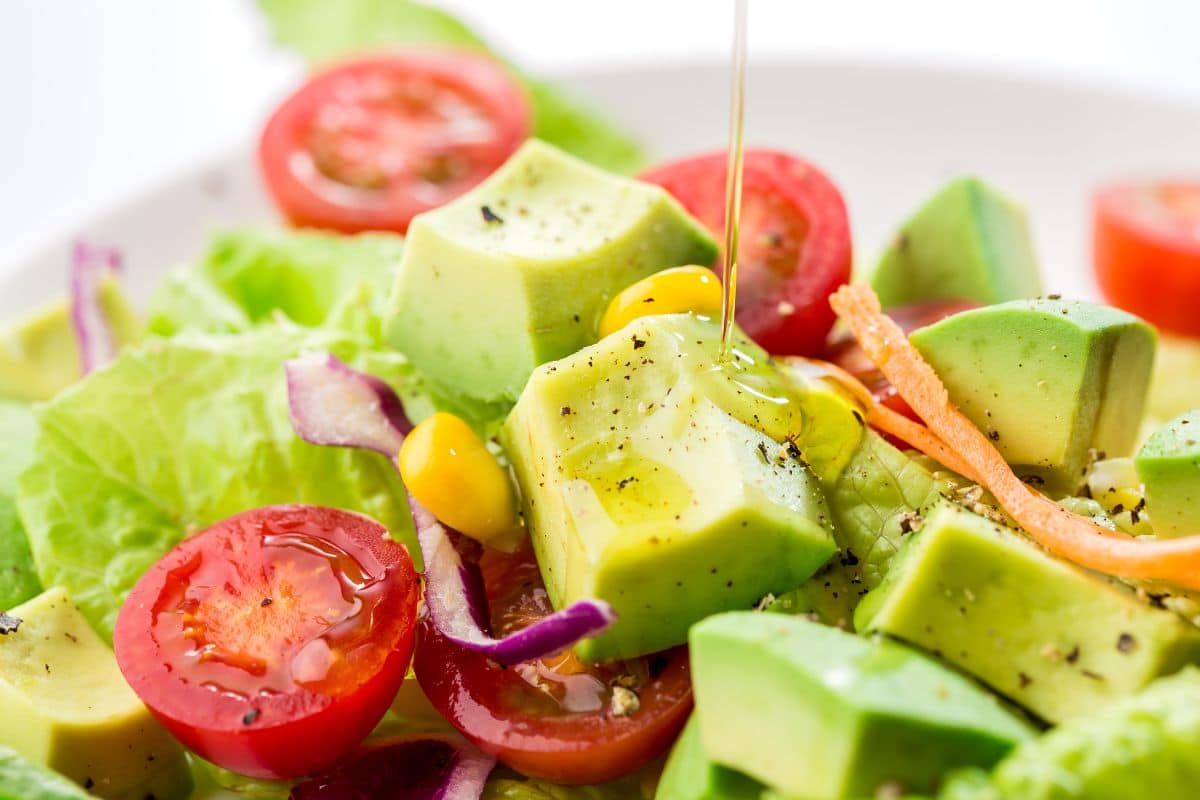 What could be a more refreshing and colorful way to honor a crawfish boil than a cucumber salad?
Well, if you want to up your salad game, add some avocados to it.
The combination of avocado and cucumber rapidly cools you off and mutes any overpowering flavors that might still be lingering in your mouth.
This salad is ideal if you want to avoid experiencing stomach acidity after a large meal.
However, given its many health advantages, anyone can try this cucumber salad.
Moreover, the added avocados can help you provide the extra nutrition your salad bowl needs.
2. Cilantro Lime Rice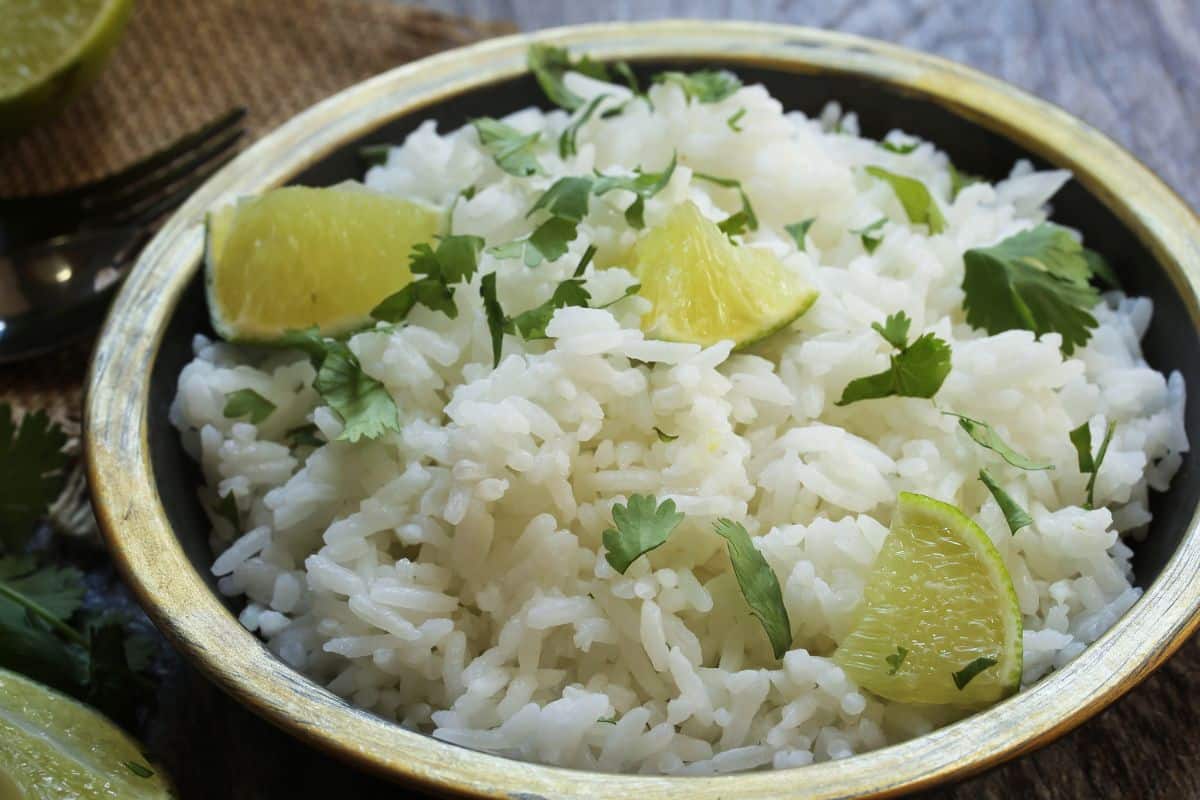 This simple rice recipe with cilantro and lime is fantastic because it pairs well with so many meals, especially with a crawfish boil.
To make this rice, you need to keep some things in mind; the most important step is to rinse your rice beforehand as it eliminates all of the starchiness, which can cause the rice to become gummy.
A lack of surplus water is the second most important factor. Always follow the rice-to-water ratio specified in your rice cooker's instructions.
Finally, take the rinsed rice, add chicken broth, a bit of salt and pepper, and a few drops of olive oil, and cook them to perfection!
3. Sourdough Bread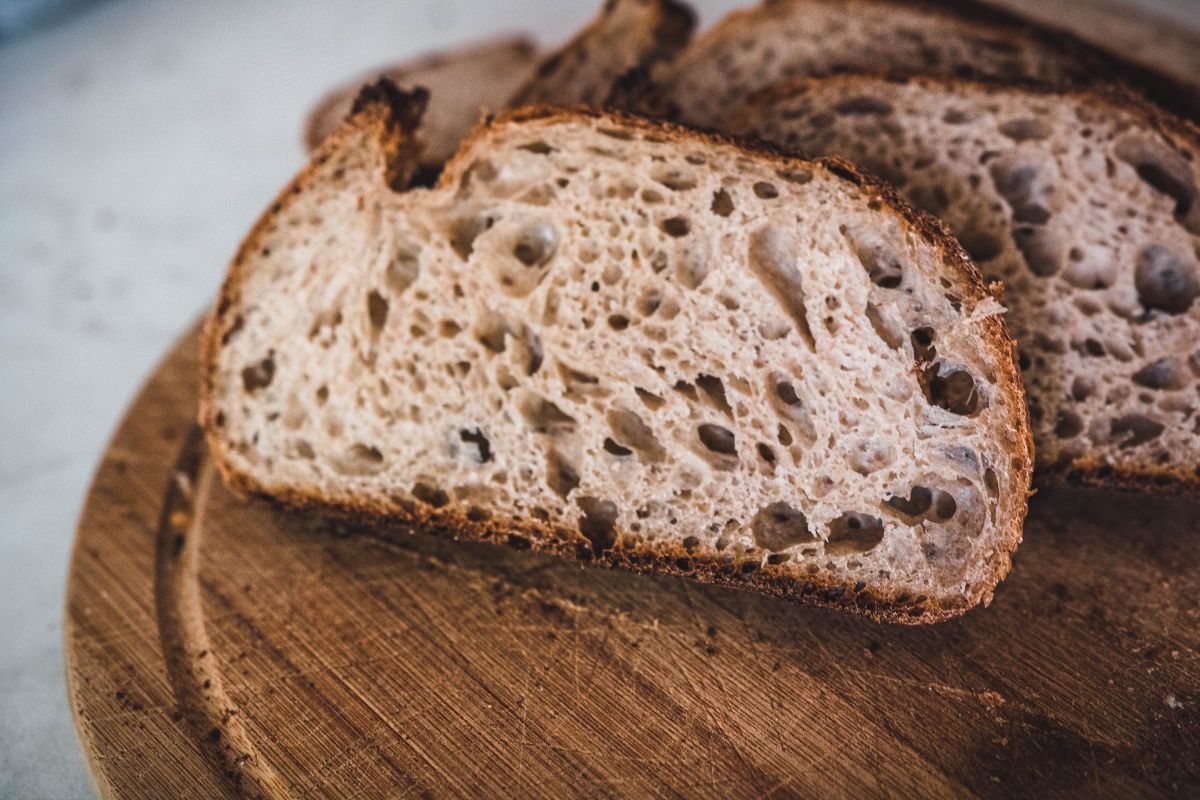 This bread is one of the healthiest bread you can ever eat, which is exciting.
The tangy, chewy flavor of the bread, which pairs nicely with practically anything, replaces the crunchy crust.
So that you don't waste any of that excellent meal, spread some gravy over the bread or use it as a plate cleaning.
The slight disadvantage of this delicacy is that it requires some MasterChef skills to bake this bread and can be a daunting task, but nevertheless, there's an easier option available, which means you won't have to bake it on your own, rather you can get it from the nearby bakery.
4. Cocktail Sauce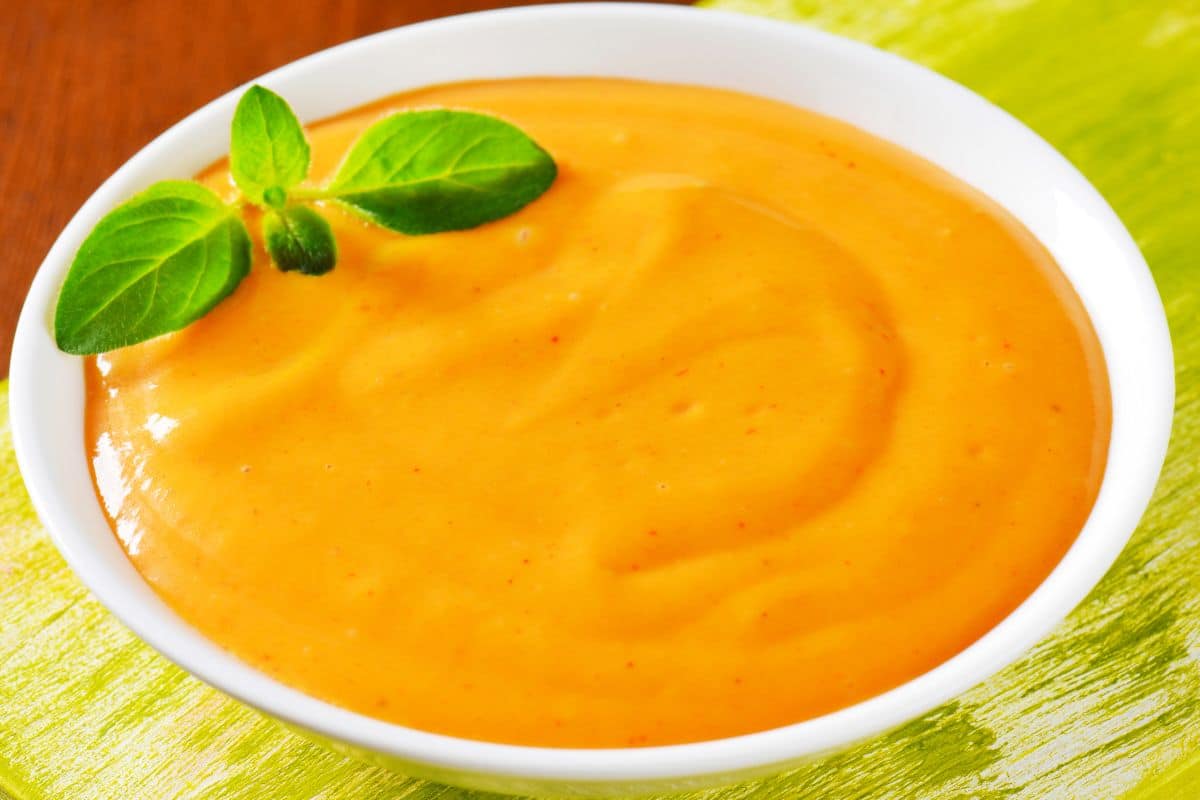 Nothing complements a crawfish boil more than a traditional cocktail sauce, also known as seafood sauce.
In that case, by all means, go ahead and purchase the store-bought items, but if you can spare some time, you could make your own cocktail sauce, and the benefit of that would be that you'll have control over the taste of the sauce.
You can make this sauce in large quantities once and then store it for future use.
5. Coleslaw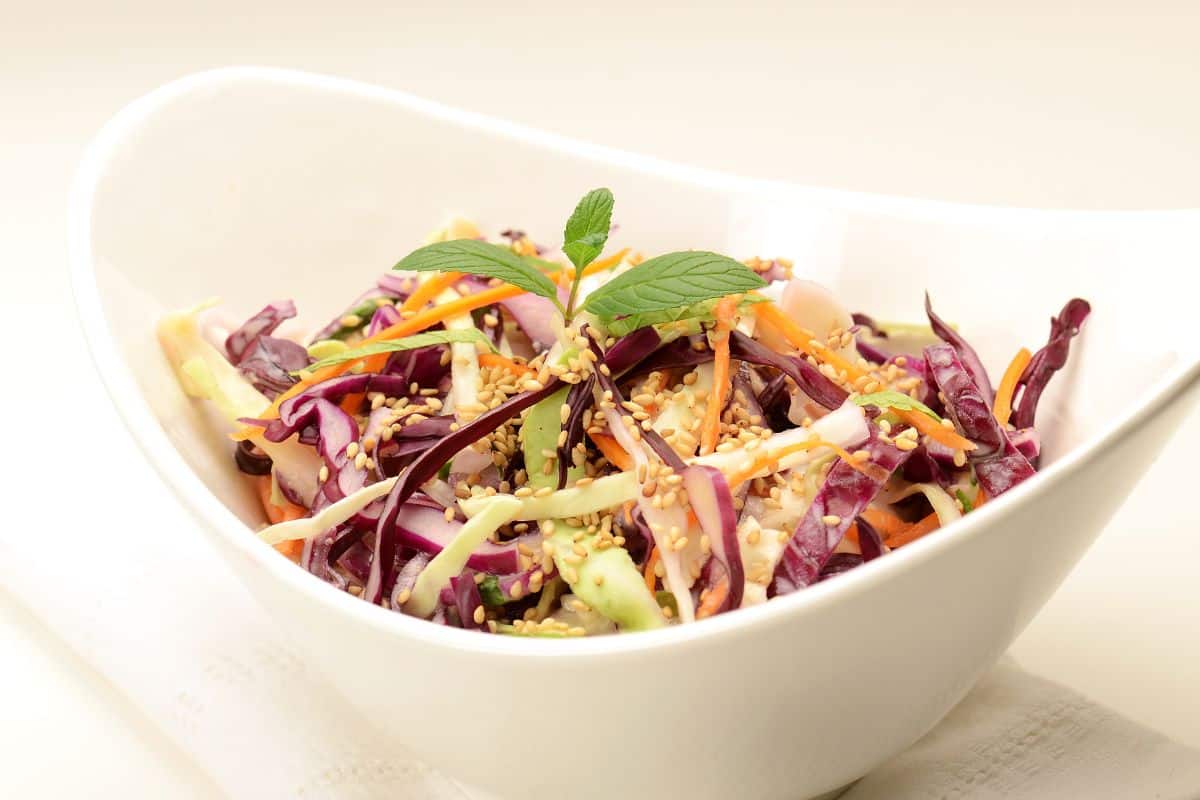 Coleslaw is another versatile side dish that pairs up with almost anything. Coleslaw is a tasty and healthful side dish with a colorful, creamy appeal.
It has a crunchy texture and a sweet-and-sour flavor that contribute significantly to its distinctiveness.
Any type of seafood, especially the crawfish boil, will enhance the flavor when combined with it.
To keep your meal balanced, it is advisable to choose coleslaw with apple cider or mayo dressing.
Lastly, keep it in the refrigerator for half an hour before serving it to your guests.
6. Baby Red Potato Salad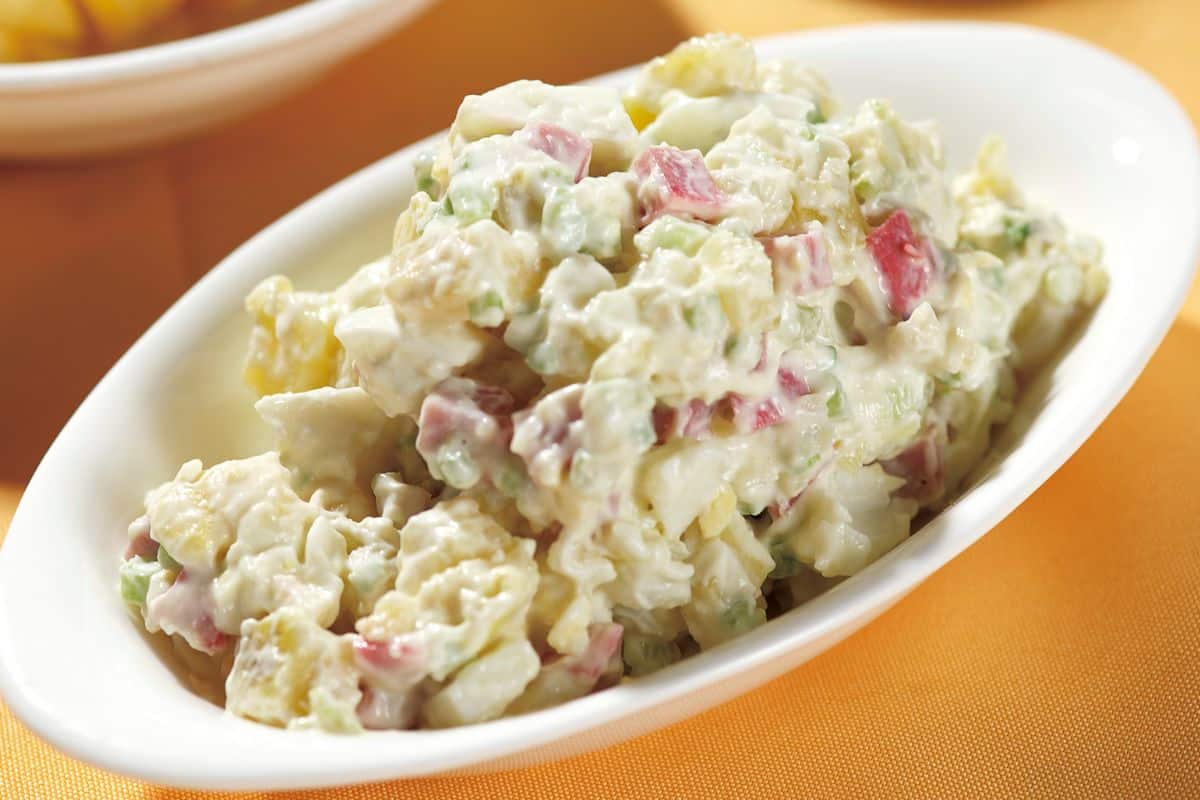 Usually, there are already some potatoes present in a crawfish boil.
However, a little more potato on the side won't harm anyone.
This is an excellent choice as a side dish if you have a large number of guests coming over.
It's quick and easy to make, so you won't have any problem preparing it in large quantities.
All you need are some chopped red onions and green bell peppers.
The dressing for this salad is made with some mustard, herbs like thyme and basil, and some mustard sauce.
7. Mac and Cheese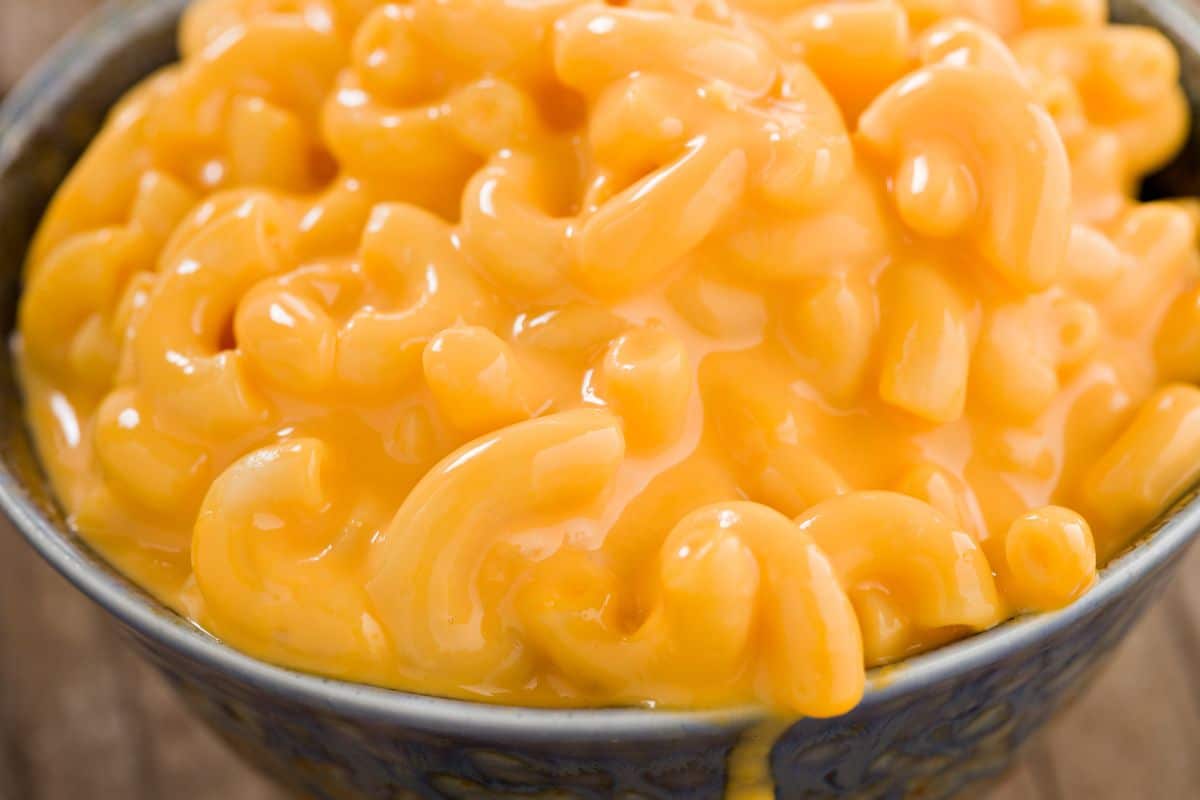 This is your side dish if you want something delicious and creamy that won't take your attention away from the main course.
It has a mouthwatering appearance, is enticing, and will successfully make you grin as you eat it.
Mac and cheese provide a flavor break from the strong flavors in the crawfish boil.
It doesn't take up much effort or time to make this delectable dish. With the ingredients available at home, it hardly takes an hour to prepare it.
When you are cooking yourself, you have all the control over the dish, and similarly, in this case, you can change things to your liking if too much cheese doesn't sound healthy for you.
8. Hushpuppies Southern Style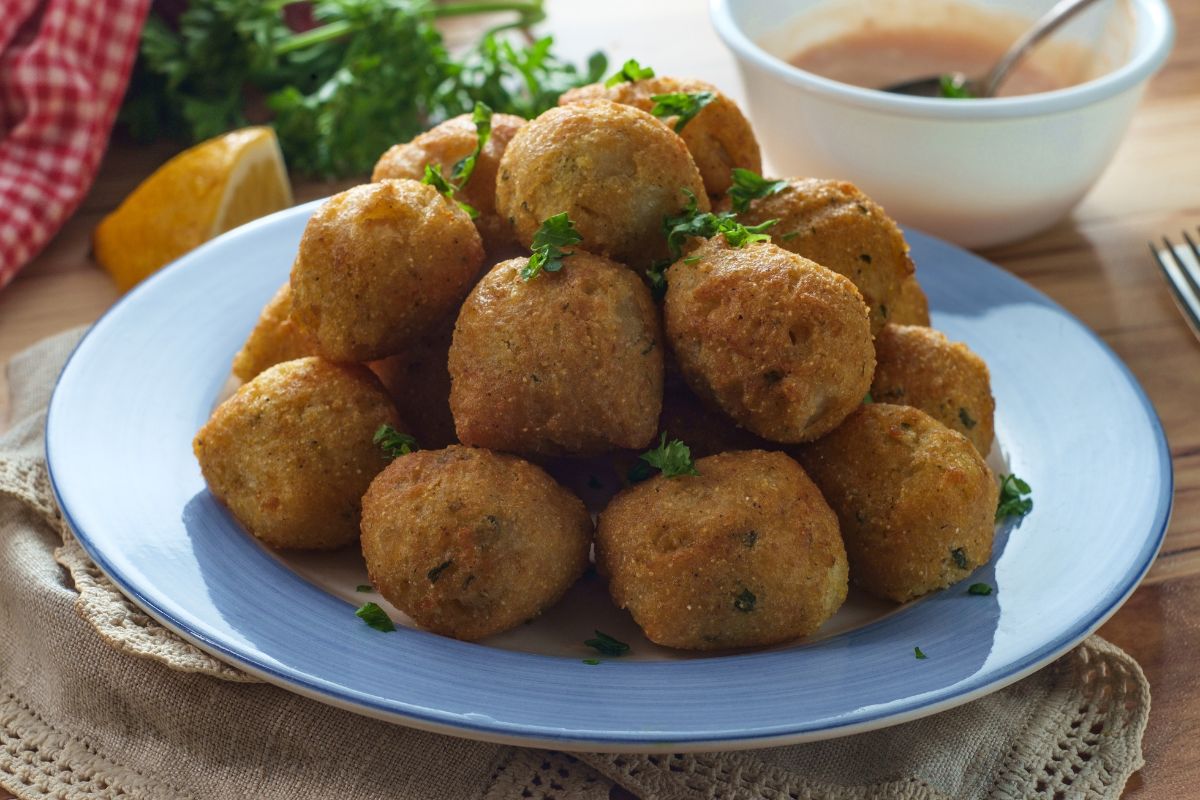 They are fried fritters made with a batter that contains cornmeal. Hushpuppies are often eaten with fried fish or barbeque in the South and are highly well-liked there.
The batter may occasionally include other ingredients like chopped jalapenos or corn kernels. Hush puppies can be made using a variety of different components.
Feel free to experiment with these hushpuppies using some of these entertaining extras, such as hush puppies with okra, black-eyed peas, celery, and much more.
9. Green Goddess Salad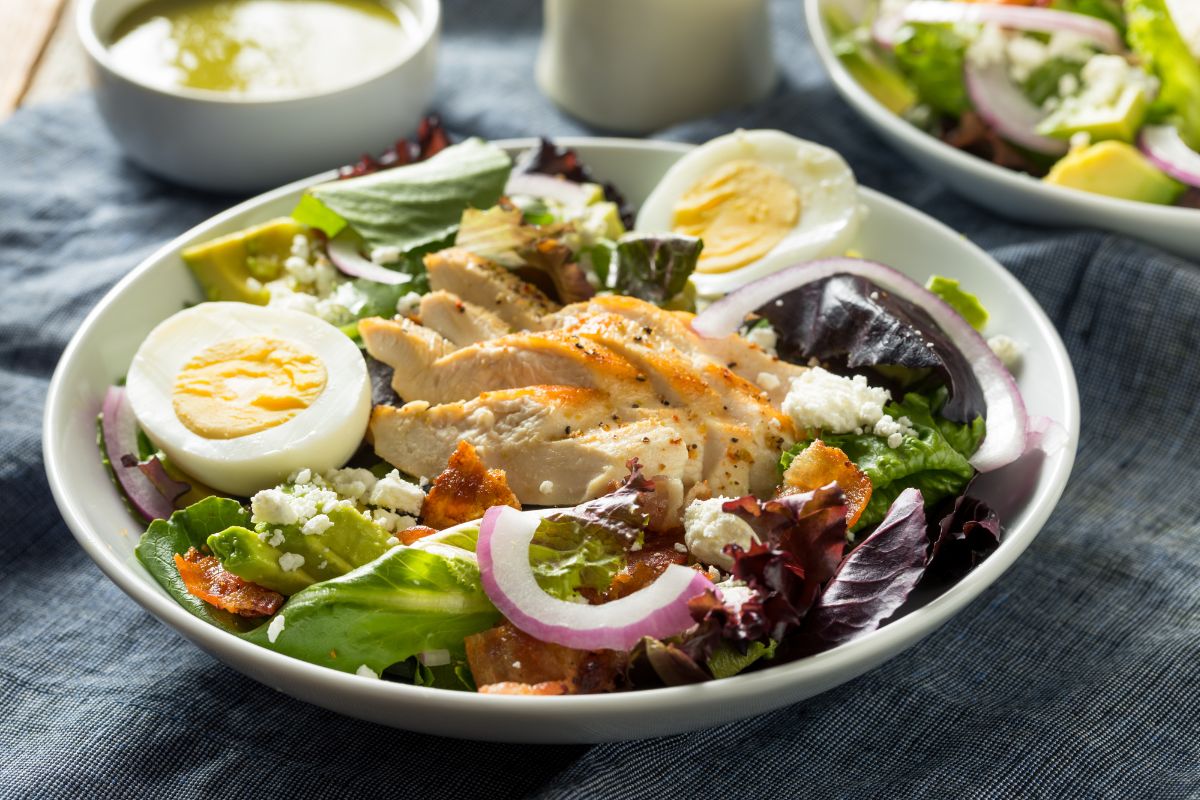 Surprise the kids at your crawfish boil with this Green Goddess salad, which was influenced by tiki culture.
It has a creamy green dressing and is made with chives, cabbage, green onions, and cucumber.
The rich crimson of the boiling crawfish contrasts beautifully with the bright hue of the salad.
Additionally, the use of fresh ingredients makes it a healthful choice for people who like lighter fare.
Final Words
You now know the best sides to serve with a crawfish boil. You can always make a side dish that meets your tastes; that much is certain.
Once in the kitchen, the food you prepare belongs to you. Make sure to sample each variety of side dishes to determine which one you prefer.
You'll have a wide range of options available when you have visitors around. Enjoy the process and say, "Let's try another one" after a bad meal combination.
Print
9 Best Sides for Crawfish Boil
Check out these great side dish recipes for Crawfish Boil that have been shared on Pinterest.
Author:
Prep Time:

5 minutes

Cook Time:

10 minutes

Total Time:

15 minutes

Yield:

1 serving

Category:

Sides

Method:

Cooking

Cuisine:

Side Dish
Instructions
Click on each link above to view the pin and recipe.
Obtain all the necessary ingredients to make the recipe.
Follow the steps to create your side dish.
Enjoy your delicious meal =)
Nutrition
Serving Size:

1 serving

Calories:

130

Sugar:

2 g

Sodium:

1880 mg

Fat:

4 g

Saturated Fat:

0.5 g

Unsaturated Fat:

0 g

Trans Fat:

0 g

Carbohydrates:

20 g

Fiber:

1 g

Protein:

2 g

Cholesterol:

0 mg
Keywords: Best Sides for Crawfish Boil
Hi, I'm Linda thanks for stopping by! We're so happy you're here. If you're a foodie and love to cook from home - you're in the right place..
LEARN MORE
Join the mailing list and receive our free newsletter!
Recipe Marker provides you with the best information about home cooking tips, recipes, ingredient substitutes and more. Check out our blog to see the latest articles.