7 Best Prime Hydration Flavors (Ranked in 2023)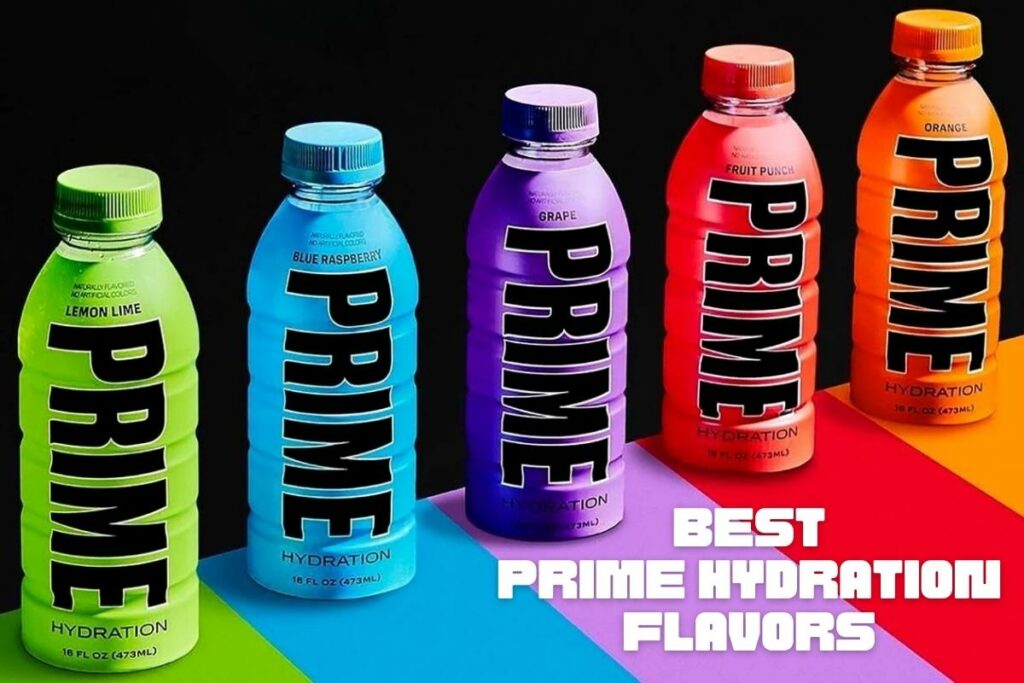 Getting yourself hydrated is one of the most important parts of your well-being. If you are looking for a delicious drink that can help increase your electrolytes and get more fluids in, you should check out Prime Hydration.
What is Prime Hydration Drink?
Prime Hydration is a brand that offers a range of sports drinks, drink mixes, and energy drinks. Developed to meet the needs of fitness enthusiasts who prioritize taste and function, Prime Hydration's beverages promise bold flavors that refresh, replenish, and refuel the body.
The products are made with naturally flavored ingredients including 10% coconut water, BCAAs, antioxidants, and electrolytes.
In addition, Prime Hydration combines the ingredients consumers want with the flavors they love to hydrate throughout the day. The product line comprises two main categories: Hydration and Energy.
In Canada, Prime Hydration retails online for $10 per fruit-flavored sports drink fortified with vitamins and minerals.
The company also offers a more portable and cost-effective alternative to the bottled form of the drink – Prime Hydration sticks.
Furthermore, Prime is co-owned by KSI and Logan Paul, and it serves as the Official Drink of the YouTube boxing rematch between the two.
Here are the best prime hydration flavors to try.
Best Prime Hydration Flavors Ranked
1. Blue Raspberry
A lot of customers have named Blue Raspberry as their favorite, and for good reason! This flavor gives you the juiciness of blue raspberries without excessive sugar in a refreshing package.
If you like the blue slushie you typically see in gas stations, you will definitely like this flavor.
This one has just the right sweetness without any sugar. It contains only 25 calories in one bottle, so it has minimal impact on your diet and optimal effect on your health.
Hydration is the priority for Prime Hydration, which is why this flavor is made of 10% coconut water complete with electrolytes
2. Tropical Punch
Nothing spells more refreshing than a tropical drink, especially if you have been under the sun for a while. You want something that can give you an island vacation vibe.
If so, the Tropical Punch flavor is your best bet. Because Prime Hydration comes is partly made with coconut water, you already have one aspect covered.
However, what makes this variant much more uplifting is the mixture of different fruity flavors, similar to that of four seasons drinks.
Its inviting red color makes it a visually appealing choice, while its beachy and fruity flavor makes it pleasant to the palate.
3. Ice Pop
If you have ever had those ice popsicles that come in red, white, and blue colors, you surely have an idea how this variant tastes.
Prime Hydration Ice Pop flavor offers a classic refreshment packed with electrolytes in a nostalgic flavor.
The best way to describe this variant is it is a mix of different fruit flavors including cherry, lime, and blue raspberry.
This comes in a distinct bottle reminiscent of the rocket-shaped popsicle in red, white, and blue, so you can easily grab a bottle.
4. Grape
You can never go wrong with this grape-flavored drink. If you love grape soda, you will definitely appreciate what Prime Hydration Grape has to offer, just without the fizz.
This perfectly recreates the juicy quality of the fruit, while being accurate in terms of taste.
You can easily spot this one with its purple bottle. What makes this option more refreshing is it is sweet, but not so much.
So, you can have your fill of fluids and electrolytes without getting sick of the super saccharine taste. Make sure to drink it cold for the best impact.
5. Meta Moon
If you need ultimate hydration after a long day of heat or physical activities, Prime Hydration Meta Moon is your best bet.
This one is by far the most hydrating one because it contains not only electrolytes and coconut water, but also antioxidants, zinc, and BCAAs.
This is often described as a candy-flavored drink, so if you are looking for something sweeter, then this should be a top choice.
The most amazing this is that it offers that sugary taste without any hint of sugar in it, so it does not affect your diet while still being a yummy option.
6. Lemon Lime
Those who love lemon lime-flavored fizzy drinks will love Prime Hydration in Lemon Lime flavor. This boasts of the signature taste of those fruits that most people can enjoy.
On the nose, this offers a tangy and citrusy scent, while it tickles the palate with its zesty flavor.
Just like other flavors, this is made with 10% coconut water and fortified with nutrients that can boost your health and moisture absorption.
It can be amazing as a thirst quencher or as a companion with meals, so this is one of the most versatile options.
7. Orange
Individuals who love indulging in good old orange juice will appreciate Prime Hydration Orange. One sip and you know you are drinking a true orange just.
What sets this apart from those OJs you get from boxes is its hydrating factor and healthier elements.
This is one of the most preferred flavors because it is not too sweet. One thing that makes it a favorite is it has the natural sweetness of orange compared to others that taste artificial.
As usual, this drink contains coconut water, electrolytes, and nutrients your body needs to optimally absorb fluids.
The Bottom Line
Never neglect your hydration, especially if you have been working hard in the heat or doing extra strenuous work.
You can bring back moisture to your body in a delicious way through these best Prime Hydration flavors, so make sure to grab a few bottles and see how it works on your system.
Print
7 Best Prime Hydration Flavors
Check out this list of the best Prime Hydration flavors to try!
Instructions
Pick your favorite flavor
Click on the link to visit Pinterest
Buy items from your local store or online
Enjoy and share on social media!
Nutrition
Serving Size:

16.9g

Calories:

20

Sugar:

2 g

Sodium:

10 mg

Carbohydrates:

5g

Fiber:

0 mg

Protein:

0 mg

Cholesterol:

0 mg
Keywords: Best Prime Hydration Flavors
Hi, I'm Linda thanks for stopping by! We're so happy you're here. If you're a foodie and love to cook from home - you're in the right place..
LEARN MORE
Join the mailing list and receive our free newsletter!
Recipe Marker provides you with the best information about home cooking tips, recipes, ingredient substitutes and more. Check out our blog to see the latest articles.