12 Best Side Dishes for Brunch (Updated 2023)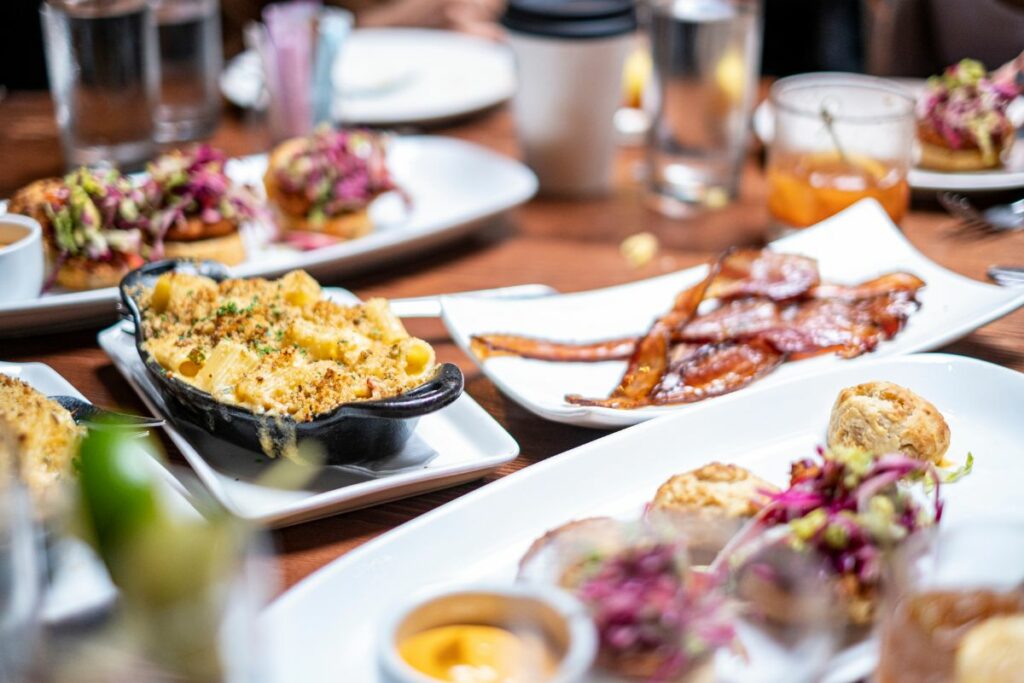 Are you wondering what goes well with brunch? Stick around as we share a list of the most popular brunch side dishes in this article.
There are many brunch food options, and planning the ideal brunch is actually rather simple. You have two options: either prepare a lavish meal or something simple.
Typically, brunch is served buffet-style, so you won't have to spend much time setting the table or preparing food for your guests.
Since it's neither breakfast nor lunch, there are a plethora of food options. Anything that catches your interest can be served.
Here are some of the best dishes for brunch we've discovered to help you get started on your brunch menu.
Best Side Dishes for Brunch
1. Granola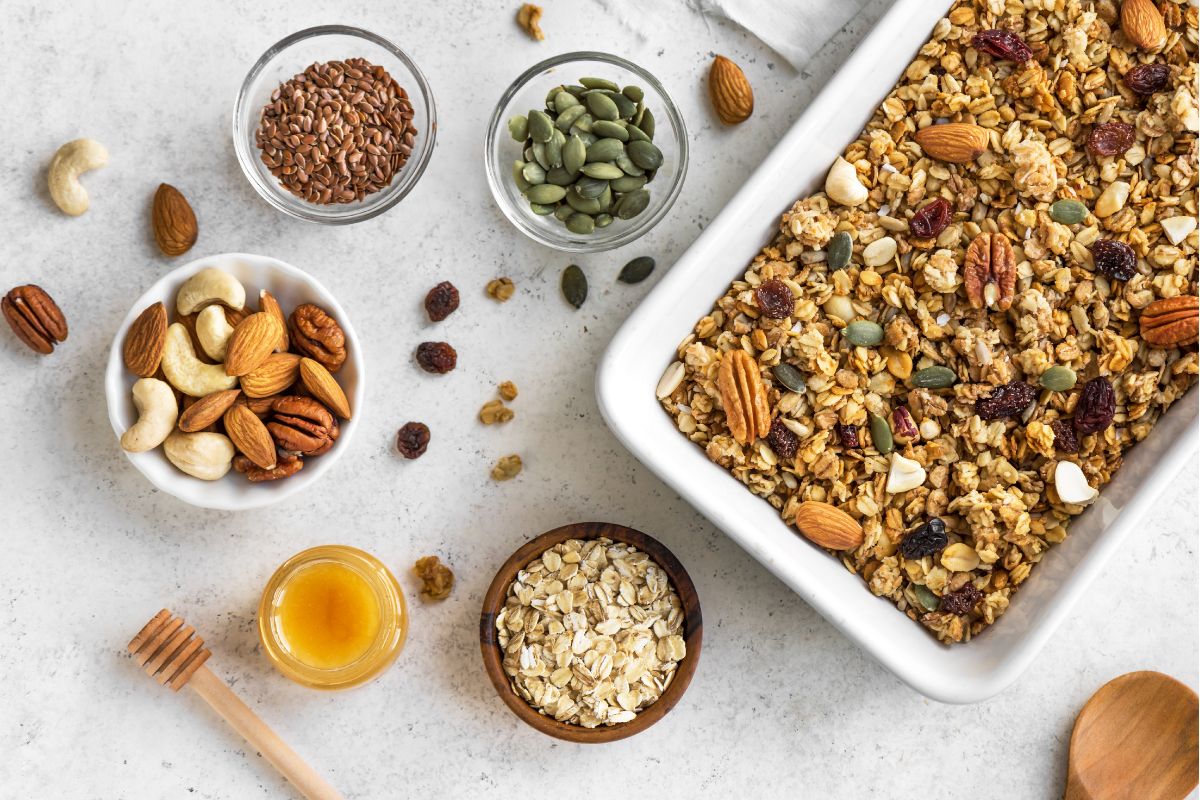 A base of rolled brown sugar and oats is combined to make granola. It's a brunch snack item that is baked on a sheet pan.
The oats in granola can be mixed with various ingredients, but popular ones include nutmeg, dried fruit, and chocolate.
Granola goes well with yogurt and fruit. For a simple breakfast, set up a yogurt parfait bar and let your guests create their own parfaits.
2. Breakfast burrito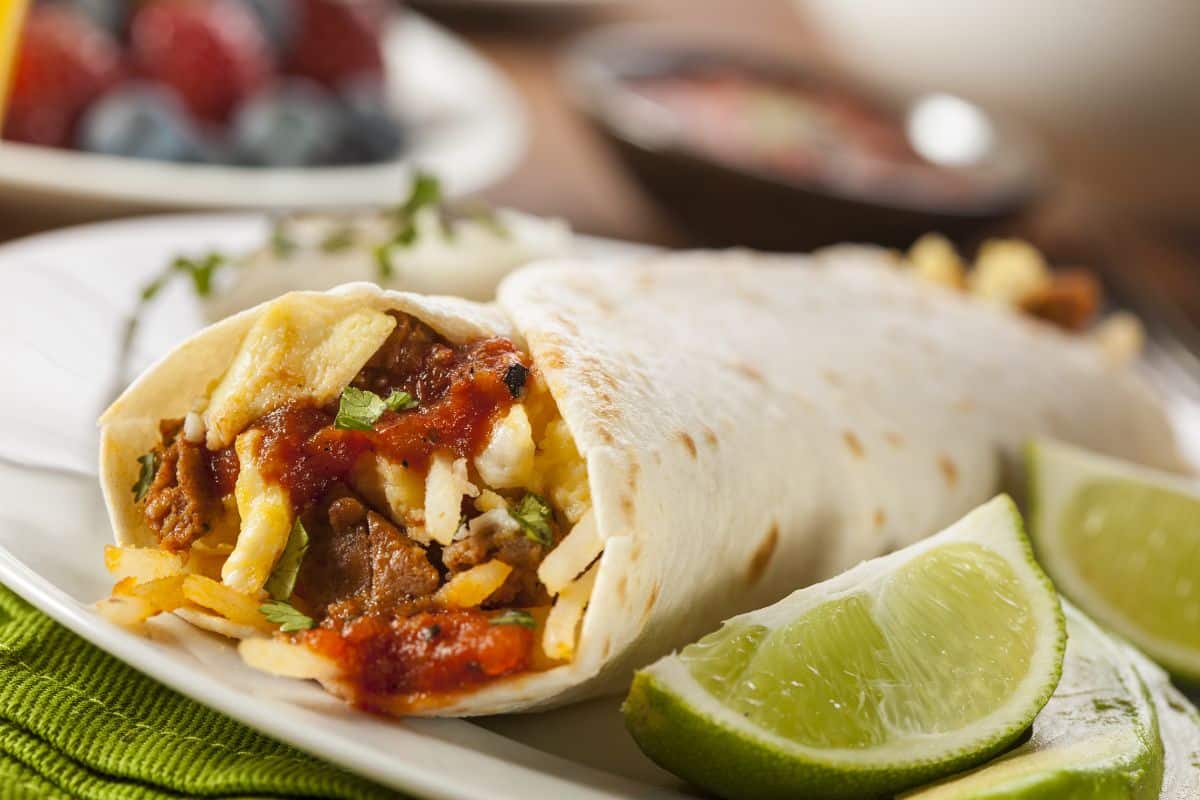 A flour tortilla is tightly rolled around a filling of different American breakfast staples to make a breakfast burrito.
To make a breakfast burrito, you will need eggs, jalapenos, salsa, sausage or bacon, and veggies. The burrito can also be made without meat by including vegan options.
You can also make breakfast tacos by combining the contents of the breakfast burrito with a corn tortilla.
3. French toast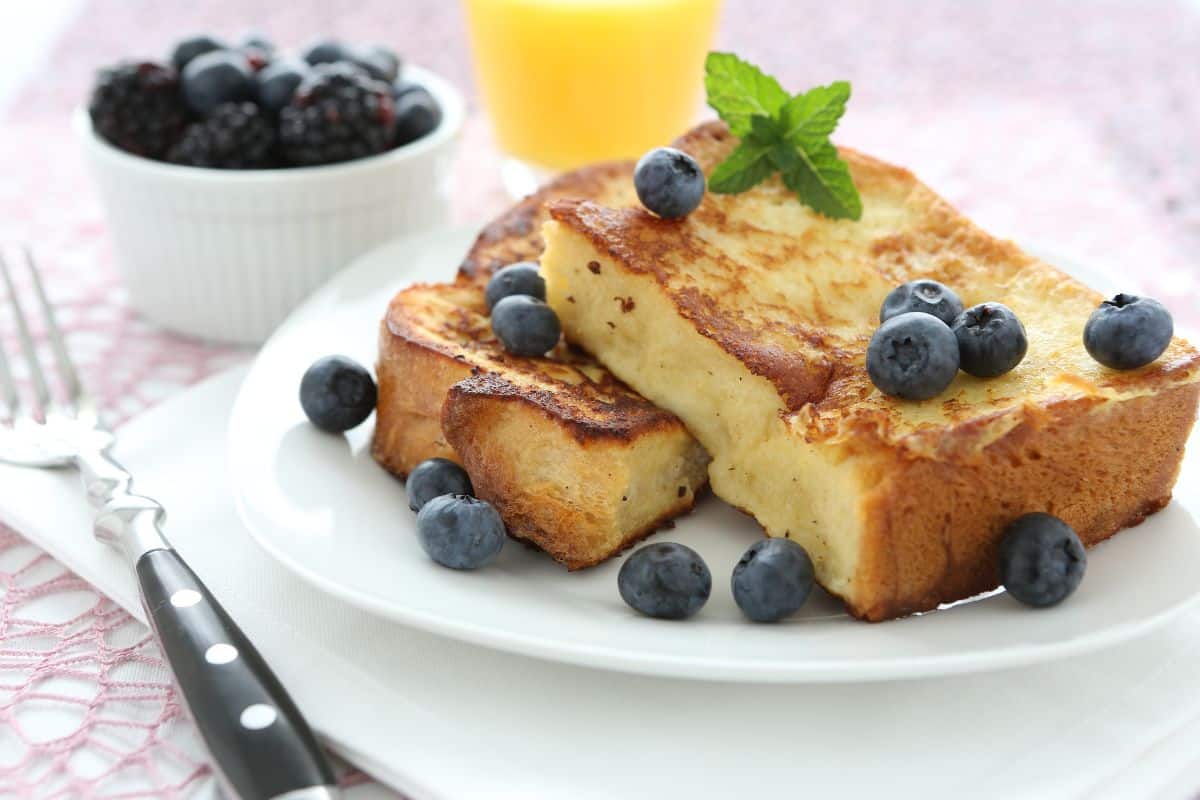 French toasts are served for both brunch and breakfast meals. They are made with stale bread slices that are soaked in a milk and egg mixture and fried till golden brown and crispy. In France, it is also referred to as pain perdu.
One of America's most popular brunch dishes is French toast, which is frequently served with fresh fruit and a glass of orange juice.
4. Cinnamon rolls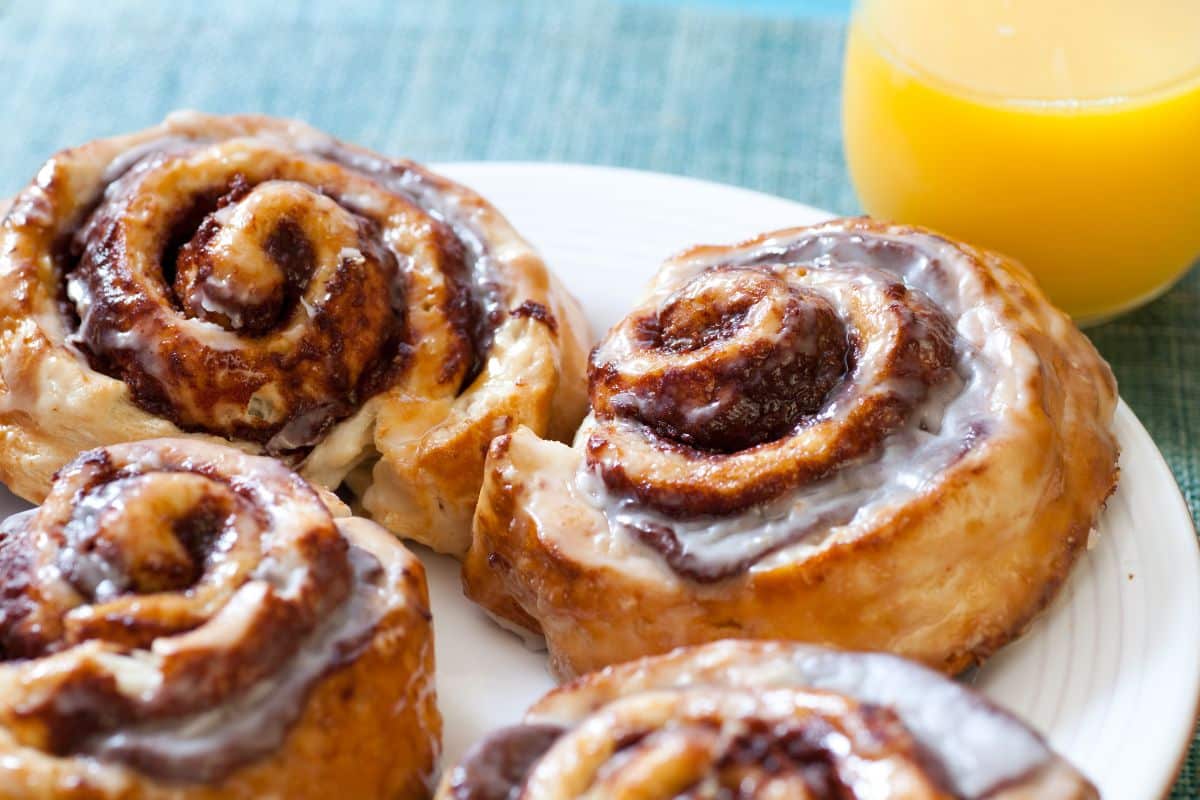 Rolls of delicious pastry filled with a sticky cinnamon-sugar mixture and topped with cream cheese icing are known as cinnamon rolls.
There are numerous cinnamon roll varieties, such as salted caramel apple rolls or pistachio.
This delicacy is a must-serve at brunch if you like the taste of cinnamon.
5. Pancakes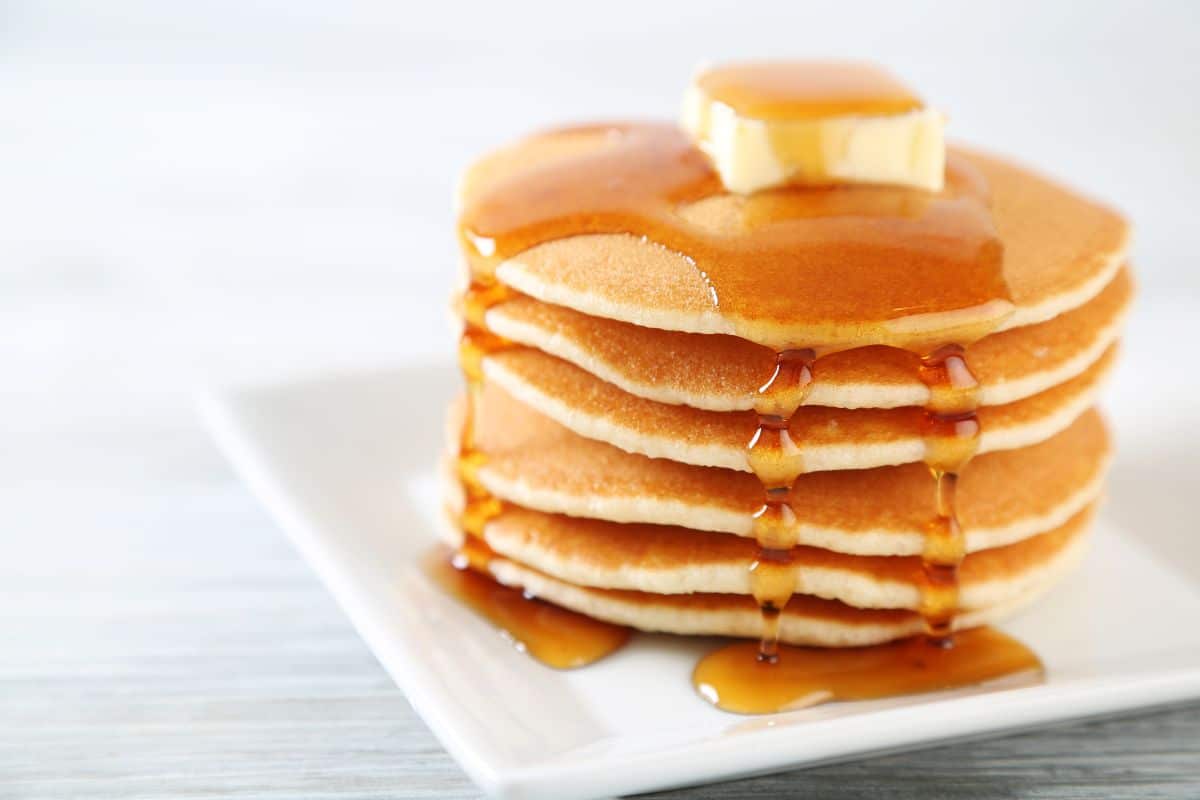 A pancake is a thin, flat cake often baked on a griddle or frying pan. The ingredients to make pancakes include buttermilk, unsalted butter, flour, brown sugar, and baking powder.
A gluten-free flour option is also available for people who can't use regular flour to make pancakes.
There are toppings for pancakes, such as ricotta, chocolate chips, cinnamon apples, maple syrup, peanut butter, blueberries, or any other toppings you like, all acceptable toppings on pancakes.
6. Roasted Baby Potatoes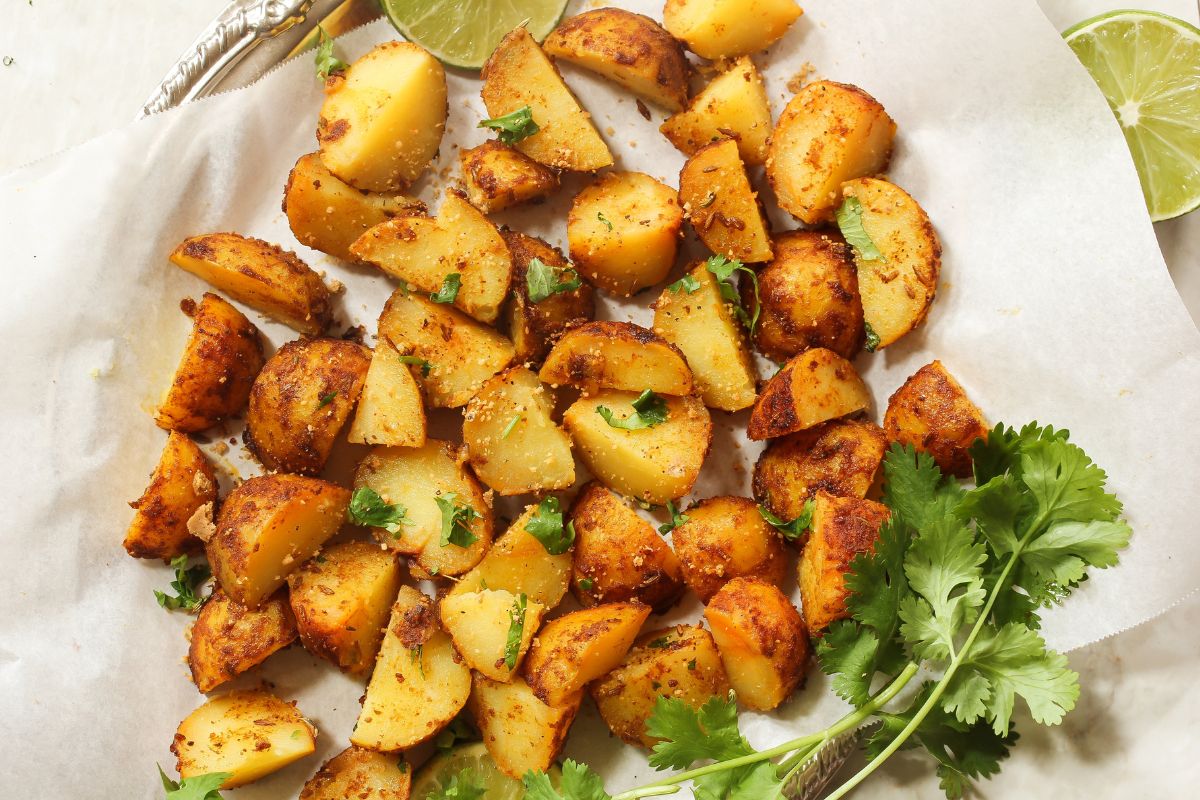 Baby potatoes roasted in the oven make a simple yet effective side dish. The interior of the potatoes is fluffy and delicate, while the exterior looks perfectly golden and crispy.
You'll want to incorporate this dish into your brunch meal menu! Because they are so simple to prepare—just dice them, season them, and roast them in the oven—potatoes are everyone's favorite dish for brunch.
They go well with just about anything when seasoned in this straightforward manner.
7. Scones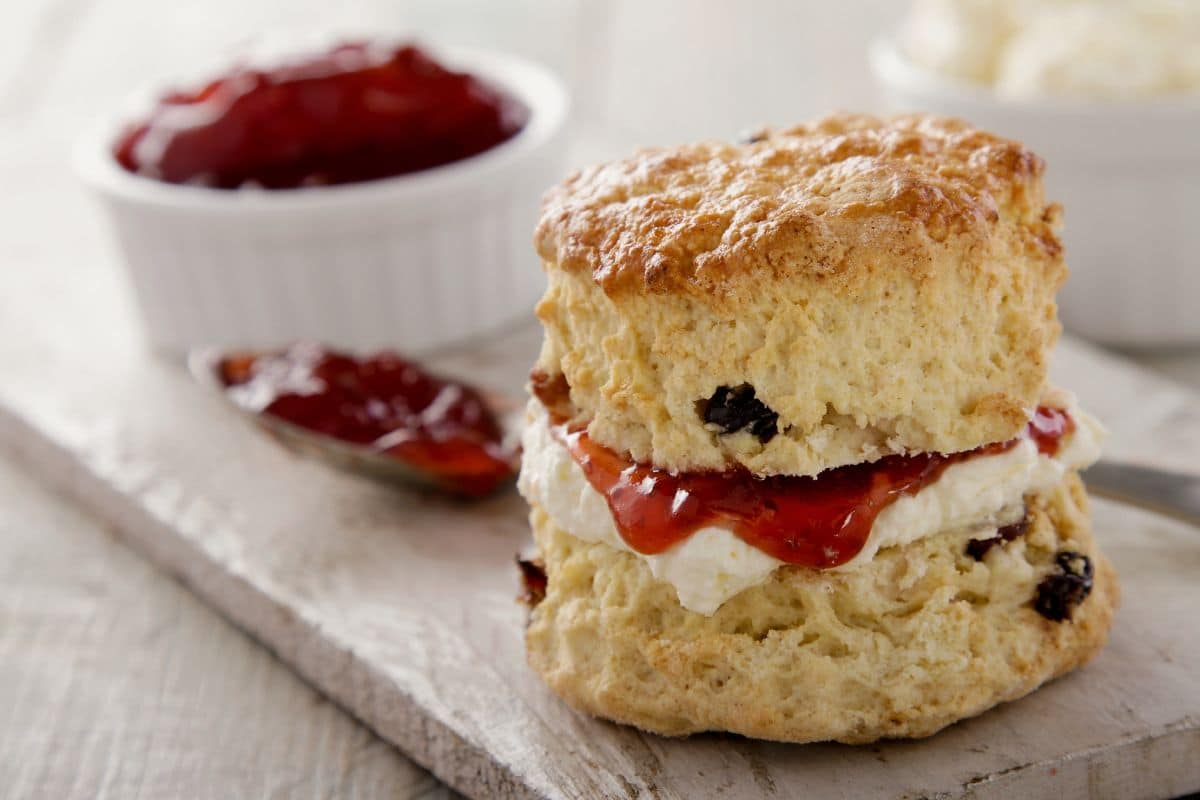 Scones are a type of fast bread that resembles a biscuit, typically baked with oat flour or wheat and baking powder to leaven it.
The dough is formed into a disc, from which wedges are cut, and the inside is cooked until it is flaky and golden brown. It's on you how you want it to taste because scones can be savory or sweet.
Some common additions include dried fruits, cheddar cheese, nutmeg, and chocolate chips. You can offer scones with clotted cream, jellies and jams, flavored butter, and lemon curd.
8. Scrambled eggs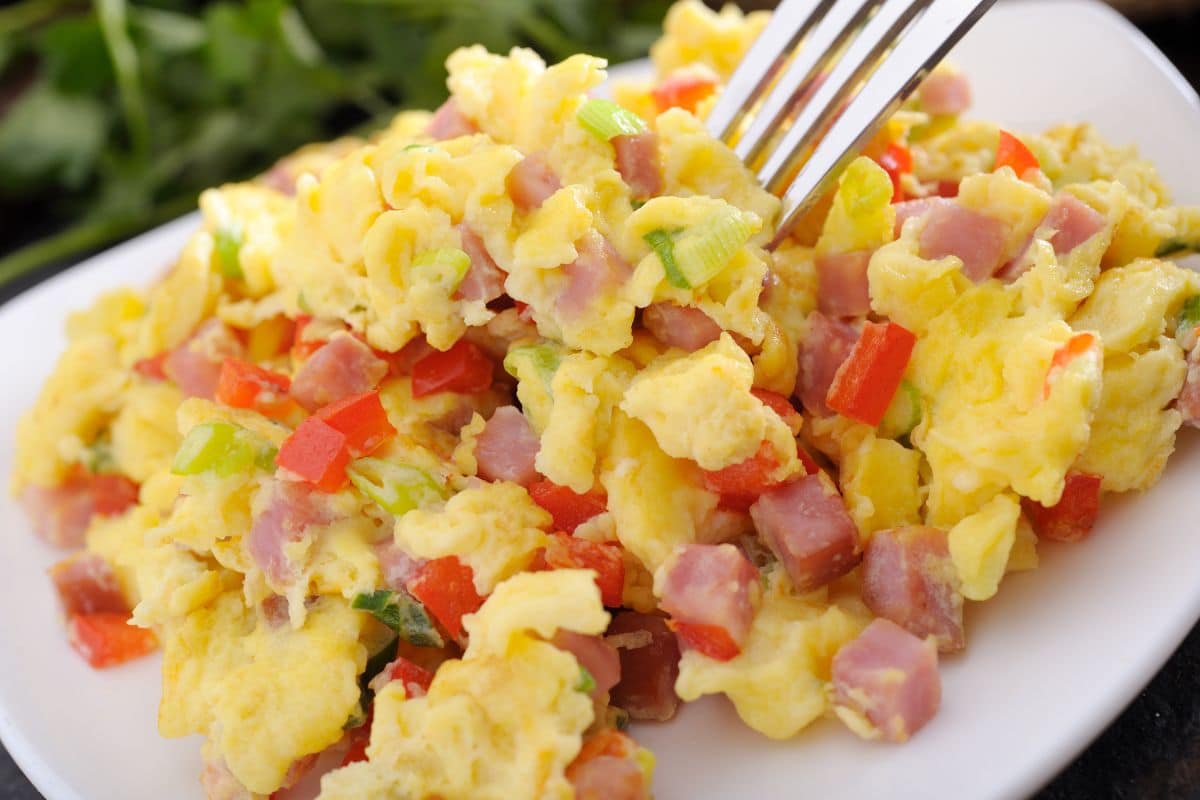 Egg yolks and whites are whisked together to make scrambled eggs, which are then occasionally combined with cheese, butter, or cream and cooked over low to medium heat (never over high heat) to provide a variety of textures.
You'll find versions of creamy scrambled eggs with chives or other fresh herbs on practically every brunch menu.
Scrambled eggs, hash potatoes, and bacon are traditional breakfast fare.
9. Eggs Benedict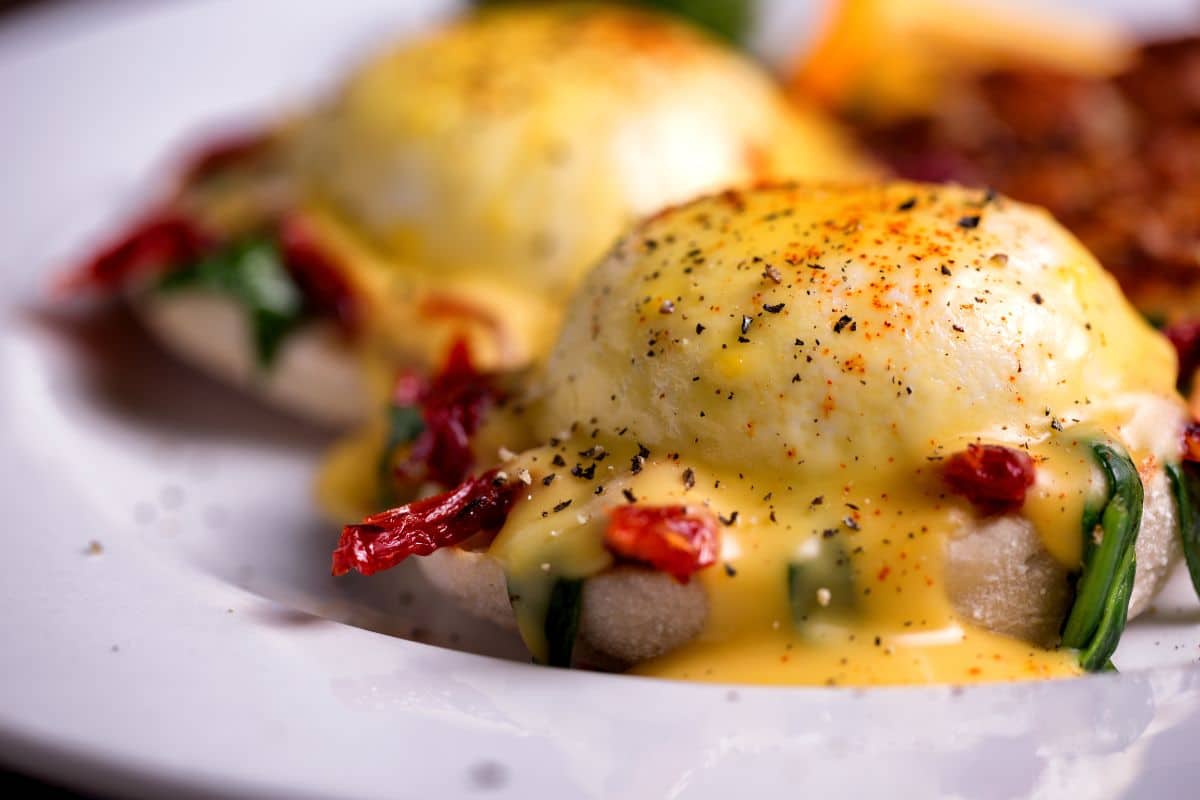 A typical American breakfast or brunch dish called eggs benedict consists of two English muffin halves, each topped with Canadian bacon, a poached egg, and hollandaise sauce.
Hollandaise sauce emulates egg yolks, spices, melted butter, and freshly squeezed lemon juice.
10. Casseroles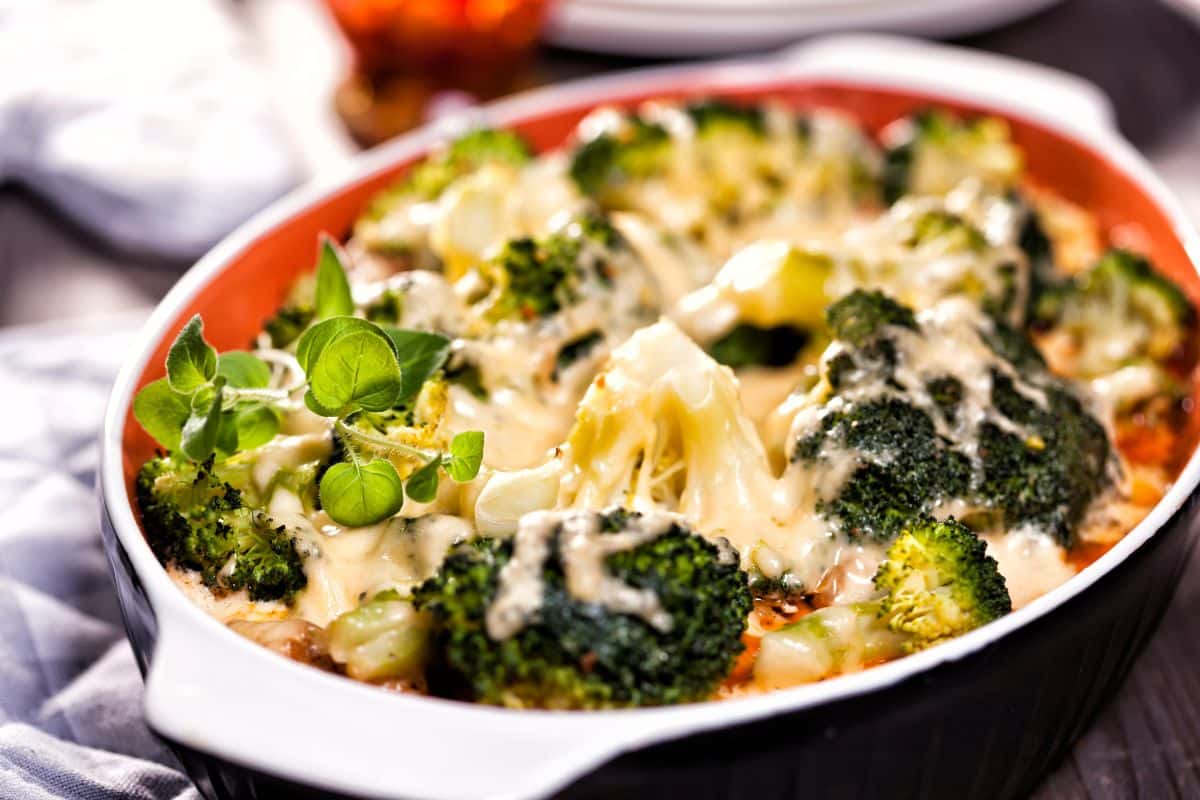 Brunch buffets are the ideal setting for breakfast casseroles. They are always available on the menu, along with fruit salad and simple breakfast potatoes.
This flavorful Spicy Mexican Breakfast Casserole is great for serving a brunch crowd.
Sauteed buttery onions and spicy breakfast sausage combined with cheese, bread chunks, and eggs. Add salsa and sour cream over the top for an authentic brunch fiesta!
11. Dutch baby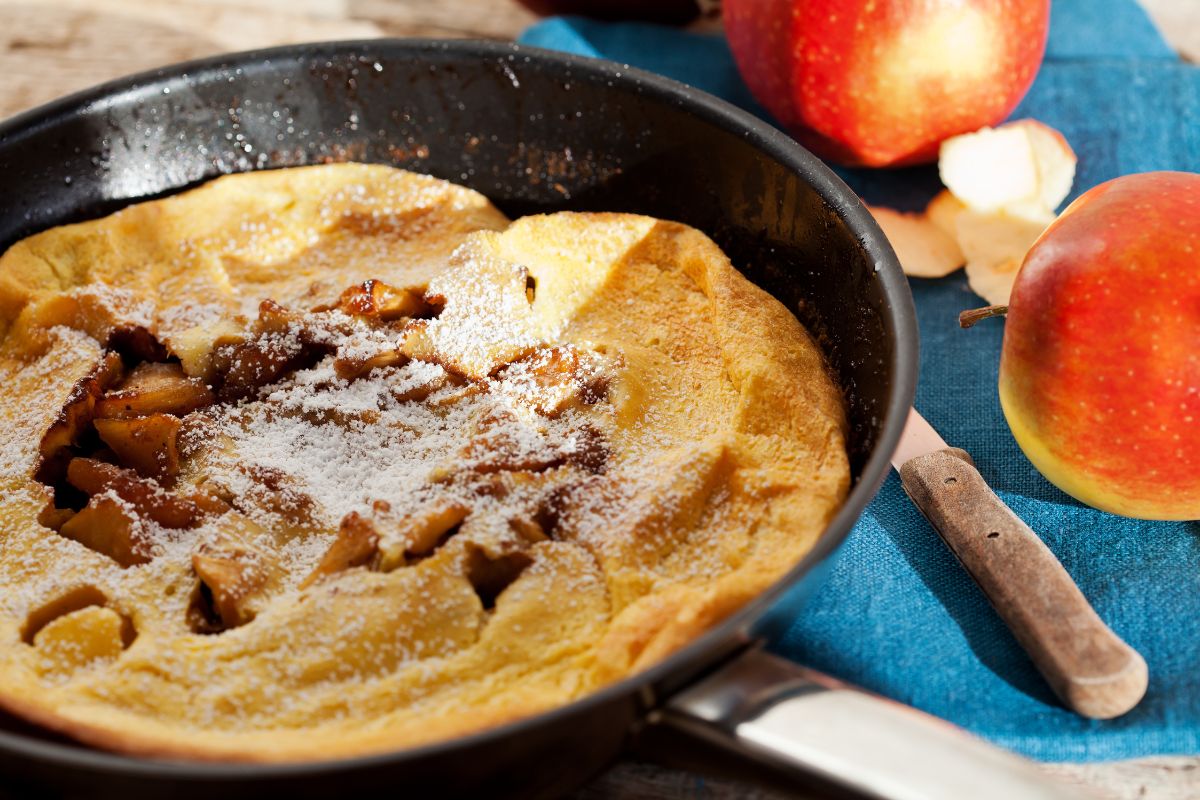 A huge popover baked in a cast-iron skillet is known as a Dutch baby. This voluminous popover is also known as an oven pancake, Dutch baby pancake, or German pancake.
Pancakes and crepes are cooked on the stovetop, while Dutch babies are baked in the oven. Dutch babies tend to expand at the edges and dip in the middle, have an eggy flavor, and have a fluffy texture.
Maple syrup, fresh fruit, and powdered brown sugar are some of the toppings used to fill a Dutch baby's center.
12. Pineapple Glazed Ham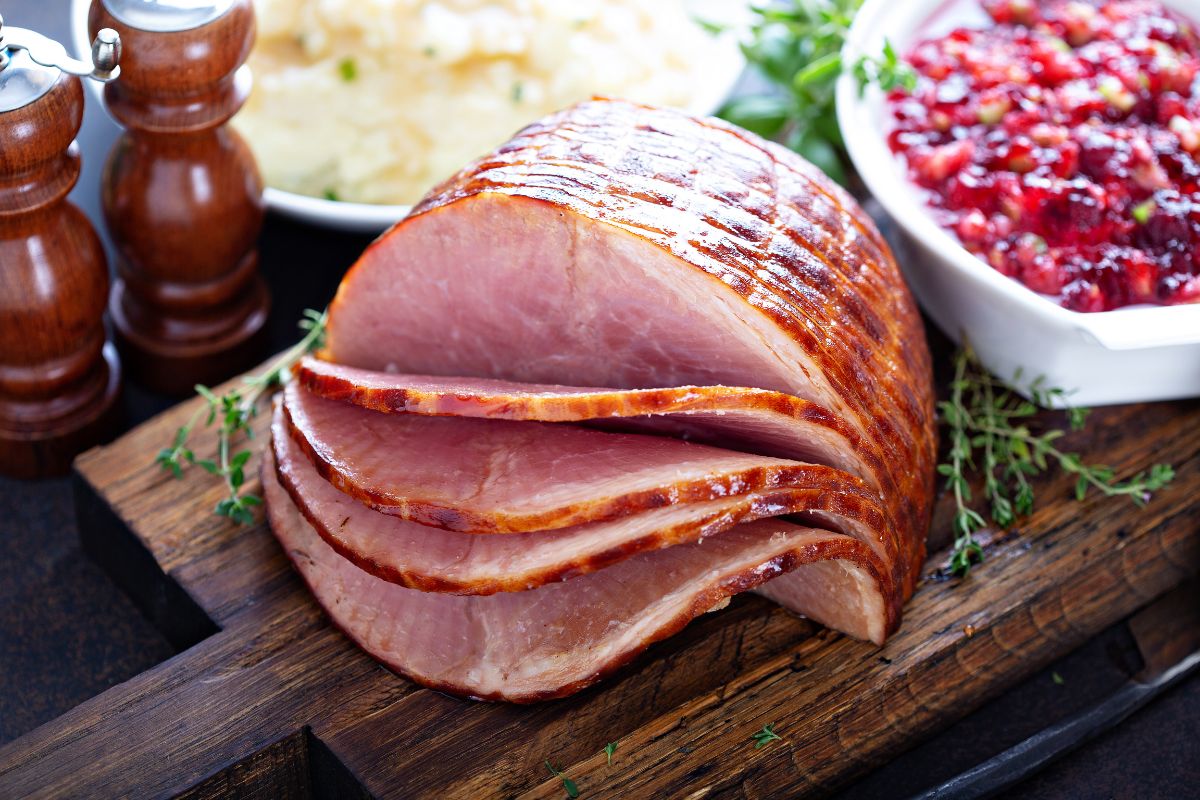 This dish is a sweet and delicious baked ham that works well for Sunday brunches or brunch on any other day.
This pineapple glazed ham is a household favorite because it has a flavorful brown sugar and pineapple coating on the surface and tender, juicy meat inside.
Your brunch gathering would be complete with baked ham, green garlic beans, cheesy scalloped potatoes, and sour cream salad.
Final Words
In conclusion, these dishes are an excellent addition to your brunch. It would be best if you tried our best dish selections because they will go great at your brunch buffet.
You will enjoy a buffet as you have never before, whether it is glazed ham, roasted potatoes, or scones.
The next time you're unsure of what to serve for brunch, step up your cooking game by trying these best dishes for brunch.
Print
12 Best Side Dishes for Brunch
Check out these great Side Dish Recipes for Brunch that have been shared on Pinterest.
Author:
Prep Time:

5 minutes

Cook Time:

10 minutes

Total Time:

15 minutes

Yield:

1 serving

Category:

Sides

Method:

Cooking

Cuisine:

Side Dish
Instructions
Click on each link above to view the pin and recipe.
Obtain all the necessary ingredients to make the recipe.
Follow the steps to create your side dish.
Enjoy your delicious meal =)
Nutrition
Serving Size:

1 serving

Calories:

91

Sugar:

0.85 g

Sodium:

2211.55 mg

Fat:

6.7 g

Saturated Fat:

2.03 g

Unsaturated Fat:

1.48 g

Trans Fat:

0.38 g

Carbohydrates:

1 g

Fiber:

0 g

Protein:

6.09 g

Cholesterol:

168.97 mg
Keywords: Best Side Dishes for Brunch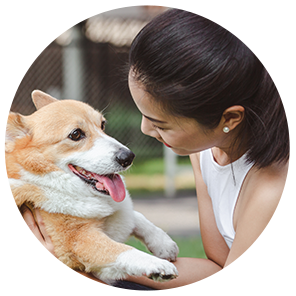 Hi, I'm Linda thanks for stopping by! We're so happy you're here. If you're a foodie and love to cook from home - you're in the right place..
LEARN MORE
Join the mailing list and receive our free newsletter!
Recipe Marker provides you with the best information about home cooking tips, recipes, ingredient substitutes and more. Check out our blog to see the latest articles.