What to Serve with Cabbage Steaks: 7 Best Side Dishes to try in 2023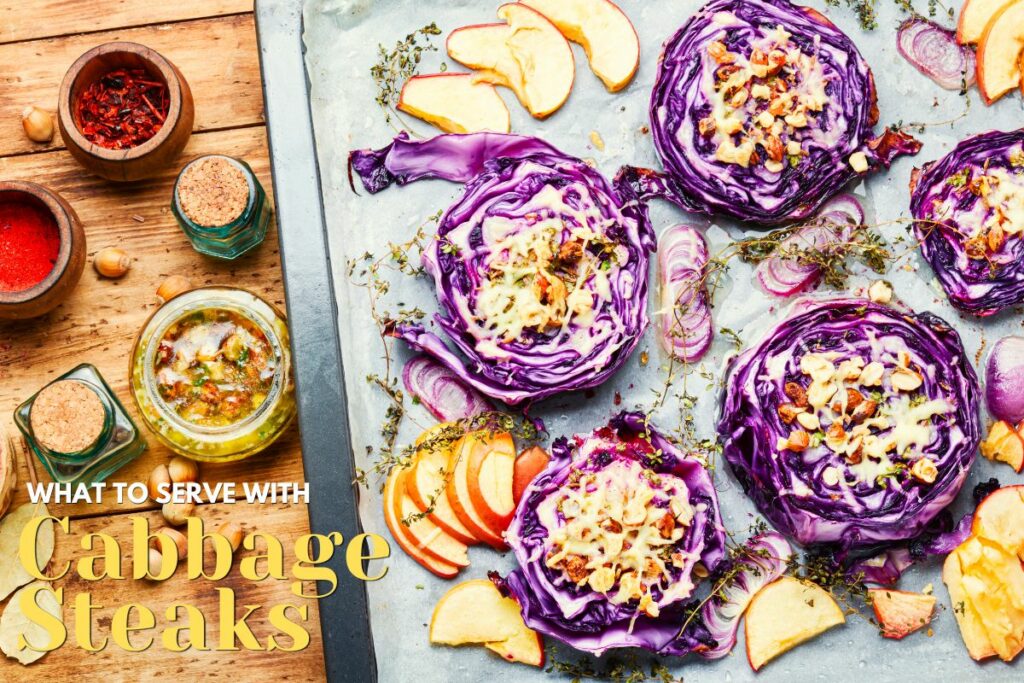 Are you trying to decide what to serve with cabbage steaks? Stick around as we share a list of the most popular side dishes that go well with cabbage steaks.
Cabbage steaks are exactly just that – wedges or thick slices of cabbage that have been seasoned to perfection and roasted in the oven.
This is a great alternative to traditional salads, with the cabbage absorbing the spices and seasoning beautifully.
What to Serve with Cabbage Steaks
1. Blue Cheese Sauce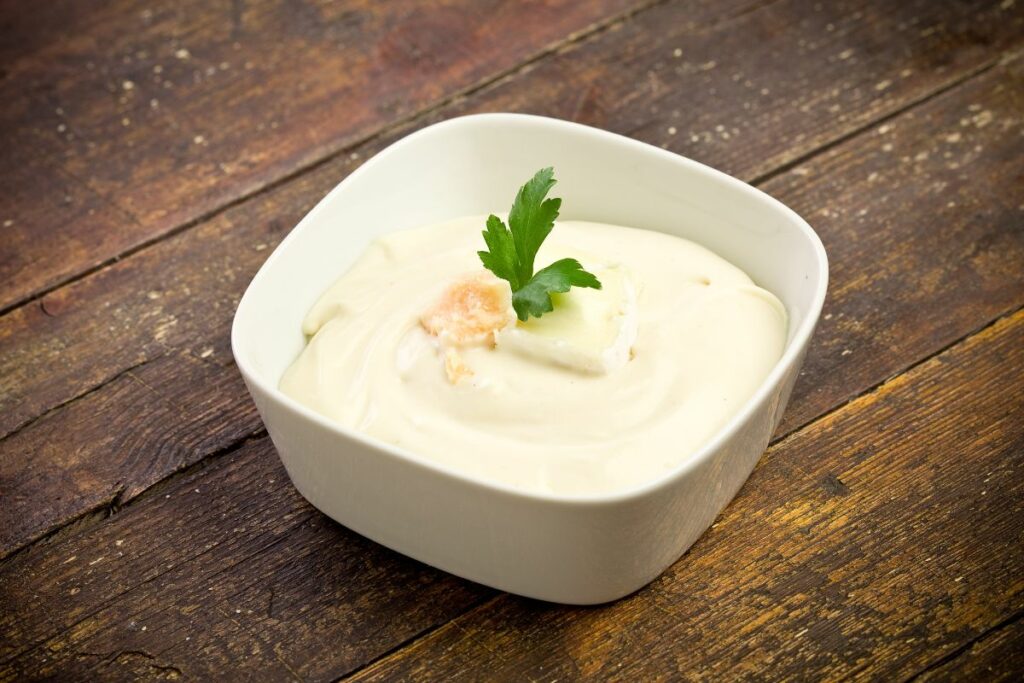 Blue cheese is a funky type of cheese that packs in a lot of personalities. It is semi-soft and crumbly cheese that's pungent, bringing with it a play on flavors and textures.
It bears a sharp and salty profile that's also quite tangy and creamy.
While roast cabbage steaks are already quite savory on their own, adding a blue cheese sauce takes it to the next level.
This sauce lends creaminess to the dish, while the tang adds brightness to the cabbage steaks while rounding all the flavors out.
Not to mention, the sauce takes away the earthy and bitter flavors that are usually present in cabbage.
2. Tahini Sauce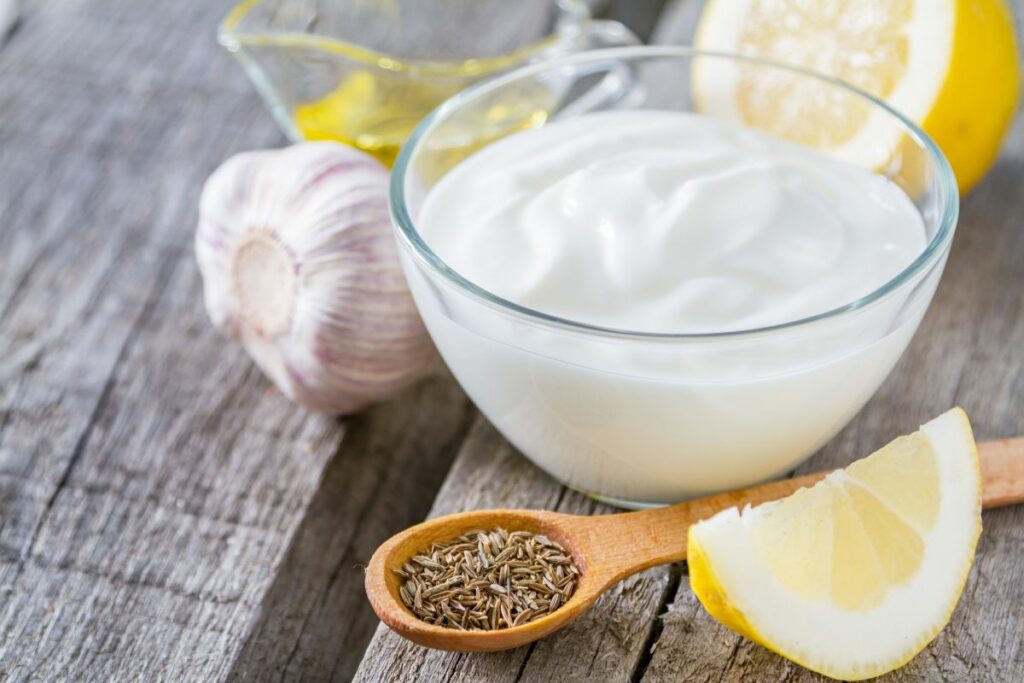 If you're not one for funky sauces, you can turn to a more subtle and nutty flavor in tahini sauce.
Tahini is simply ground sesame paste and this is typically used in Middle Eastern cuisine.
Tahini can be drizzled on top of the cabbage steaks and this will add an earthy and nutty taste that plays well with the savory flavor profile of the cabbage.
The creaminess also adds a bit of richness and elevates the dish into something unusual.
3. Array of Toppings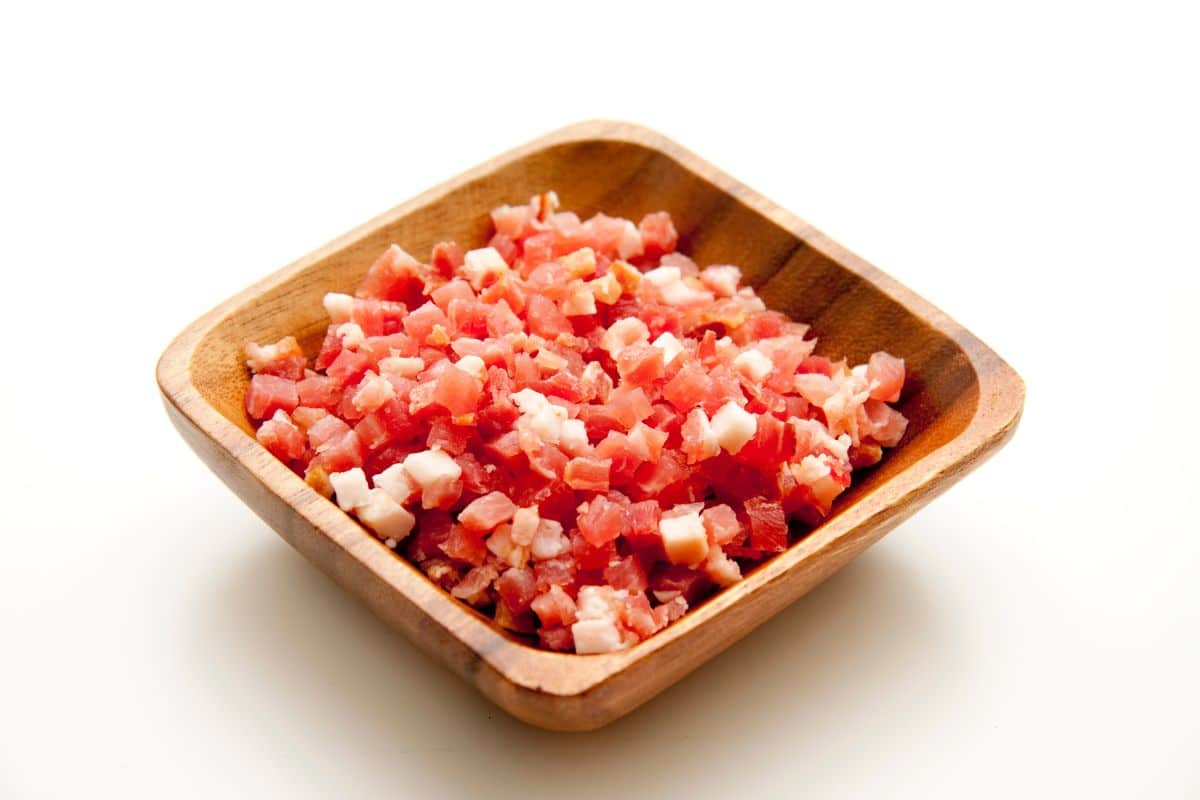 Make your cabbage steaks into a great vessel that carries with it a ton of flavor.
Bacon is one of the best toppings for cabbage steaks as it lends a savory profile while adding crunch and texture.
Since we're speaking of crunch, you can also add some nuttiness to your cabbage steaks by topping this with seeds or nuts, maybe some walnuts or almond slivers.
You can even add some breadcrumbs if you wish!
If you're fond of cheeses, you can play with the extensive array of options available to you.
You can use mozzarella for that cheese pull or even some parmesan for a bit of nuttiness and sharpness.
4. Corned Beef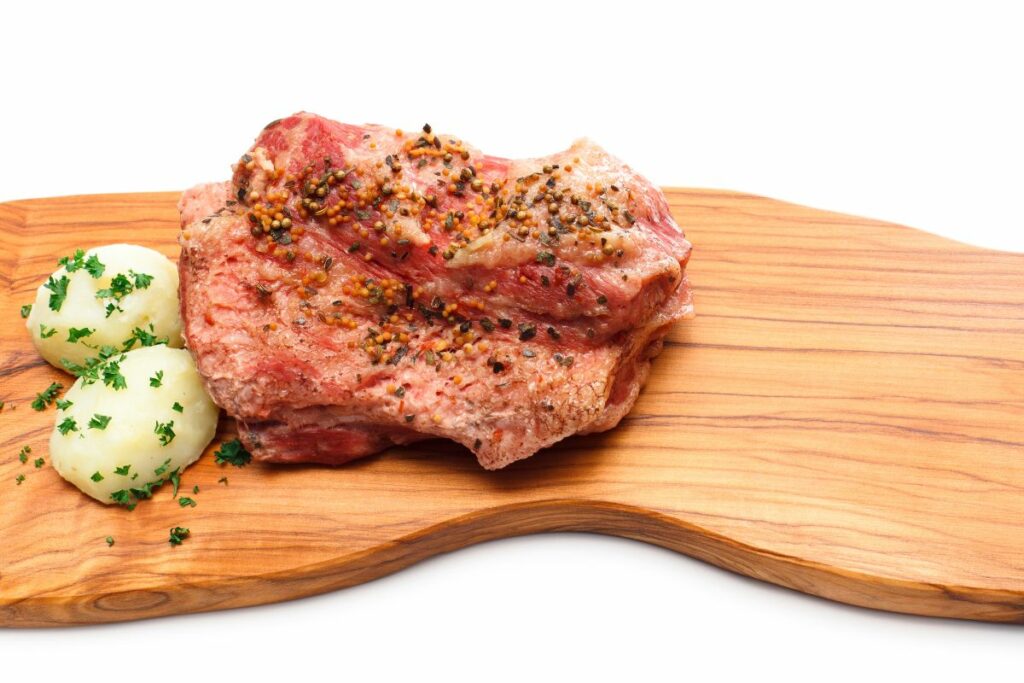 The cabbage paired with corned beef is usually boiled, but we think that this pairing is something worth trying as well, especially since the contrast in textures and flavors is much stronger, yet still comes together nicely.
The corned beef is packed with flavors and spices, ranging from the spiciness, saltiness, savoriness, and sourness, bringing everything you want and more into a dish.
The dish owes its taste to being brined and through the braising process itself, making this meat equally tender and flavorful.
5. Roast Chicken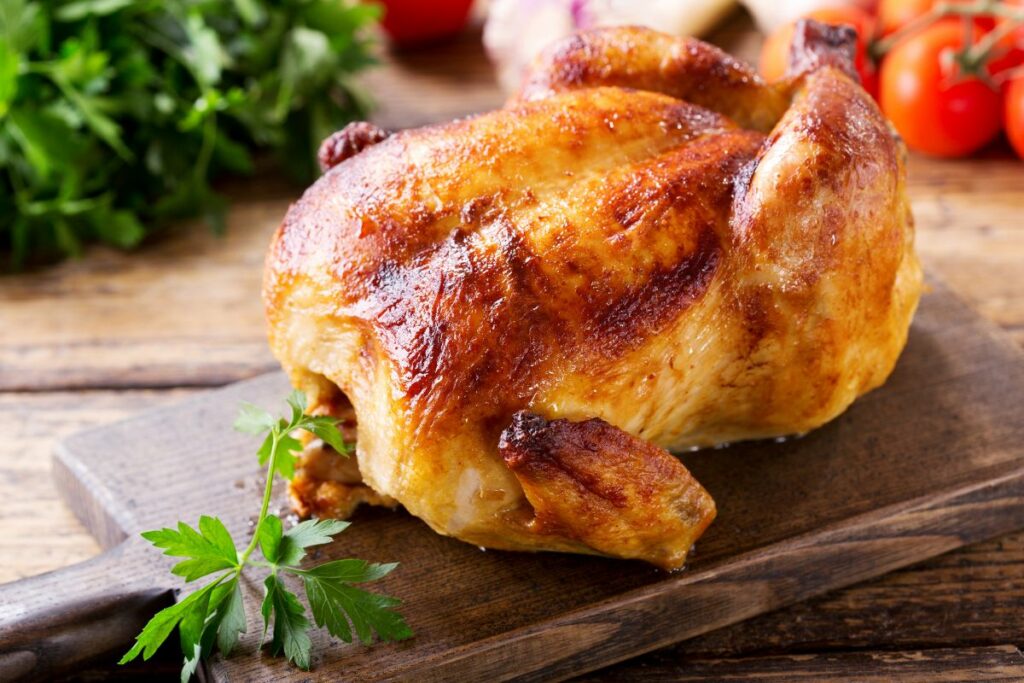 Make weekday dinners easy by chucking in some chicken in the oven and letting the machine work its magic.
Roast chicken is moist and juicy, while the skin is crispy, creating the perfect contrast between textures and flavors.
Roasted chicken pairs well with cabbage steaks, especially if you use the same flavors or spices, you can create a phenomenal meal.
The cabbage steaks will catch the drippings of the chicken, making it the hero of your meal.
6. Garlic Butter Pork Chops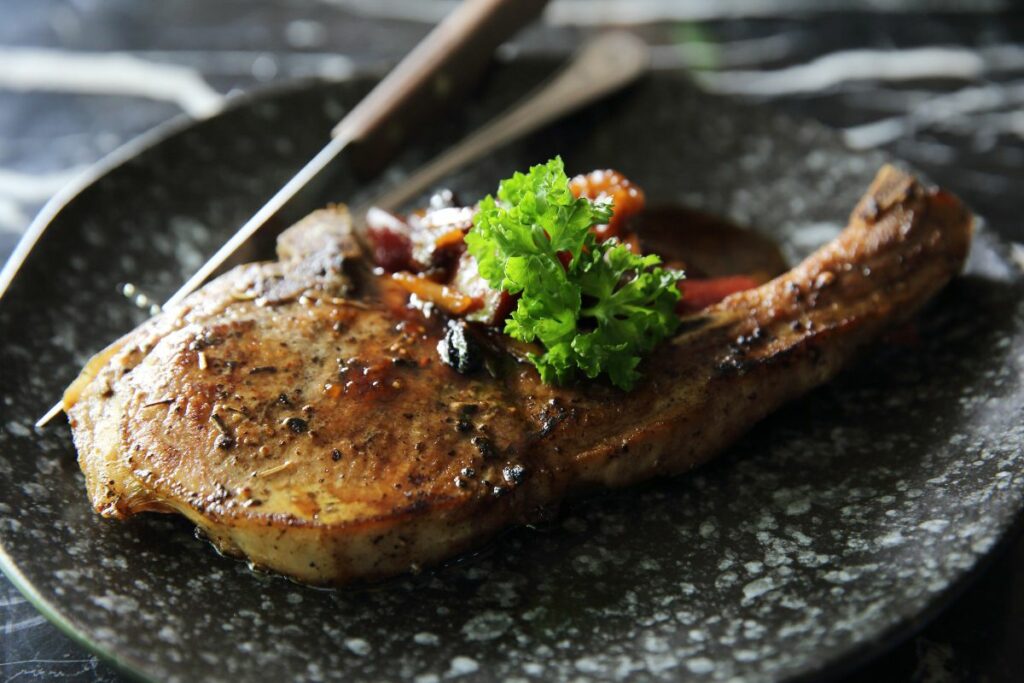 Another protein that goes well with cabbage steaks is garlic butter pork chops. Garlic butter pork chops are moist, juicy, and packed with flavors.
Cooked properly, this results in a tender and dare we say buttery texture that's simply unparalleled.
Spoon some of the lovely garlic butter sauce over the cabbage steaks and this will tie in the whole dish together.
Brighten up the pork chops with a spritz of lemon to balance out the flavors and bring some brightness to the dish.
7. Latkes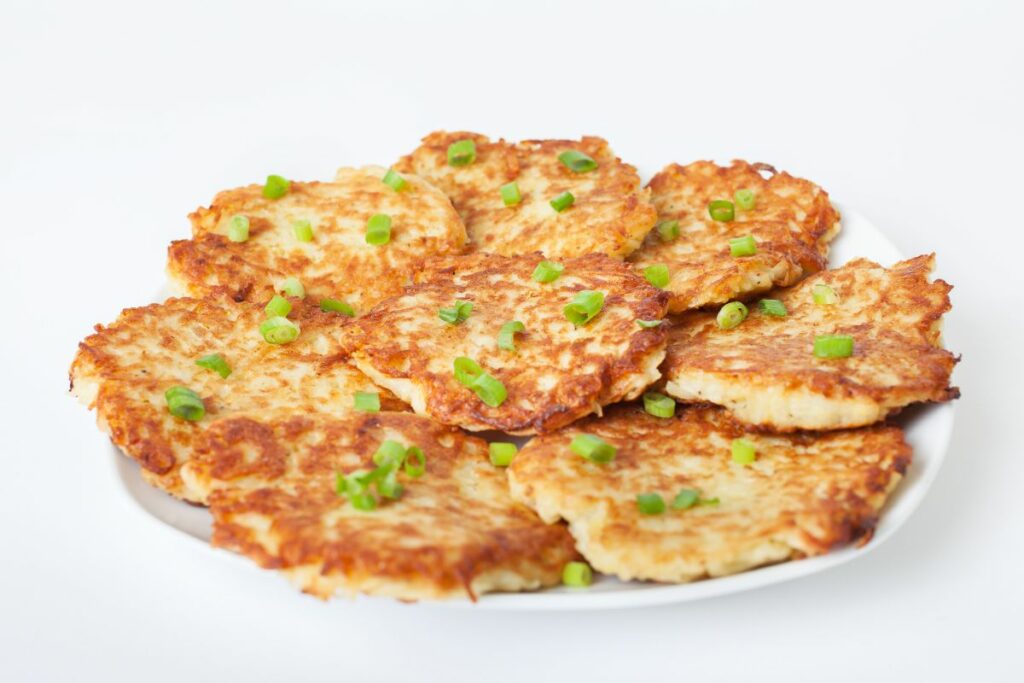 For individuals that want to keep their meals vegetarian or vegan, latkes are the perfect accompaniment to cabbage steaks.
This gives the carbohydrate aspect to the dish and makes it all the more filling.
Latkes are crispy and crunchy at the same time.
The potato flavor is quite prominent in this dish and it goes well with spices, aromatics, and seasonings such as the usual salt, pepper, and onions.
Fried up in fat, this flavors up the potato latkes nicely and adds depth and dimension to the dish.
The onion caramelizes nicely as well, lending some sweetness to the latkes.
If you want to complete the experience, drizzle some applesauce or sour cream on the latkes.
The applesauce will bring some sweetness to your dish and make it brighter, while the sour cream will cut through any cloying taste or feeling you might get with its tanginess.
Final Thoughts
Cabbage steaks are light yet filling dishes that you should add to your repertoire.
With an array of dishes and options to choose from, you can now make this dish even more exciting for you and the whole family.
Print
7 Best Sides for Cabbage Steaks
Check out these great Side Dish Recipes for Cabbage Steaks that have been shared on Pinterest.
Author:
Prep Time:

5 minutes

Cook Time:

10 minutes

Total Time:

15 minutes

Yield:

1 serving

Category:

Sides

Method:

Cooking

Cuisine:

Side Dish
Instructions
Click on each link above to view the pin and recipe.
Obtain all the necessary ingredients to make the recipe.
Follow the steps to create your side dish.
Enjoy your delicious meal =)
Nutrition
Serving Size:

1 serving

Calories:

213

Sugar:

0 g

Sodium:

1472.95 mg

Fat:

16.13 g

Saturated Fat:

5.39 g

Unsaturated Fat:

0.57 g

Trans Fat:

0 g

Carbohydrates:

0.4 g

Fiber:

0 g

Protein:

15.44 g

Cholesterol:

83.3 mg
Keywords: Best Sides for Cabbage Steaks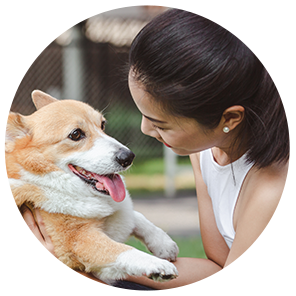 Hi, I'm Linda thanks for stopping by! We're so happy you're here. If you're a foodie and love to cook from home - you're in the right place..
LEARN MORE
Join the mailing list and receive our free newsletter!
Recipe Marker provides you with the best information about home cooking tips, recipes, ingredient substitutes and more. Check out our blog to see the latest articles.