6 Best Snapple Flavors Ranked (2023)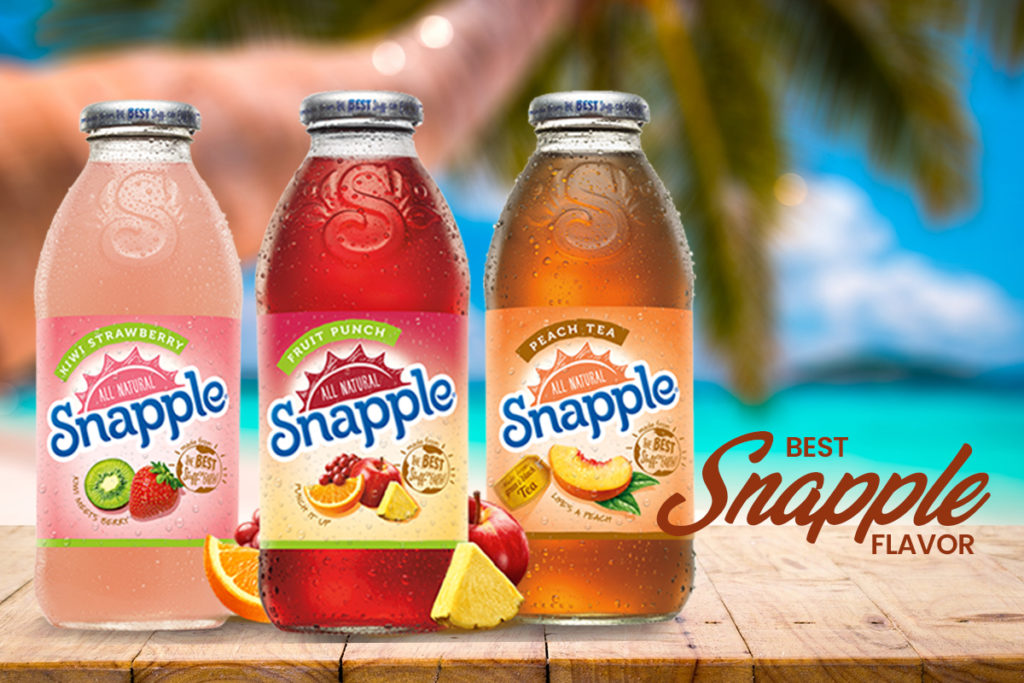 Are you wondering what are the best Snapple flavors to drink? Check out our top list of the most popular Snapple flavors based on taste.
On a hot summer day, there is nothing more refreshing than an ice-cold Snapple, right?
We're with you on this, especially since the brand has tons of exciting flavors to explore and choose from.
Today, Snapple has become a classic tea and juice drink line.
While their bottles have become synonymous with the real facts that are published under the drink's cap, people have become endeared to the wide range of flavors and the great taste that each Snapple drink provides.
Get to know Snapple, the different flavors in its line, and who knows, you might just find the one flavor you know you'll love at first taste.
What Is Snapple?
Snapple is a bottled drink line that carries teas and juices in varying flavors.
They are usually made from different kinds of fruits and teas.
Today, there are many types and flavors to choose from, from teas to juice drinks, lemonades, and more.
Best Snapple Flavors Ranked
1. Peach Tea
This flavor perfectly blends an earthy tea taste with sweet and juicy peach flavors.
You can get the strong taste of tea bursting through tempered with the sweetness of the peach as if you're drinking or eating the real fruit.
It goes down smoothly and is reminiscent of the Southern teas we all love.
For those who want to go on a lighter route, perhaps the diet version of the peach tea Snapple is the best way to go.
Even Kim Kardashian has voiced that this is her favorite flavor out of the bunch.
2. Pink Lemonade
For those who want to bring back a taste of their childhood, a close second to the peach tea flavor would be pink lemonade.
An homage to our youth, this flavor combines the perfect blend of sweet and sour without being too overwhelming.
The pink lemonade flavor is so well-loved that it is one of the fastest to fly out of stores and we think we know why.
Snapple has managed to strike a balance between the sweet and sour taste of pink lemonade which is truly delicious.
3. Kiwi Strawberry
Kiwi Strawberry is sweet, tart, tangy, and light, giving our tastebuds a party unlike any other.
It's also quite nostalgic in the sense that it will bring you back in time to remember the good old days of family fun under the sun.
Just like other flavors on this list, Snapple has gotten its combination down to a tee. It's light, bright, and refreshing all at the same time.
4. Mango Madness
Mango is a tropical fruit that packs in sweetness. As a matter of fact, you could even say this is a cut above the rest.
Plus, it brings the smooth and luscious flavor of mango nectar without the thickness and viscosity usually associated with nectar.
Without the heaviness that usual mango nectar drinks have, this flavor makes for a light and refreshing drink, especially on a hot summer day.
This errs on the sweeter side, so just a word of caution for those who are watching their sugar intake.
5. Half N' Half Lemonade Iced Tea
If you want the best of both worlds, look no further than this half n'half flavor from Snapple.
It marries iced tea and lemonade in one beverage, allowing you to enjoy your two favorite and refreshing flavors in one go.
This old-school combination is tried and tested. From the lemonade, you'll taste a sour and tangy flavor, while the iced tea gives an earthy and somewhat bitter taste.
These are balanced with a tinge of sweetness, making it easy to down bottles of this in no time.
6. Raspberry Peach
Those who are fans of these aforementioned fruits might want to check out the Raspberry Peach Snapple flavor.
Not only is this a combination of two of the more popular flavors from Snapple, but it also creates a whole new flavor profile that makes the raspberry-peach tandem one for the books.
Think of this as the perennial party punch, but an elevated and perhaps more sophisticated version.
There is a strong peach flavor without overpowering the tarty taste of raspberries.
In fact, you can even use this as a mixer with your favorite alcohol.
The Takeaway
There are many Snapple flavors to choose from nowadays. With its extensive range of options, you are sure to find one that tickles your fancy.
If you are unsure where to start, you can try our favorites and recommendations and work your way from there. Who knows, you just might get addicted to these Snapple flavors.
Hope you enjoyed our list of the best Snapple flavors ranked by taste!
Print
6 Best Snapple Flavors
Check out this list of the best Snapple flavors to try!
Instructions
Pick your favorite flavor
Click on the link to visit Pinterest
Buy items from your local store or online
Enjoy and share on social media!
Keywords: Best Snapple Flavors
Hi, I'm Linda thanks for stopping by! We're so happy you're here. If you're a foodie and love to cook from home - you're in the right place..
LEARN MORE
Join the mailing list and receive our free newsletter!
Recipe Marker provides you with the best information about home cooking tips, recipes, ingredient substitutes and more. Check out our blog to see the latest articles.