5 Best Sun Chips Flavors Ranked!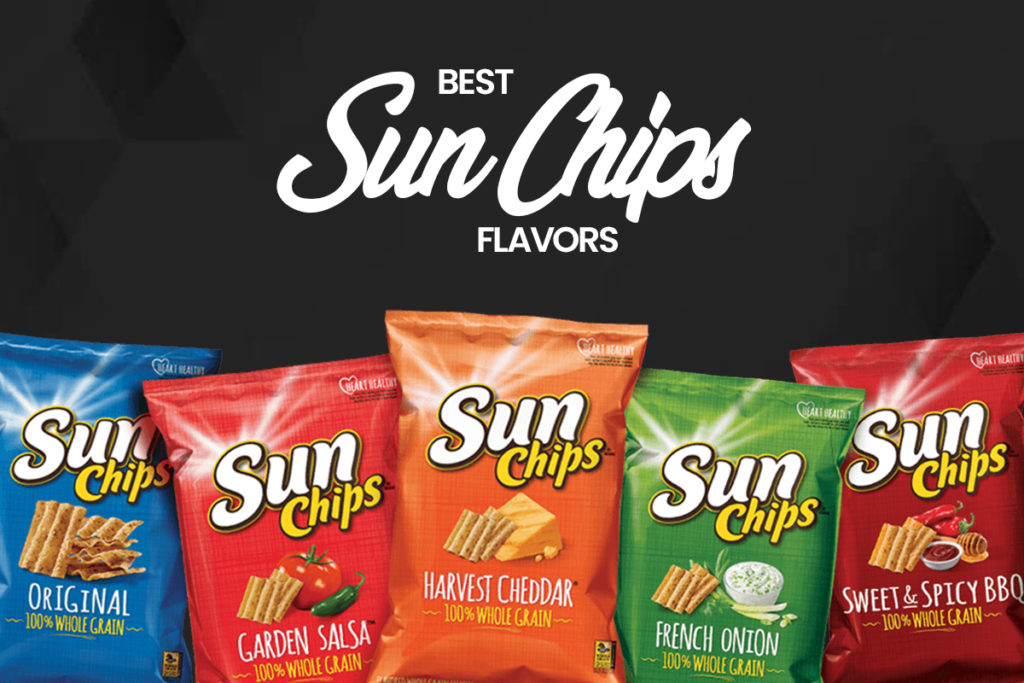 Are you curious about what are the best Sun Chips flavors available for you to try? Learn about the most popular Sun Chips flavors below.
Sun Chips are a great snack option for just about any gathering, whether with friends or family or even by yourself.
These appeal primarily to people who want a healthier alternative to potato chips while still indulging every once in a while.
What Are Sun Chips?
Sun Chips is a brand of chips launched 30 years ago in 1991. Unlike other chips on the market, these are made with 100% whole grains, primarily with corn.
Apart from corn, however, the grain mix also contains brown rice flour, wheat, and at times oat flour.
The main selling point of Sun Chips is that they have 30% less fat than regular potato chips. This makes them a great choice for those who are watching what they eat.
Best Sun Chips Flavors
1. Chili Lime
The latest offering from Sun Chips is none other than their Chili Lime flavor. Released to the public in 2021, they became all the rage, and rightly so.
Said to have a blend of red chili peppers and lime, this flavor brings on a play of tastes, unlike anything you've had before.
Think of this flavor as somewhat similar to Takis if you have had that. There is a nice, delicate balance of heat and tanginess.
The zest that comes through from the lime gives a refreshing taste to the chips, especially when the heat starts to build up with every bite.
The only downside to this flavor is that it may not be readily available in stores, so you may have to scour the web or other grocery stores to get your hands on some.
2. Harvest Cheddar
Sun Chips claims to use real cheddar cheese flavor to coat its chips and we have to agree. What's so great about the Harvest Cheddar flavor is that it does not taste fake at all, particularly when compared to other chips on the market.
Among the cheeses, you can find in this flavor are Romano cheese, parmesan cheese, and of course, cheddar cheese.
All of these create rich and satisfying layers, which make for a light yet indulgent feeling.
Using different cheeses also lends a unique and somewhat velvety texture that complements the wheaty texture of the chip itself.
The trio of cheeses definitely makes for an addicting combination. This is why this is one of Sun Chips' best-sellers.
3. French Onion
Want to add a level of fancy to your celebration? If you do, then these French Onion flavored snacks are for you.
Made with real sour cream and onion, these bring sour cream and onion to an elevated level.
Apart from the two aforementioned ingredients, there are other layers of flavor that add to the richness of this variety.
For example, the use of mozzarella and cheddar cheeses creates a richer and saltier flavor profile to cut through to the rich taste of sour cream.
Meanwhile, the green onion ensures that classic French onion taste that leaves peppery notes in your mouth.
4. Garden Salsa
With this flavor, you don't have to bring extra salsa to flavor your chips. The chips already contain a combination of red tomatoes and green jalapeno peppers.
This Salsa flavor packs a punch with its bevy of flavors shining through.
There's a hint of saltiness tempered with a bit of tanginess, the right addition of sweetness to cut through the notes, and of course, a kick of spice to get things going.
The spice level is somewhat subtle, adding more depth and dimension. And the addition of cheddar cheese in the mix-ups the ante.
5. Original
Last but certainly not least is the original flavor of Sun Chips. While this may seem the plainest flavor of all the rest, this classic version can hold its own weight.
It is perfectly seasoned with some sugar and salt, making for a sweet and savory treat in just one go.
Final Thoughts
Now that you know the different Sun Chips flavors, give these a try. We hope this article has provided you with deeper insights on the best binge-worthy flavors from this brand.
Print
5 Best Sun Chips Flavors
Check out this list of the best Sun Chips flavors to try!
Instructions
Pick your favorite flavor
Click on the link to visit Pinterest
Buy items from your local store or online
Enjoy and share on social media!
Keywords: Best Sun Chips Flavors
Hi, thanks for stopping by! We're so happy you're here. If you're a foodie and love to cook or bake - you're in the right place.
LEARN MORE
Join the mailing list and receive our free newsletter!
Recipe Marker provides you with the best information about home cooking tips, recipes, ingredient substitutes and more. Check out our blog to see the latest articles.