Cuisinart vs Calphalon Cookware: Which One is Better? (updated 2023)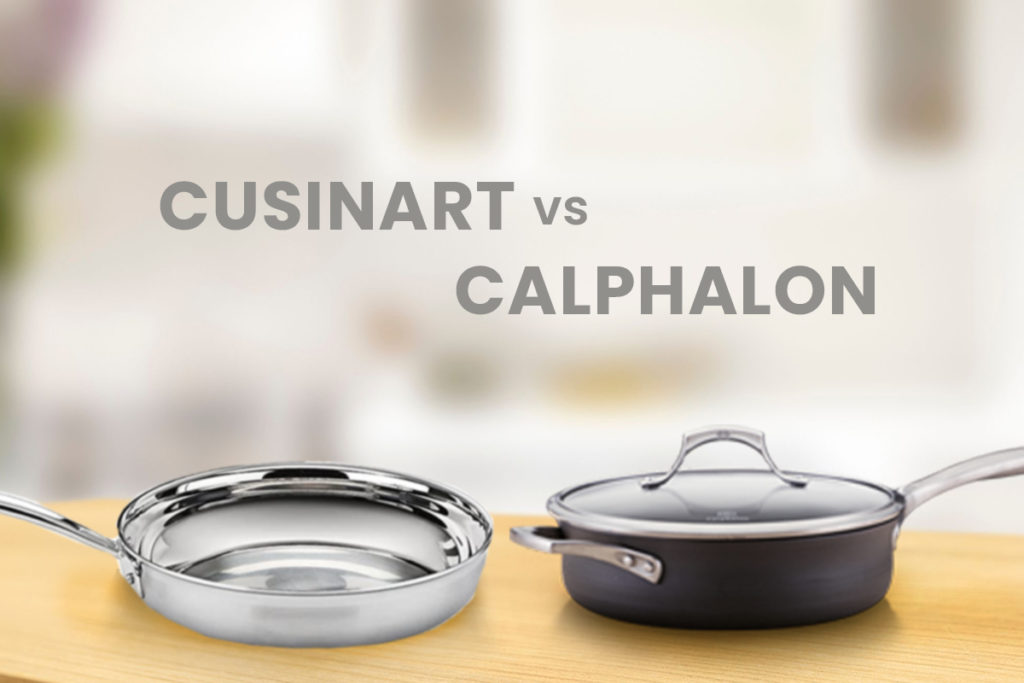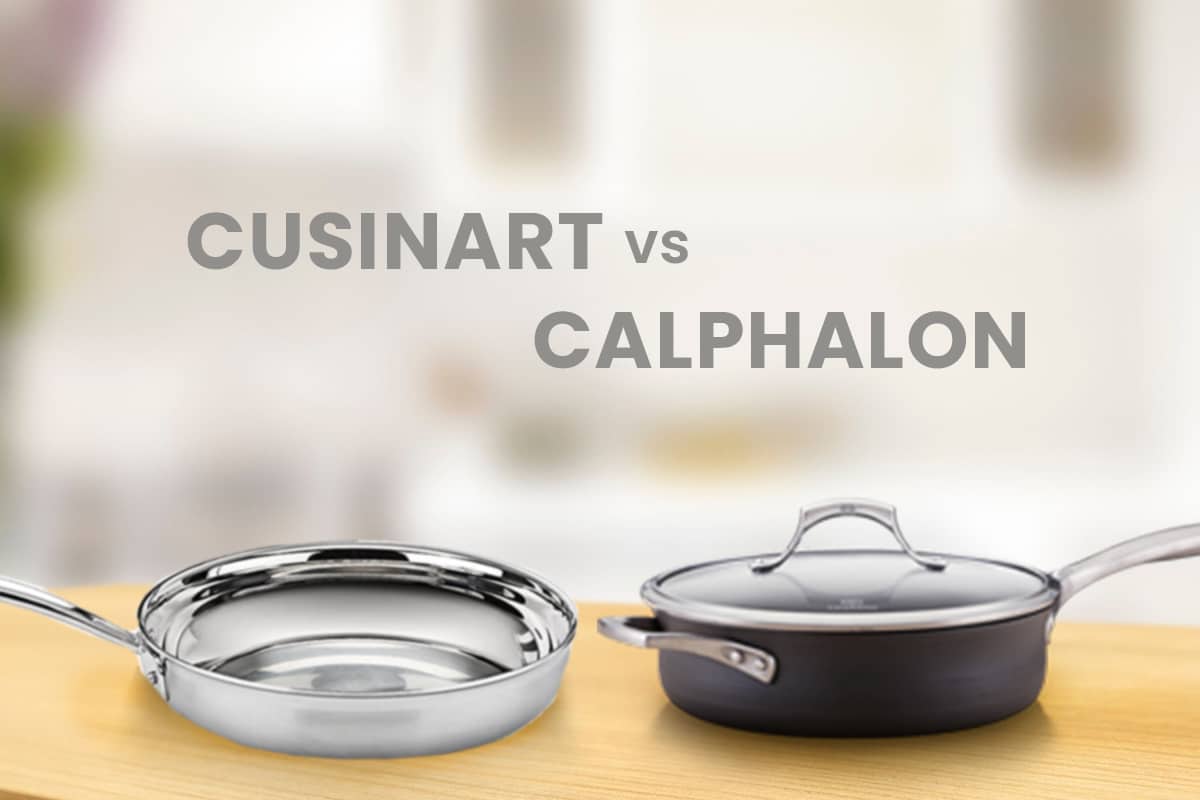 This article will fill you in on a detailed comparison of Cuisinart vs Calphalon.
Read on to learn more.
Cooking is an art.
As with any art, you need the right equipment to create beautiful and delectable food.
Of course, it goes without saying that choosing the right cookware can be challenging.
Two of the most popular and trusted brands on the market include Cuisinart and Calphalon.
Both offer similar, high-quality cookware making it all the more difficult to choose the right cookware for your needs.
From their product lines to their finishes, these two brands definitely go head-to-head with each other.
If you need stainless steel or nonstick cookware to add to your arsenal, we have got you covered.
Getting to Know the Cuisinart Brand

Cuisinart is one of the most well-known brands on the market and rightly so.
Apart from cookware, this company has expanded its products and services to appliances, bakeware, flatware, tools, gadgets, and much more.
Of course, it specializes in cookware.
As mentioned, Cuisinart offers a wide range of products.
Most of the cookware you'll find from the brand are made from stainless steel, while some of the series also come in non-stick, hard-anodized aluminum.
They also have cast-iron available.
Cuisinart cookware sets are typically made of triple-ply stainless steel material with an aluminum core, ensuring durability.
Plus, this ingenious design ensures quick and even heating.
What You Should Know About Calphalon
Calphalon, on the other hand, stands as one of the more formidable brands on the market.
It is considered the pioneer company to use hard-anodized aluminum in its cookware.
Apart from using aluminum, the company also uses nonstick material, stainless steel, ceramic, and more.
They even have an oil-infused material, if you can believe it.
Similar to Cuisinart, Calphalon mainly uses aluminum as part of its base material.
This also allows for more even heat distribution.
Moreover, this type of material also eliminates unwanted hot spots or burns.
Cuisinart vs Calphalon – Which Is the Better Choice?
Both brands bring something different to the table.
On the one hand, Cuisinart brings its three-ply stainless steel material and non-stick collections.
Coated with Eterna technology, the nonstick coating lasts a much longer time.
Meanwhile, Calphalon also has three-ply sets available in their collections.
However, the brand has also come out with a five-ply set, making it the more durable and long-lasting version between the two brands.
Between the two, Calphalon seems to have a much simpler and straightforward design.
While both are sleek and easy to use, Calphalon sets come with guides designed to help beginners in the kitchen.
These sets include fill marks, straining lids, and even pour spouts, making for a more convenient and hassle-free meal.
Cuisinart, on the other hand, offers more designs and collections with varying exteriors.
They have the Hammered series, the Advantage series, and even the Copper collection on hand.
Each of these has varying textures, colors, and even materials.
You can use both brands on induction cooktops and in the oven.
However, keep in mind that Calphalon can withstand temperatures of up to 500 degrees Fahrenheit, while Cuisinart can only handle up to 450 degrees Fahrenheit.
Despite the differences in the temperatures these brands can handle, Cuisinart's tight-fitting lids make for a great companion in the oven, preventing steam and smoke from escaping.
To make handling easier, Cuisinart cookware also comes with stainless steel handles.
These provide a more solid grip, especially when transferring food around the kitchen.
The lids of the Calphalon brand are typically made with tempered glass.
Although you can use Calphalon in the oven and at higher temperatures than Cuisinart, the tempered glass lid cannot go in the oven.
The Bottom Line
Cuisinart vs Calphalon – both offer something unique.
If you are looking for cookware with a more solid feel and high durability, Calphalon will certainly be up your alley.
However, if you want versatile cookware that can work on the stovetop or in the oven, Cuisinart cookware is a great choice.
Hi, I'm Linda thanks for stopping by! We're so happy you're here. If you're a foodie and love to cook from home - you're in the right place..
LEARN MORE
Join the mailing list and receive our free newsletter!
Recipe Marker provides you with the best information about home cooking tips, recipes, ingredient substitutes and more. Check out our blog to see the latest articles.