Top 6 Best Sides for Chicken Nuggets! (updated 2023)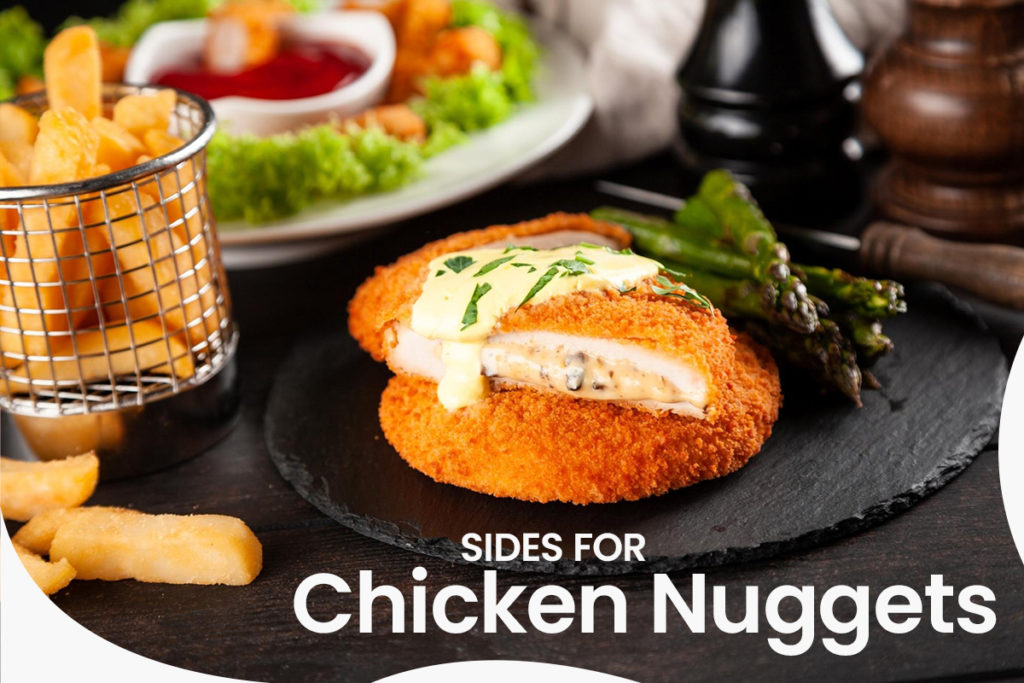 Are you trying to decide what side to serve with chicken nuggets? Stick around as we share a list of the best sides for chicken nuggets in this article.
There's something about chicken nuggets that keeps you coming back for more.
Whether it's the delectable taste, the crunchy exterior, or simply the hint of nostalgia. There's no denying that chicken nuggets make for a fast and satisfying meal, especially if they are paired with the right sides, of course.
These chicken nuggets can be found in the freezer section of any grocery store these days.
These can be a lifesaver on days you need a quick meal or whenever your child is hankering for these and won't eat anything else.
Chicken nuggets can turn your weeknight dish into a healthy gourmet meal with the right pairing.
What are Chicken Nuggets?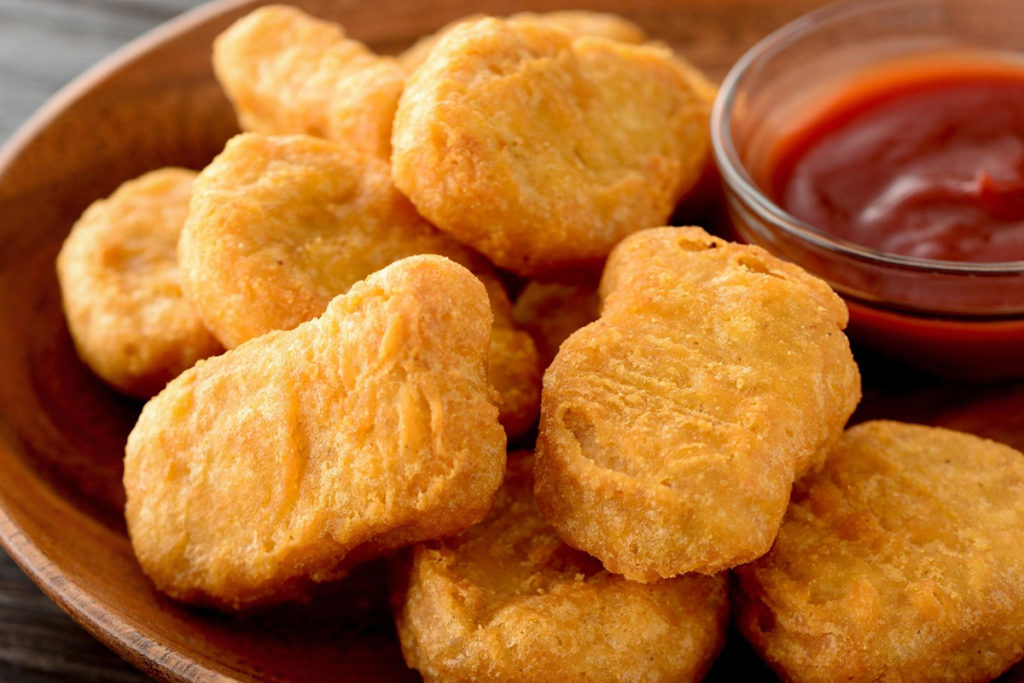 Chicken nuggets are small pieces of chicken breast or thigh that are breaded and baked or fried until they're golden brown and crispy.
They are usually seasoned with an array of spices like onion and garlic powder for additional flavor profiles.
Chicken nuggets were invented in the 1950s and steadily gained popularity worldwide.
Since then, they are not only sold in renowned fast-food chains around the world but also in frozen sections in the grocery aisle.
Let's explore the best sides to pair chicken nuggets with.
Best Sides for Chicken Nuggets
1. Dipping Sauces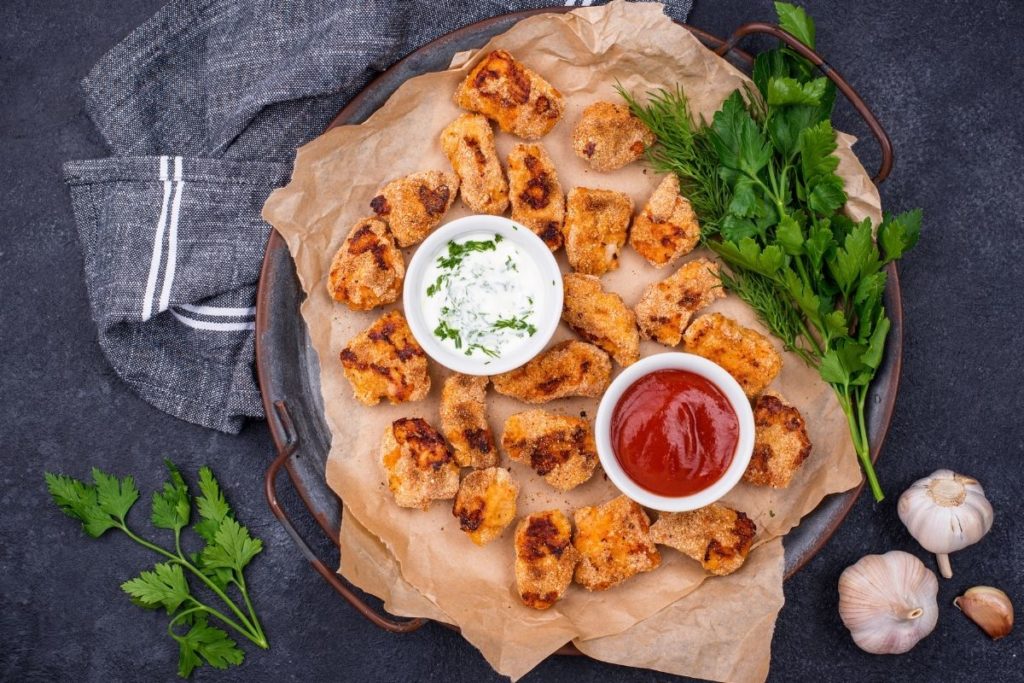 While dipping sauces are more of a condiment per se rather than a side dish, we can't help but place them here on the list.
After all, chicken nuggets aren't complete without a dip or sauce to amp up the flavor.
The most common dipping sauces that go with chicken nuggets are barbeque sauce or honey mustard.
The barbeque sauce is great because it offers a play on flavors–tangy, sweet, and a little bit spicy.
BBQ sauce activates the whole palate, creating a more satisfying meal. Meanwhile, the honey mustard sauce adds a bit of a kick with its warm spices, but the sweetness of the honey definitely rounds out the flavors.
You can also try dipping these nuggets with ketchup, ranch, or sweet and sour sauce.
2. French fries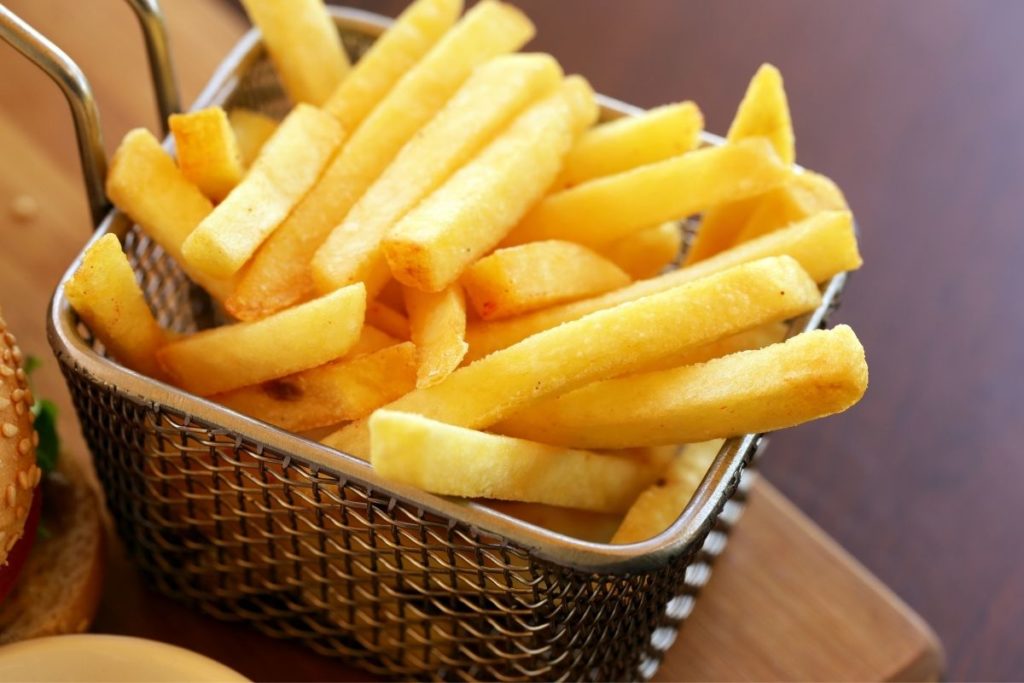 One of the most popular combinations, especially when ordering chicken nuggets in a fast-food restaurant, is french fries.
Adults and children alike love french fries. The crispy and salty exterior and pillowy inside will have you reaching for more.
Serve alongside a condiment like a ranch to dip your fries and nuggets in, you have a match made in heaven.
Don't like shoestring french fries? You can also opt for potato wedges or waffle fries.
These options tend to be heartier. Chicken nuggets and fries go together like peanut butter and jelly.
3. Sweet Potato Fries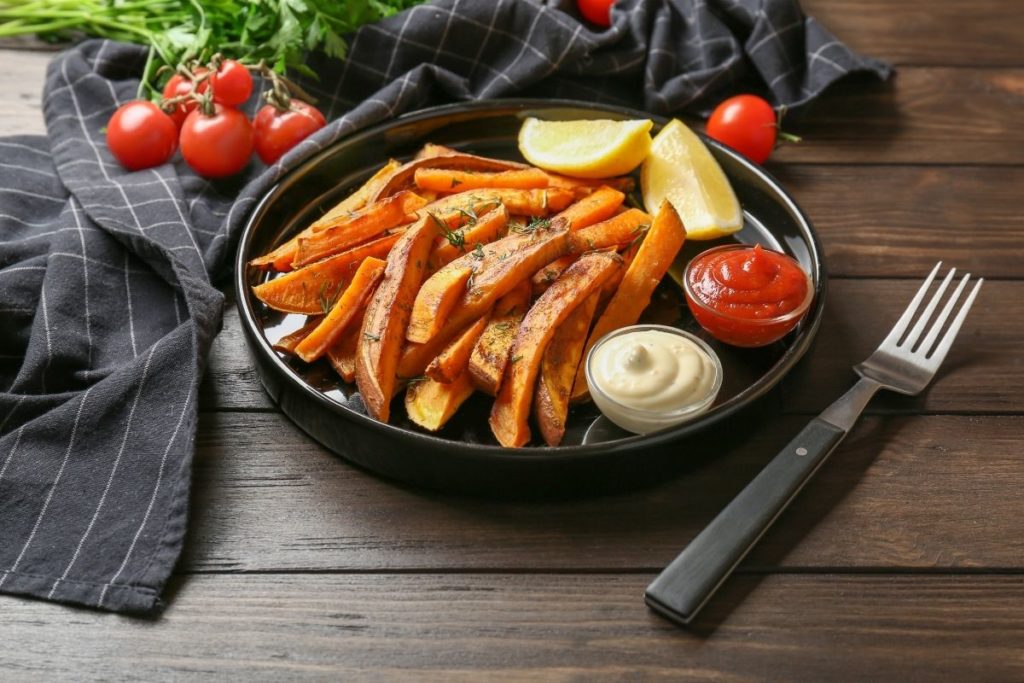 For a healthier alternative, sweet potato fries are a great option. These take on quite a similar appearance and texture.
The main difference is sweet potatoes are loaded with fiber and vitamin A. Sweet potatoes are the perfect guilt-free substitute for traditional French fries.
Sweet potato fries, as the name implies, have a slightly sweet flavor profile, almost like a roasted sweet potato.
While its exterior may be crunchy and crispy, it opens up to a soft buttery interior. The play on sweet and salty is perfect for those who love balanced flavors.
4. Mac and Cheese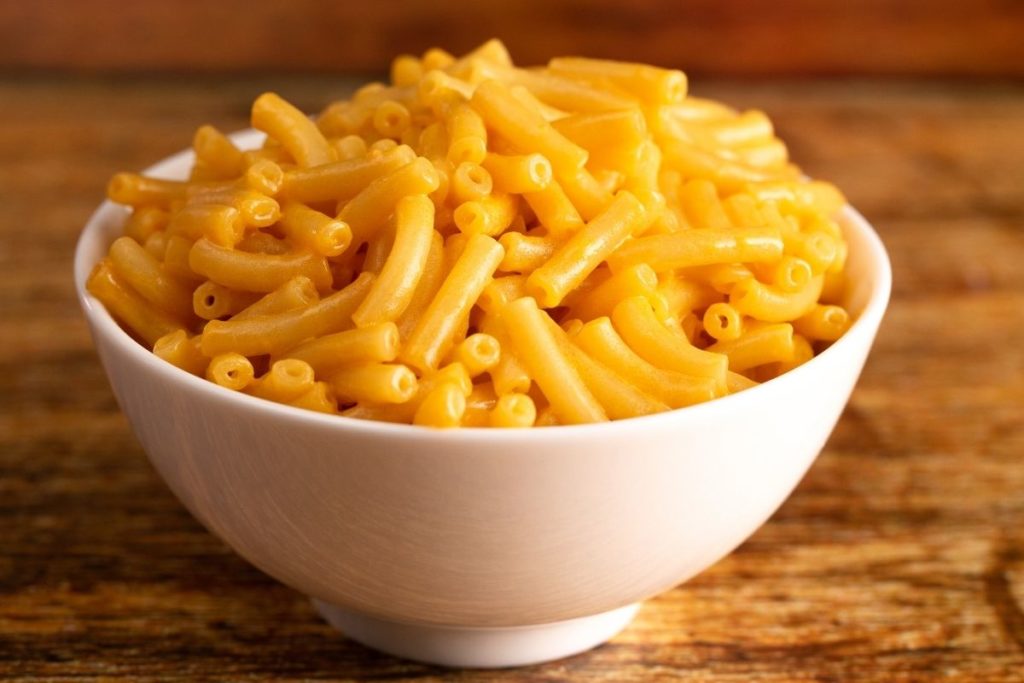 Turn these snacks into a full meal by adding chicken nuggets with another crowd favorite: mac and cheese.
A combination for all ages, both children and adults alike are sure to want more. Who can resist creamy and cheesy mac paired with crispy nuggets?
Mac and cheese are a great side for chicken nuggets because it rounds out the meal and satisfies your hunger.
Did you know that cheese has an enzyme called casomorphins that releases dopamine to your brain? Dopamine is the happy hormone!
No wonder we all love and enjoy eating cheese so much!
If you're looking for more contrast to the chicken nuggets, try adding a sharper cheese like extra sharp cheddar cheese.
Combine that with Monterey jack for that oh-so-desirable stretch factor.
5. Zucchini Chips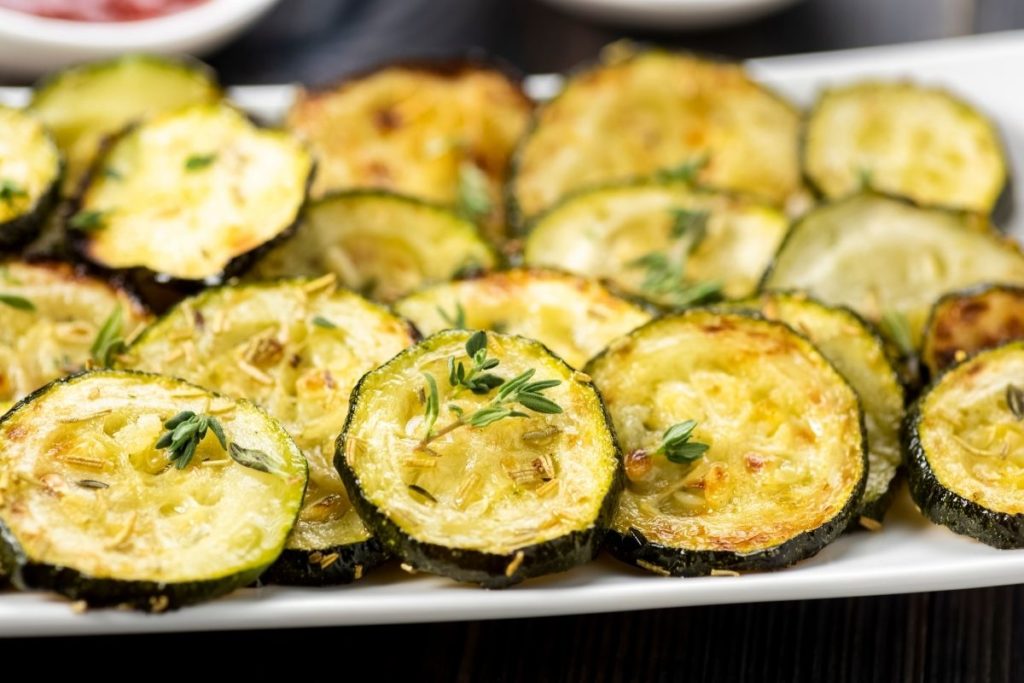 If your child is a picky eater or you're looking for ways to add more vegetables to your diet, try disguising them as chips!
These zucchini chips are much healthier compared to French fries and other types of chips.
Zucchini has more fiber and contains fewer carbs. When cooked, these zucchini chips have a slightly sweet and earthy taste that complements the chicken nuggets.
6. Green Salad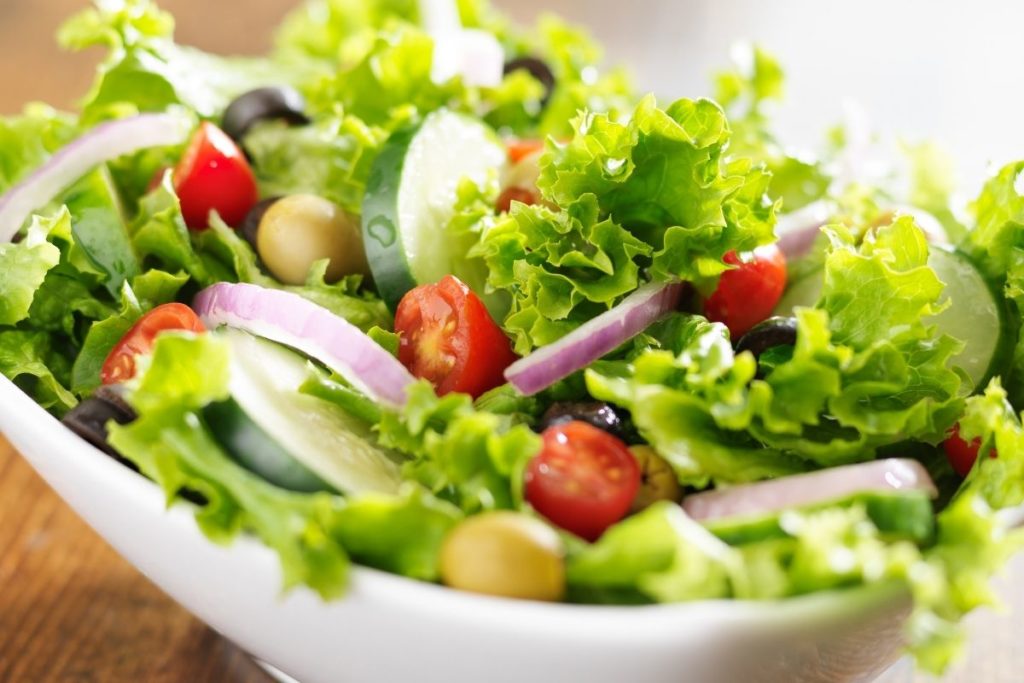 Life is all about balance. Craving chicken nuggets but also want to make sure that you include enough veggies in your diet?
Try eating the nuggets with a green salad. This combo will serve as a palate cleanser for the fried or baked nuggets.
You can make this as simple or as extravagant as you want.
You can put tomatoes, eggs, bacon, and other leafy greens such as kale, romaine lettuce, and spinach. Salads don't have to be boring.
Adding your favorite toppings can make your salad more enjoyable. Choose from different salad dressings such as vinaigrette or ranch.
The Bottom Line
Chicken nuggets are a freezer and fast food staple for many people worldwide. Make a complete meal by adding a garden salad or mac and cheese, or both!
These sides are sure to satisfy your hunger. Hope you enjoyed our article about the best sides for chicken nuggets. Enjoy!
Print
6 Best Sides for Chicken Nuggets
Check out these great Side Dish Recipes for Chicken Nuggets that have been shared on Pinterest.
Instructions
Click on each link above to view the pin and recipe.
Obtain all the necessary ingredients to make the recipe.
Follow the steps to create your side dish.
Enjoy your delicious meal =)
Keywords: Best Sides for Chicken Nuggets
Hi, I'm Linda thanks for stopping by! We're so happy you're here. If you're a foodie and love to cook from home - you're in the right place..
LEARN MORE
Join the mailing list and receive our free newsletter!
Recipe Marker provides you with the best information about home cooking tips, recipes, ingredient substitutes and more. Check out our blog to see the latest articles.