What To Serve With Mashed Potatoes: 6 Best Side Dishes (updated 2023)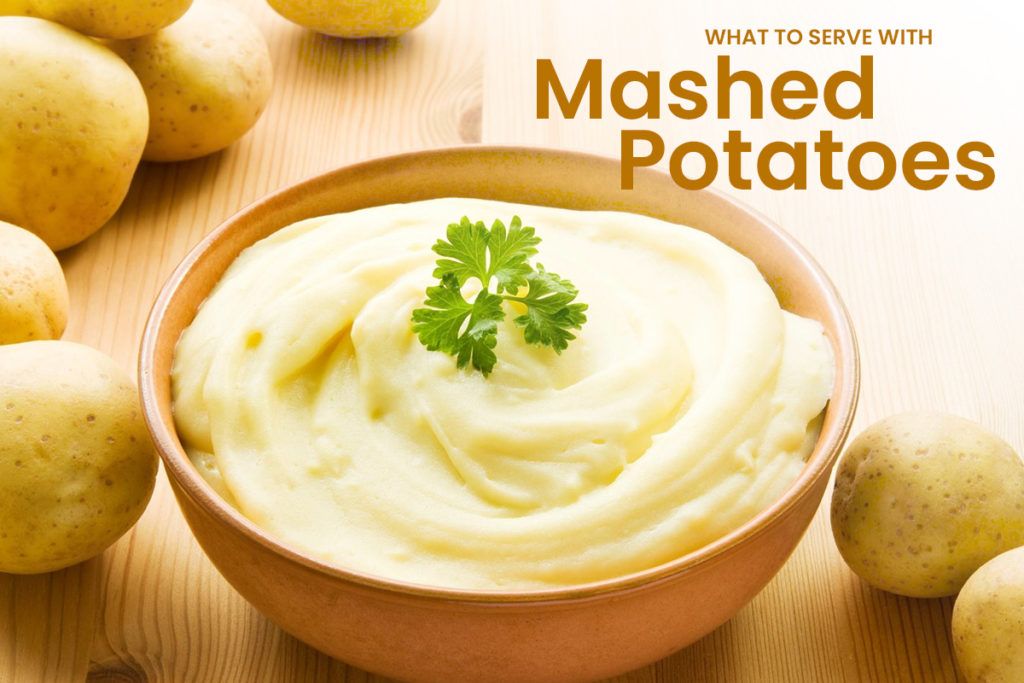 When talking about side dishes, one of the most beloved offerings out there is none other than mashed potatoes. These are, after all, the ultimate comfort food.
This is why it comes as no surprise that these are present in just about every gathering you come across. From birthdays to Thanksgiving, Christmas, and everything in between, there's no denying that these are a staple in almost every household.
The classic mashed potato recipe is hard to mess up, especially with the addition of butter, cream or milk, salt, and pepper. That said, as one of the most versatile foods out there, pairing your potatoes with the right dish can only make them better.
We have rounded up some ideas on what to serve with mashed potatoes, so check these out.
Mashed Potatoes: What Are They?
Mashed potatoes are simply potatoes that are boiled and mashed together until they reach a creamy and buttery consistency.
To make them taste even more fantastic, add cream or milk, butter, salt, and pepper. When mashed, they will become velvety, smooth, and rich.
What To Serve With Mashed Potatoes
1. Mashed Potato Toppings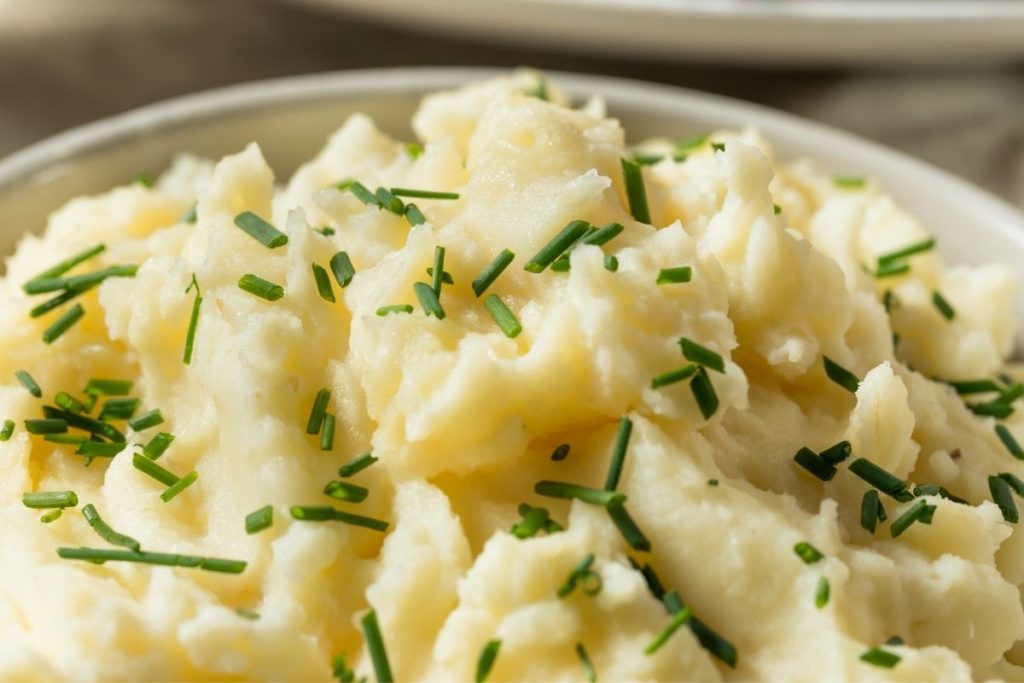 If you want to make mashed potatoes the center of your gathering, you can make the ultimate mashed potato bar. There are so many options you can turn to.
Some of the toppings that you can use are sour cream, green onions, and chives. The sour cream will lend more creaminess while also bringing with it some tartness and tanginess.
The green onions or chives, on the other hand, are pungent and onion-y, for lack of a better word, adding a hint of spice and vegetal taste to cut through the richness of the mashed potato.
Bacon and cheese are also great additions. Both cheese and bacon add some saltiness and umami to mashed potatoes.
Feel free to experiment with different types of cheeses, from extra sharp cheddar to Monterey Jack, smoked cheddar, and pepper jack, to name a few.
2. Steak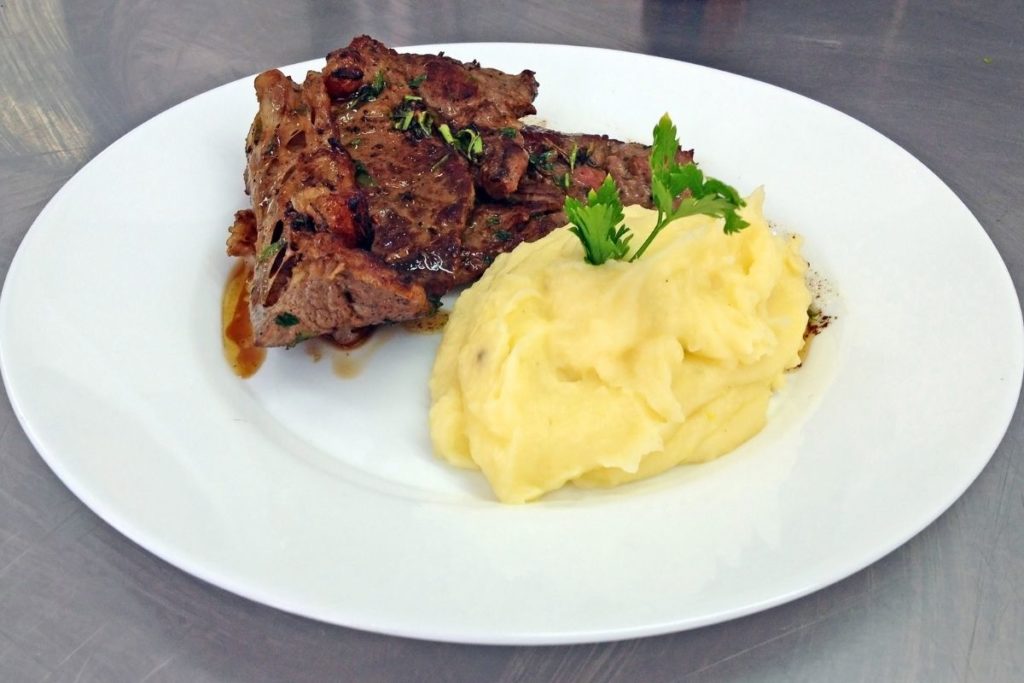 Now onto the mains. When we say mashed potatoes, we almost automatically think of steak.
What makes this a classic pairing is that the seasoning and juices that come from the steak mix easily with the mashed potatoes, elevating the whole meal.
Plus, a steak can be on the heavy side. But the whipped and velvety texture of mashed potatoes can make it seem lighter, making them the best choice to complement perfectly cooked steak.
3. Roast Beef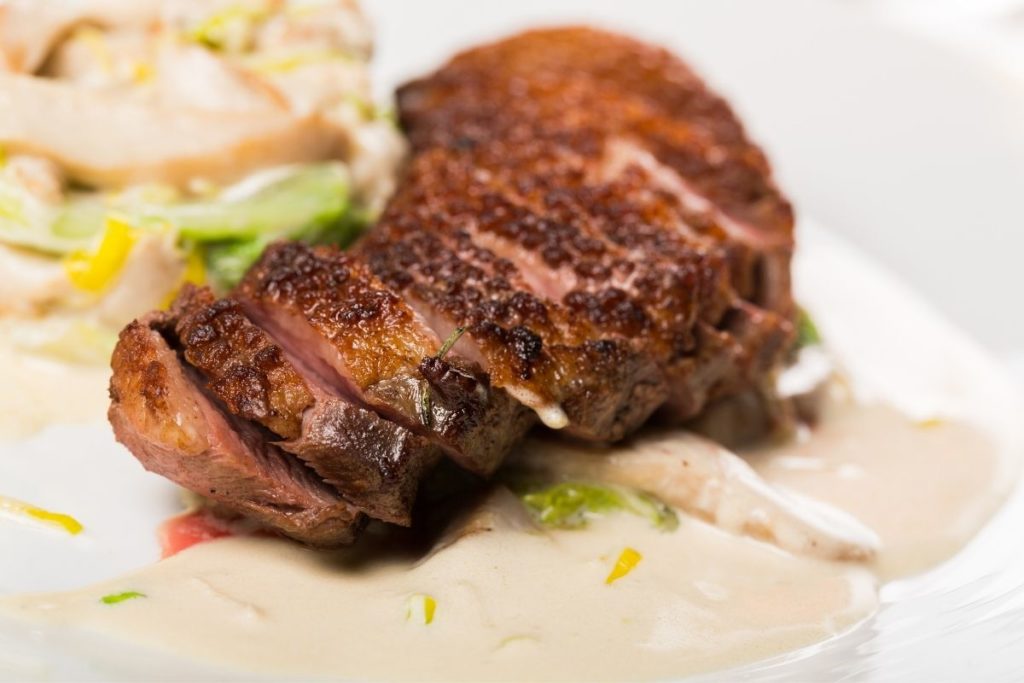 Roast beef is yet another mashed potato pairing that never goes out of style.
Usually reserved for special occasions, roast beef has the right marbling to make it more decadent, especially with its juices and drippings flavored with herbs and spices.
Absorb these drippings with the help of mashed potatoes and you're in for a yummy and filling treat.
4. Fried Chicken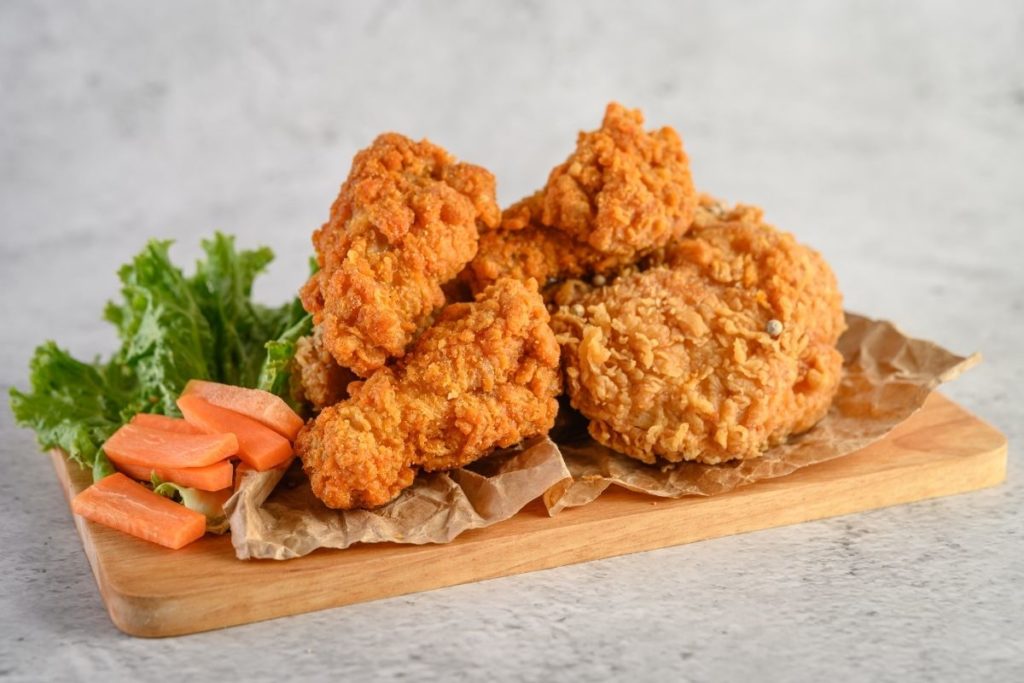 Fried chicken comes to mind when talking about comfort food, next to mashed potatoes, of course.
The crunchy exterior of the chicken, and its flakey insides, provide a nice contrast to the creamy mashed potatoes.
Fried chicken typically comes with gravy. Drizzling some on top of the mashed potatoes ties it all together.
5. Salmon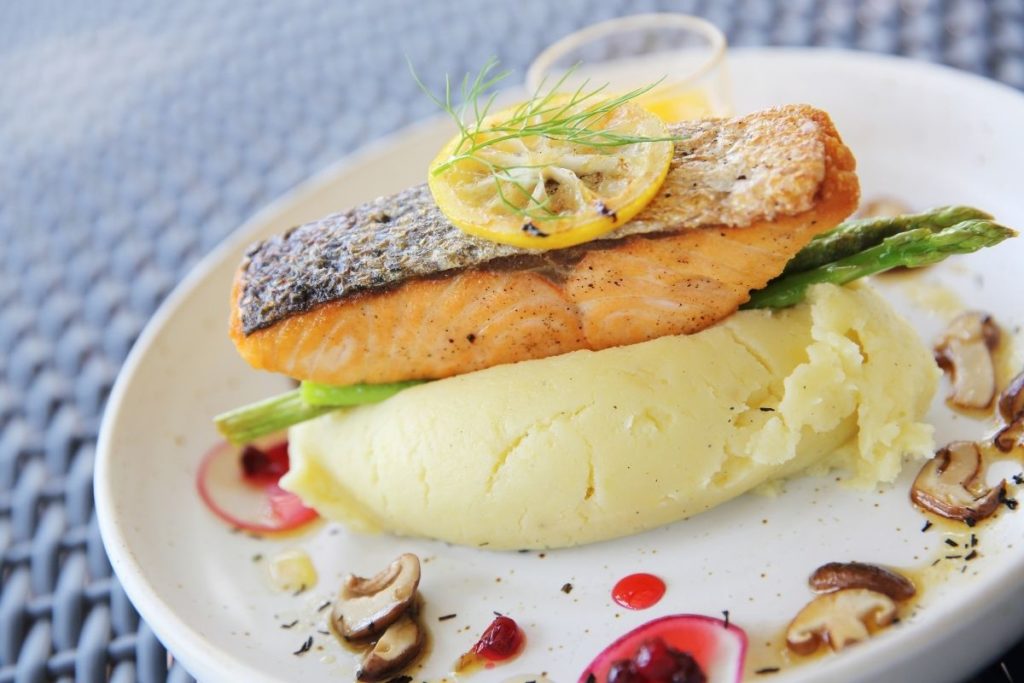 Salmon, or any other type of fish really, will also partner up nicely with mashed potatoes. Salmon normally has a mild and subtle flavor, while also having a slightly sweet flavor profile that shines through.
Using mashed potatoes as a side can provide a great mix of flavors.
You can try serving baked salmon with some lemon cream sauce. To bring the flavors of the mashed potatoes and the fish together, drizzle some lemon cream sauce on the potatoes as well.
For a texture-filled dish, however, try making your fish with an almond-crusted top.
6. Meatballs and Gravy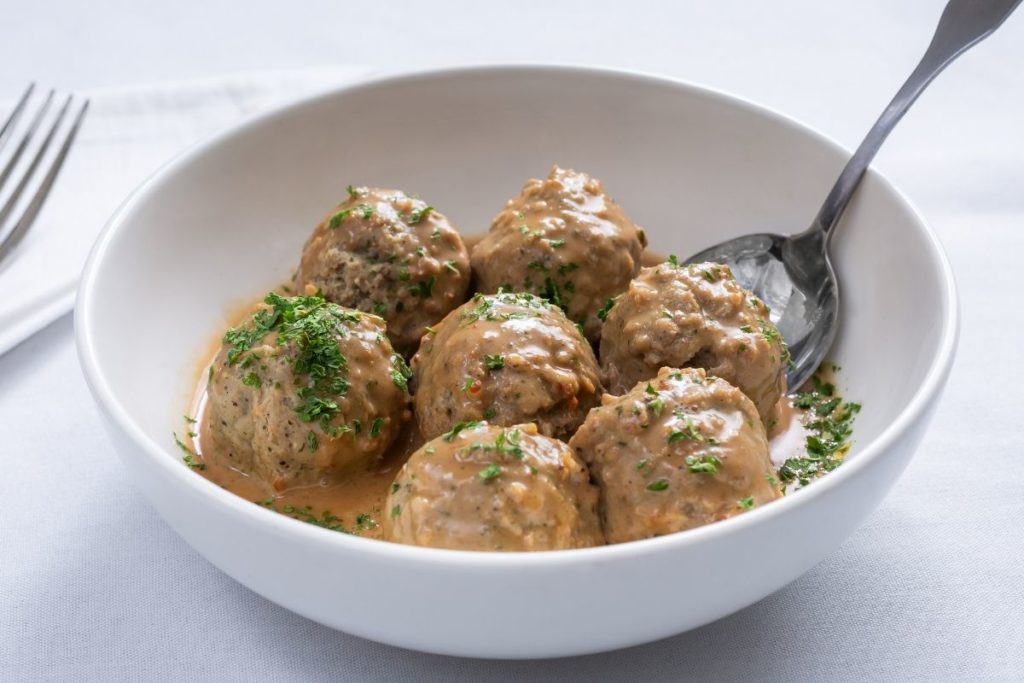 IKEA is famous for its meatballs and gravy, especially with a side of mashed potatoes. You can recreate this by making some meatballs and spooning some gravy over the top.
Similar to IKEA's meatballs, you can also add some lingonberry jam on the side for a sweet and tart taste.
If you're not feeling gravy and meatballs with mashed potatoes, you can also turn to meatballs in marinara sauce or even barbecue sauce if you're feeling adventurous.
The marinara sauce will lend some tanginess and a burst of freshness, while the barbecue sauce gives it some smokey taste—all of which mashed potatoes can sop up.
Final Thoughts
You can never go wrong with mashed potatoes. From beef to chicken, to fish, and everything in between, you are sure to find the right pairing with this guide.
Print
6 Best Mashed Potato Side Dishes
Check out these great Side Dish Recipes for Mashed Potato that have been shared on Pinterest.
Instructions
Click on each link above to view the pin and recipe.
Obtain all the necessary ingredients to make the recipe.
Follow the steps to create your side dish.
Enjoy your delicious meal =)
Keywords: Best Mashed Potato Side Dishes
Hi, I'm Linda thanks for stopping by! We're so happy you're here. If you're a foodie and love to cook from home - you're in the right place..
LEARN MORE
Join the mailing list and receive our free newsletter!
Recipe Marker provides you with the best information about home cooking tips, recipes, ingredient substitutes and more. Check out our blog to see the latest articles.