4 Best Sides to Serve with Enchiladas (Updated 2023)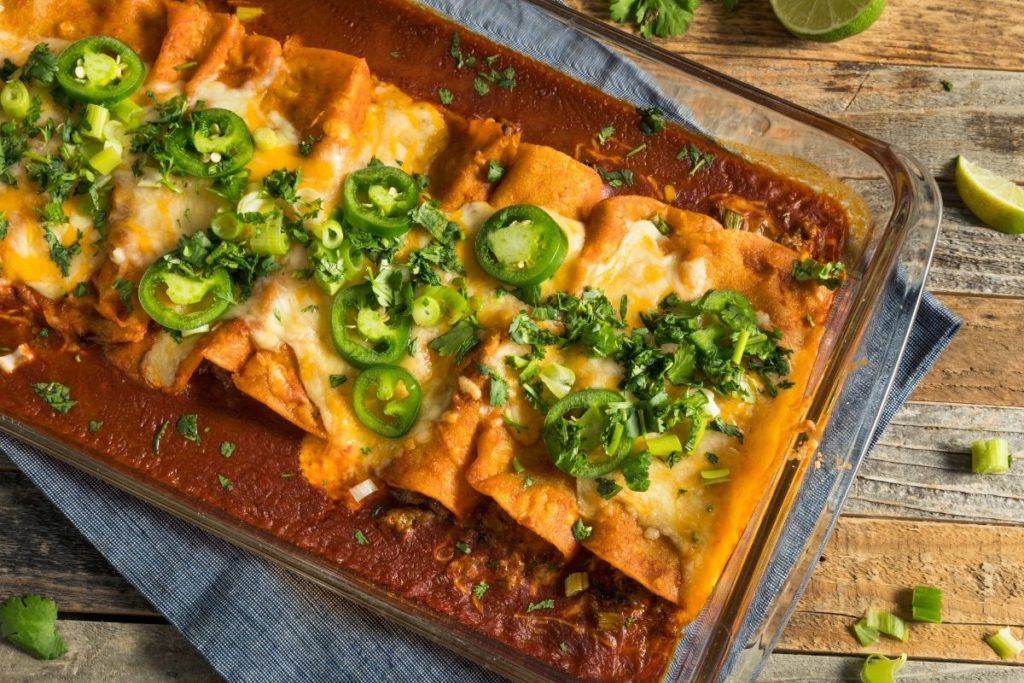 Are you trying to decide what to serve with enchiladas? We share a list of the best side dishes for enchiladas below.
Enchiladas come with chicken, beef, or just plain cheese, drizzled with a savory sauce. Therefore, every bite is delicious, flavorful, and definitely filling.
Mexican food is extremely popular worldwide because of its overflowing flavors, unique aroma, and use of fresh ingredients.
Enchiladas stand among the staple foods any Mexican restaurant offers. They are rolled tortillas with any combination of meat, cheese, beans, potatoes, and vegetables.
The best thing about them is, they're customizable with different fillings, including spices.
If you're wondering what to serve with enchiladas, here are some of our favorite sides.
What to Serve with Enchiladas
It is important to prepare sides that complement the taste and texture of your enchiladas. The options for sides are almost endless, and they're easy to plan out once you know what pairs best with your main dish.
Check out this list of over-the-top delicious sides to pair with enchiladas.
1. Mexican Slaw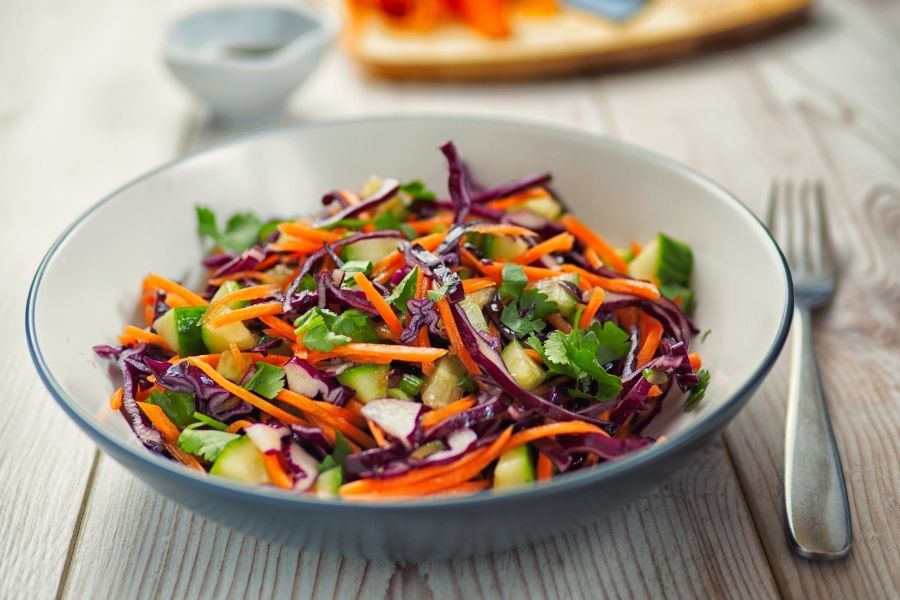 Probably the best side dish to serve with enchiladas is Mexican coleslaw or slaw. It's tangy, which gives a unique flair when paired with enchiladas.
This is easy to make too, just shred vegetables and add acidic sauces. Mexican coleslaw differs from regular coleslaw by its lack of mayonnaise.
It has a strong tangy kick from apple cider vinegar and cilantro, topped with lime juice. Others also add ground cumin seeds for added flavor.
To make Mexican coleslaw, simply combine shredded cabbage, carrots, and red onions, then mix with the tangy sauce.
The tanginess complements the cheesy and spicy taste of enchiladas for a perfect, filling meal.
2. Guacamole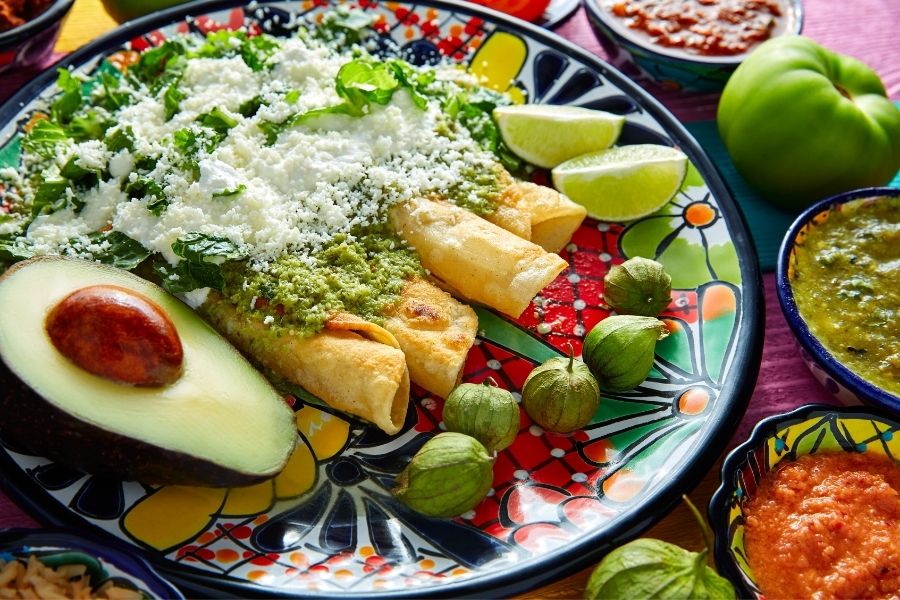 Another homemade side dish to serve is guacamole. It's simple to make and balances the flavors of the enchiladas.
These two make an iconic pairing for their complementary tastes and irresistibly addicting creamy dip.
In making guacamole, simply whip up avocado in one bowl, add spices as desired, and serve with classic tortilla chips.
Sometimes, people also scoop a spoonful of guacamole to top the enchiladas—heaven inside the mouth. The creaminess of the guacamole balances the enchilada's tanginess for a tasteful bite.
3. Sweet Potato Salad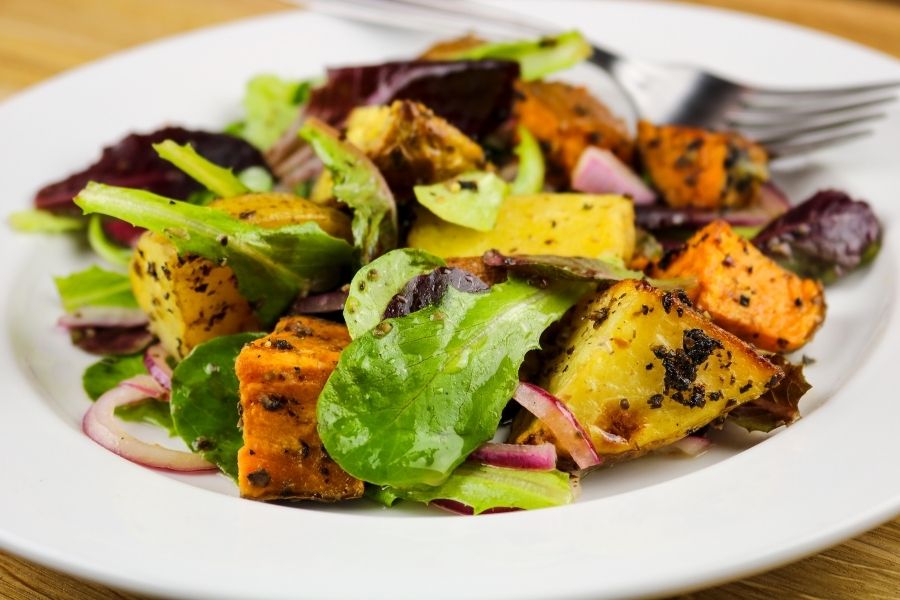 Thinking outside the box of what to serve with enchiladas? Try sweet potato salad loaded with corn, sweet potato, cucumber, and onions.
This Mexican-style potato salad is a game-changer with a rich cilantro dressing and hearty black bean salsa. Combining all these ingredients in one bowl presents a rich, flavorful side that won't overpower your enchiladas.
To make this salad, simply slice the sweet potato and onions then drizzle with olive oil, season with salt, and toss to coat.
Roast in the oven and turn every 30 minutes, or until the sweet potatoes are tender and starting to brown. Combine the roasted sweet potatoes with black beans, red onion, cucumber, and cilantro.
Adding jalapeño is optional for that added spice and kick.
4. Gazpacho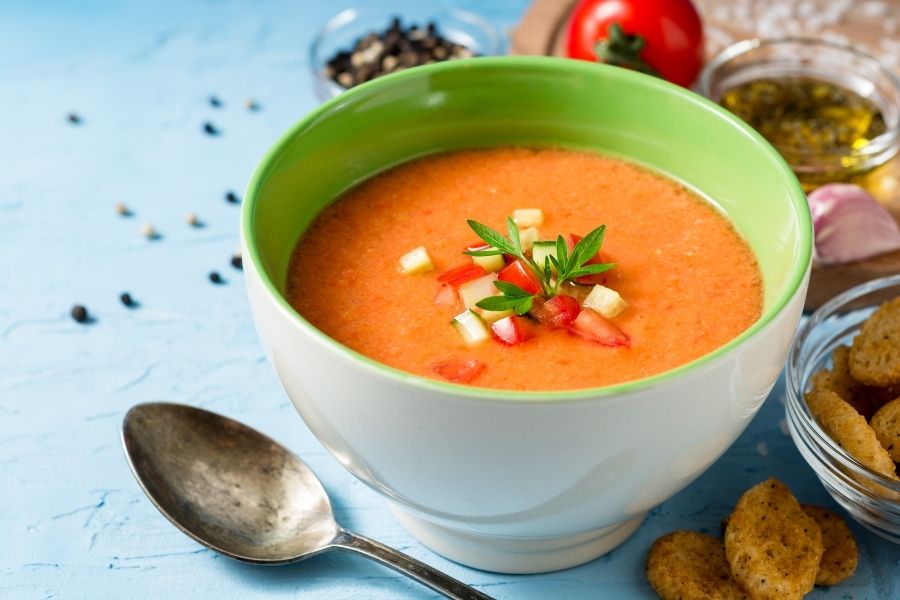 One of the best pairings for enchiladas is a classic Spanish dish called gazpacho or cold vegetable soup.
It's both sweet and acidic, complementing the taste of enchiladas. This dish elevates the cheesy flavor of the enchiladas, making for a hearty meal.
Gazpacho alone is already a delicious meal, but when paired with enchiladas, it provides a salad-like flavor in soup consistency.
Origin of Enchiladas

Enchiladas originated in Mexico where they were first created from corn tortillas with fish inside. However, it was not until the early 1800s that enchiladas were featured in a Mexican cookbook.
As the years have gone by, many generations have created unique versions of the dish, frying the tortilla and then dipping it into chili sauce for added flavor.
Vegetarian varieties are popular too, stuffed with potatoes and extra vegetables. Enchiladas do vary in construction.
In parts of the United States, you can find them stacked instead of rolled. You can also find variations of the sauce used, ranging from creamy to chili-based to traditional mole.
Bottom Line
When wondering what to serve with enchiladas, the answer is almost always Mexican coleslaw. However, there's no harm in trying new sides to bring out the rich and unique flavors of your main dish.
The mentioned sides are some of the top-rated dishes to pair with delicious and filling enchiladas.
Print
4 Best Enchiladas Sides
Check out these great Side Dish Recipes for Enchiladas that have been shared on Pinterest.
Instructions
Click on each link above to view the pin and recipe.
Obtain all the necessary ingredients to make the recipe.
Follow the steps to create your side dish.
Enjoy your delicious meal =)
Keywords: Best Enchiladas Sides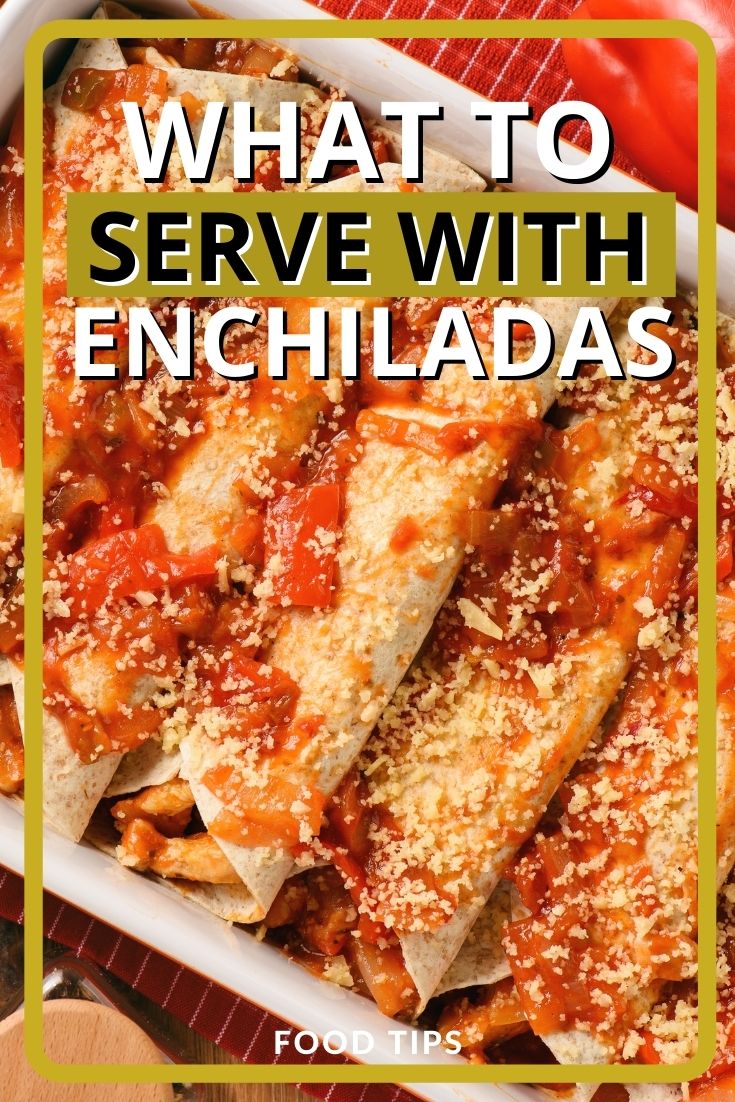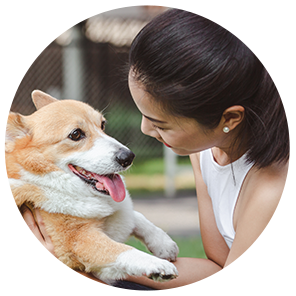 Hi, I'm Linda thanks for stopping by! We're so happy you're here. If you're a foodie and love to cook from home - you're in the right place..
LEARN MORE
Join the mailing list and receive our free newsletter!
Recipe Marker provides you with the best information about home cooking tips, recipes, ingredient substitutes and more. Check out our blog to see the latest articles.