What to Serve with Ratatouille: 6 Best Side Dishes (updated 2023)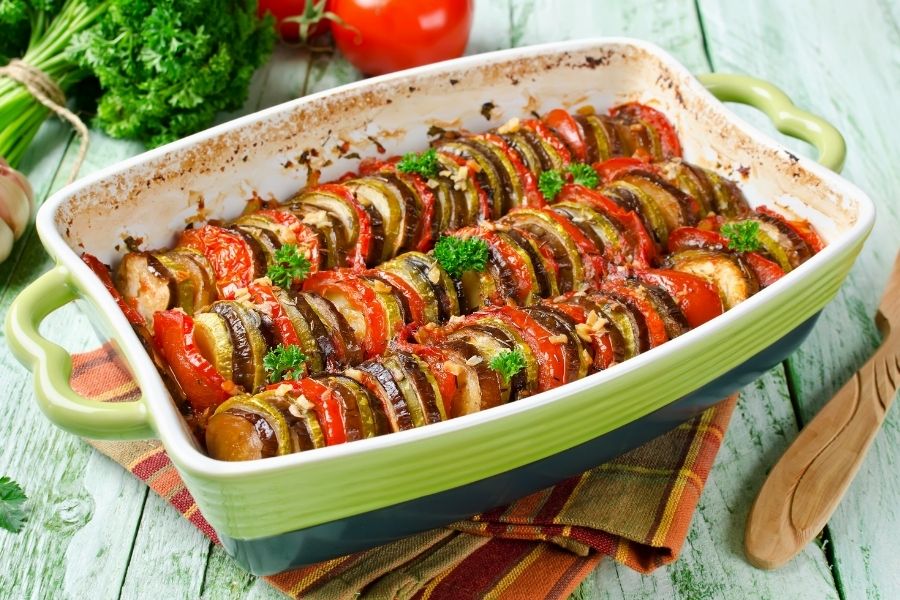 For those interested in cooking up some ratatouille, pairing it with equally outstanding sides will help elevate your dish.
In this article, we will discuss what to serve with ratatouille.
When you hear the word 'ratatouille,' you may associate it with the popular film of the same name, and rightly so.
After all, this Pixar creation touched the hearts of many around the globe.
Seeing the hardened food critic, Anton Ego, resurrected with just one bite as a remembrance of his mother's own cooking brought ratatouille great praise.
While the film is more a story of food and evolving relationships, there is no denying that the iconic ratatouille took center stage on the big screen.
With its vibrant colors and equally enticing presentation, it left countless people wondering what it tastes like.
What Is Ratatouille?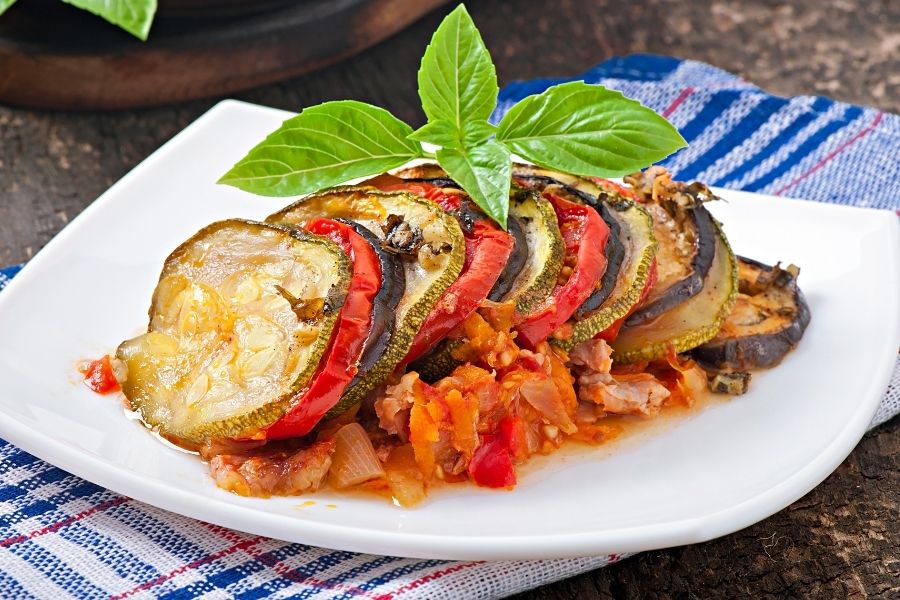 For those who have yet to see the film or eat this dish, it is best to define what it really is.
Ratatouille is a classic vegetable dish made with layered and thinly-sliced vegetables cooked until tender. It can also be served as more of a stew.
Hailing from the Provence region in France, this vegetable stew is made with the finest seasonings and the freshest produce, such as tomato, zucchini, and eggplant.
As mentioned, there are different ways of making it, either as a layered and more textured version or a more robust, stew-like dish.
Either way, most of the components remain the same, with bell peppers, yellow squash, and other vegetables added to (or taken out of) the mix depending on one's preferences or the season.
What to Serve with Ratatouille
Ratatouille can be quite filling on its own.
However, this hearty dish pairs well with other dishes. Below are some ideal accompaniments that make this dish one for the books.
1. Steak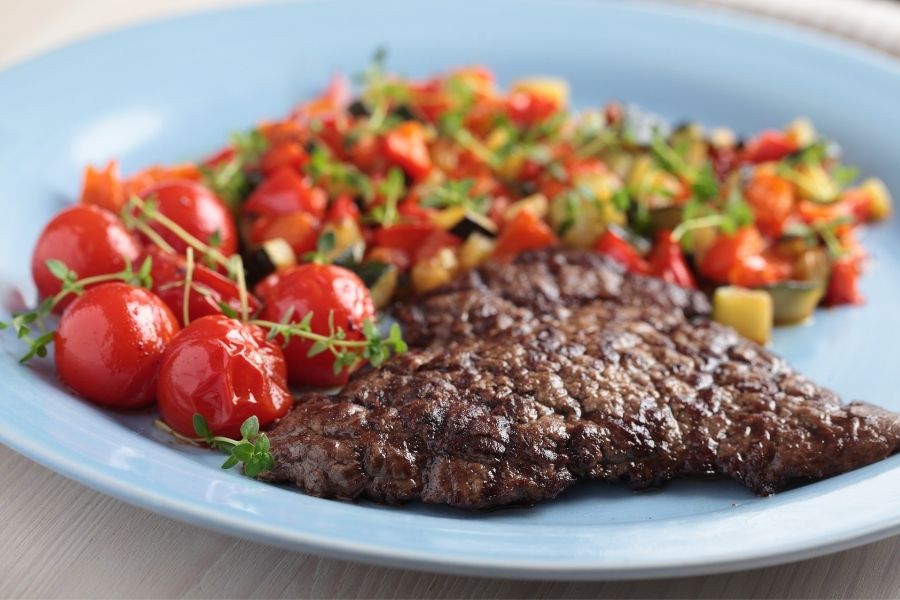 Meat lovers will definitely rejoice upon seeing steak on this list.
After all, there are tons of steak options to choose from.
From the tenderloin to the rib-eye, to the flank steak, there is no shortage of beefy goodness you can enjoy.
As the steak is packed with tons of protein, ratatouille can serve as the perfect foil for an otherwise rich dish.
Ratatouille's delicate yet rich taste will surely complement the smoky and grilled flavors that steak brings to the table.
2. Lamb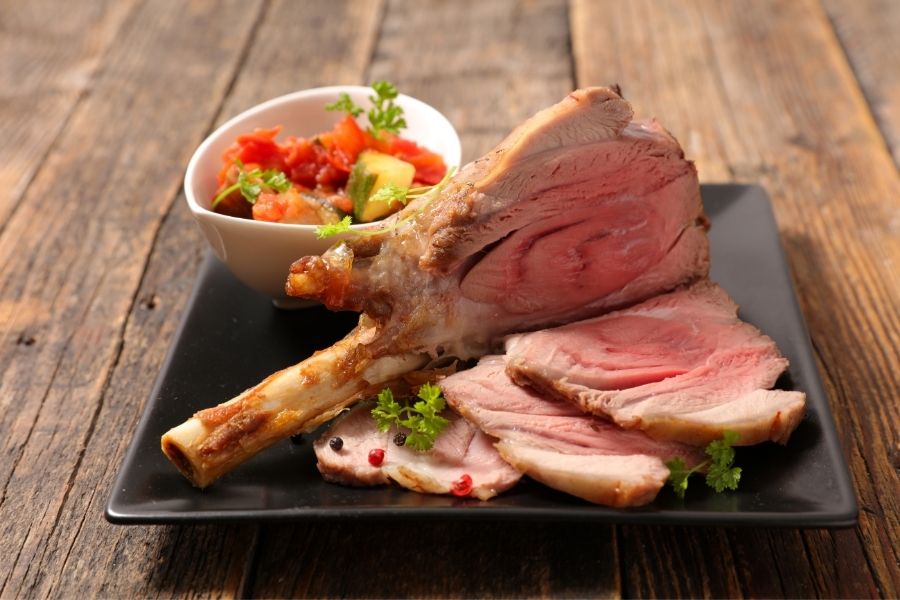 Another hearty main dish that goes well with ratatouille is lamb.
As a matter of fact, this is considered one of the most popular pairings in the region.
The lamb is prepared with tons of spices that bring out the earthiness of the meat.
Coated in a bevy of herbs such as thyme, rosemary, garlic, and lemon, as well as salt and pepper, a roasted leg of lamb lends a more intense flavor that contrasts against the subtle flavors of ratatouille.
3. Fish or Chicken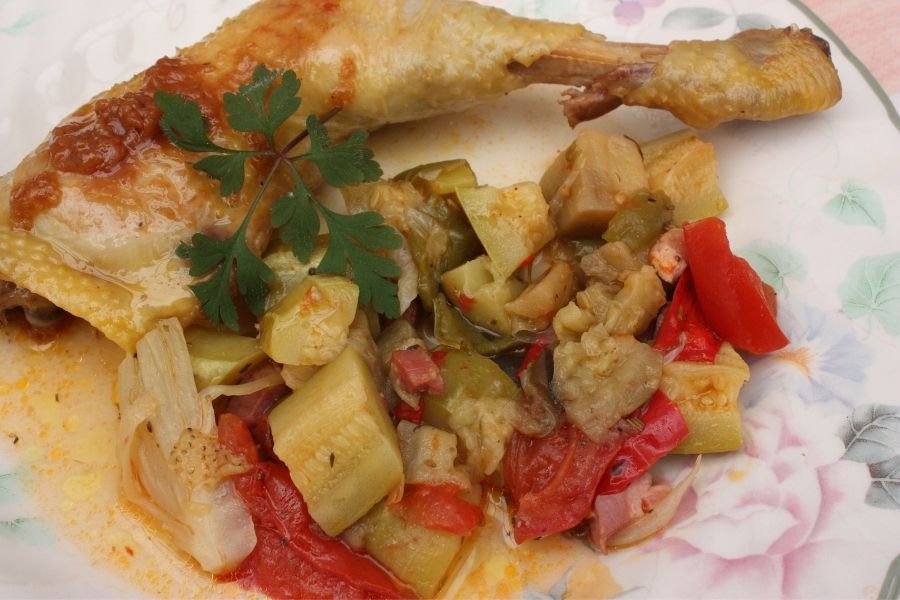 For a much lighter meal, try grilled fish or chicken. Not only are they filling, but they also have less fat compared to beef or lamb.
Plus, fish and chicken also contain a lot of protein, making them ideal additions for a filling lunch.
Seared fish would also make a great substitute for grilled.
4. Crusty Bread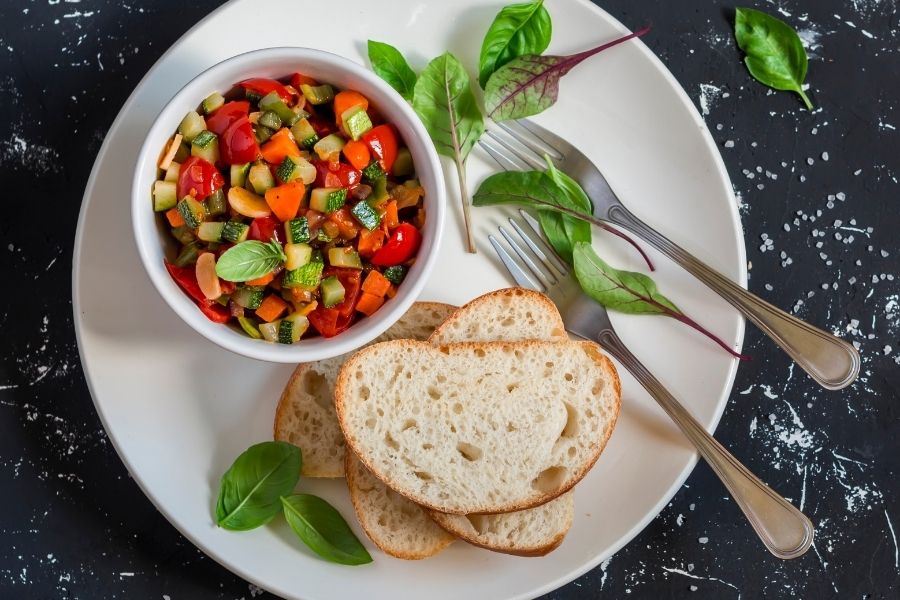 Soak up all the wonderful juices of ratatouille with some trusty crusty bread.
Some ciabatta, buttermilk biscuits, sourdough, or some French bread stand well against the stew.
Unlike other soft bread varieties, these would not crumble or disintegrate when dunked, allowing you to get every last drop.
5. Rice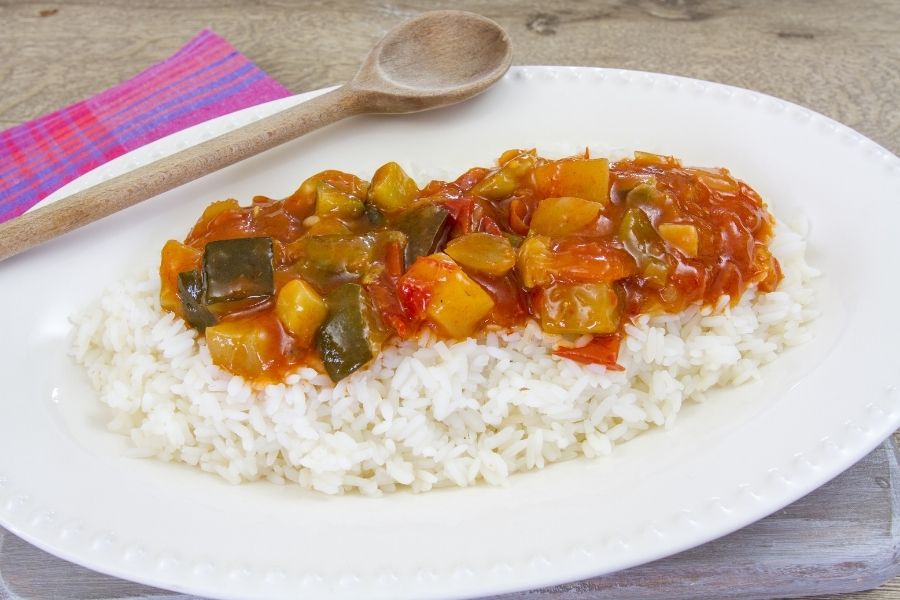 Rice is a perennial staple for many households.
Serving ratatouille atop a steaming serving of rice will hit the spot.
Plain rice will do the job.
However, those who want to spruce up their carbs elevate the flavor of their rice to complement the fresh taste of ratatouille.
For an added dose of flavor, try adding basil and sun-dried tomatoes.
You may also want to try a mushroom risotto for some umami goodness.
6. Egg Noodles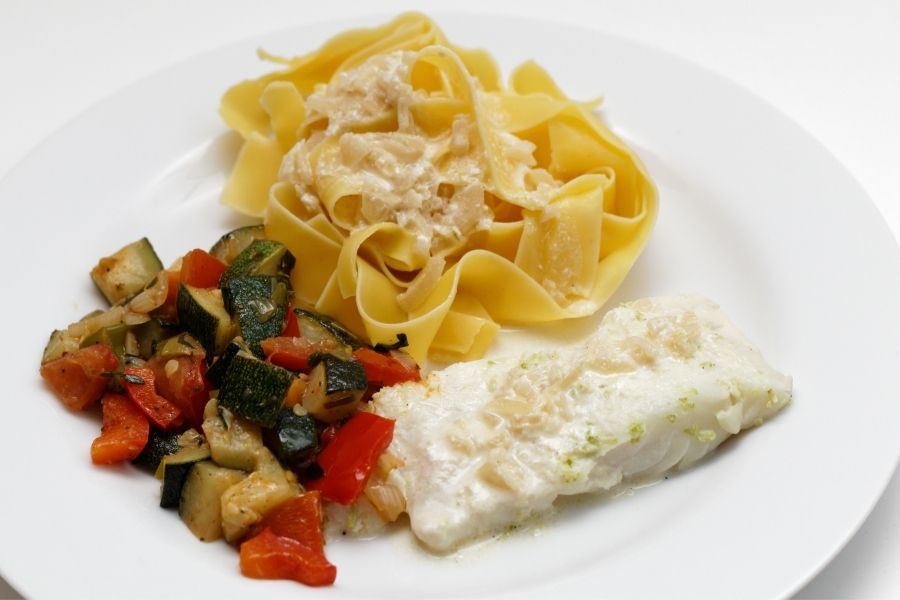 Complement the rich and hearty ratatouille by pairing it with an equally comforting dish, egg noodles.
They are quick to make and absorb the juices in ratatouille.
If you don't have egg noodles in your pantry, you can also use linguine, spaghetti, or even pappardelle.
Finish it off with a good pat of butter to add richness to the dish.
The Bottom Line
Ratatouille is one of the most comforting dishes you will ever come across.
With its versatility, you can pair it with a dish on this list and it will turn out every bit as exceptional as you imagined.
Hope you enjoyed our recommendations on the best sides to serve with ratatouille.
Try these out today and let us know what you think.
Print
6 Best Ratatouille Sides
Check out these great Side Dish Recipes for Ratatouille that have been shared on Pinterest.
Instructions
Click on each link above to view the pin and recipe.
Obtain all the necessary ingredients to make the recipe.
Follow the steps to create your side dish.
Enjoy your delicious meal =)
Keywords: Best Ratatouille Sides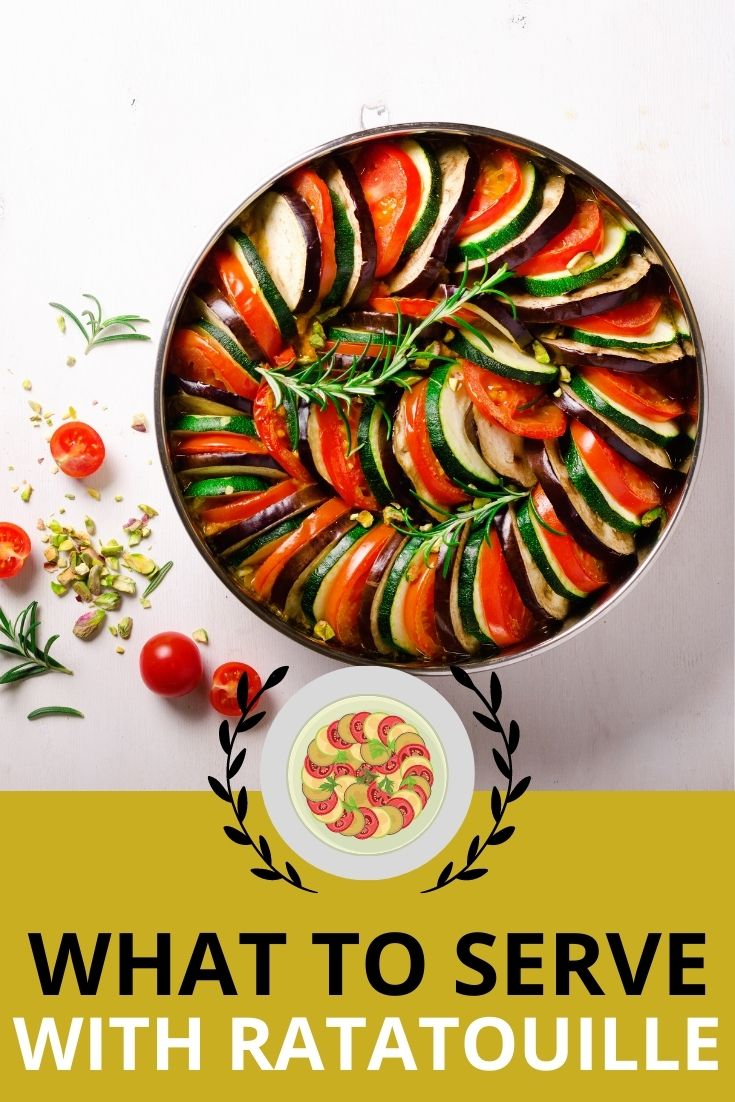 Hi, I'm Linda thanks for stopping by! We're so happy you're here. If you're a foodie and love to cook from home - you're in the right place..
LEARN MORE
Join the mailing list and receive our free newsletter!
Recipe Marker provides you with the best information about home cooking tips, recipes, ingredient substitutes and more. Check out our blog to see the latest articles.