What To Serve With Reuben Sandwiches: 6 Best Side Dishes (Updated 2023)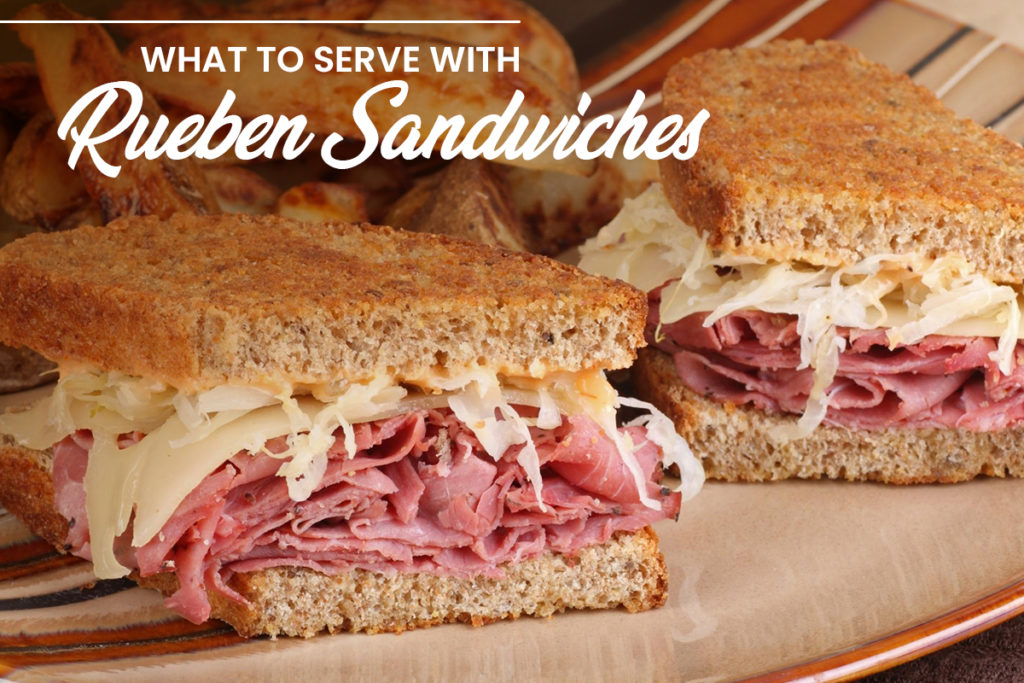 Wondering what to serve with Reuben Sandwiches? We have rounded up some tasty ideas for you here.
When talking about sandwiches, one of the most well-known in the industry is perhaps the Reuben sandwich, and for good reason. This is a well-balanced sandwich that packs in everything you might need and more.
From acidity to saltiness to sweetness and creaminess, you name it and the Reuben's got it. The Reuben is already a formidable and downright filling sandwich to eat whether it be for breakfast, lunch, or dinner.
However, paired with the right sides, you can elevate it into something more complex you'll look for again and again.
We have rounded up ideas on what to serve with Reuben sandwiches to make them even more memorable. Let's dive in.

What is a Reuben Sandwich?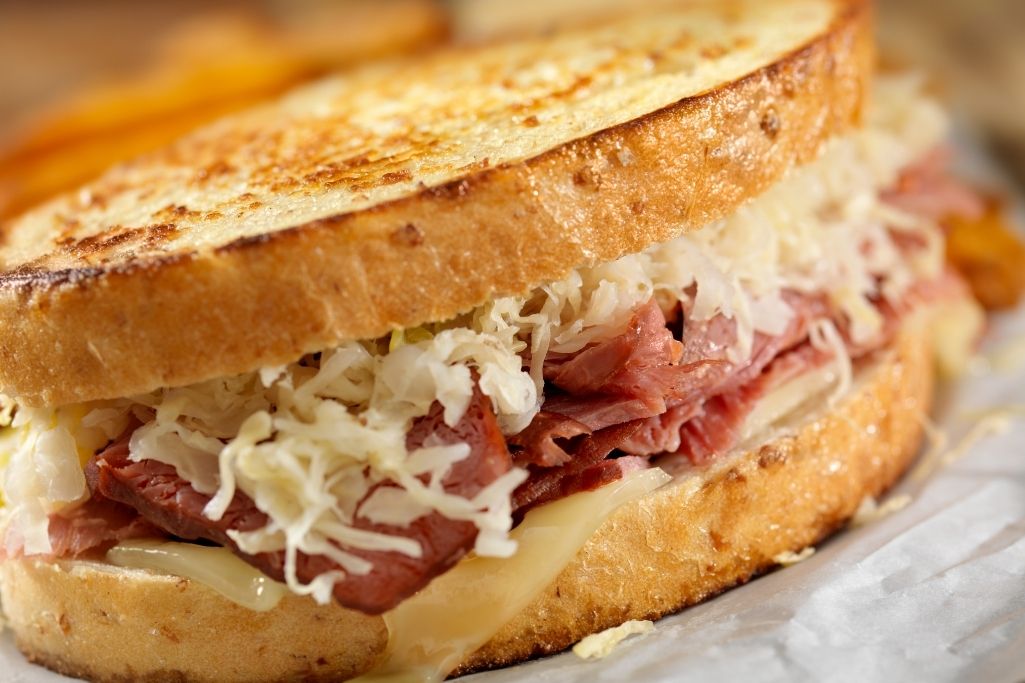 The Reuben sandwich consists of corned beef, sauerkraut, Swiss cheese, and Russian dressing, all placed within two slices of rye bread. This sandwich is grilled to achieve maximum flavor.
This sandwich is usually associated with delicatessens, including the famous Katz's Delicatessen.
The origins of this sandwich are confusing, to say the least. One theory states that it gets its name from Reuben Kulakofsky from Omaha, Nebraska. Another maintains that it stems from New York City from one Arnold Reuben. 
Although there are two theories surrounding the birth of this sandwich, one thing is clear: Reuben is a beautiful creation that has transcended time.
What To Serve With Reuben Sandwiches
1. Sauerkraut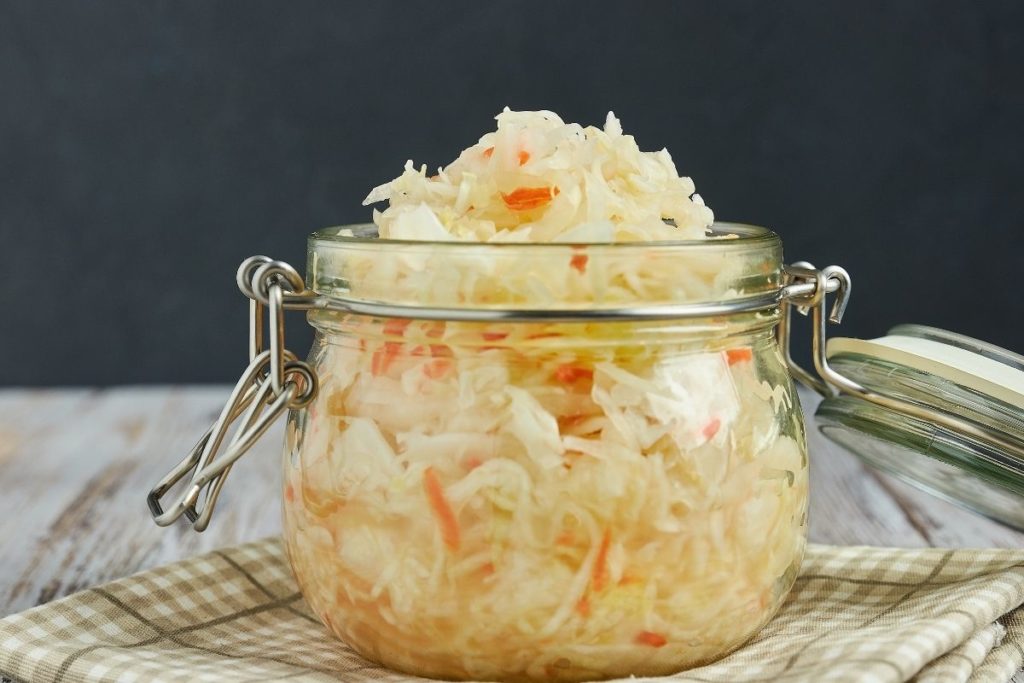 The Reuben is rich and filling, and it can be a tad bit cloying for some people. While it already contains sauerkraut, there's nothing like having some more on the side to help offset the richness of the sandwich.
Sauerkraut is a type of fermented cabbage that packs in sweet, salty, and sour notes all at the same time. This may not be everyone's cup of tea, but its complex flavor profile actually complements the Reuben perfectly.
2. Dill Pickles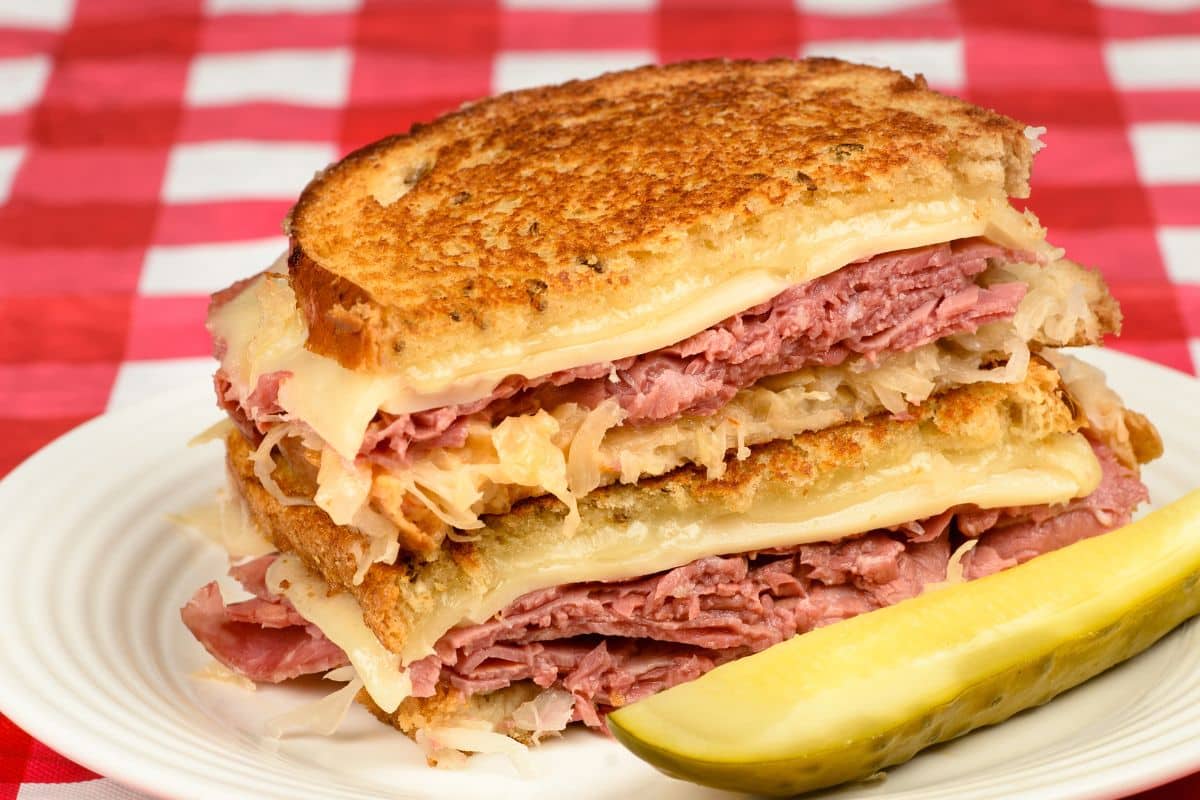 If you don't want to add more sauerkraut into the mix, you can also turn to dill pickles for some tanginess and a refreshing bite.
Dill pickles are a favorite accompaniment to any sandwich, so it definitely makes sense to serve them with the Reuben as well.
Dill pickles have a slightly peppery and vinegary taste. Their brininess and sourness cut through the richness of the dressing and the creaminess of the Swiss cheese in the Reuben.
Plus, the crunch of dill pickles is downright lovely.
3. Potato Chips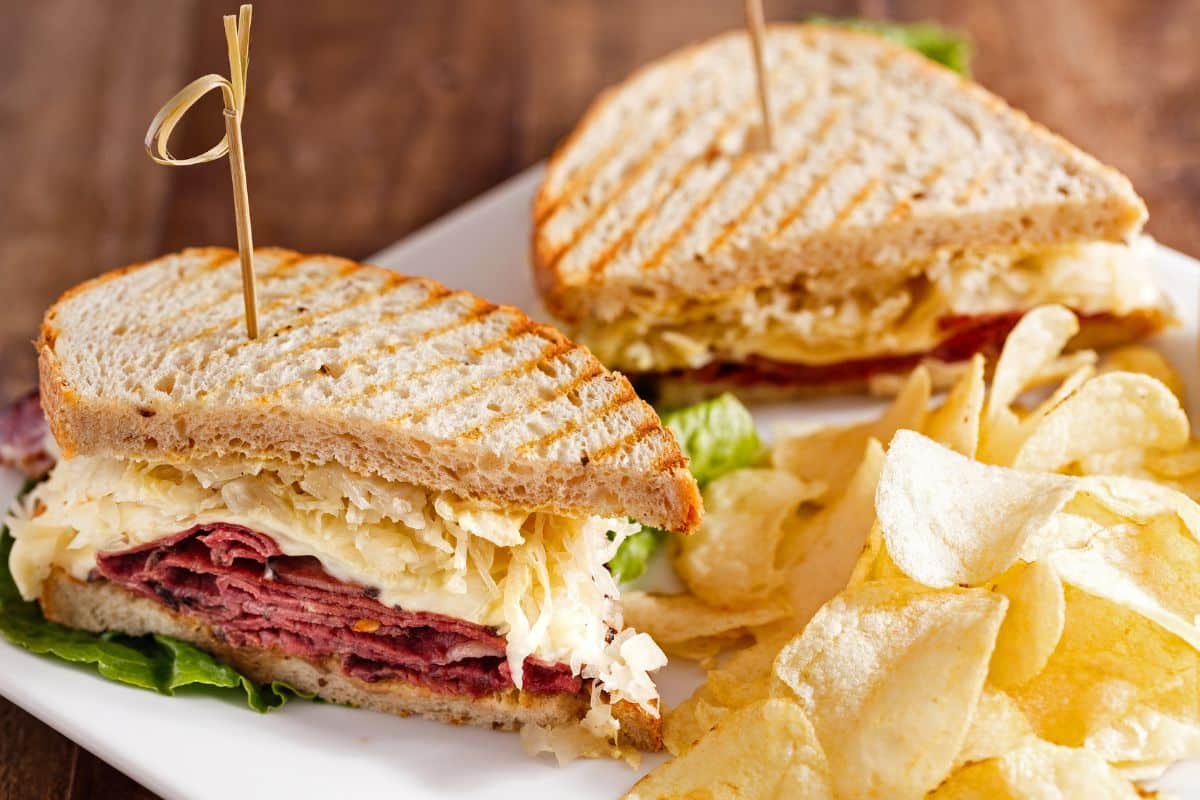 Another popular side served with sandwiches is potato chips. This may be because they provide a nice crunchy contrast that's light against a soft and filling sandwich.
They also add a bit of saltiness that rounds out the rest of the meal. Plus, they're easy to prepare since you can just open a bag of chips.
If you're not one for potato chips, you can switch them out for French fries or even some sweet potato fries. Either way, some potato goodness will fill you right up along with the Reuben.
4. Soup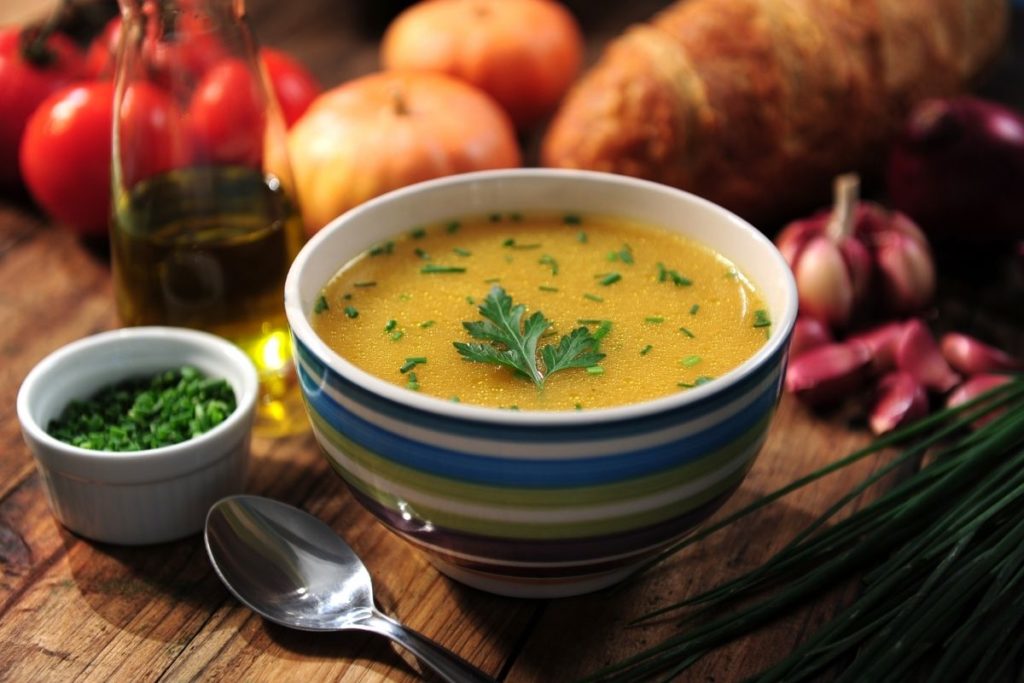 A Reuben sandwich paired with a comforting bowl of soup will warm you right up. To complement this mean and mighty sandwich, serve up some creamy soup on the side.
Some of the best soup options that can make things even better are potato or potato leek soup, mushroom soup, spinach, broccoli, asparagus, and even a chowder of some sort.
The richer and creamier the better, as you can use your sandwich to sop up the soup and meld the flavors together.
What makes this a great side dish to serve with the Reuben sandwich is that it does not compete with the strong flavors of the sandwich.
5. Coleslaw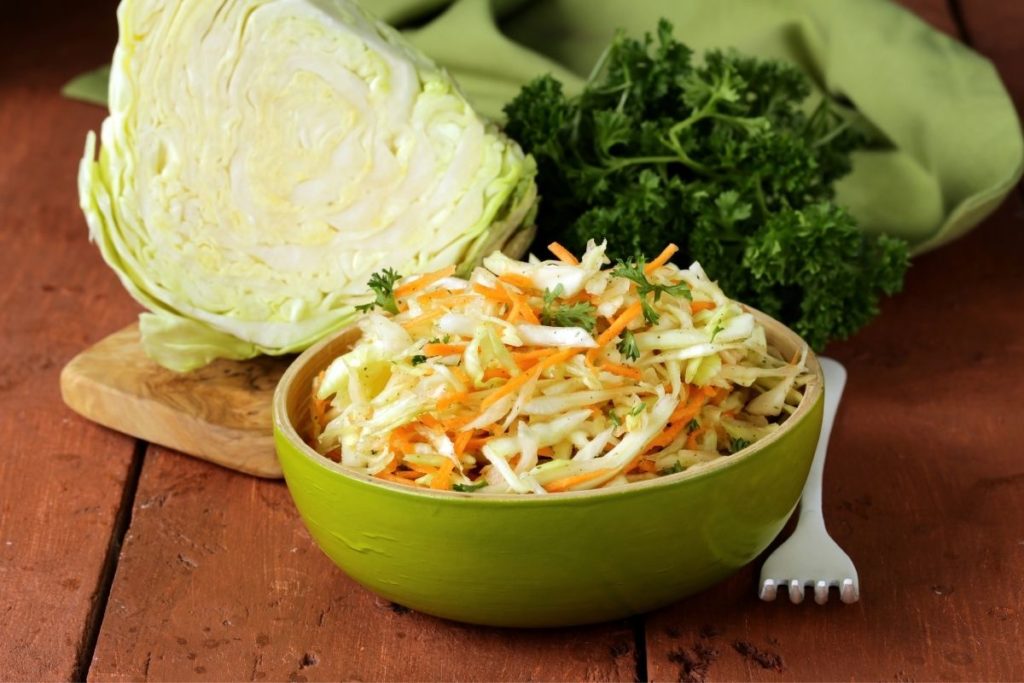 Coleslaw is rich and tangy, bringing with it a balance of flavors that are just as complex.
While the more popular version uses mayonnaise for the dressing, you can also go the vinegar-based route to help add some brightness and tartness to your meal.
6. Green Salad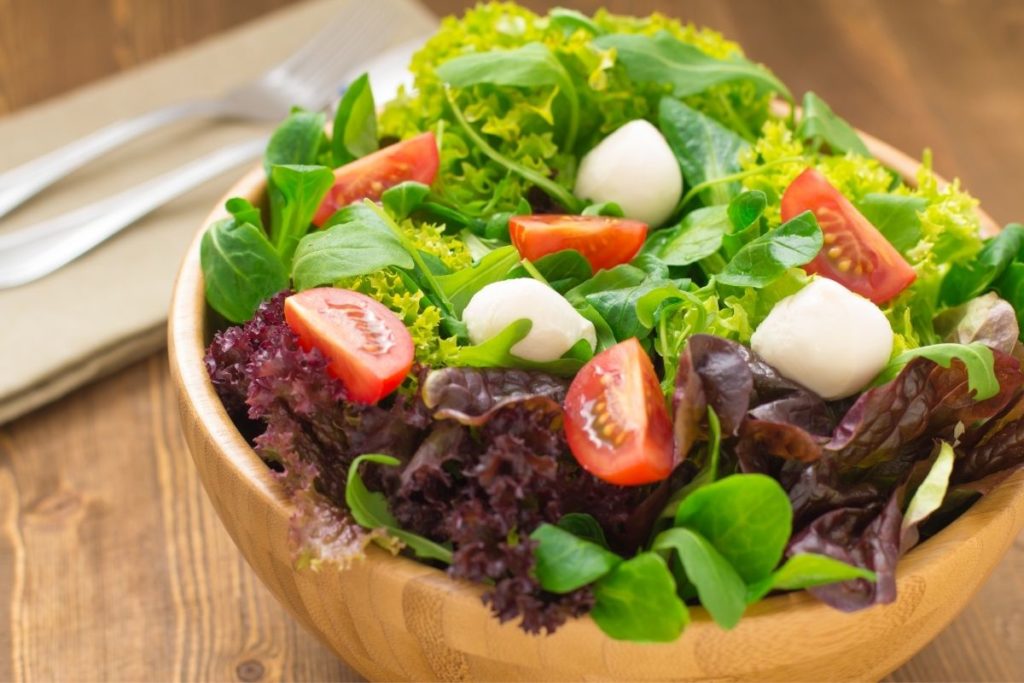 If you want to add some greens to your meal, try a green salad with your Reuben sandwich. Whether lettuce, kale, or even mixed greens, opting for a salad on the side will add some earthiness and nuttiness if you will.
Use some vinaigrette to contrast the Russian dressing in the Reuben sandwich and add some toppings such as nuts, red onions, and croutons, and you will have a flavor and texture explosion in your mouth.
Final Thoughts
Reuben sandwiches are perhaps one of the best sandwiches you can get your hands on today. With the right pairings, however, you can take this sandwich to new heights.
Hope you enjoyed our list of the best sides for Reuben sandwiches.
Print
6 Best Reuben Sandwiches Side Dishes
Check out these great Side Dish Recipes for Reuben Sandwiches that have been shared on Pinterest.
Instructions
Click on each link above to view the pin and recipe.
Obtain all the necessary ingredients to make the recipe.
Follow the steps to create your side dish.
Enjoy your delicious meal =)
Keywords: Best Reuben Sandwiches Side Dishes
Hi, I'm Linda thanks for stopping by! We're so happy you're here. If you're a foodie and love to cook from home - you're in the right place..
LEARN MORE
Join the mailing list and receive our free newsletter!
Recipe Marker provides you with the best information about home cooking tips, recipes, ingredient substitutes and more. Check out our blog to see the latest articles.