What is a Vampire Slayer Dutch Bros Energy Drink? (2023)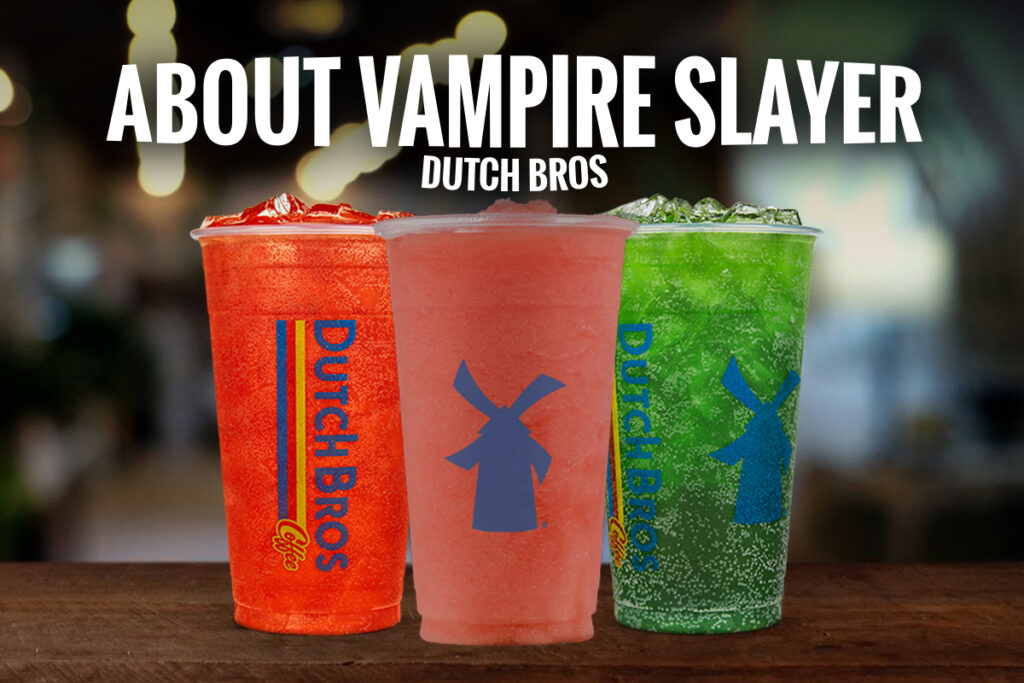 Are you wondering what is in a Vampire Slayer Rebel Dutch Bros? In this article, we share information about this popular energy drink. Stick around…
Let's dig deeper into Dutch Bros Vampire Slayer and unveil the truth in this uniquely named beverage.
What is a Dutch Bros Vampire Slayer?
Dutch Bros is more than a coffee store, what makes them unique is they also offer tasty energy drinks, smoothies, teas, and more. They've also grown in popularity with their unique beverage names.
In the Dutch Bros Rebel Energy Drink menu, you'll find the spooky-tasting blended drink called the "Vampire Slayer.
The Vampire Slayer is made with strawberries and pomegranate. This delicious fruity tasting energy drink will give you wings.
The Vampire Slayer may conjure images of an anime or a thrilling film when you hear it.
If you're looking for something new to try at Dutch Bros then we recommend adding the Vampire Slayer to your list.
How to Customize Dutch Bros Vampire Slayer?
Just like other coffee shops, you can customize your drinks at Dutch Bros. Dutch Bros has a plethora of options and ways to make your Vampire Slayer uniquely yours.
You can request different sweeteners and syrups to make unique flavor combinations. You can also ask for a sugar-free version if you're trying to keep the calories down.
You can also add a soft top to your blended energy drinks to give them a nice frothy topping.
Let's next talk about Vampire Slayer's nutrition information.
Dutch Bros Vampire Slayer Nutrition Facts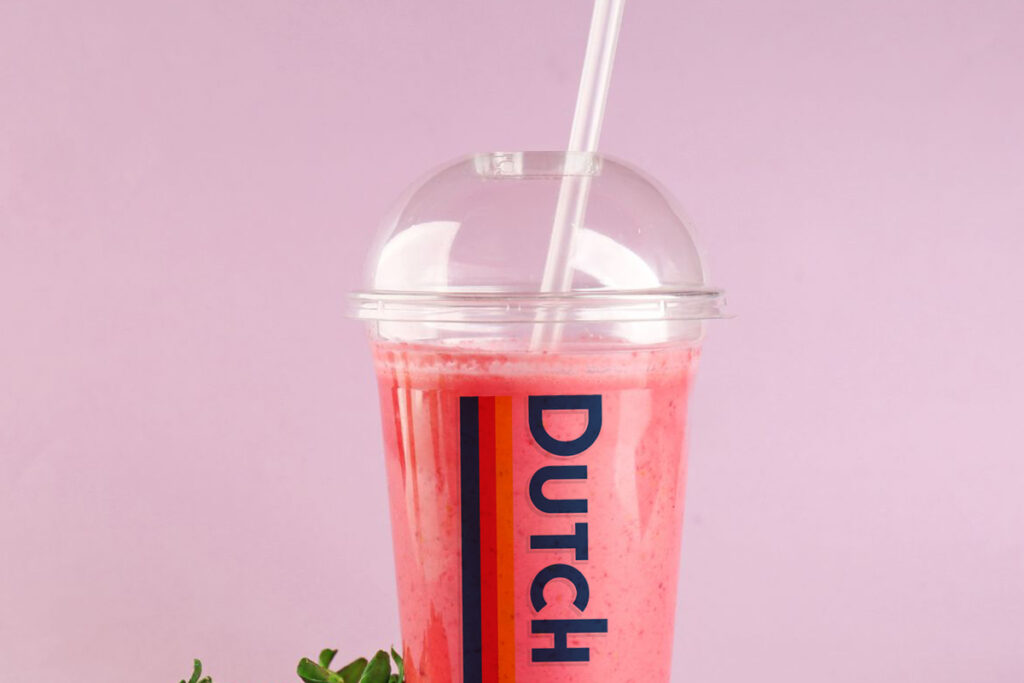 If you're curious how many calories a Vampire Slayer at Dutch Bros has you might be surprised. Let's discuss the nutritional details of this energy drink.
In ice Blended Vampire Slayer Rebel energy drink you'll consume the following:
A small-size Vampire Slayer contains 250 calories, 75mg salt, 65g carbs, 63g sugar, and 1g protein in it.
The Vampire Slayer medium cup has 410 calories, 110 mg of sodium, 101 grams of sugar, and 2 grams of protein.
A large Vampire Slayer has 560 calories, 140  grams of sodium, 142 grams of carbs, 139 grams of sugar, and 2 grams of protein.
These nutrition facts are based on the regular Vampire Slayer. If you request a sugar-free version of the Dutch Bros Vampire Slayer then you can assume you'll be consuming fewer calories and sugar.
What is Dutch Bros?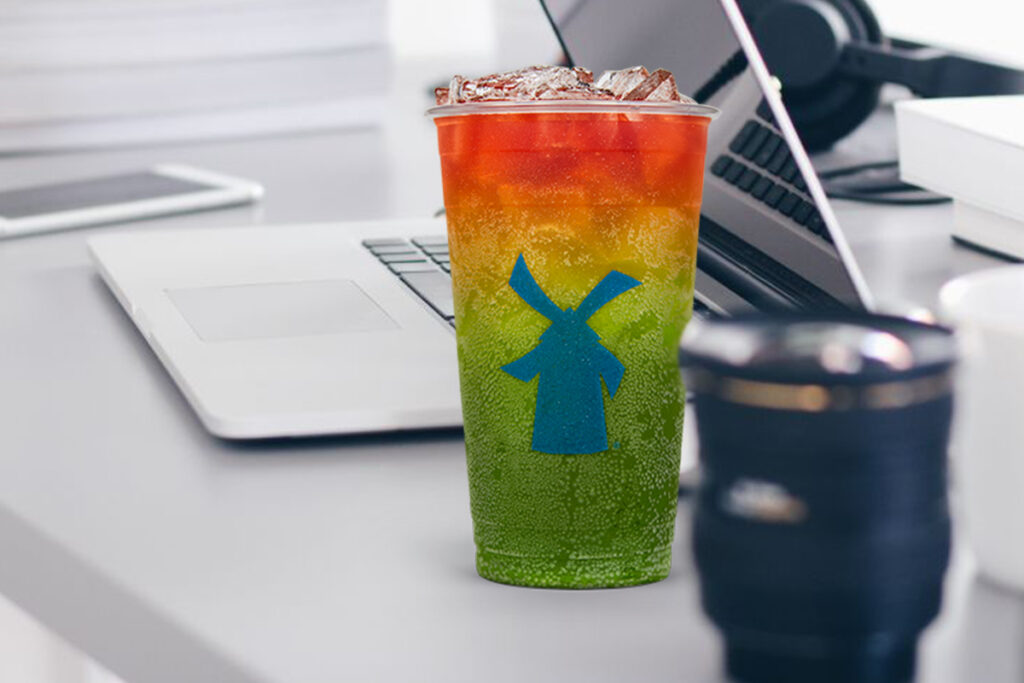 Dutch Bros has made a name for itself in the coffee business as a prominent participant.
It all started as a little coffee shop in the early 1990s, but now Dutch Bros is one of the country's fastest-growing coffee chains, with hundreds of stores in 11 states.
With their excellent beverages and kind service, these drive-thru "bro-istas" have gained a following.
They get their beans from farms in Brazil, Colombia, and El Salvador that are committed to environmental and social responsibility. This coffee shop's drinks are what set it apart from its competitors.
At Dutch Bros, customers may choose from an extensive selection of their own frothy creations. Dutch Bros has a unique approach to smoothies, which feature a range of fresh fruit flavors in a chilled beverage.
As an alternative, you can try Rebel Energy Drink, a patented energy drink made with a proprietary blend of colored syrups and caffeine.
Conclusions
When it comes to providing consumers, with amazing coffee flavors that fit our preferences, the Dutch Bros coffee company is truly one-of-a-kind. Aside from coffee, this drive-thru shop offers its customers some tasty energy drinks.
We hope you enjoyed learning about the Vampire Slayer Dutch Bros Rebel Energy Drink. Give it a try the next time you visit one of their drive-thrus.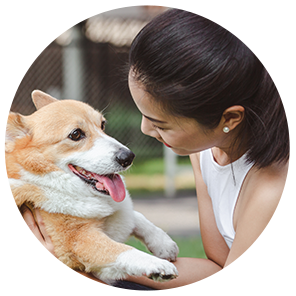 Hi, I'm Linda thanks for stopping by! We're so happy you're here. If you're a foodie and love to cook from home - you're in the right place..
LEARN MORE
Join the mailing list and receive our free newsletter!
Recipe Marker provides you with the best information about home cooking tips, recipes, ingredient substitutes and more. Check out our blog to see the latest articles.