What to Serve with Shepherd's Pie: 4 Best Sides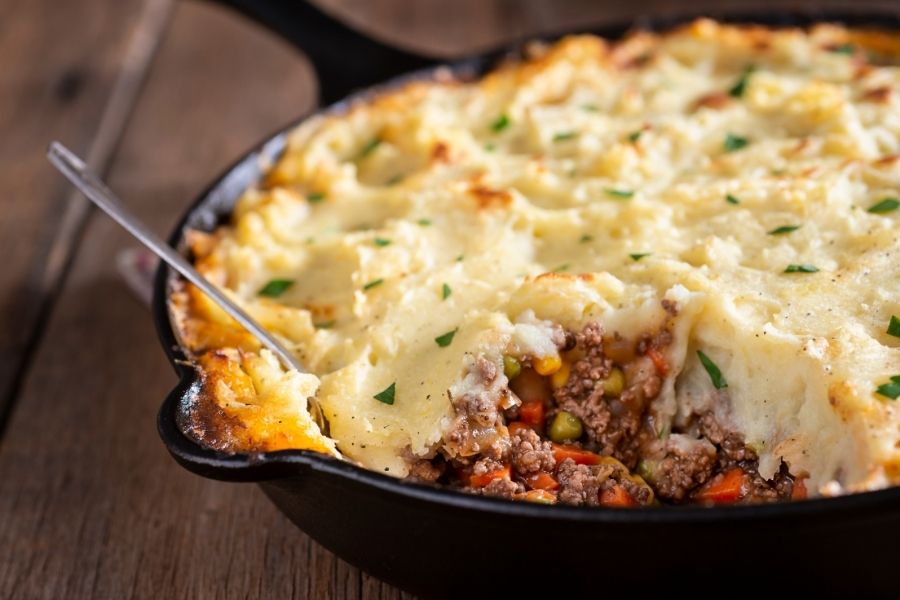 If you want to learn what to serve with shepherd's pie, read on.
Aside from fish and chips, one of the most famous dishes hailing from England is shepherd's pie.
Rich and comforting in every sense of the word, this simple and humble dish can turn any bad day around.
Considered one of the most heart-warming dishes of all time, this legendary casserole reminds us of mom's home-cooking.
Filled with minced lamb and nutritious ingredients, topped with mashed potatoes, and baked to perfection, shepherd's pie makes a complete meal.
However, serving shepherd's pie with all the right fixings and perfect side dishes will elevate the dish.
Get to Know Shepherd's Pie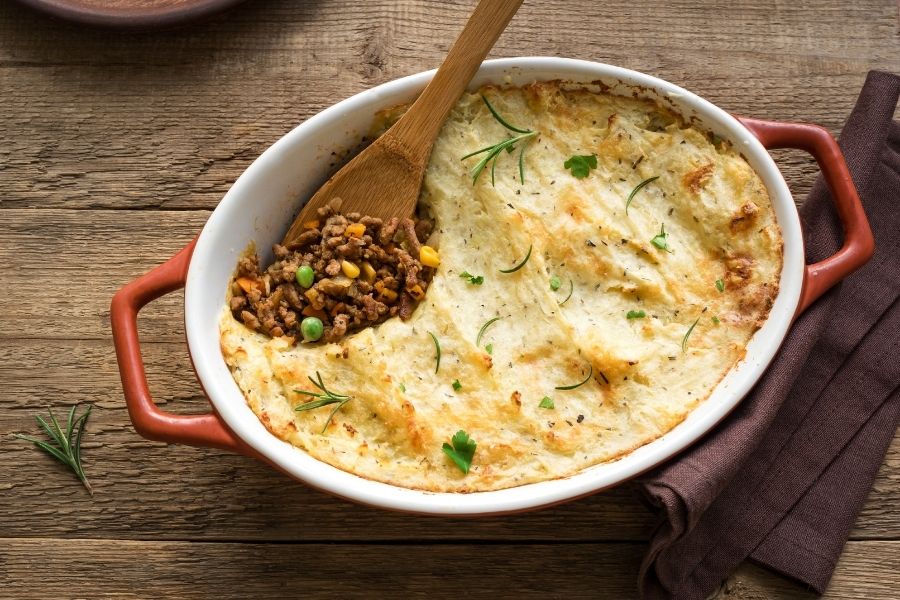 Shepherd's pie is simply a type of casserole dish made with minced or diced lamb and vegetables, topped with a generous layer of mashed potatoes.
It reportedly hails from Scotland and Northern Ireland – considered sheep country – hence the name.
This humble and simple dish used to be made by peasant housewives to prevent food from spoiling.
As such, the ingredients used in this dish were (and are) typically leftovers from Sunday roast, including the star, roast lamb.
The main difference between cottage pie and shepherd's pie is the type of meat used.
Cottage pie calls for minced or roast beef, while shepherd's pie uses lamb.
Dishes to Serve with Shepherd's Pie
Now that you know what shepherd's pie is, let us get on with some of the dishes you can serve alongside it.
Below we have some great combinations for an easy yet filling meal any day of the week.
Take a look.
1. Peas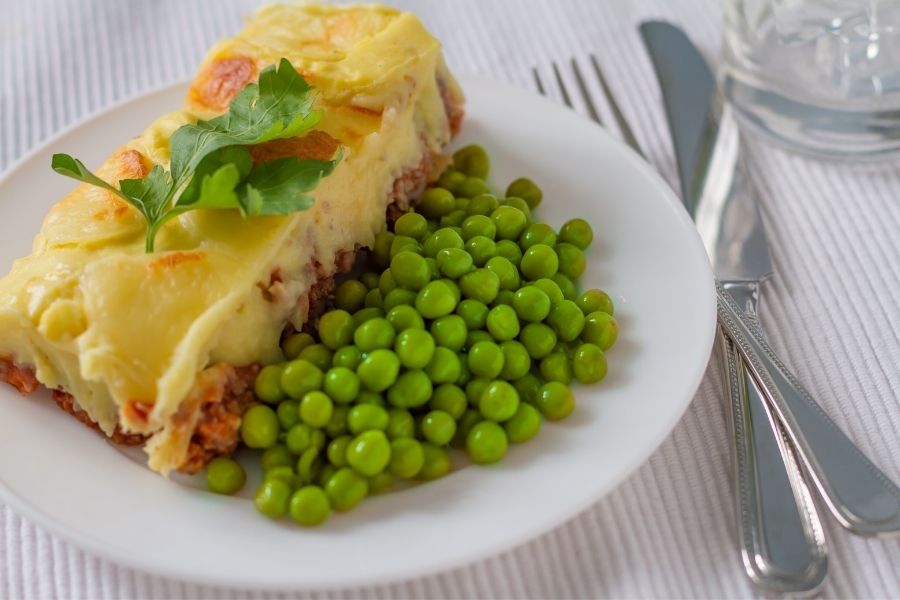 Mushy peas are the perennial pairing with shepherd's pie.
Apart from their ease in preparation, they also make for a heart pairing, similar to a thick pea soup.
Traditionally made with dried marrowfat peas, these peas burst and turn into mush with the help of baking soda.
While some may not agree, many love the layers of shepherd's pie mixed with the thick consistency of mushy peas.
If you happen to belong to a population that does not like mushy peas at all, worry not.
You can still make peas your side of choice without the textured mush taking all the joy away.
For more flavor, you can cook them in brown butter, adding a hint of caramelization to the peas. Some even add mint to this dish, unusual as it may seem.
2. Beans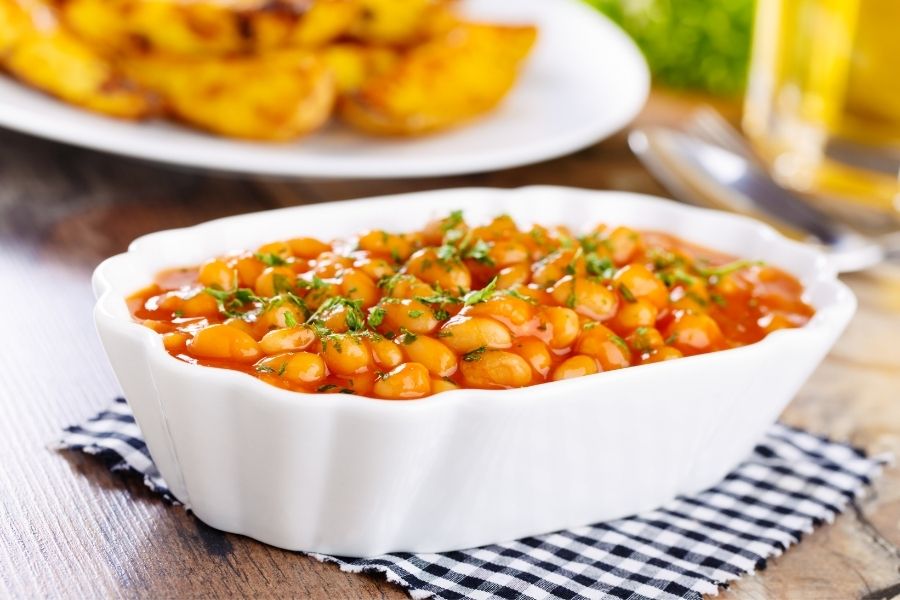 Beans are also a staple ingredient in England, so it is no wonder they pair well with shepherd's pie.
In particular, try pairing this dish with baked beans.
Made with a thick layer of stew and some pork, baked beans provide a smooth and comforting addition.
Their texture also complements the smooth and velvety taste of shepherd's pie.
You can also use broad beans prepared either buttered or boiled depending on your preference.
The earthy, somewhat mineral, and sweet medley of flavors of this side will help take the cloying factor off the meaty dish.
3. Green Leafy Veggies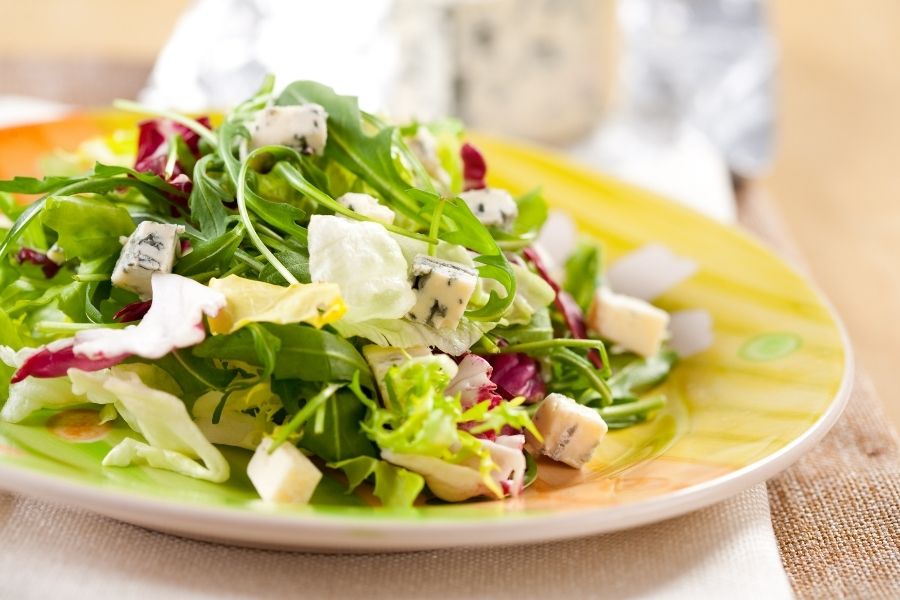 Salads will admittedly never go out of style, so you will find them paired with nearly every meal out there.
You can use kale or arugula in your salad and even add some balsamic or equally acidic vinaigrette.
This will add some lightness and brightness to an otherwise uber flavorful dish.
Besides arugula and kale, green vegetables such as cabbage and Brussels sprouts are also great to use for your salad.
Finely shredded cabbage also adds earthiness in its raw form, but when cooked, you can add butter to help soften it and bring out its flavors.
Meanwhile, you can also shave down some Brussels sprouts.
The various layers and textures of the shaved Brussels sprouts will add some dimension to the casserole.
Finish this with a mixture of grated Pecorino Romano, lemon juice, olive oil, and salt.
4. Buttered Bread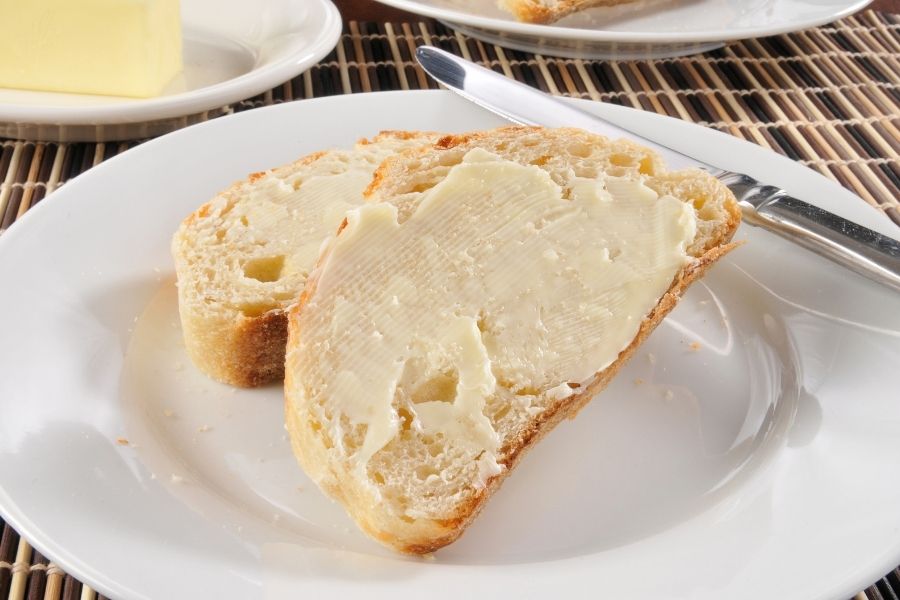 In a pinch? You can use any old buttered bread lying around the house.
Whether dinner rolls, soda bread, or even some crusty bread such as sourdough, these can perfectly mop up the thick gravy that comes with the meaty pie.
If you are adventurous, you can even try spooning up some of the shepherd's pie on top of the bread. Yum.
The Bottom Line
There are a variety of dishes to serve with the ever-comforting shepherd's pie.
From your greens to your carbs, with this list, you will have no shortage of options to choose from.
Print
4 Best Shepherds Pie Sides
Check out these great Side Dish Recipes for Shepherds Pie that have been shared on Pinterest.
Instructions
Click on each link above to view the pin and recipe.
Obtain all the necessary ingredients to make the recipe.
Follow the steps to create your side dish.
Enjoy your delicious meal =)
Keywords: Best Shepherds Pie Sides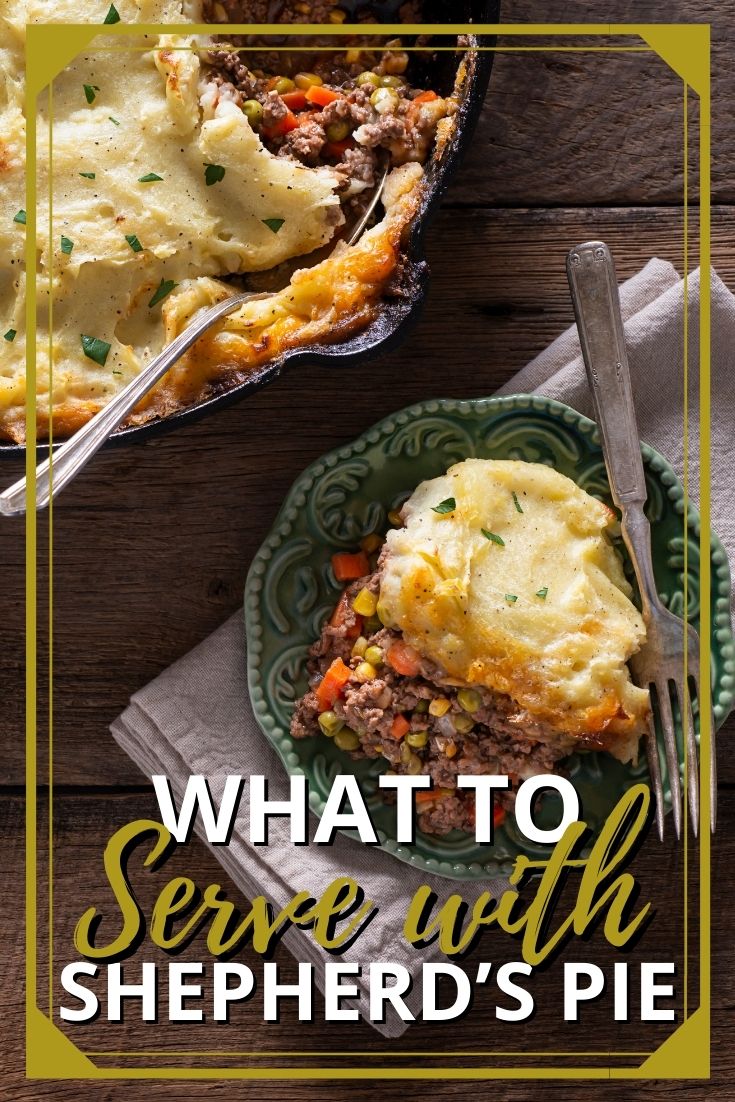 Hi, thanks for stopping by! We're so happy you're here. If you're a foodie and love to cook or bake - you're in the right place.
LEARN MORE
Join the mailing list and receive our free newsletter!
Recipe Marker provides you with the best information about home cooking tips, recipes, ingredient substitutes and more. Check out our blog to see the latest articles.