6 Best Beef Broth Substitutes for Cooking (Updated 2023)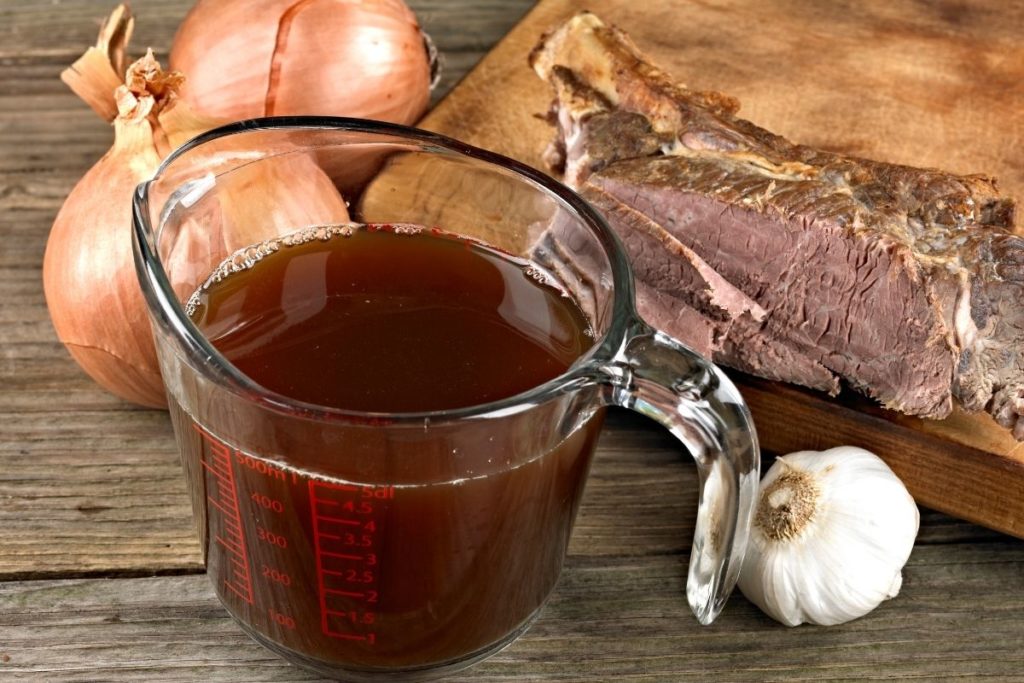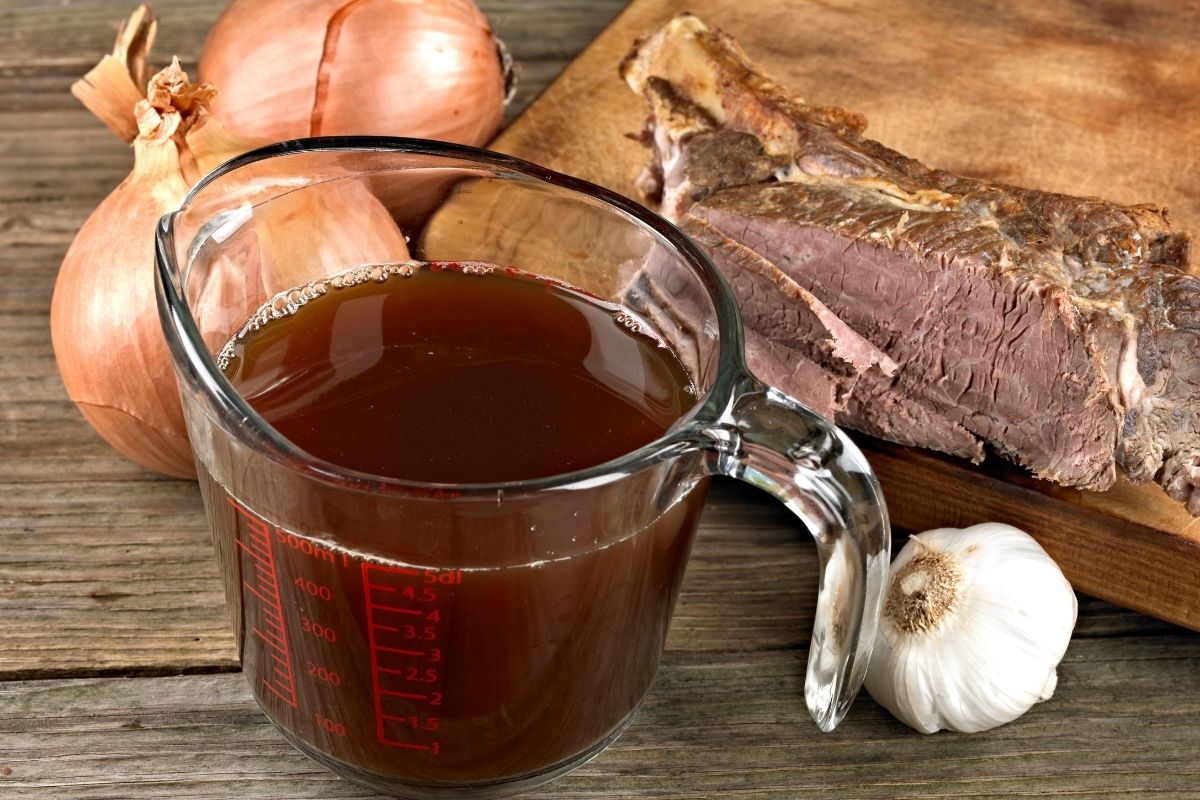 For a savory-filled dish, beef broth is often used in cooking. If you don't have beef broth on hand or it's too difficult to create your own broth, there are several excellent beef broth substitutes that will provide the same flavor.
Beef broth, also called beef stock, is a liquid produced from boiling beef or ox bones, onions, celery, herbs, vinegar, and carrots.
Check out the options below to find the best substitute for your recipe.
Best Beef Broth Substitutes
1. Vegetable Broth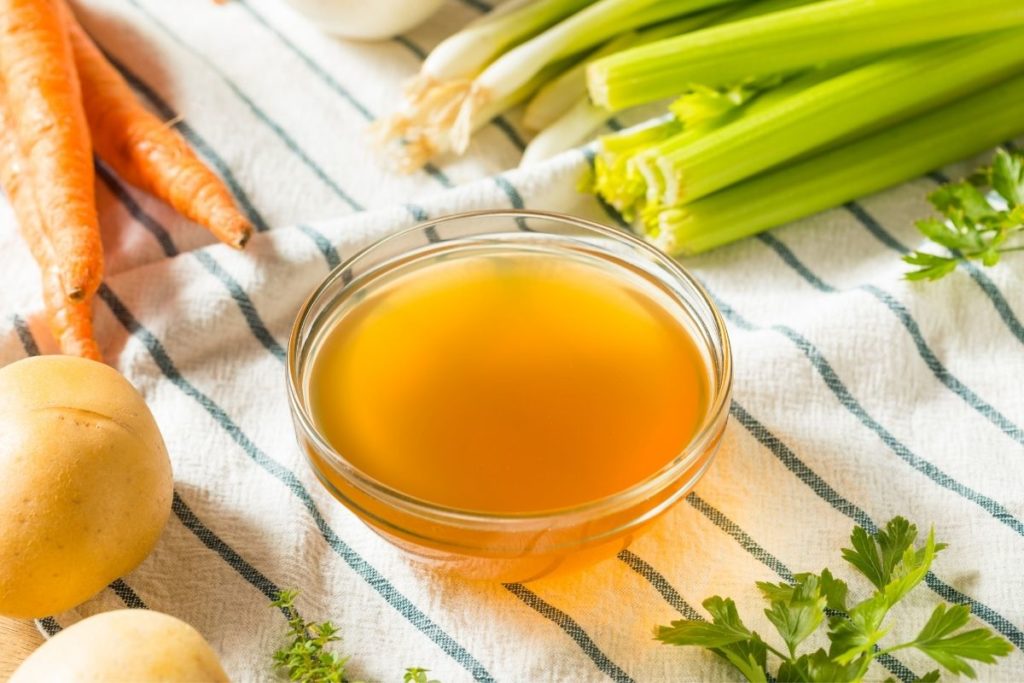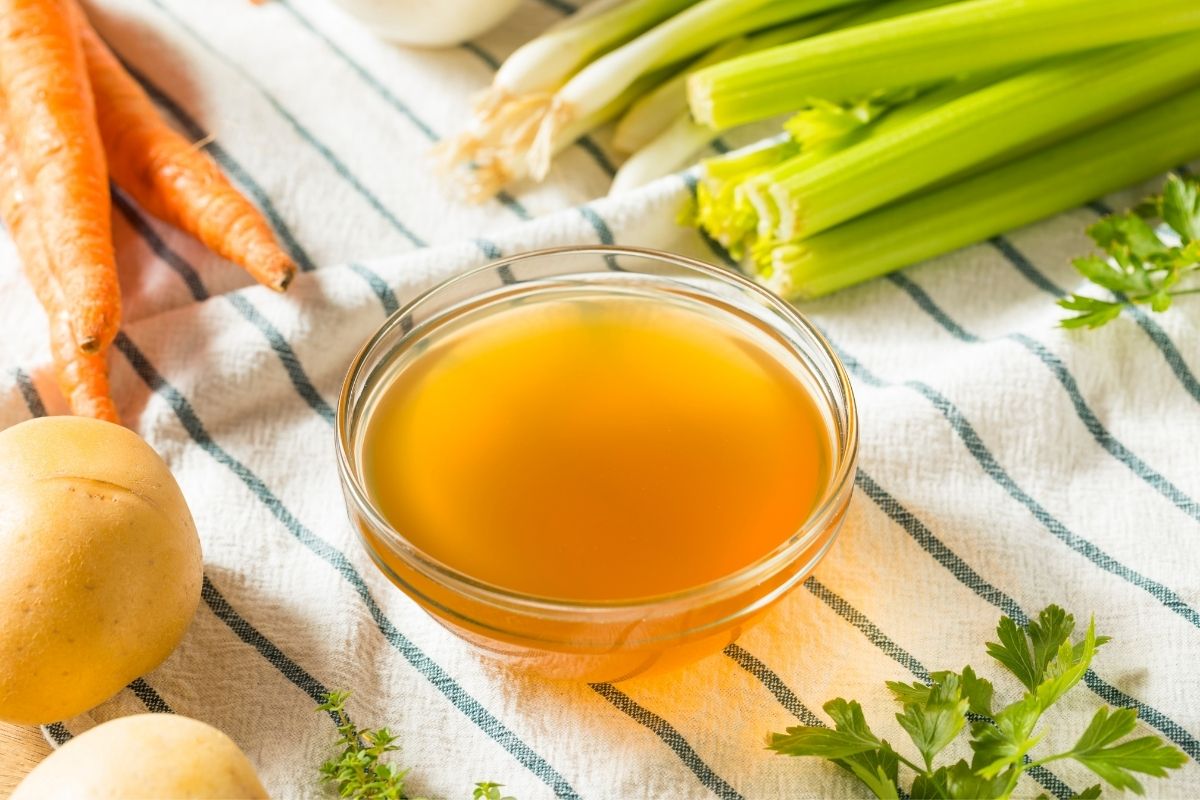 Are you looking for a vegan option for your recipe? Vegetable broth is an ideal beef broth replacement. This broth is readily available in stores, but preparing your own broth is quite easy and affordable. You can add any vegetables and as much as you want.
In a pot, saute the vegetables.
Afterward, cover and simmer for a couple of hours.
For a variety of flavors, use onion skins, celery, and carrots.
Then add some kale ribs, mushroom stems, or peppers.
Finally, strain with cheesecloth and add to your recipe.
To substitute, use vegetable broth in equal amounts called for beef broth in the recipe.
2. Chicken Broth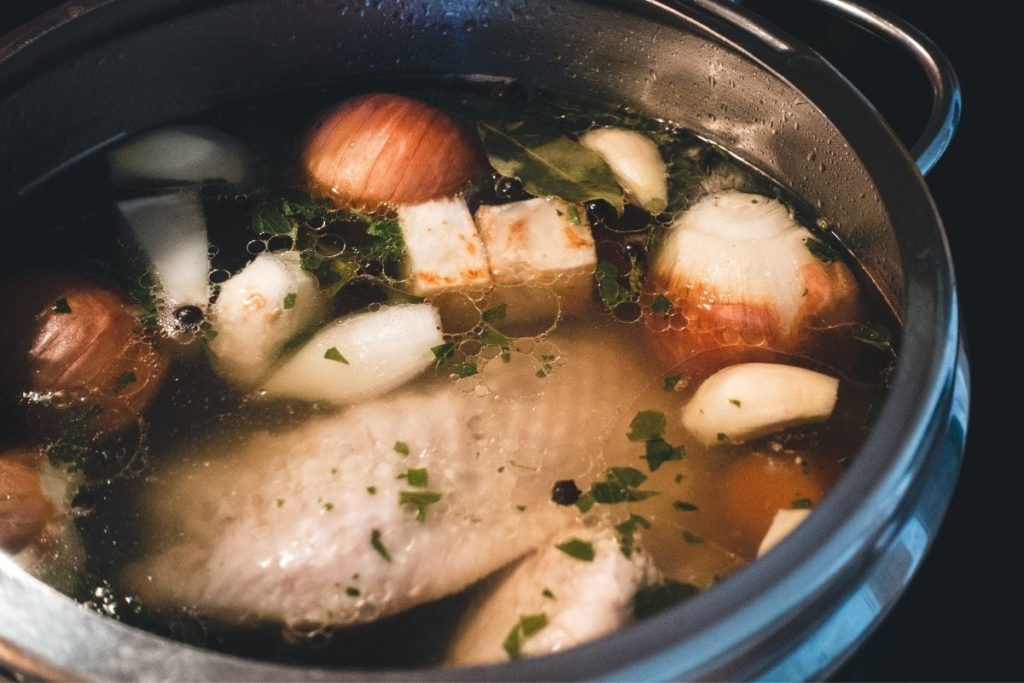 Chicken broth can also act as a stand-in for beef broth. It has a closer flavor profile since it is also made from meat. You can buy it in stores or prepare it at home. This option can provide you with the taste enhancement you are looking for.
Use chicken broth in place of beef broth in a 1:1 ratio. This is, to use it in the same proportions as required in the recipe. It works well with soups, stews, and creamy sauces.
Homemade broth also has health advantages, such as strengthening bones and easing cold symptoms. It also has anti-inflammatory properties.
3. Mushroom Broth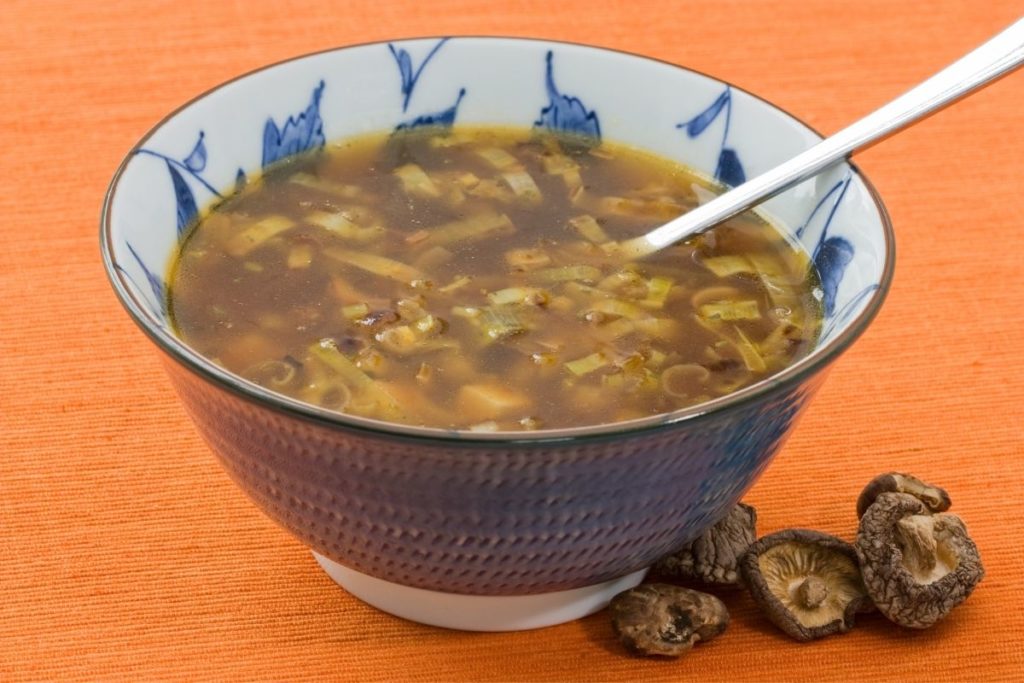 How about mushroom broth? It is a simple alternative you can use. To create mushroom broth, use a yellow onion, fresh or dried assorted mushrooms, a carrot, a bay leaf, parsley sprigs, thyme, peppercorns, and salt. Put them in water and bring them to a boil.
When you get that unique mushroom taste and the vegetables turn soft, your mushroom broth is ready. Note, though, you can expect to wait an hour or more for a great outcome.
You may add a small amount of red wine, soy sauce, or even miso paste to the vegetables when sauteing them if you want to enhance your broth a little. It will significantly improve the flavor.
4. Bouillon Cubes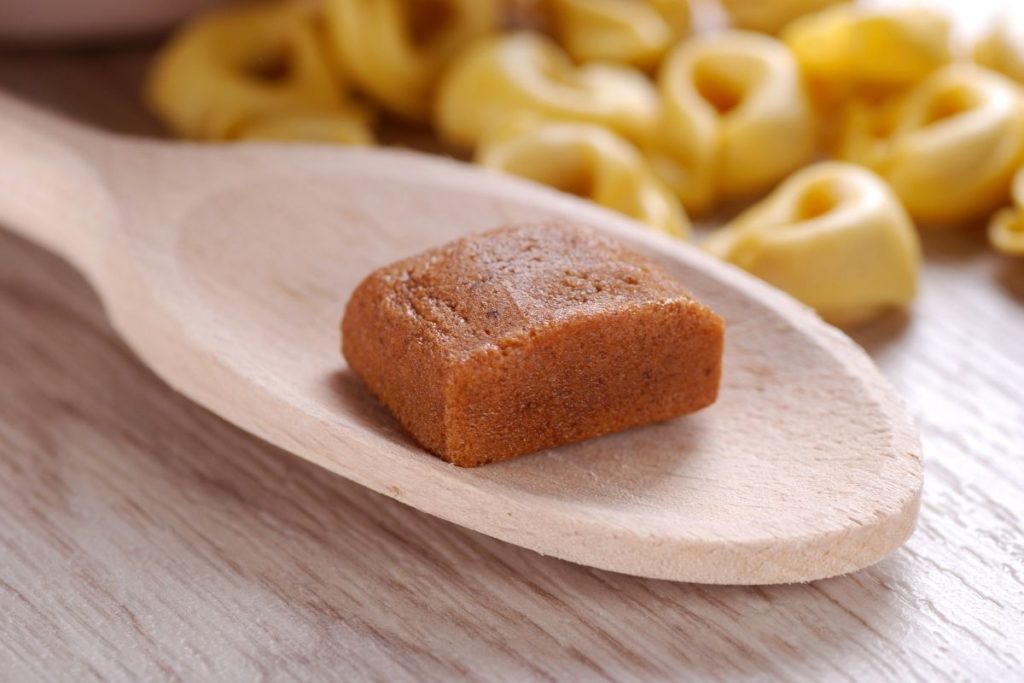 Do you want to avoid making your own broth? It can be a time-consuming task, so bouillon cubes are a perfect fit for a simple method. If you cook often, it is a smart idea to always have some on hand.
Beef bouillon cubes, of course, are intended to be used in lieu of beef broth. If you do not have beef cubes, you can substitute vegetable or chicken cubes. The salt level is higher, but the taste will significantly improve.
To use as a substitute, dissolve a bouillon cube in a cup of boiling water. You will get a cup of broth out of this. It is important to note that bouillon cubes can be very salty. Therefore, you may need to make some adjustments to your recipe.
5. Wine or Beer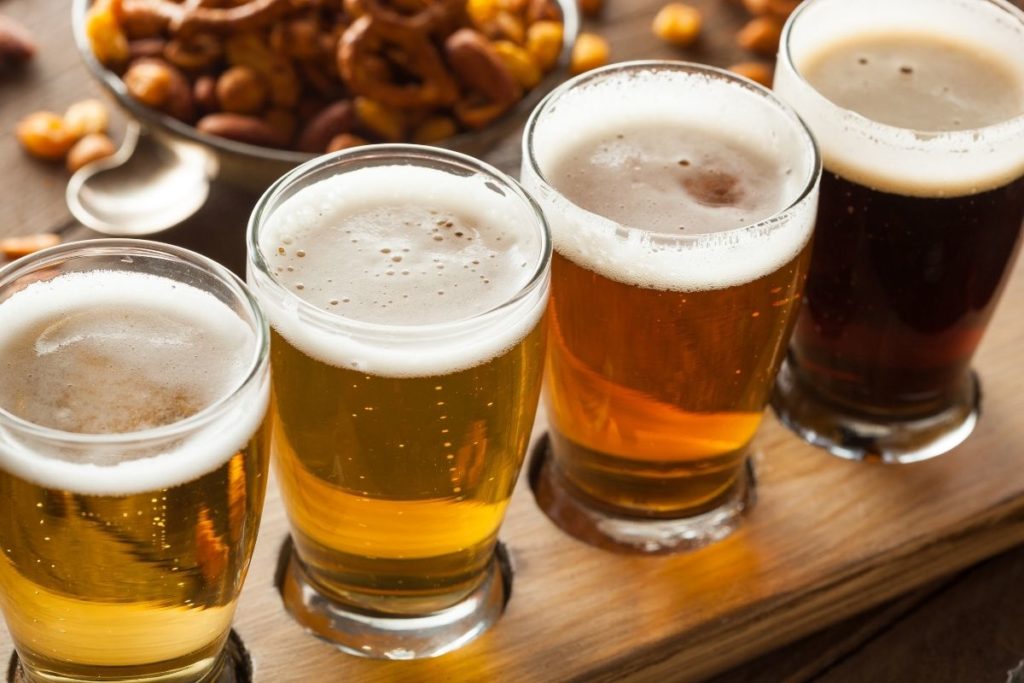 Got a bottle of wine or beer? You can exchange beef broth with a mixture of water and beer or wine. Use it in stews or make a tasty and dynamic sauce or gravy by deglazing a pan. While cooking, most of the alcohol evaporates, leaving behind an enticing taste.
If you choose this substitute, use an equivalent amount of wine or beer as needed for the beef broth. For example, add a cup of wine or beer for every cup of beef broth.
6. Soy Sauce, Worcestershire Sauce, or Liquid Aminos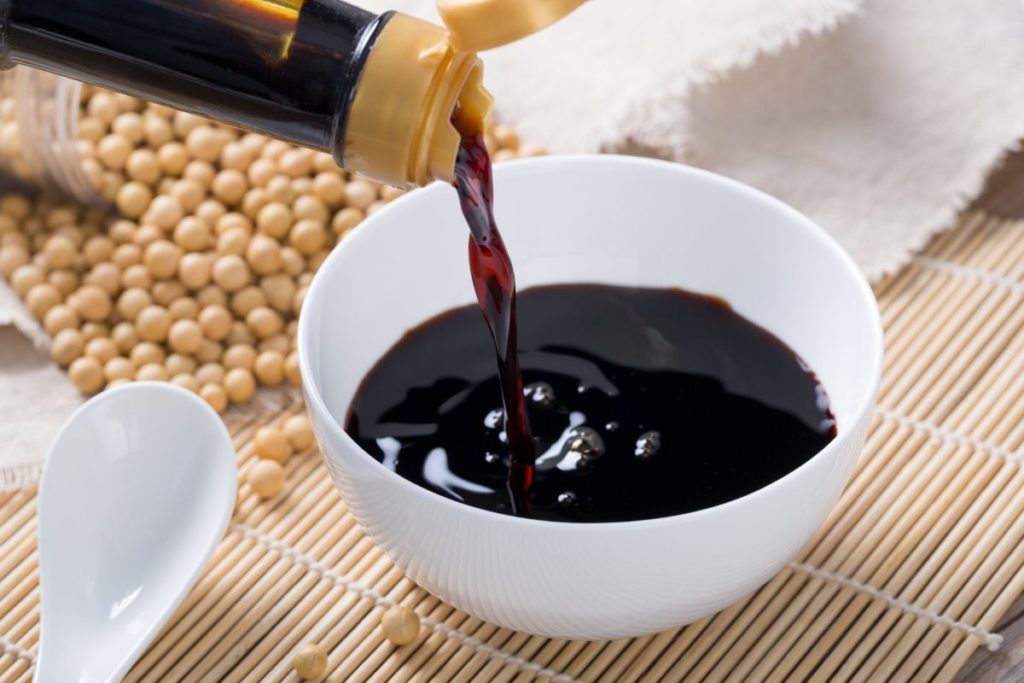 If none of our other alternatives are available, soy sauce, Worcestershire sauce, or liquid aminos will suffice. The savory taste of these choices will make a delicious dish. However, since these ingredients have a unique taste, they will only work for a few recipes.
These liquids have concentrated flavors, so use them sparingly. Adding a small amount makes a big difference to your dish.
To replace the umami flavor of beef broth, add a tablespoon of soy sauce, Worcestershire sauce, or liquid aminos to a cup of broth or water.
The Bottom Line
While beef broth is a common ingredient in several recipes, there are a lot of substitutes you can use. The above list will give your dish both a delicious and distinct flavor. Just make sure to use the right amount in your recipes.
Print
6 Best Beef Broth Substitutes
Check out these great substitutes for Beef Broth that have been shared on Pinterest.
Instructions
Click on each link above to view the pin.
Learn more about the ingredient.
Purchase the ingredient.
Add a substitute to your recipe =)
Keywords: Best Beef Broth Substitutes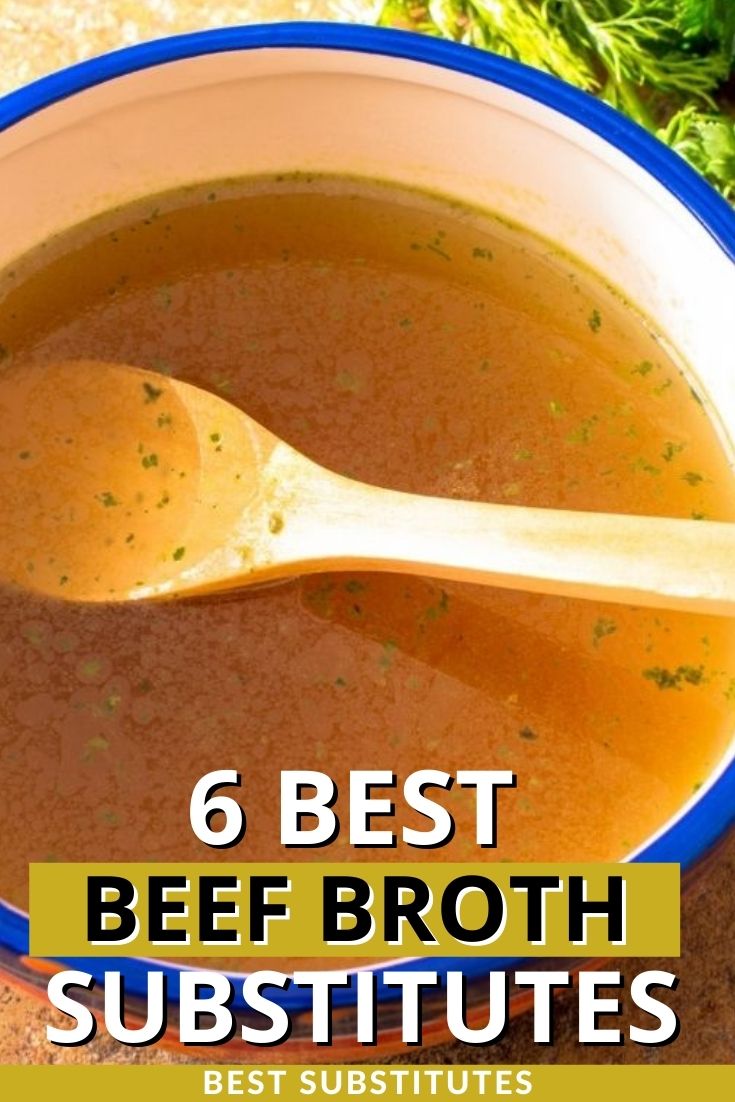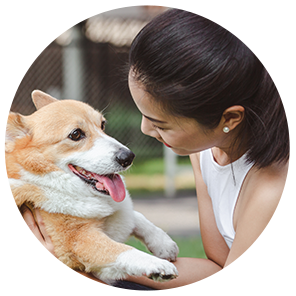 Hi, I'm Linda thanks for stopping by! We're so happy you're here. If you're a foodie and love to cook from home - you're in the right place..
LEARN MORE
Join the mailing list and receive our free newsletter!
Recipe Marker provides you with the best information about home cooking tips, recipes, ingredient substitutes and more. Check out our blog to see the latest articles.