5 Best Sides to Serve With Cioppino (Updated 2023)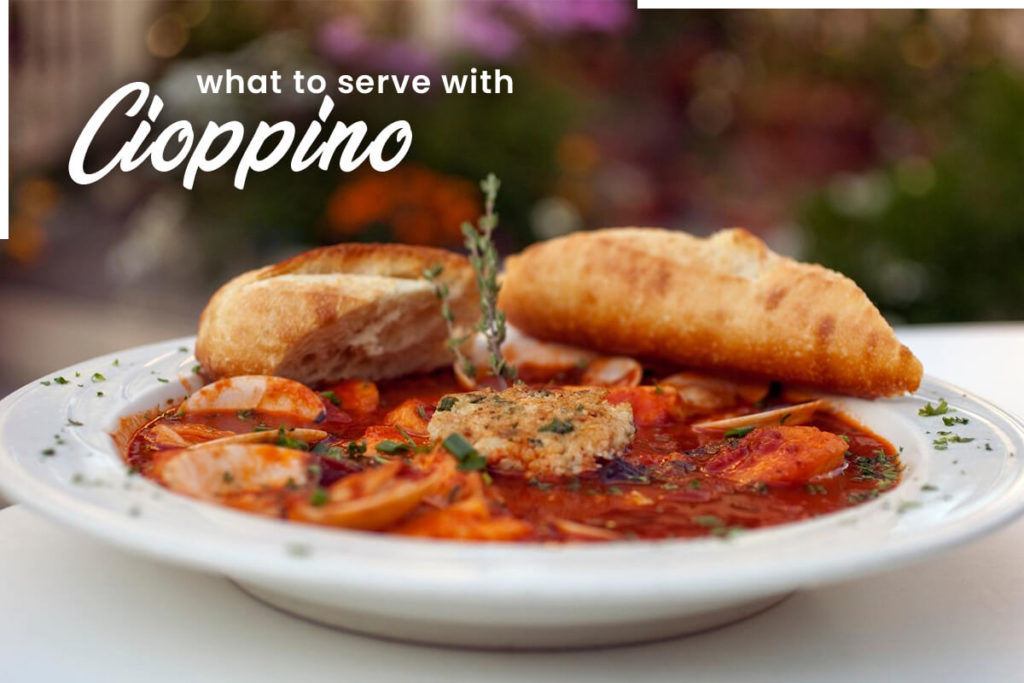 Are you trying to decide what to serve with cioppino? Stick around as we share a list of the most popular side dishes for cioppino below.
Cioppino is the best seafood dish out there, hands down. This is a traditional Italian-American meal made with a hearty tomato broth and a mix of seafood.
Just in case you're not familiar with cioppino we wanted to give you a little background on this seafood soup.
What Is Cioppino?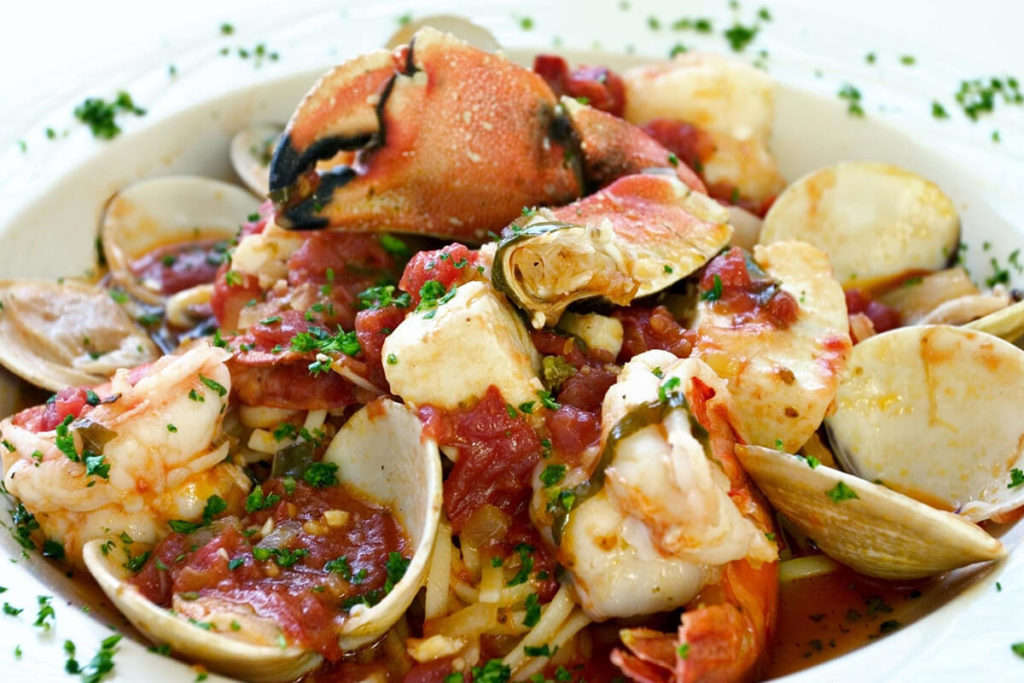 Traditionally, in San Francisco, cioppino encompasses whatever the day's catch is, which in this example is a blend of Dungeness crabs and clams, shrimp, scallops, squid, mussels, and fish caught in the Pacific Ocean.
In a wine sauce, the fresh tomatoes mix with the shellfish.
Toasting French or local sourdough bread is an option for accompanying the meal.
When dipped into the sauce, the bread is starch comparable to spaghetti. A popular dish at the wharf's Italian restaurants in the early 1900s, people originally prepared cioppino on ships at sea, or the sailors' wives made it at home.
Alioto's #8 popularized cioppino in the restaurant scene. Italian immigrant Nunzio Alioto opened a stand at #8 Fisherman's Wharf in 1925 to sell lunchtime supplies to the Italian immigrants working on the waterfront.
He expanded his company and built the first structure at the famous intersection of Taylor and Jefferson in 1932. He merged a fish stall with a seafood bar, serving shrimp cocktails, steamed crab, and other seafood specialties.
Nunzio died suddenly, and his wife, "Nonna" Rose, and their three children took over the stand. Rose was the first woman to work on the wharf when she took over.
Alioto's Restaurant got formally inaugurated in 1938 when she erected a kitchen in the old building.
Cioppino's taste and texture are remarkable. But of course, regardless of how delicious cioppino is, you can always level up your entrée with various side dishes.
Let's find out the best sides for this Italian dish below.
What to Serve With Cioppino
1. Potato Salad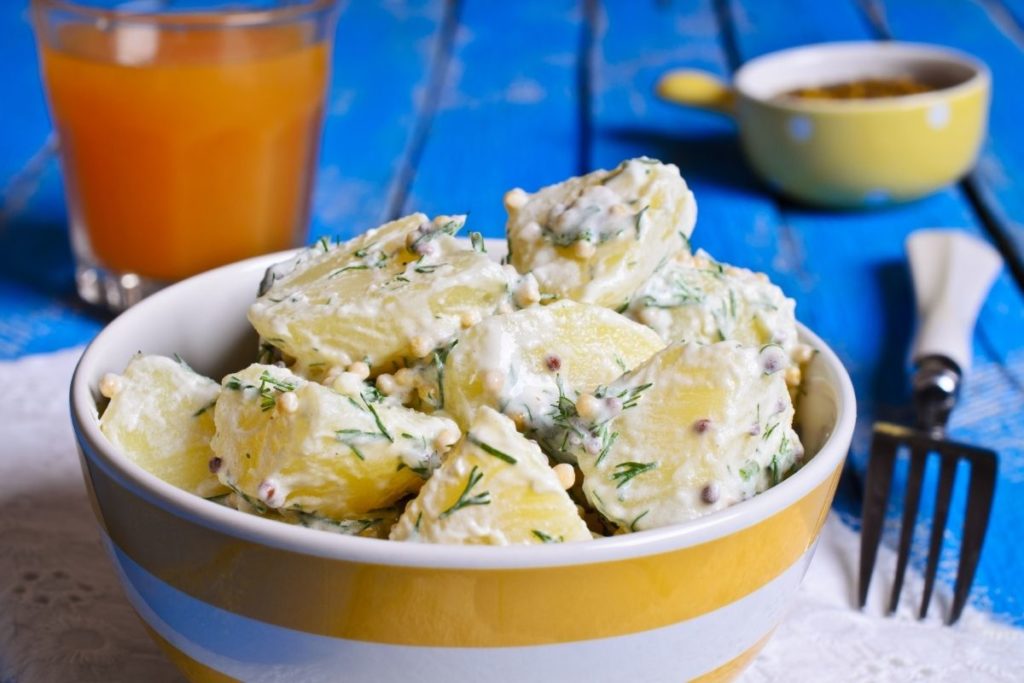 It's no secret that people across the world cherish potato salad as a side dish. It's ideal for cioppino since it adds color, texture, and flavor to the meal.
Boiling potatoes, mayonnaise, mustard, and pickles make up the salad. You can either make potato salad from scratch or purchase it from the supermarket.
Delicious and tasty, it combines perfectly with cioppino as a savory side dish. Instead of mayonnaise, use greek yogurt to produce a healthy version of the meal.
Also, substitute olive oil with canola or vegetable oil for a healthier version.
2. Corn on the Cob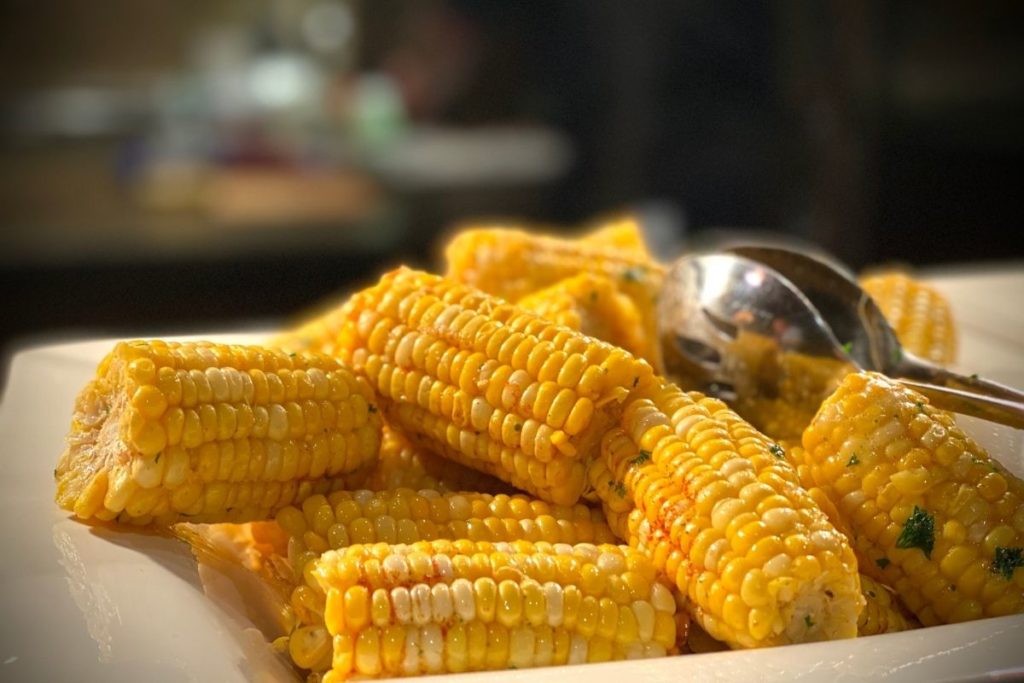 Corn on the cob is a great dish to serve alongside cioppino because the corn's sweetness nicely complements the seafood taste, giving the meal a unique touch.
Grilled corn is also quite simple to cook, using only butter, salt, and pepper to get the job done. Grilled corn is a delicious addition to any summer barbecue or get-together, bringing out a smokey taste.
When cooking cioppino, don't forget to grill some fresh corn on the cob to accompany your meal.
3. Garlic Bread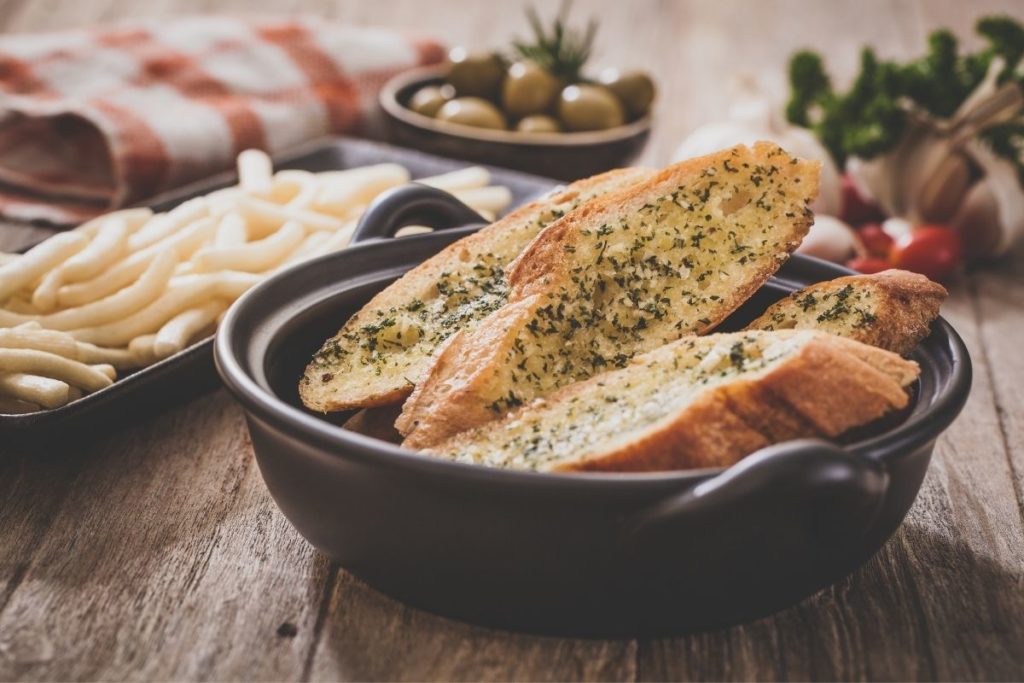 Buying baguettes from the grocery store and cutting them in half is a simple way to make garlic bread.
Sprinkle shredded mozzarella or parmesan cheese on top and bake it until melted for a delicious addition.
When paired with cioppino, this dish provides a complete dinner. One option is to make garlic bread with Ciabatta bread.
Bake it for 10-15 minutes in a hot oven, slice it, and then garnish it with butter, parsley, and parmesan cheese.
4. Roasted Veggies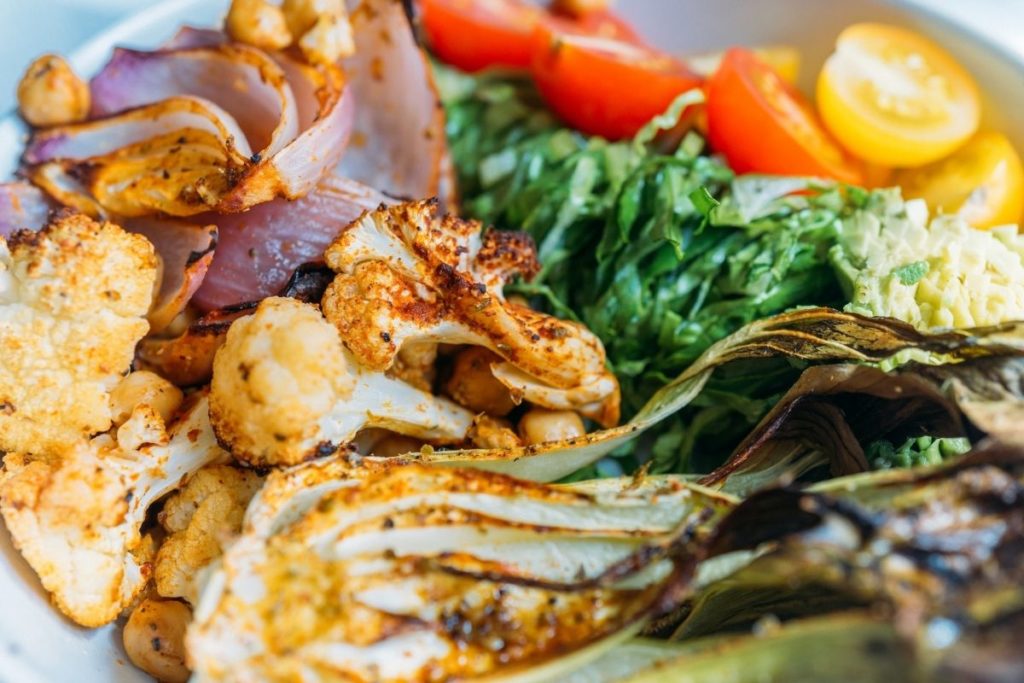 It's easy to bring out the sweetness of veggies by roasting them. This side dish enhances any seafood entrée.
Roasted carrots, Brussels sprouts, and potatoes are some of our favorite combinations of veggies. For the finest flavor, season your veggies liberally with salt and pepper. Whether it's winter or summer, roasted veggies make a tasty and nutritious side dish.
Even if you don't have much time to cook on a weeknight, they are a welcome addition to any potluck or party meal.
Roasted veggies are an excellent accompaniment to your next cioppino meal, and they're easy to prepare too.
5. Caprese Tomato Risotto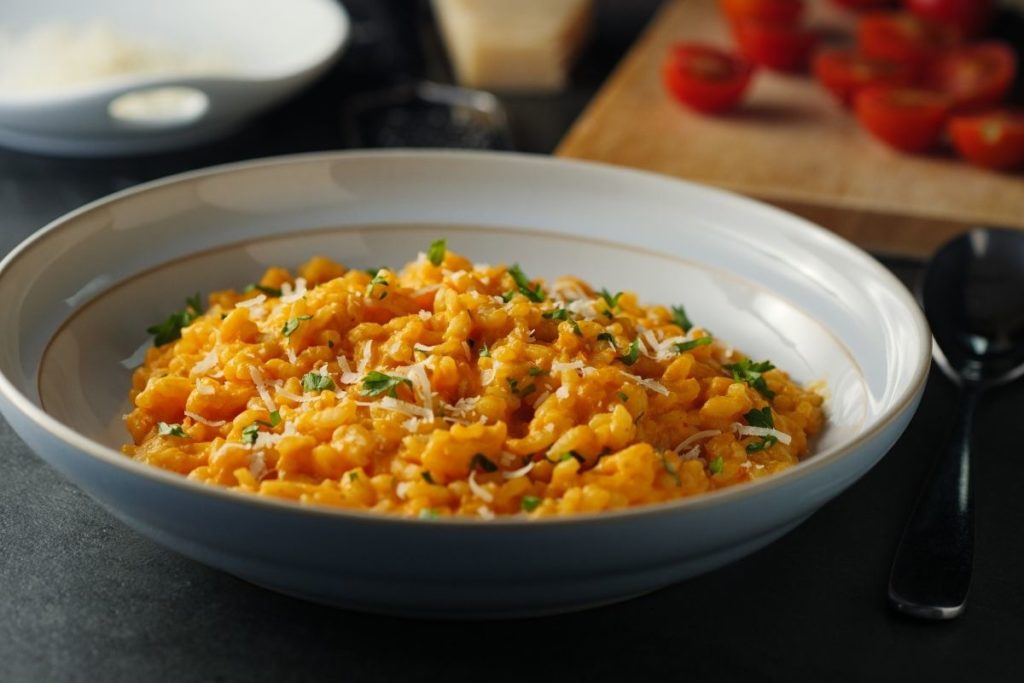 Caprese tomato risotto is an excellent side dish to offer with cioppino. It's both basic and beautiful, making it ideal for any event.
Creamy arborio rice, mozzarella, and fresh tomatoes form the delicious Caprese tomato risotto.
Basil and a drizzle of mild balsamic vinaigrette top it off to give the perfect taste. Everything in this risotto works so well together.
This Caprese tomato risotto is a certain way to wow your dinner guests.
Suitable for ordinary meals as well as more formal gatherings, this dish is a great choice to serve with cioppino, so don't miss out on the opportunity.
Conclusion
Cioppino is a great dish to serve with all different sides. We hope this list of the best cioppino side dishes helps you decide what to try next.
Print
5 Best Cioppino Side Dishes
Check out these great Side Dish Recipes for Cioppino that have been shared on Pinterest.
Instructions
Click on each link above to view the pin and recipe.
Obtain all the necessary ingredients to make the recipe.
Follow the steps to create your side dish.
Enjoy your delicious meal =)
Keywords: Best Cioppino Side Dishes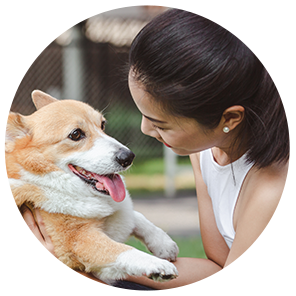 Hi, I'm Linda thanks for stopping by! We're so happy you're here. If you're a foodie and love to cook from home - you're in the right place..
LEARN MORE
Join the mailing list and receive our free newsletter!
Recipe Marker provides you with the best information about home cooking tips, recipes, ingredient substitutes and more. Check out our blog to see the latest articles.