What to Serve with Crab Cakes: 6 Best Side Dishes to try in 2023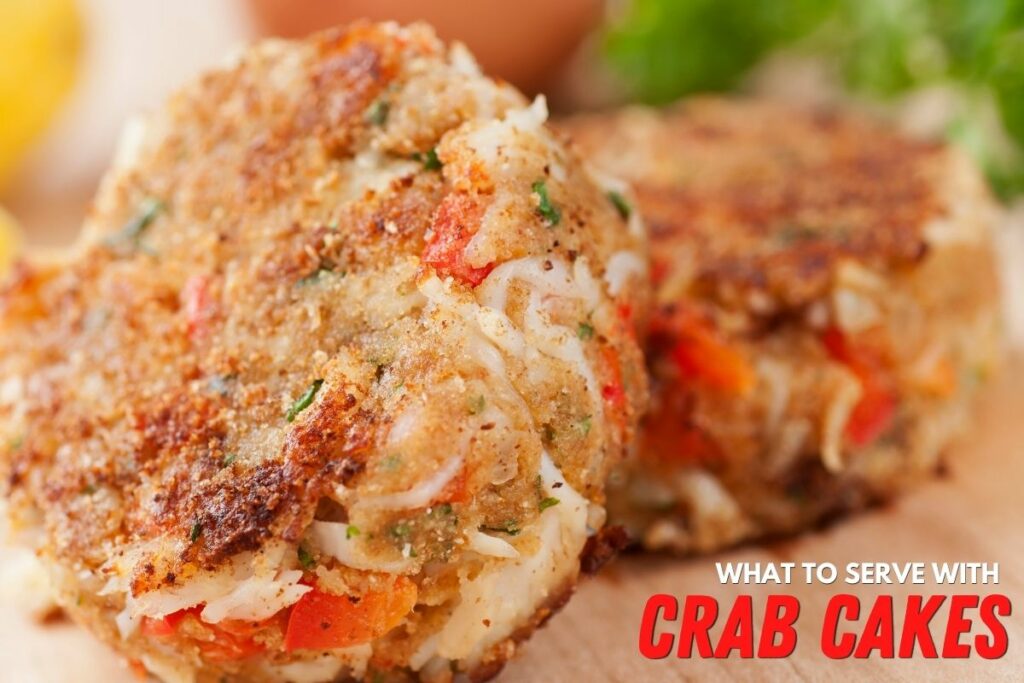 Are you trying to decide what to serve with crab cakes? Stick around as we share a list of the most popular side dishes that go well with crab cakes.
Crab cakes are a party favorite and these make for a great seafood entrée to have any time of the year.
Whether you're going to have this as an appetizer or your main dish, it's easy to see that crab cakes are one of the most versatile dishes out there.
What to Serve with Crab Cakes
1. Goat Cheese Salad with Arugula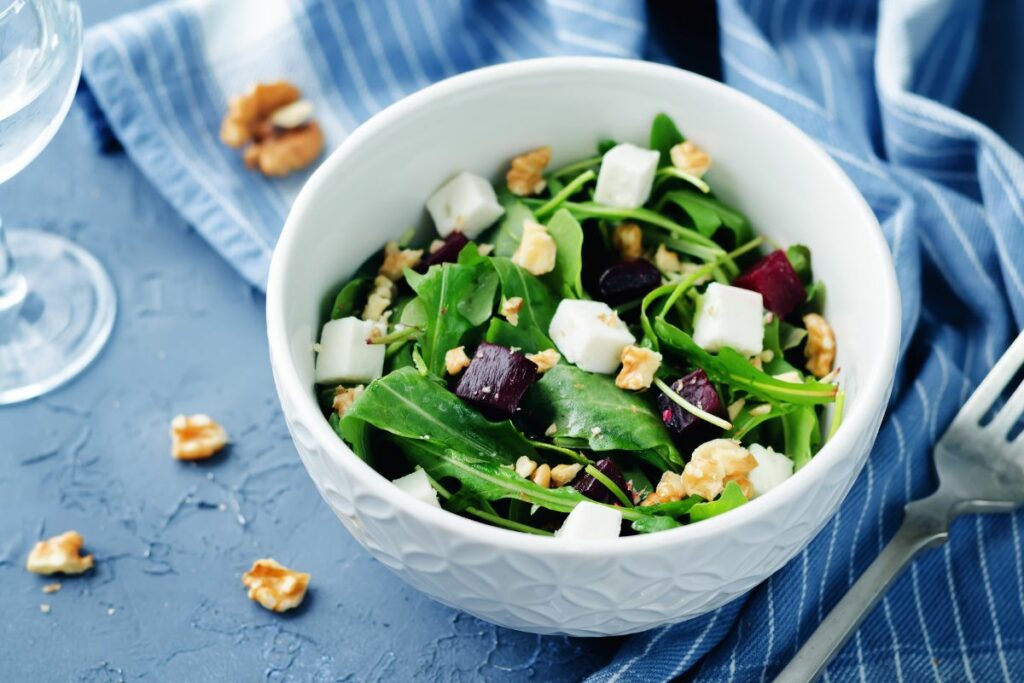 Let the crab cakes shine and pair this with a side salad of no other than goat cheese and arugula. Simple as it may seem, this arugula salad is packed with a ton of flavor.
Made with leafy veggies, apples, pecans, goat cheese, and balsamic dressing, this brings a symphony of flavors to your mouth.
The crisp and crunchy arugula salad makes for a good pairing with crab cakes since this is bright, light, and refreshing in every sense of the word.
The arugula brings with it an earthy and peppery taste, while the goat cheese ties in the whole salad with its creaminess and funky flavor profile.
2. Coleslaw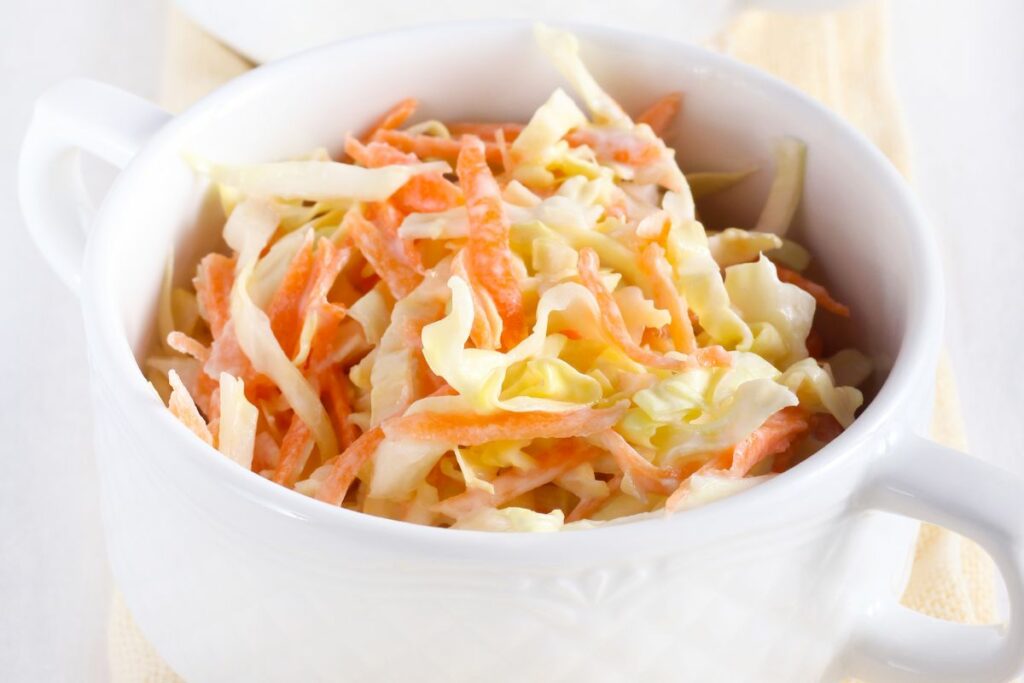 Coleslaw is a great foil to your crab cakes, even with its mayonnaise-based dressing.
While this creamy dressing can at times be cloying, the addition of vinegar certainly cuts through its heaviness and richness through its brightness and acidity.
The Dijon mustard, on the hand, lends some tanginess to the coleslaw. Combined with the vibrant array of cabbage and carrots, you can find a play of sweet, creamy, savory, and tangy in this slaw alone.
It also helps that the colors help make for a vibrant plate, especially alongside the crab cakes.
3. Corn Chowder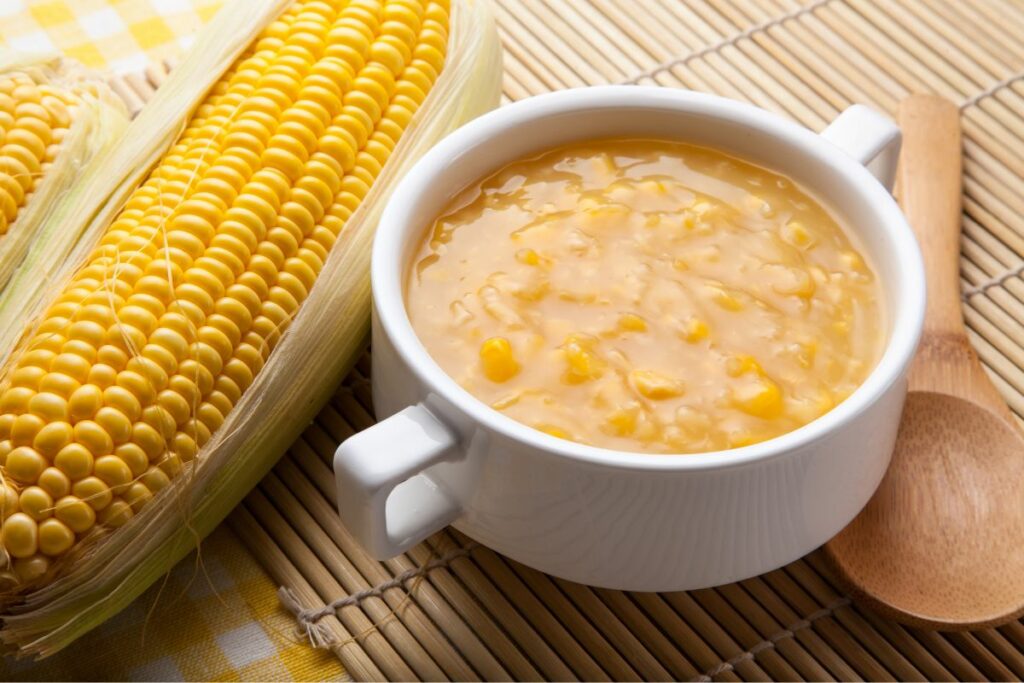 There's something nostalgic about the classic crab cakes, with some even tracing this back to their childhood, and rightly so.
This warm and filling soup goes hand in hand with crab cakes, with the corn chowder bringing a play on sweet and savory flavors to your palate.
Comforting in every sense of the word, this thick and creamy soup bears similarities in taste to crab cakes.
Top this off with some bacon for extra crunch and texture, but if you find bacon to be a little too indulgent to pair with crab cakes, you can opt for some mushrooms to mix in the chowder.
The umami taste from the mushrooms will add depth and dimension to the dish and will elevate its taste.
4. Mango Salsa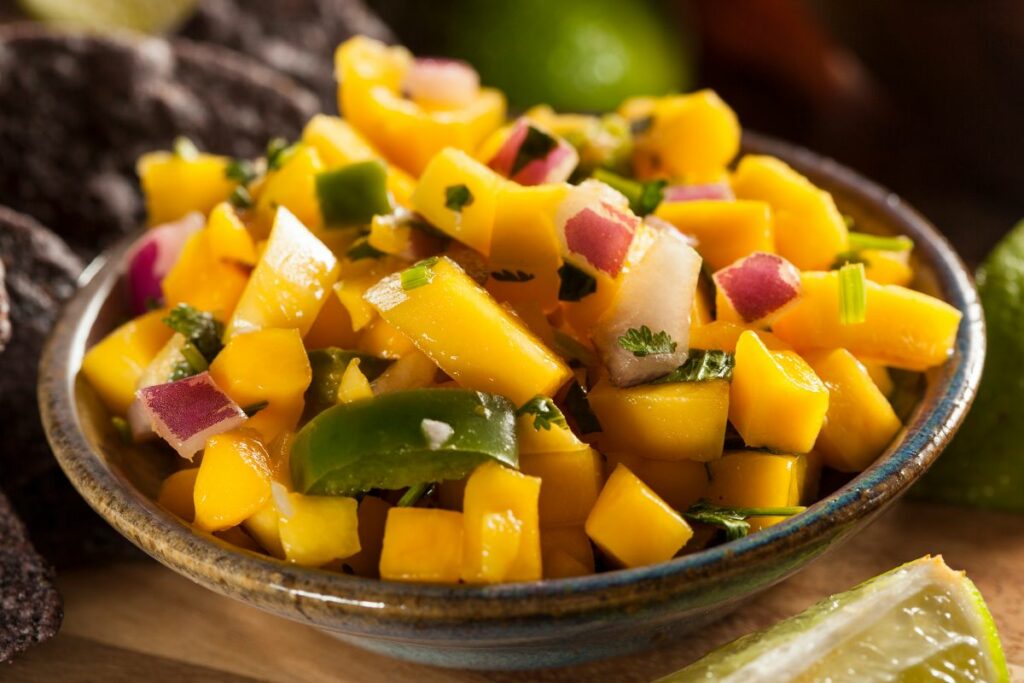 Mangoes are considered summer fruits, so why not bring your crab cake party to the tropics with this mango salsa?
You can give another edge to your crab cakes by pairing this with crab cakes and this refreshing dip.
This salsa has all the flavors you could ever want and more. From sweet, tangy, spicy, and salty, you can never want more with this combination.
To make this truly shine, make sure to use the freshest and ripest ingredients. You can also use pineapples in lieu of mangoes and it will still taste equally delicious.
If you want that kick of spiciness, adding some freshly chopped jalapeno peppers will add some heat and depth to your salsa.
This will likewise cut through the richness of the crab cakes.
5. Broiled Asparagus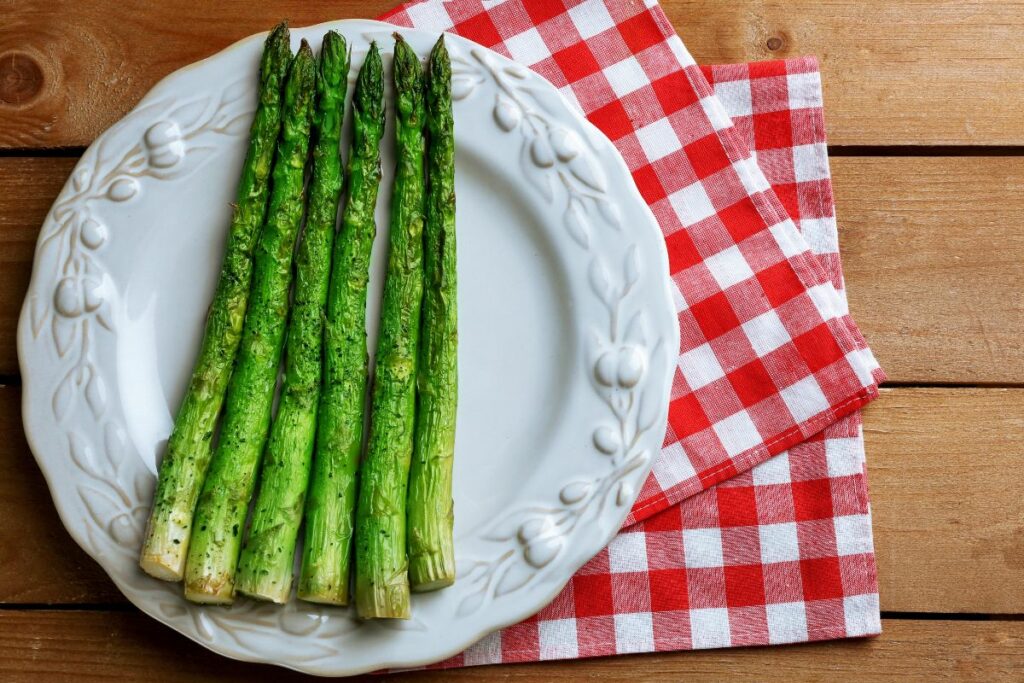 Another simple side dish you would want to serve over and over again is broiled asparagus. With a lemon-heavy flavor profile, this will give brightness thanks to its citrusy flavor.
This comes together in a few minutes, so you'll have an excellent side with minimal effort.
The charred yet tender vegetables, on the other hand, bring some smokiness to the dish and give it another dimension.
The longer you roast them, the more they'll develop flavor and give them that distinct earthy taste.
6. Baked Herbed Potatoes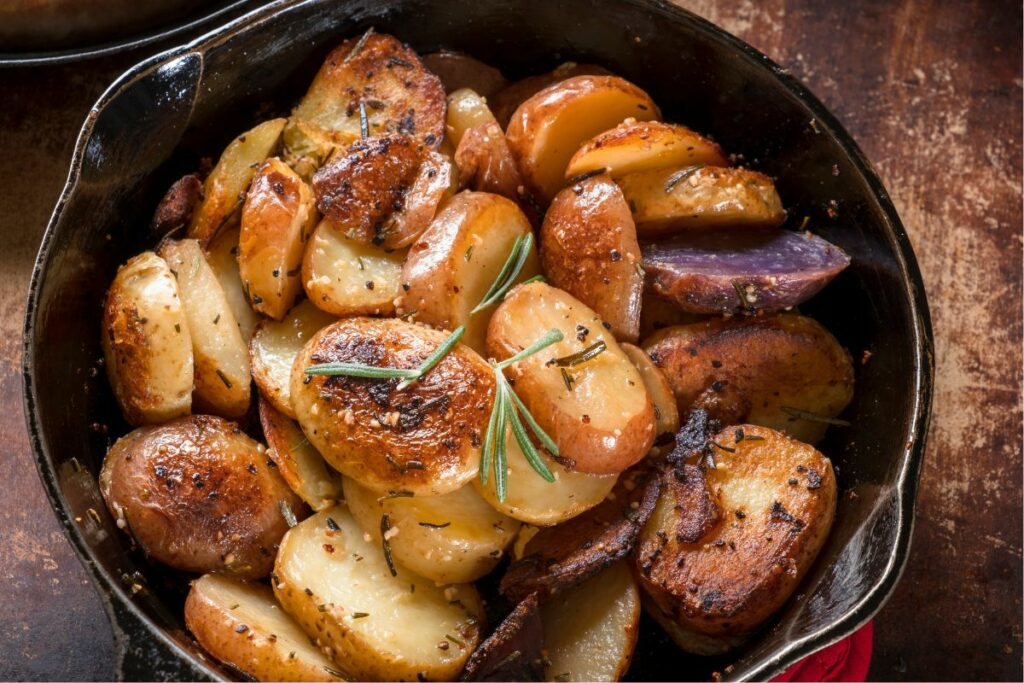 Make crab cakes a whole meal by serving some baked herbed potatoes on the side. These are crispy on the outside and soft on the inside, giving an irresistible play on textures.
After all, roasting and baking these will make them crisp up and take on a crunchy texture that will leave you wanting to pop more in your mouth.
Dress these potatoes with your seasoning of choice. We suggest some of the classic herbs and spices to truly make its flavors come out.
Oregano, parsley, and even rosemary finished with some salt and pepper, will make these even tastier and aromatic.
If you're feeling adventurous, you can also use other seasonings that complement crab cakes.
Cajun seasoning has a tinge of spice and heat that comes through and that works nicely against the richness of the crab cakes.
The Bottom Line
Crab cakes are a great dish to have when you want to celebrate or when you just want some comforting food.
Paired with these side dishes, you can serve this staple food and make it a complete meal that's apt for just about any occasion.
Print
6 Best Sides for Crab Cakes
Check out these great Side Dish Recipes for Crab Cakes that have been shared on Pinterest.
Author:
Prep Time:

5 minutes

Cook Time:

10 minutes

Total Time:

15 minutes

Yield:

1 serving

Category:

Sides

Method:

Cooking

Cuisine:

Side Dish
Instructions
Click on each link above to view the pin and recipe.
Obtain all the necessary ingredients to make the recipe.
Follow the steps to create your side dish.
Enjoy your delicious meal =)
Nutrition
Serving Size:

1 serving

Calories:

150

Sugar:

0.9 g

Sodium:

2080 mg

Fat:

6 g

Saturated Fat:

0.5 g

Unsaturated Fat:

1.5 g

Trans Fat:

0 g

Carbohydrates:

21 g

Fiber:

2 g

Protein:

2 g

Cholesterol:

0 mg
Keywords: Best Sides for Crab Cakes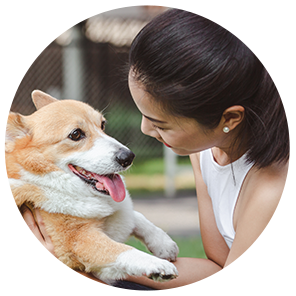 Hi, I'm Linda thanks for stopping by! We're so happy you're here. If you're a foodie and love to cook from home - you're in the right place..
LEARN MORE
Join the mailing list and receive our free newsletter!
Recipe Marker provides you with the best information about home cooking tips, recipes, ingredient substitutes and more. Check out our blog to see the latest articles.