What To Serve with Focaccia: 7 Best Sides (2023)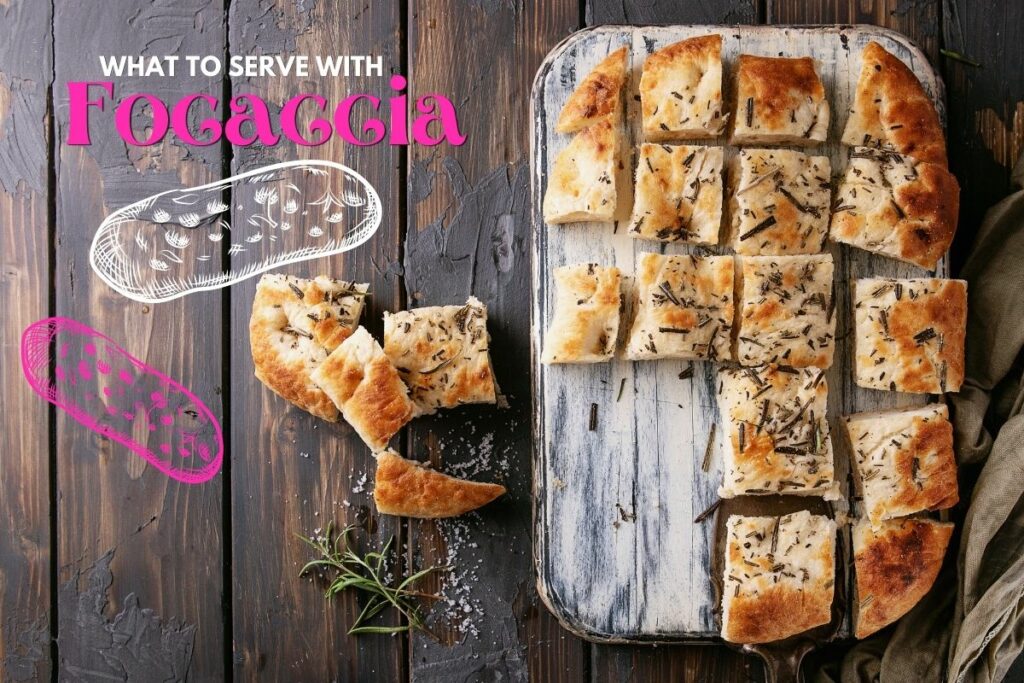 Are you trying to decide what to serve with Focaccia? Stick around as we share a list of the most popular side dishes that go well with Focaccia.
Focaccia is a traditional Italian flatbread that goes well with a lot of things. It is a great choice for street food because of how versatile and convenient it is.
If you want to serve it for a meal with family and friends, here's what to serve with this bread.
What to serve with Focaccia
1. Olive Oil and Balsamic Vinegar Mix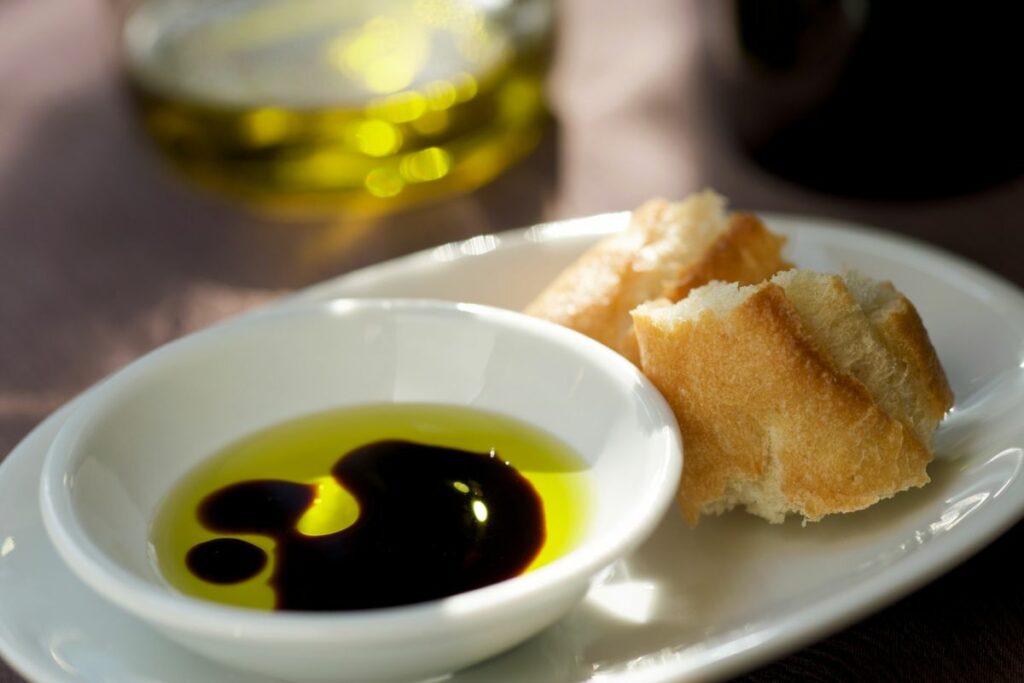 There are numerous condiments and ingredients that are staples in Italian cuisine, and olive oil and balsamic vinegar are two of them.
Because focaccia is a traditional street food, you might want to pair it with something equally conventional.
High-quality olive oil offers a slightly bitter yet fresh taste. The balsamic vinegar gives it an acidic, sweet, and smoky flavor.
The combination of these two makes for a dynamic dip for this flatbread.
Plus, you can easily make it with, well-mixing olive oil and balsamic vinegar!
However, you can spice it up by cooking minced garlic, dried herbs, salt, and pepper in the oil, then mix this with the vinegar and finish it off with grated parmesan.
2. Cioppino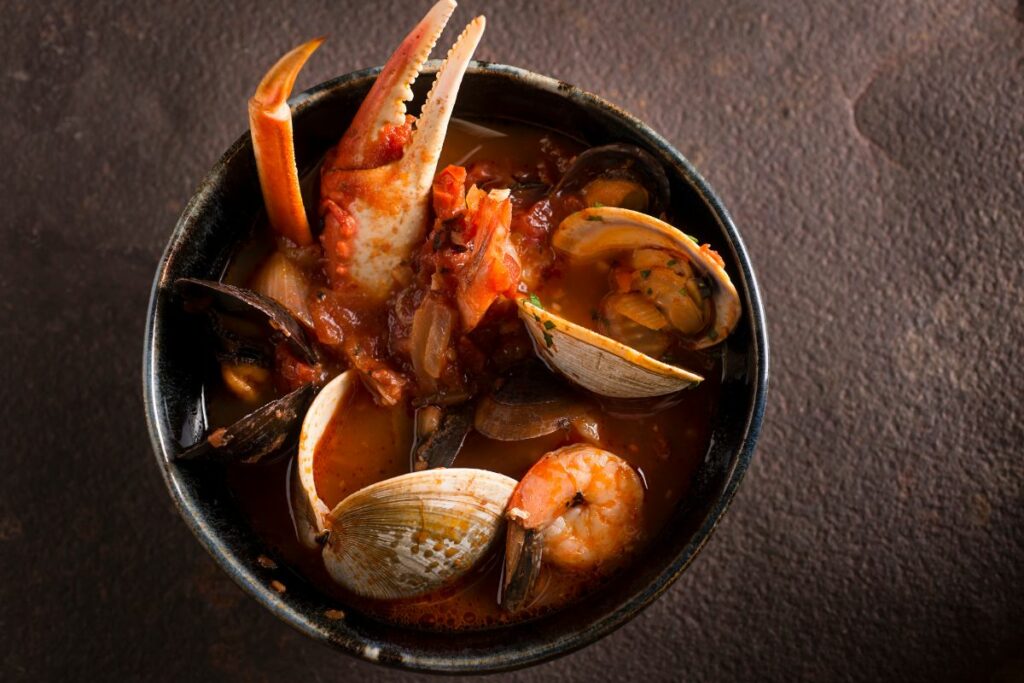 Cioppino is a rich seafood stew that pairs well with focaccia. Serving this as part of your meal can impress your guests because of how tasty and exciting it is.
It can also serve as a delicious main course. You can use different types of seafood including fish, clams, mussels, and shrimp, just to name a few.
Cooked in tomato and red wine with a few spicy elements, this dish is definitely a great addition to your dinner.
Because it is a stew, you can use the focaccia to sop up the remaining sauce, letting you make the most out of your meal.
3. Tomato Soup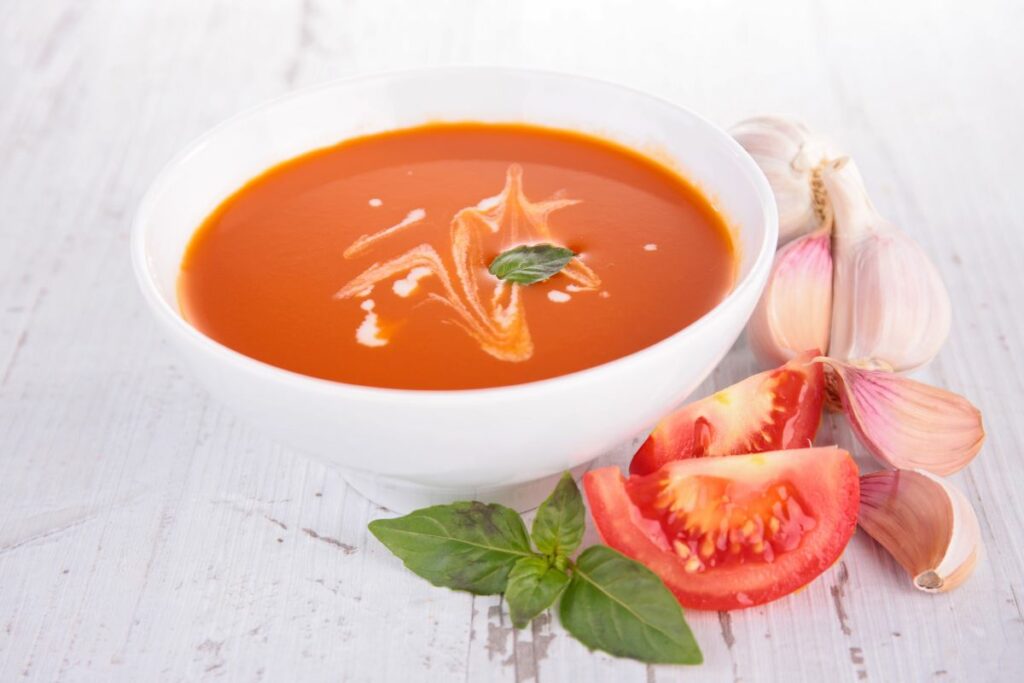 Say, you want to serve something relatively light, but still filling, just like your favorite comfort food.
The focaccia and tomato soup combo is what you should give to your guests.
Soup can be easily absorbed by bread, giving it a burst of flavor in every bite. Tomato soup, in particular, offers a hearty flavor complete with the refreshing taste of herbs and a slightly spicy kick.
Just like the bread, this soup is also very versatile, letting you make it any way you want.
You can make it as simple as mixing onion, melted butter, tomatoes, and broth in a pot, cooking them all together, and mixing them using an immersion blender.
You can also make a more complex version complete with different ingredients.
4. Hummus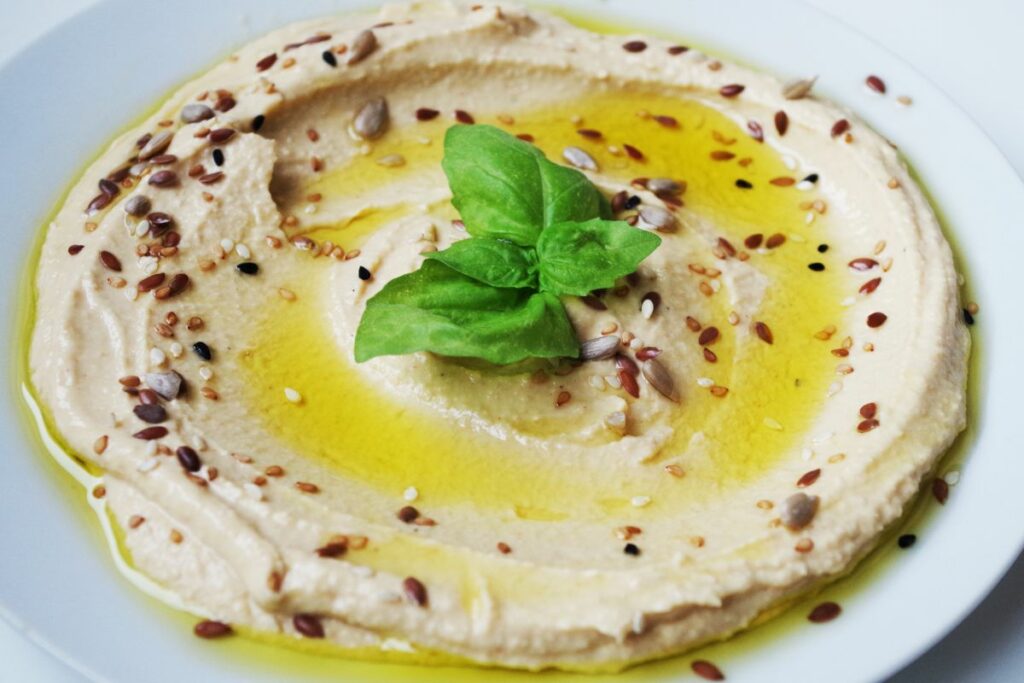 Say, you want to stay away from stewy or soupy sides for focaccia. Your best bet is to go with another favorite.
This Mediterranean and Middle Eastern choice provides a healthy dip for your carbohydrates.
It is made of blended chickpeas, a splash of lemon juice, tahini, garlic, and olive oil, for your classic hummus.
If you want a more decadent choice, you can use butter instead of olive oil.
Because focaccia is a traditional Italian bread, you might also want to make an Italian version of hummus using cannellini beans and pistachios instead of chickpeas and with the addition of parsley and black pepper.
5. Eggs Benedict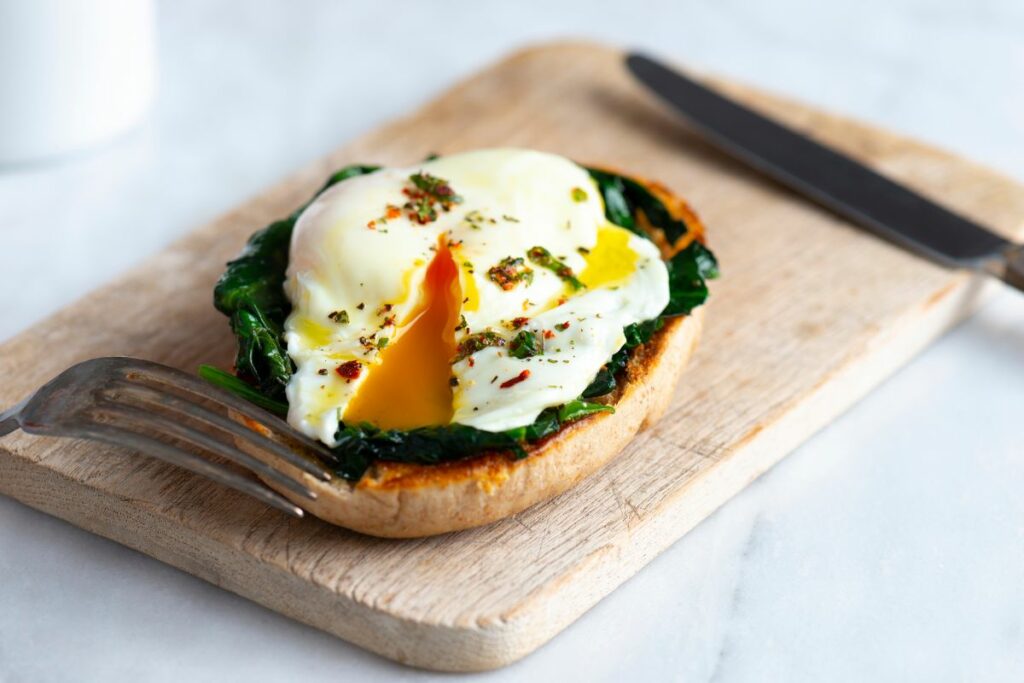 If you want a more breakfast-style serving with focaccia, you should go for eggs benedict.
This sides makes your brekky a more luxurious one, especially when combined with other Italian classics such as prosciutto, grilled tomatoes, and a rich hollandaise sauce.
The focaccia completes the who plate as it provides carbohydrates to power your day up, especially as you have a bit of protein, carbs, and vegetables in there.
The best part is this bread lets you soak the sauce and runny yolk, giving you a creamy delight with every bite.
6. Spaghetti Puttanesca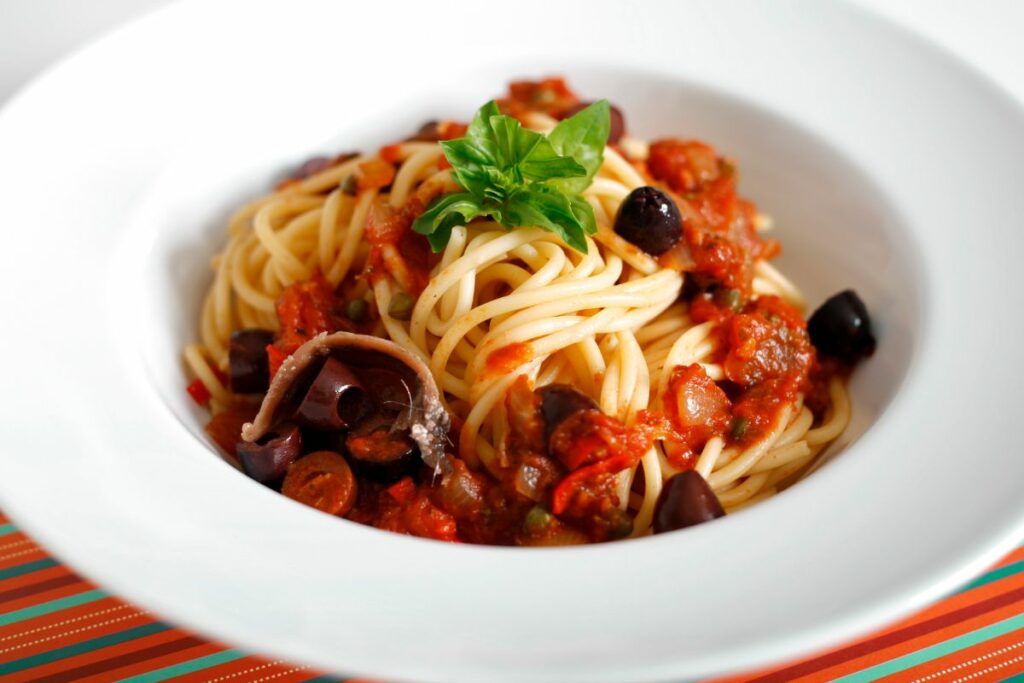 Staying true to your Italian cuisine route, you should serve something that is definitely associated with the culture.
Pasta is your best bet to give off that Italian vibe, puttanesca in particular.
This pasta offers a dynamic taste complete with a tangy and sweet flavor of tomatoes, garlic, and olives, and the slightly pungent and fishy element of anchovies.
Of course, it also comes with herbs and spices for that fresh taste. A bit of focaccia on the side can help you get more of that flavorful sauce.
7. Green Leafy Salad with Balsamic Dressing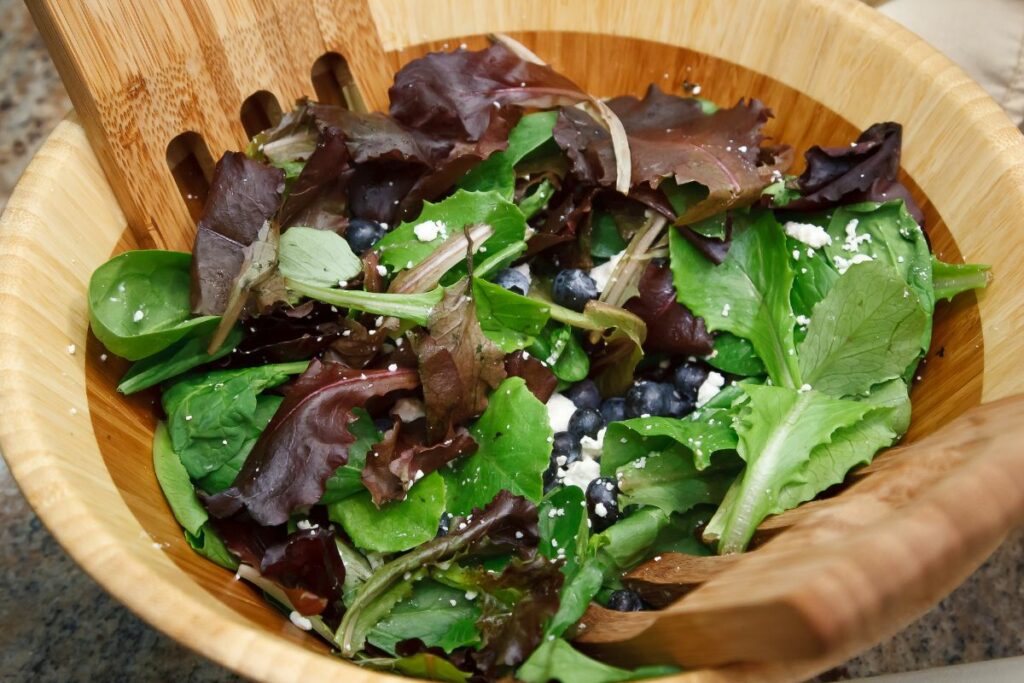 Now, if you want a healthier route, you should go for a green leafy salad with a balsamic dressing.
Like the classic dip, this is usually mixed with olive oil. The great part is it is mixed with vegetables that are full of nutrients and vitamins.
Conclusion
If you are thinking of what to serve with focaccia, then these sidings and courses are your best bet.
They are tasty, filling, and satisfying, helping highlight the soft and fluffy characteristics of this traditional Italian flatbread.
Print
7 Best Sides for Focaccia
Check out these great Side Dish Recipes for Focaccia that have been shared on Pinterest.
Author:
Prep Time:

5 minutes

Cook Time:

10 minutes

Total Time:

15 minutes

Yield:

1 serving

Category:

Sides

Method:

Cooking

Cuisine:

Side Dish
Instructions
Click on each link above to view the pin and recipe.
Obtain all the necessary ingredients to make the recipe.
Follow the steps to create your side dish.
Enjoy your delicious meal =)
Nutrition
Serving Size:

1 serving

Calories:

260

Sugar:

0 g

Sodium:

2299.9 mg

Fat:

19.6 g

Saturated Fat:

2 g

Unsaturated Fat:

6.9 g

Trans Fat:

0 g

Carbohydrates:

6.9 g

Fiber:

3.2 g

Protein:

12.5 g

Cholesterol:

0 g
Keywords: Best Sides for Focaccia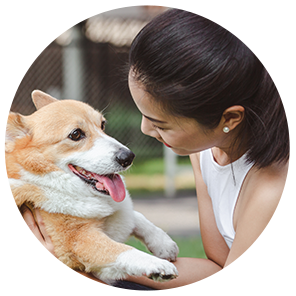 Hi, I'm Linda thanks for stopping by! We're so happy you're here. If you're a foodie and love to cook from home - you're in the right place..
LEARN MORE
Join the mailing list and receive our free newsletter!
Recipe Marker provides you with the best information about home cooking tips, recipes, ingredient substitutes and more. Check out our blog to see the latest articles.