5 Best Macaron Flavors (Ranked in 2023)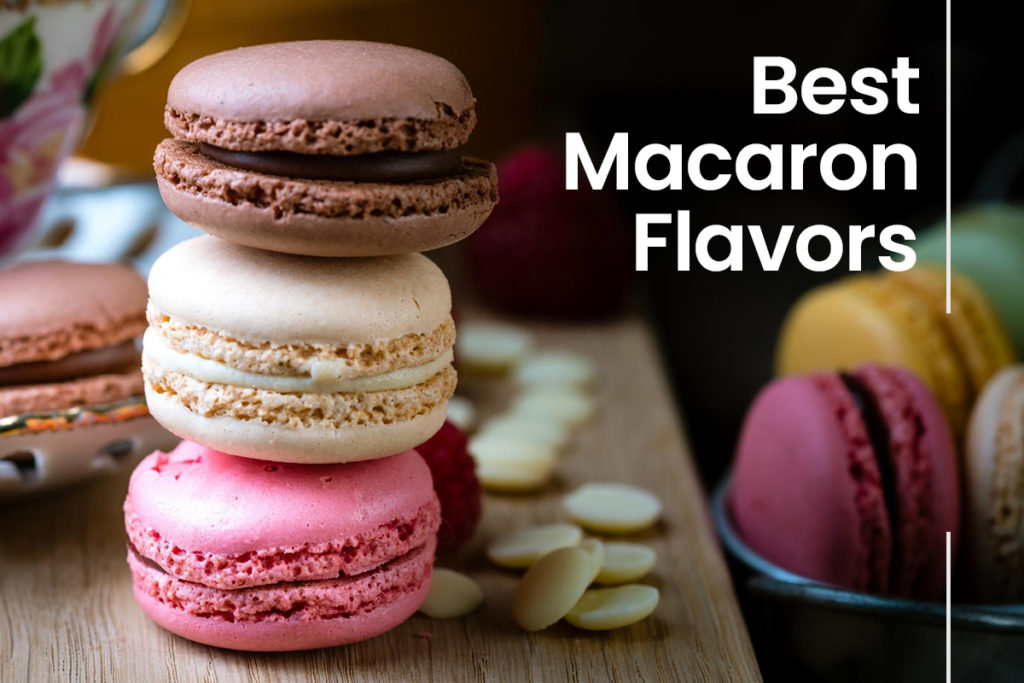 Are you curious about the best macaron flavors to try? Stick around as we share a list of the most popular macarons in this article.
Macarons are becoming increasingly popular and accessible throughout the world. You can get these delicate, pancake-shaped cookies in a variety of flavors.
This typical French dessert is available at many bakeries. Since macarons may be expensive for a variety of reasons, be sure it's worth the money you're spending if you are going to treat yourself to a macaron.
But before we tell you which macaron flavors you should get. Let's learn a little more about its origin.
What are Macarons?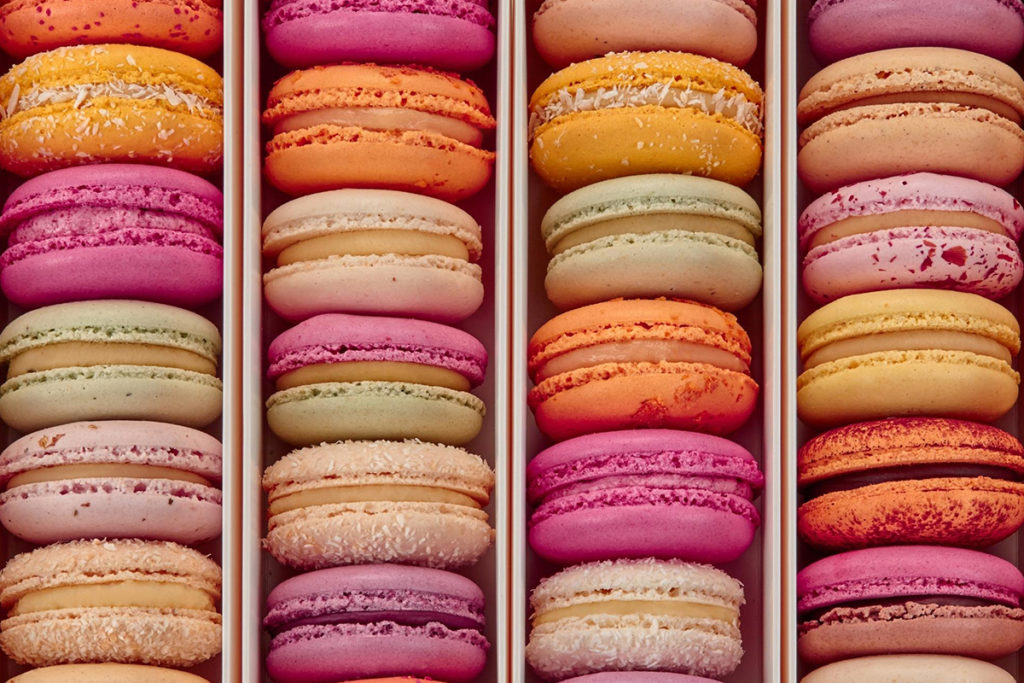 Macarons are one of France's most prized pastries, thanks to their vibrant colors, fluffy texture, and sweet flavor.
First, we'd like to clarify there is a big difference between macarons and macaroons.
Macaroons are chocolate-covered coconut haystacks that are often tiny and sloppy. Macarons are beautiful tiny sandwiches composed of almond flour, meringue, and buttercream filling.
Generally, macarons are said to have originated in Italy around the 8th century. One story states that in 1533 when Queen Catherine de Medici of Italy married King Henry II of France.
It has been said that her pastry cooks took the macaron recipe to their homes, and thus to the rest of the country France.
Another story is about two sisters, Marguerite and Marie-Elisabeth, who found refuge in the eastern French city of Nancy during the French Revolution.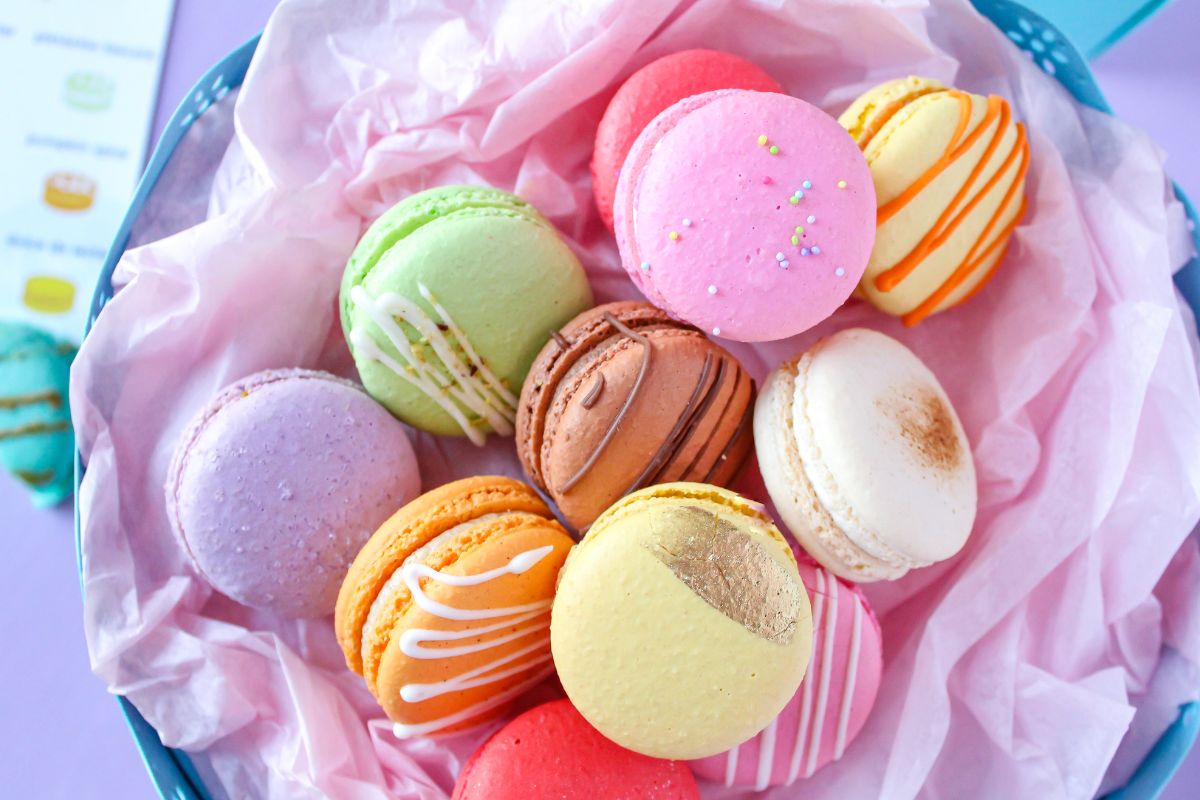 As soon as these sisters started selling macarons to the commoners in 1792 these fun treats became a household name.
To supplement their little income, the sisters turned to bake these "priest's bellybuttons," into something they mastered. The two quickly rose to fame, earning the nickname "Macarons de Nancy."
The cupcakes, on the other hand, are quickly becoming a thing of the past in the United States and macarons are now much trendier.
Many people enjoy them because they are a calorie-free treat and offer a wide variety of flavors.
Macaron bakeries have sprung up in New York, Seattle, and San Francisco.
Additionally, macarons have been found in are now mainstream stores, such as Starbucks.
Best Macaron Flavors
1. Pistachio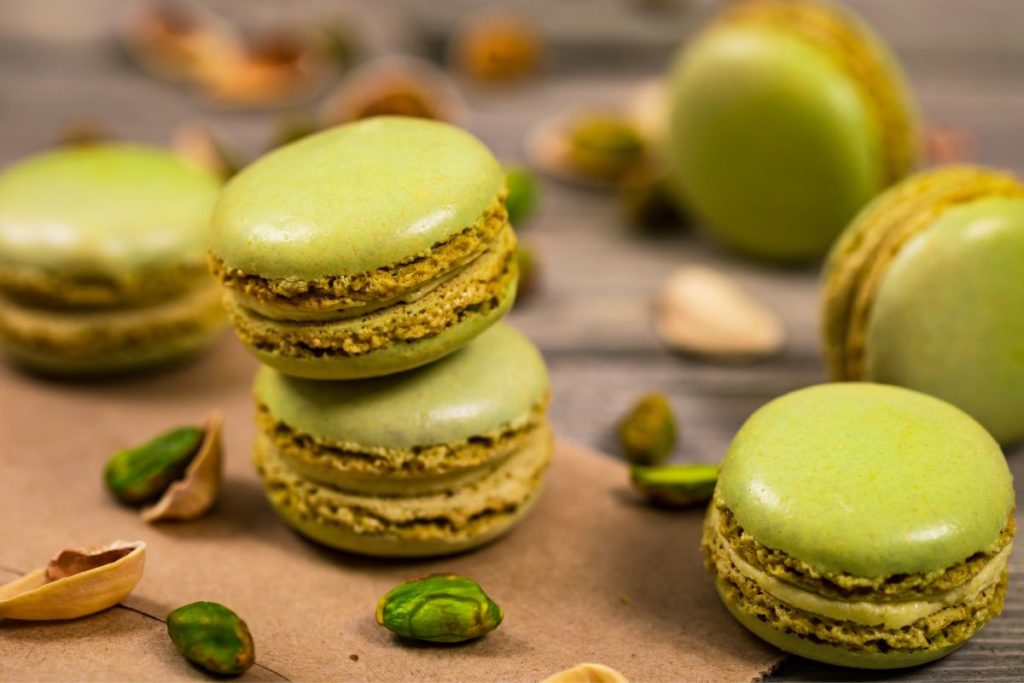 Gelato isn't the only way to enjoy pistachio. Make way for pistachio macarons!
When it comes to sweets with a specific flavor, pistachio has become a popular choice over recent years.
Pistachio macarons may be found at almost every bakery that specializes in confection.
The flavor of pistachios is one of a kind. Sweetness dominates the flavor profile, with a faint nuttiness coming through as an aftertaste.
Even if you dislike pistachios in nut form it's likely that you will enjoy them in macaron form.
Don't be afraid to give it a whirl, despite the name.
2. Red Velvet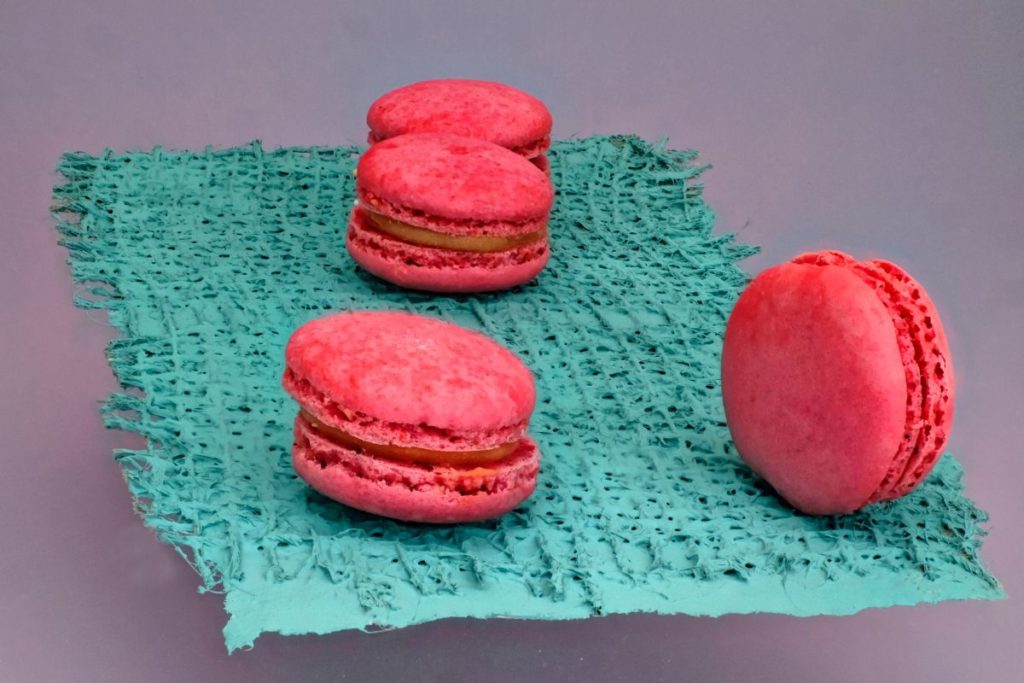 Impress your guests with these stunning red velvet macarons, which are topped with sweet and tart cream cheese icing.
Red velvet macarons rank right up there with pistachio and lemon macarons as one of my all-time favorite tastes.
It's not just beautiful to look at, but it tastes fantastic, too!
Flavors of chocolate and vanilla mingle with the tangy and sweet cream cheese filling in these delightfully chewy shells.
The addition of cocoa powder and a healthy dose of food coloring can make this recipe a little more difficult.
It doesn't matter how much red food coloring you use; the finished shells will always be a lighter shade of red.
Though it does not take away from the sheer happy flavor you have from this treat.
3. Vanilla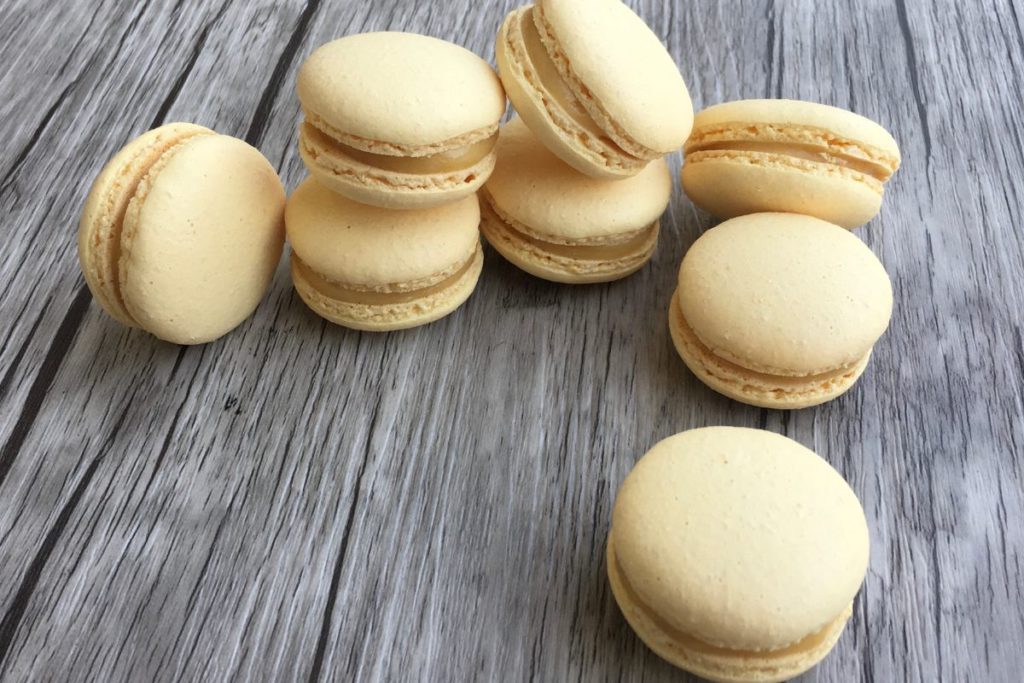 This versatile flavor may satisfy both those with a sweet craving and those seeking simplicity in a treat.
Vanilla macarons have just the right amount of sweetness, not being too creamy, but enough flavor to give you a light and airy feel.
Almost any Parisian bakery offers a vanilla macaron.
You won't be disappointed if you include a few vanilla macarons in your box.
4. Coffee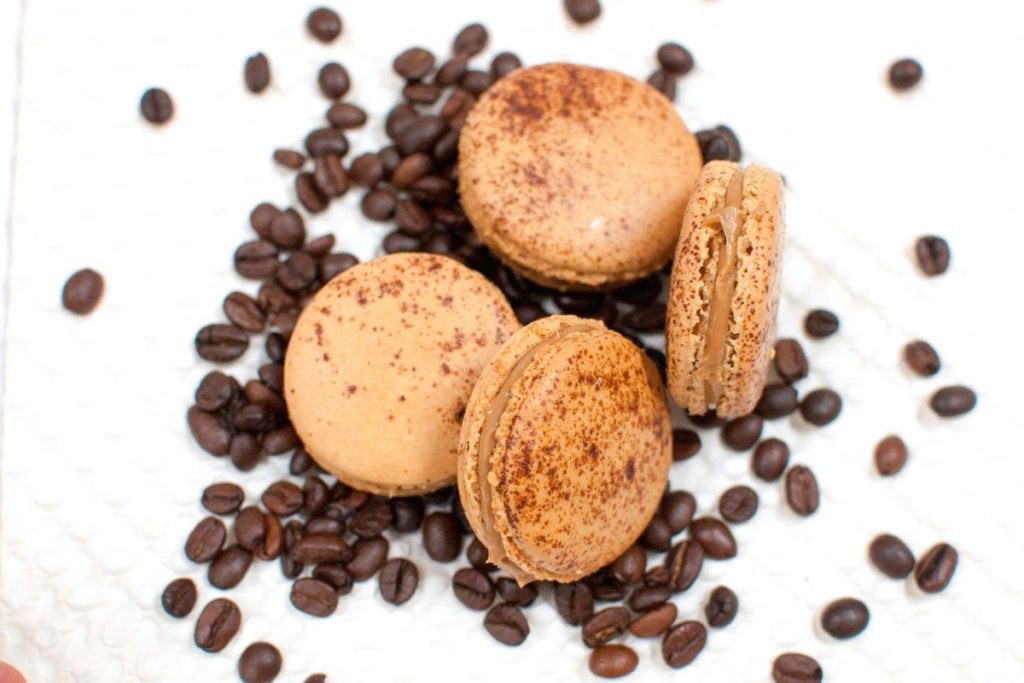 Macarons inspired by coffee come in a wide variety of flavors. With espresso, you can get everything from caramel macchiatos and mochas to pure espresso.
For coffee connoisseurs, the choices are virtually limitless. Imagine eating a macaron in the shape of a coffee cup.
This particular flavor profile has become so famous that almost every bakery offering macarons carry coffee-inspired flavors.
Moreover, it's no secret that caramel and coffee are a match made in heaven, and these caramel coffee macarons prove it.
Using a coffee-flavored shell, the macarons feature a salted caramel filling on the inside.
5. Raspberry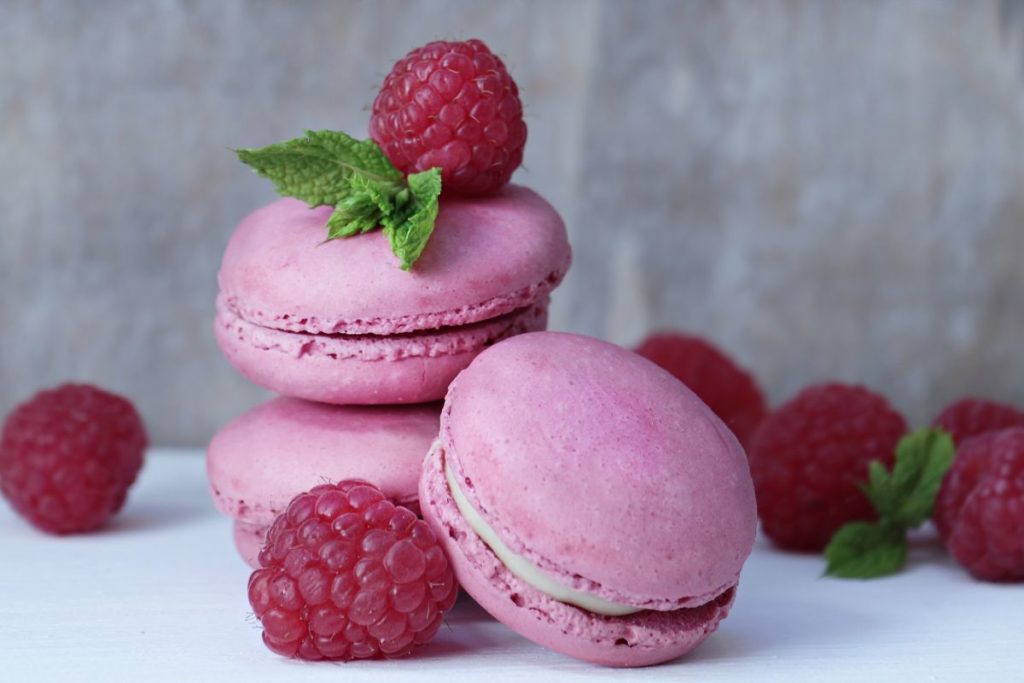 Most pastry shops use raspberry as a standard ingredient. If you're a fan of fruit, particularly berries, this is the flavor for you.
This popular flavor is not only tasty but incredibly refreshing.
Take a look at the image, and see whether you're starting to salivate.
The raspberry jelly filling gives the macaron such a delicious pop in your mouth, that you will quickly find yourself at the bottom of the macaron box.
For pro macaron eaters, try a chocolate macaron after finishing the raspberry; the two flavors go together like peanut butter and jelly.
Key Takeaways
Macarons have been a staple French dessert for hundreds of years. From its original flavor, this delicious dessert has expanded into some amazing options. From fruity to sweet, to bold flavors there is bound to be a flavor for you.
We hope that this list of the best macaron flavors has helped you decide what macaron flavor to try next.
Print
5 Best Macaron Flavors
Check out this list of the best Macaron flavors to try!
Instructions
Pick your favorite flavor
Click on the link to visit Pinterest
Buy items from your local store or online
Enjoy and share on social media!
Keywords: best Macaron flavors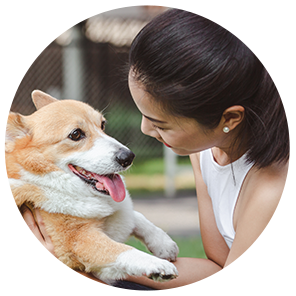 Hi, I'm Linda thanks for stopping by! We're so happy you're here. If you're a foodie and love to cook from home - you're in the right place..
LEARN MORE
Join the mailing list and receive our free newsletter!
Recipe Marker provides you with the best information about home cooking tips, recipes, ingredient substitutes and more. Check out our blog to see the latest articles.