3 Best Ways to Reheat a Burrito (Updated 2023)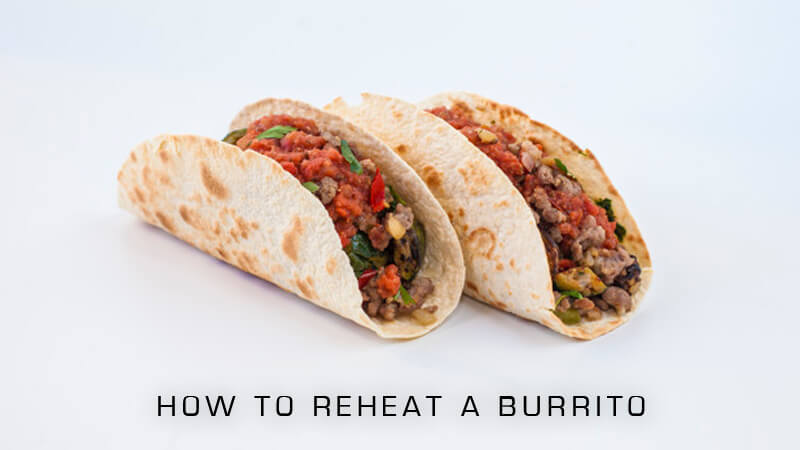 Wondering how to reheat your burrito without turning it into a soggy mess? While a burrito is one of the ultimate to-die-for dishes in Mexican cuisine, it's likely to lose its appeal if it isn't reheated properly.
Since the dish is made of a flour tortilla wrapped into a cylinder to house a rich variety of ingredients, reheating a burrito can be a tricky task, either enhancing or downgrading its overall quality.
To help you reheat a burrito easily without sacrificing its taste, we have prepared a brief guide with the right steps and tricks to enliven your burrito using different tools and methods.
Can't wait to find out more? Read on.
How to Reheat a Burrito
1. Reheat a Burrito Using an Oven
If you were to ask burrito enthusiasts, half of them would probably recommend the use of an oven to reheat this all-time favorite Mexican dish. Not only will this method help give your burrito a perfect crisp, but it will also prevent it from coming out in a mushy lump.
If you've decided to follow this advice, here are the steps you need to follow:
Preheat your oven to 225 degrees Fahrenheit.
Retrieve your burrito from the refrigerator and wrap it in aluminum foil.
Put the burrito in the oven and leave it for about 30 minutes.
Once the 30-minute timer is up, take out the burrito using oven mitts.
Remove the foil and enjoy!
2. Reheat a Burrito Using a Microwave
If you don't have an oven at home, you can turn to your microwave instead. A microwave is another effective tool to reheat your burrito without negatively impacting its overall quality. Although the results may not be as impeccable as when you use an oven, using a microwave can still do the job, as long as you follow the right tricks.
To start, you'll need your burrito, an instant thermometer, and some water.
Place the burrito on a microwave-safe plate.
Sprinkle some water over the top. This will help moisten the tortilla.
Set the timer for 1 minute.
After the minute, flip the burrito over to expose the other side. Moisten the other side with a small amount of water.
Cook that side for another minute.
Remove the burrito, and using an internal thermometer, check its temperature. Your burrito is ready to eat if the thermometer reads 165 degrees Fahrenheit.
3. Reheat a Burrito Using a Stove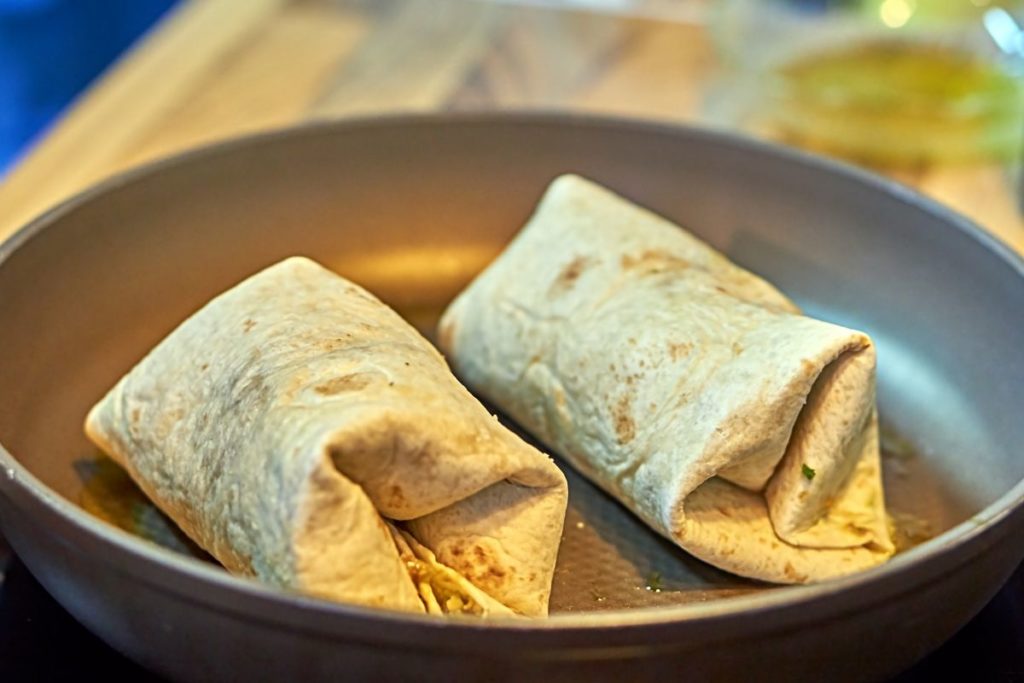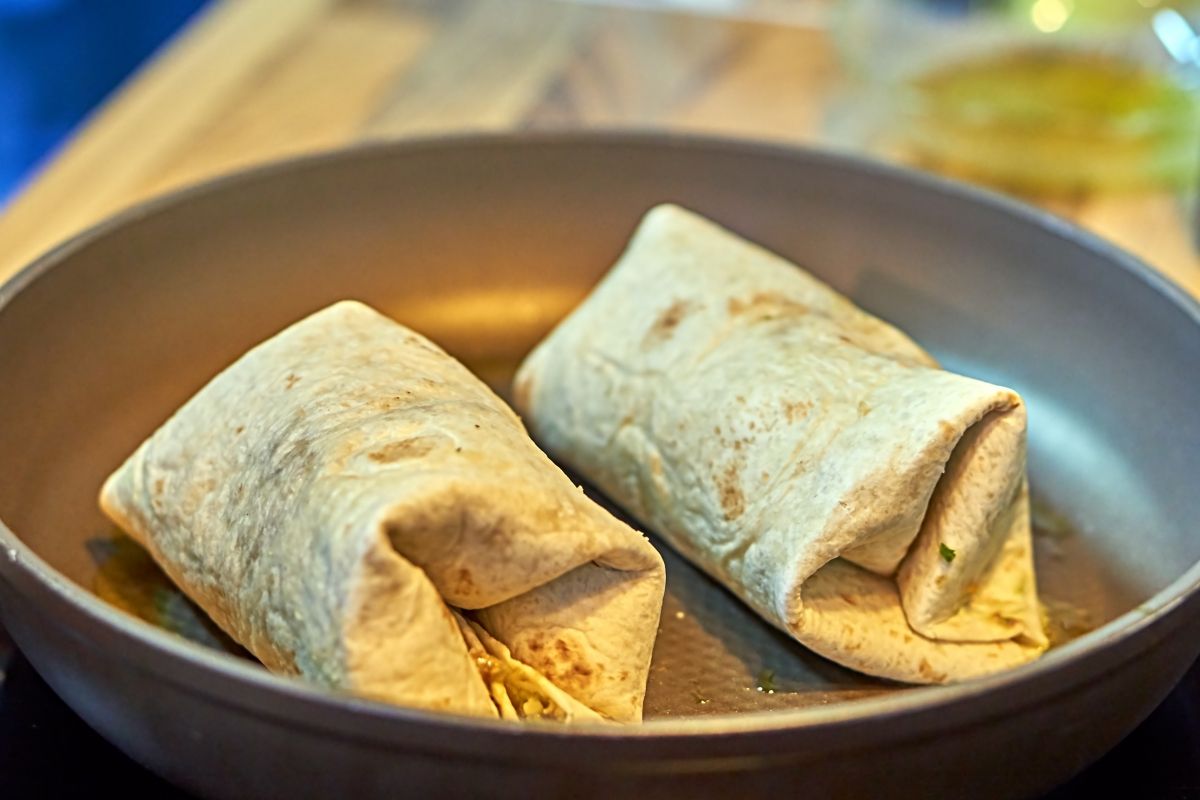 Oven and microwave aren't your things? Try reheating your burrito on the stove, instead.
Although this may seem over-the-top for something so small, heating your burrito on the stove promises a delicious and crispy outcome that is quite similar to those served at your favorite restaurant.
To accomplish the task, follow these steps:
Spray some oil over your skillet and preheat it for 2 to 3 minutes.
Unwrap the burrito and place it in the skillet.
Turn the stove to medium heat.
Press the burrito into the skillet using a spatula.
Cover the skillet with a lid and leave it for about 5 minutes.
Flip the burrito and do the same thing for the other side. Leave it again for about 5 minutes.
Plate the burrito and enjoy!
What is a Burrito?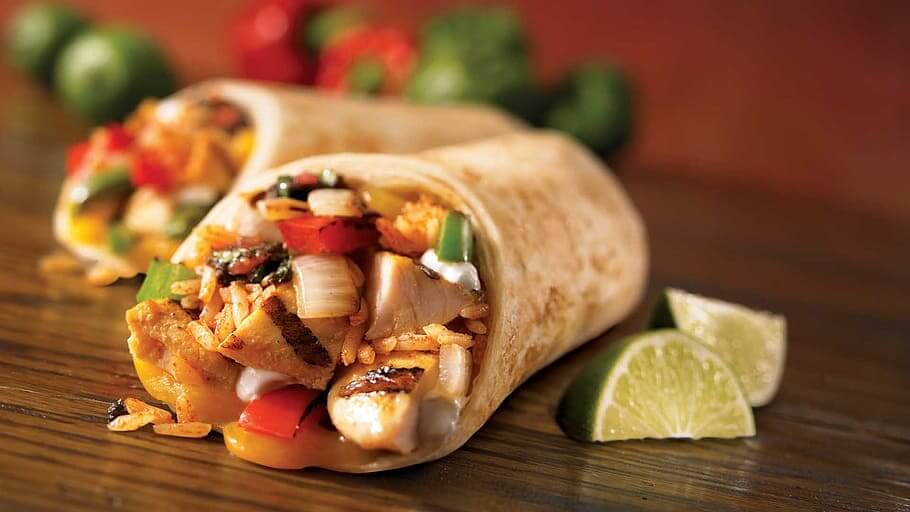 Of course, before we dive straight into discussing different reheating methods for your leftover burrito, it's best to review exactly what this dish we're talking about is.
A popular Mexican dish, a burrito is essentially a flour tortilla that's tightly wrapped around a variety of ingredients. Depending on your preferences, this could include a mixture of meat (normally beef, but some also opt to have chicken) and refried beans.
Burritos come in a wide variety. Among these include the Wet Burrito, served with melted cheese and smothered in a saucy, spicy red or green "gravy"; the Poncho Burrito, which consists mostly of beans, rice, and meat; the California Burrito, which is stuffed with carne asada, sour cream, cheese, salsa, guacamole, and french fries; and the Bean and Cheese Burrito, which can usually be found in popular Mexican-food restaurants, such as Taco Bell and Del Taco.
The Bottom Line
Can't wait to indulge yourself in your favorite Mexican dish? With these 3 different reheating methods, you can now enjoy your reheated burrito to your heart's content.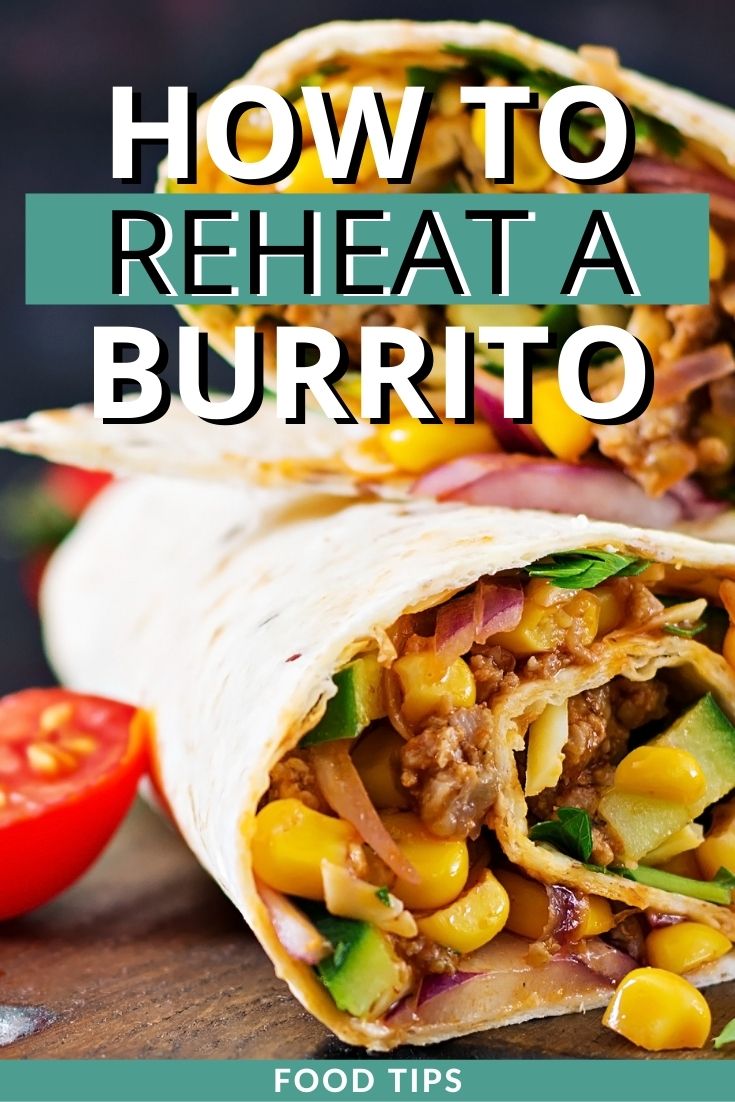 Print
How to Reheat a Burrito in Air Fryer
Burrito is a yummy filling meal that can be enjoyed at any hour of the day. You can even prepare it ahead and reheat it when hungry.
The below instructions on how to reheat a burrito in an air fryer work for the whole as well as leftover burritos.
The outcome is a hot burrito with a golden crisp tortilla and juicy tender filling!
Author:
Prep Time:

5 minutes

Cook Time:

12 minutes

Total Time:

17 minutes

Yield:

1 serving

Category:

Reheat

Method:

Air Fryer

Cuisine:

Meal
Burrito
Oil
Tongs
Air Fryer
Instructions
Preheat the air fryer for 5 minutes at 325° F.
Meanwhile, place the leftover burrito on the basket and lightly burst it with cooking oil. (If reheating multiple burritos, place them in a single layer while leaving a little gap between each burrito.)
Air fry for 6-8 minutes (as per burrito size) at 325° F.
Then, flip the burrito using tongs, brush some oil, and air fry for 6-8 minutes.
You'll know the burrito is heated correctly when it's toasted uniformly and turns golden brownish.
Notes
When reheating frozen burritos in the air fryer, you can try 2 methods. You can let the burrito come down to room temperature by leaving it on the kitchen counter for 30 minutes and then following the above steps. Another way is to air fry it for 14-16 minutes at 370-400° F.
Nutrition
Serving Size:

1 serving

Calories:

447 calories

Sugar:

1.4 grams

Sodium:

985 mg

Fat:

13 grams

Saturated Fat:

7 grams

Trans Fat:

1.2 grams

Carbohydrates:

71 grams

Fiber:

1.2 grams

Protein:

14 grams

Cholesterol:

4 mg
Keywords: How to Reheat a Burrito in Air Fryer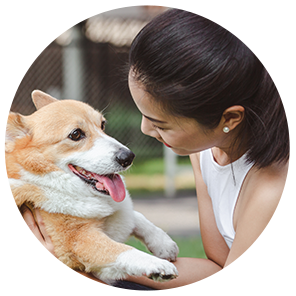 Hi, I'm Linda thanks for stopping by! We're so happy you're here. If you're a foodie and love to cook from home - you're in the right place..
LEARN MORE
Join the mailing list and receive our free newsletter!
Recipe Marker provides you with the best information about home cooking tips, recipes, ingredient substitutes and more. Check out our blog to see the latest articles.