4 Great Sandwich Wrap Ideas to Make Today! (updated 2023)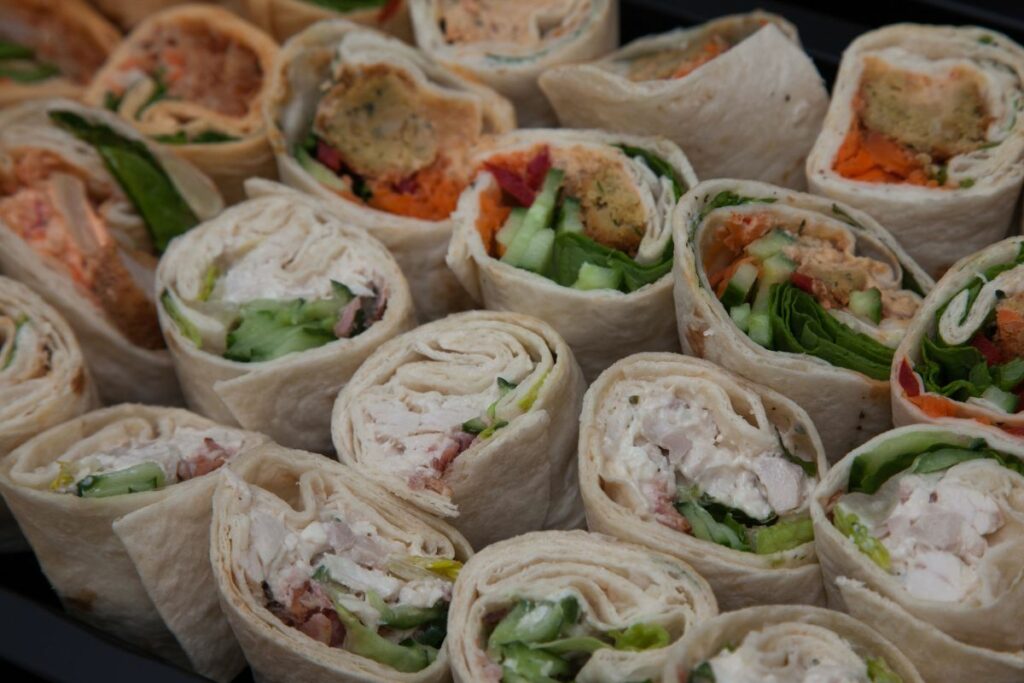 Looking for great Sandwich Wrap Ideas to make? Read on…
Sandwiches have always been a great snack or appetizer for various settings.
You will typically find sandwiches among other finger foods in casual gatherings such as meetings and birthday parties.
They also make a good meal for working individuals, especially during lunch hours. Just grab yourself a sub and you are guaranteed a filling meal.
This dish is so versatile that you can find some form of it in most countries.
Because of this, there are hundreds of sandwich types in the world, some more iconic than others.
With a wide variety of sandwiches from various cultures, it is easy to see how flexible the concept of sandwiches is.
You can take some bread and filling, assemble the ingredients, and you are good to go.
Aside from the more common type – filling placed between two slices of bread – you will find sandwich wraps a crowd favorite because of how easy they are to make.
If you are a fan of wraps and want to make some for yourself or as refreshments for a banquette, check out these sandwich wrap ideas.
4 Sandwich Wrap Ideas You Should Try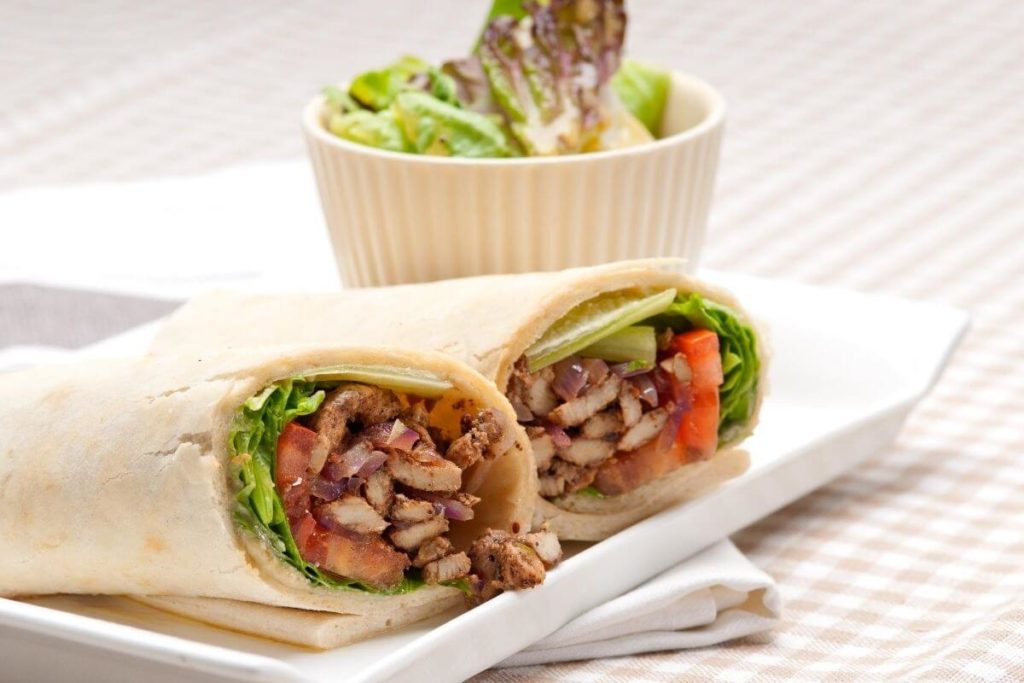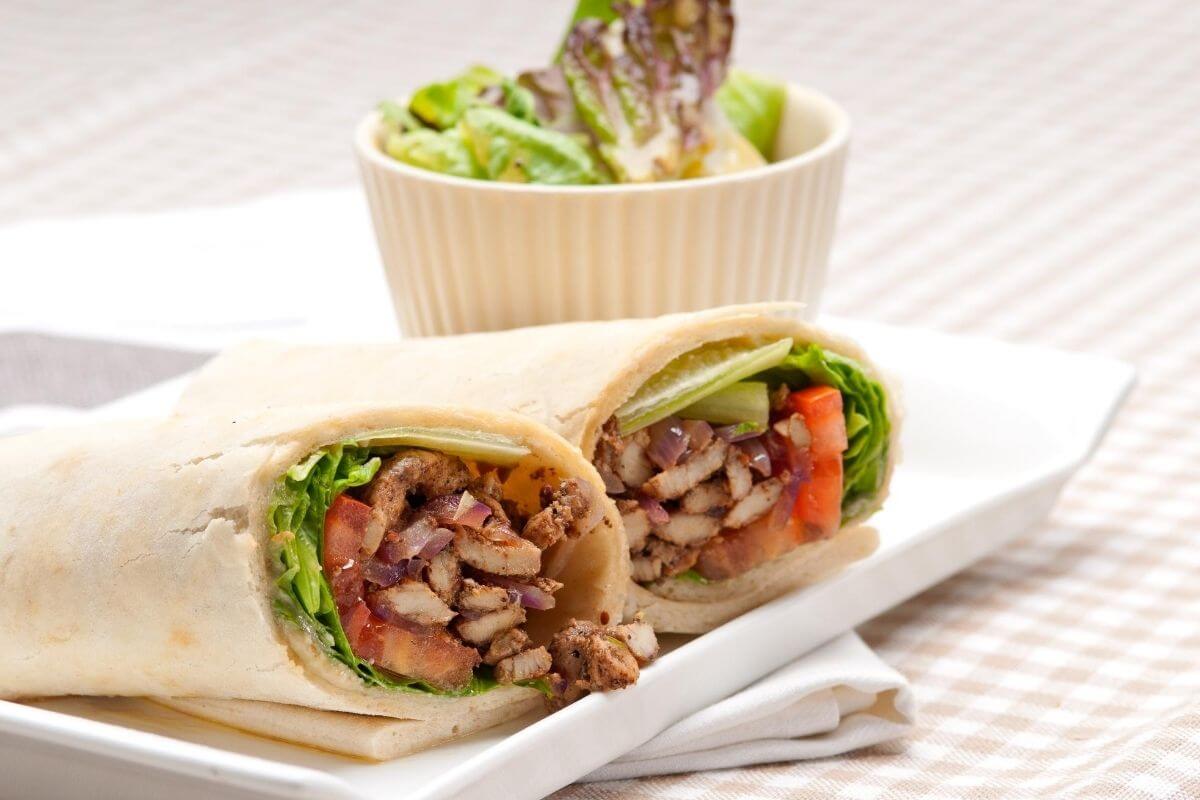 If you want a savory sandwich, home-made chicken shawarma is for you.
Simply marinate chicken thigh fillets in a sauce made of olive oil, lemon juice, minced garlic, onion, kosher salt, herbs, and spices.
Then, bake the chicken while you prepare a sauce with yogurt, lemon juice, oil, garlic, salt, and pepper places.
After baking, you just need to get your pita, top it with the chicken along with onions, romaine lettuce, tomatoes, cucumber, and yogurt sauce.
Wrap the whole thing up and enjoy.
Cheesy Bacon Breakfast Burrito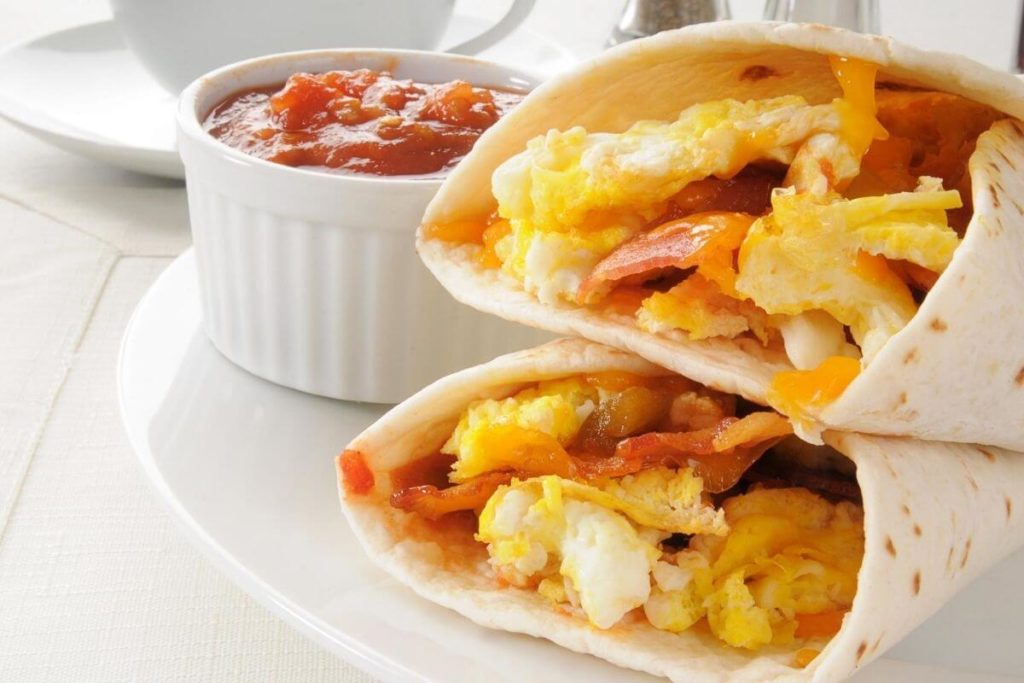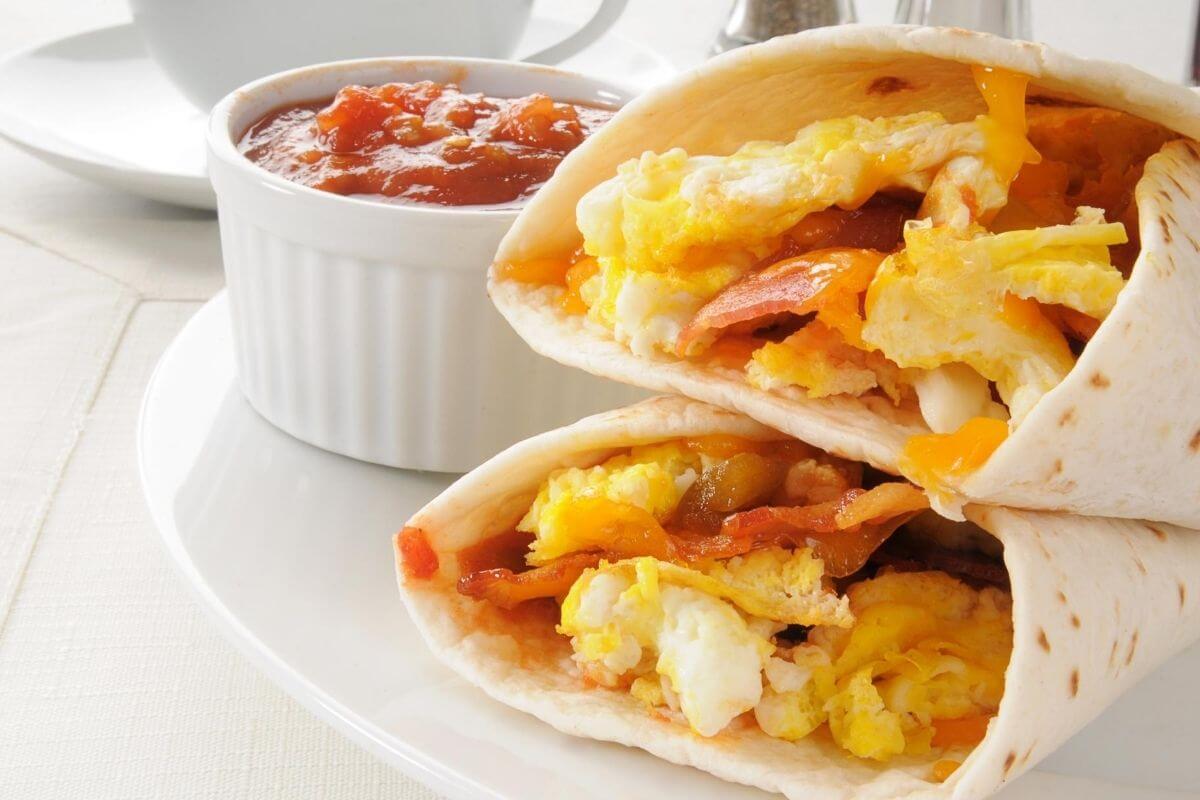 Those who are looking for a filling breakfast will definitely love this recipe.
When making this, remember that you can do it in many ways, as long as you are satisfied.
This can definitely fuel your morning in preparation for work or treat a hangover after a night of partying.
To prepare, you just need to cook hash browns in bacon fat for that rich and fatty flavor.
Of course, you need to cook your bacon beforehand to extract its fat.
Then, cook your scrambled eggs to add more protein to the mix.
Prepare your wrap by placing the cooked ingredients on a warm tortilla topped with cheese, roll, and voila!
You have your very own cheesy bacon breakfast burrito.
The best thing about this recipe is that you can find all of the ingredients in the grocery store.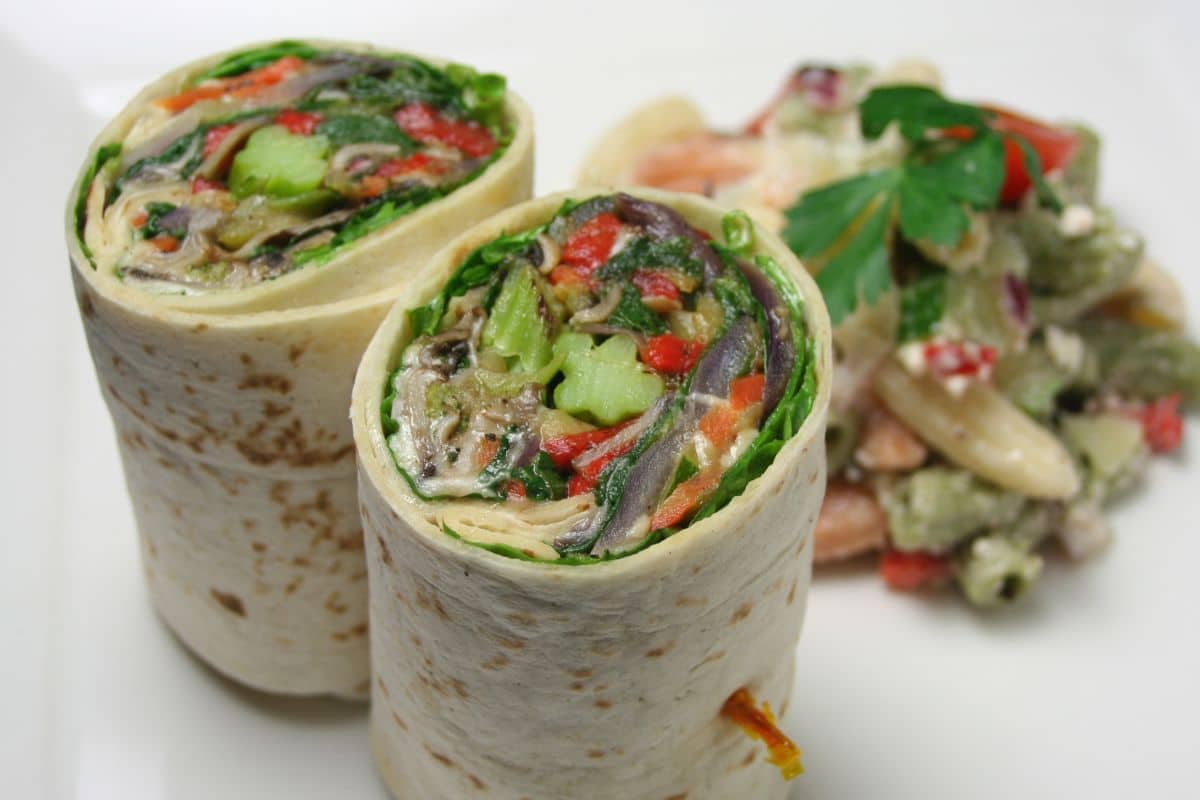 Those who prefer to stay away from meat will be glad to know they can make vegetarian wraps.
What you need is a flatbread, roasted veggies, pickled onions, tzatziki, and a spicy green sauce.
Fortunately, you have the option to buy ready-made versions of some of these ingredients including the flatbread and tzatziki.
For the rest, what you need to do is to slice some red onions into half-moon slices, prepare your sauce by heating cider vinegar and sugar, and marinate your onions for two hours.
For the roasted veggies, just bake bite-sized slices of courgettes, red onions, red pepper, and cauliflower in the oven.
Blend some coconut chunks, coriander, mint leaves, a clove of garlic, lime juice, shallots, cider vinegar, and sugar and you have a spicy green sauce.
To make your sandwich, simply place the veggies, sauces, and pickled onions on the flatbread and wrap it all up.
Prawn Fajitas with Avocado Cream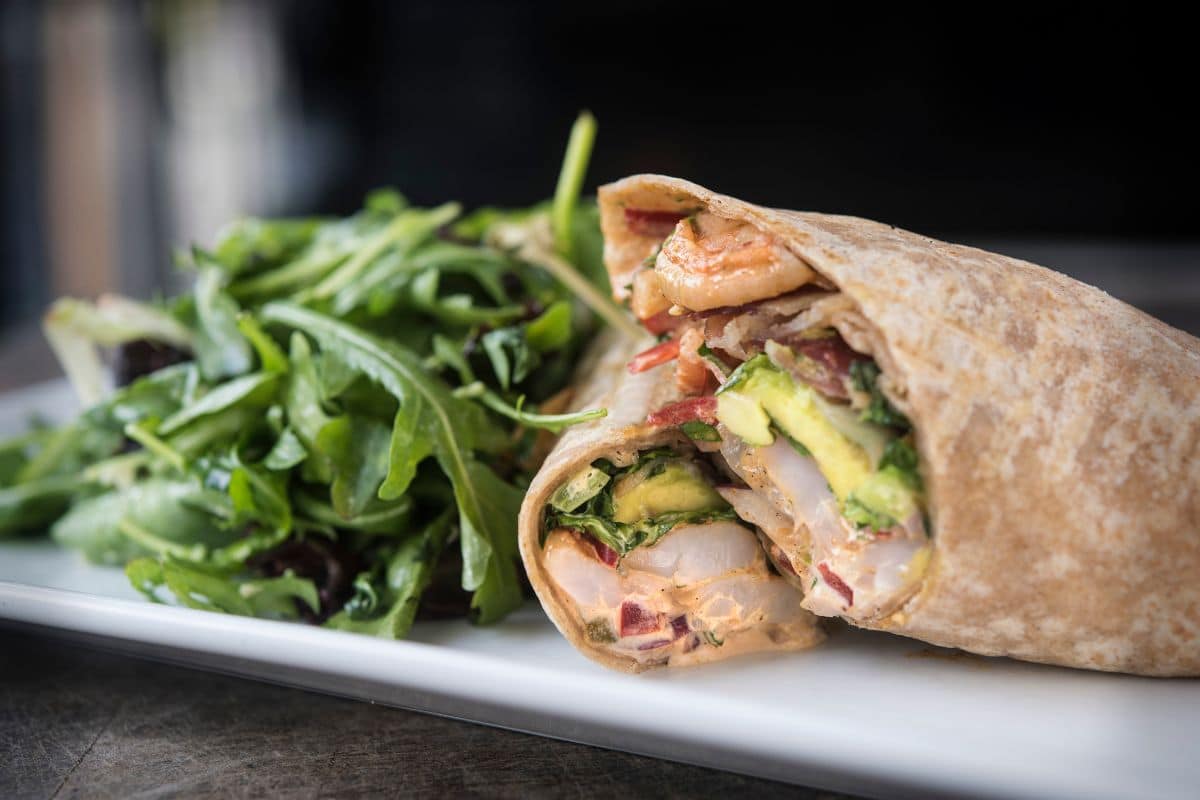 Seafood lovers will definitely love this recipe.
You just need to marinate your prawns in lime juice, chili, garlic, coriander, and seasoning.
Then, prepare the cream by placing the avocado in a food processor along with some lime juice, chili, garlic, sour cream, seasoning, and coriander.
Once you have prepared all the components of this dish, you just need to fry the prawns with some pepper for a little bit of spice.
After cooking, just place your prawns and lettuce on a warm tortilla, add your avocado cream and you have your prawn fajita!
Conclusion
Sandwich wraps are some of the most exciting dishes to prepare because of the numerous possibilities and options.
With the right ingredients, you can whip up your own roll and use these sandwich wrap ideas to enjoy a refreshing and filling meal for yourself or serve these delicious wraps to your friends and family.
Print
4 Best Sandwich Wrap Recipes
Check out these great Sandwich Wrap Recipes that have been shared on Pinterest.
Instructions
Click on each link above to view the pin and recipe.
Obtain all the necessary ingredients to make the recipe.
Follow the steps to create your dish.
Enjoy your delicious meal =)
Keywords: Best Sandwich Wrap Recipes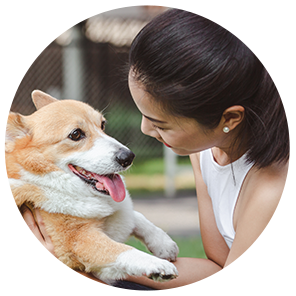 Hi, I'm Linda thanks for stopping by! We're so happy you're here. If you're a foodie and love to cook from home - you're in the right place..
LEARN MORE
Join the mailing list and receive our free newsletter!
Recipe Marker provides you with the best information about home cooking tips, recipes, ingredient substitutes and more. Check out our blog to see the latest articles.