7 Best Substitutes for Champagne Vinegar (2023)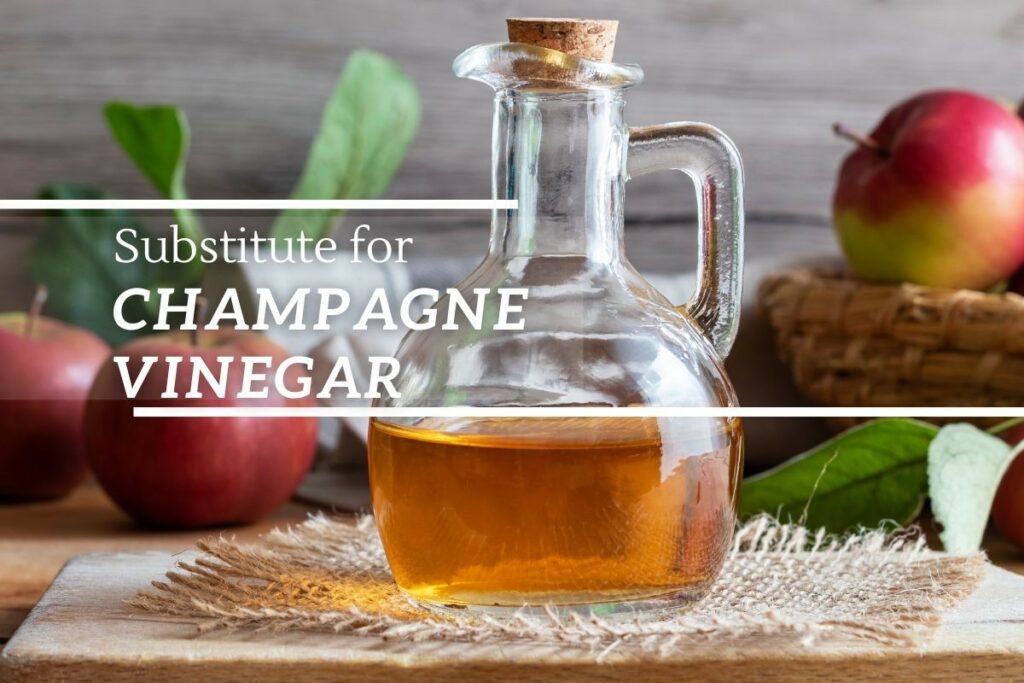 Are you missing champagne vinegar from your ingredient list? Stick around as we share the best substitutes for champagne vinegar in this article.
It is definitely frustrating to find that you are missing a key ingredient in a recipe.
If you find yourself looking through your pantry for champagne vinegar and you fail to find some, you will be glad to know that there are replacements for this component.
What is Champagne Vinegar?
Champagne vinegar is a type of vinegar that is made from Champagne wine. It is a light and delicate vinegar that is often used in salad dressings, marinades, and sauces.
Champagne vinegar has a mild, slightly sweet flavor with a subtle acidity that is less harsh than other types of vinegar.
It is often considered a gourmet ingredient and is used in many high-end restaurants and culinary applications.
Champagne vinegar is also known for its pale color and clarity, which makes it an attractive addition to dishes where appearance is important.
Check out the best substitutes for champagne vinegar.
Best Champagne Vinegar Substitutes
1. White Wine Vinegar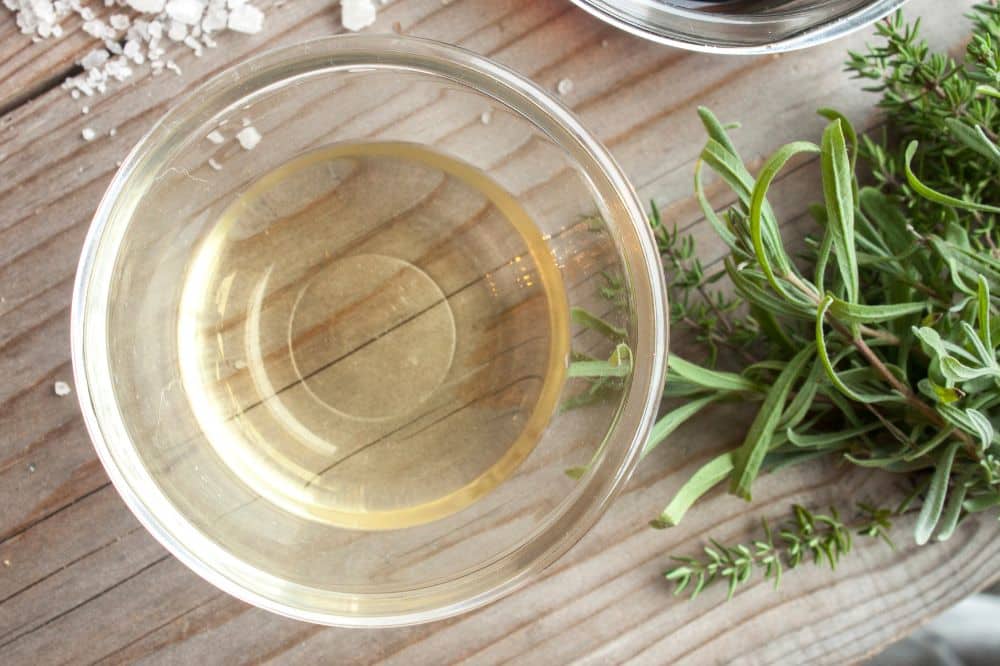 If you are out of champagne vinegar, you might want to see if you have white wine vinegar. White wine vinegar offers a light, balanced, and mildly sweet tang, which makes it a great substitute for the original component.
These two types of vinegar have lighter acidity and bite compared to your regular white vinegar. Despite this, they have slightly different profiles. Vinegar made from oxidized champagne is slightly floral, while those made from white wine have some fruitiness.
You can use this to deglaze a pan when making a sauce or as a drizzle over fruity recipes like salads or salsa.
2. Rice Wine Vinegar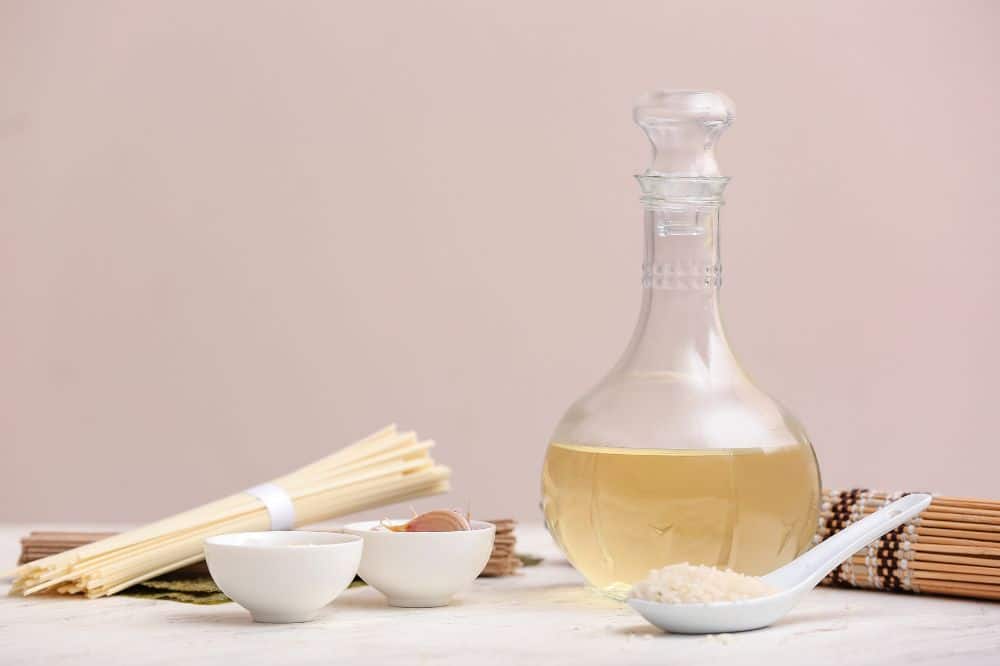 Those who are looking for a milder option should take a look at what rice wine vinegar has to offer. This is a popular seasoning in Asian cuisine such as Korean, Japanese, and Vietnamese. It rarely overpowers other flavors, making it an excellent choice for elevating your cooking.
This option has a distinct sweetness and low acidity, perfect for recipes that call for sushi rice, fish, and vegetables.
The best part is you can purchase it at your local Asian store, but make sure to get the plain version. If you will get seasoned rice wine vinegar, keep in mind that some flavoring includes salt and sugar.
3. Apple Cider Vinegar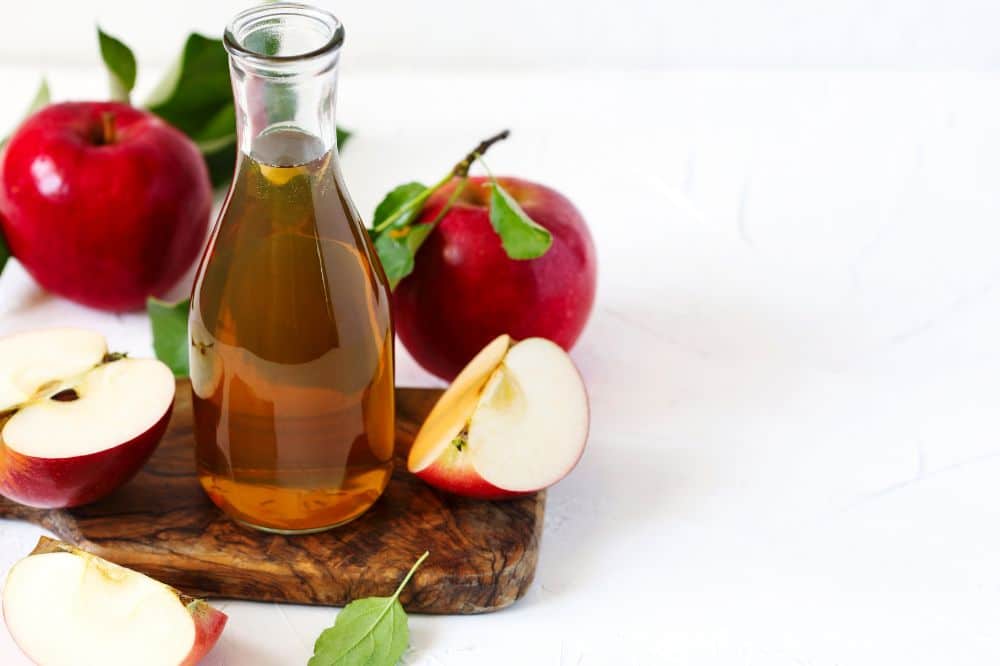 Apple cider vinegar is another option for individuals looking for a champagne vinegar substitute. Both have mild acidity and some sweetness, making them great alternatives for each other.
However, you should keep in mind that this one has a tartness and brightness to it that is not similar to champagne vinegar.
The good thing about this is that it is pretty versatile. It can work as an ingredient for cooking, as a drizzle for salads, and as a component of cocktails. In fact, you can simply mix it with water and drink it straight up.
4. Sherry Vinegar
Sherry vinegar is a great choice if you are looking for a replacement for champagne vinegar. Like the original component, sherry vinegar is made from oxidized liquor.
The typical sherry vinegar has a sweet and lightly acidic flavor, just like champagne wine. The thing is, that there are different types of sherry liquor depending on the type of grapes used to make it.
Some examples are Palomino sherries which offer a tangy flavor, while Moscatel sherries are sweeter. They are also aged in oak barrels, giving them a smoky flavor. When oxidized, the resulting vinegar also has similar qualities.
5. Red Wine Vinegar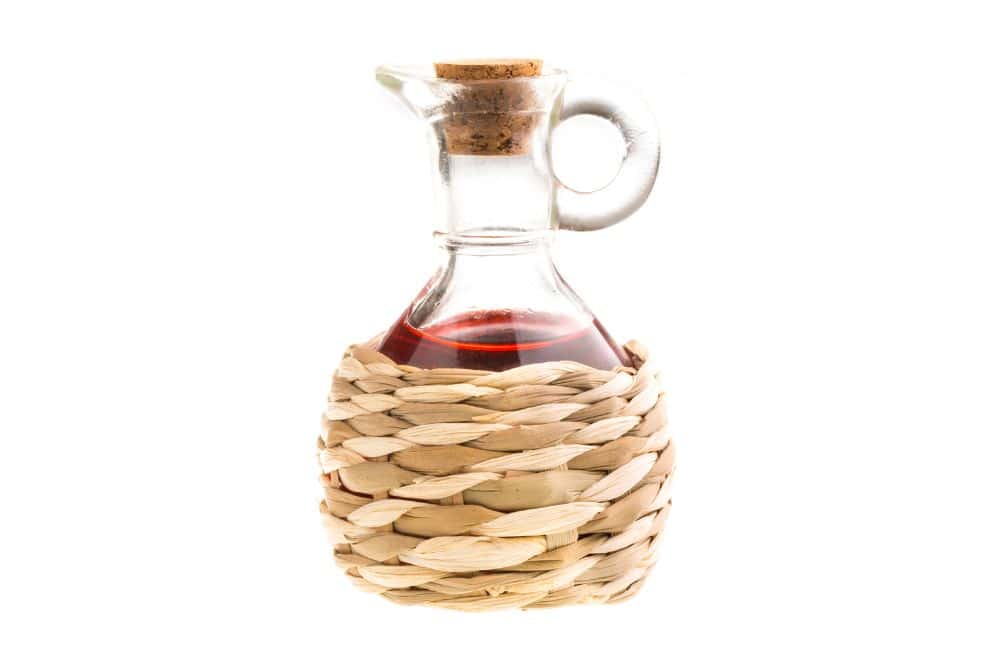 Now, if you only have red wine vinegar, you should be pleased to know that it can be an alternative to champagne vinegar.
Depending on the type of red wine used to make vinegar, you can expect the same flavor profile with your seasoning.
In general, red wine vinegar is richer, fuller, and sharper thanks to the notable red wine flavor. Just keep in mind that this option can give your dish a reddish tint.
Nevertheless, this is great if you want to bring out the existing flavors of your other ingredients without overpowering them.
6. Balsamic Vinegar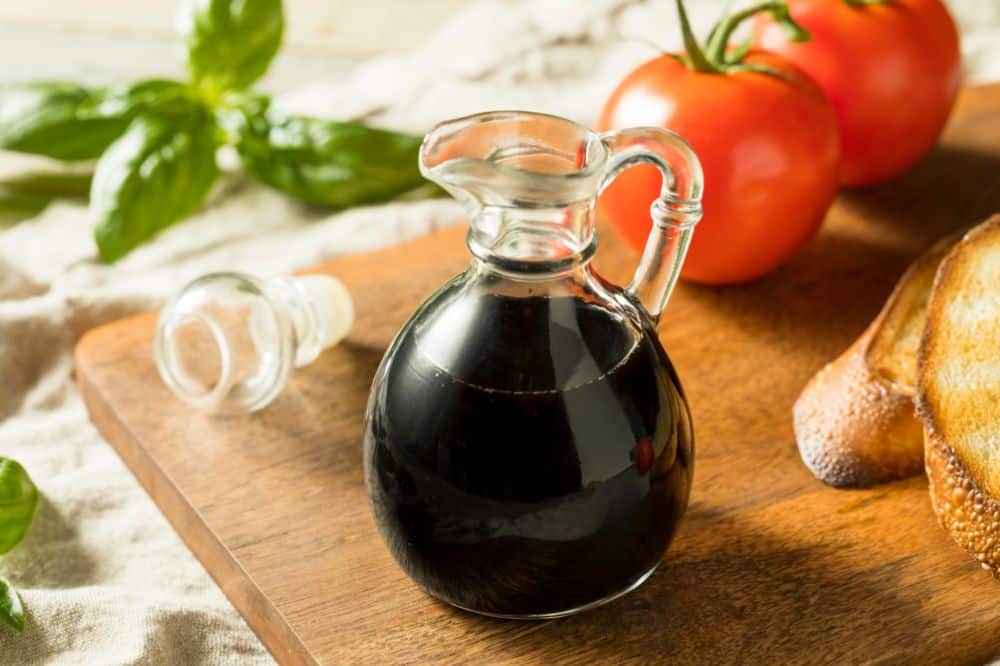 Balsamic vinegar is another viable substitute. While this is a thicker and sweeter vinegar, the richness of this option can bring out complexities in your dish.
What you should remember is that it is perfect for salads, grilled veggies, pasta, and more.
If you are yet to buy a bottle of this, remember that there are lots of options out there with varying degrees of quality.
Higher quality choices are all-natural, from the flavor, texture, and color. However, lower-quality ones tend to be artificially flavored and colored.
7. Lemon Juice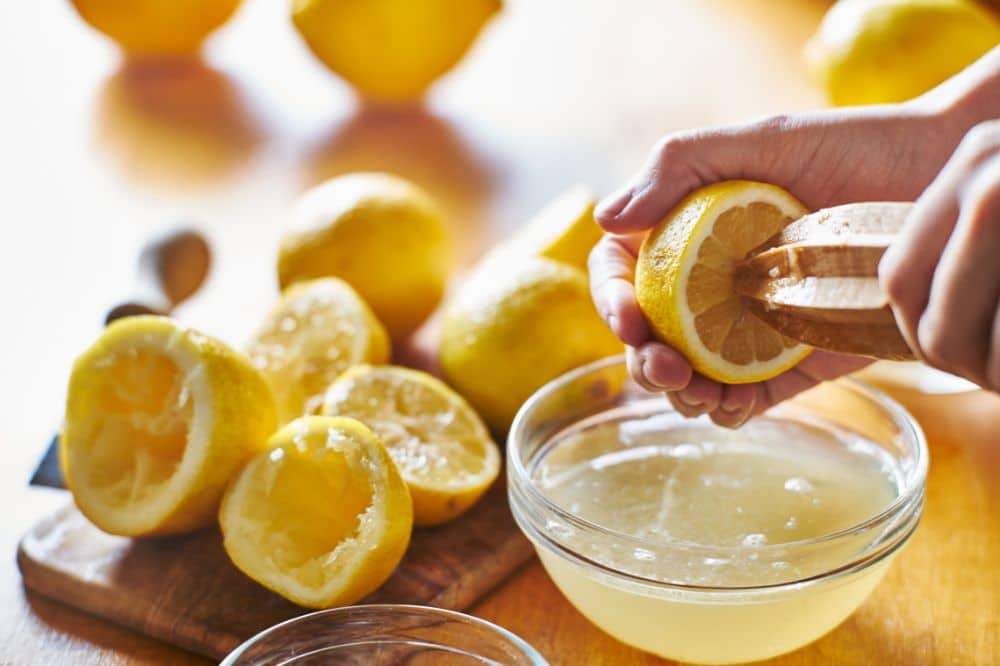 If all else fails or you simply do not have any other kinds of vinegar in your pantry, you can do well with lemon juice.
This offers a fruity and tangy taste that can bring your dish closer to the original recipe. To create a milder form, you can dilute it with water.
However, keep in mind that recipes that call for rich flavors may require more lemon juice because they tend to overpower its tang and acidity.
The Bottom Line
Champagne vinegar may not be a staple in most homes but if you find yourself in need of it, you can easily use any of the alternatives to create a sumptuous dish.
Make sure to find these best substitutes for champagne vinegar to get the right flavors.
Print
7 Best Champagne Vinegar Substitutes
Check out these great substitutes for Champagne Vinegar that have been shared on Pinterest.
Instructions
Click on each link above to view the pin.
Learn more about the ingredient.
Purchase the ingredient.
Add a substitute to your recipe =)
Nutrition
Serving Size:

1 tbsp

Calories:

3

Sugar:

0 g

Sodium:

0 mg

Fat:

0 g

Saturated Fat:

0 g

Unsaturated Fat:

0 g

Trans Fat:

0 g

Carbohydrates:

1 g

Fiber:

0 g

Protein:

0

Cholesterol:

0 mg
Keywords: Best Champagne Vinegar Substitutes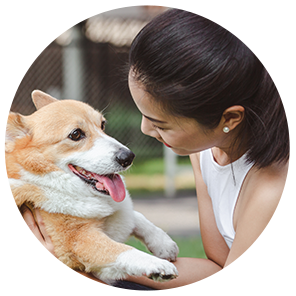 Hi, I'm Linda thanks for stopping by! We're so happy you're here. If you're a foodie and love to cook from home - you're in the right place..
LEARN MORE
Join the mailing list and receive our free newsletter!
Recipe Marker provides you with the best information about home cooking tips, recipes, ingredient substitutes and more. Check out our blog to see the latest articles.